February 22nd, 2018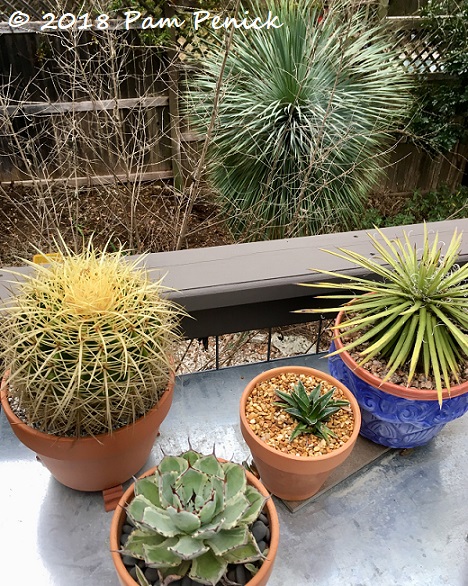 A balmy breeze smelling of spring convinced me to move my cold-tender potted succulents back out into the garden over the weekend. It's so nice to see them gracing a plant table on the deck again, after several months in which they sat packed in a wagon that I could roll into the garage at a moment's notice. But yesterday it was cold and rainy again, and I wondered if I'd unpacked them too soon.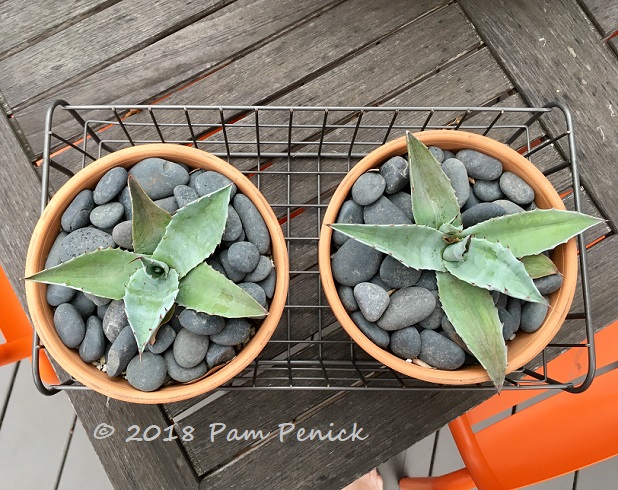 At least I know my little Moby Juniors (look at how much they've grown!) will be fine with chilly weather, although I'll still bring them indoors if it freezes, since they're babies.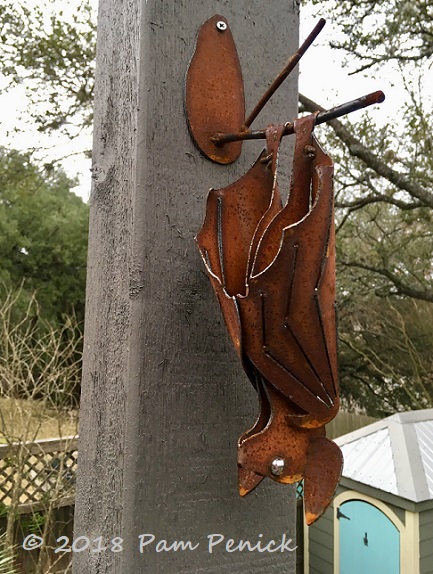 While I'm out on the deck, let's say hello to Bathilda, a batty gift from my mom.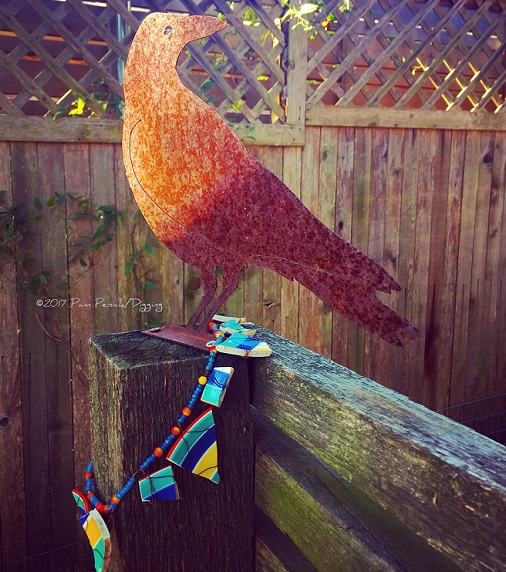 I seem to have a thing for rusty metal animals, eh? This crow has collected a pottery-shard necklace for his treasure trove.
I welcome your comments; please scroll to the end of this post to leave one. If you're reading this in a subscription email, click here to visit Digging and find the comment box at the end of each post.
_______________________
Digging Deeper: News and Upcoming Events
Calling all garden bloggers! You're invited to register for the annual Garden Bloggers Fling tour and meetup, which will be held in Austin this May 3rd-6th! Click this link for information about registering, and you can see our itinerary here. Space is limited, so don't delay. The 2018 Fling will be the event's 10th anniversary, which started in Austin in 2008.
Join the mailing list for Garden Spark Talks! Inspired by the idea of house concerts, I'm hosting a series of garden talks by inspiring designers and authors out of my home. Talks are limited-attendance events and generally sell out within just a few days, so join the Garden Spark email list for early notifications. Simply click this link and ask to be added.
All material © 2006-2018 by Pam Penick for Digging. Unauthorized reproduction prohibited.