December 15th, 2017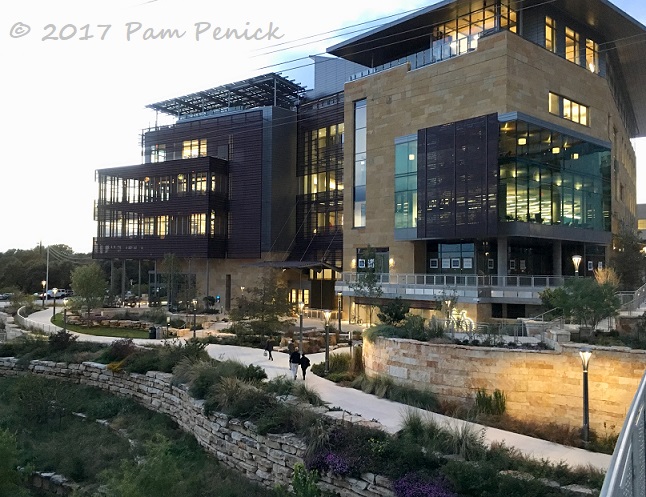 Austin is head over heels in love with our new Central Library, a marvelous civic structure by Lake|Flato that is much more than a library. It's a community space for all of Austin in a prime location on Cesar Chavez Street near Austin City Hall and across from Lady Bird Lake.
Since its grand opening in October, I've visited several times, and I'm excited to be on the team bringing Garden Bloggers Fling attendees here for our welcome reception in a private event space next May.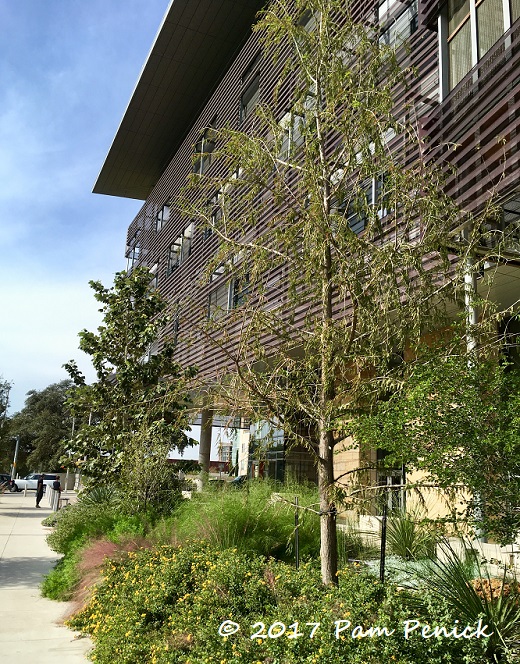 The library is one of the first places in Austin that our bloggers will visit, and the beautiful native-plant landscaping at street level will make a strong first impression.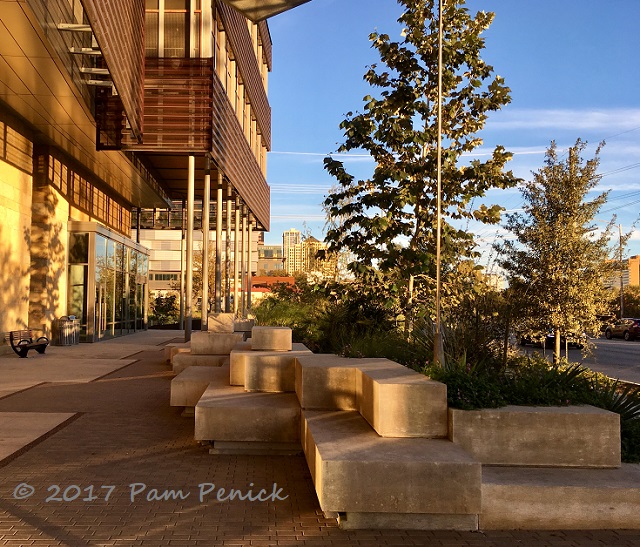 This public patio along Cesar Chavez, screened from the busy street by massive block-style benches and native trees, grasses, and perennials, is adjacent to our event space — nice!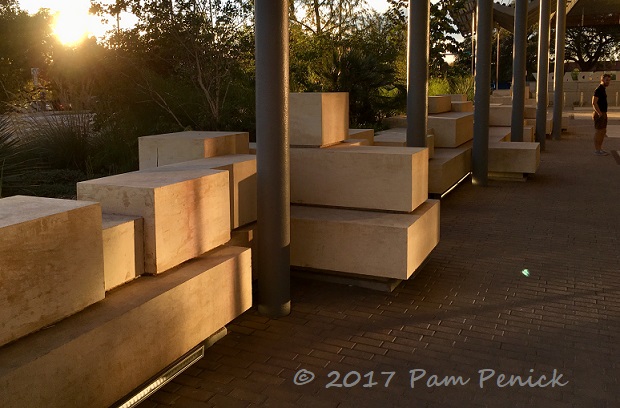 Doubles as a bouldering structure?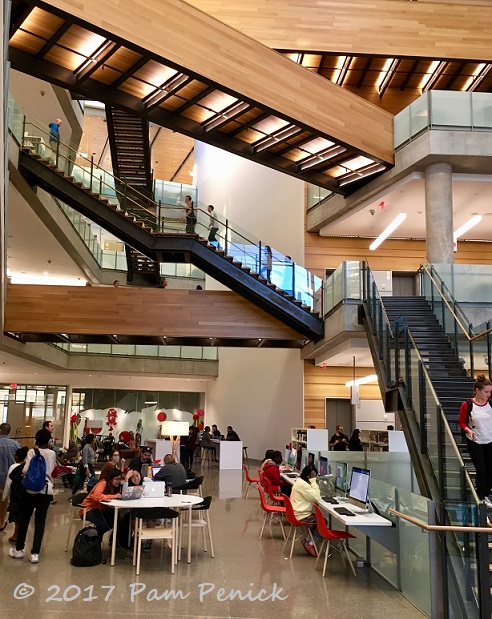 Inside — shazam! Floating steel stairs and wooden walkways dizzyingly change direction, Hogwarts-style, as they rise through an airy atrium.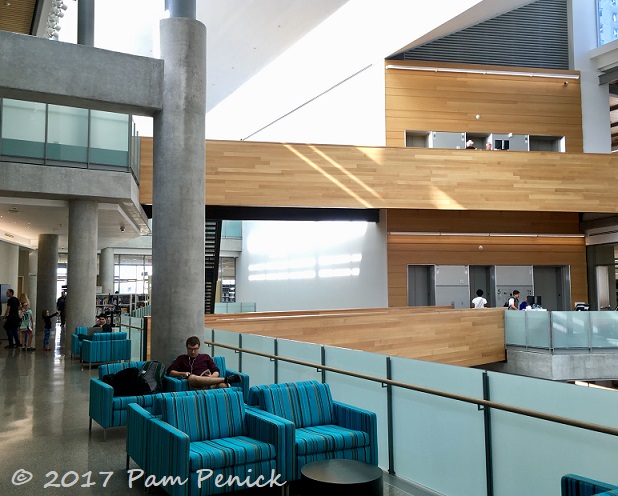 Everywhere, an eye-candy assortment of colorful, modern chairs beckons visitors to get comfy and read.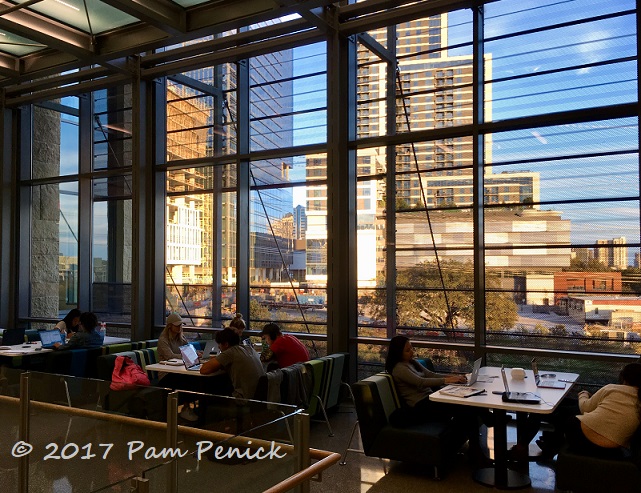 Booths are designed for working with others, with a downtown view to boot.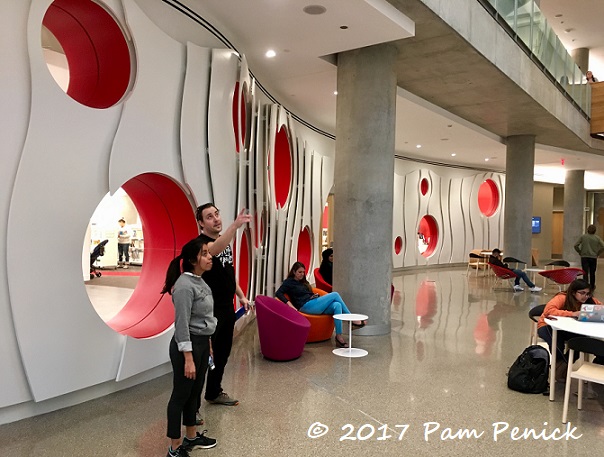 Light and bright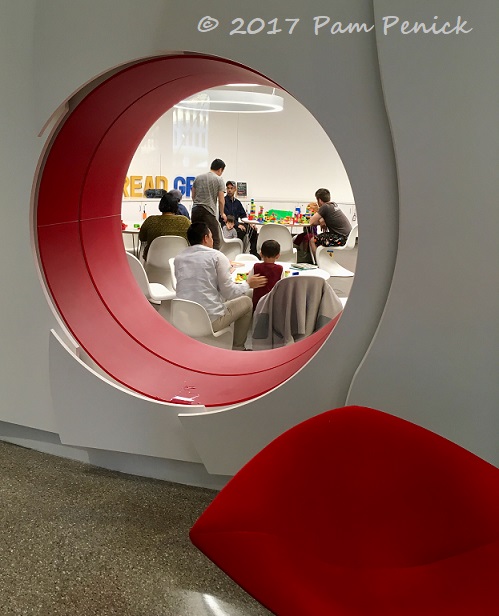 A red "lip" chair, and beyond the red porthole window is a children's area.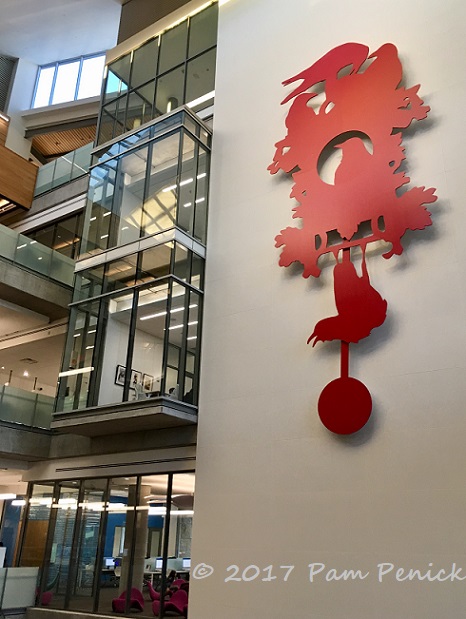 Continuing the red theme, a gigantic cuckoo clock silhouette hangs in the atrium, but instead of cuckoos the birds represent Austin's oft-unloved grackles.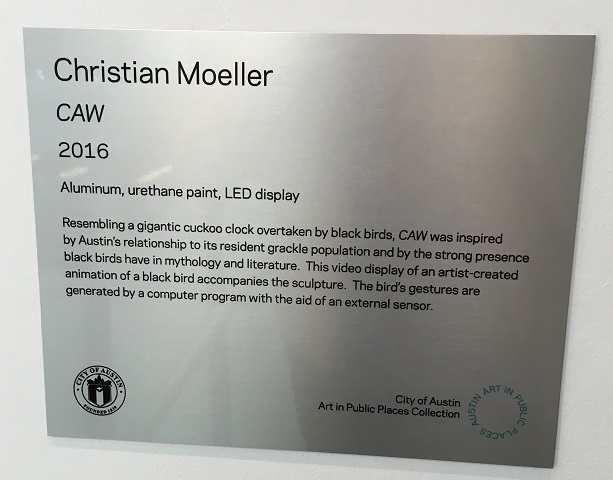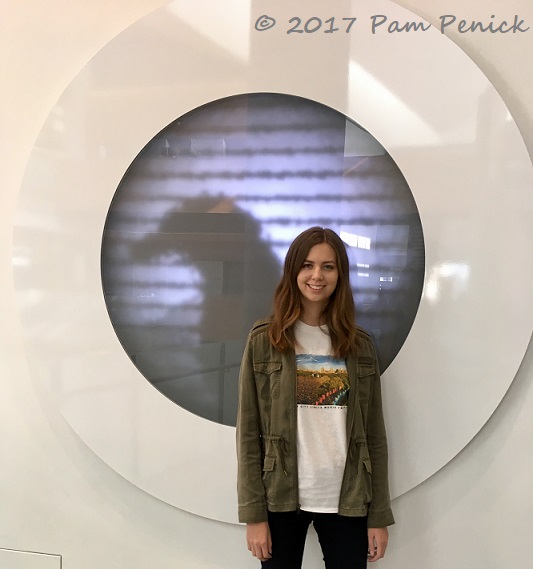 It's accompanied by a video installation of an oversized grackle silhouette in a window-like frame. The bird's head occasionally flicks around in a lifelike way, creating a moment of surprise.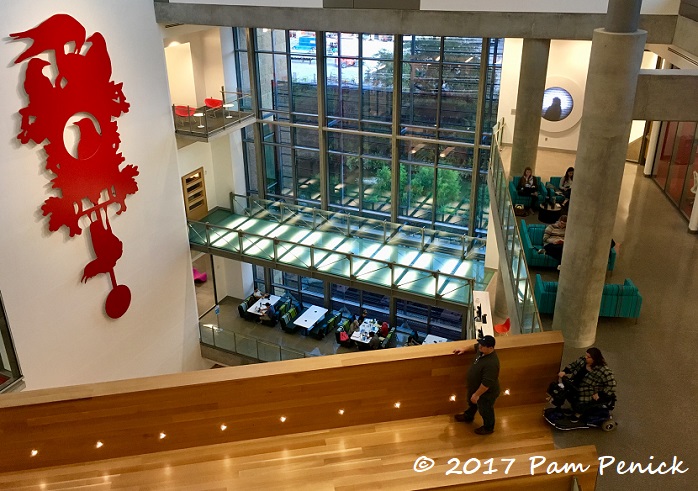 Climbing up all 6 floors, you pass airy book stacks, meeting rooms, and reading spaces…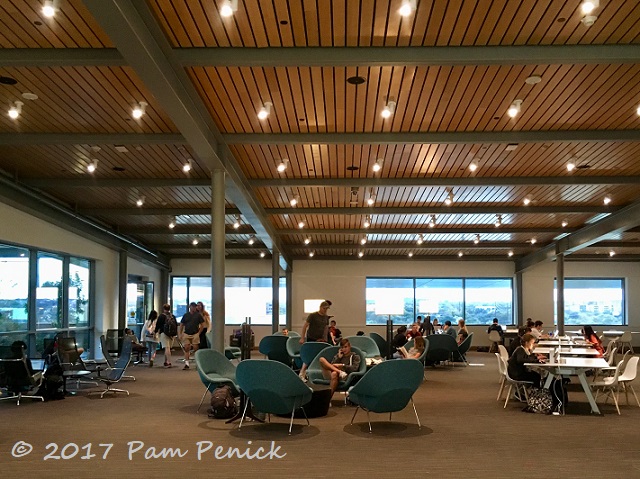 …like this open reading room furnished with inviting chairs and tables.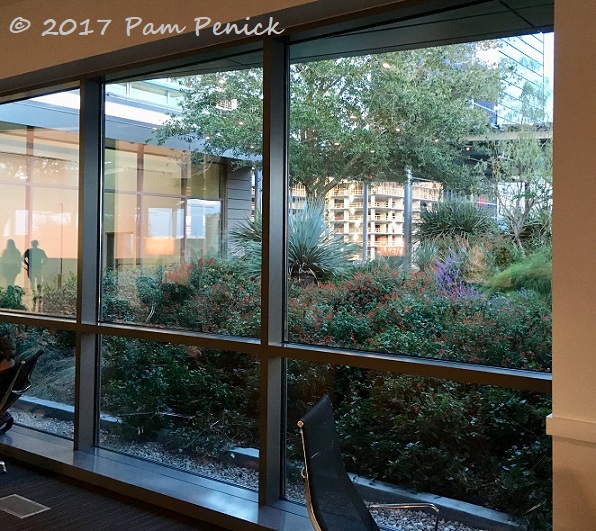 The room's windows overlook one of the coolest spaces in the library, at least for garden lovers — the rooftop native-plant garden. Look — there's an oak tree up there!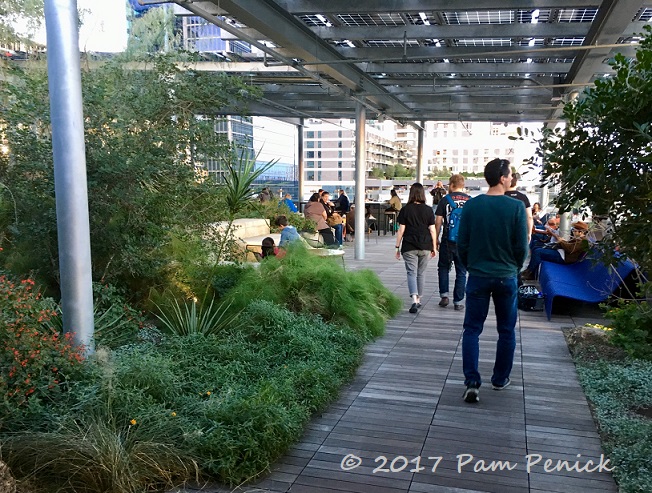 Yuccas, flowering perennials, and grasses flow across a mounded central planting bed, with seating all around and an L-shaped arbor for shade.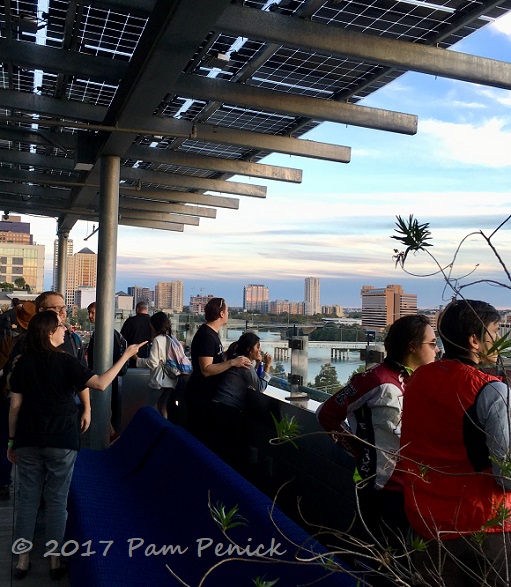 One side looks south over Lady Bird Lake and east toward downtown, offering a beautiful view.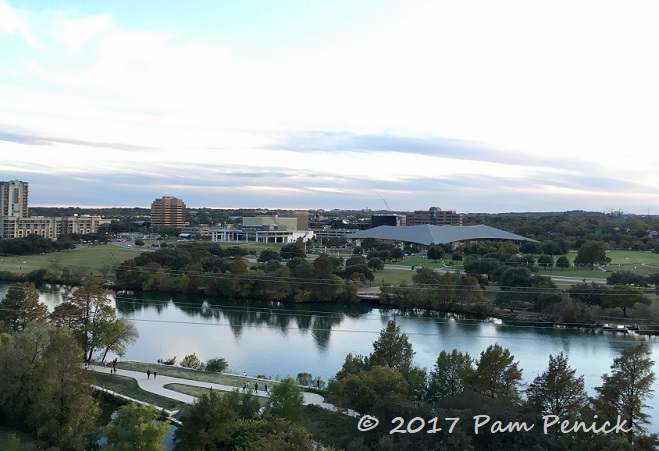 Lady Bird Lake, with the Long Center and Palmer Events Center on the other side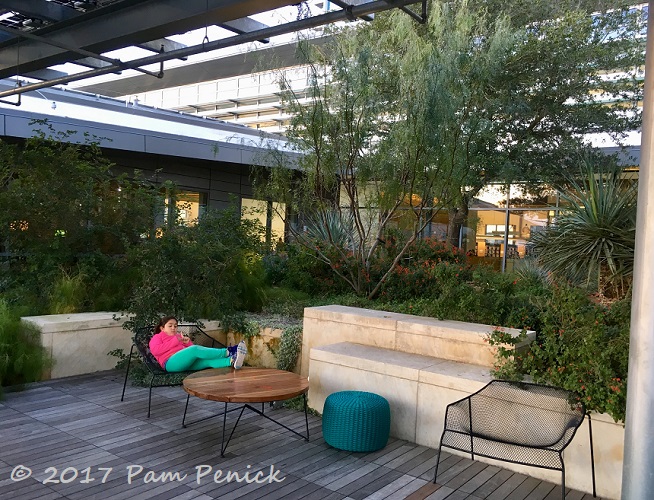 Relaxing and reading in the garden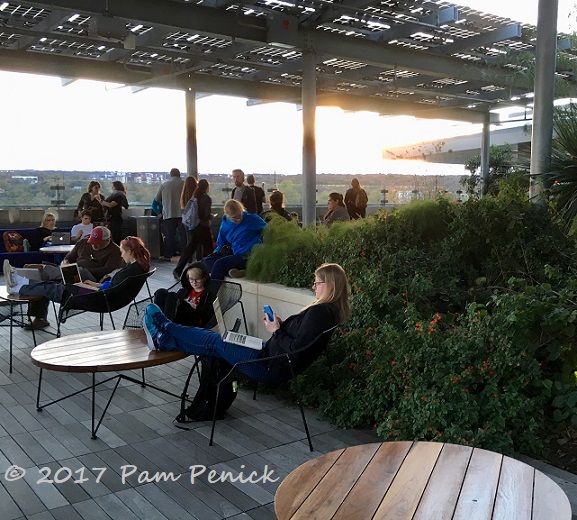 I love this space.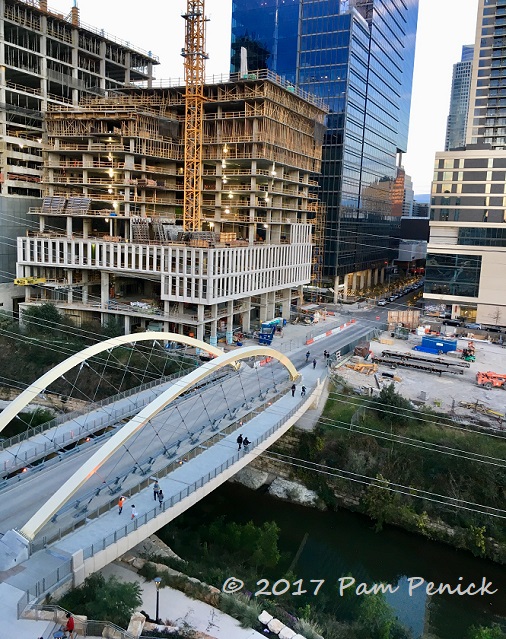 From the east side of the rooftop garden, you get a great view of the new 2nd Street Bridge, aka the Butterfly Bridge, which spans Shoal Creek.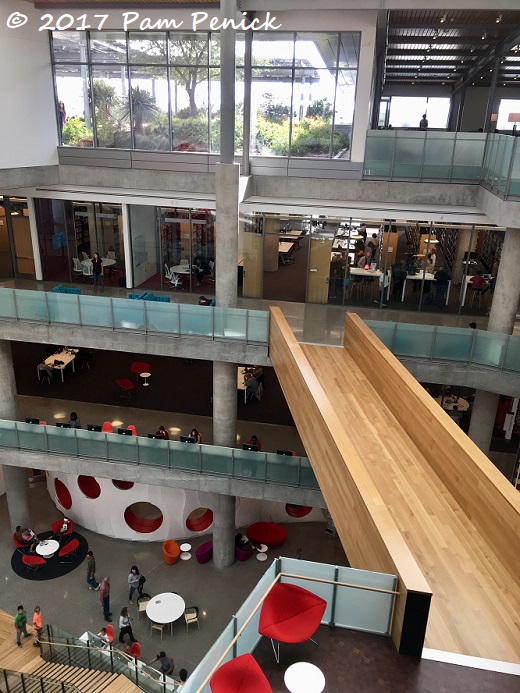 Circling back around to the atrium stairs, you get another glimpse of the rooftop garden. And more lip chairs!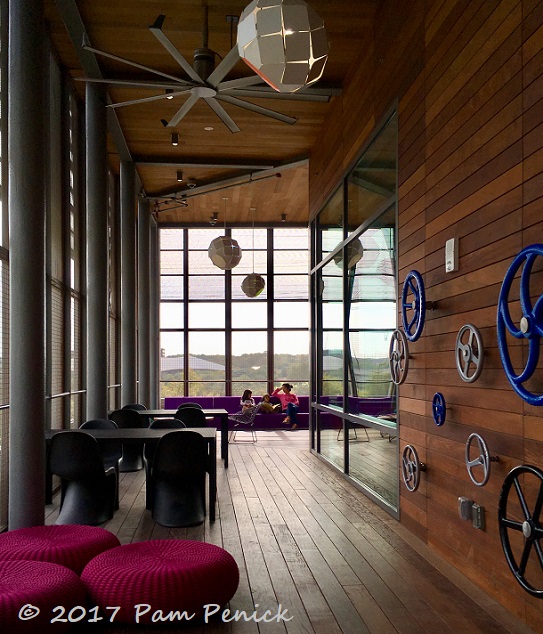 Another incredible space, and one that epitomizes Lake|Flato's style, is the reading porch, just past the children's area. An open-air space that invites readers to get out of the air conditioning and enjoy Austin's weather, the screened porch has an enticing mix of seating, fascinating geodesic dome lights, and child-friendly valve wheels on the walls that you can spin, plus Big Ass Fans (real name) to keep readers comfortable.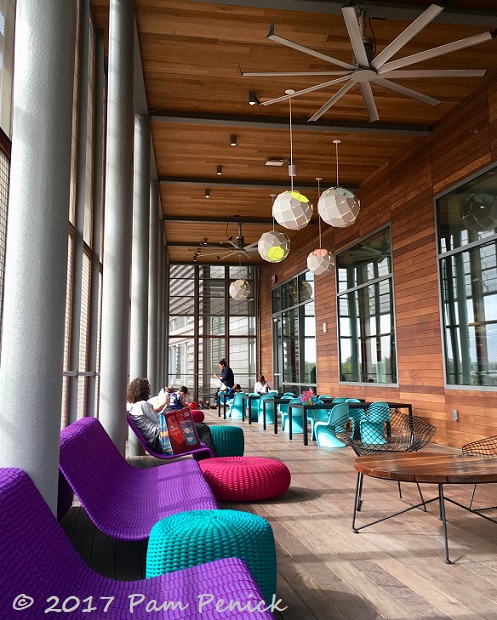 Those colorful sofas. Those woven ottomans. Those lights!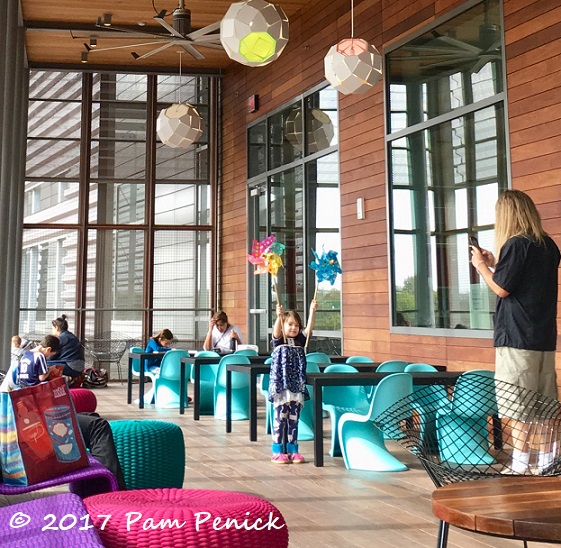 This little cutie found some pinwheels.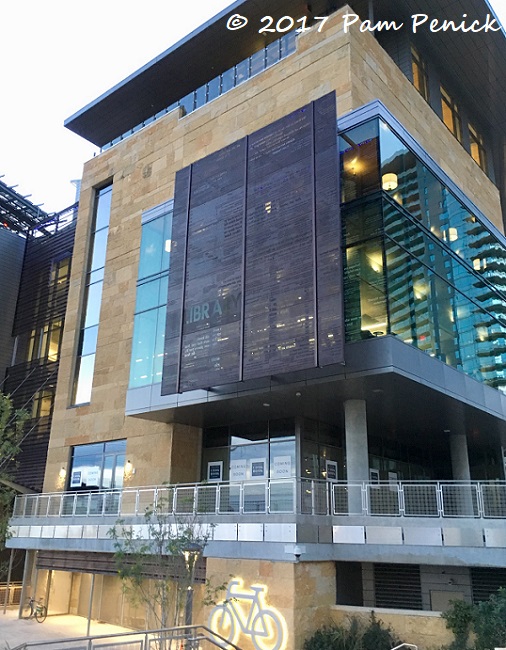 The exterior is wonderful too, and includes a steel shade panel with laser-cut quotes about reading and books. Below that, facing pedestrian-friendly 2nd Street, is where a soon-to-open cafe, Cookbook, will offer cookbook-inspired dishes and drinks (including alcoholic beverages).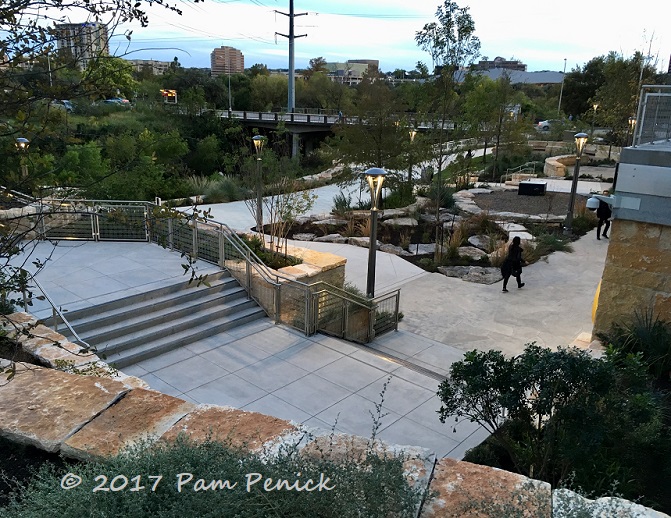 The landscaping was still being planted in late November, but the bones are in place. Update: Lake|Flato tells me that the landscape architecture firm behind the design is Coleman & Associates.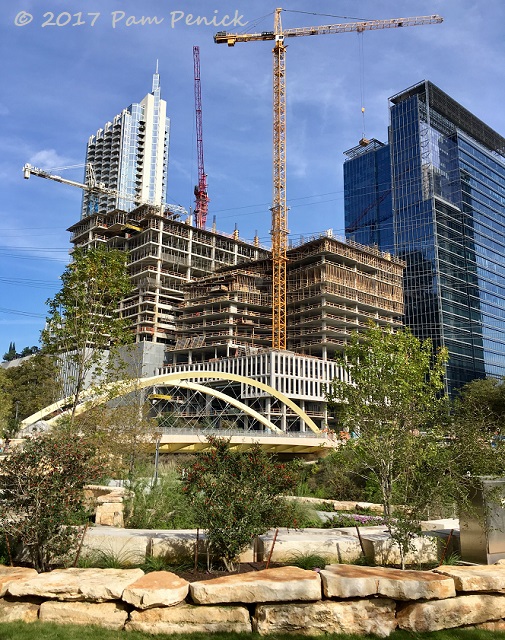 Limestone slabs create raised planting beds — and new buildings are sprouting up behind the new plants.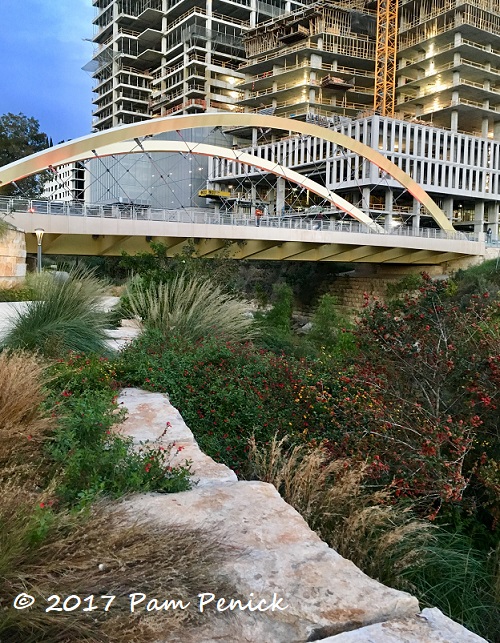 I like the naturalistic planting of native plants along the Shoal Creek ravine, with a nice view of the Butterfly Bridge beyond.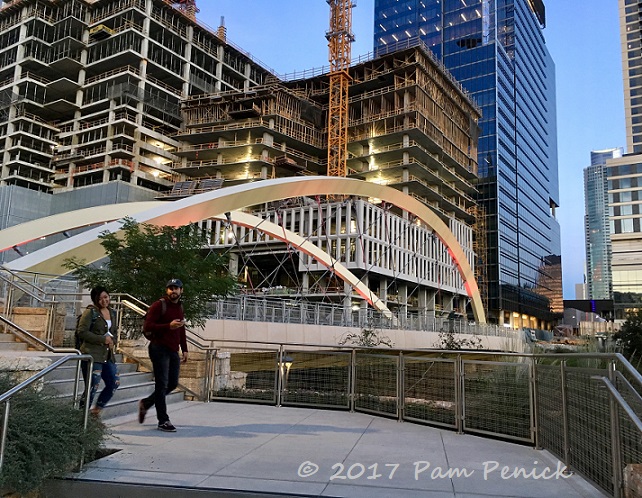 At dusk, the "wings" are washed with softly colored lights that segue from yellow to green to red.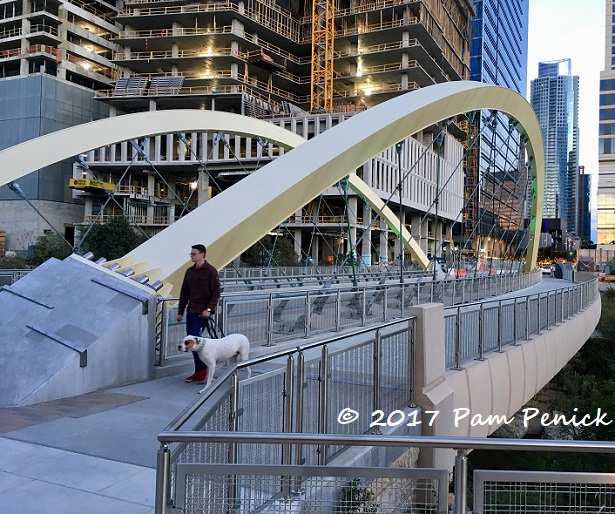 A wide pedestrian sidewalk floats along the side of the bridge.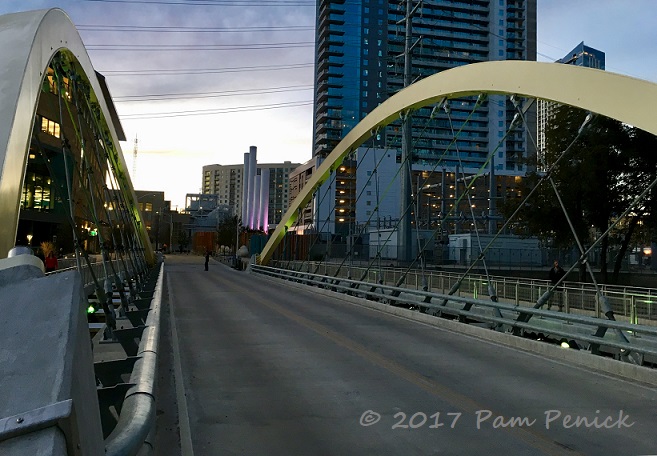 It's a lovely, human-scaled bridge that echoes Austin's arched Pennybacker Bridge on Loop 360.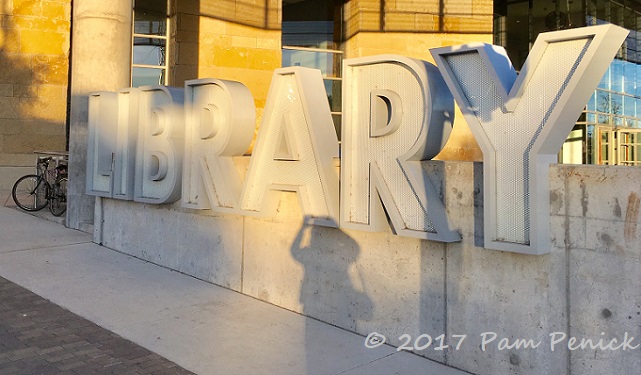 Austin is lucky to have this magnificent public library in such a scenic part of downtown. I look forward to spending many pleasant hours here.
I welcome your comments; please scroll to the end of this post to leave one. If you're reading this in a subscription email, click here to visit Digging and find the comment box at the end of each post.
_______________________
Digging Deeper: News and Upcoming Events
Calling all garden bloggers! You're invited to register for the annual Garden Bloggers Fling tour and meetup, which will be held in Austin next May 3-6, 2018! Click this link for information about registering, and you can see our itinerary here. Space is limited, so don't delay. The 2018 Fling will be the event's 10th anniversary, which started in Austin in 2008.
Join the mailing list for Garden Spark Talks! Inspired by the idea of house concerts, I'm hosting a series of garden talks by inspiring designers and authors out of my home. Talks are limited-attendance events and generally sell out within just a few days, so join the Garden Spark email list for early notifications. Simply click this link and ask to be added.
All material © 2006-2017 by Pam Penick for Digging. Unauthorized reproduction prohibited.
posted in
Arbors
,
Architecture
,
Berries
,
Bridges
,
Fling Austin
,
Grasses
,
Green roofs
,
Keep Austin Weird
,
Lakes
,
Native plants
,
Parks & greenbelts
,
Paths
,
Patios & decks
,
Porch
,
Public art
,
Rivers & creeks
,
Rock
,
Sculpture
,
Seating
,
Signs
,
Texas natives
,
Trees
,
Views
,
Walls
,
Windows
,
Yuccas