September 28th, 2015
Dustin Gimbel
's garden in Long Beach, CA, last week — not at all in the mellow, sunny-L.A. way I'd been led to expect. But perhaps
Diana
and I are fated to bring Texas weather with us wherever we travel.
We were in Los Angeles for the Garden Writers Association conference but had set aside a day and a half to visit friends and their gardens. Annette Gutierrez, whose garden we visited first on Saturday morning, had generously arranged a day of private garden visits for us. Slathered in sunscreen, we arrived at mid-morning at Dustin's garden, and he met us at the gate wearing a big-brimmed straw hat and an even bigger smile. With him was Bill Thomas, executive director and head gardener at the amazing Chanticleer.
I knew Dustin slightly from his blog, Non-Secateur (a punny title that perfectly exemplifies his quirky sense of humor), and from other bloggers' posts about him.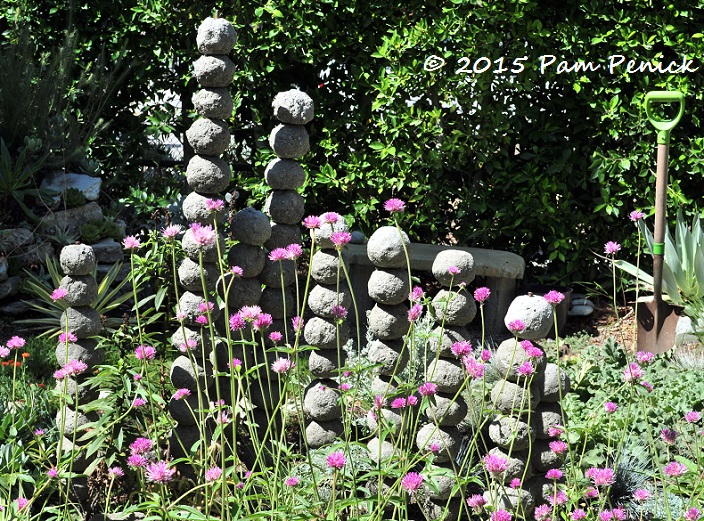 Dustin is the mastermind behind an L.A. event that brings together creative people from multiple fields — gardeners, designers, writers, artists, etc. — for dinner in his garden. These Cross-Pollination parties, as he calls them, are a terrific idea that I fantasize about copying in Austin — or, even better, being invited to myself. (If only there were an energetic and welcoming Dustin in Austin!) Dustin is a plant geek extraordinaire who's worked with Dan Hinkley at Heronswood, Bill at Chanticleer, and ornamental grass guru John Greenlee, as well as at Great Dixter in England. Today he operates Second Nature Garden Design in L.A.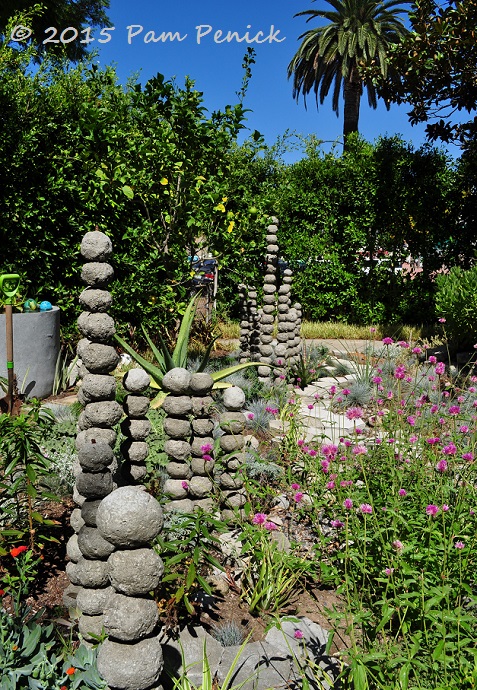 His own garden, on an unusually large lot in an urban neighborhood in Long Beach, is a place of artistic experimentation. A tall hedge shuts out the busy street, putting the visitor's attention on the mix of plants and Dustin's handmade art, like these cast-concrete spheres skewered on rebar stakes, which resemble stacked beach stones. A narrow trail of hexagonal pavers winds through the sunny garden, leading the visitor on a slow, deliberate exploration. 'Fireworks' gomphrena adds a meadowy ribbon of pink pom-poms to the scene.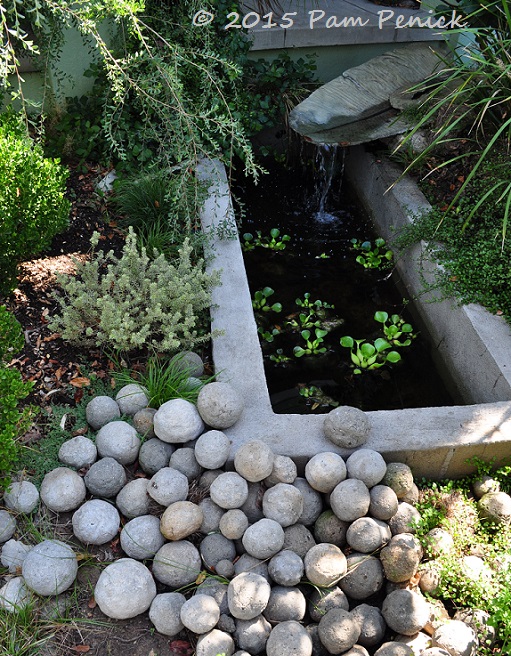 Dustin went all-in on the concrete-orb creation, as evidenced by the pile of balls next to a small pond. A cast-leaf fountain trickles water into the pool.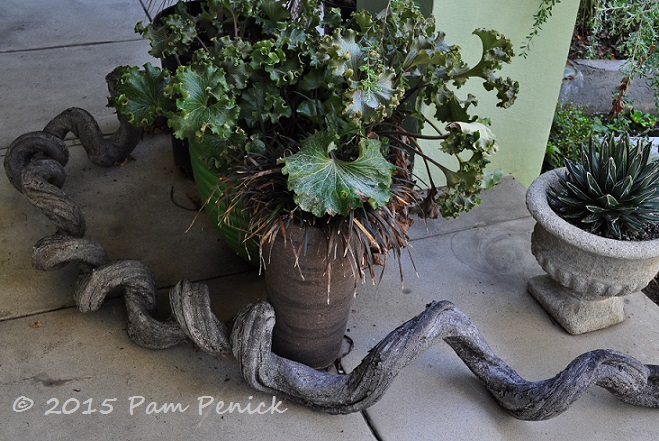 On the porch, potted plants share space with a twisted old vine, a natural sculpture.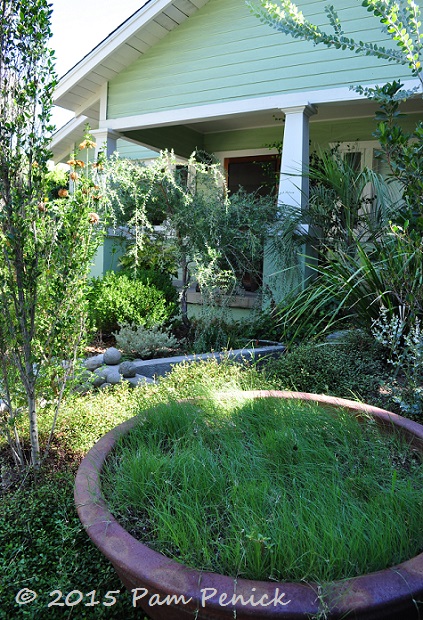 This pot of buffalograss is meant to be a seat, Dustin told us. At first glance I thought it to be an ironic tribute to the Bermudagrass that blanketed the yard when he bought the house, which he eradicated in the process of making his garden.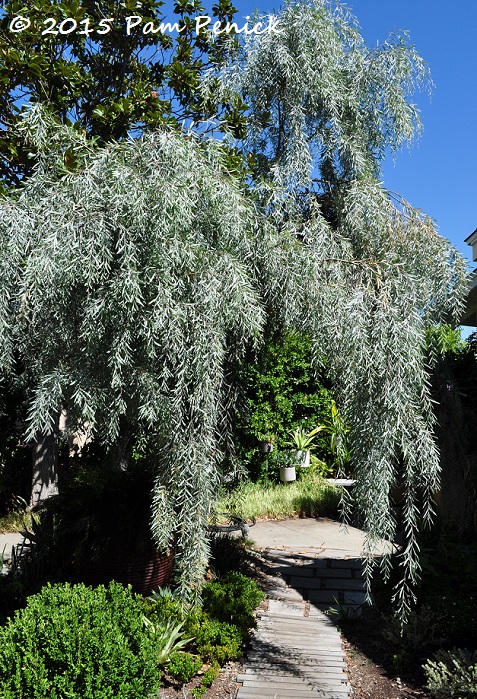 The most dramatic feature of the front garden is a gracefully arched weeping acacia (Acacia pendula). Its silvery leaves sparkle in the sunlight and surely glow in moonlight. Dustin's trained it on a rebar tepee frame that straddles the path, but the rebar is nearly invisible, giving the impression that the tree has simply been pruned into an arched doorway.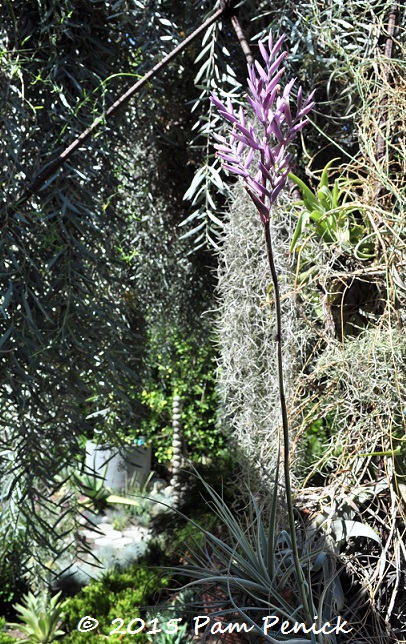 Wired to the tree, along with Spanish moss (I think), was a tillandsia with a beautiful lavender flower.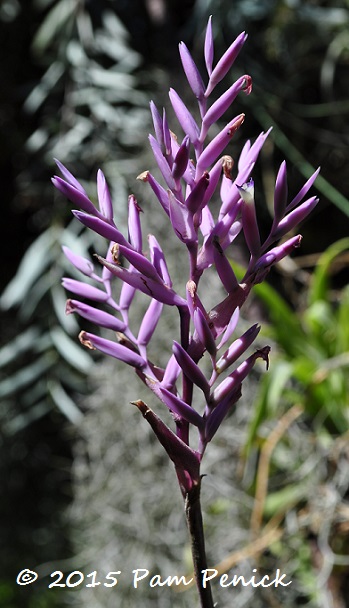 Lovely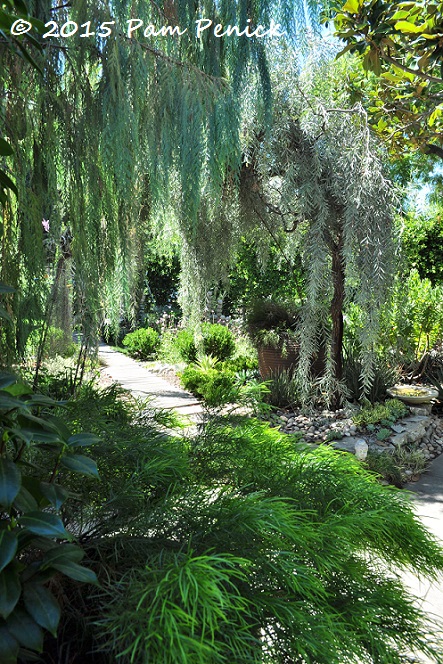 Looking back at the front garden from the driveway (which leads to the back garden), you see a wealth of textural leaves and shades of green and gray. Touchable 'Cousin Itt' acacia is in the foreground.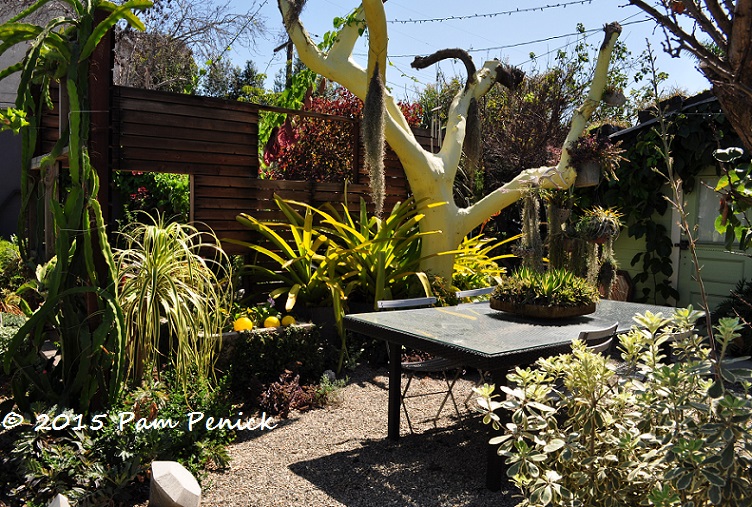 Entering the back garden is a wow moment. A thick-limbed dead tree, painted pale yellow, stands as a sculptural centerpiece near an L-shaped screening wall constructed of horizontal boards. Strategically placed windows offer teasing glimpses of the garden beyond. By dividing his garden into distinct rooms but allowing peek-a-boo views, Dustin has made the garden feel larger than it really is.
Golden bromeliads and a variegated ponytail palm, as well as yellow glass floats in a trough pond, amplify the yellow of the tree. The colors were intense at midday but must glow beautifully in the softer light of morning and evening, perfect for al fresco dinner parties.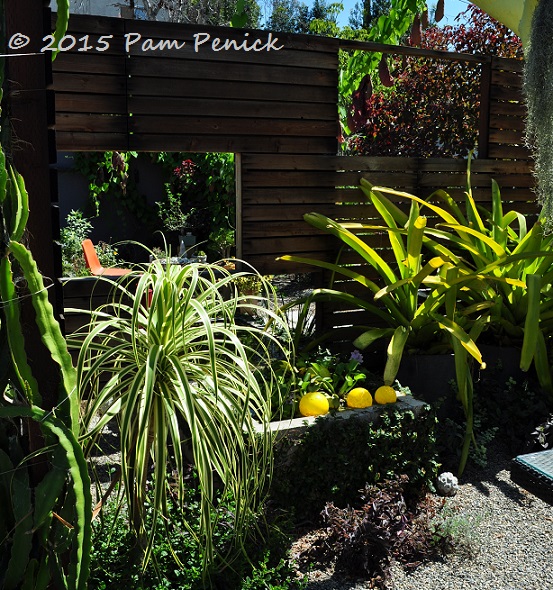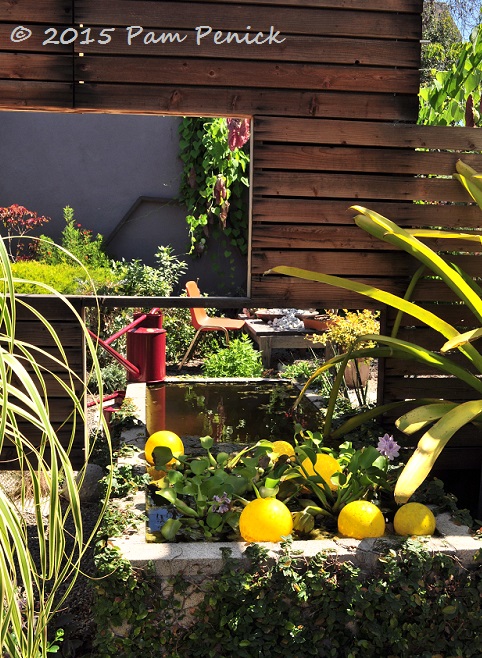 The raised trough pond — mortared concrete block cloaked with fig ivy — is positioned in one of the "windows," thus figuring into the gardens on both sides of the wall. Through the top window you get a glimpse of a dusky purple wall, with burgundy and chartreuse plants in front.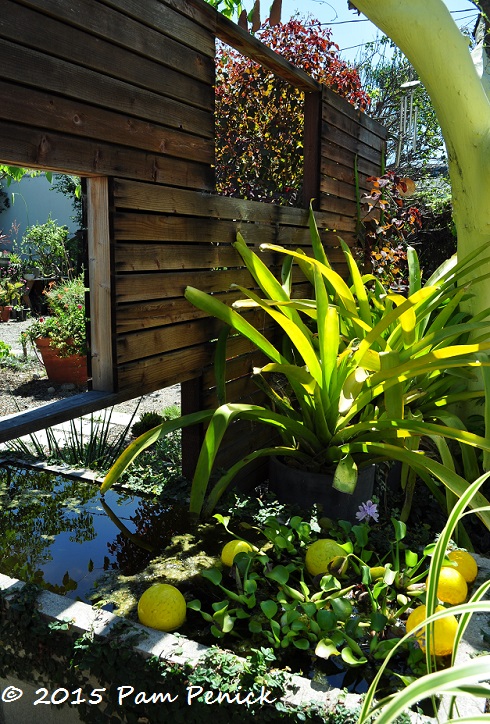 Yellow echoes yellow echoes yellow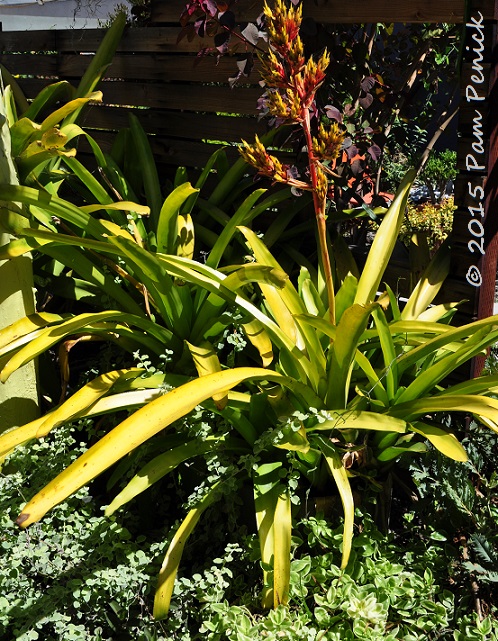 One bromeliad was in bloom.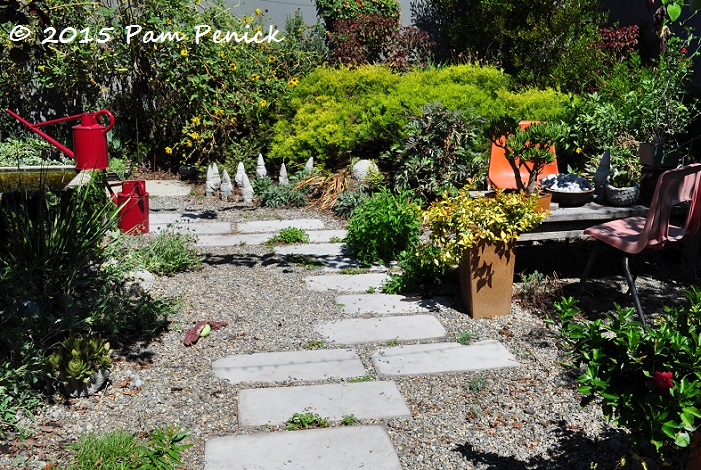 Walk around the screening wall, and you see a gravel garden with a meandering path of concrete pavers. A circle of Dustin's cast-concrete gnomes catches your eye…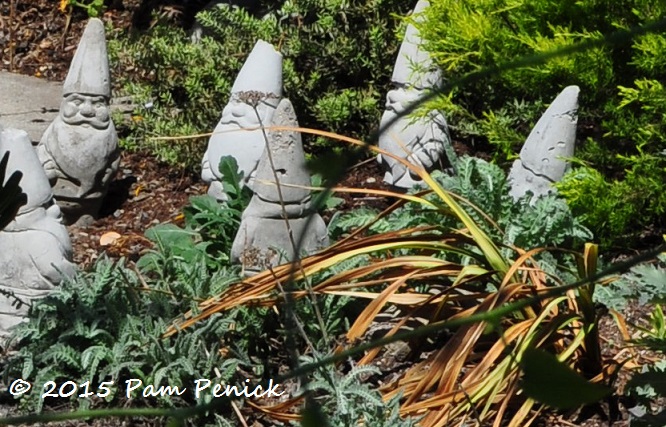 …what are they up to?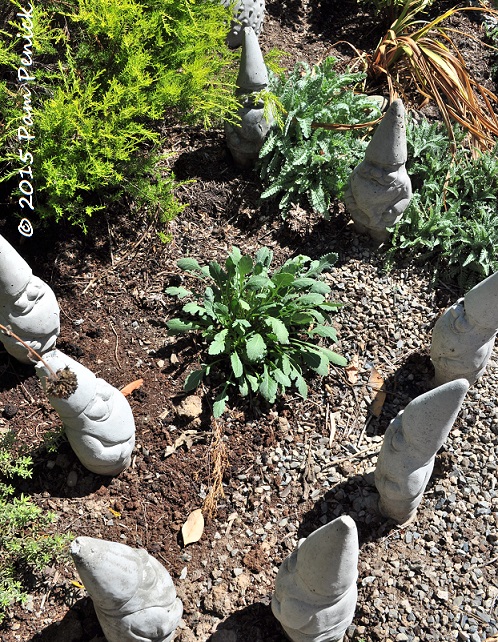 Plant worship?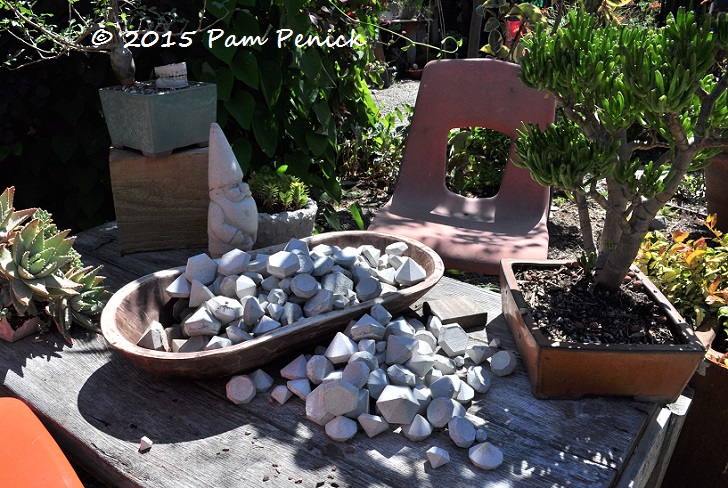 At a small table nearby, a gnome appears to be standing guard over a bowl of diamonds, another creation of Dustin's — from an ice-cube tray mold, I believe he said. At Dustin's invitation, one of these came home with me as a souvenir from his garden. The gnome was kind enough not to bite my fingers as I selected one.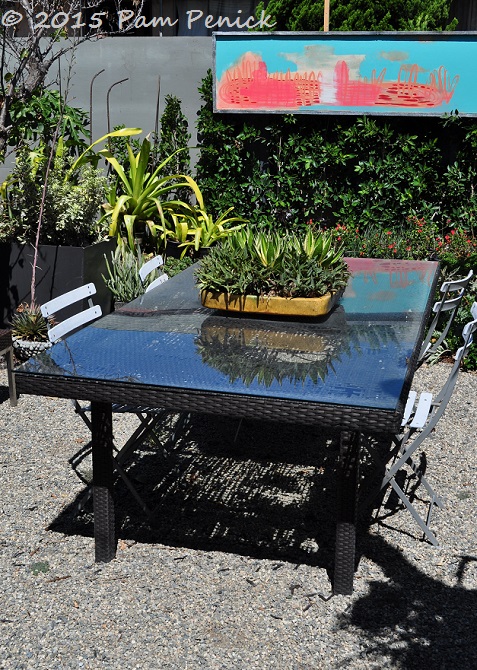 Around the corner, another dining table offers extra space for guests.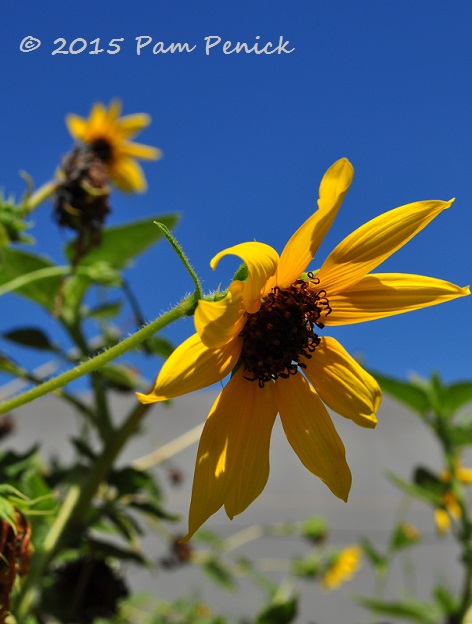 Sunflowers reach for the sky.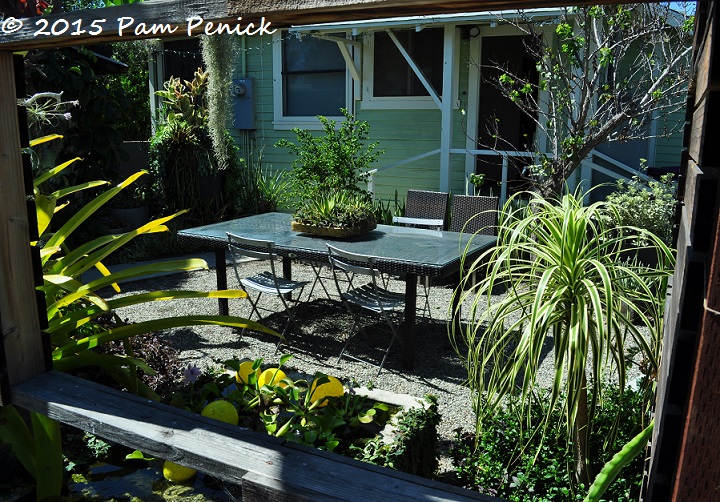 Now we're looking through the screening wall's window from the other side, toward the back of the house.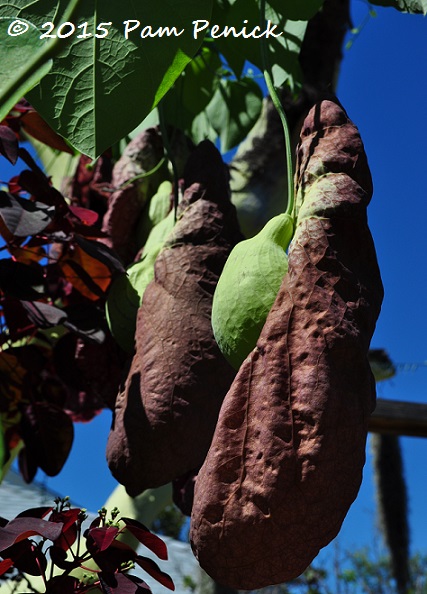 A most unusual vine drapes from a corner of the screening wall: giant Dutchman's pipe (Aristolochia gigantea), a Brazilian native. Its inflated, burgundy flowers look a bit like lungs before they open.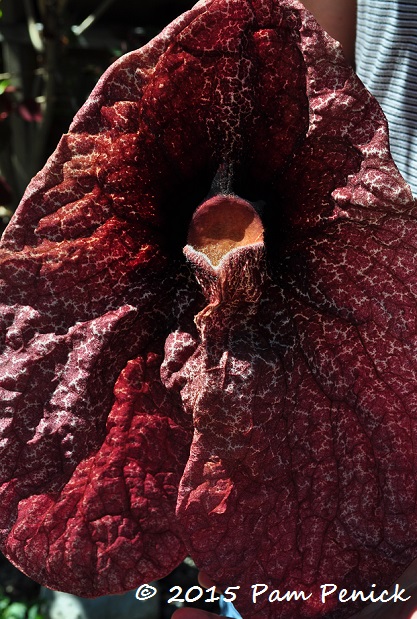 And when they open, they resemble…ahem…well, I'll leave that to your imagination. It's a conversation starter, for sure. Check out A Growing Obsession for a wonderful photo of this vine, in the softer light of evening, strung along Dustin's dusky purple wall.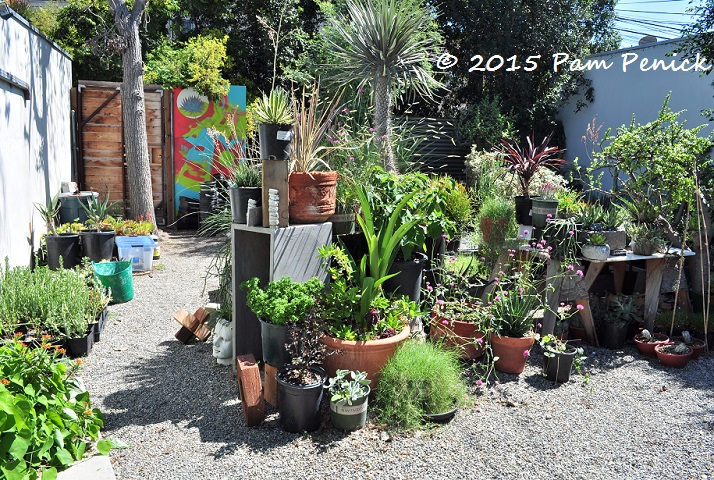 At the back of the lot, Dustin keeps an artfully arranged assortment of plants that he's propagating or putting into clients' gardens.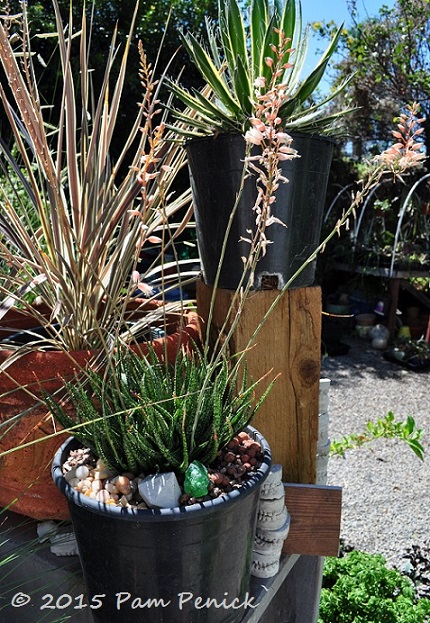 It's like a mini-nursery.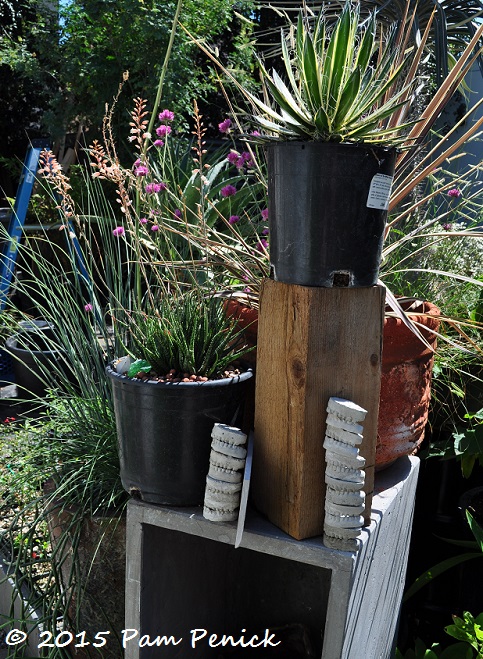 I noticed that Dustin has made stacks of cast-concrete teeth as well — to go with plants that can bite, like this agave?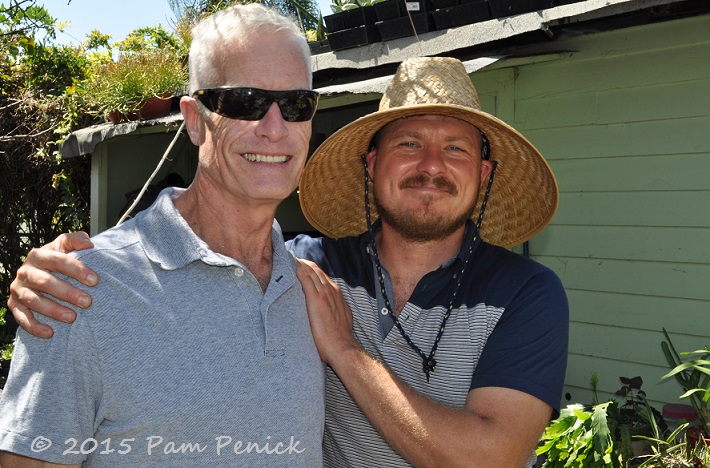 Bill and Dustin, two gardener rock stars
Thank you, Dustin, for welcoming us into your creative, plant-lover's garden! It was a treat to visit, even with the Death Star on high-beam.
Dustin himself is on high-beam all the time, I suspect, cooking up ideas for his gardens and for dinner mixers that bring creative people together. It was great to meet him, and Bill too (check out his new book), and I'd see them both again later that afternoon at other gardens we visited.
Up next: A magical hillside oasis created by Joy and Roland Feuer. For a look back at blogger Kris Peterson's lovely ocean-view garden, click here.
All material © 2006-2015 by Pam Penick for Digging. Unauthorized reproduction prohibited.
The Death Star was blasting mercilessly when I visited designer
posted in
Agaves
,
Containers
,
Decor
,
Design
,
Fountains
,
Garden art
,
Garden tours 2015
,
Grasses
,
Lawn Gone!
,
Paths
,
Patios & decks
,
People
,
Ponds
,
Sculpture
,
Seating
,
Shrubs
,
Tillandsias
,
Travel
,
Trees
,
Tropicals
,
Vines
,
Walls
,
Water features
,
Water gardening
,
Windows
,
Xeric plants