June 28th, 2015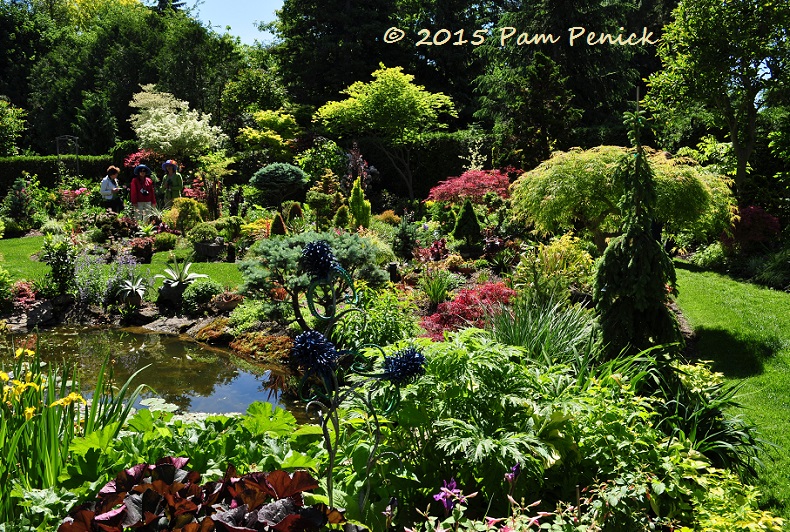 All that is gold does not glitter, especially in the Toronto, Ontario, garden of designer and speaker Marion Jarvie. Her home garden was our midday stop on the 2nd day of touring at Toronto Garden Bloggers Fling. High and bright, the sun flattened and shadowed my photos of her richly textured, foliage-focused, collector's garden, which she ties together through the repetition of color, particularly gold and burgundy. I'm sure the garden simply glows in the mellower light of morning or late afternoon. But it was pretty amazing even at high noon.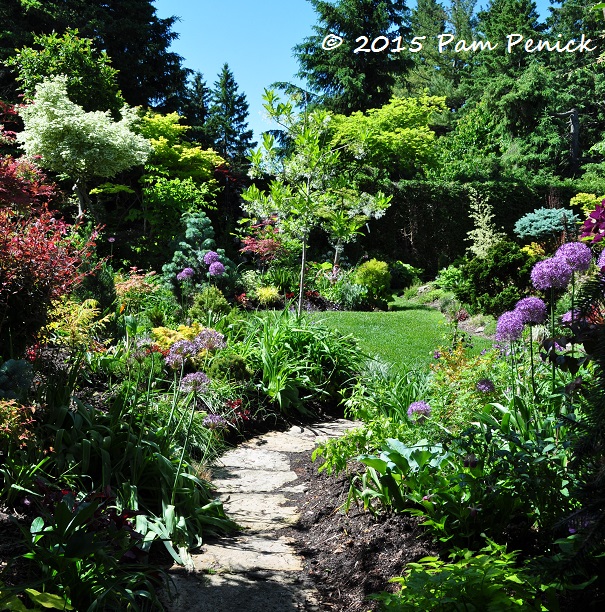 For 40 years Marion has been tending this half-acre garden in a suburban neighborhood north of Toronto. The front contains a sloping lawn, lushly bordered, but the back is where she really cuts loose, planting up manmade, curvy berms with seeming abandon, but which are in fact carefully orchestrated.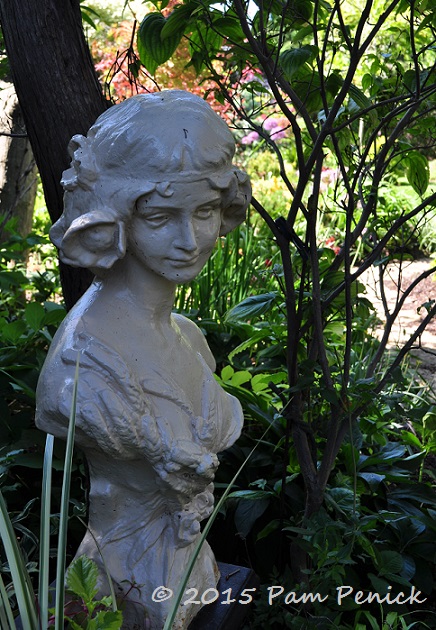 This white ceramic bust greets you as you enter the back garden…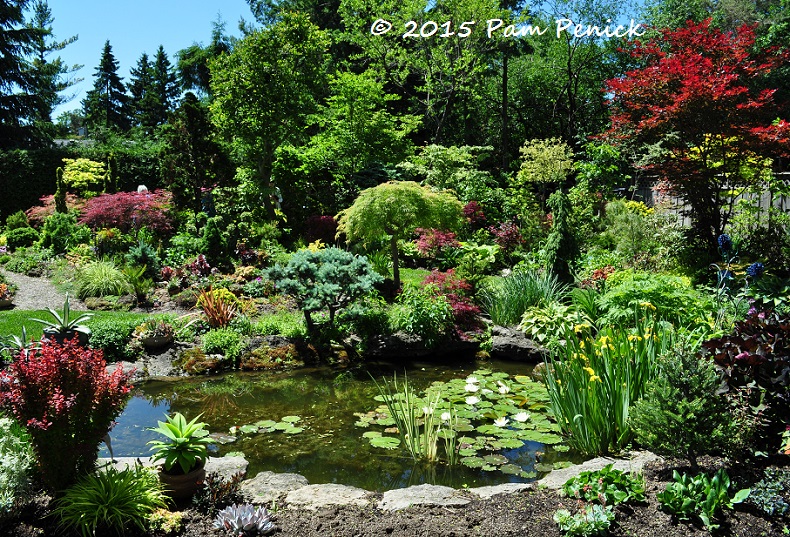 …which opens before you like a rolling landscape. A large pond creates negative space and a focal point near the back patio.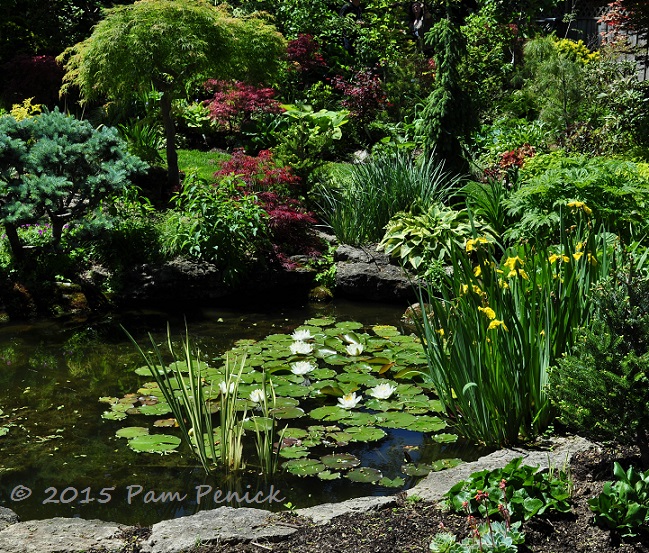 Yellow iris and white water lilies were blooming during our early June visit.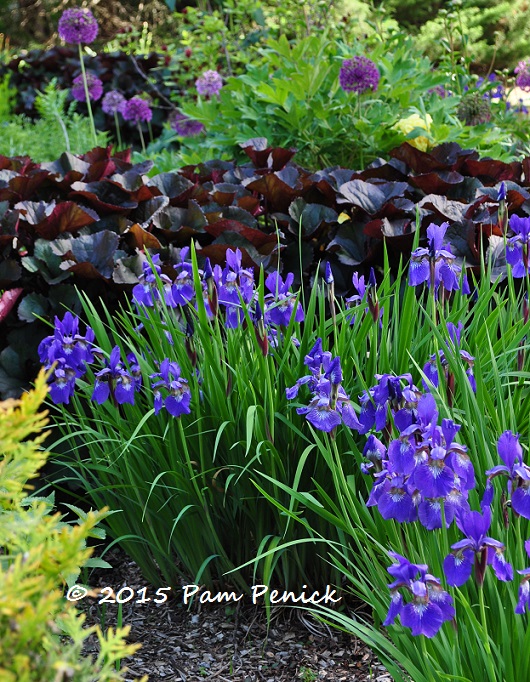 But Marion mainly favors purple flowers, it seems, which complement the golds and harmonize with the burgundies.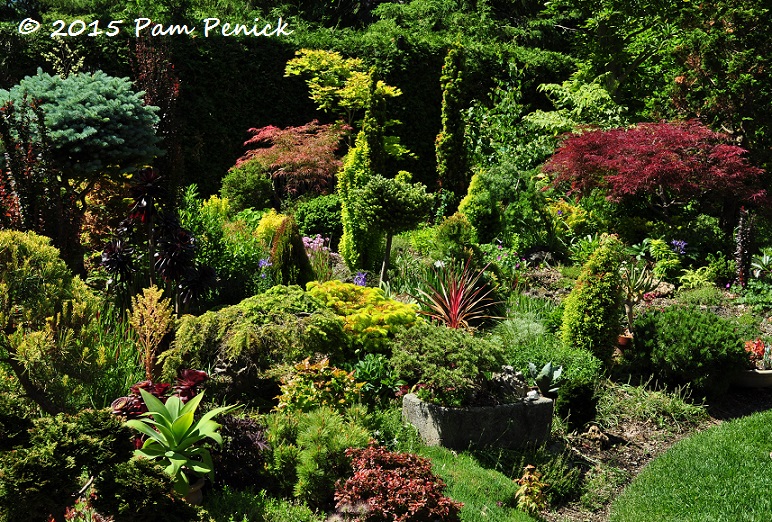 The garden reminded of gold brocade fabric: heavily textured with conifers, glowing with golden foliage, richly accented with specimen plants. It would be easy for a garden like this to become a jumble. But color repetition blends it into an intentional tapestry.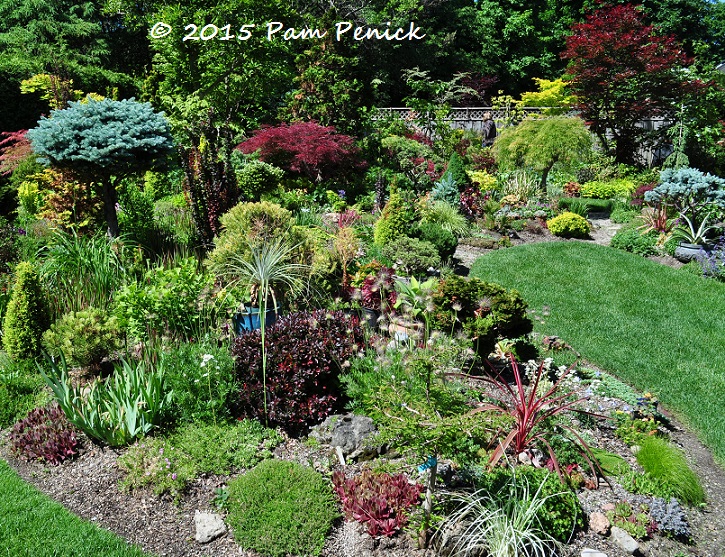 Expansive berms swoop around a narrow, curvy lawn, which functions as a path through the garden. The berms elevate the plants and help screen neighboring houses, plus they provide good drainage. Some of the conifers had been browned during last year's especially cold winter (I noticed this in a number of Toronto gardens), and Marion's gardening helper told me she was in the process of replacing those with more cold-tolerant pines.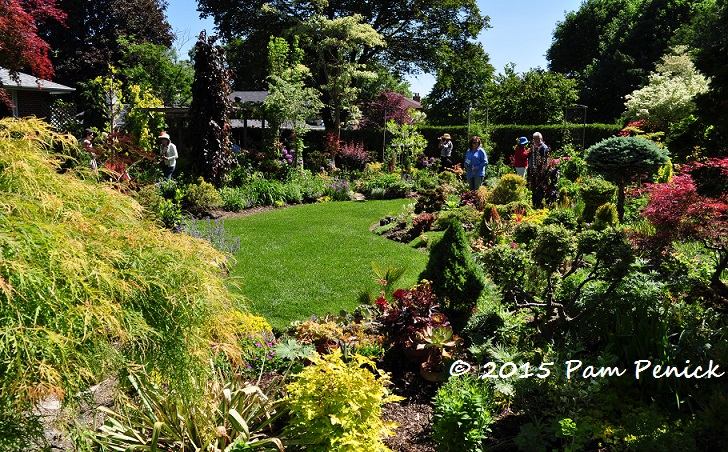 The lawn also functions as essential negative space amid the busily planted beds.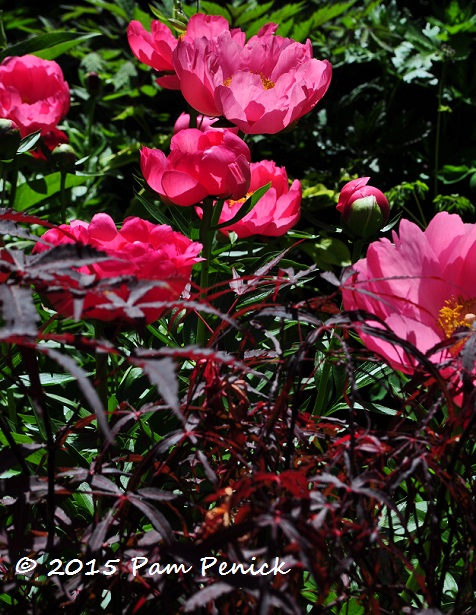 Peonies aglow in sunlight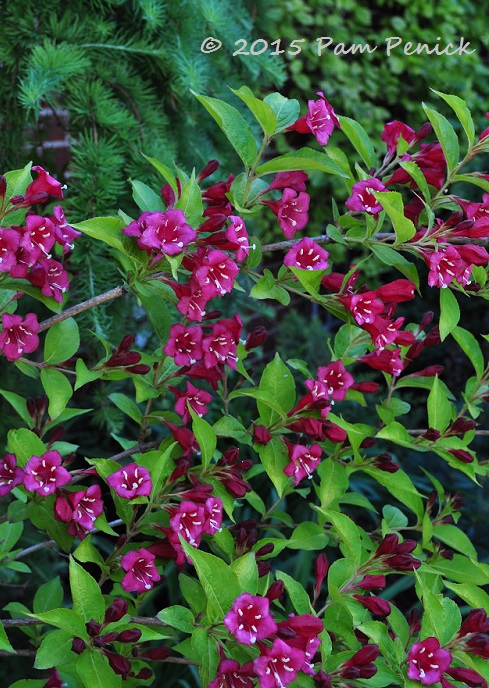 Anyone know what this flowering shrub is? Update: The consensus among commenters is that it's a weigela.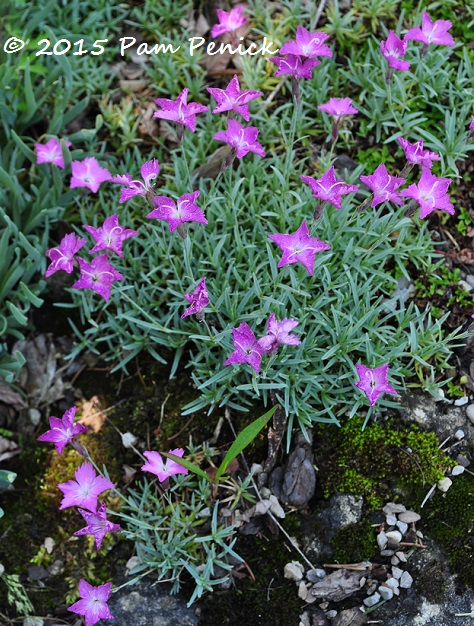 I loved these star-shaped pink flowers atop narrow, blue-green leaves — a dianthus perhaps?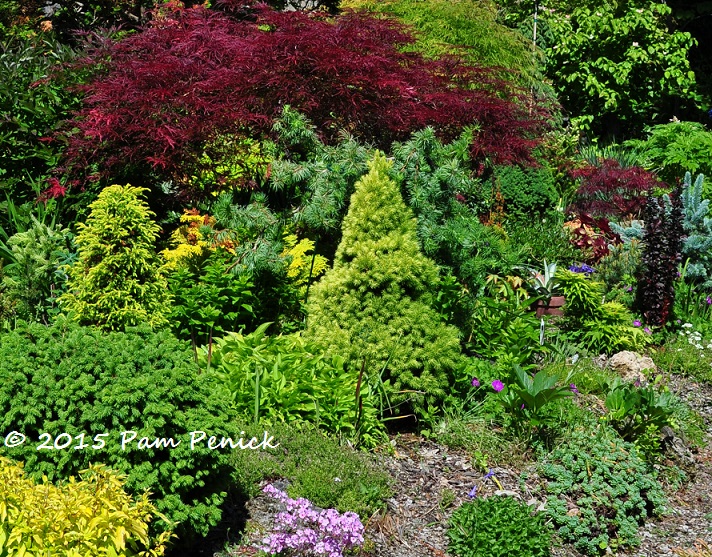 One could wander this garden for hours, I think, and still not see everything.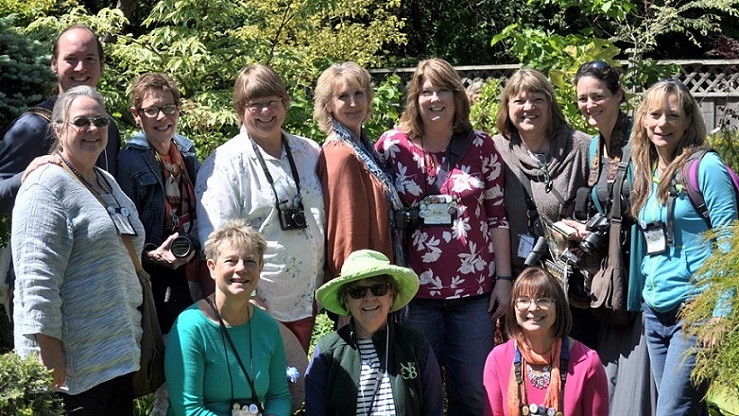 I'm always proud of how many bloggers from Texas, and particularly from Austin, attend the Fling each year, no matter how distant the host city. This year 13 Texans "flung," and we got together for a group photo in Marion's garden. Back row, left to right: Shawn and Laurin of Ravenscourt Gardens (Houston), Linda of Central Texas Gardener (Austin), Sheryl of Yard Fanatic (Austin), Rebecca of Rebecca's Retreat (Buda), me (Austin), Vicki of Playin' Outside (Austin), Andrea of Grow Where You're Planted (College Station), and Chris of Watching My Garden Grow (Austin). In the front row: Cindy of From My Corner of Katy (Katy), Susan of The Bicycle Garden (Lubbock), and Diana of Sharing Nature's Garden (Austin). We were missing Jennifer of The Blotanical Journey (Houston), a Fling first-timer I'd meet on the following day's tours.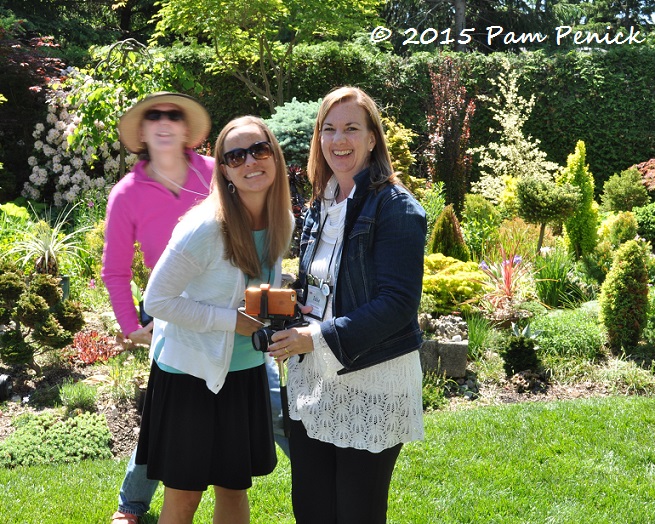 These bloggers were having fun too: Amy of Get Busy Gardening, who's the lead planner of next year's Fling in Minneapolis, and Julie of Garden Delights, one of the fun Carolina gals. The hat-wearing photobomber is Helen of Gardening with Confidence.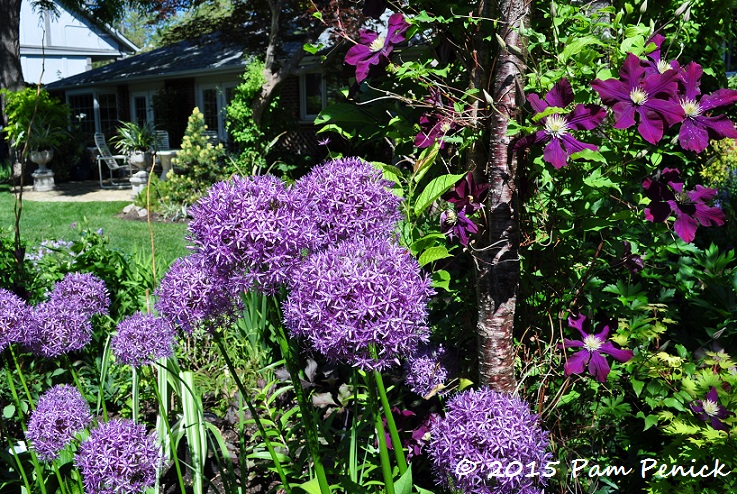 Allium and clematis make a pretty color echo as you look toward the back patio — and the only seating in the garden. This is a strolling garden, meant for exploring. And how fun it was to explore with my blogger friends!
Coming up next: Cabbagetown garden art and the Hugh Garner Co-Op Green Roof. For a look back at a lush but disciplined contemporary garden in Forest Hill, click here.
All material © 2006-2015 by Pam Penick for Digging. Unauthorized reproduction prohibited.
posted in
Bulbs/Rhizomes
,
Color
,
Containers
,
Decor
,
Design
,
Fling Toronto
,
Garden art
,
Garden blogging
,
Garden tours 2015
,
Lawns
,
Paths
,
Patios & decks
,
Ponds
,
Shrubs
,
Travel
,
Trees
,
Vines
,
Water features
,
Water gardening