July 31st, 2015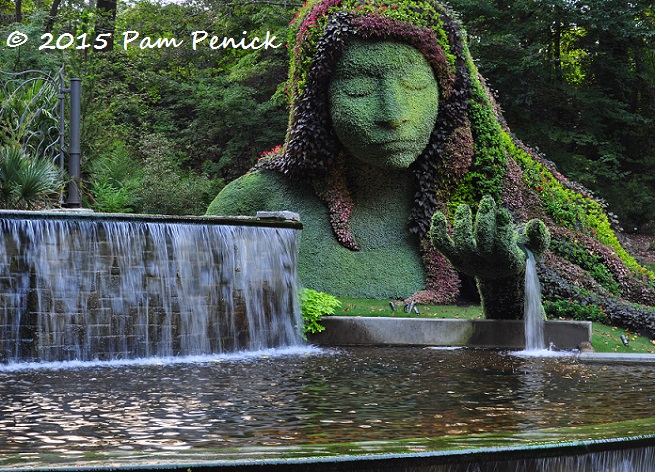 Earth Goddess, Atlanta Botanical Garden
After we left New Orleans, we drove to Atlanta, Georgia, arriving in time for a Sunday evening visit to Atlanta Botanical Garden to see a special art exhibit, Bruce Munro: Light in the Garden.
Seeing a garden in late afternoon and at dusk, especially during the hot summer, is a treat in itself. During the Munro exhibit, which lasts until October 3, 2015, the garden offers special evening hours Wednesday through Sunday, from 6 to 11 pm. If you get there right at 6 pm during the long days of summer, you can see the whole place before the sun sets and then stay for the light show after dark.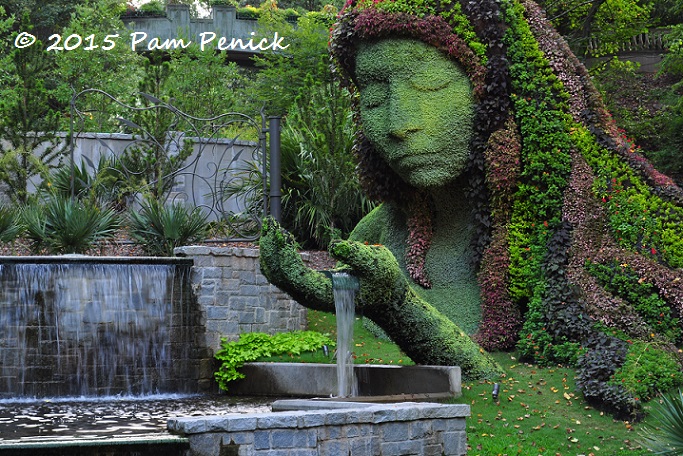 While ABG is a pleasant and green oasis near downtown Atlanta, I didn't find it to be particularly exciting in terms of its plant collection or garden design. However, it does have a few unique features that we really enjoyed. One is this monumental, 25-foot-tall Earth Goddess, which fosters an illusion of the garden come to life. Completely covered in plants, she holds a waterfall in one uplifted hand and presides over a larger cascade and pond garden.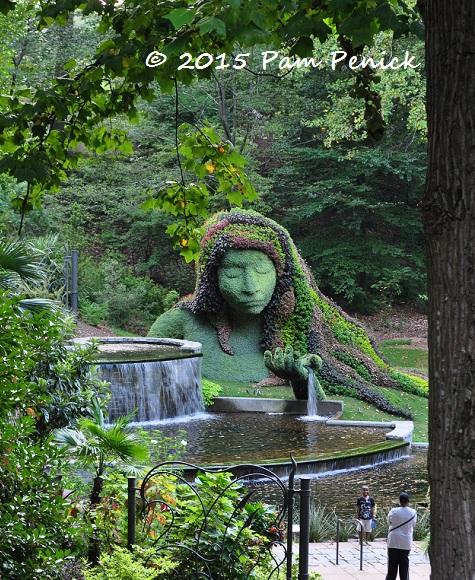 One last look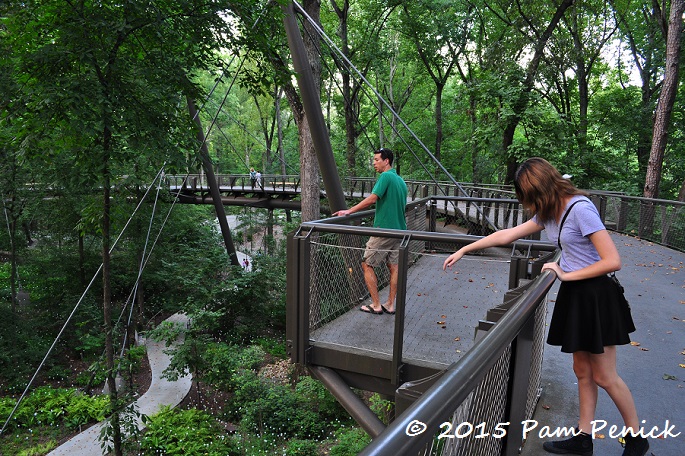 Our favorite feature of the gardens turned out to be the Canopy Walk, an elevated path through the canopy of Storza Woods. It spirals from ground level to 40 feet high amid the trees, allowing for a bird's-eye view of one of the Munro light exhibits below, which you can see in this daylight shot as white dots at ground level.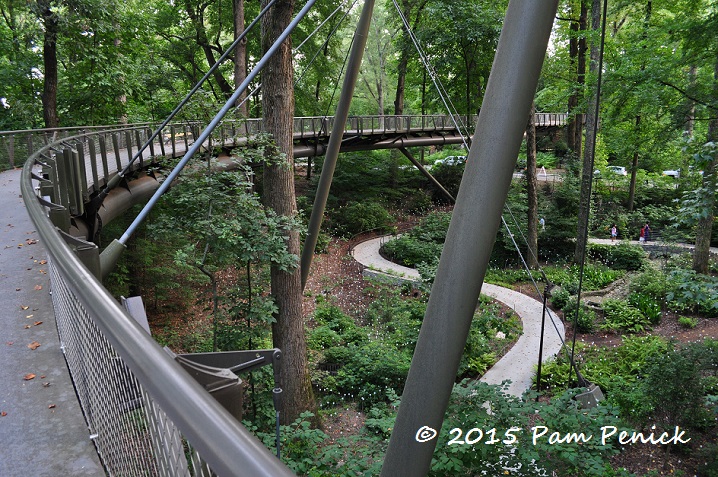 We came back here after dark to view the lights, but while we had daylight we continued to explore the main gardens.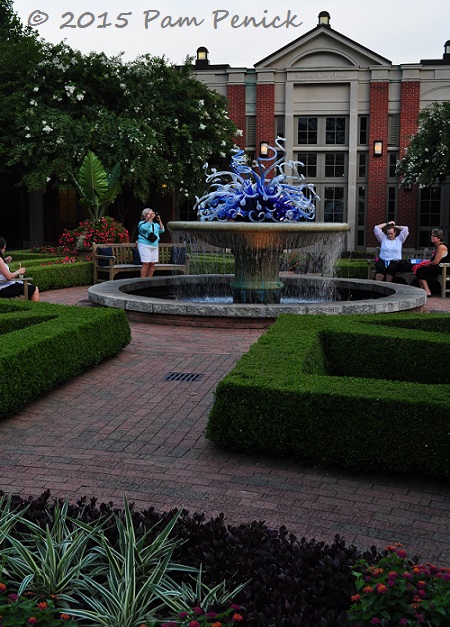 We saw a Chihuly glass centerpiece in a formal fountain…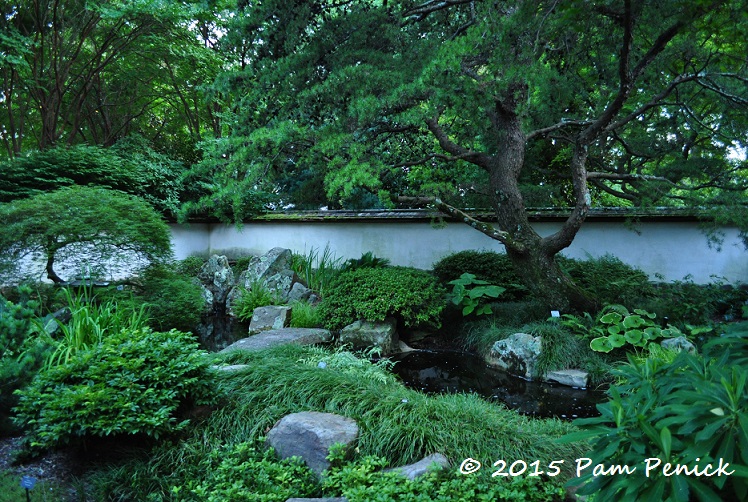 …and a small but picturesque Japanese garden…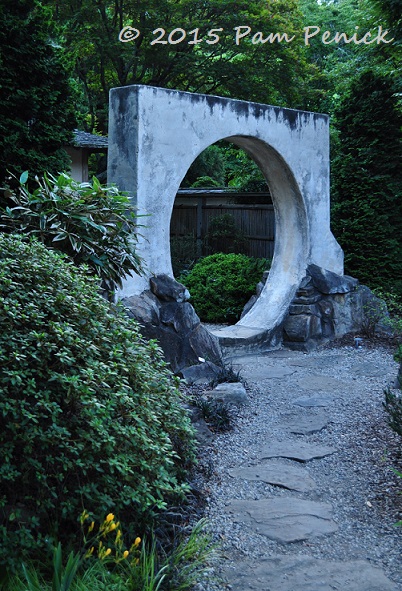 …with a moon gate.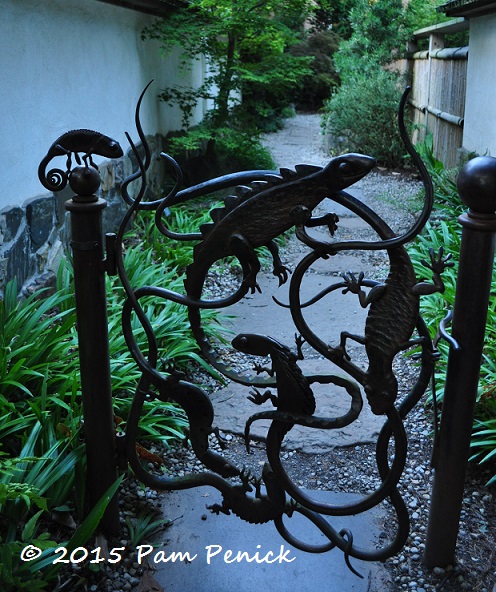 A wrought-iron lizard gate added a humorous note…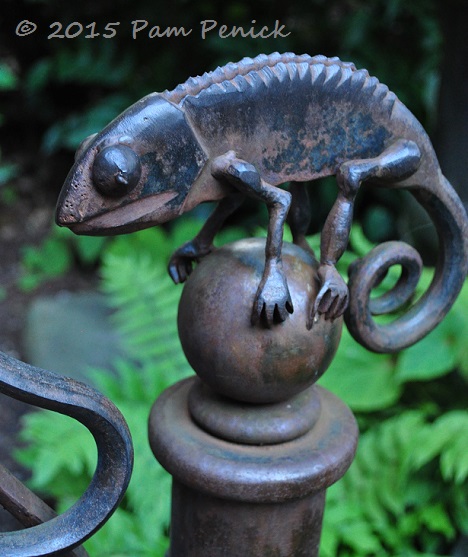 …especially with a chameleon finial.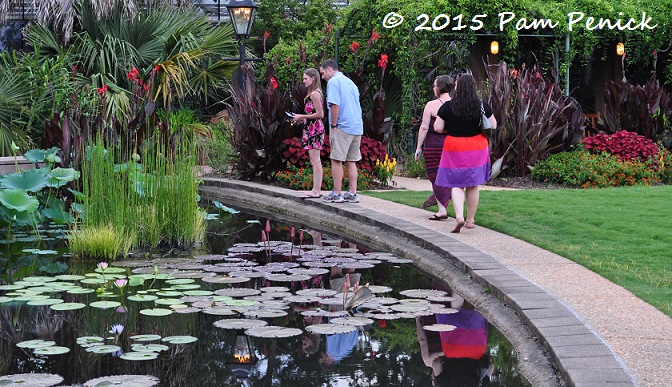 A large pond by the conservatory is also nice. I couldn't help noticing that the women's dresses match the color scheme of this garden. Serendipity!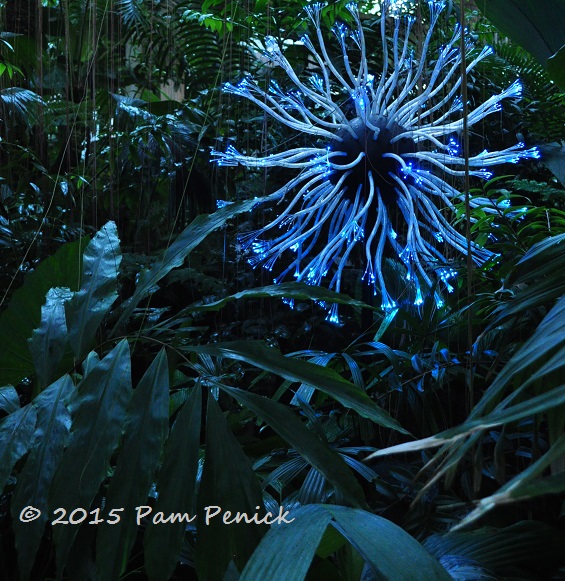 Inside the tropical house, one of the Munro light pieces glowed like a tentacled sea creature. We saw several other Munro pieces in this part of the garden, but the main attraction was…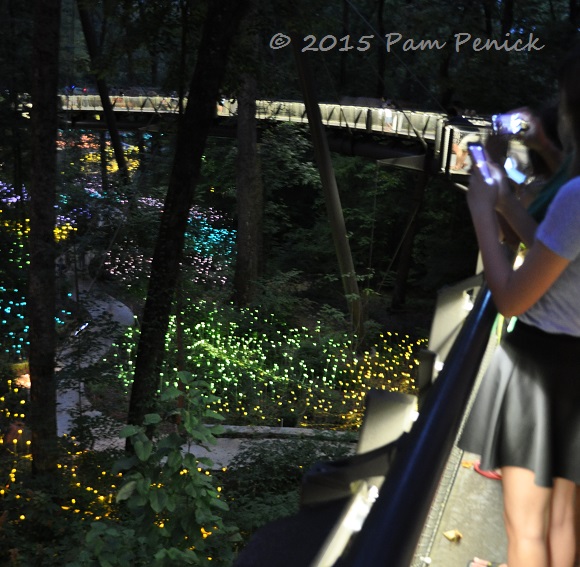 …the light display beneath the Canopy Walk. It's simply incredible and reason enough to pay the hefty admission price for this exhibit. The lights seem an organic part of the woods, like the alien phosphorescent landscape in Avatar.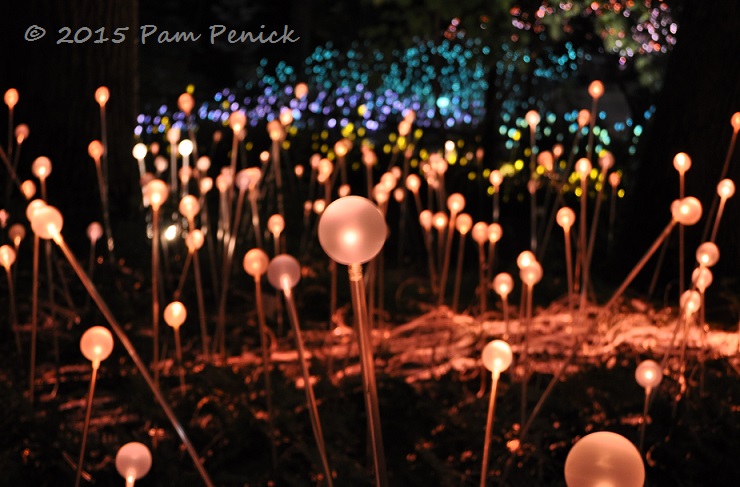 Called "Forest of Light," it consists of thousands of softly glowing, fiber-optic lights set on tubular stems in the undergrowth. Glowing green, blue, yellow, and purple, they slowly change hue in waves of color.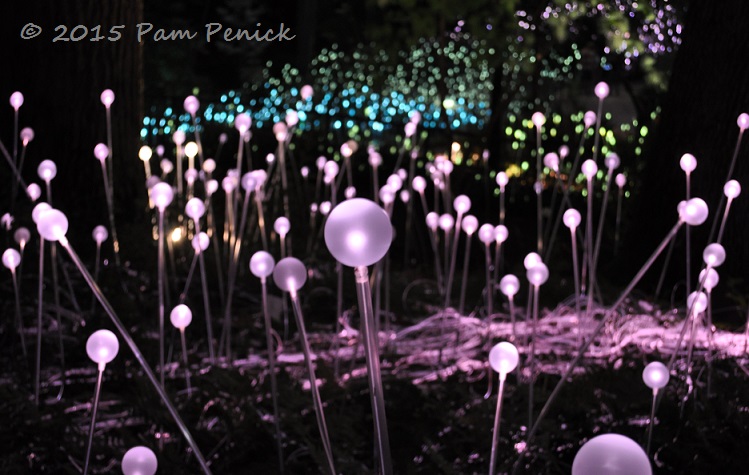 It's as magical as a fairy forest.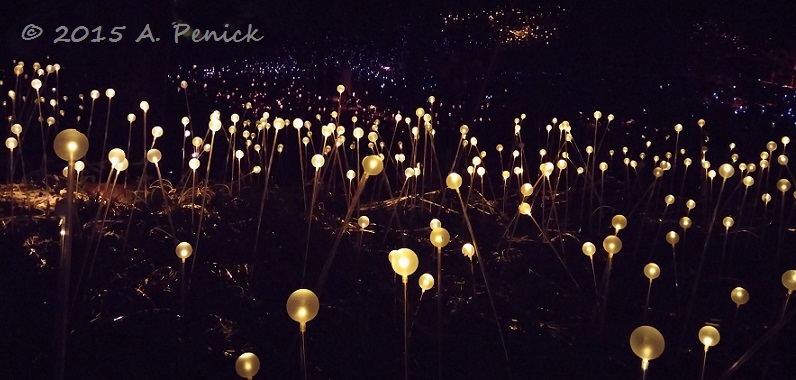 You can easily spend an hour or more wandering the paths at ground level and on the Canopy Walk, enjoying the display. If you get the chance, go see it.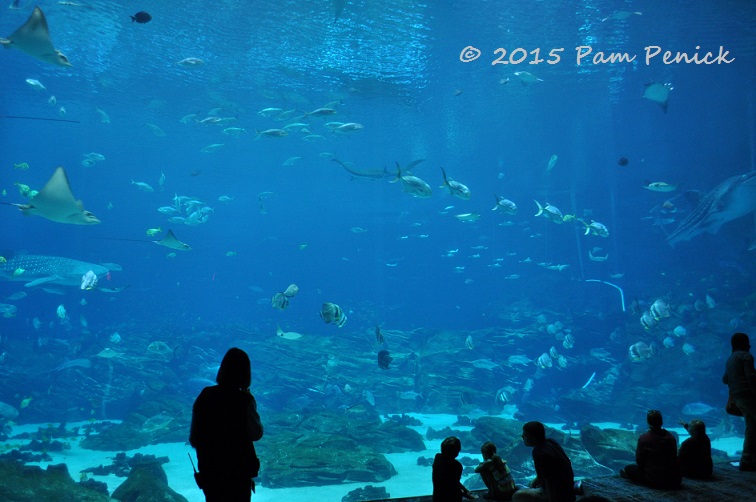 The next morning, before driving on to Charlotte to visit my dad, we visited the Georgia Aquarium in downtown Atlanta. I'd been wanting to see it since it opened 10 years ago as the largest aquarium in the world. These days it's only the largest in the Western Hemisphere, but its collection includes whale sharks and beluga whales in enormous tank habitats.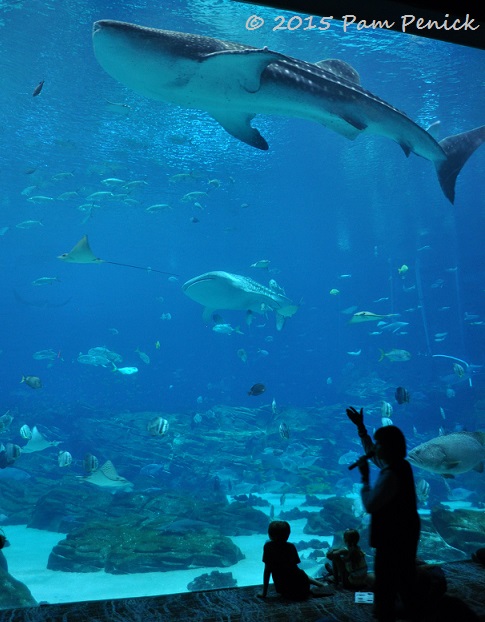 Three whale sharks swim here, along with various smaller sharks, manta rays with 13-foot wingspans, and who knows how many other types of ocean fish.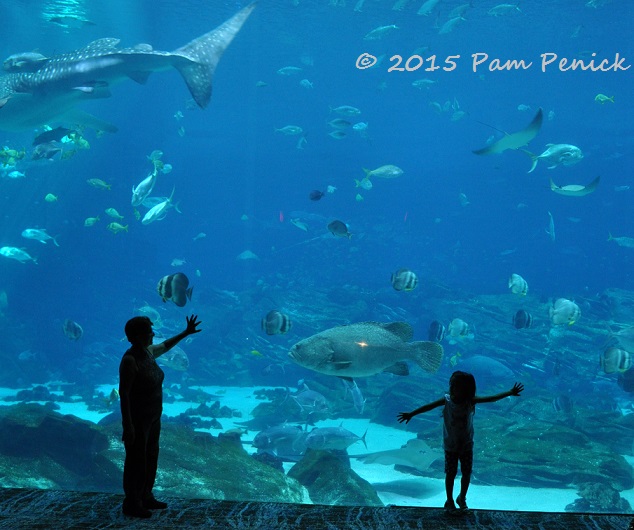 It's a jaw-dropping display. This is the main gallery window, but on the other side there's a glass tunnel you can walk through to view the fish swimming all around and above you.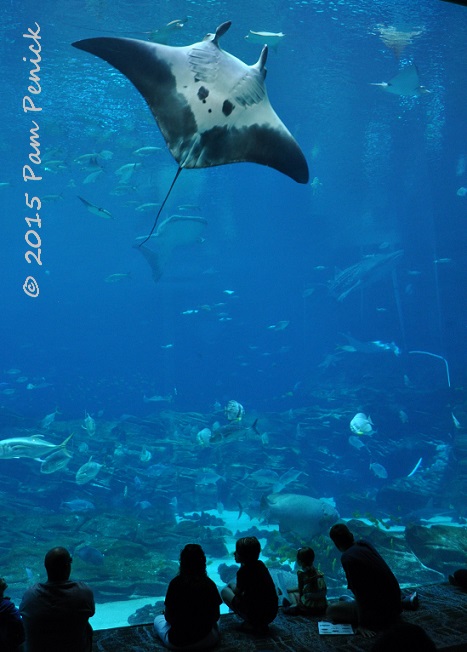 Manta ray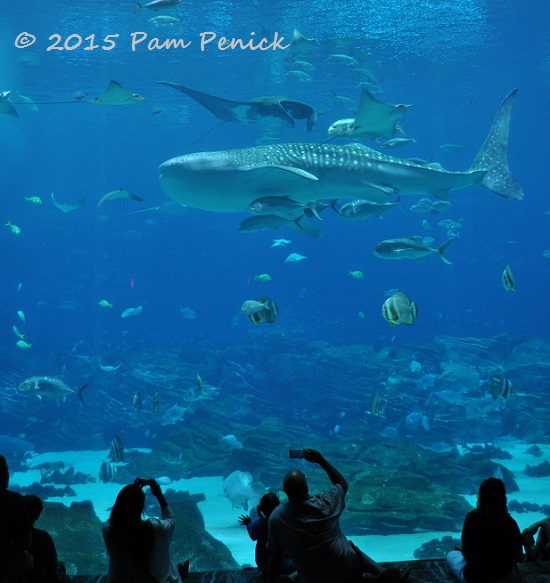 Aside from the wild, this is the only place outside of Asia where you can view whale sharks. We were told these three came from Taiwan, where they were taken from the annual fishing quota and would otherwise have been processed for human consumption.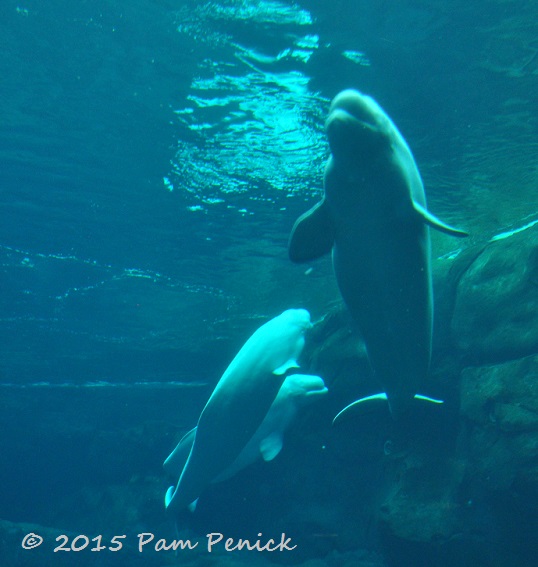 Another large tank houses three beluga whales.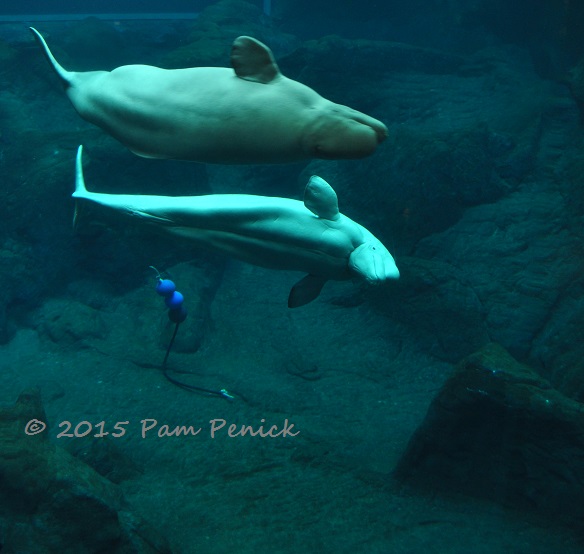 I had mixed feelings about seeing these magnificent, intelligent animals held in a tank that, while large, is only a tiny fraction of the size of their native environment.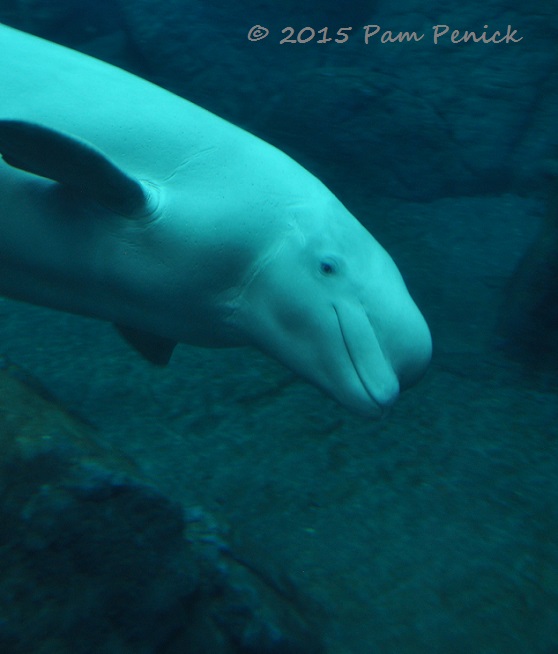 I do believe in the value of zoos in educating the public and making them care about animals they'd otherwise never see except on TV. However, in the wake of the Sea World controversy, I'm not convinced that keeping intelligent whales and dolphins in tanks can be justified.
These are questions I wrestled with while viewing the belugas. The other displays of river fish, otters, and other aquatic creatures were interesting to see. A much-hyped dolphin show, however, was a silly pastiche of Disney-esque songs, cheesy special effects, exhorted audience participation, and, amid all this, a few dolphin jumps. Skip the show and spend your time on the exhibits.
Despite my reservations about the dolphins and belugas, I did enjoy the whale shark and manta display. If you go, get tickets for opening time, before the place fills up, to enjoy the attractions.
Next up: Ducking around in Memphis. For a look back at our visit to New Orleans, click here.
All material © 2006-2015 by Pam Penick for Digging. Unauthorized reproduction prohibited.
posted in
Botanic/Public Gardens
,
Bridges
,
Fish
,
Fountains
,
Garden art
,
Garden tours 2015
,
Gates
,
Lighting
,
Lizards
,
Palms/Cycads
,
Paths
,
Ponds
,
Public art
,
Sculpture
,
Travel
,
Trees
,
Walls
,
Water features
,
Waterfalls
,
Zoos