June 29th, 2014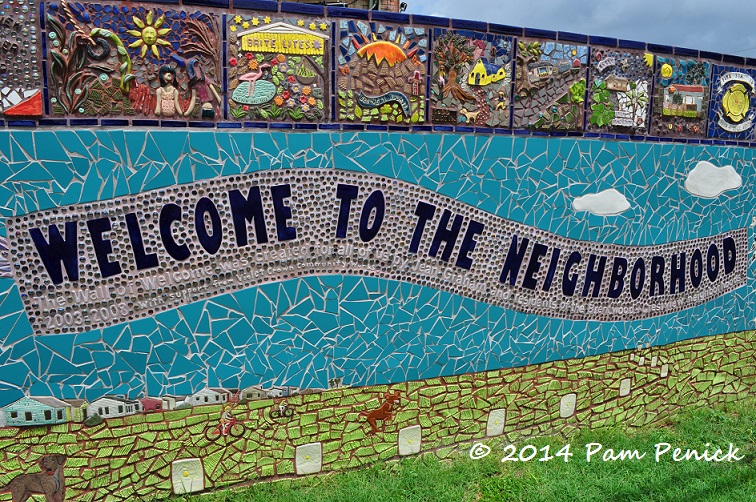 Have you ever stopped to look — really look — at a public work of art that you've passed dozens of times with only a passing glance or quickly forgotten curiosity? I did last week, and it was a magical experience to discover the beauty and positive community spirit of the Wall of Welcome in the Crestview/Brentwood neighborhood of central Austin.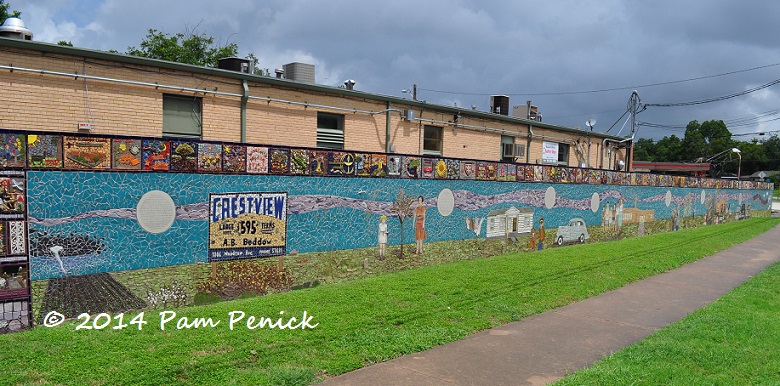 Artist and neighborhood resident Jean Graham dreamed up, in 2003, the idea to make a community art project out of an existing, 120-foot-long wall at Crestview Shopping Center along Woodrow Avenue. She presented the idea to the neighborhood residents, who enthusiastically responded by throwing an annual fundraising festival and creating a nonprofit organization to support the project.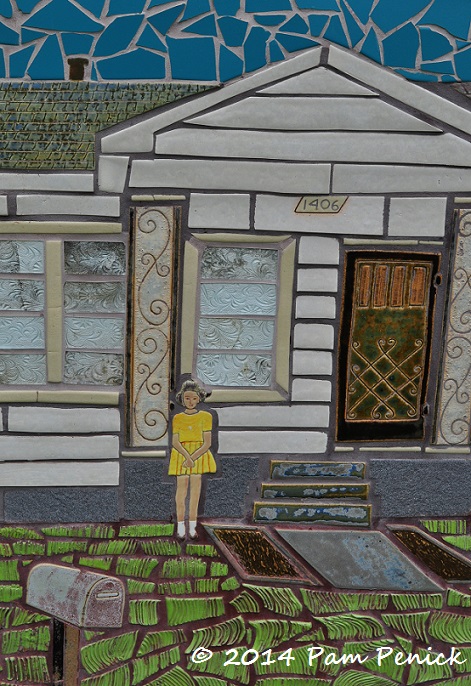 For the next 5 years, Jean created mosaic scenes to illustrate 50 years of the neighborhood's history: its treeless, cotton-field beginnings, modest ranch homes with new-planted trees, neighborhood schools and iconic local businesses, and the people who've populated the neighborhood over the past half-century.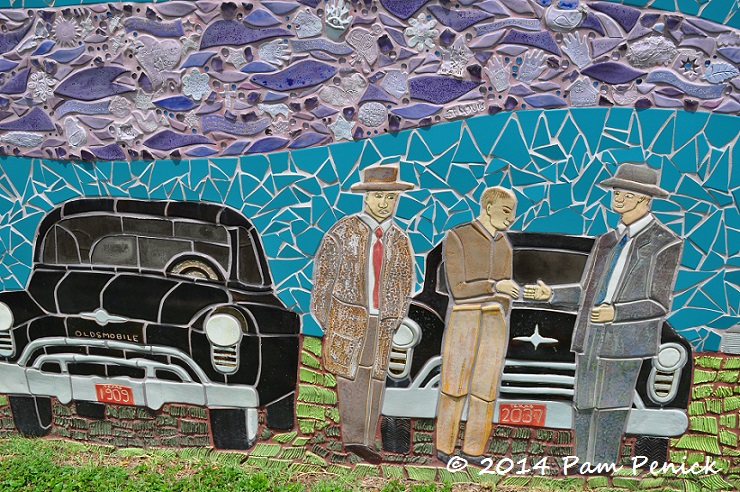 It's an incredible work of art. Driving by you get a colorful flash of it — the wall is a block long, after all. But you must walk along the wall to really appreciate its beauty and meaning.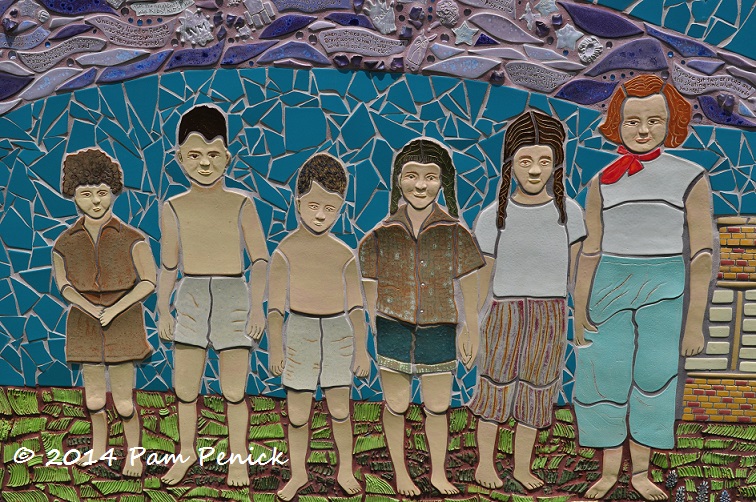 You want to run your hands across it to feel its depth and texture.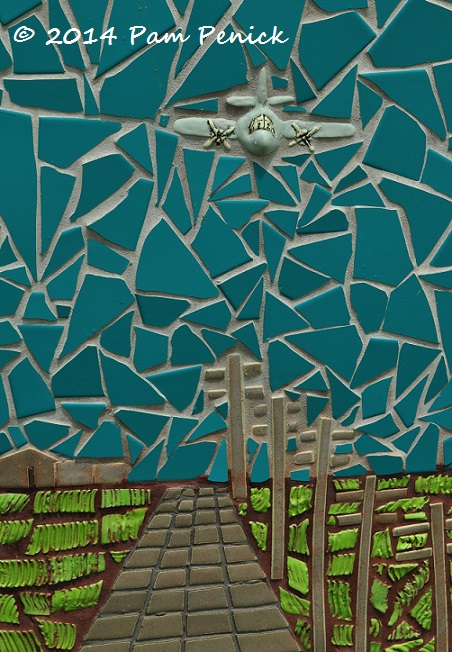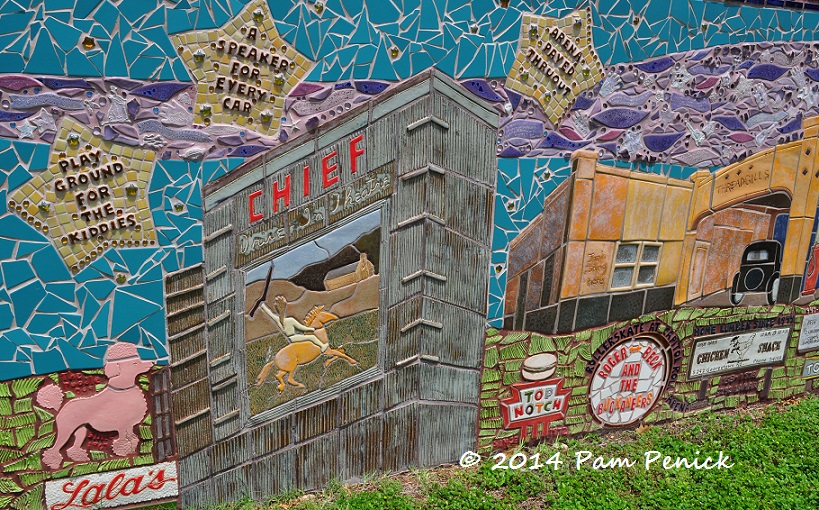 Here's a section featuring neighborhood businesses, including an old drive-in theater, long gone; Top Notch drive-in hamburger joint, featured in Dazed and Confused and still open today; and the original Threadgill's, a gas station-turned-restaurant with live music, where Janis Joplin got her start.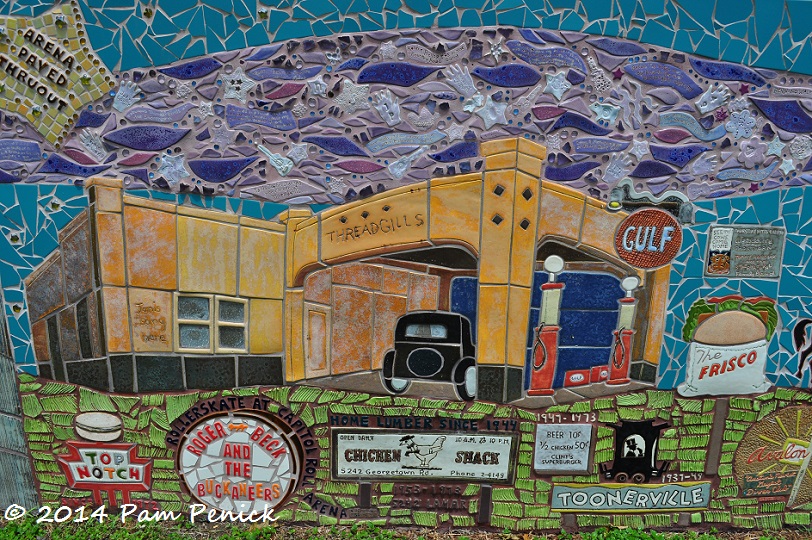 Threadgill's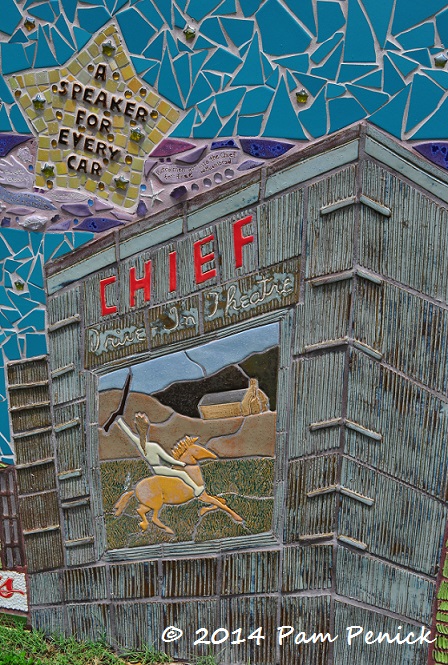 The detail in each scene is extraordinary, like the oater playing at the drive-in theater.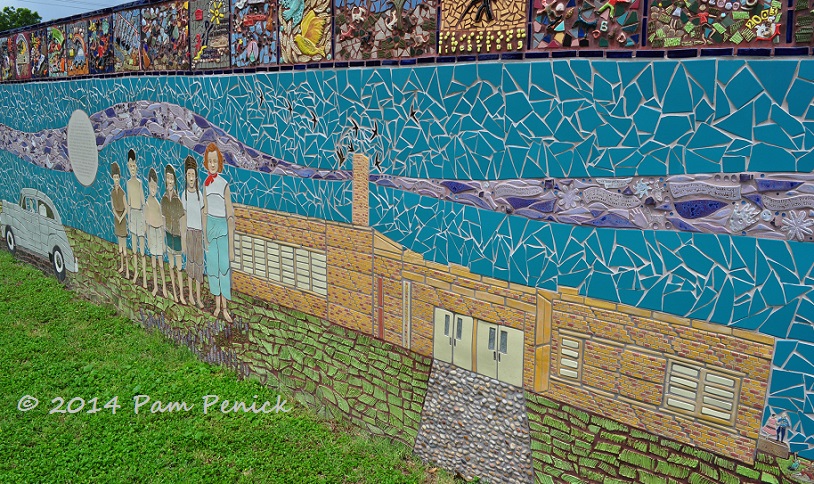 Brentwood Elementary School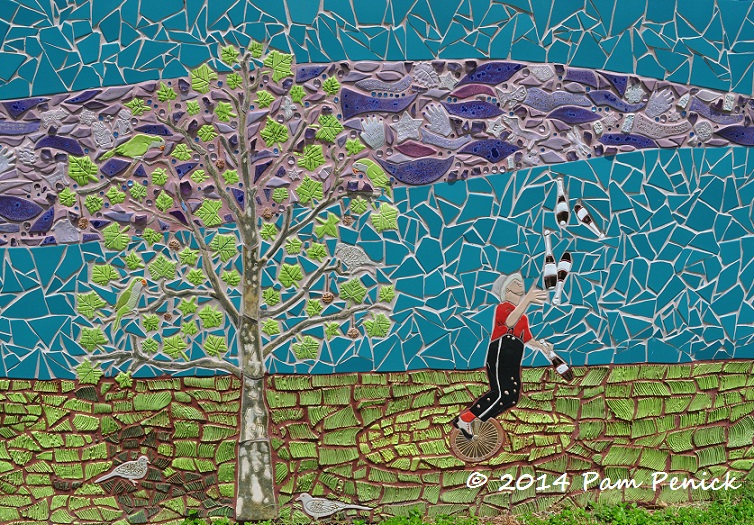 A juggler on a unicycle pedals past a sycamore tree in which a flock of green parrots roosts. This scene reminds me of the day in Brentwood Park, years ago, when a parrot flock soared right over my head, an improbable flash of emerald green that momentarily transported me to a tropical rain forest. (Decades ago, pet monk parakeets escaped captivity and have naturalized in large colonies throughout Austin.)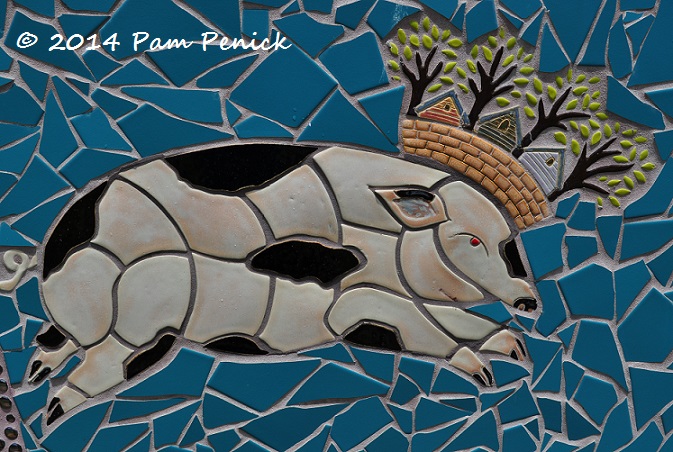 Domino the Pig, a petting zoo escapee that once roamed neighborhood arroyos, is commemorated here wearing a crown of trees and houses representing the community.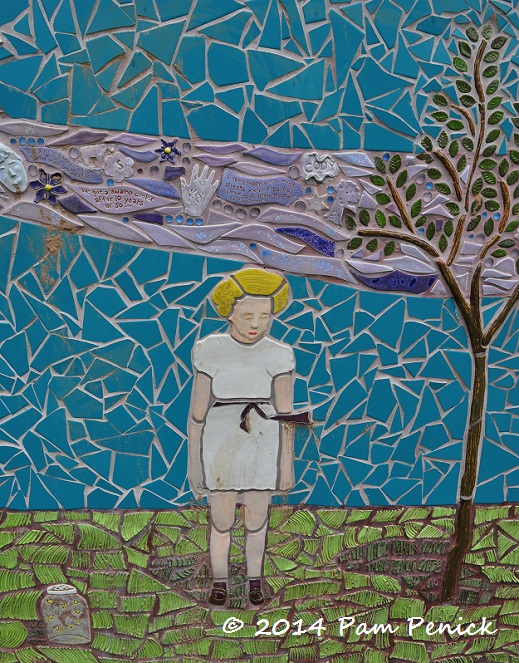 Community participation was instrumental in creating the wall. Long-time residents shared photographs from the neighborhood's early years, and Jean duplicated a number of those images in the mosaic. (Read more about the making of the Wall of Welcome here.)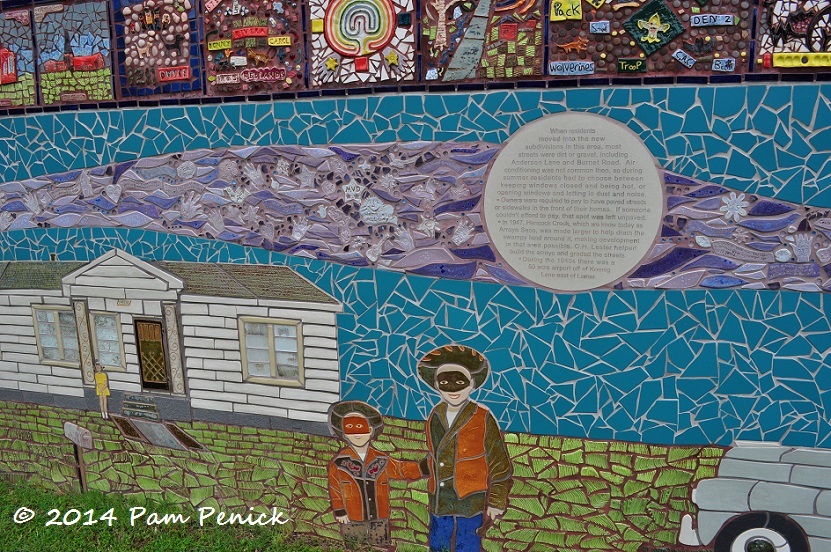 Moon-like circles engraved with snippets of neighborhood history appear along the length of the wall, making it educational as well as celebratory and beautiful.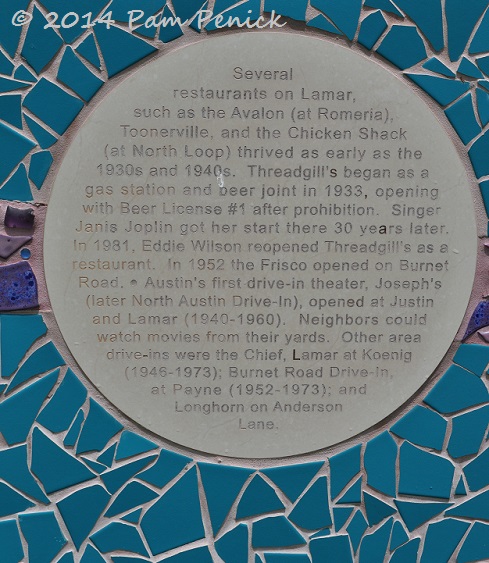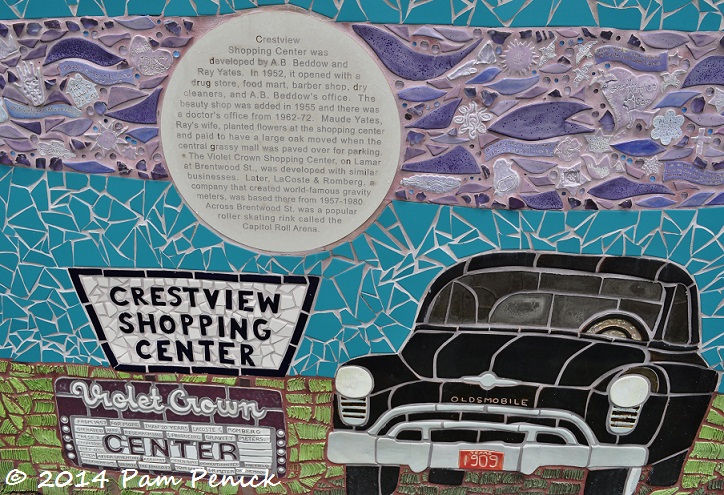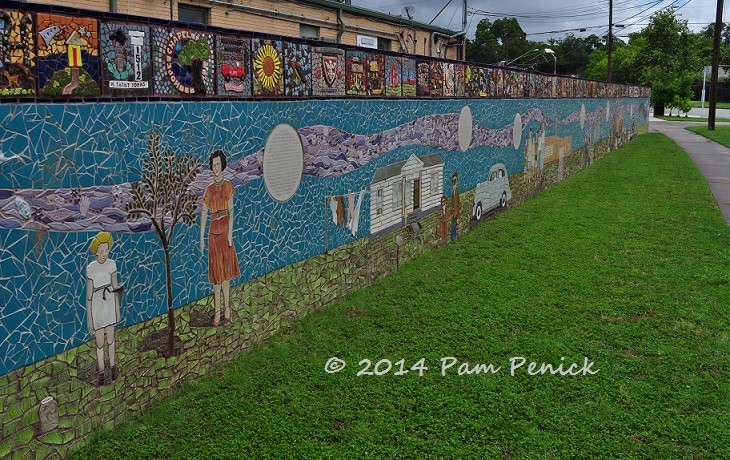 Floating in a lilac ribbon across Jean's mosaic is a representation of the "violet crown," the poetic name given by settlers to the soft haze on Austin's western hills at sunset. (Austin is still known as the City of the Violet Crown.) The treeless former fields of Crestview and Brentwood afforded views of the hills and that famed violet crown — at least until the newly planted trees grew up.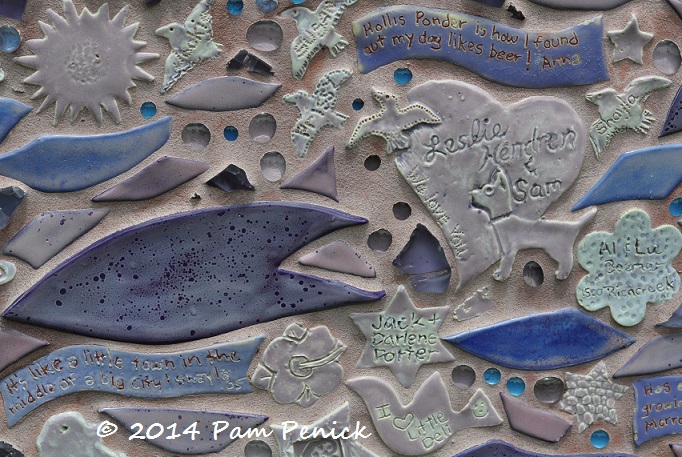 Closer inspection reveals that the wall's violet crown is composed of suns, flowers, animals, and ribbons, many etched with the names of residents and even brief quotes about the neighborhood. "Hollis Ponder is how I found out my dog likes beer!" reads one (I'd love to know the story behind this). "It's like a little town in the middle of a big city!" reads another.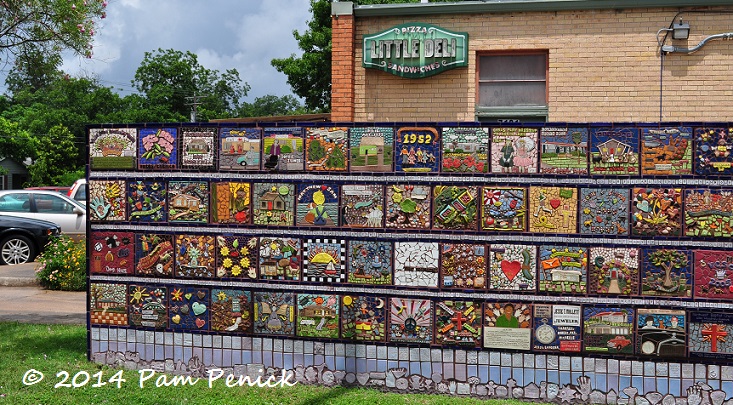 Running in a band across the top of the wall and clustered at the left end are square tiles made by neighborhood residents, and these are just as intriguing as the main design. Jean held workshops to teach neighbors how to make personalized tiles of their own designs. For a $25 donation, which helped fund the wall, residents could make their own tiles and see them become part of the neighborhood history memorialized on the wall.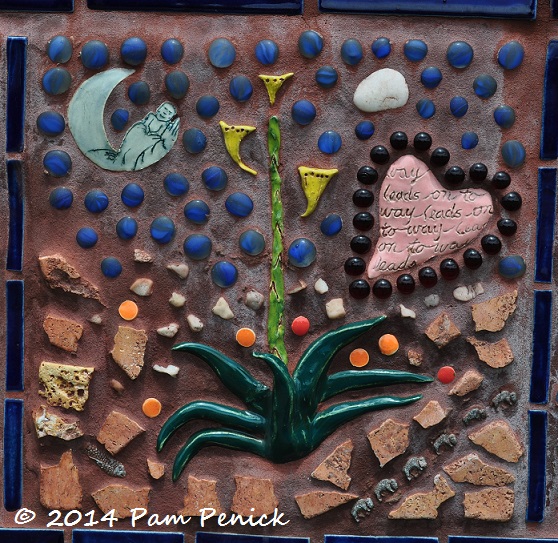 They are snapshots of memory that convey a sense of place, showing gardens…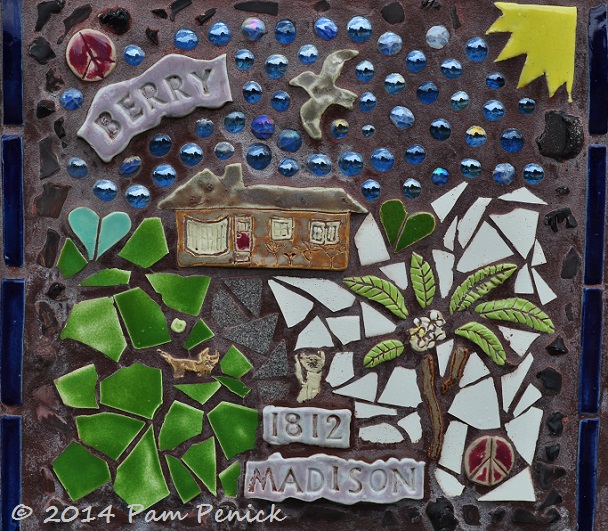 …homes…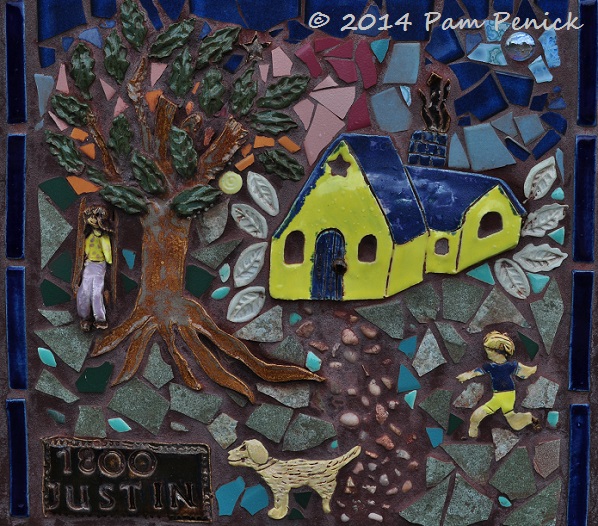 …children and dogs playing…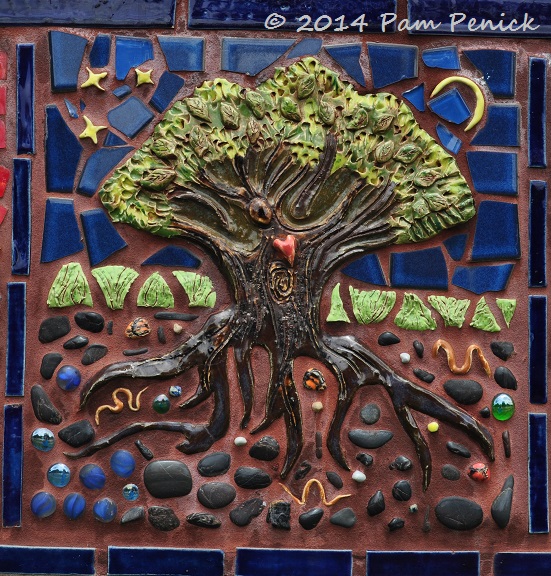 …roots growing deep…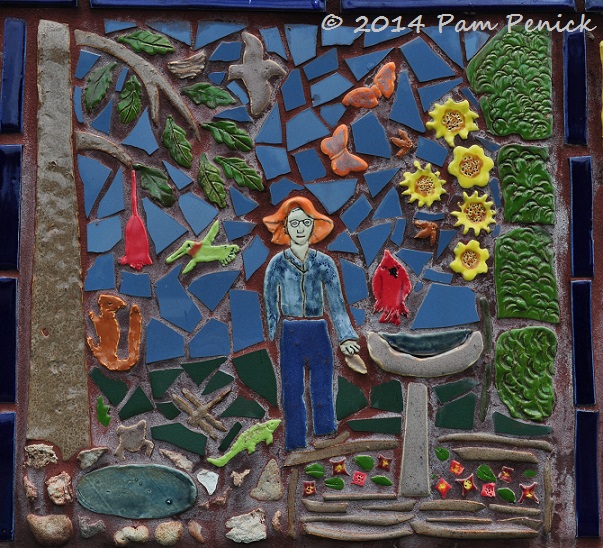 …and gardeners tending plants and wildlife.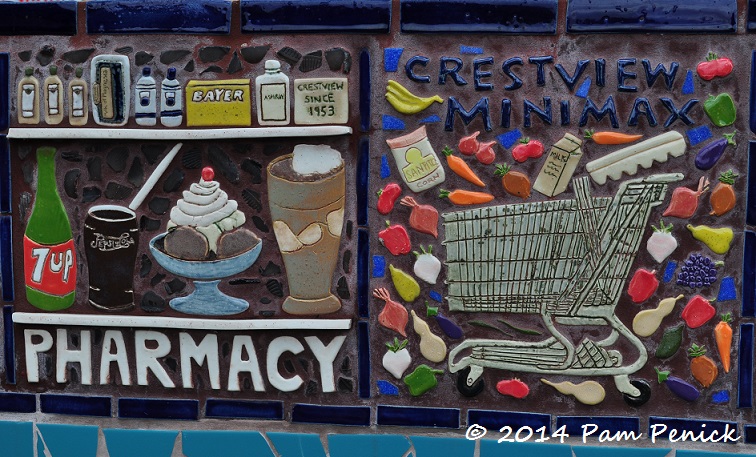 Beloved local businesses are represented too.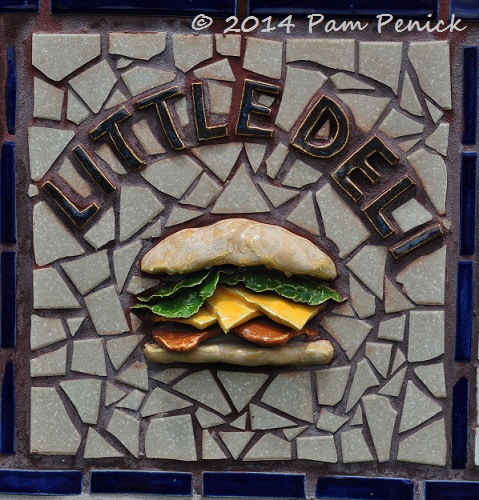 We ate here last night — yum!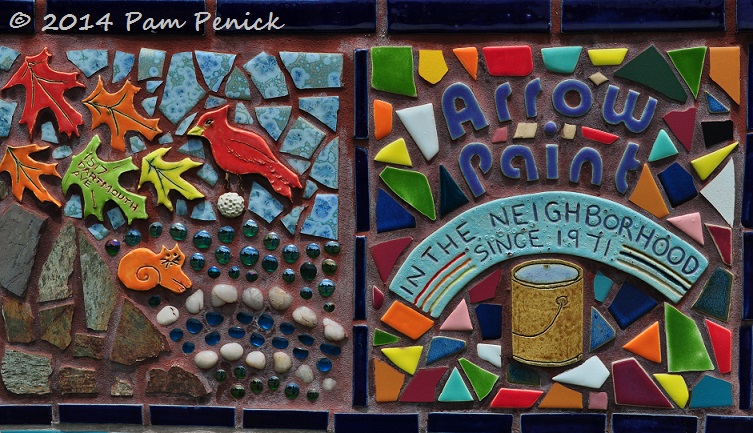 I've bought many cans of paint at Arrow Paint.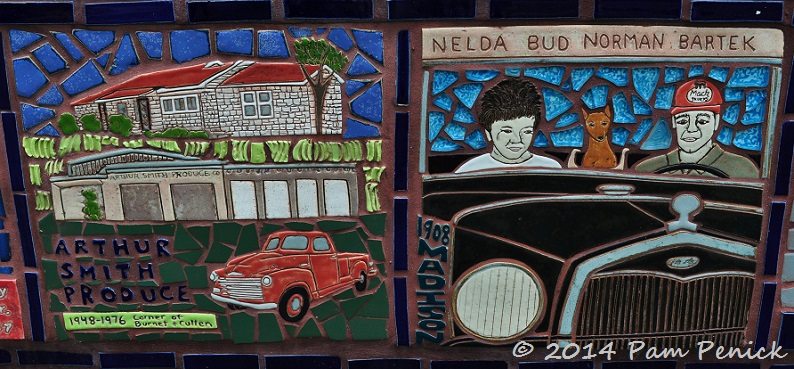 My daughter likes that Bud, the family dog, got a spot on this tile, forever enjoying a ride in the car.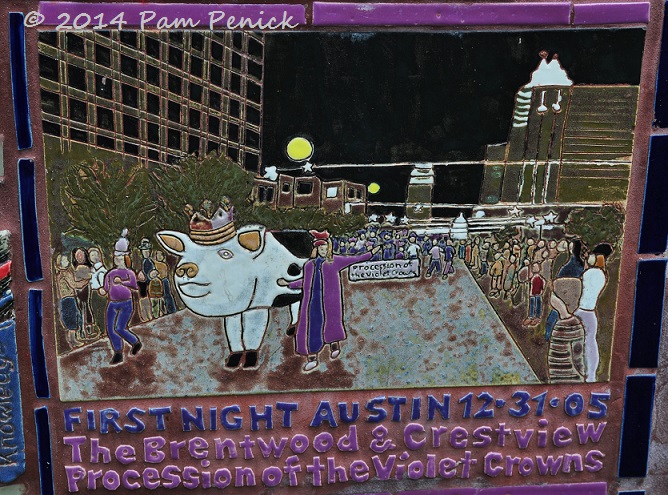 I like this one, a parade scene from Austin's very 1st First Night celebration in 2005, because my family was part of that parade. We were one of the bread throwers at the back of the procession who tossed loaves of handmade bread into the crowd. Our invitation to join the parade came with a loaf of bread that mysteriously appeared on our doorstep one morning in December, and which we later learned was left for us by a friend in the neighborhood. The point of the bread is all still a bit mystifying, but we had a blast.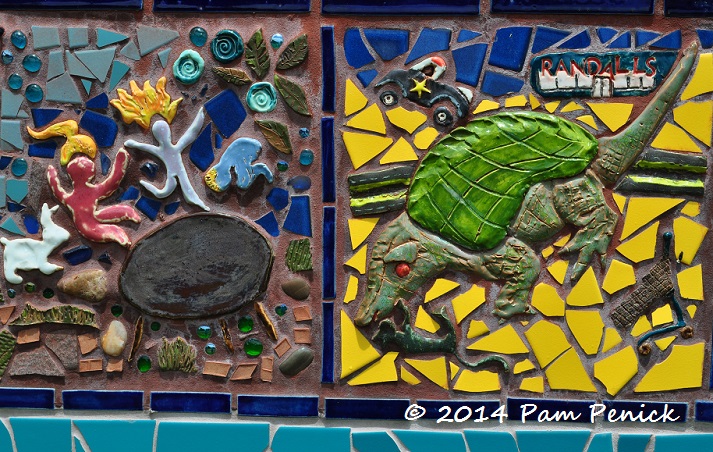 I'm also deeply curious about the tile at right. It looks like a killer armadillo taking down a cat in a Randall's grocery parking lot. Have the police been called to break it up? If someone knows the story behind this tile, please share!

I've shown only a tiny sampling of the neighbor-made tiles, and each one is worthy of inspection as they weave a dynamic story of the neighborhood. I think you could walk the wall many times and see something new on each visit.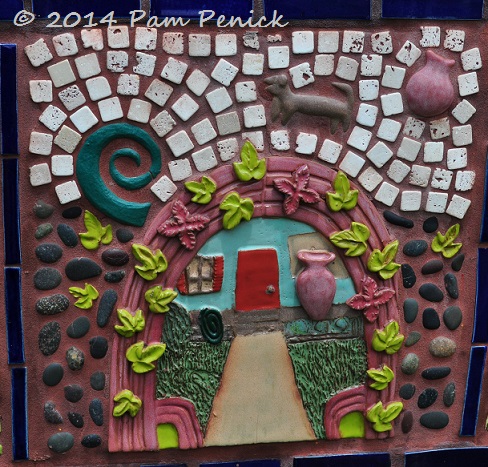 The residents of Crestview and Brentwood must surely love their Wall of Welcome. Imagine if each neighborhood in Austin had its own story commemorated through art. How wonderful that would be.
All material © 2006-2014 by Pam Penick for Digging. Unauthorized reproduction prohibited.