August 10th, 2015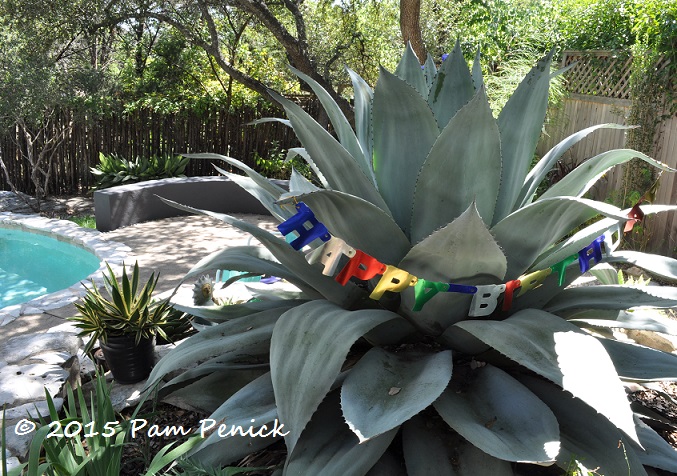 Only one plant in my garden has earned a name. You know who I'm talking about, right? Moby, my beloved Whale's Tongue agave (A. ovatifolia), just turned 10 years old. That is to say, I've had him for 10 years — 7 years in my current garden, plus 3 in my old garden.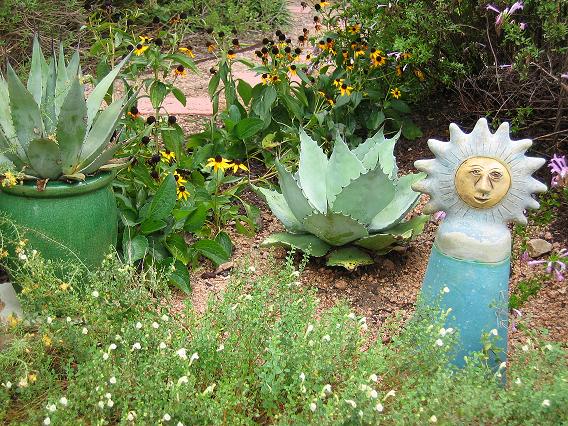 When I brought him home, in August 2005 (read one of my earliest posts about him), he was a novelty. I'd just started to appreciate agaves and took a chance on this new-to-the-nursery-trade species.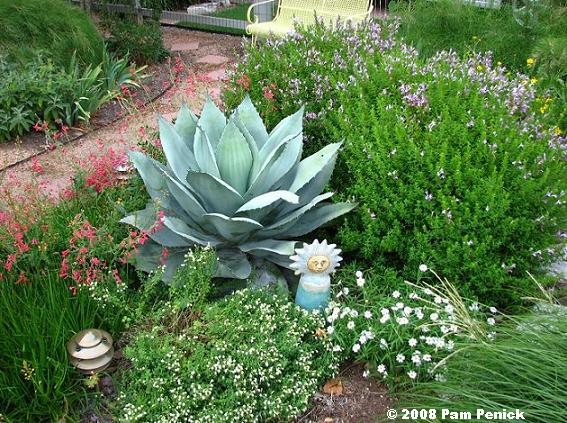 I immediately fell in love with his good looks — like a big blue rose — and uncomplaining disposition. When we moved from our old house in 2008, I was determined that he would come with us and spent a sweaty September afternoon digging him up.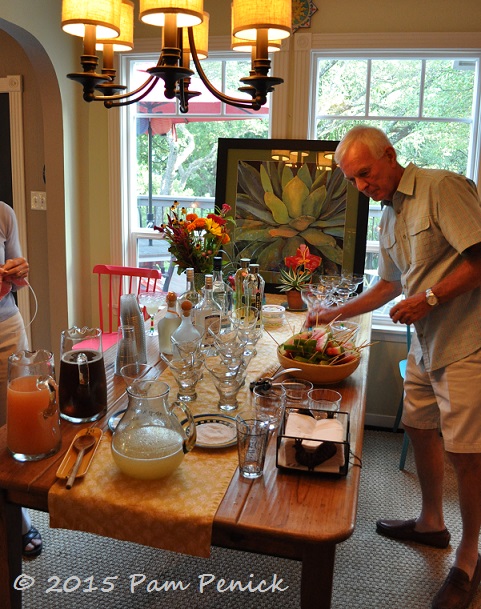 After all these years together, I couldn't let Moby's 10th birthday slide by without acknowledgment. And what better way to celebrate the occasion than a tequila party with my gardening friends? Sure, there's a whiff of cannibalism in it (for the uninitiated, tequila is made from blue agaves), but I set up the drinks table well out of Moby's view. In his honor, I served pitchers of margaritas and palomas plus tequila-infused watermelon pops, which provided a refreshing and zingy shot of flavor — oh yeah! — on this 100-degree day. That's David/Mr. Rock Rose hovering over the watermelon pops.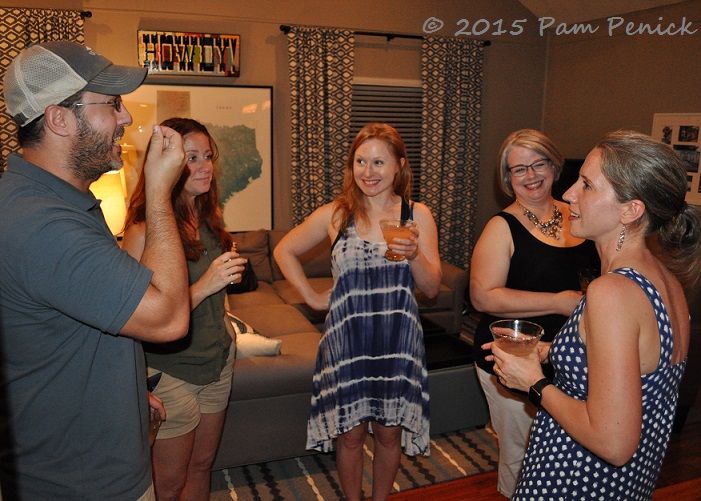 I'm so glad to have friends who get my Moby obsession and were ready to celebrate with me. Here are Julian, Teresa, Lori (The Gardener of Good and Evil), Caroline (The Shovel-Ready Garden), and Laura (Wills Family Acres).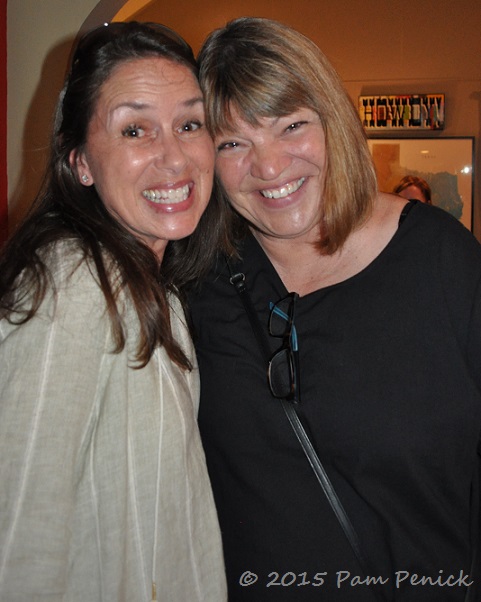 Howdy, Cat (The Whimsical Gardener) and Vicki (Playin' Outside)!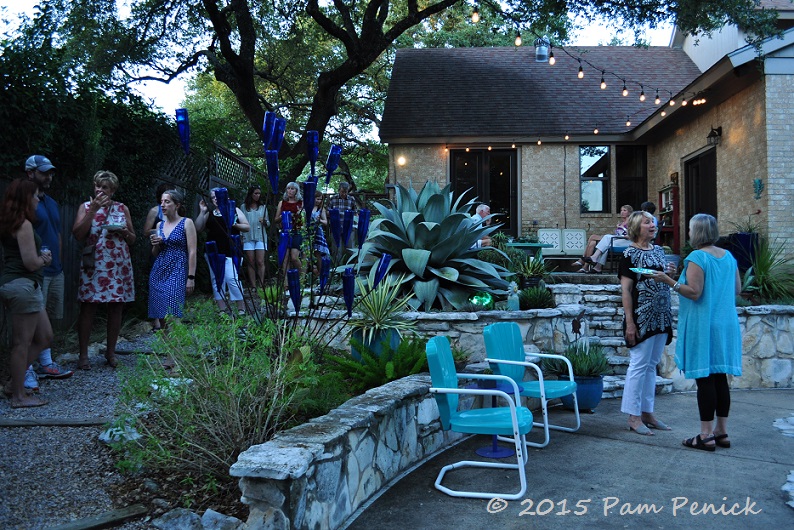 As the Death Star sank below the trees, the party moved outside, centering around the birthday boy. There's Jenny/Rock Rose with Laura on the left. On the right are landscape architect Christy Ten Eyck and author and tequila maven Lucinda Hutson.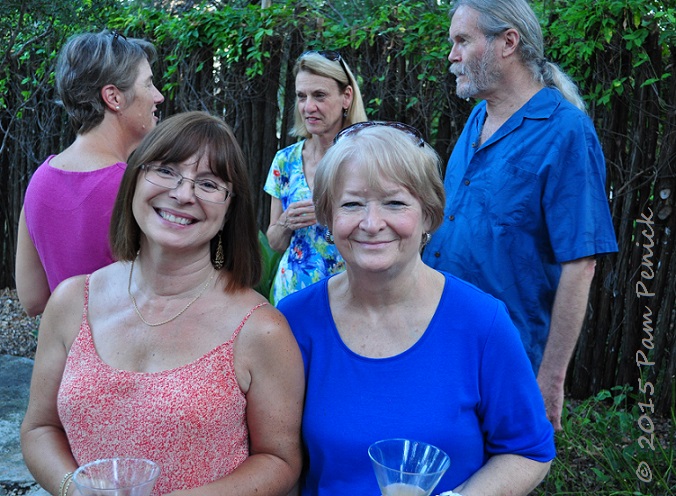 And here are the smiling faces of Diana (Sharing Nature's Garden) and Linda (Patchwork Garden). Behind them are Alice, Charlotte (the organizer for Austin Open Day tour), and David.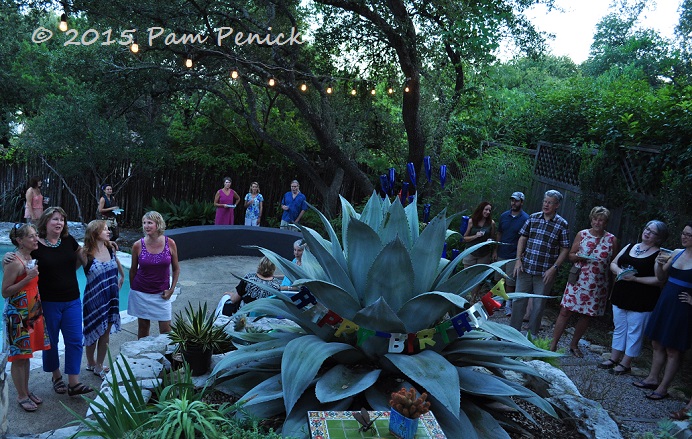 After a couple of palomas I was feeling pretty good, and so when someone (perhaps even tipsier than I) suggested we all sing "Happy Birthday" to Moby, I was all-in. Mr. Rock Rose kindly took a few photos of Moby being serenaded. Joining me are Chris (Watching My Garden Grow), Lori, and Rebecca (Rebecca's Retreat). On the right are Bob (Central Texas Gardening), Jenny, Caroline, and Katina (Gardening in Austin).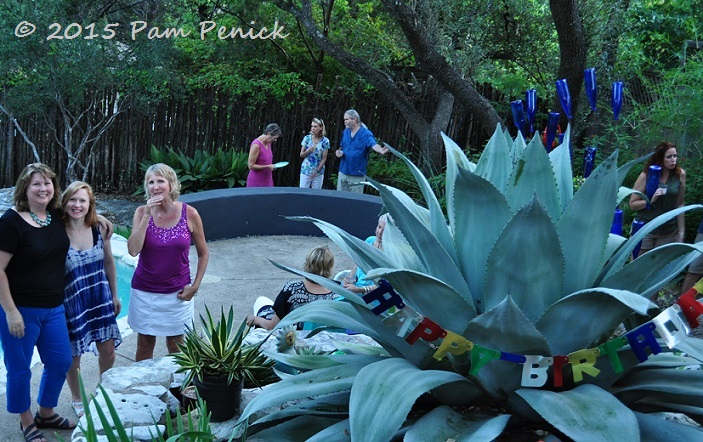 What a hoot! I had a blast and hope my guests did too. I'm kind of amazed that I threw a garden party in August, perhaps the meanest summer month in Austin and just a week after I whacked back a lot of plants to prepare them for our "second spring" in October. But it turned out just fine — a little sweaty but totally fun. As for the garden, Moby was the star, and he always looks handsome.
If you'd like to try a paloma, it's easy to mix a pitcher to serve your friends, and it's a nice change from a margarita. Here's the recipe I used, from Food52.
Paloma Pitcher
2 parts 100% agave tequila (I like El Jimador)
2 parts Simply Grapefruit grapefruit juice (in the refrigerated aisle of the grocery store)
1 part Fresca grapefruit soda
1 part St-Germain elderflower liqueur
Ice cubes
Lime wedges or grapefruit wedges (optional)
1. Scale the amounts for whatever size pitcher you're using. For my party, I used a tall glass as my measuring cup, and filled it twice with tequila, twice with Simply Grapefruit, once with Fresca, and once with St-Germain.
2. Stir to mix well.
3. Pour into ice-filled glasses.
4. If you like, garnish with a lime or grapefruit wedge.
5. Sip and enjoy!
Helpful notes: You can mix the pitcher several hours ahead except for the carbonated Fresca, which will go flat; wait to add it until you're ready to serve. Pre-chill the Fresca and Simply Grapefruit so that the drink will be cold when poured over ice. Don't put ice in the pitcher, or it'll water down your drinks.
All material © 2006-2015 by Pam Penick for Digging. Unauthorized reproduction prohibited.