December 10th, 2016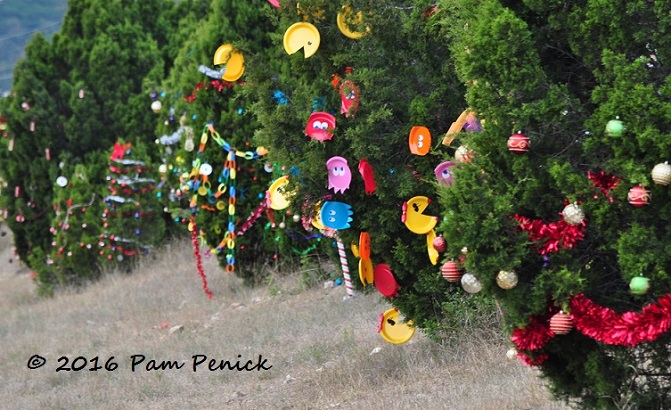 Just after Thanksgiving every year, Austinites who live along scenic Loop 360 are treated to the festive sight of roadside juniper trees decked out in creative, colorful decorations, turning miles of highway into a drive-by Christmas parade.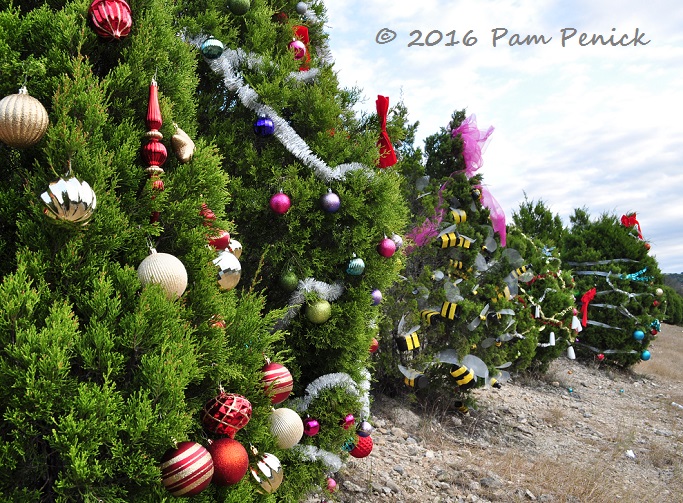 It started off, years ago, with just a few trees suddenly sporting tinsel and colorful glass balls.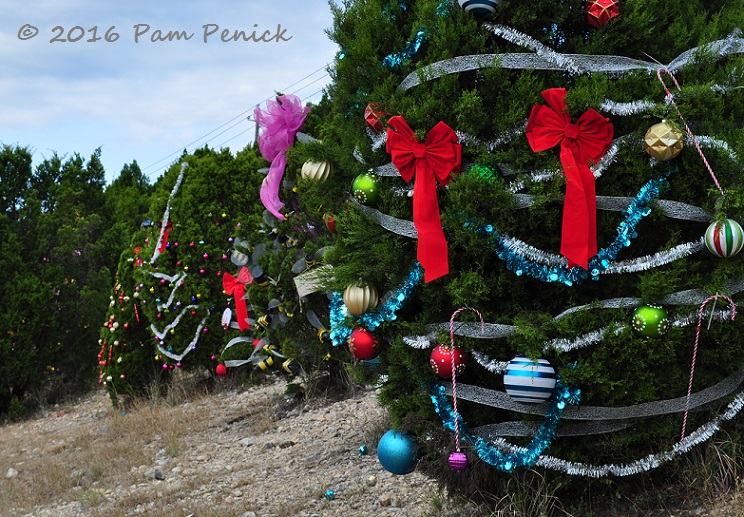 But the idea caught hold among merry-making Austinites, and nowadays any juniper (we Texans call 'em cedars) along the highway is likely to be targeted by decorating elves.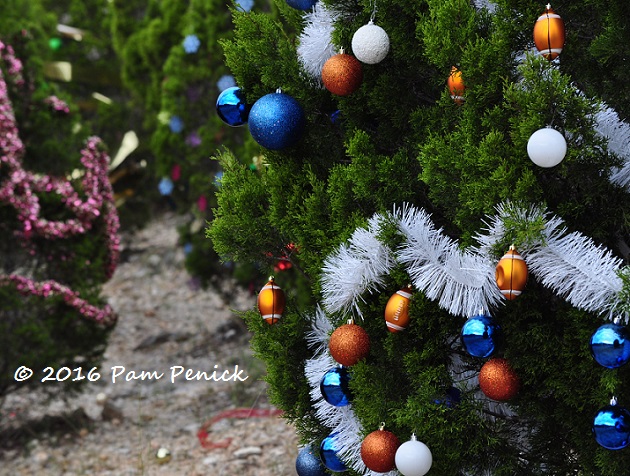 Some people decorate with a certain theme in mind, like this Denver Broncos tree.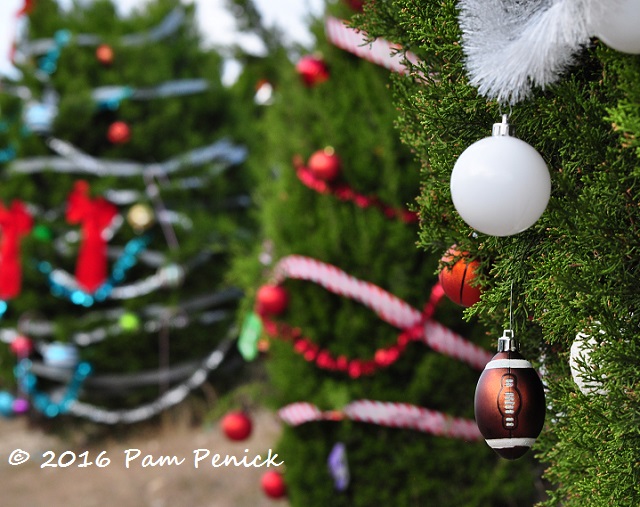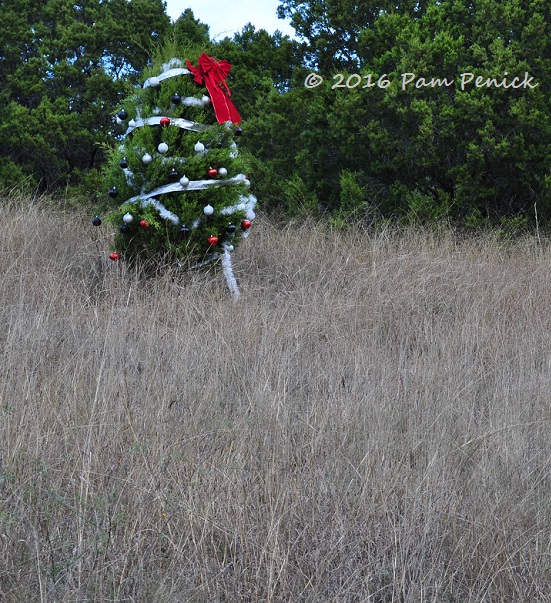 Others go traditional, with tinsel, ribbons, colored balls, and bows.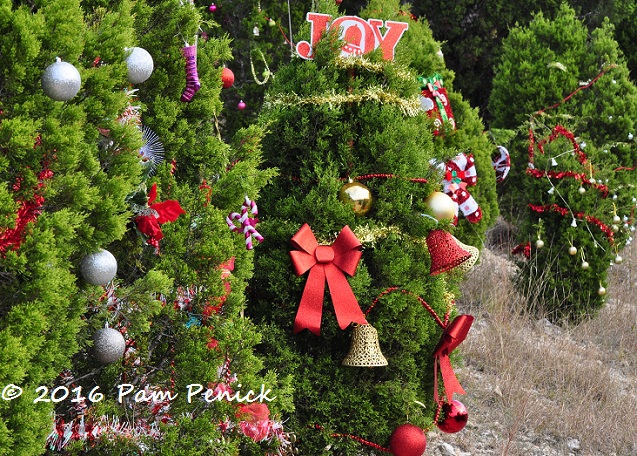 For drive-by appreciation, the decorating elves know to go big. Shrimpy ornaments are lost to view as drivers zoom by on the highway, so oversized ornaments are key.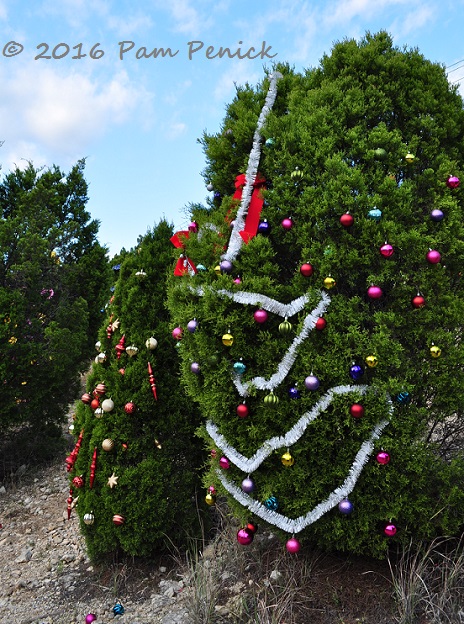 So is picking a tree that's not too tall, so you don't have to leave the top undecorated. Just toss that tinsel up there.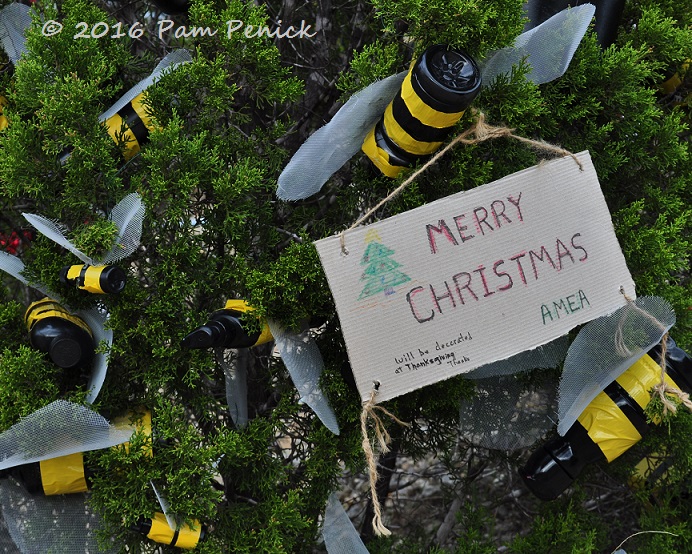 Right-sized trees are, it seems, in such demand that people are putting "hold" tags on their favorites well before Thanksgiving.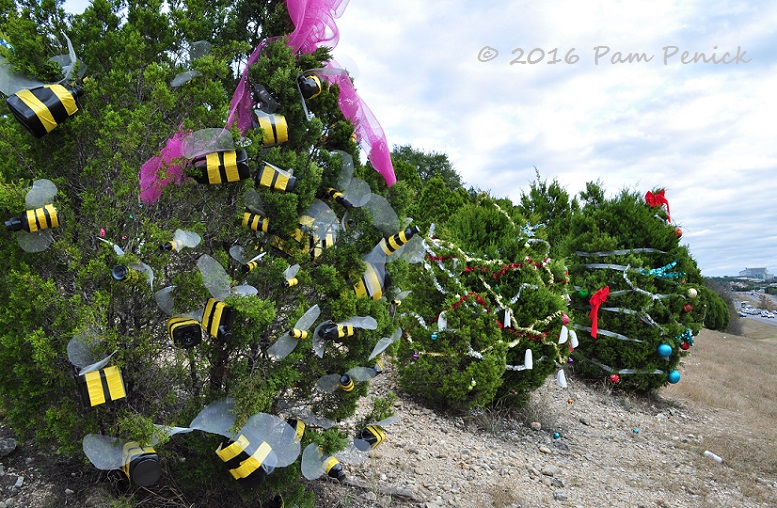 The bee tree is one of my annual favorites. Empty detergent and other large plastic bottles are spray-painted black, striped with yellow duct tape, and given wings of screening mesh.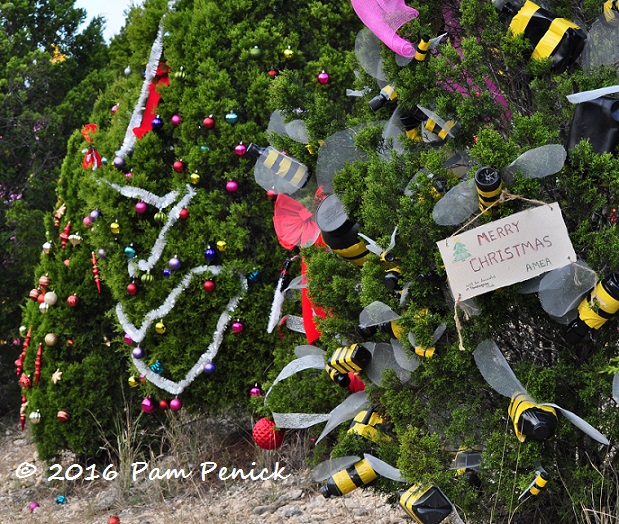 You can't miss the bee tree, and I look for it every year.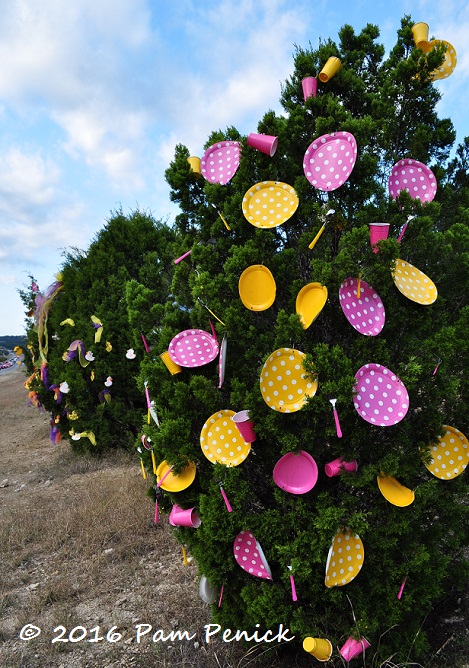 I also got a kick out of this picnic tree adorned with pink and yellow paper plates and plastic cups and forks.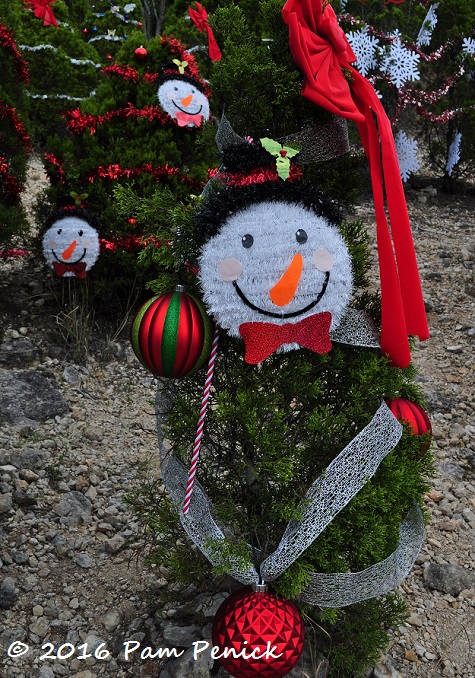 Snowman face decorations have turned some trees into green, unmeltable Frosties.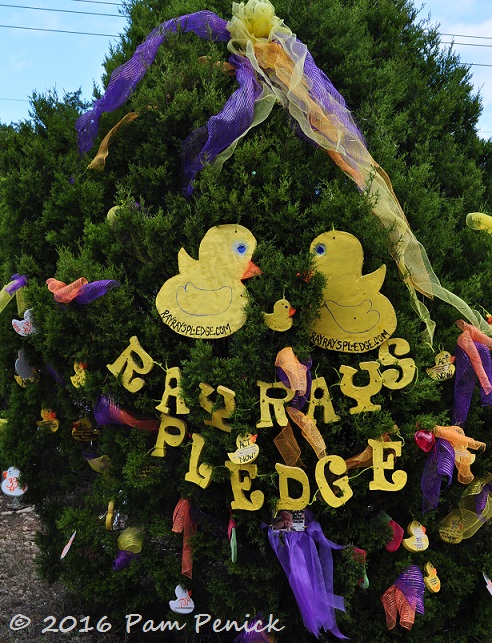 Ray Ray's Pledge, an Austin-based advocacy group that educates people about the danger of leaving young children unattended in hot cars, decorated this tree. Yellow ducks are inscribed with safety facts and calls to activism. White ducks are inscribed with a year and the number of children who died in hot cars that year.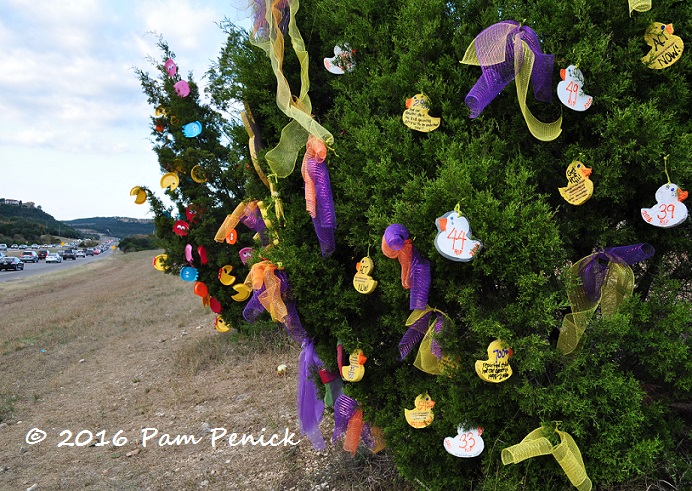 This year, 2016, has seen 39 hot-car deaths, a tragically high number since such deaths are entirely preventable. Ray Ray's Pledge website — named after baby Ray Ray Cavaliero, who died after her father accidentally left her strapped into her car seat for 3 hours on a hot day — offers lifesaving safety suggestions. Even if you think it could never happen to you, if you have a young child or grandchild, please read them.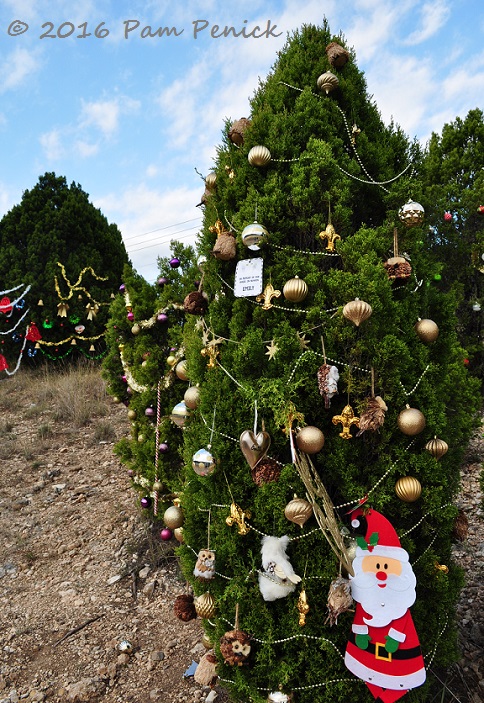 Other trees are decorated in memory of a loved one…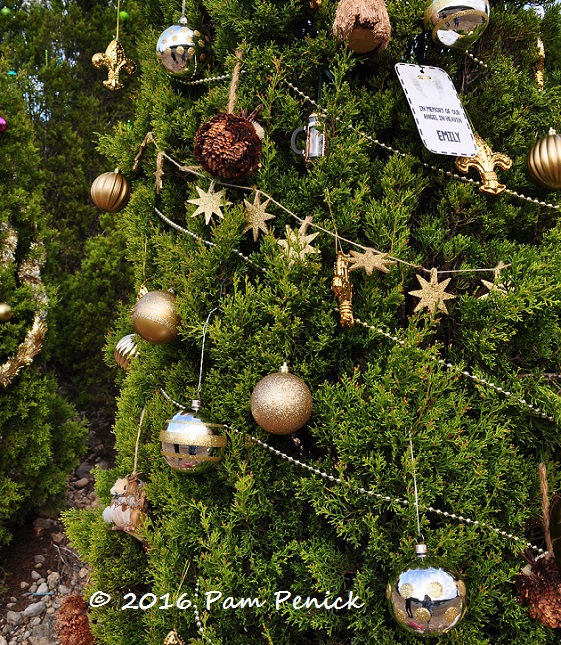 …like this tree for Emily.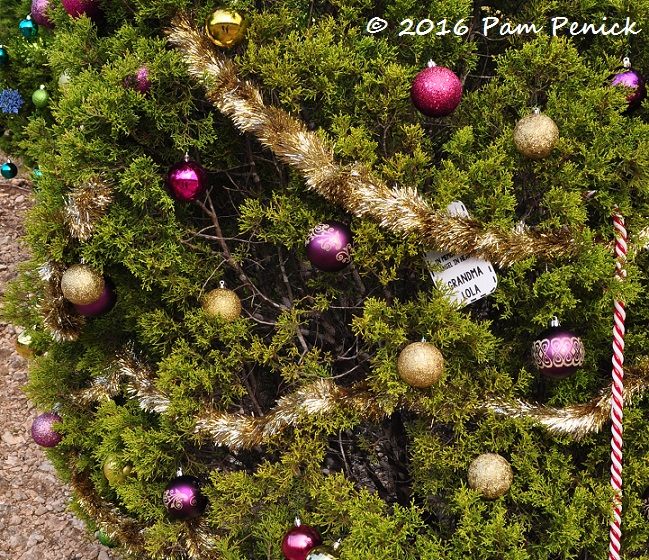 And this one in memory of Grandma Lola. I like that idea.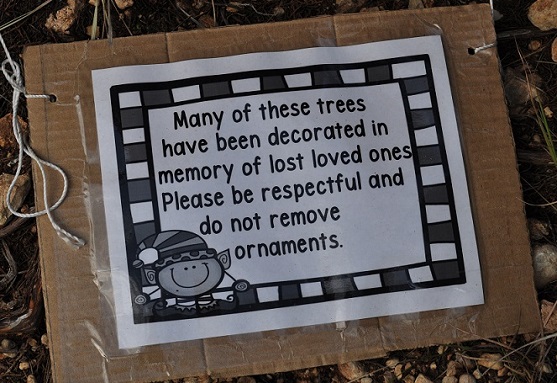 It's kind of sad, though, that they have to put up a sign asking people not to take their ornaments.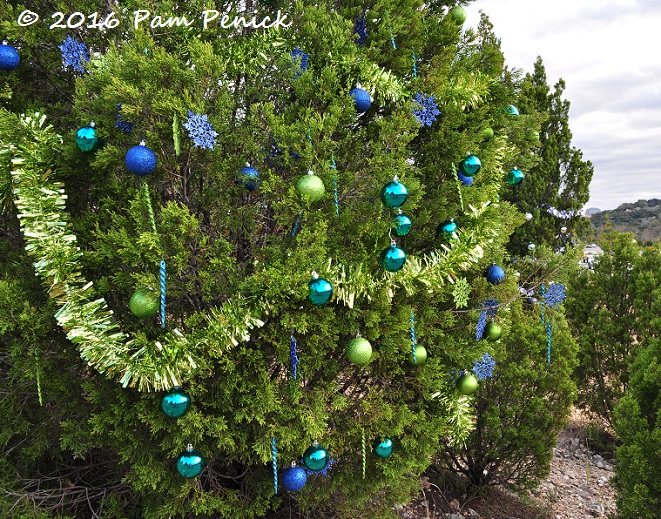 Sticking with shades of blue and green helps this tree stand out.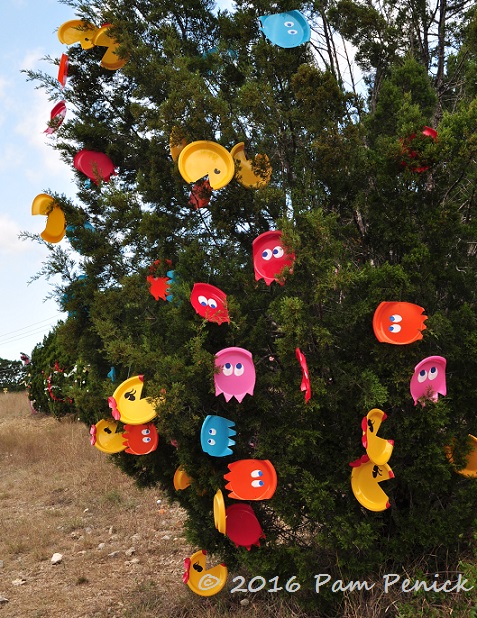 On a lighthearted note, a Pac-Man tree wins my vote for creativity and humor.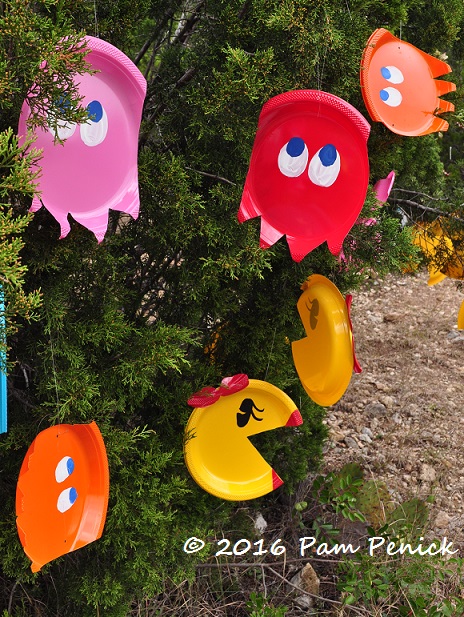 Pac-Man and Ms. Pac-Man are chased by ghosts Pinky, Blinky, Inky, and Clyde, all of them cut out of colorful plastic plates with painted eyes.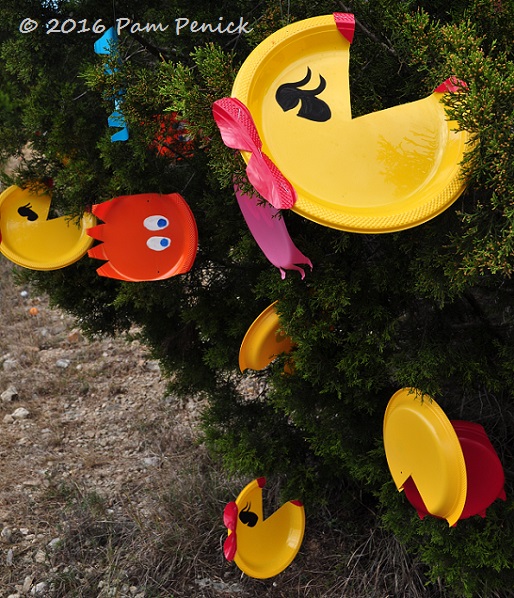 Ms. Pac-Man sports a plastic-plate hair bow and red lips. Super cute!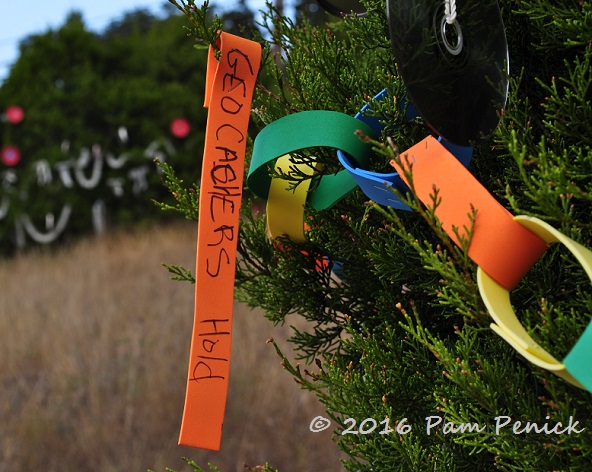 A local geocaching group reserved this tree, which they decorated with colorful foam links and old CDs for sparkle…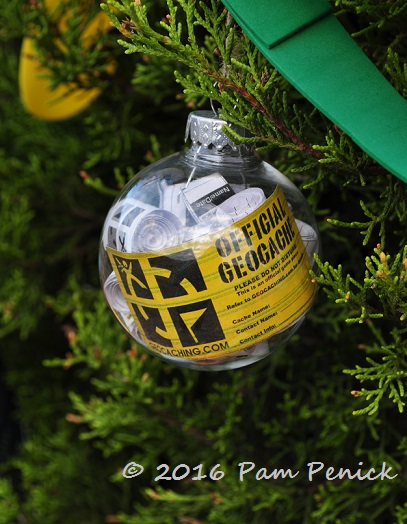 …plus clear balls stuffed with geocaching log sheets. I like that this group, Geocachers of Central Texas, has scheduled a clean-up of tree decor on December 31. That's responsible decorating…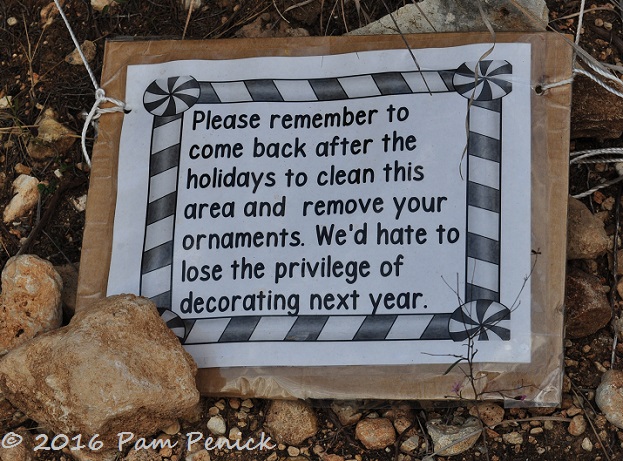 …as another sign reminded fellow decorators. In general people are really good about coming back to undecorate the trees and restore the roadside to its natural beauty.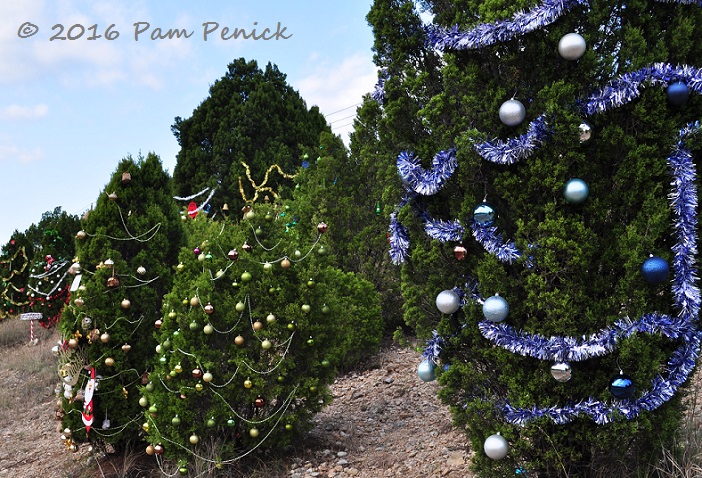 But for now, we enjoy the festive spectacle.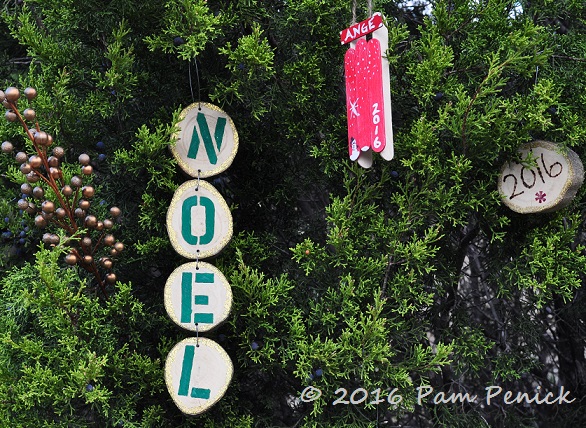 It's a heartwarming holiday tradition in the best spirit of Austin: spontaneous, creative, and full of goodwill.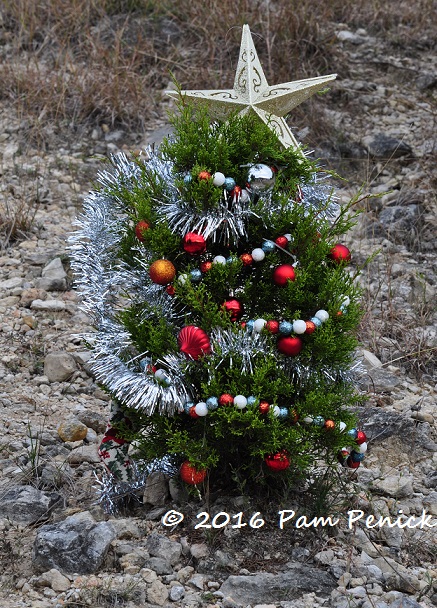 Merry Christmas, y'all.
I welcome your comments; please scroll to the end of this post to leave one. If you're reading this in a subscription email, click here to visit Digging and find the comment box at the end of each post.
_______________________
Digging Deeper: News and Upcoming Events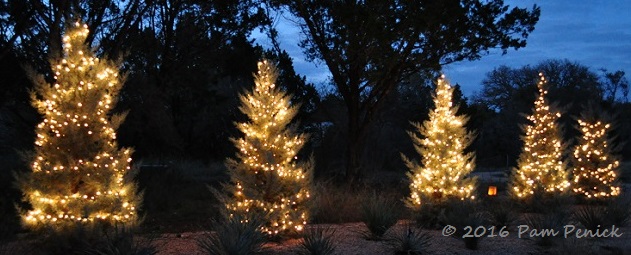 Need a holiday gift for the gardener, new homeowner, or environmentalist on your list?
Please consider giving one (or both!) of my books. They're packed with plenty of how-to info for newbies as well as lots of inspirational photos and design ideas for more experienced gardeners! Order today from Amazon (Water-Saving Garden / Lawn Gone!) or other online booksellers (Water-Saving Garden / Lawn Gone!), or find them anywhere books are sold.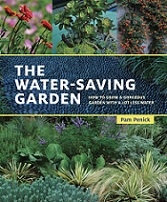 "In an era of drought and unpredictable weather patterns, The Water-Saving Garden could not come at a better time. With striking photographs and a designer's eye, Penick shows us just how gorgeous a water-wise garden can be. This is the must-have garden book of the year!"
— Amy Stewart, author of The Drunken Botanist and Wicked Plants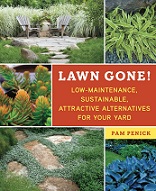 "This thoughtful, inviting, and thoroughly useful book should be required for every new homeowner at closing. It has the power to transform residential landscapes from coast to coast and change the world we all share."
— Lauren Springer Ogden, author of The Undaunted Garden and coauthor of Waterwise Plants for Sustainable Gardens
All material © 2006-2016 by Pam Penick for Digging. Unauthorized reproduction prohibited.