April 18th, 2017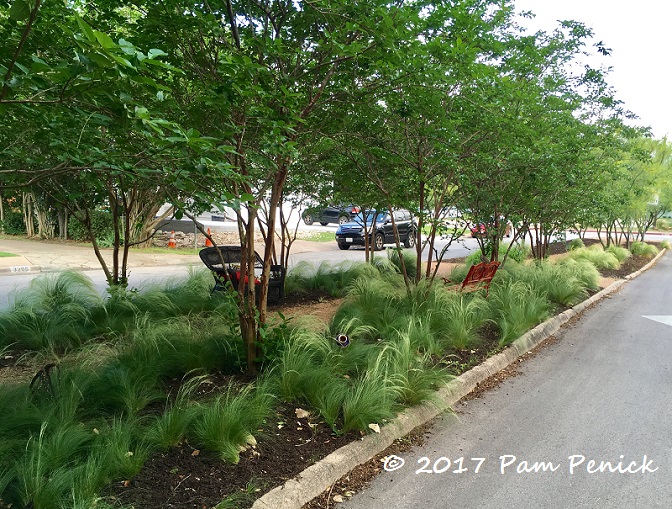 A few years ago I toured Colleen Jamison's beautiful garden in central-west Austin, and a few days ago I had the pleasure of a revisit. It is still wonderful! But here's what wowed me before I even stepped foot in her garden: a median strip down the middle of her street that she's transformed, little by little, into a garden for her neighbors and passersby to enjoy.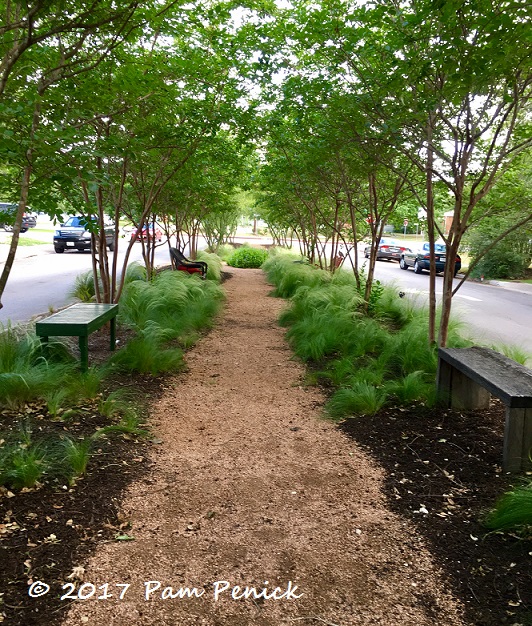 Wow, just look at this lovely space, with staggered benches inviting one to rest under an allée of crepe myrtles. Colleen says she started planting the median years ago to block an unwelcome view of trucks parked directly across the street from her house. And then she just kept expanding it.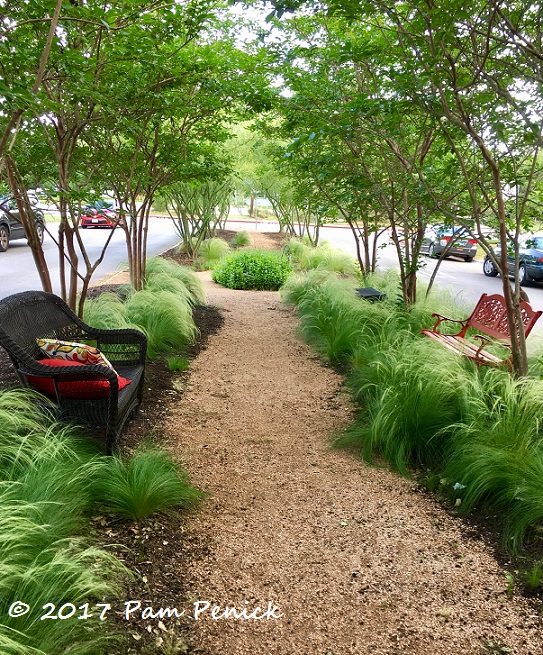 As you'd expect, the median lacks a water source for irrigation, so Colleen chose tough, mostly native plants that can thrive without regular watering once they're established, like Mexican feathergrass and crepe myrtle, shown here, as well as retama, Texas mountain laurel, iris, blue mistflower, prickly pear, and agave. (Note: she does water new plants by hand until they're established.)
Colleen's eye for design is evident in the repetition and massing of relatively few species of plants, which also makes maintenance easier, and in the way she breaks up the bowling-alley effect of a long, narrow space by zigzagging benches along the length and creating a focal-point mound of blue mistflower in the center of the path.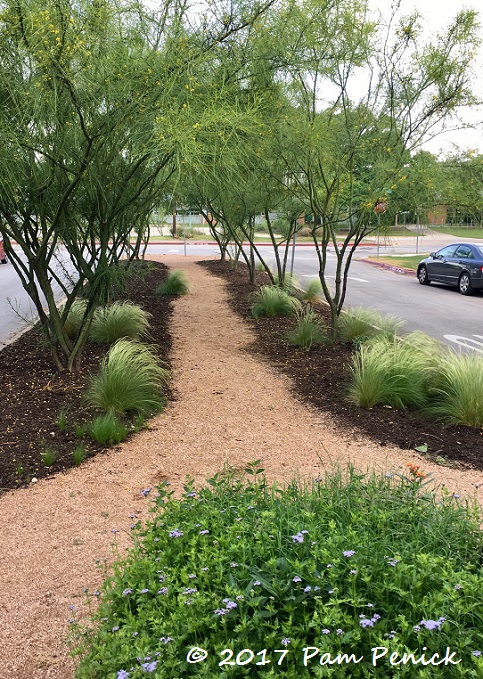 The blue mistflower mound marks the end of the crepe myrtle allée and the start of a retama allée.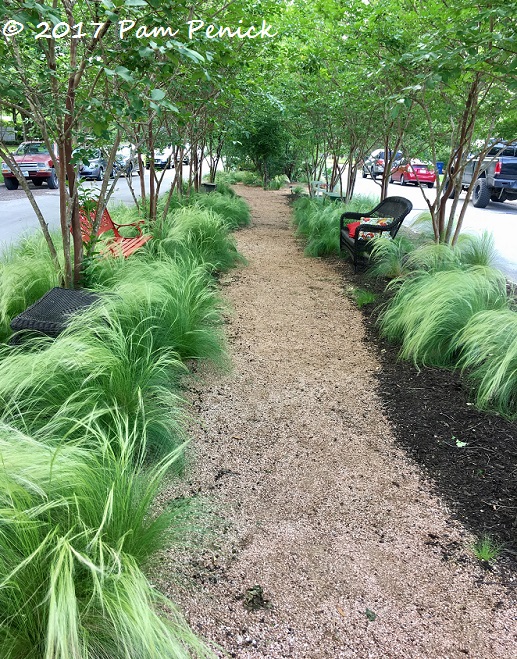 Turning around and looking back toward the middle, you get to enjoy the effect all over again.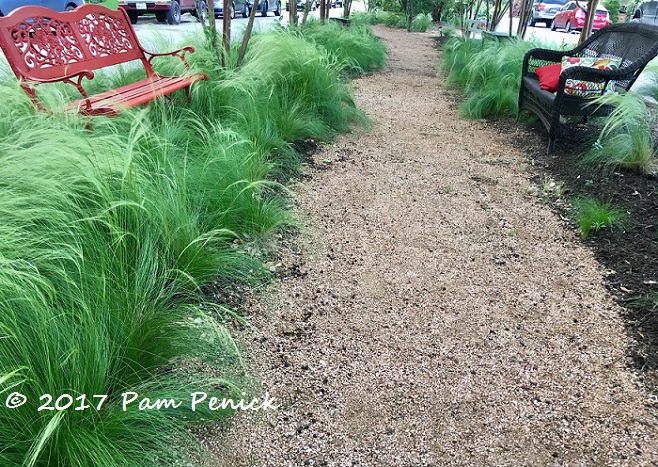 So inviting! And so well maintained too.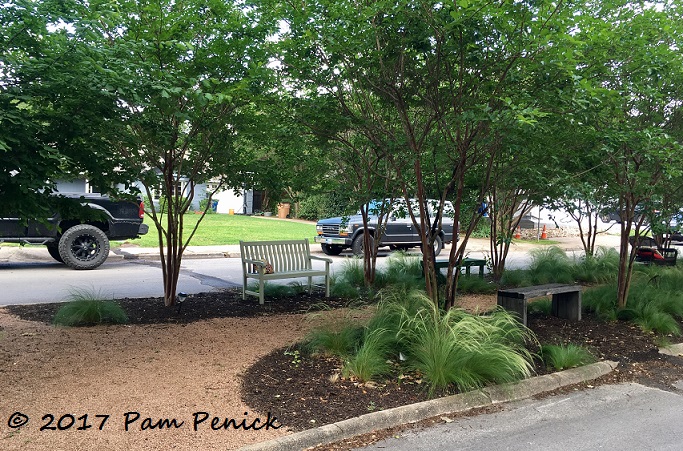 The allée pathway widens in the midsection of the median to embrace both sides of the street, inviting access.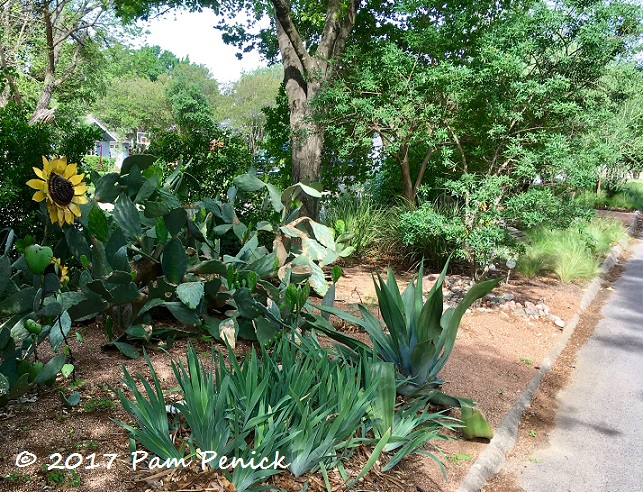 Directly across from Colleen's garden, the median is more densely planted in cottage-garden style — the better to hide those trucks! Actually, the trucks may be long gone now, but this was the earliest section she planted, and it's lush with Texas mountain laurel, prickly pear, iris, and agave. A metal sunflower makes a cheerful accent.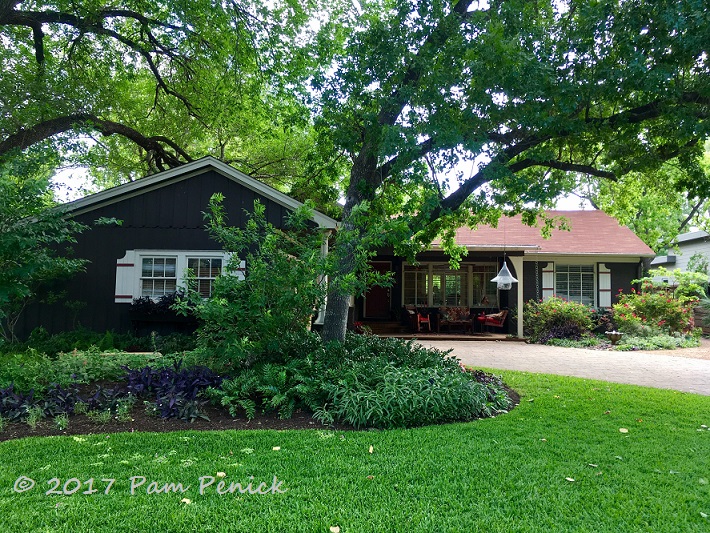 From the median, here's the charming view of Colleen's house and front garden. What a gift she's given to the neighborhood with her own garden and the median garden.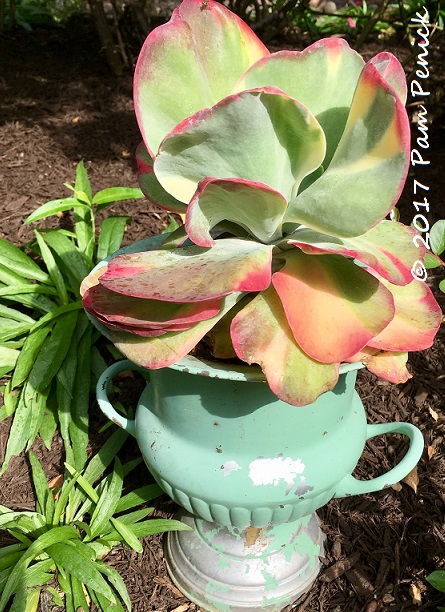 For fun, here are a couple more images from Colleen's garden, including a ruffled kalanchoe in a mint-green vase…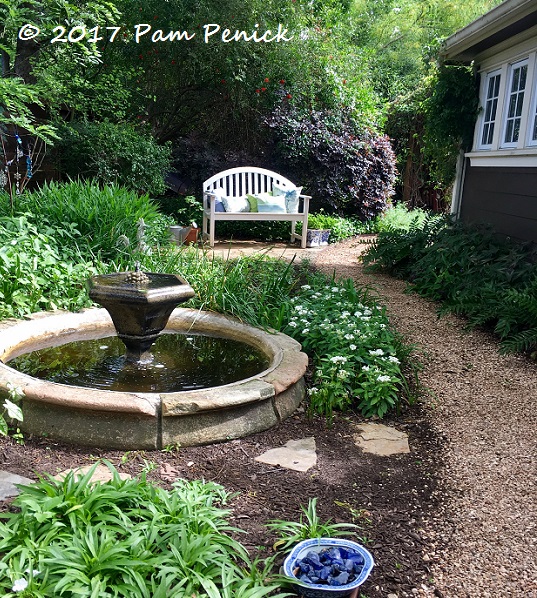 …and this peaceful side-yard garden with a classical fountain, a pillow-strewn bench for comfortable lounging, and masses of pretty shade-garden plants.
Don't you wish you were Colleen's neighbor?
I welcome your comments; please scroll to the end of this post to leave one. If you're reading this in a subscription email, click here to visit Digging and find the comment box at the end of each post.
_______________________
Digging Deeper: News and Upcoming Events
Mark your calendar for the Inside Austin Gardens Tour on May 6, sponsored by Travis County Master Gardeners. This fun garden tour occurs every 18 months and features a mix of homegrown gardens "for gardeners, by gardeners," as their tagline says.
Get on the mailing list for Garden Spark Talks. Inspired by the idea of house concerts — performances in private homes, which support musicians and give a small audience an up-close and personal musical experience — I'm hosting a series of garden talks by design speakers out of my home. Talks are limited-attendance events and generally sell out within just a few days, so join the Garden Spark email list for early notifications. Simply click this link and ask to be added.