November 25th, 2017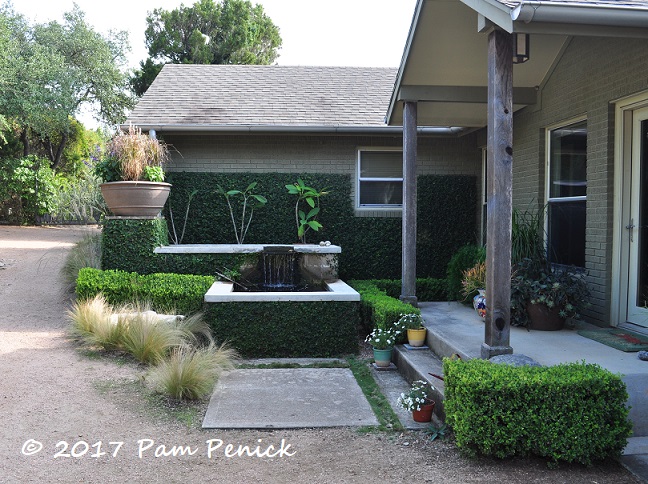 The final garden from the Austin Open Days Tour earlier this month is landscape architect Tait Moring's personal garden, which perches on a canyon's rim just off Bee Caves Road. His entry garden is an appealing mix of formality (boxwood hedging, geometric raised pond, fig ivy neatly trimmed on the wall) and rustic informality (loosely planted Mexican feathergrass, colorful pots zigzagging on the steps, a country-style gravel driveway).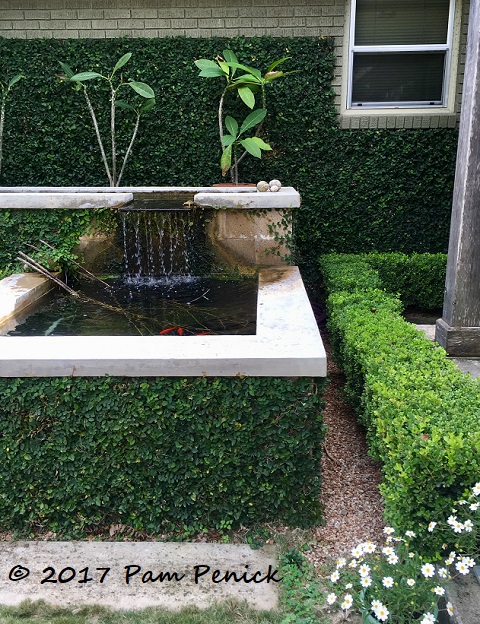 Color blocking with fig ivy and white limestone coping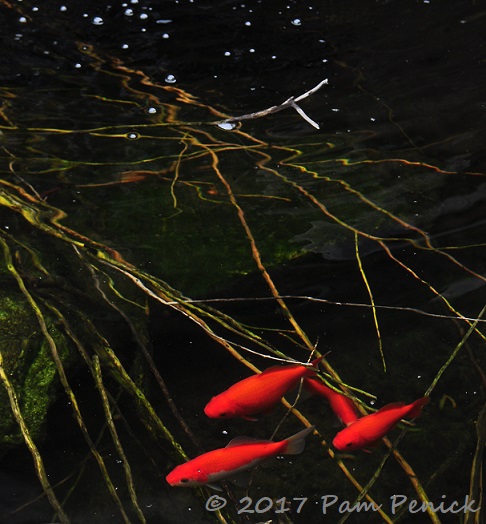 Tait said a branch fell into the pond, and he decided to leave it for the goldfish to enjoy.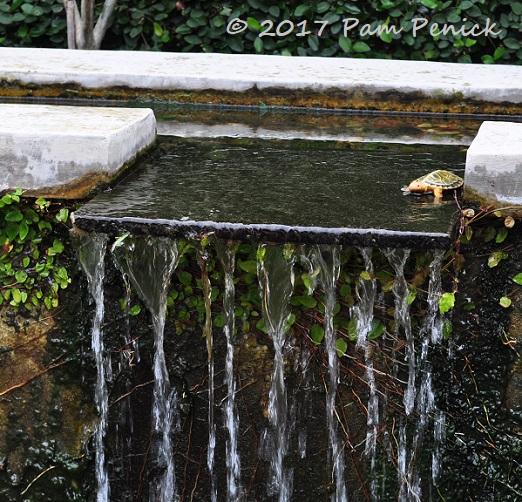 Waterfall detail, with ceramic turtle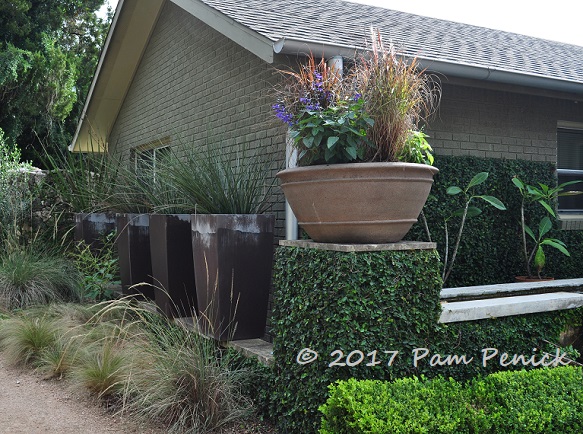 A chunky pillar and low wall display oversized pots, one with grasses and salvia, the others with hesperaloe.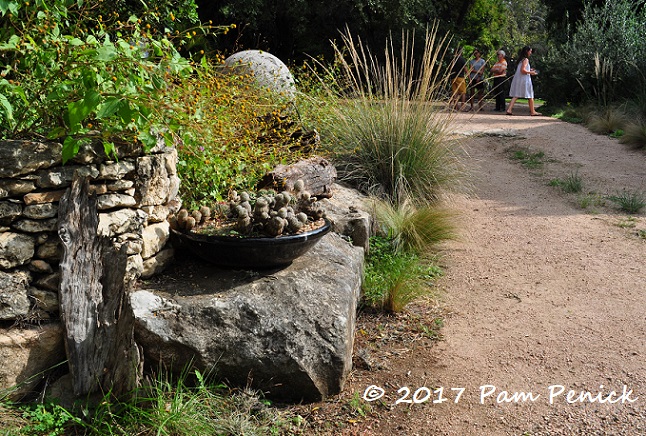 Across the driveway, a cactus dish sits on a limestone boulder amid grasses and goldeneye daisy.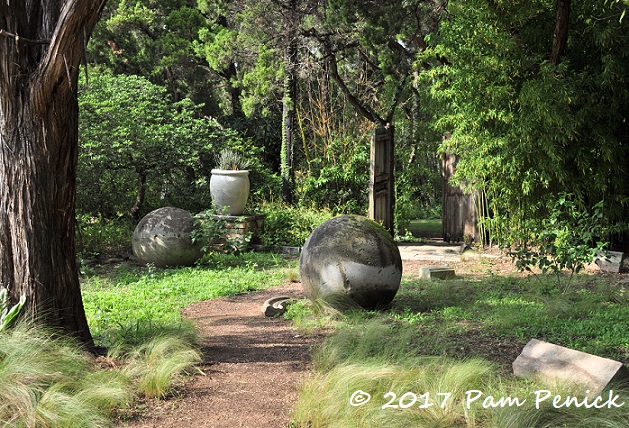 A decomposed-granite trail leads back toward the property's entrance. The busy highway just beyond is completely obscured by trees and bamboo along the property line. Gigantic stone spheres rest along the trail, leading you to a free-standing and inviting wooden gate.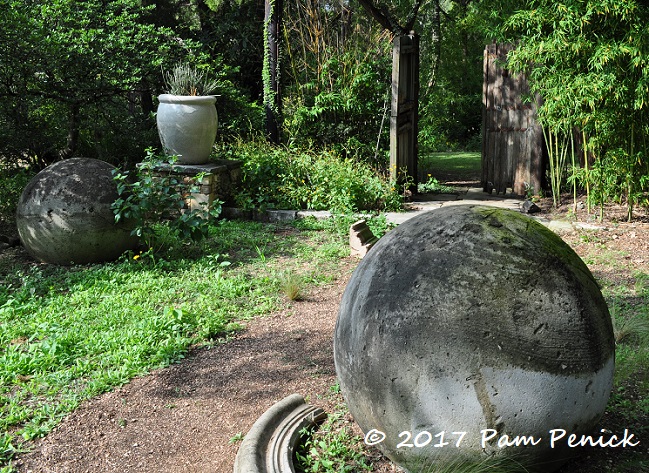 Architectural relics lie alongside the stone spheres. These spheres once accented the planting beds in the Rollingwood Randall's shopping center. When that shopping center redid its landscaping, Tait was lucky enough to acquire the spheres and brought them home to his own garden.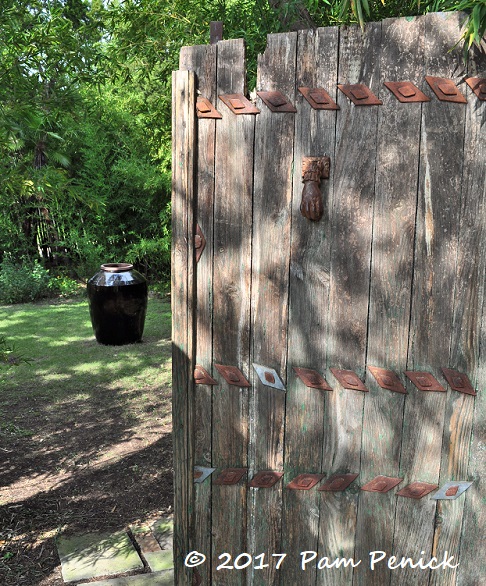 The wooden gate with unique fasteners and a hand knocker opens to a lawn circle anchored by a glossy black pot.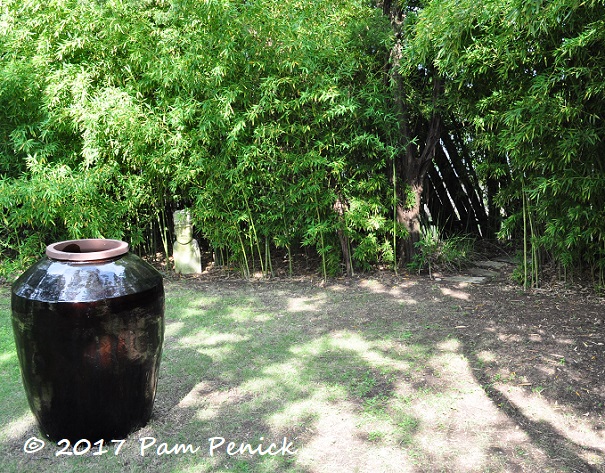 A wall of bamboo encircles the lawn. An opening with a stepping-stone path leads out of the garden to the highway shoulder just beyond.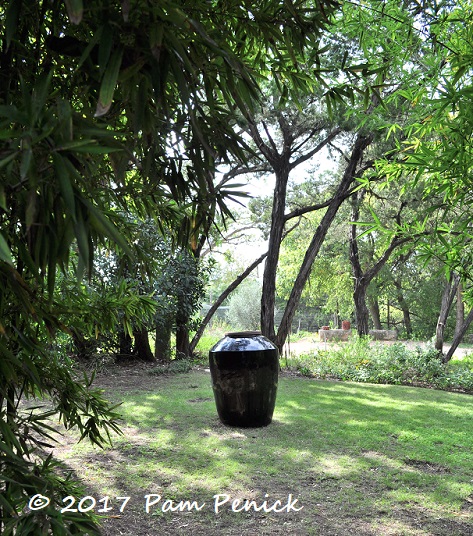 The view from the bamboo doorway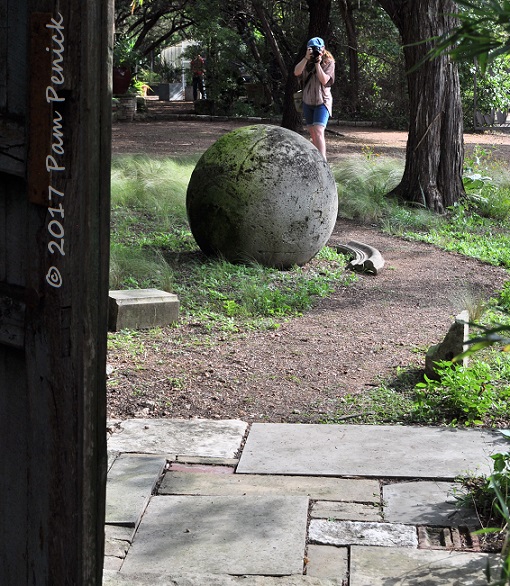 Heading back through the wooden gate, I managed to photobomb Lori's picture.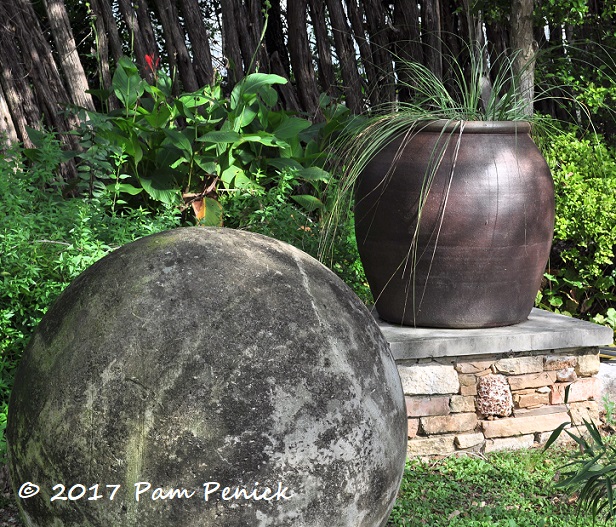 A round pot on a stone plinth echoes the sphere's shape.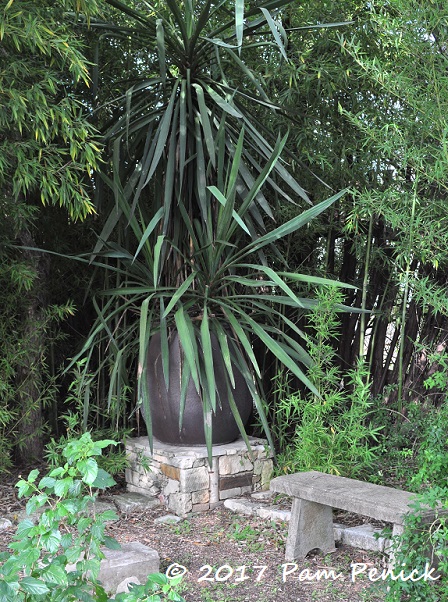 Another pot contains the sword-like foliage of a tall yucca.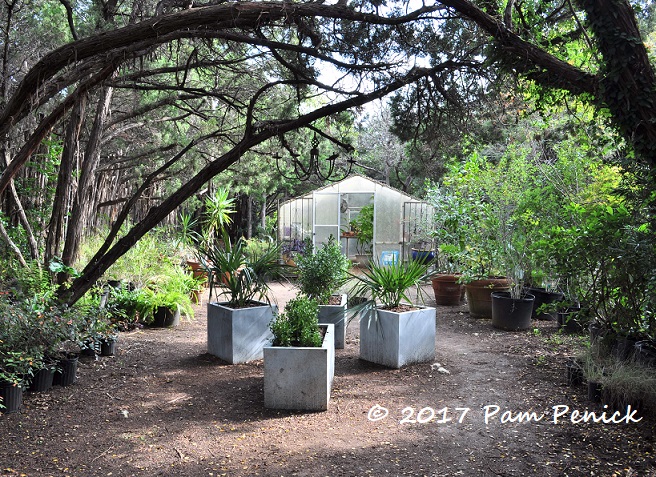 Tait's home doubles as his design studio, and his garden has storage space for plants for installations. A greenhouse, collection of white planters, and chandelier hanging from a tree give structure and interest to his plant-storage space.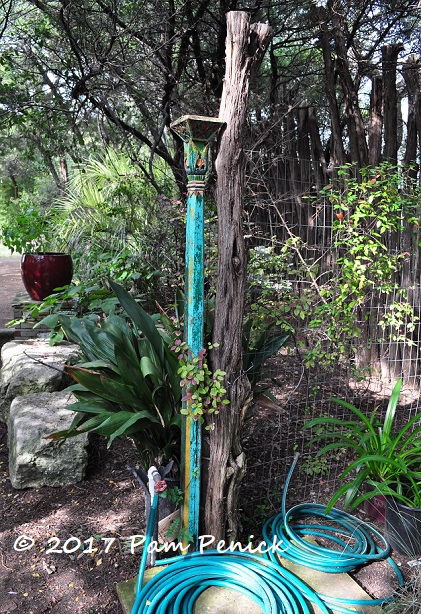 An Indonesian-style turquoise post stands alongside a cedar fence post and echoes the blue of coiled hoses.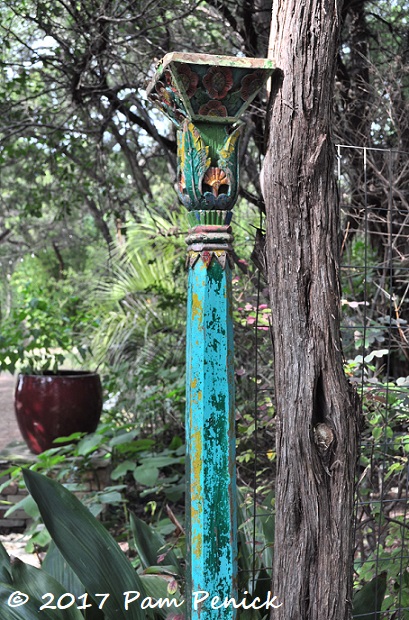 Painted post detail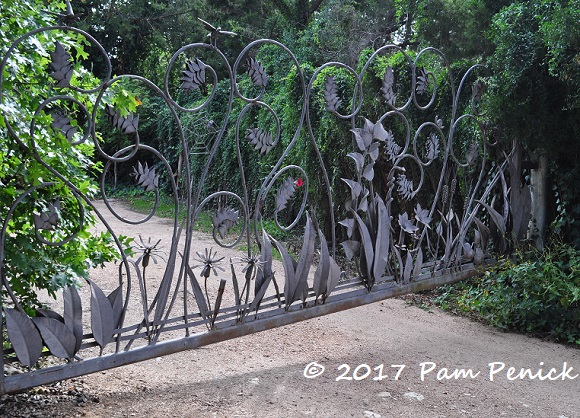 A flora-themed wrought-iron gate divides the driveway between visitor parking and work equipment parking.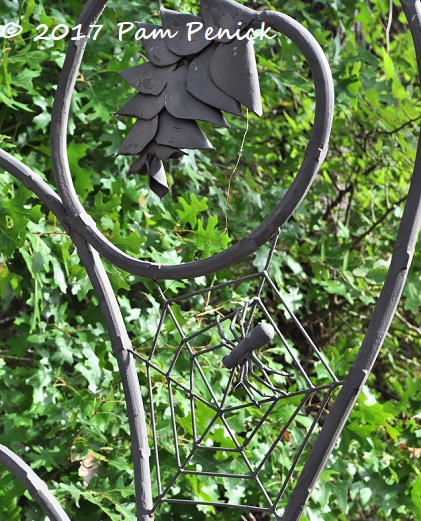 Fence detail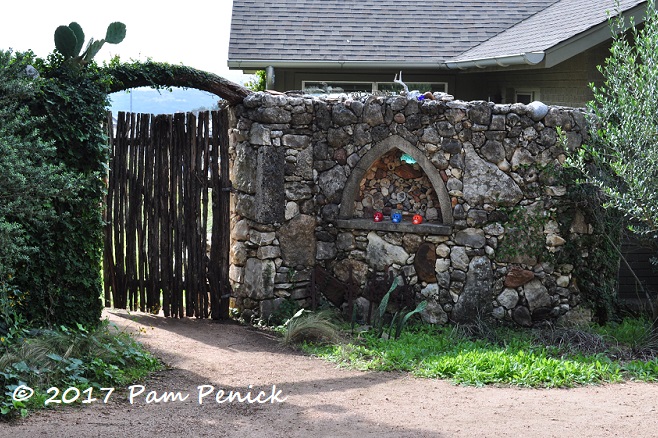 A rubble wall with gothic-arch niche and cedar gate marks the entry to Tait's back garden.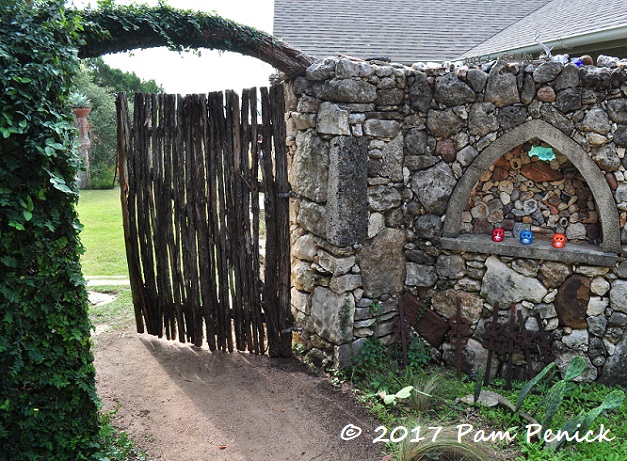 The niche makes a fun display space for a trio of skull planters.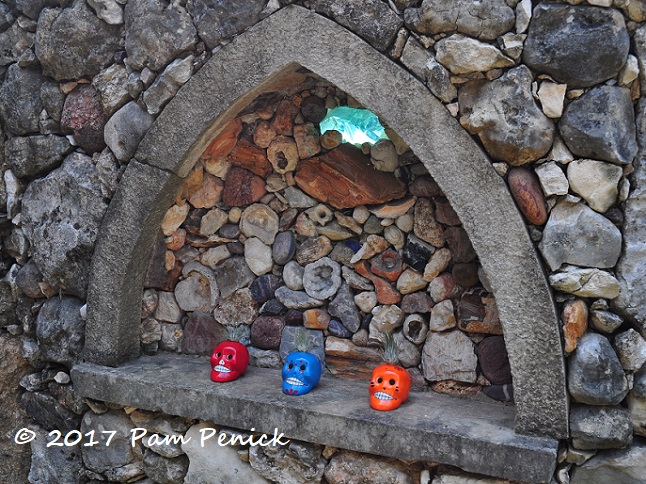 The detail of the wall itself is amazing, studded with geodes, turquoise glass, and fossils amid the rocks.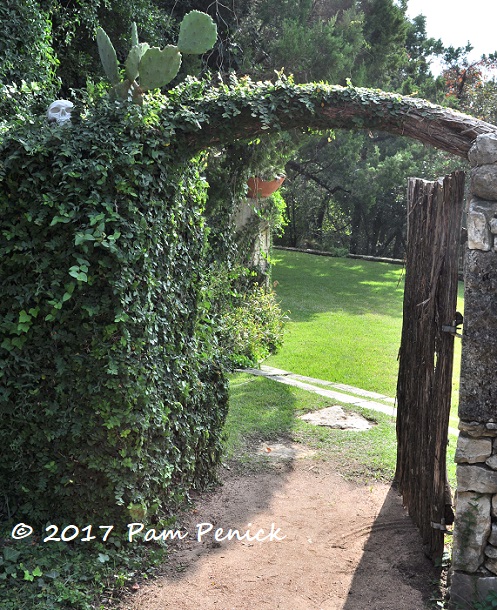 Let's go through the gate to see the rest. I love the curved cedar trunk arching above the gate, and notice the skull and prickly pear tucked in the fig ivy atop the stone gatepost.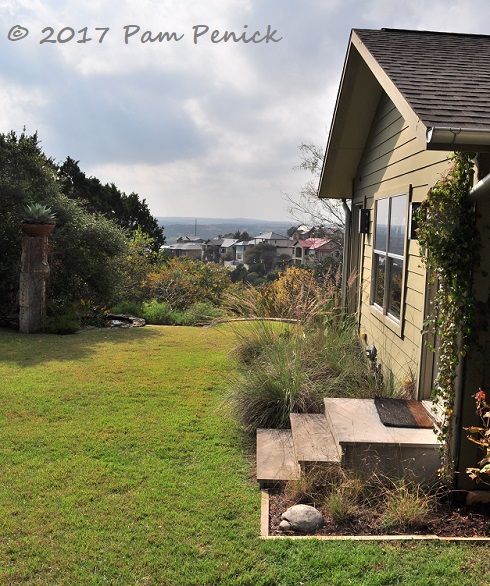 Straight ahead — a canyon view, with newly built houses cropping up on the ridge line. A cantera stone pillar topped with an agave dish and a round pond draw the eye across the lawn.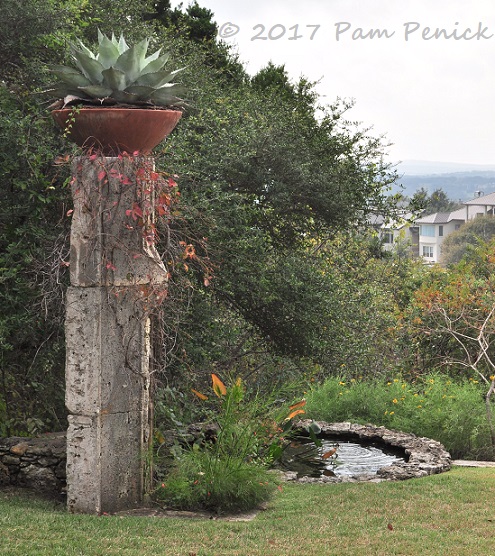 A closer view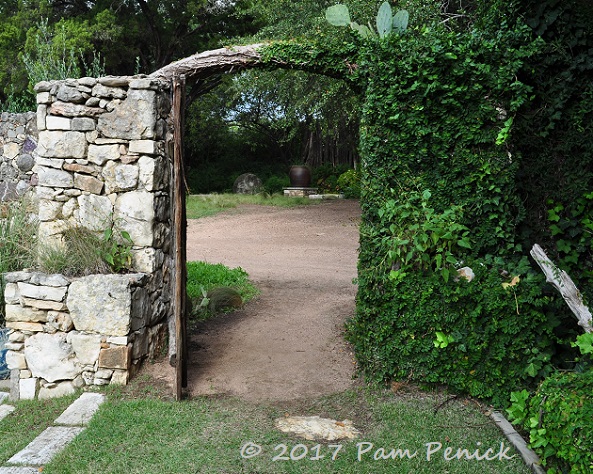 Looking back through the gate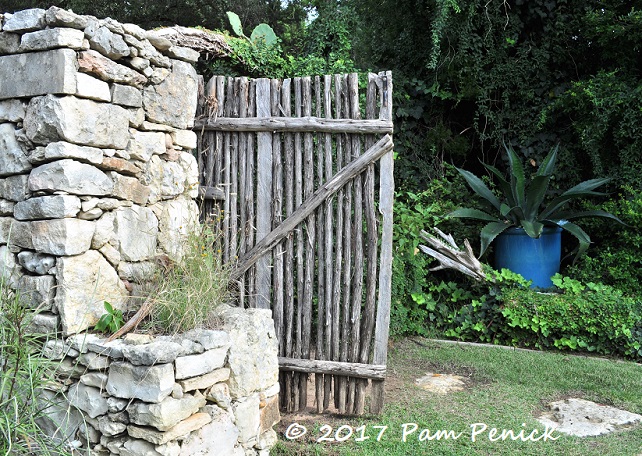 A planter pocket built into this side of the wall contains grama grass. Just beyond…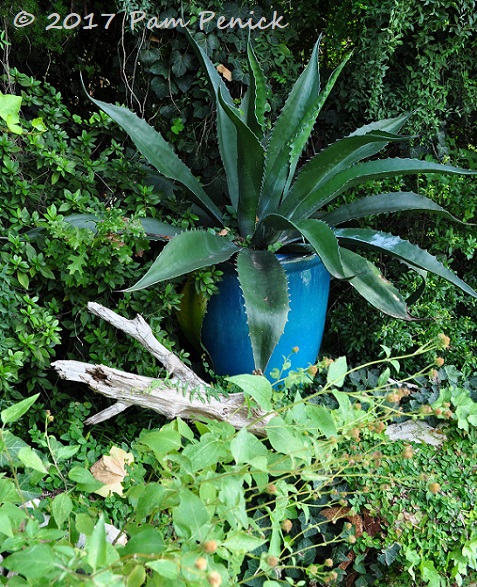 …a 'Green Goblet' agave (I think) in a blue pot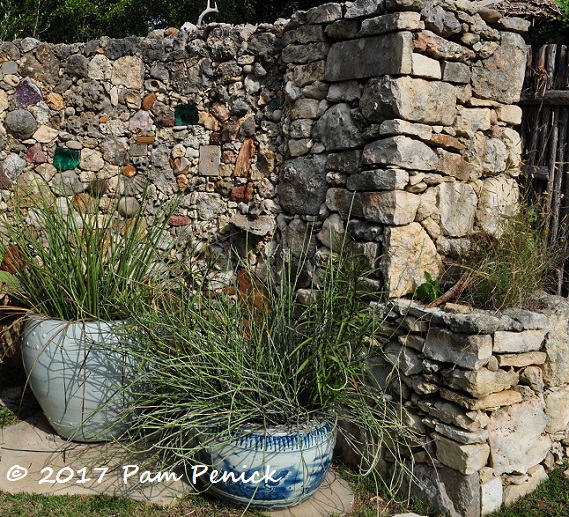 The rubble wall deserves a close inspection on this side as well.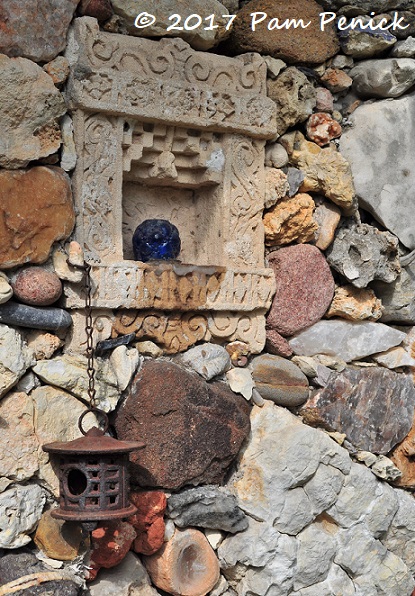 Altar niche with hanging lantern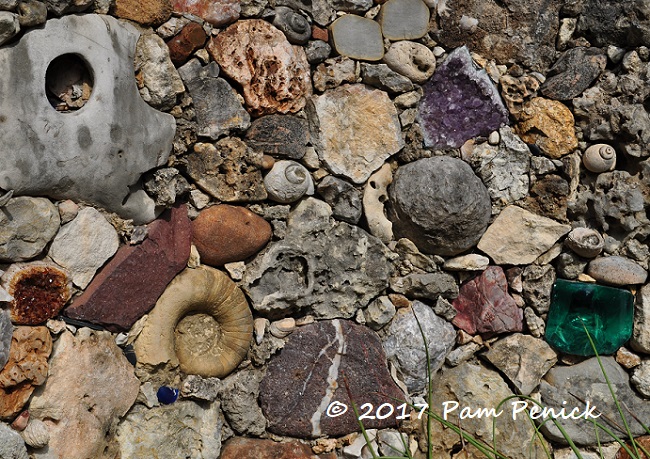 Fossils, green glass, and is that an amethyst geode?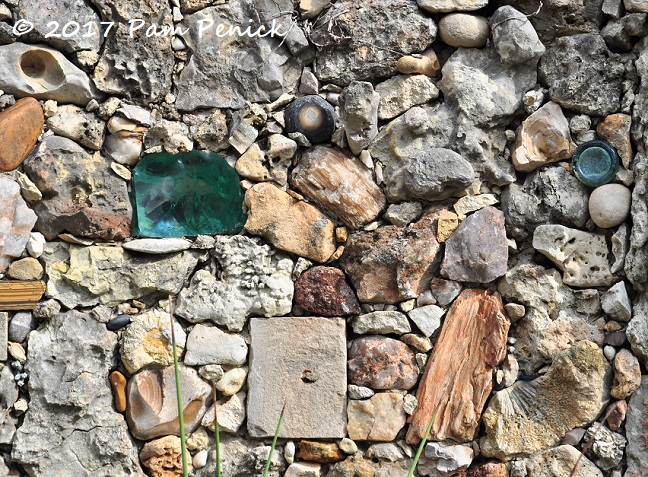 It all fits together so beautifully.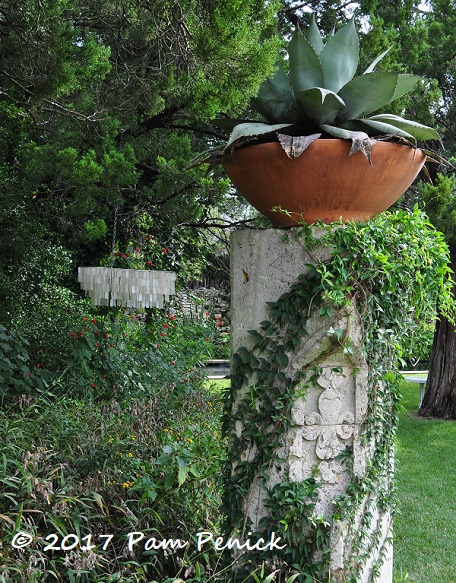 Another carved cantera column supports a potted agave on this side of the lawn as well.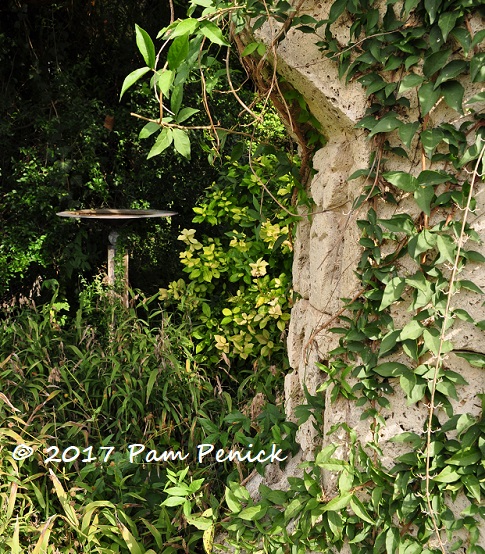 With a vine creeping up the column, a jungly mood is created.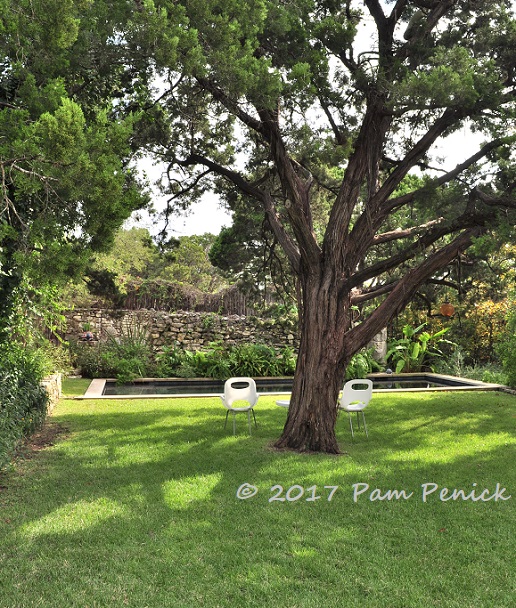 On a perpendicular axis to the canyon view, the lawn stretches out beneath a large cedar (juniper) tree and leads to a swimming pool.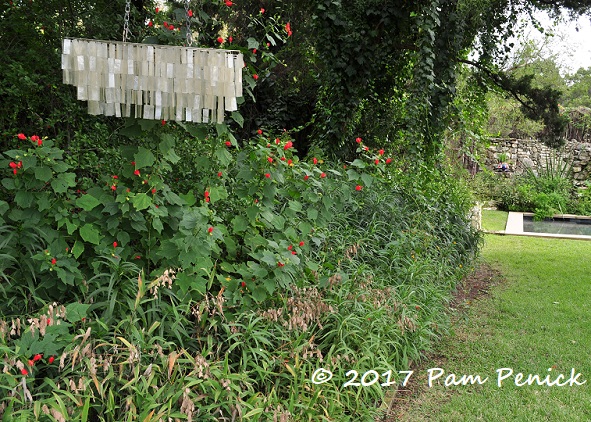 Hanging above Turk's cap and inland sea oats, as if over an indoor dining table, a capiz-shell chandelier is a surprising sight as it tinkles in the breeze.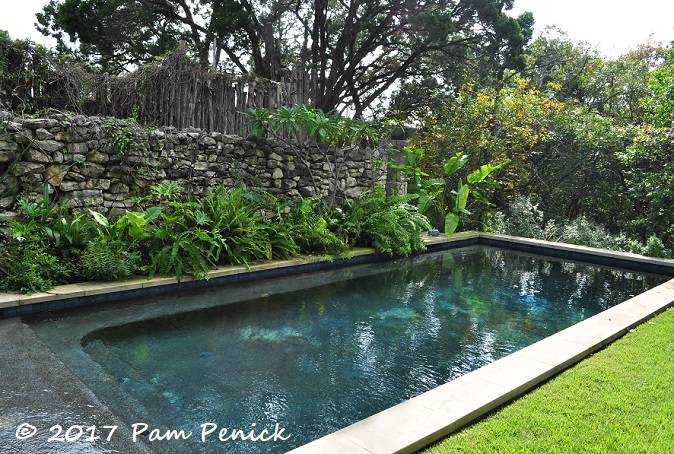 A lushly planted strip behind the pool runs alongside a stacked-limestone wall topped with a cedar fence.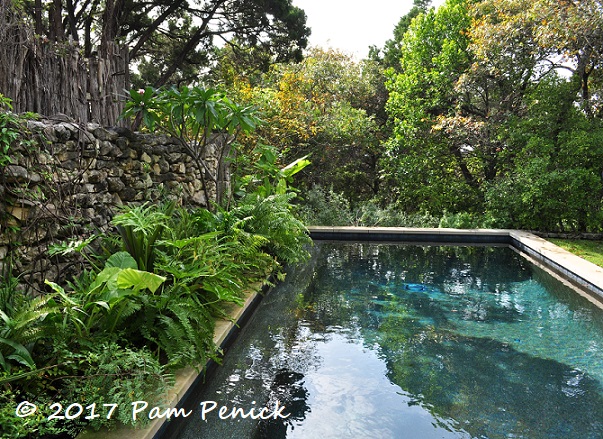 The long view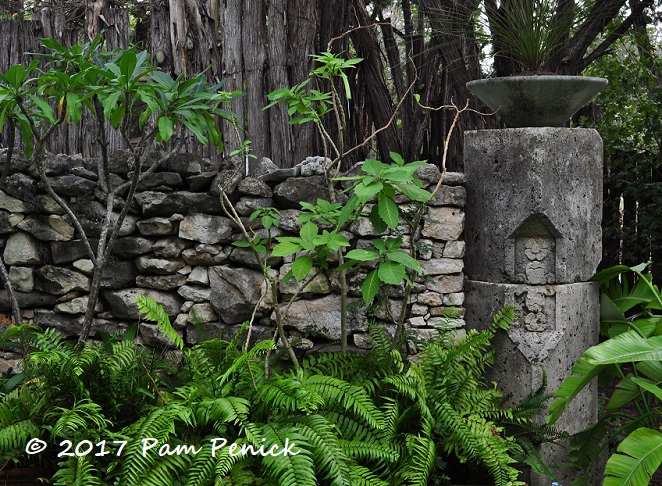 Another cantera stone column stands here. It used to have a tiki-style stone head atop it, which I miss.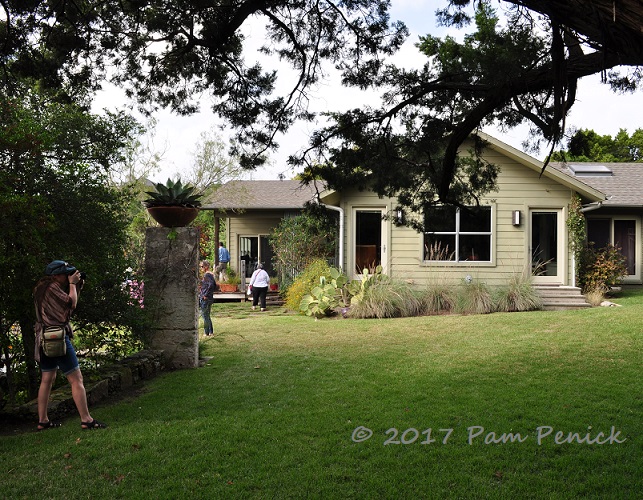 From shade into sun, the view back toward the house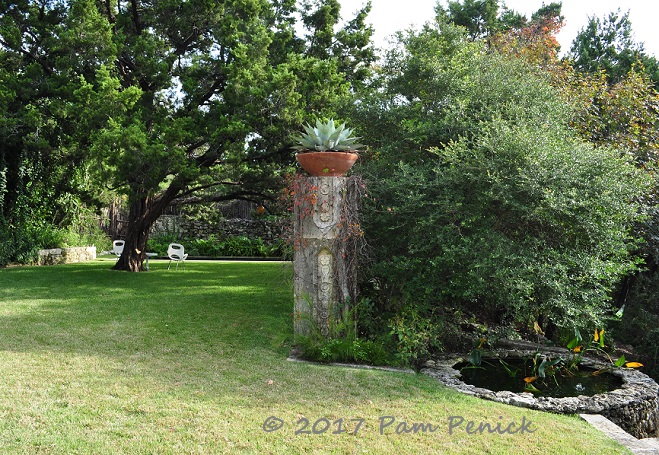 Tait's garden largely consists of water-conserving native plants and wildscape in the upper canyon. This swath by the pool is the only lawn Tait has, and he doesn't baby it with excess water.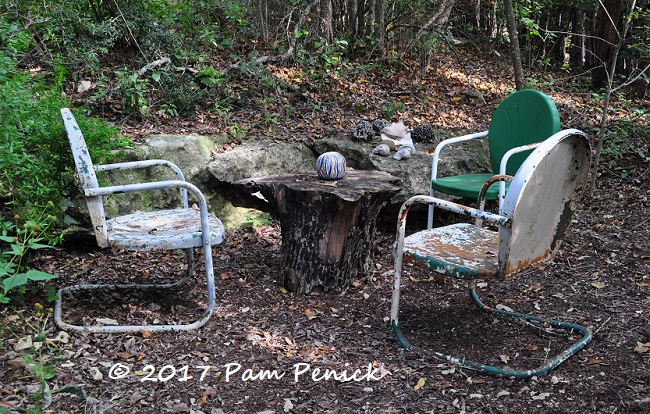 Heading into the canyon via a woodsy trail, you pass intimate seating areas, like this motel-chair grouping…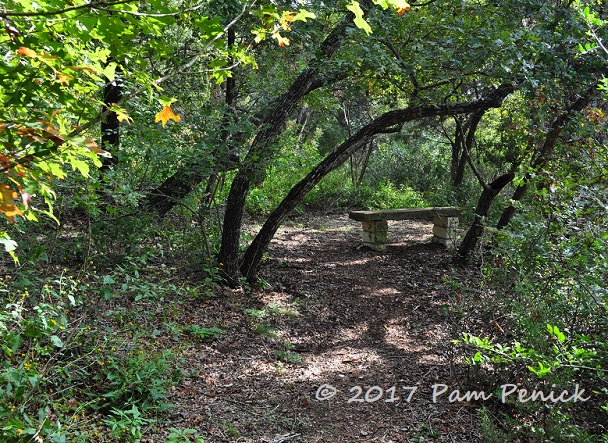 …and a contemplative stone bench.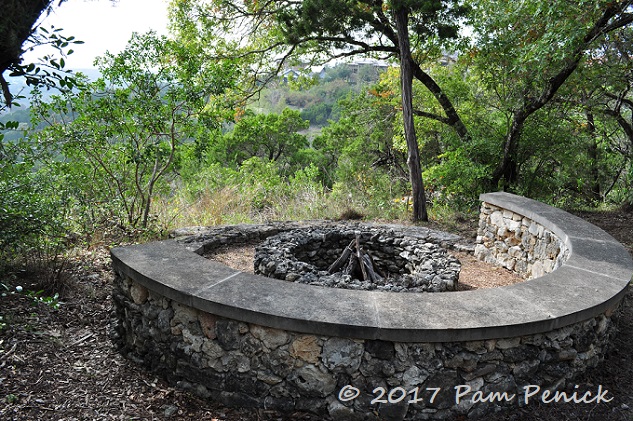 The payoff comes along the canyon's rim, below the house, where Tait built a beautifully crafted, semicircular bench around a stone fire pit.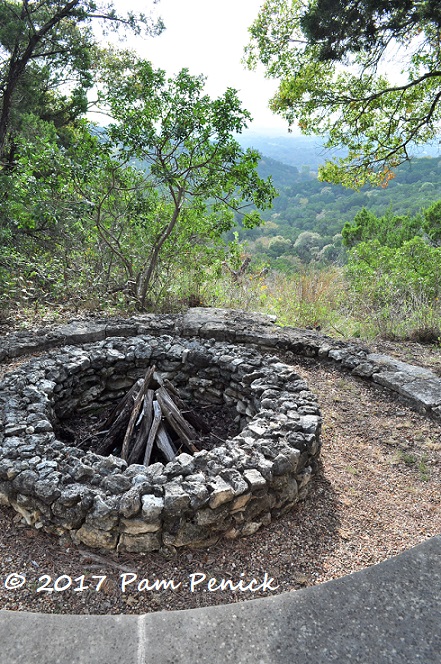 Imagine sitting here and watching the sun set over the hills, and then roasting marshmallows around a cozy campfire.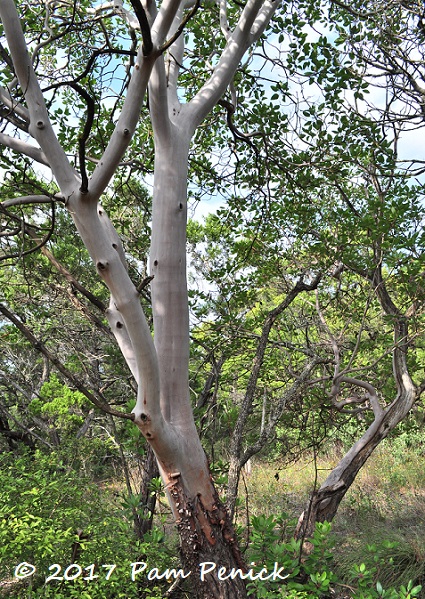 Tait also nurtures — and by nurtures I mean he carefully leaves alone — a native Texas madrone. These white-trunked trees are notoriously picky about growing conditions and don't appreciate well-intentioned "improvements" like removing cedar trees around them. Tait has wisely left his tree in its native condition.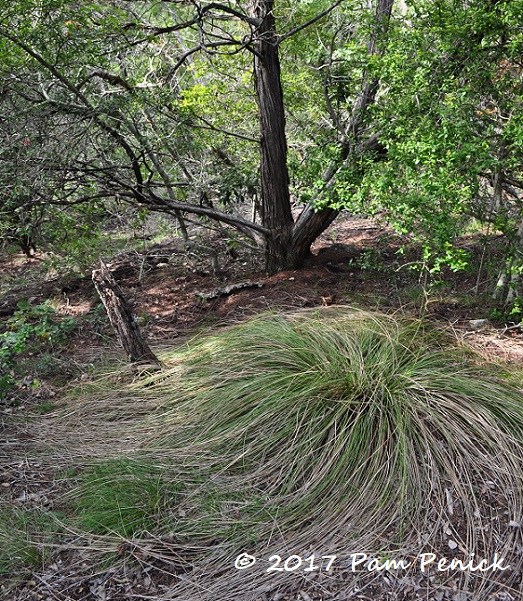 A large Texas nolina sprawls nearby, like green spaghetti or a shaggy head of hair.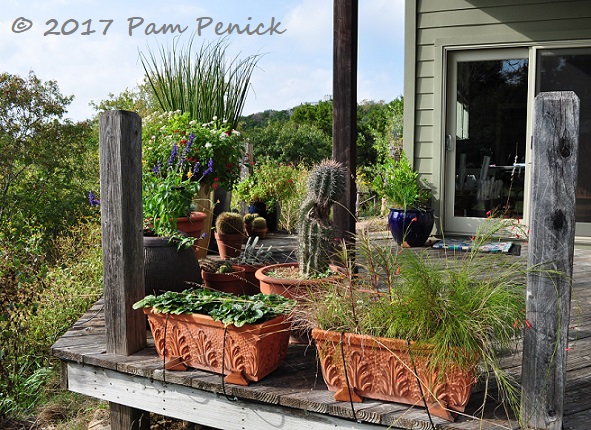 A rustic deck off the back of the house displays a collection of potted plants.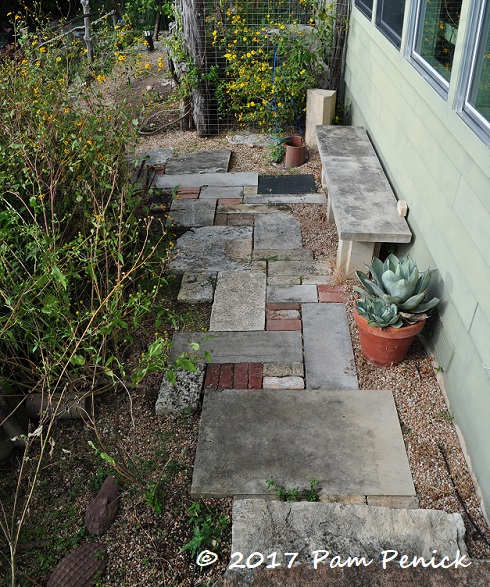 A patchwork path of stone and brick leftover from other projects leads from the deck…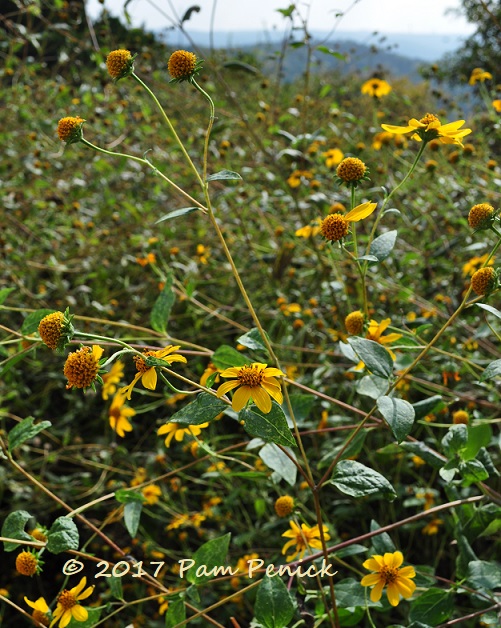 …past native swaths of goldeneye daisy…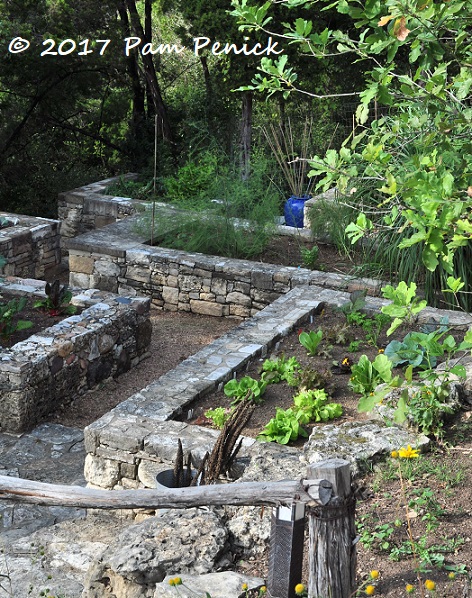 …to Tait's vegetable garden, a potager of rectangular stone beds.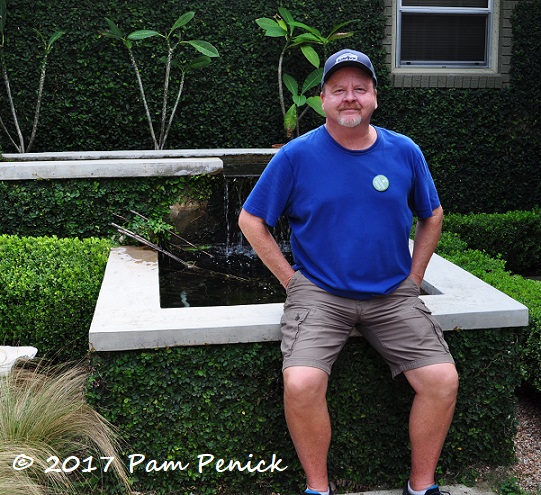 And here's Tait, the tamer of the canyon's edge and protector of its wildness. Thanks for sharing your garden, Tait!
This concludes my recap of the 2017 Austin Open Days Tour. For a look back at the water-saving garden on Ridgewood Road, click here.
I welcome your comments; please scroll to the end of this post to leave one. If you're reading this in a subscription email, click here to visit Digging and find the comment box at the end of each post.
_______________________
Digging Deeper: News and Upcoming Events
Calling all garden bloggers! You're invited to register for the annual Garden Bloggers Fling tour and meetup, which will be held in Austin next May 3-6, 2018! Click this link for information about registering, and you can see our itinerary here. Space is limited, so don't delay. The 2018 Fling will be the event's 10th anniversary, which started in Austin in 2008.
Join the mailing list for Garden Spark Talks! Inspired by the idea of house concerts, I'm hosting a series of garden talks by inspiring designers and authors out of my home. Talks are limited-attendance events and generally sell out within just a few days, so join the Garden Spark email list for early notifications. Simply click this link and ask to be added.
All material © 2006-2017 by Pam Penick for Digging. Unauthorized reproduction prohibited.
posted in
Agaves
,
Bamboo
,
Cactus
,
Containers
,
Council ring
,
Design
,
Edibles
,
Fences
,
Firepits
,
Fish
,
Fountains
,
Garden art
,
Garden tours 2017
,
Gates
,
Grasses
,
Greenhouses
,
Lawns
,
Native plants
,
Paths
,
Patios & decks
,
People
,
Ponds
,
Porch
,
Rock
,
Sculpture
,
Seating
,
Swimming pools
,
Texas natives
,
Trees
,
Views
,
Walls
,
Water features