May 22nd, 2016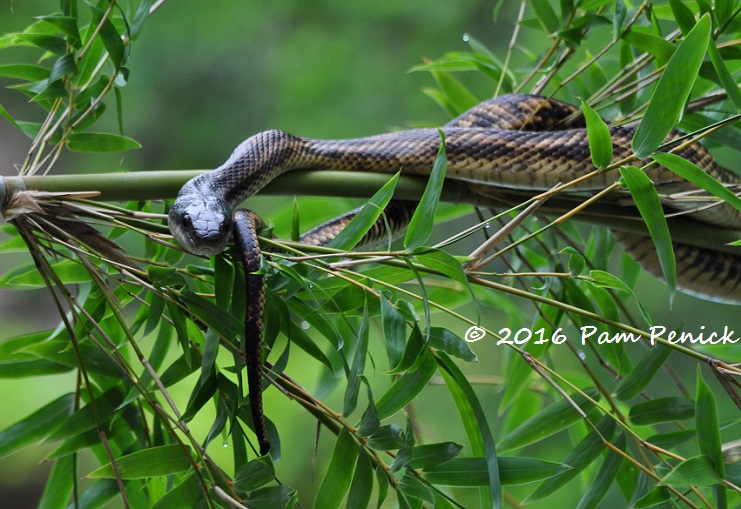 The biggest snake I'd ever seen in my garden was lounging in a bamboo hammock this morning.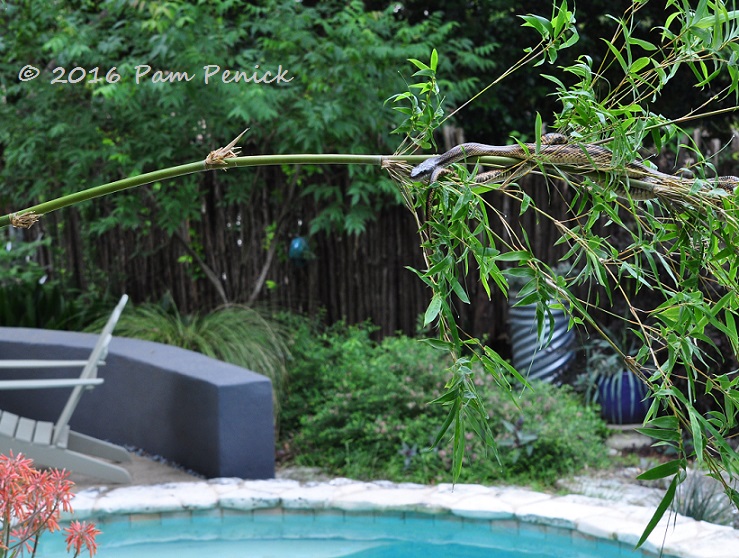 Earlier, while looking out my office window, I'd noticed a bamboo cane leaning horizontally and thought, "Hmm, did it rain again?" But no, everything looked dry, so I eventually moseyed out to take a look.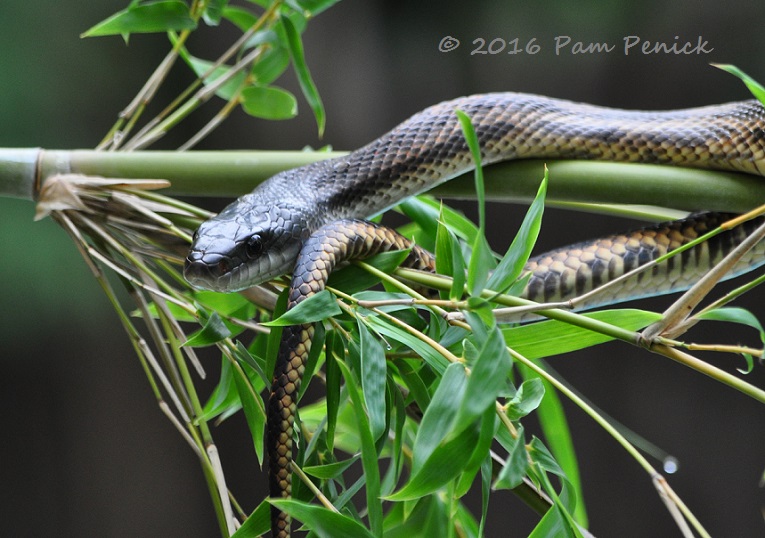 Hello! A 5-foot long rat snake was coiled way out on a culm of the 'Alphonse Karr' bamboo (Bambusa multiplex 'Alphonse Karr') behind the house.

It's kind of pretty, don't you think? I'm not scared of snakes in the garden, although I'm sure I'd feel differently about a venomous one. I've never seen a rattlesnake or coral snake in my garden, but I do keep an eye out since we back up to a greenbelt, and this is Texas.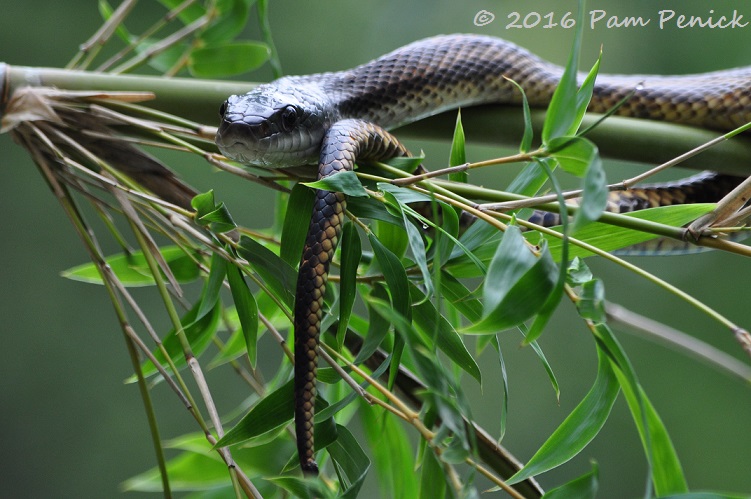 But rat snakes are not venomous, and they eat rats, which means it's a welcome predator in Austin. They unfortunately also eat birds and bird eggs (they're good climbers), but that's all part of the circle of life.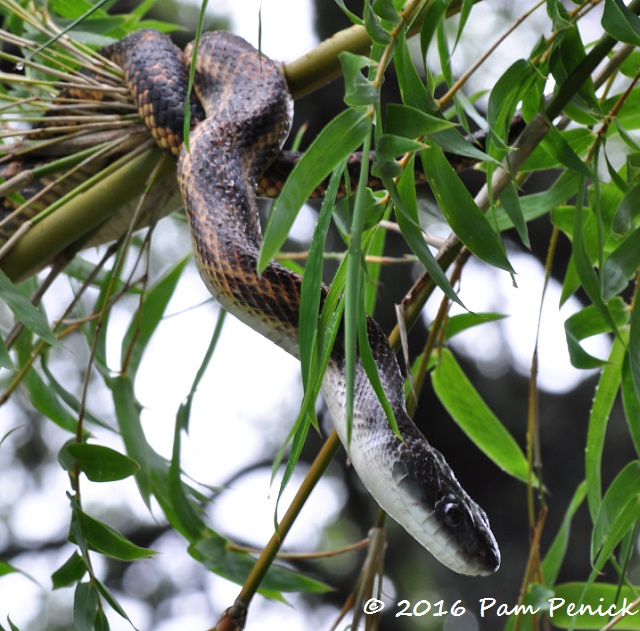 Eventually it coiled its way down the bamboo, and David and I watched it slither through the garden bed, down a wall, along the pool deck, and into the Mexican honeysuckle, where it disappeared. Go eat rats, rat snake!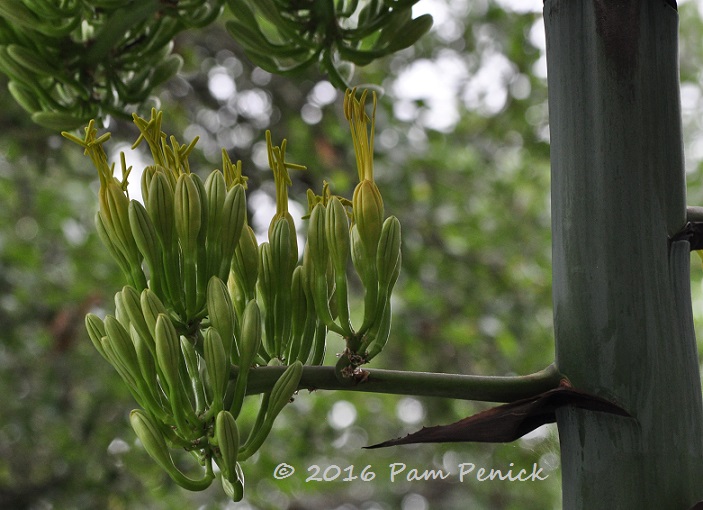 Moby, my whale's tongue agave (A. ovatifolia), has been growing a magnificent bloom stalk for a month and a half. Today, the first flowers on the lower branches opened.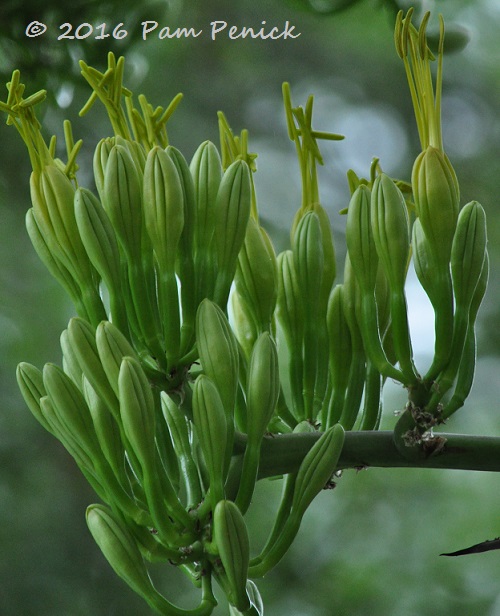 Will they attract bats? I hope to find out.
All in all, it's been an exciting day in the garden. And a shout-out to Peter Schaar, who visited from Dallas and brought me an Agave salmiana pup from his garden. Thanks, Peter!
I welcome your comments; please scroll to the end of this post to leave one. If you're reading this in a subscription email, click here to visit Digging and find the comment box at the end of each post.
_______________________
Digging Deeper: News and Upcoming Events
Come see me at Festival of Flowers in San Antonio, May 28, 10:30-11:30 am. Get inspired to save water in your garden during my presentation at San Antonio's 19th annual Festival of Flowers. I'll be at the book-signing table after the talk, with copies of both The Water-Saving Garden and Lawn Gone! available for purchase. Tickets to the all-day festival, which includes a plant sale and exchange, speakers, and a flower show, are available at the door: $6 adults; children under 10 free. Free parking.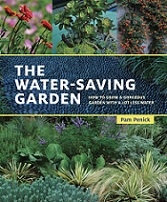 Do you review? Have you read my new book, The Water-Saving Garden? If you found it helpful or inspirational, please consider leaving a review — even just a sentence or two — on Amazon, Goodreads, or other sites. Online reviews are crucial in getting a book noticed. I really appreciate your help!
All material © 2006-2016 by Pam Penick for Digging. Unauthorized reproduction prohibited.