July 6th, 2015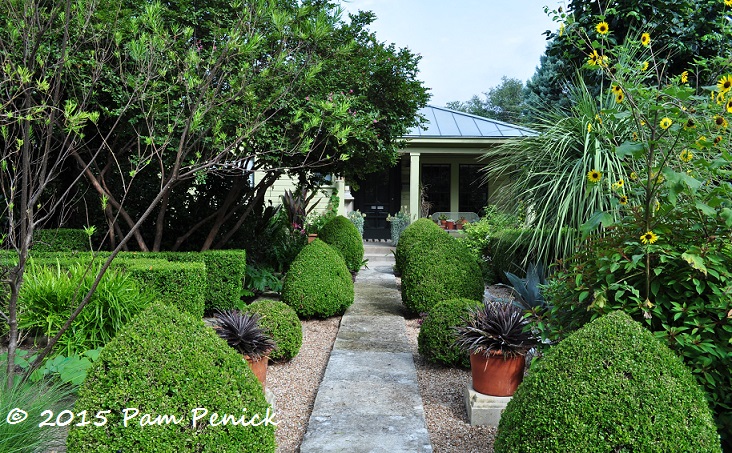 If you admired the beautiful details of James David's grand Rollingwood garden, which I had the privilege of visiting last spring, you may have wondered what a smaller, more economically built garden of his might look like. And I'm here to show you, thanks to James's longtime friend, Deborah Hornickel, who kindly let me photograph her Bryker Woods garden last week.
Deborah's garden is 24 years old, and she attributes to James "all of the credit for the design of my garden starting back in 1991." I first visited her garden in 2006 and again in 2010 during the Garden Conservancy's Open Days tour, on which her garden will again be included this October.
From the street to the front porch, a double line of round and teardrop-shaped boxwood topiaries marches along a narrow limestone walk, giving formal structure and a strong leading line for the eye to follow. But the formal symmetry is subverted to the right and left thanks to towering sunflowers, layers of small trees (desert willow and pruned-up loropetalum), and a large, strappy yucca or nolina.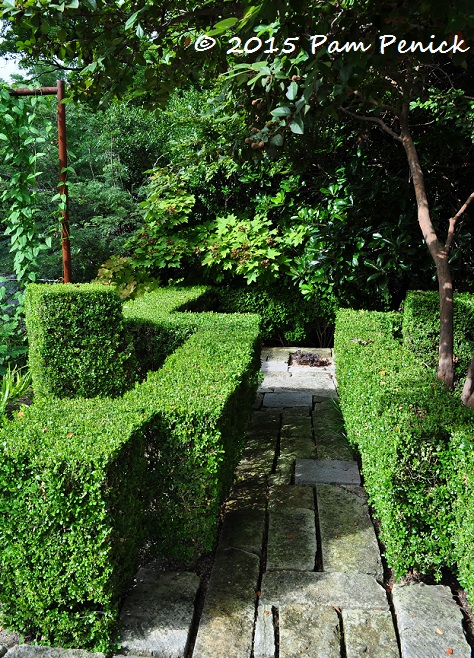 Halfway down the walk, a side path leads left through clipped boxwood to a bench hidden near the shrub-screened property line.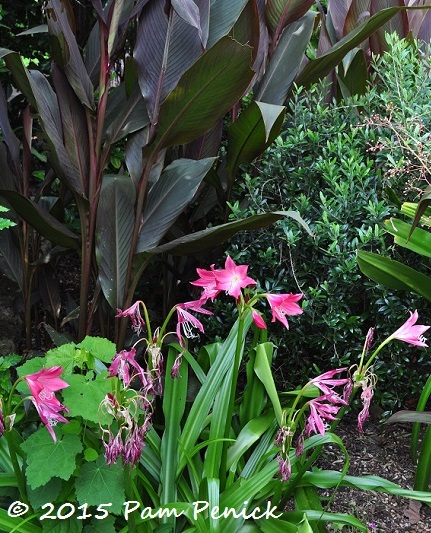 By the porch, pink crinums are finishing up while a dark-leaved canna offers a rich color echo.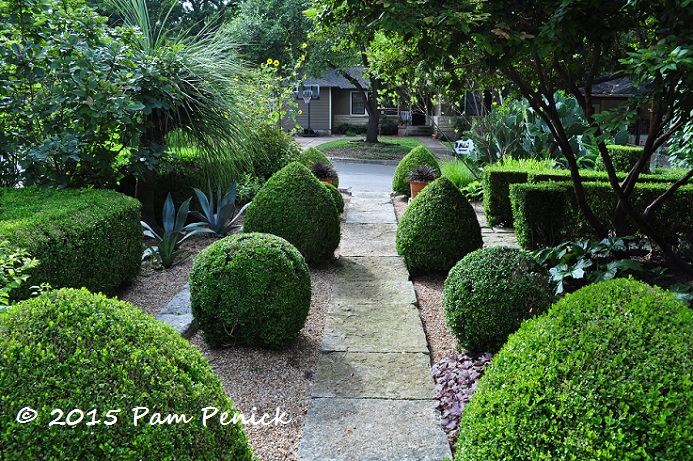 Looking back along the front walk, the widely spaced topiaries lead your eye firmly but playfully to the street — and a neighbor's perfectly positioned tree. Wouldn't it be awesome if they put in a complementary garden at the base of that tree? (Sometimes one can only dream of gardening neighbors.)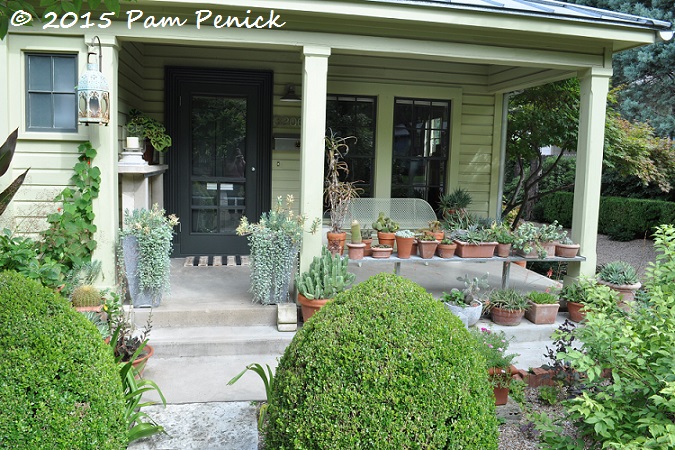 Deborah's porch is enticing, with a pair of narrow pots overflowing with silver ponyfoot (Dichondra argentea) and a stainless steel bench displaying a collection of potted cacti and succulents. A green-black door contrasts with the pale celery green of the house.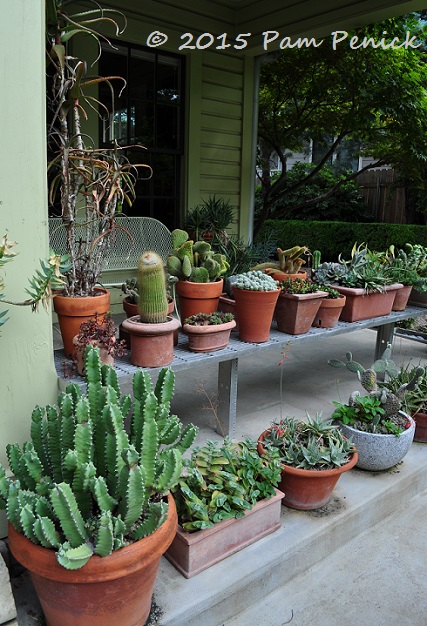 Terracotta pots unify the collection.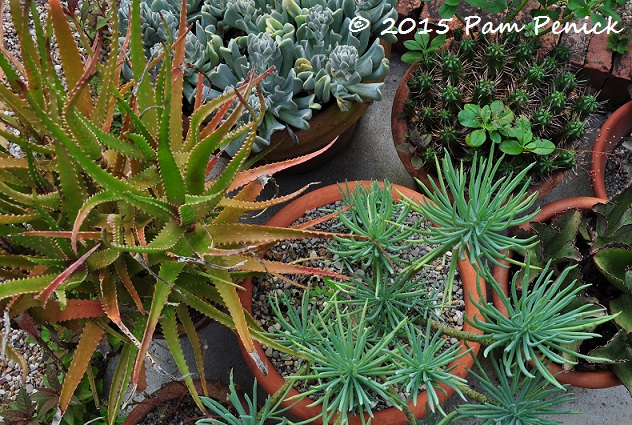 More pots sit along the walk by the porch.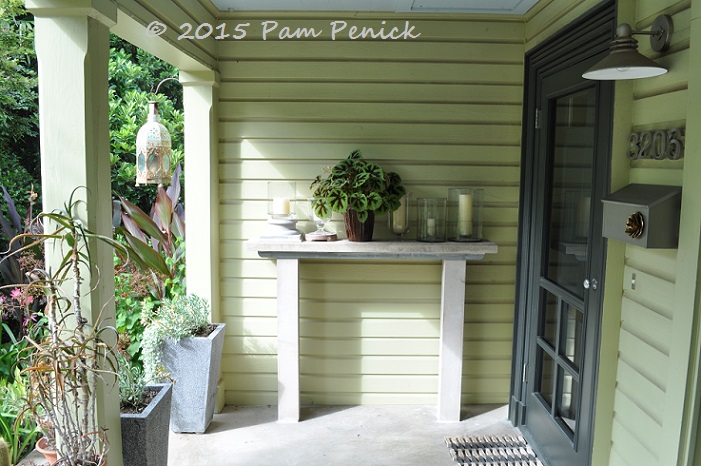 On the shady, east-facing porch, a mantel-like limestone table holds hurricane candles and a striking begonia.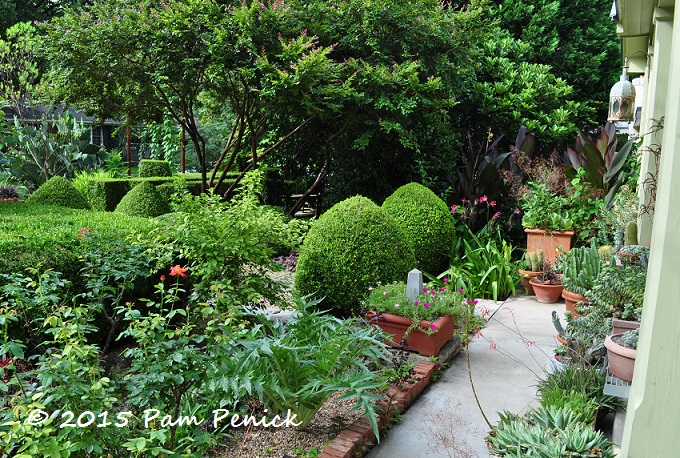 A concrete walk runs along the front porch from the driveway, and Deborah has made a focal point at the end to terminate the view: a tall, terracotta pot filled with Jewels of Opar.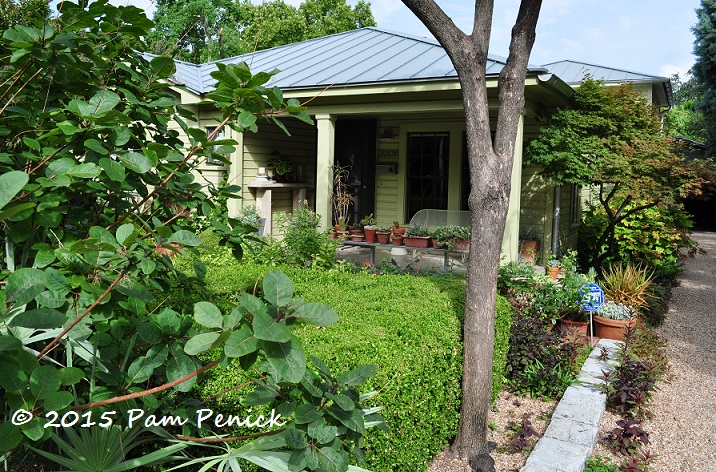 The driveway doubles as a path to the rear garden and offers a view of the porch across a plane of clipped boxwood.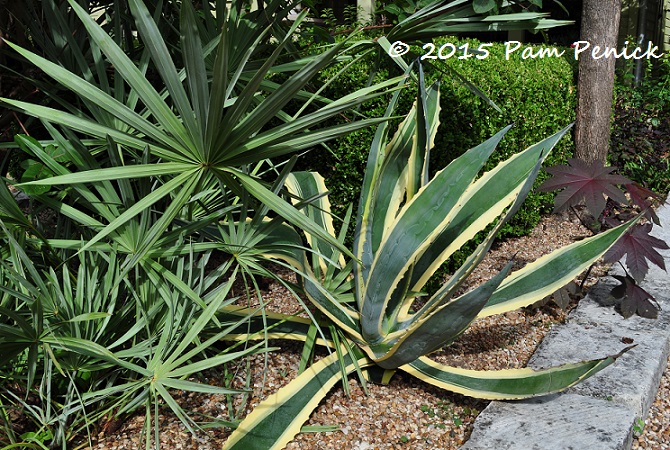 Specimen plants are tucked in here and there, like this Texas dwarf palmetto (Sabal minor) and variegated American agave.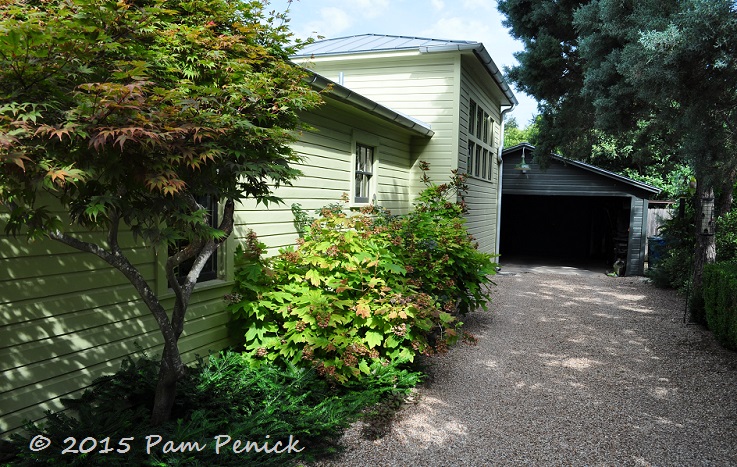 It's not often I get to say this, but I love the view between the side of the house and the pea-graveled driveway. A russet-and-green-leaved Japanese maple is color-echoed by oakleaf hydrangeas (Hydrangea quercifolia) with faded blossoms. The detached garage, which functions as an open carport, looks to be painted the same charcoal-green as the front door.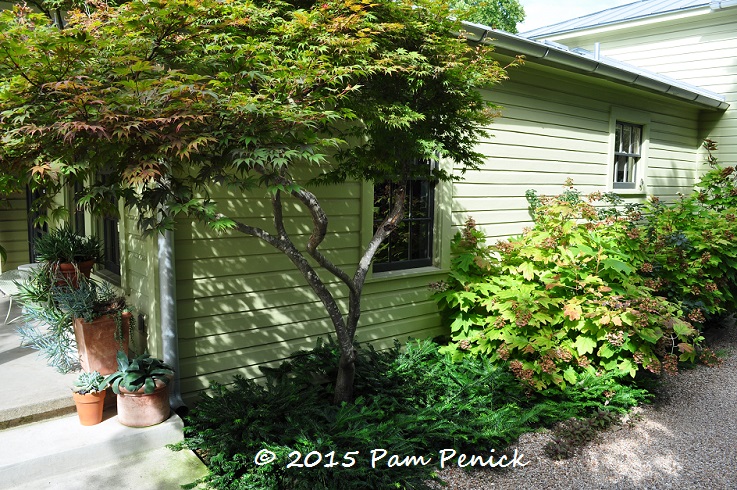 Let's stop to admire the Japanese maple and oakleaf hydrangea combo. The maple is underplanted with prostrate yew, also known as Japanese plum yew (Cephalotaxus harringtonia 'Prostrata'), whose shiny, deep-green needles offer a pleasing contrast. I really need to plant this slow-growing, shade-loving, deer-resistant evergreen in my own garden.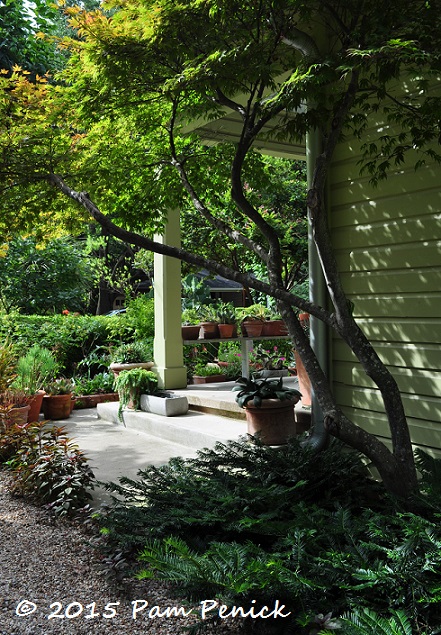 Looking back toward the front garden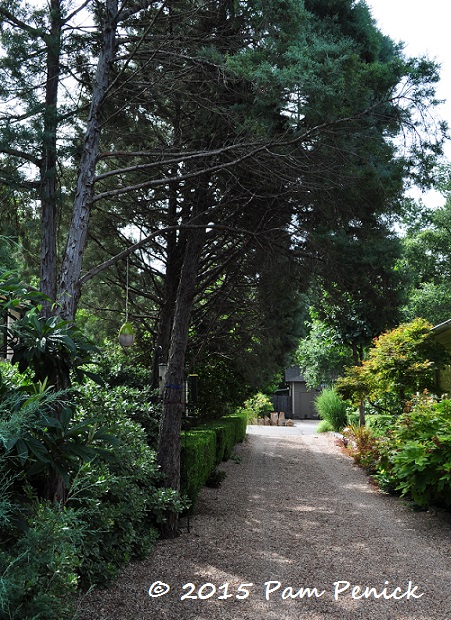 The long view down the driveway reveals a row of pruned-up 'Blue Ice' Arizona cypress trees. Click through to my 2006 visit to Deborah's garden for a view of these trees before they were pruned up. They are lovely trees, and although the lower limbs had to be pruned up to allow passage, the scaly trunks and blue-green needles overhead create a woodsy Colorado vibe. I like the mix of loose and clipped shrubs beneath them too.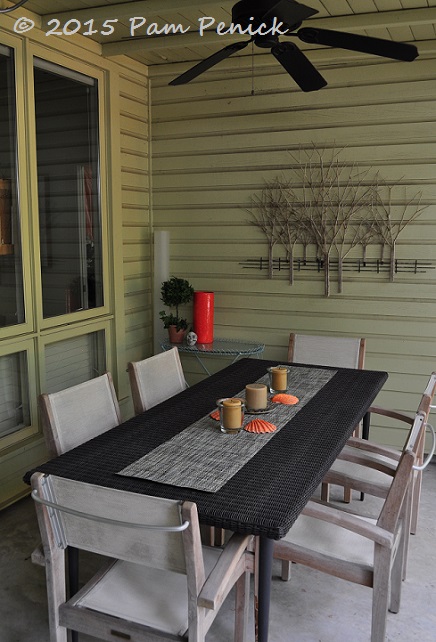 To access the back garden, you pass through the carport/garage, which is also Deborah's potting shed, and enter a comfortably furnished covered porch.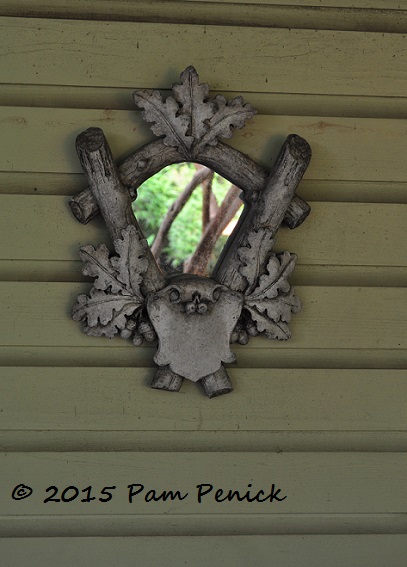 Deborah is very selective with regard to garden adornment. Each piece counts and is never crowded by another.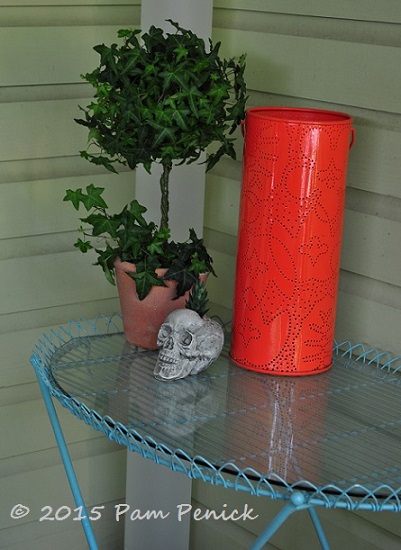 She likes a few quirky touches as well, like this skull planter.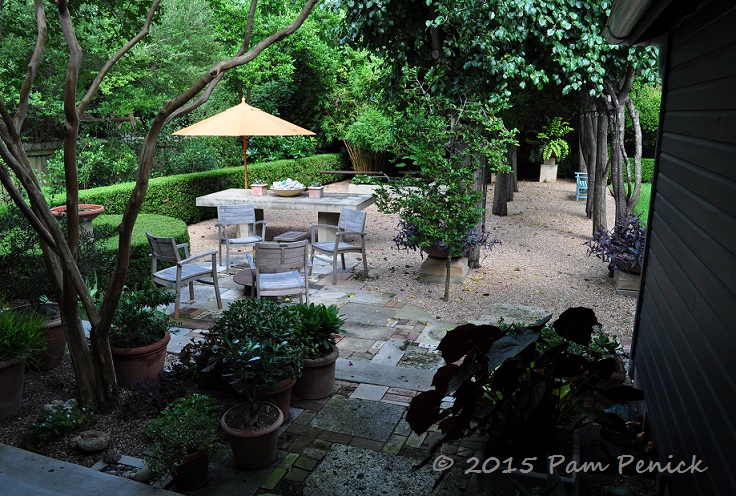 The porch commands a view of the entire back garden: fire-pit patio, buffet table, and pond on the left; Bradford pear allee in the middle; and rectangular lawn on the right.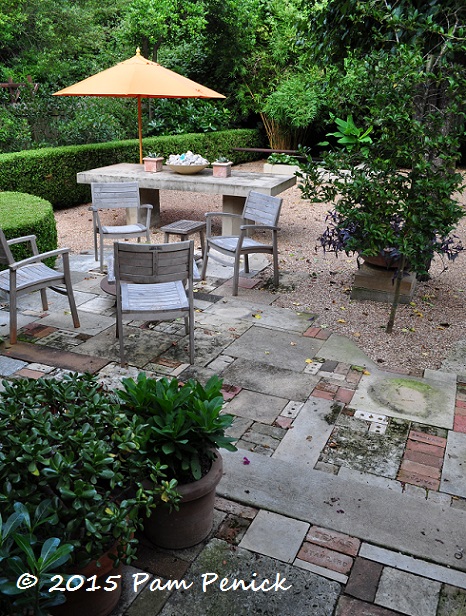 The patchwork-paver patio is Deborah's latest addition. Jackson Broussard of Sprout and James David worked together on the patio design, Deborah told me.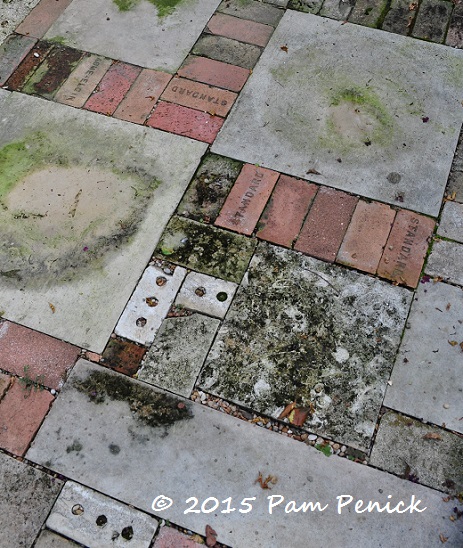 It reminds me of Tait Moring's patchwork path.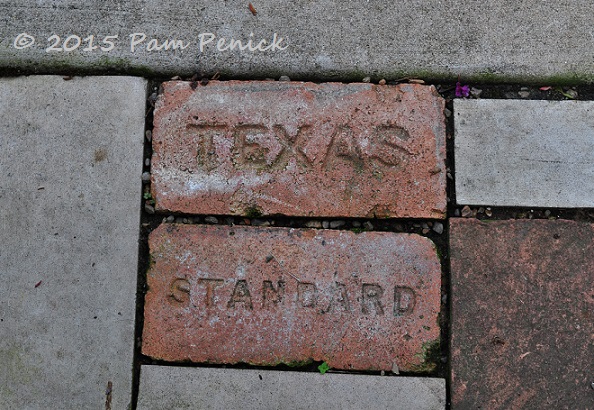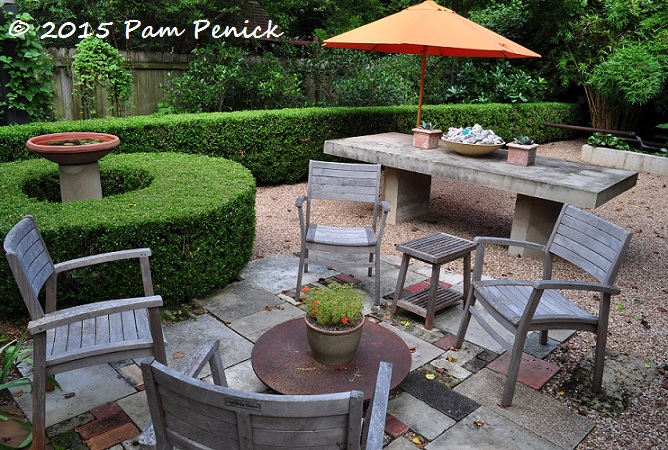 Four chairs cluster around a circular steel table. When the lid comes off, it doubles as a fire pit. The fire pit is Jackson's design, and you can see more of his work in my post about a Rollingwood garden he designed.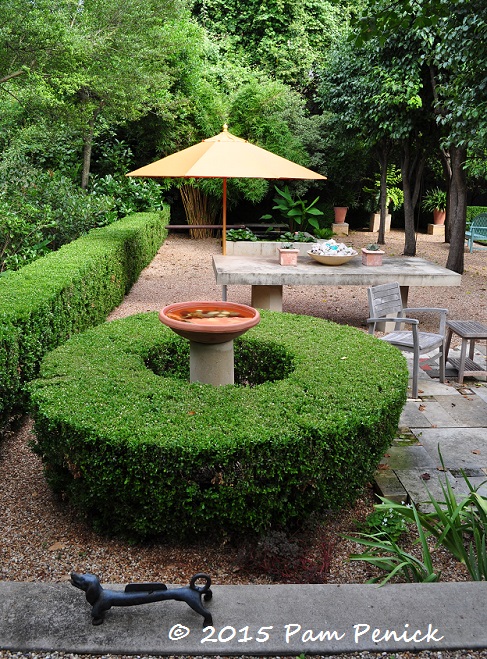 A circular boxwood hedge once enclosed a stock-tank pond. But when it eventually corroded Deborah replaced it with a simple bird bath. Notice the strong line of clipped boxwood along the edge of the gravel patio. It "holds back" a shrub bed approximately 10 feet wide along the property line, which makes a buffering green wall around the garden's living spaces.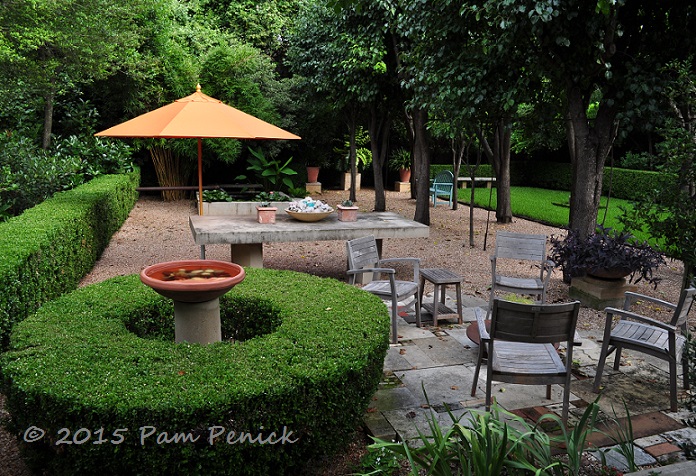 A wider view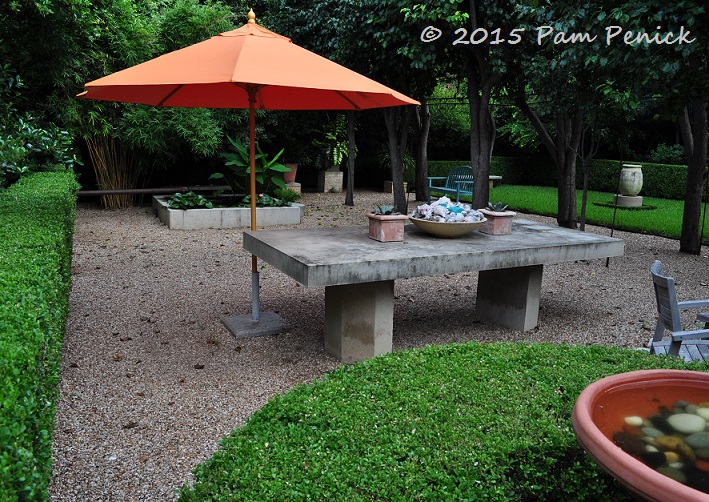 A limestone-slab table by the umbrella holds a couple of potted plants and a bowl of shells. Perhaps it gets put to use during parties.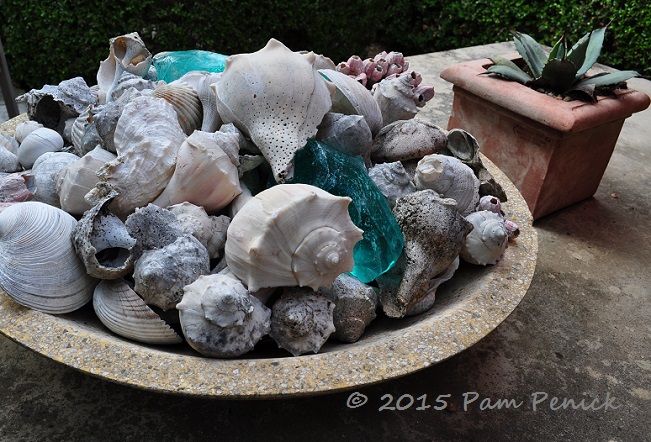 Seashells and slag glass make a pretty combo.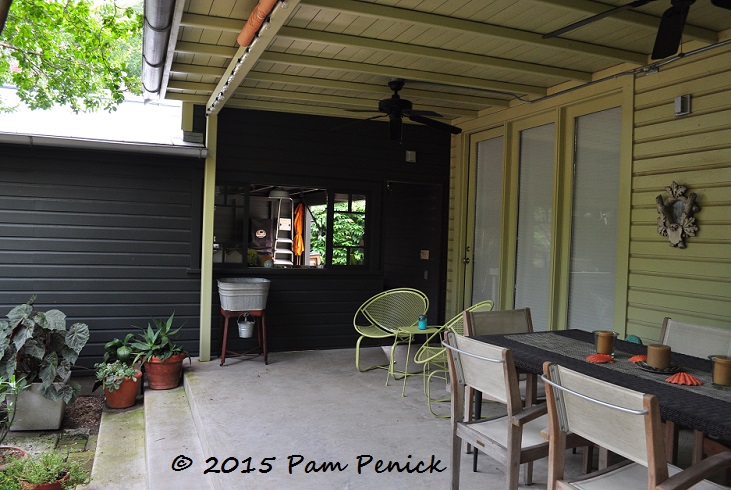 Deborah's back porch. I love her house colors. The window in the dark wall looks into the garage/potting shed.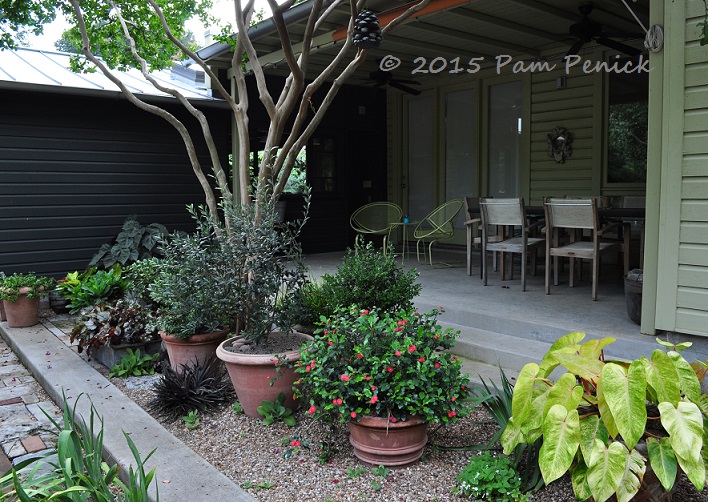 A gravelly planting bed sits just off the porch, containing a crepe myrtle and an assortment of potted plants.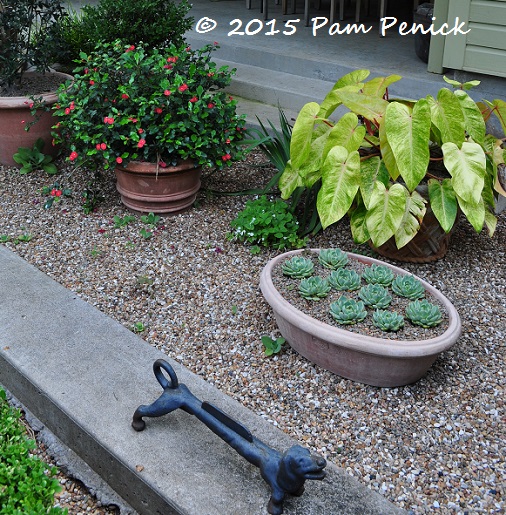 Echeverias in an oval pot resemble water lilies floating in a pond. The metal dachshund is a boot scraper.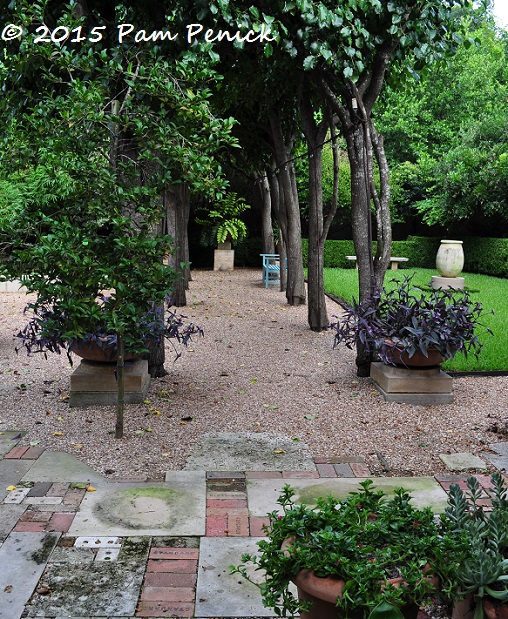 The main hallway of the garden is an allee of Bradford pears espaliered on a rebar framework into a long tunnel. This axis is aligned with the back door of the house, creating a strong indoor-outdoor connection.

But before we walk down it, let's look right to another seating area behind the garage. Wire panels atop steel poles make a sheltering trellis over the space. A frameless mirror mimics a window and reflects candlelight at night. A grill occupies the outer edge.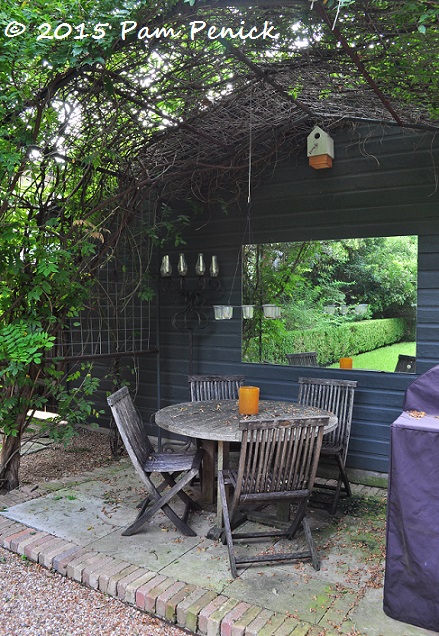 Candelabras hang over the table for nighttime enjoyment.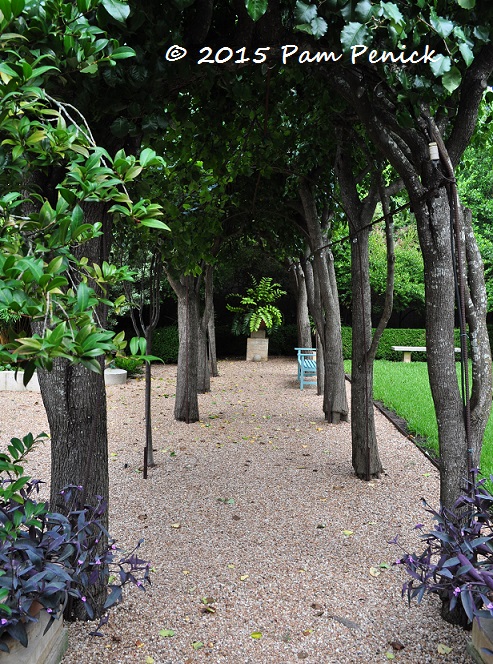 There are also lights — cafe-style string lights — running the length of the pear allee. A potted cardboard palm (Zamia furfuracea) on a stone plinth terminates the view.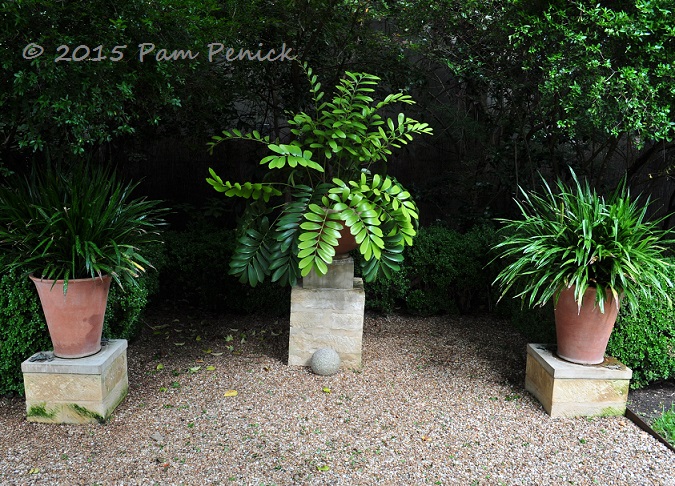 Deborah says this beautiful plant (not actually a palm) requires protection from winter freezes. The grassy plants on either side, which have speckled, narrow leaves, may be Aspidistra minutiflora 'Leopard'.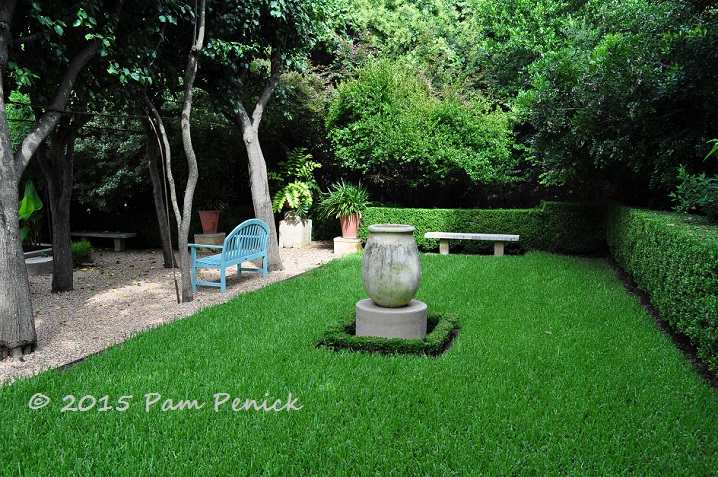 The right side of the garden is devoted to a cool, green lawn, anchored by a simple, chalky urn atop a cylindrical pedestal. Clipped boxwood lines this side as well, with a deep shrub border along the property line.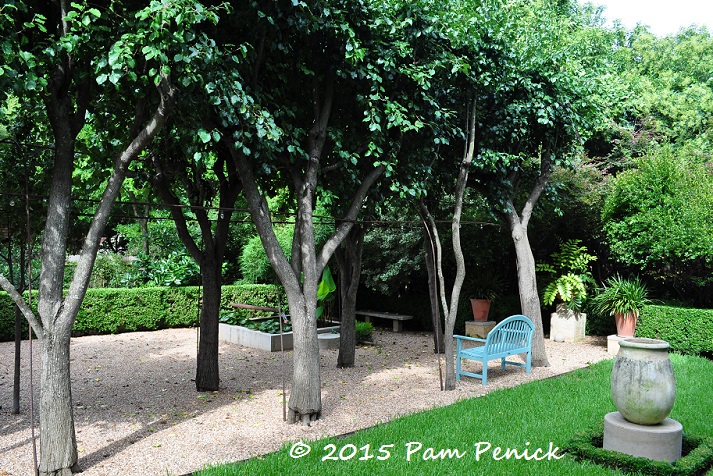 Looking left, you see a glimpse of the rebar structure that helped train the pears when they were young and supple. A blue bench is positioned in the shade for a view of a pond.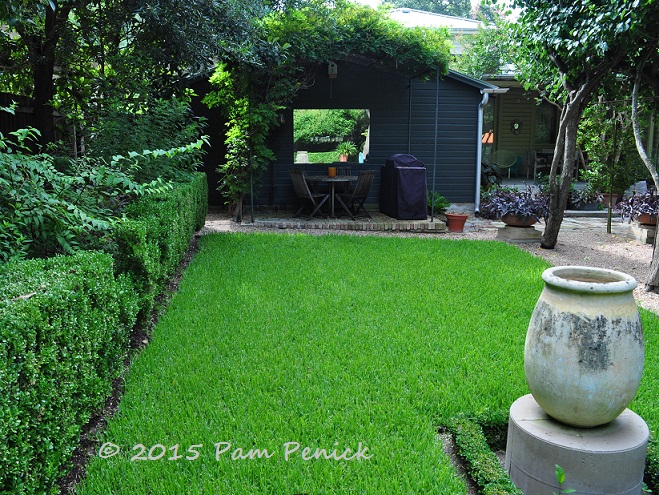 Looking back toward the house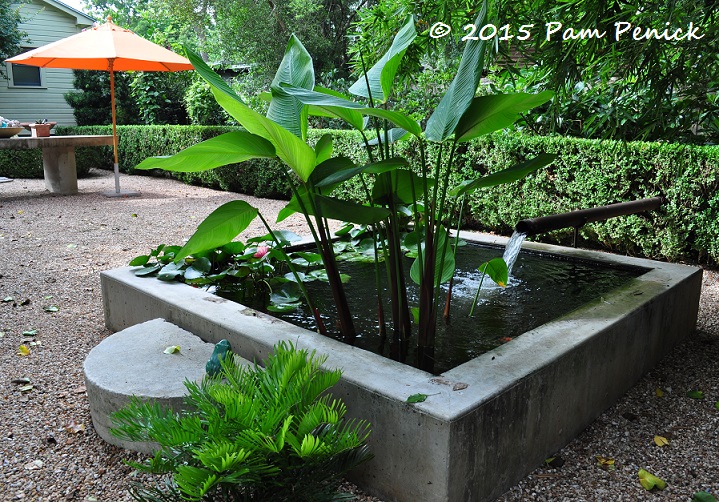 This contemporary, poured-concrete pond was built as a replacement for the original stock-tank pond. The tall plant is Thalia dealbata.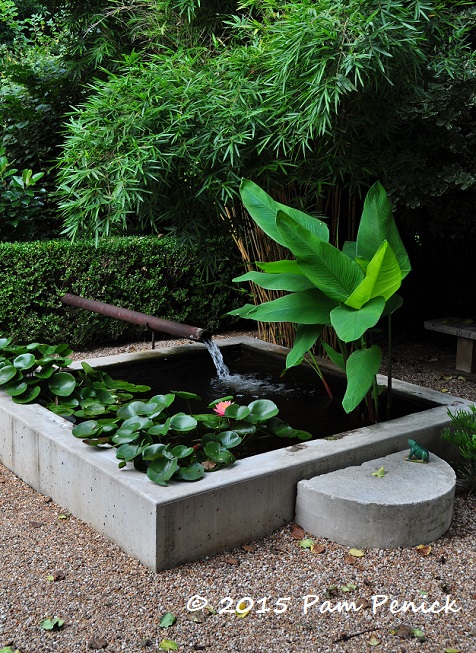 I believe that's 'Alphonse Karr' bamboo (Bambusa multiplex 'Alphonse Karr') behind it. A long steel pipe extends from the boxwood hedge to pour a recirculating stream of water into the pond…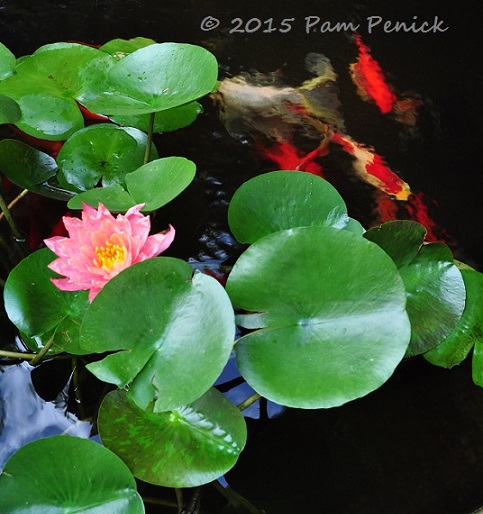 …where water lilies bloom and colorful fish swim.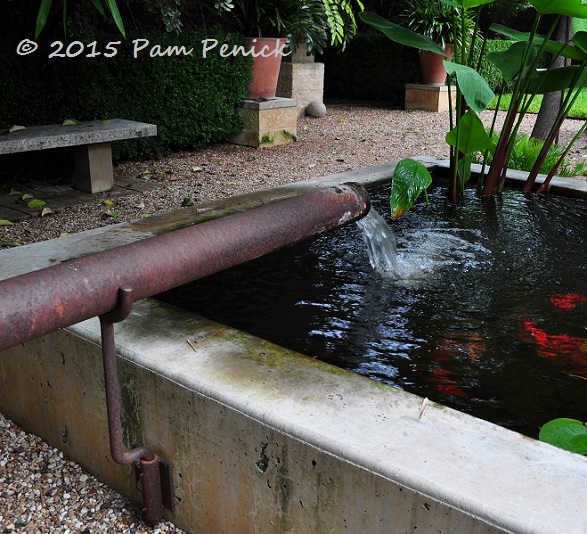 From the back you see how the pipe is supported.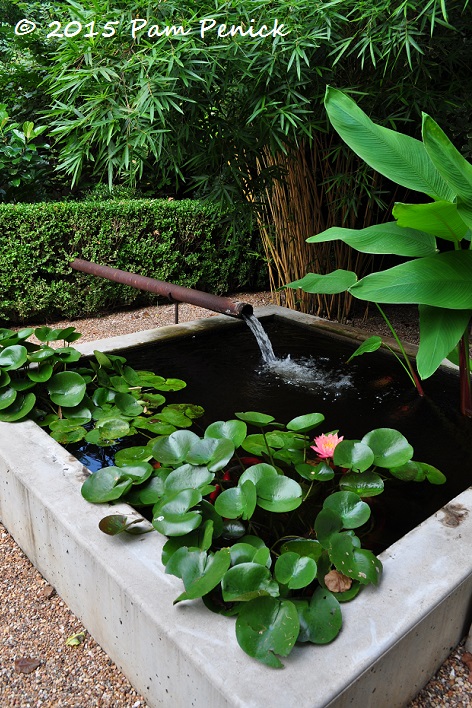 I am smitten with this pond and the surrounding plants. There's a sense of openness, but subtropical lushness too.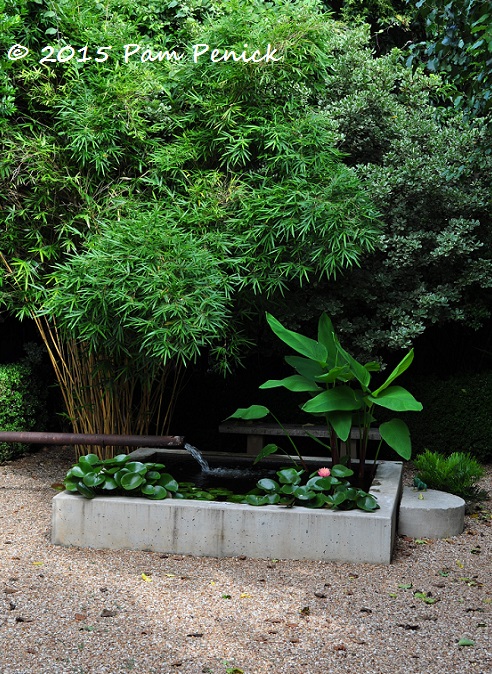 Deborah has been generous in sharing her garden with Austin over the years, putting it on tour many times. Of James David, her friend who's helped her with the design for a quarter-century, Deborah says simply, "He is the most talented and creative mind I have ever known, and I am beyond fortunate to have had his assistance."
My thanks to Deborah for sharing her gorgeous garden with me once again! If you'd like to see it too, it'll be on tour through Garden Conservancy Open Days on October 17. But I do hope you'll also save room on your tour schedule that day to see my own garden (very different from Deborah's) and the other gardeners' gardens on the Inside Austin Gardens Tour — yep, on the same day.
All material © 2006-2015 by Pam Penick for Digging. Unauthorized reproduction prohibited.
posted in
Agaves
,
Arbors
,
Bamboo
,
Bulbs/Rhizomes
,
Containers
,
Decor
,
Design
,
Doors
,
Dyckias
,
Firepits
,
Fish
,
Fountains
,
Garden art
,
Garden tours 2015
,
Lawn Gone!
,
Lawns
,
Lighting
,
Palms/Cycads
,
Paths
,
Patios & decks
,
Ponds
,
Porch
,
Seating
,
Shrubs
,
Succulents
,
Trees
,
Trellis
,
Vines
,
Water features
,
Water gardening
,
Xeric plants