September 8th, 2016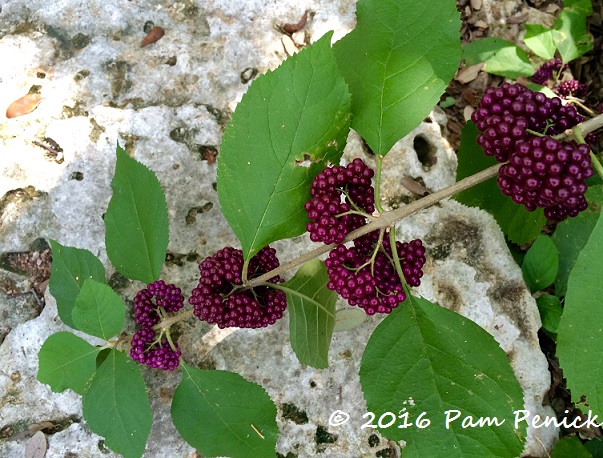 I'm calling it. We're over the hump of Death Star Summer and sliding into mellow fall. I know, it's not exactly mellow out there yet, but I can feel it coming. Can't you?
The beautyberries do. In the lower garden, black beautyberry (Callicarpa acuminata) is laden with rich purple berries that'll darken with age.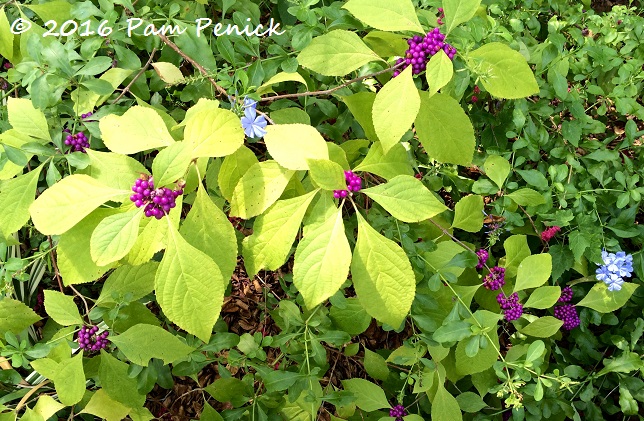 Closer to the house, American beautyberry (Callicarpa americana) shows off magenta berry clusters amid chartreuse leaves (brightened by a shaft of sunlight). Blue plumbago blossoms mingle too.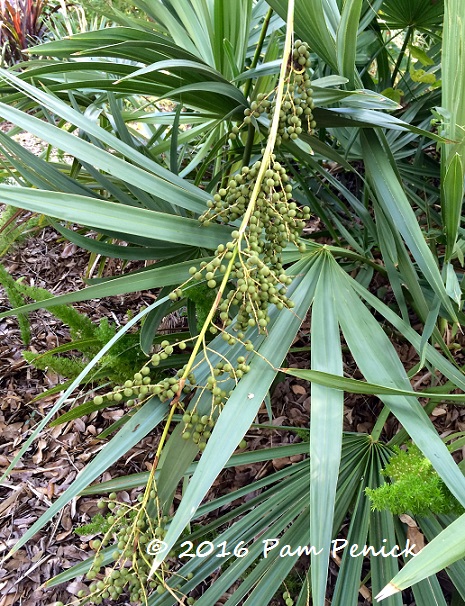 Out front, a Texas dwarf palmetto (Sabal minor) that bloomed earlier this summer is now sporting an arching wand of berry-like fruit. These should blacken later in the season.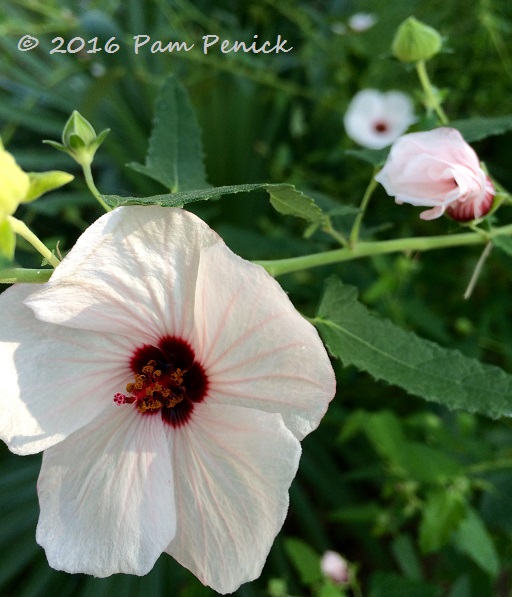 Summer's end sees an abundance of pale pavonia (Pavonia hastata) blossoms.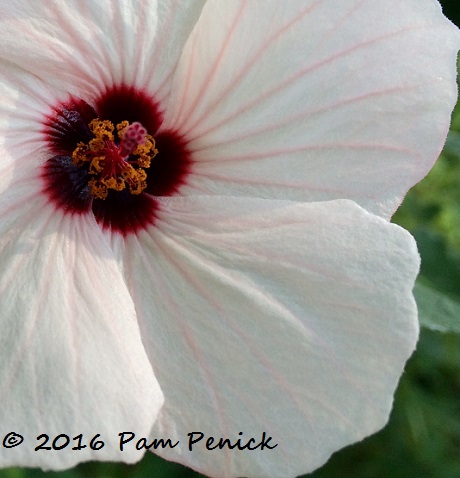 Pale pavonia is a Brazilian cousin to our native rock rose (Pavonia lasiopetala).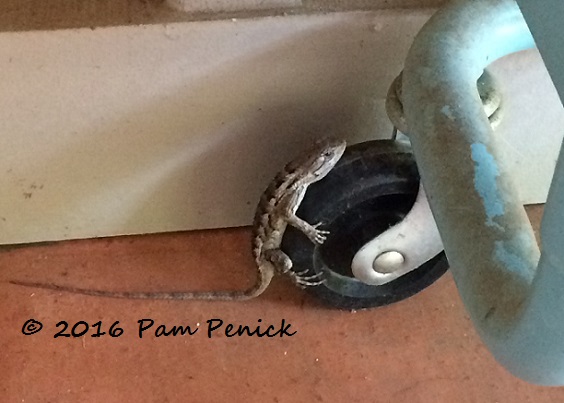 On the front porch the other day, I spotted a young Texas spiny lizard stretched out on the wheel of a cart. I wasn't sure if it was dead or alive. It was quite still when I leaned down for a photo. Suddenly it panicked and shot into the garden. I guess it was just enjoying a nice stretch!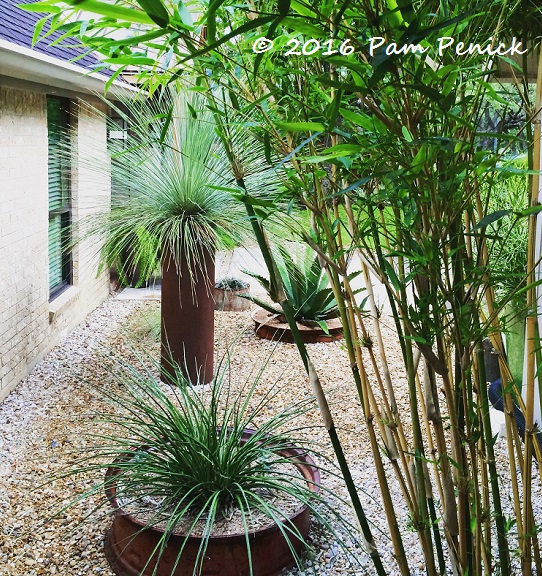 Around the corner, the gravel garden is looking tidy since I pruned up the overgrown 'Alphonse Karr' bamboo. What a beast! But it's so beautiful when pruned up to show off its yellow-and-green-striped "legs." In the rusty steel "floating" containers, from front to back, are red yucca (Hesperaloe parviflora); toothless sotol, or Mexican grass tree (Dasylirion longissimum); 'Jaws' agave; and 'Frazzle Dazzle' dyckia.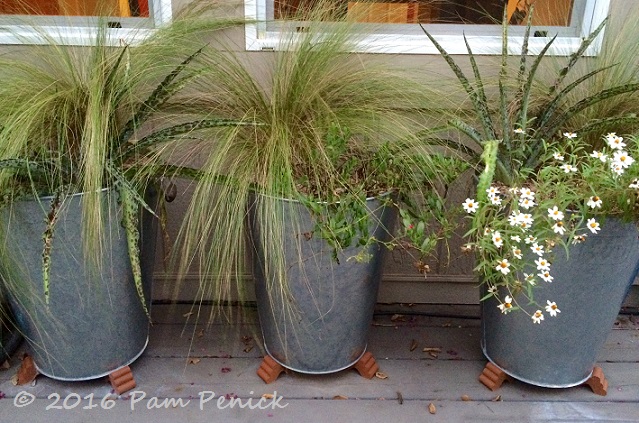 Galvanized steel, rather than rusty steel, dominates the back garden, including this trio of IKEA GRÄSLÖK pots planted with four of my xeric favorites for containers: Mexican feathergrass (Nassella tenuissima), 'Chocolate Chips' manfreda (Manfreda undulata 'Chocolate Chips'), rock penstemon (Penstemon baccharifolius), and blackfoot daisy (Melampodium leucanthum). All are native to central Texas except the manfreda from Mexico, but you could substitute our native Texas tuberose (Manfreda maculosa) to similar effect.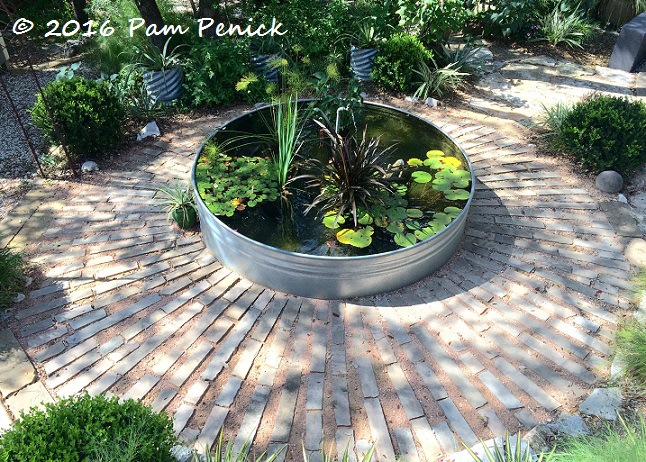 The view from the deck reveals a few more galvanized containers, including the 8-foot diameter stock-tank pond and three spiraling culvert-pipe remnants planted with squid agave (A. bracteosa).
Now that fall is on the way, it'll soon be planting season in central Texas and throughout the South and Southwest. Do you have any projects planned? Do tell!
I welcome your comments; please scroll to the end of this post to leave one. If you're reading this in a subscription email, click here to visit Digging and find the comment box at the end of each post.
_______________________
Digging Deeper: News and Upcoming Events
South Texans, come see me at the 2nd annual Planta Nativa festival in McAllen, Texas, on Saturday, October 22. I'll be delivering the keynote talk, "Local Heroes: Designing with Native Plants for Water-Saving Gardens," that evening. Tickets go on sale soon at Quinta Mazatlan. I hope to see you there!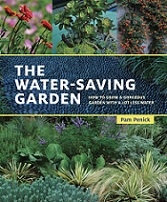 Do you review? Have you read my new book, The Water-Saving Garden? If you found it helpful or inspirational, please consider leaving a review — even just a sentence or two — on Amazon, Goodreads, or other sites. Online reviews are crucial in getting a book noticed. I really appreciate your help!
All material © 2006-2016 by Pam Penick for Digging. Unauthorized reproduction prohibited.
posted in
2nd garden--2016
,
Agaves
,
Bamboo
,
Berries
,
Containers
,
Fall color
,
Grasses
,
Lizards
,
Palms/Cycads
,
Paths
,
Ponds
,
Rock
,
Stock tanks
,
Succulents
,
Texas natives
,
Water features
,
Xeric plants