March 11th, 2015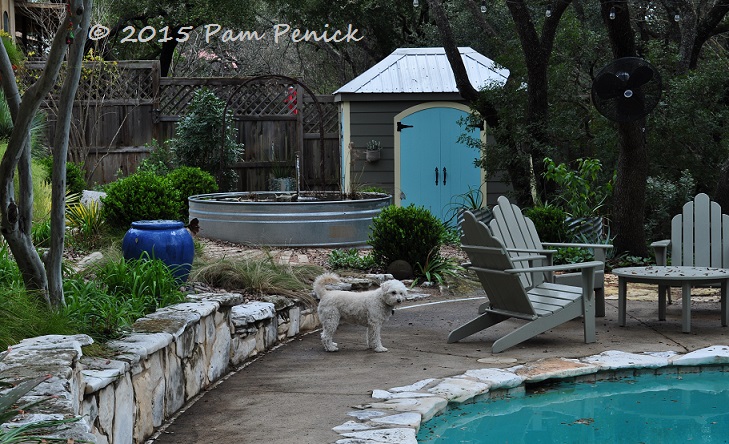 A recent conversation on Linda Lehmusvirta's Facebook page got a few Austin gardeners talking about winter interest. Tracie, a local gardener, wrote that her mostly native garden looks great spring through fall but is "asleep" in winter, and she wanted ideas. Lori at The Gardener of Good and Evil responded by posting year-round views of her Blue Border, showing how evergreens sustain her garden.
I'm joining in by sharing current pictures of my garden, in all its patchy, cut-back, late-winter-on-the-cusp-of-spring glory. While winter is not high season in mine or any garden, I find that three elements keep a garden interesting post-freeze: evergreen plants; color on pots, furnishings, and structures; and defined hardscaping like paths, patios, and walls.
All three are put to use in the pond garden pictured above. 'Winter Gem' boxwoods, 'Color Guard' yuccas, squid agaves (A. bracteosa), evergreen sumac (Rhus virens), and Texas mountain laurel (Sophora secundiflora) keep the garden in green (and gold) all winter. Blue paint on the shed door, a blue pot fountain, and strongly defined hardscaping continue to attract and lead the eye when flowers have faded away.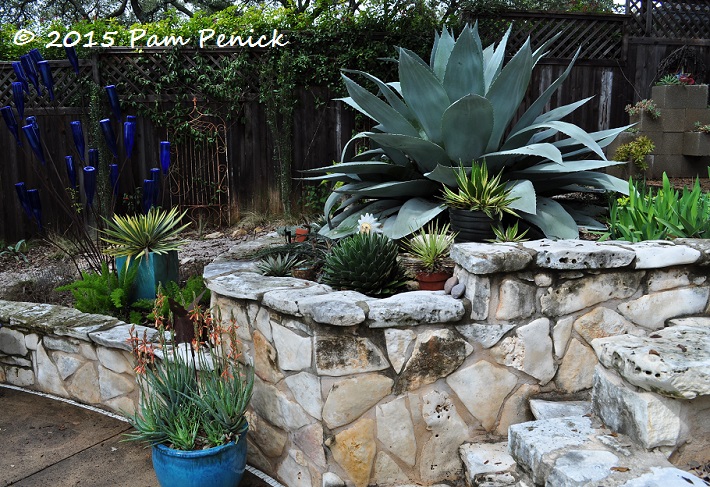 At the other end of the garden, which slopes dramatically, retaining walls give structure and line, and a cold-hardy agave and yucca collection is evergreen (and gold and blue-gray) all year. 'Whale's Tongue' agave (A. ovatifolia) anchors the grouping. A bottle tree and blue pots add more color to brighten dreary days.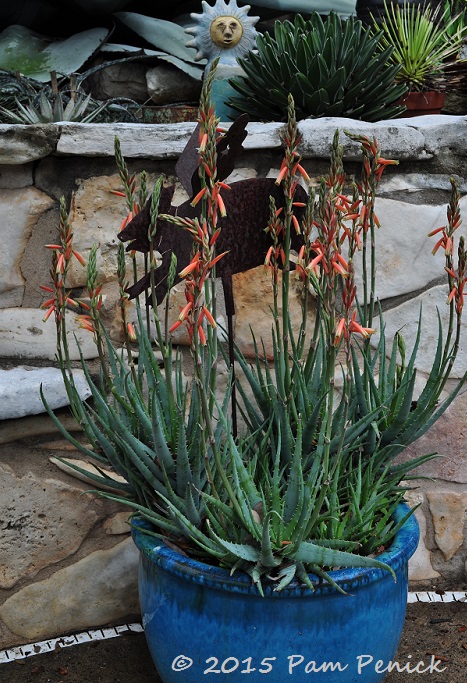 'Blue Elf' aloe is not only evergreen but blooms in late winter/early spring.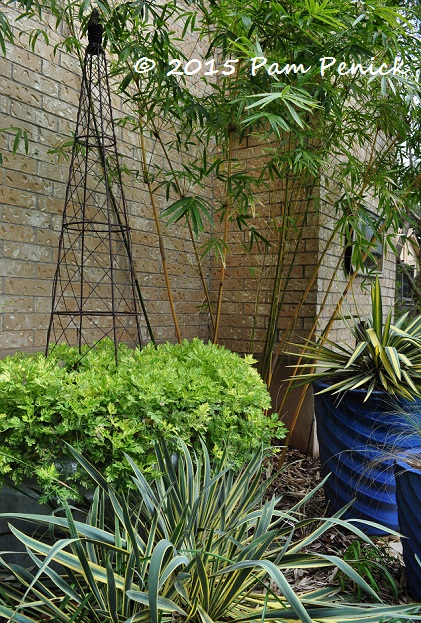 In the narrow raised bed behind the house, which I've begun to think of as my golden garden, several variegated evergreens keep it "awake" in winter: 'Alphonse Karr' bamboo, 'Bright Edge' yucca, and 'Color Guard' yucca (in the blue pot). In the stock tank, Artemisia 'Oriental Limelight' adds to the show in winter and spring, before dying back in our hot, humid summer. In summer, Duranta 'Sapphire Showers' will return.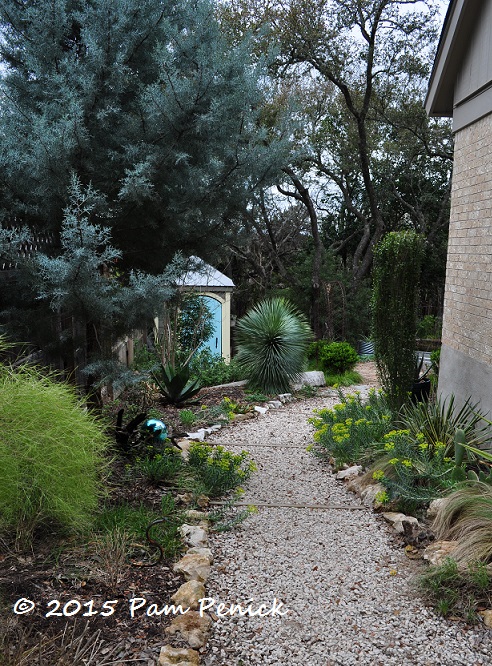 More evergreens hold the winter garden together in the east side path from the front garden to the back: Arizona cypress 'Blue Ice' (blue-green tree at left), bamboo muhly grass (at left), gopher plant (in bloom on both sides of the path), 'Bright Edge' yucca, 'Will Fleming' yaupon holly (columnar tree at right), 'Green Goblet' agave, Yucca rostrata 'Sapphire Skies', and 'Winter Gem' boxwood.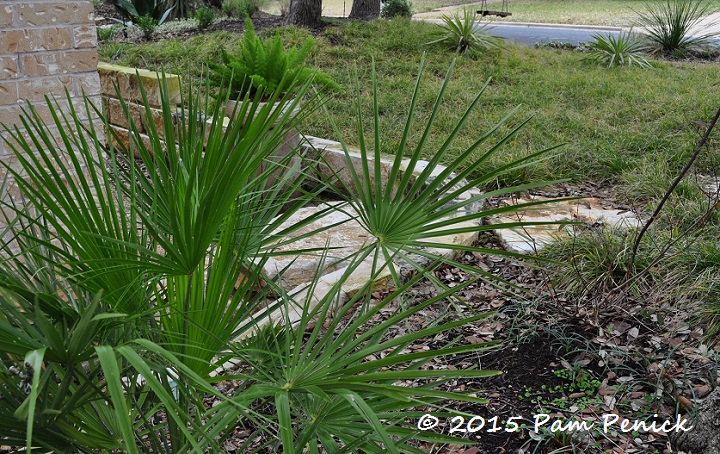 Moving into the front garden, Mediterranean fan palm (Chamaerops humilis) offers lush winter greenery. The Berkeley sedge (Carex divulsa) lawn behind it gets a little yellow but mostly remains green. Low retaining walls add a strong line of hardscape.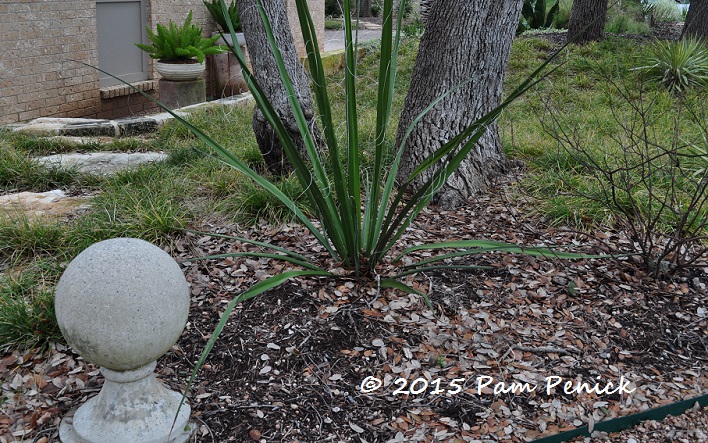 Wide-leaf giant hesperaloe (Hesperaloe funifera ssp. chiangii), evergreen with interesting white filaments along the leaf margins, tolerates part shade with ease. I need more groundcovers here though. I tried Jewels of Opar one spring, but the deer ate it. The dormant (maybe dead) plant at right is 'Wendy's Wish' salvia, which I'll replant if it doesn't come back. It's only borderline hardy here but blooms beautifully spring through fall in dappled shade, and deer ignore it.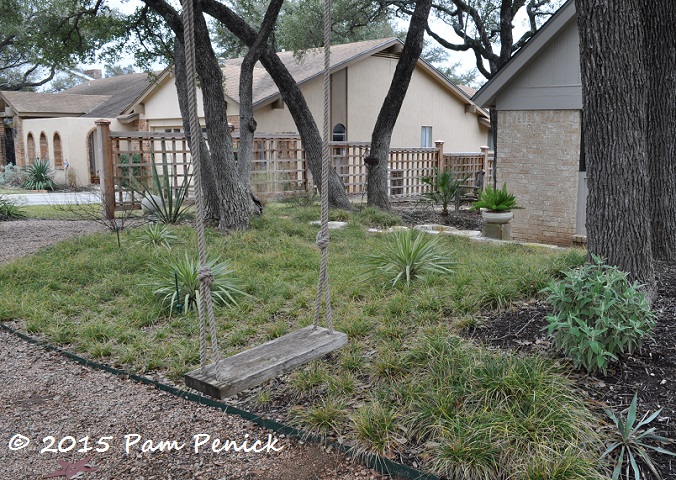 Another shot of the Berkeley sedge lawn, which is studded with evergreen 'Margaritaville' yuccas. A broad decomposed-granite path through the front garden leads to the back gate. Its curving line directs the eye and defines the surrounding beds. I've decided to stain the lattice fence a dark gray-green, which will, I hope, make the plants in front of it pop a little more.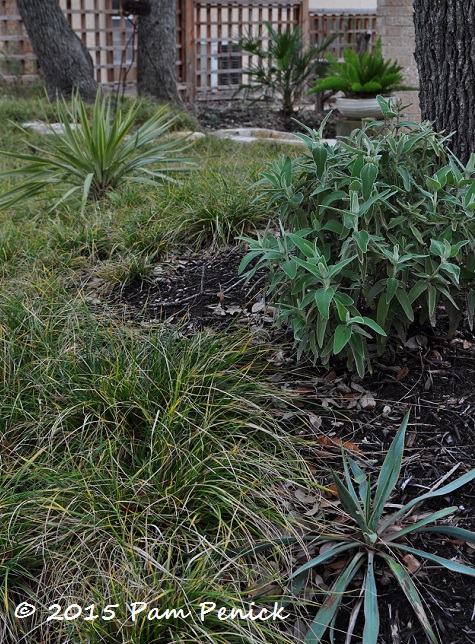 Jerusalem sage (Phlomis fruticosa) and paleleaf yucca (Y. pallida), both evergreen, take over on the sunnier side of the garden.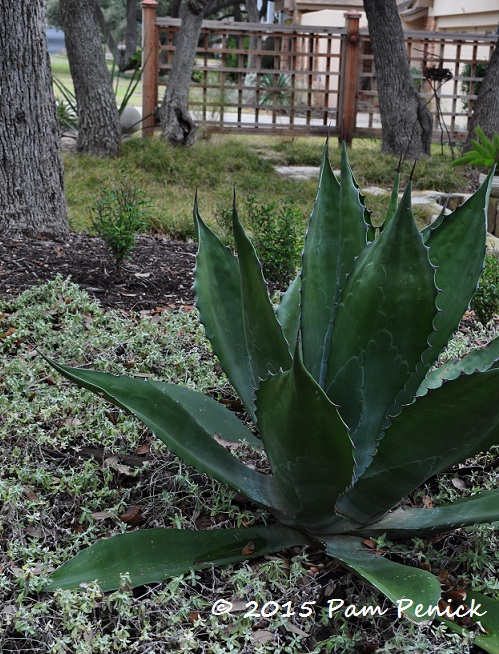 'Green Goblet' agave, a curved line of 'Teresa' autumn sage (Salvia greggii), and groundcovering wooly stemodia (Stemodia lanata) keep things green all winter in the raised bed near the driveway. The stemodia can get a little ratty by winter's end, but it greens up quickly in spring.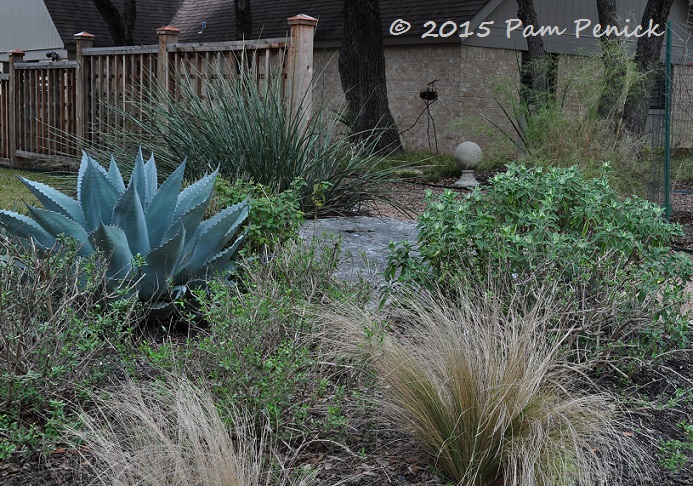 How about the streetside view? This is actually my neighbor's garden, which I planted for her. A 'Whale's Tongue' agave will be the centerpiece of this bed as it grows. Cut-back autumn sage is still green, though not showy yet, and Jerusalem sage (Phlomis fruticosa), red yucca (Hesperaloe parviflora), and Mexican feathergrass (Nassella tenuissima) offer year-round color and texture.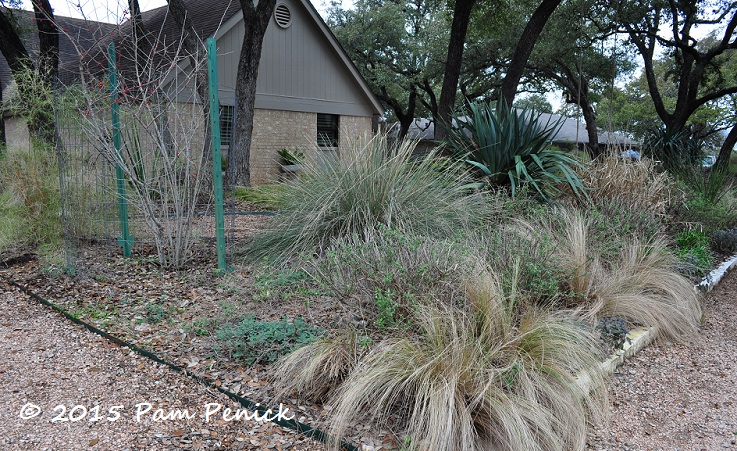 Panning right, my own streetside garden is at its quietest, recently shorn of last season's growth and awaiting spring. Possumhaw holly (Ilex decidua) — caged against deer — is our native deciduous holly. It makes up for losing its leaves with brilliant red berries, which the birds have mostly devoured. In front are autumn sage, catmint, Mexican feathergrass, 'Pink Flamingos' muhly grass, and softleaf yucca (Y. recurvifolia) — a mix of evergreens, flowering perennials and sub-shrubs, and grasses selected for deer resistance.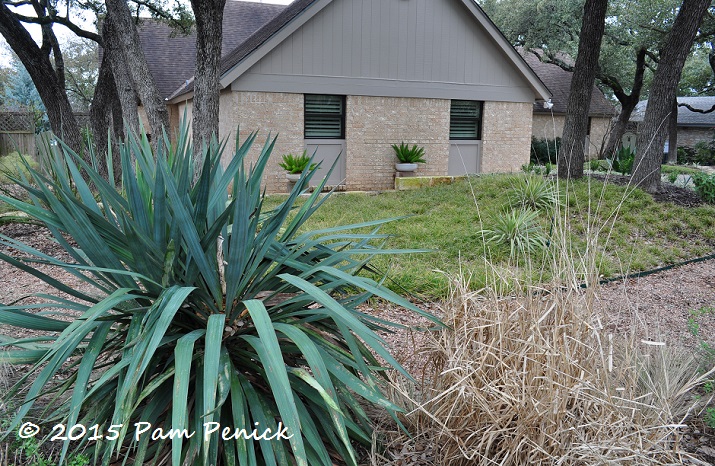 Panning right some more, softleaf yucca, 'Margaritaville' yuccas, sedge lawn, and foxtail ferns (Asparagus meyeri) in pots add plenty of winter greenery. The dead grass in the foreground is purple fountain grass, which I replace every spring for its rich, purple foliage.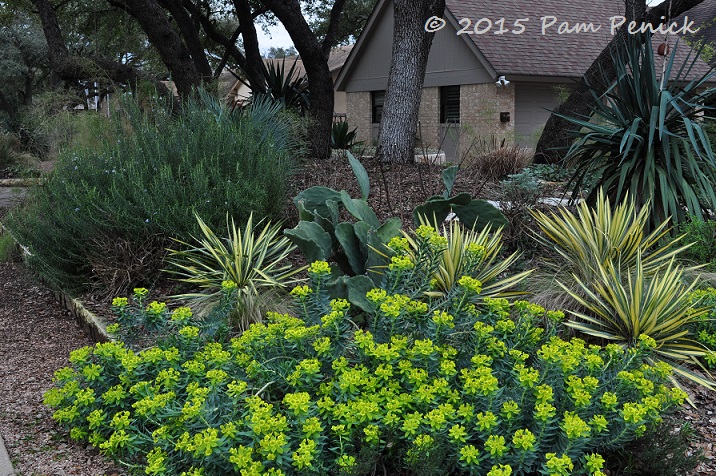 On the west side of the circular driveway is a more colorful scene thanks to a sprinkling of 'Color Guard' yuccas. Gopher plant (Euphorbia rigida), currently in full bloom, echoes their golden stripes. Other evergreens like rosemary, spineless prickly pear (Opuntia), and softleaf yucca keep things green until flowering vitex, copper canyon daisy (Tagetes lemmonii), and majestic sage (Salvia guaranitica) return in spring.
So how do you achieve winter interest in your garden? Or is that something you are working toward?
__________________
I'd love to have your vote in the Better Homes and Gardens 2015 Blogger Awards. Skip through to the Gardening category, select Digging, and then skip to the last page for your vote to be counted. You can vote as much as you like. Thanks for your support!

All material © 2006-2015 by Pam Penick for Digging. Unauthorized reproduction prohibited.
posted in
2nd garden--2015
,
Agaves
,
Aloes
,
Bamboo
,
Berries
,
Bottle tree
,
Cactus
,
Color
,
Containers
,
Deer
,
Design
,
Fences
,
Fountains
,
Grasses
,
Groundcovers
,
Lawn Gone!
,
Palms/Cycads
,
Paths
,
Ponds
,
Seating
,
Sheds
,
Shrubs
,
Stock tanks
,
Succulents
,
Swimming pools
,
Texas natives
,
Trees
,
Walls
,
Water features
,
Winter color
,
Xeric plants
,
Yuccas