February 20th, 2017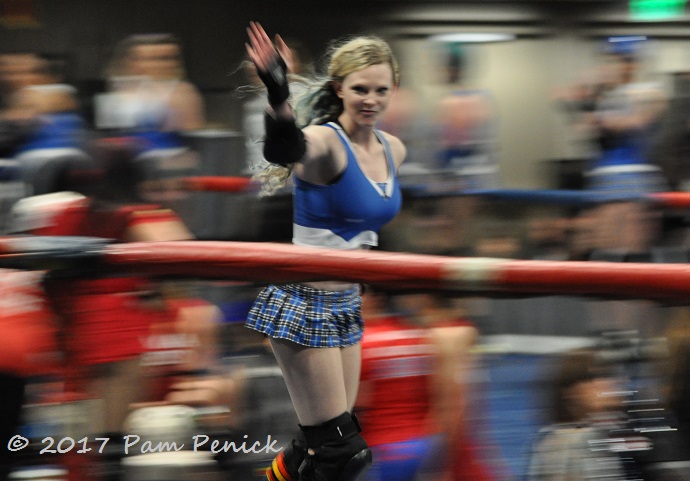 Austin is where roller derby was reborn in the early 2000s, and it's still a hot ticket, even on a Sunday night. My daughter and I attended last night's Texas Roller Derby bout between the Rhinestone Cowgirls and the Holy Rollers. It had been 8 years (!) since my family and I watched the Hellcats vs. Putas del Fuego to celebrate my dad's 70th birthday. Having recently watched Whip It, a movie about a teenage girl (Ellen Page) joining Austin's roller derby scene, my daughter was keen to see this entertaining sport in person.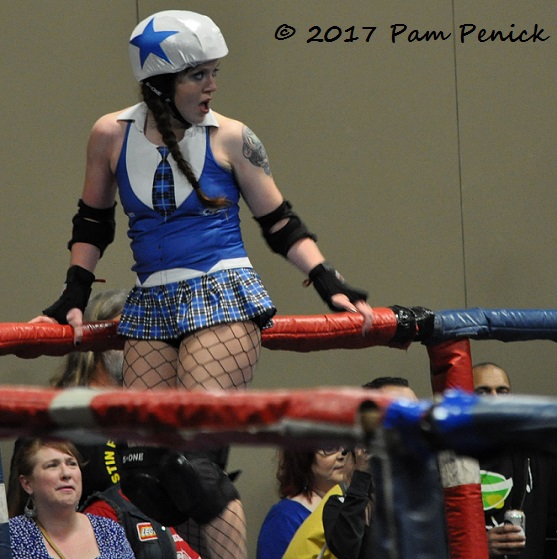 Fishnets, short-shorts, and tiny skirts, along with helmets and elbow and knee pads, make up the costumey uniforms worn by the all-women skaters…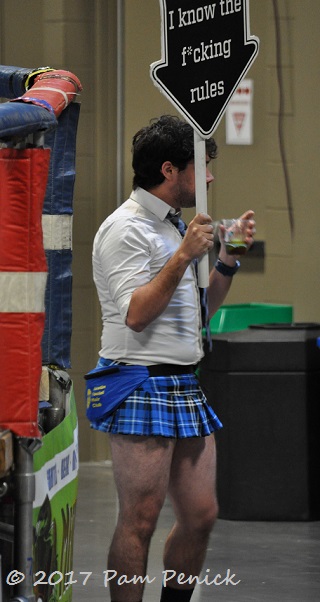 …and even some of the male fans.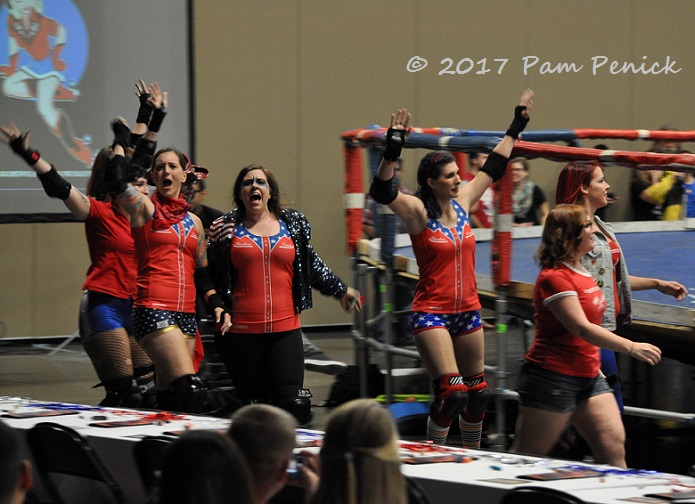 The Rhinestone Cowgirls came out first…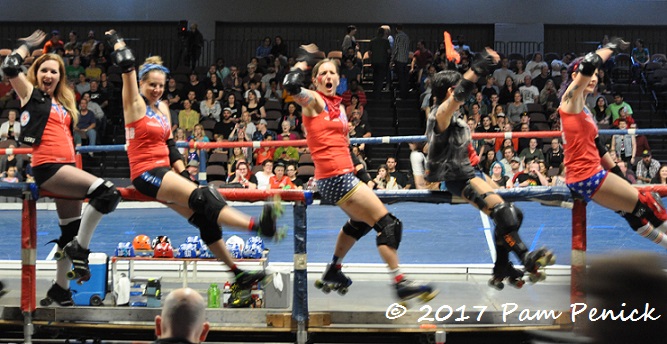 …and they hopped up on the padded rail and rode it like cowgirls, whooping for the crowd.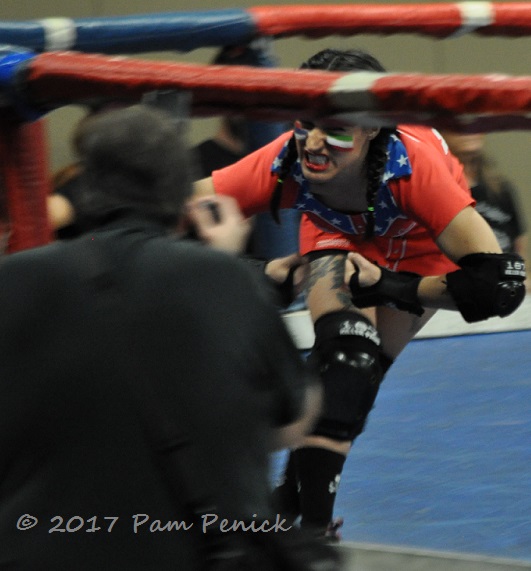 As an announcer called out the players by their alter-ego names — Bad Apple, Shania Pain, Domme Draper — each skater took a showboating lap around the banked track, playing up to a photographer at the rail.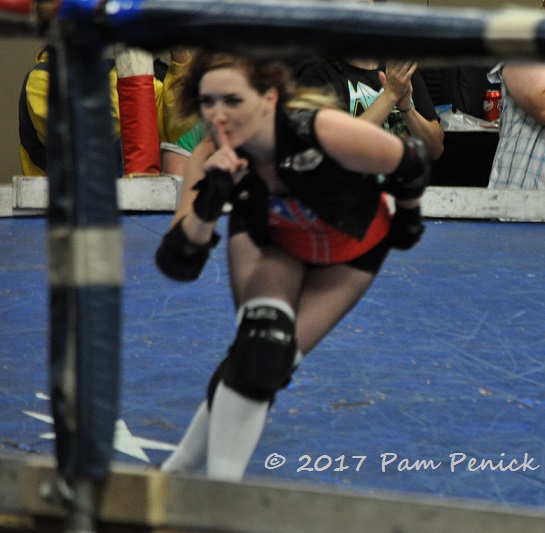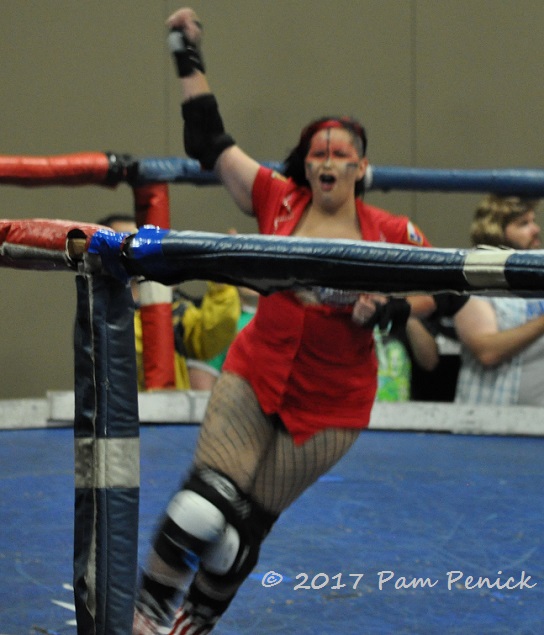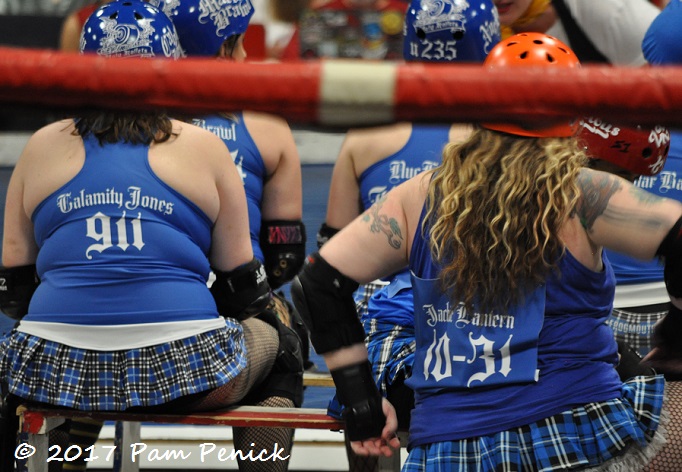 Then the Holy Rollers took their laps, and the bout began. As blockers and jammers lined up on the track (see my 2009 post for the rules of the game), their teammates warmed the bench, their punny, girl-power derby names visible on the back of their shirts. Seen here: Calamity Jones and Jackie Lantern.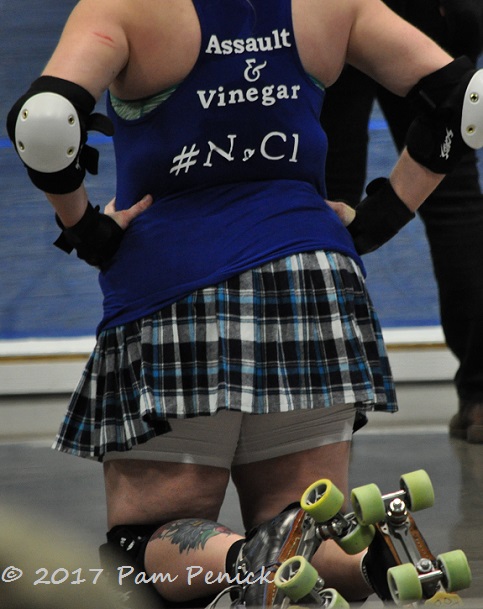 Assault & Vinegar helpfully illustrates the pun in her name with the scientific formula for salt.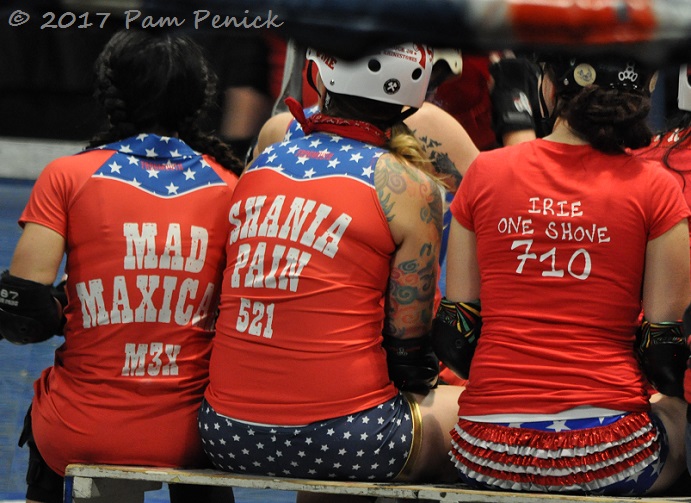 Warming the Cowgirls' bench are Mad Maxican, Shania Pain, Irie One Shove.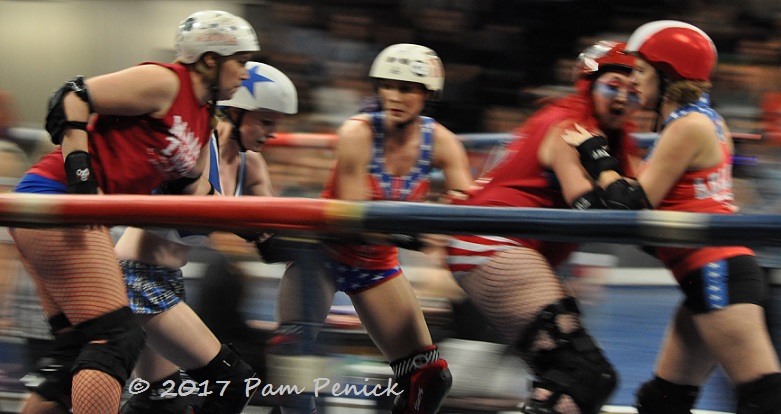 All the players had a chance to show their skating skills in jam after jam, the blockers trying to keep the other team's star-helmeted jammer from breaking through the pack.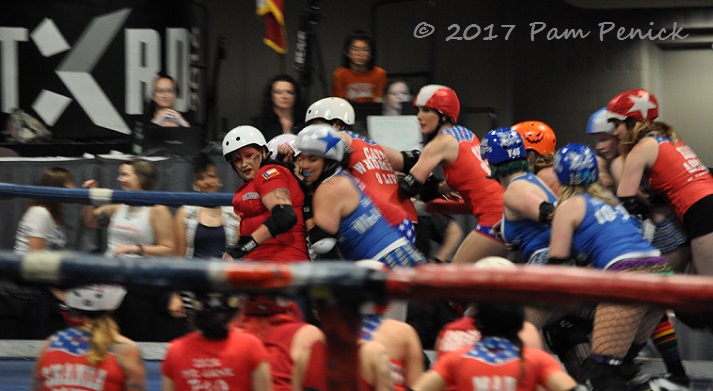 It's definitely a contact sport…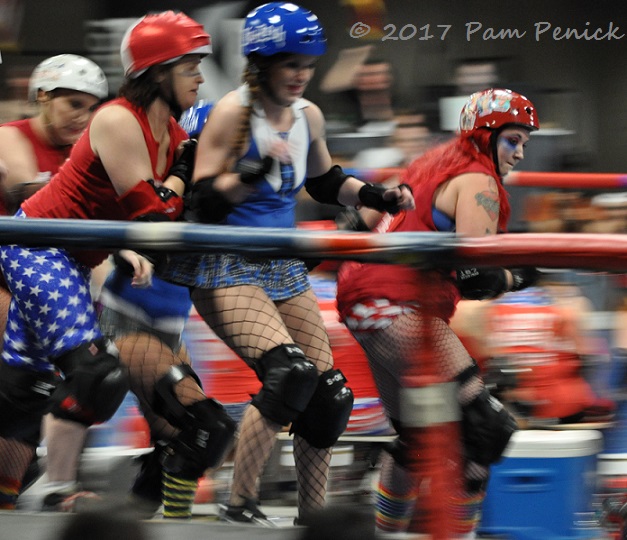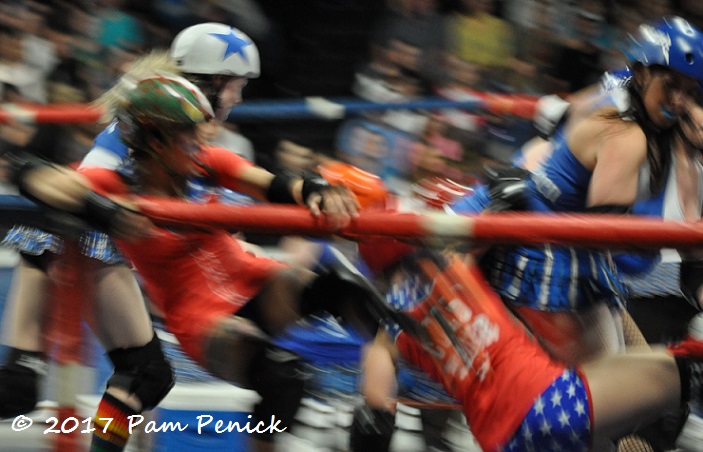 …and we saw a number of wipe-outs.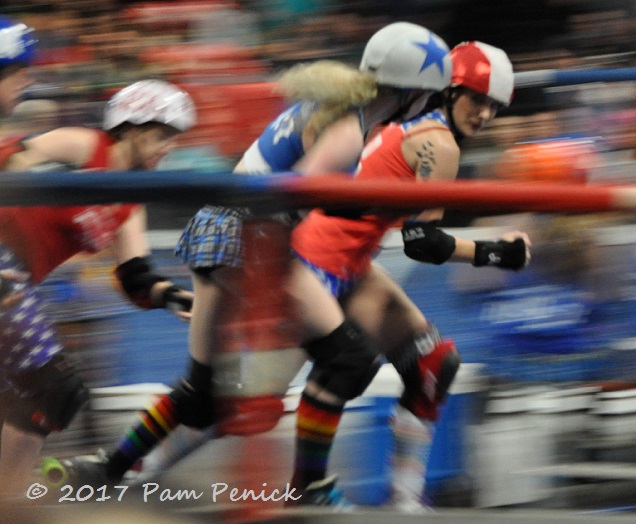 But they always got right back on their skates.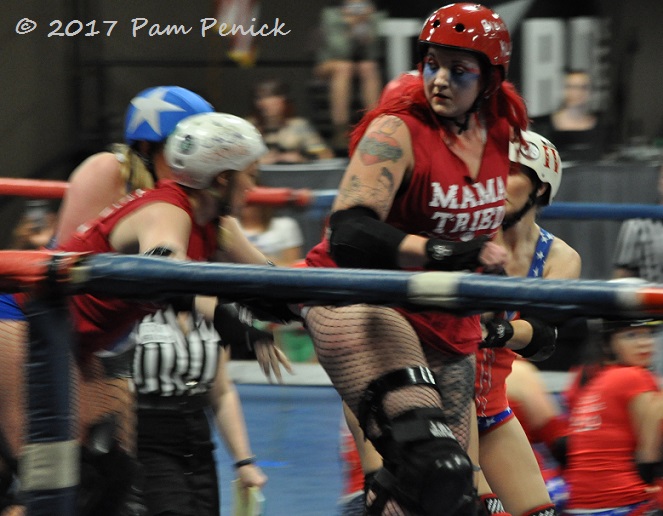 "Mama Tried" is of course an allusion to the Merle Haggard song:
No one could steer me right but Mama tried, Mama tried,
Mama tried to raise me better, but her pleading, I denied.
That leaves only me to blame 'cause Mama tried.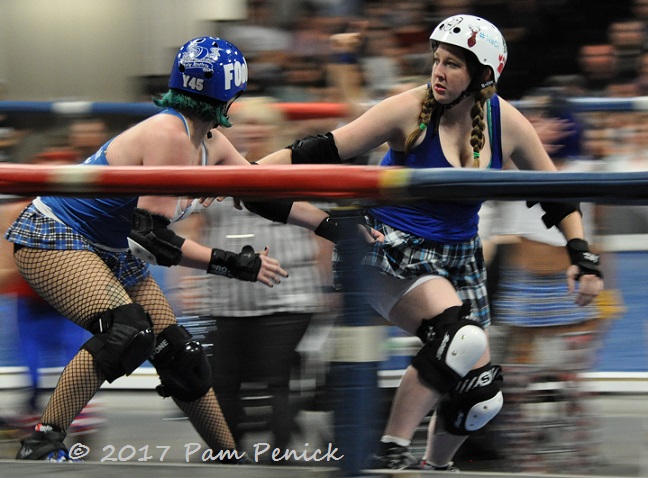 Holy Rollers blockers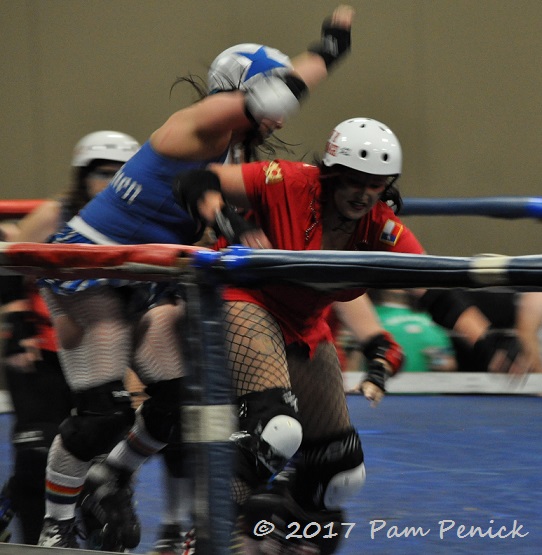 Here's the Holy Rollers jammer (the scorer), trying to break past a Cowgirls blocker.

By the end of the half, the Cowgirls were crushing the Holy Rollers…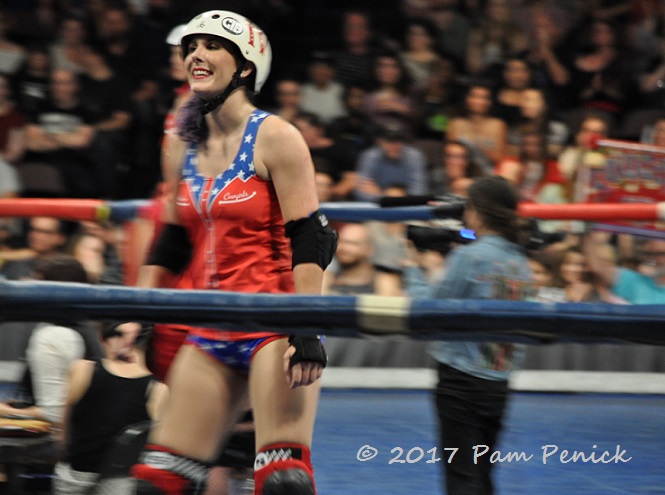 …and the final score was 101 to 65, with the Cowgirls on top. Another night of Austin-style fun!
I welcome your comments; please scroll to the end of this post to leave one. If you're reading this in a subscription email, click here to visit Digging and find the comment box at the end of each post.
_______________________
Digging Deeper: News and Upcoming Events
2/25/17: Come to my talk at the Wildflower Center. I'll be speaking at the day-long Native Plant Society of Texas Spring Symposium at the Lady Bird Johnson Wildflower Center in Austin. My talk is called "Local Heroes: Designing with Native Plants for Water-Saving Gardens," and it's about creating water-wise home gardens that don't sacrifice beauty. The symposium is open to the public. Click here for registration. I'll be offering signed copies of my books, The Water-Saving Garden and Lawn Gone!, after my talk ($20 each; tax is included). I hope to see you there!
Get on the mailing list for Garden Spark Talks. Inspired by the idea of house concerts — performances in private homes, which support musicians and give a small audience an up-close and personal musical experience — I'm hosting a series of garden talks by design speakers out of my home. The upcoming talk with James deGrey David has sold out, but join the Garden Spark email list for speaker announcements delivered to your inbox; simply click this link and ask to be added. Subscribers get advance notification when tickets go on sale for these limited-attendance events.
All material © 2006-2017 by Pam Penick for Digging. Unauthorized reproduction prohibited.