August 2nd, 2015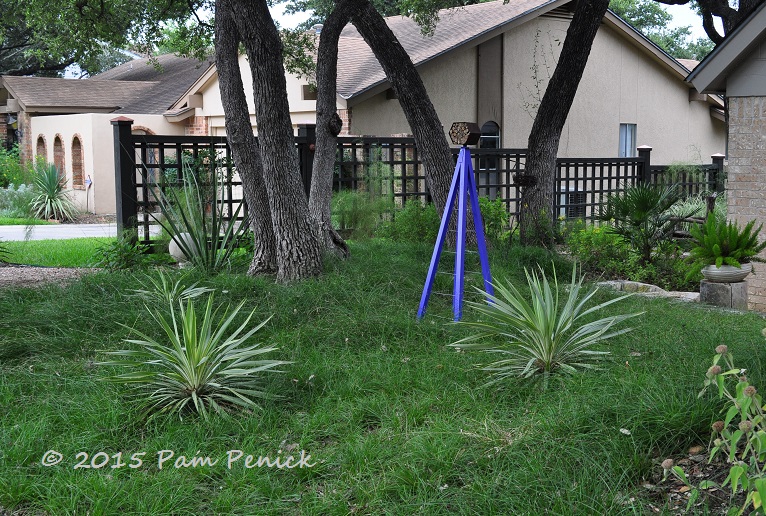 The sea of green that is my deer-resistant sedge lawn and grassy borders now has a welcome shot of color. When I heard that TerraTrellis, a woman-owned, original-garden-art studio in Los Angeles, was running an online sale, I splurged on their Akoris Jr. tuteur with a bee bungalow finial. I just love it!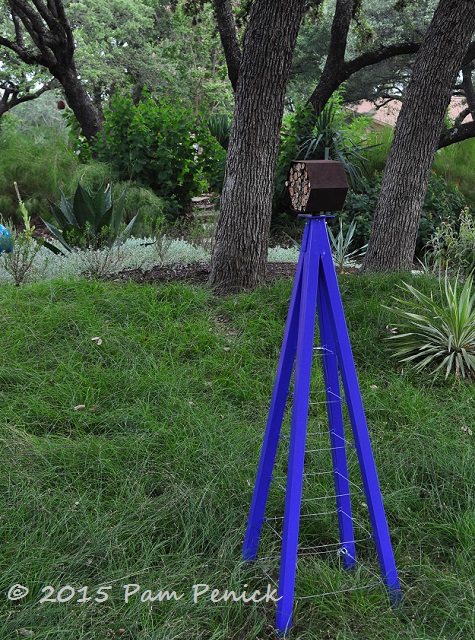 It stands tall amid the Berkeley sedge and offers a hip habitat for solitary mason bees, which are beneficial pollinators. The bungalow on top is stuffed with bamboo and sticks with drilled holes, which, to a mason bee, looks like home sweet home. (If you'd like to construct a DIY bee hotel, check out my fellow Austinites' blog posts: Vicki, Sheryl, and Meredith. You can really get creative while helping your pollinators.)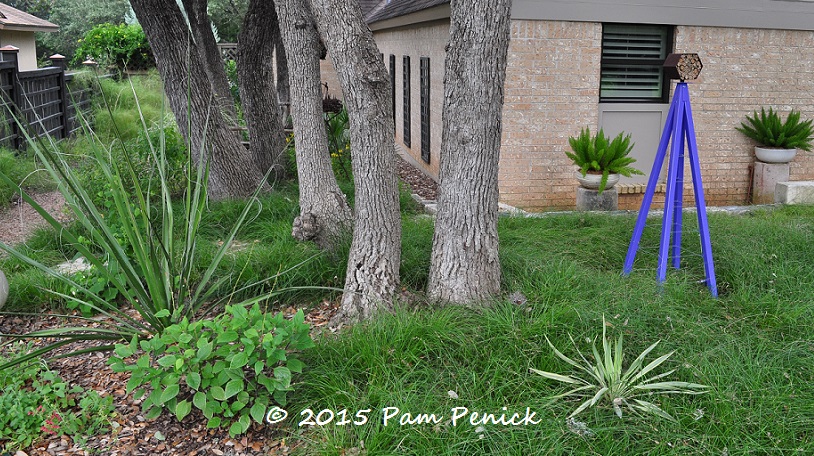 Last night an older gentleman walking his dog asked if I'd put up a video camera. Confused, I asked, "What?" He pointed at the tuteur, and I said, "Oh! No, it's a garden tuteur with a bug hotel." He looked completely baffled, or maybe like he thought I was nuts.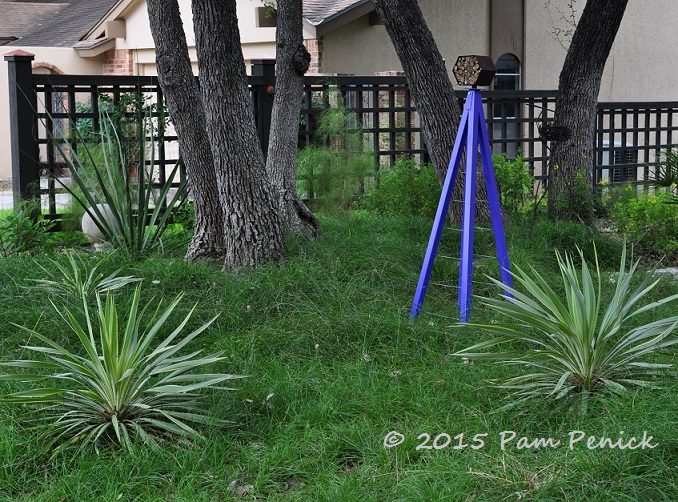 I am definitely nuts for the designs of TerraTrellis and their sister operation TerraSculpture. They're nice people too. Case in point — along with my order they sent me a free gift: their beautifully sculptural Bird Cafe finial, which they suggested I might want to switch out with the bee bungalow during the winter.
Thank you, TerraTrellis! It's too pretty to hide away for half the year, plus Austin, ahem, has a lot of rats, and they love birdfeeders (as do deer). So instead I plan to come up with some way of showcasing the Bird Cafe as a sculptural object year-round. Stay tuned!
All material © 2006-2015 by Pam Penick for Digging. Unauthorized reproduction prohibited.
posted in
2nd garden--2015
,
Bees
,
Birds
,
Bugs
,
Containers
,
Fences
,
Garden art
,
Grasses
,
Groundcovers
,
Lawn Gone!
,
Trees
,
Trellis
,
Yuccas