February 3rd, 2018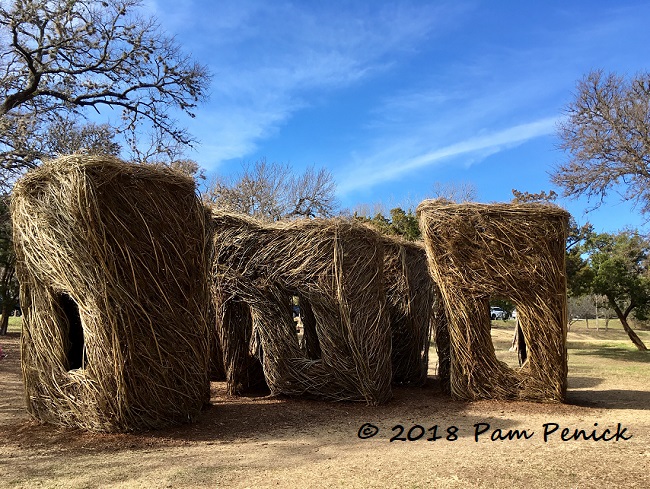 Have you ever seen a bowerbird's elaborate, woven-twig structure? That's what the Stickwork creations of North Carolina artist Patrick Dougherty remind me of. I've admired his twiggy sculptures in other cities and gardens. And now we have one in Austin at Pease Park.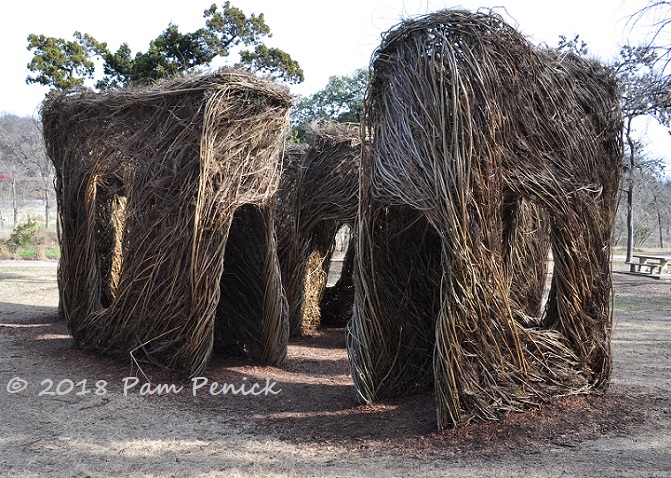 Titled Yippee Ki Yay, Austin's Stickwork consists of 5 woven-branch structures that resemble slumping hay bales, with slanted oval windows and doors. (From above they look like mushy alphabet-soup letters.) It's sculpture with which you're meant to interact, to touch, to walk inside…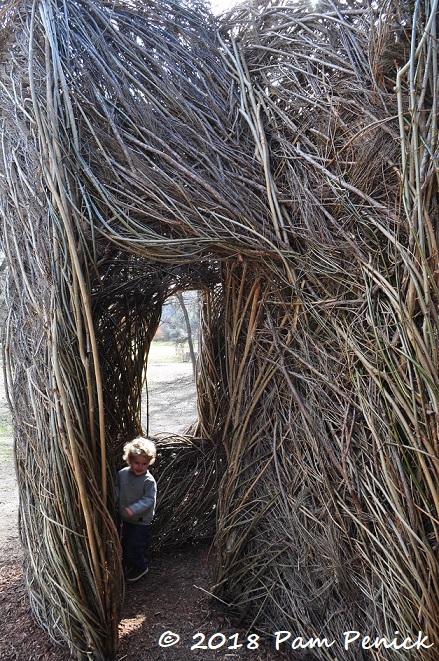 …or perhaps to play hide-and-seek in.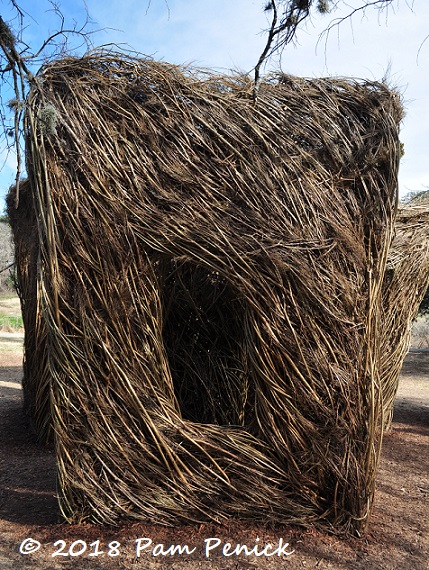 The weaving itself is fascinating.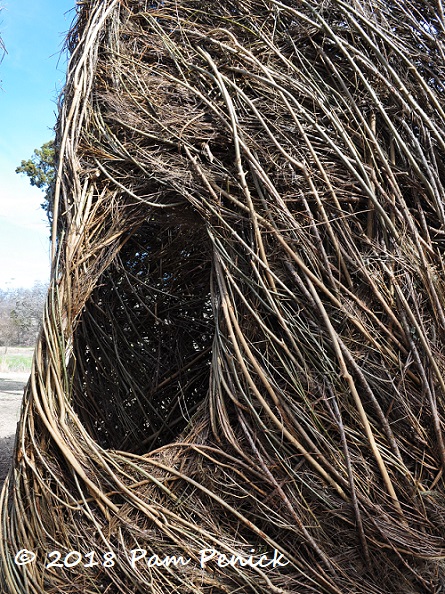 In some ways it resembles an oversized bird's nest.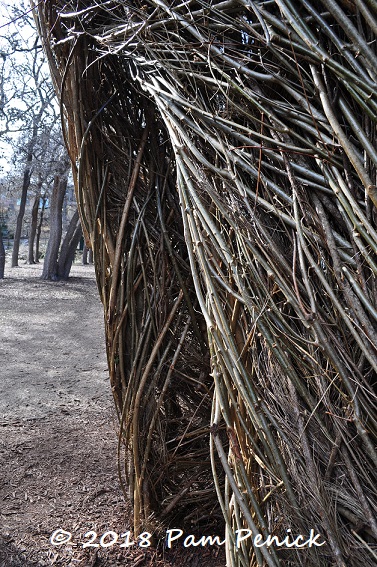 Of course the artist and his helpers have hands. Imagine how birds do this, with only beak and claw.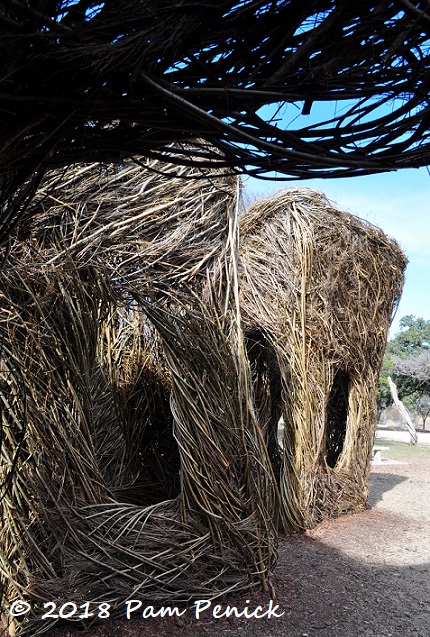 The straw huts lean fancifully, as if peering over each other's shoulders.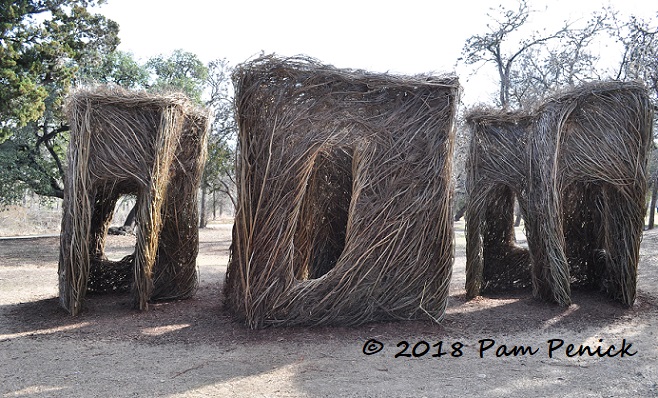 The short passageways inside them twist and turn, maze-like.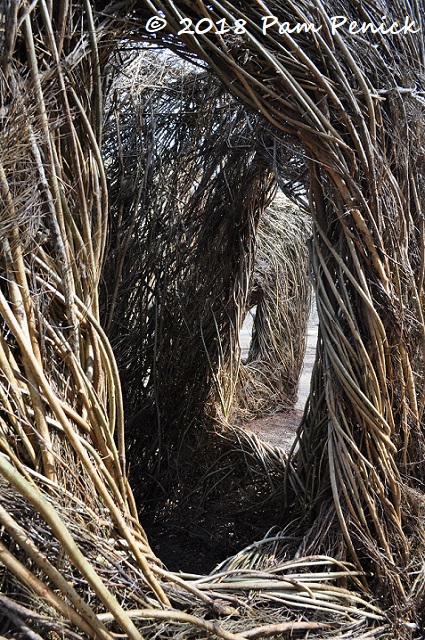 Gazing through tilted, twiggy windows, you see frame after frame after frame.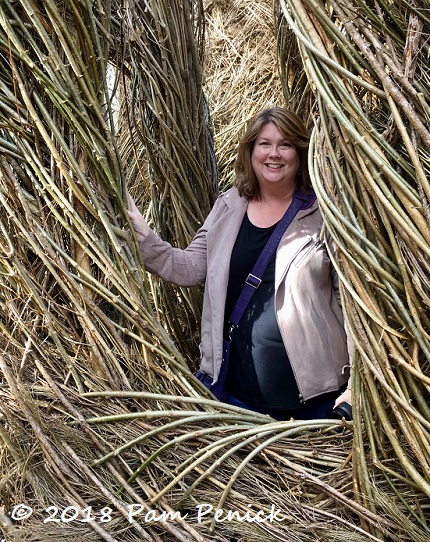 If you visit, you can frame yourself.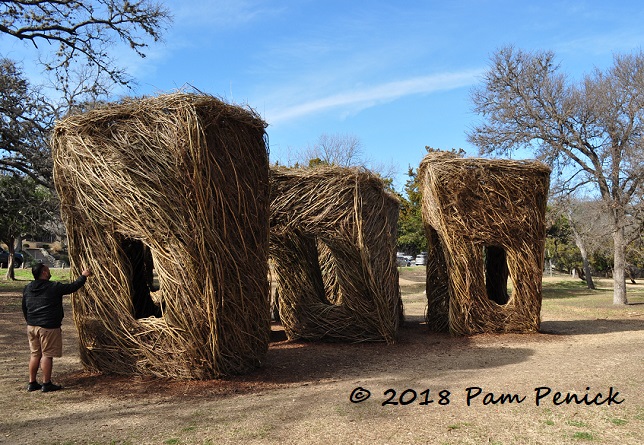 In a Statesman interview, Dougherty says he expects a Stickwork to have one great year, then one pretty good year, and then start to fall apart. When it's finally ready to be condemned, the sticks will be shredded and turned into mulch for park plantings. Ashes to ashes and twigs to mulch.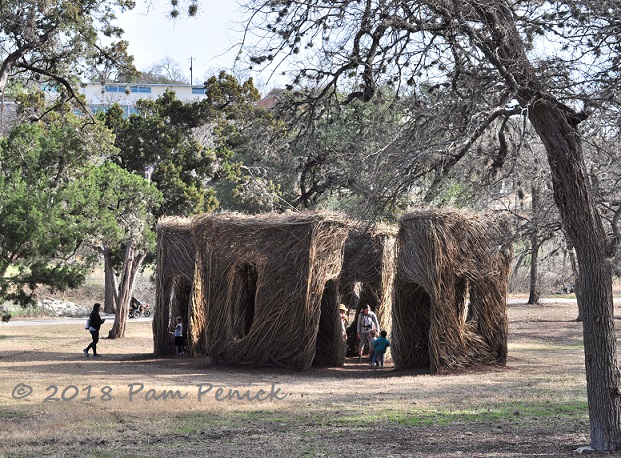 The sculpture is already open to the public, but a public opening ceremony is scheduled for next Saturday, February 10th, from 1 to 3 pm, and even the mayor will be there. Now that sounds like a "yippee ki yay" kind of celebration.
By the way, if you were one of the many local volunteers who helped build this Stickwork, I hope you'll leave a comment telling us what it was like, or what the artist is like, or anything interesting you learned about weaving a giant stick house.
I welcome your comments; please scroll to the end of this post to leave one. If you're reading this in a subscription email, click here to visit Digging and find the comment box at the end of each post.
_______________________
Digging Deeper: News and Upcoming Events
Calling all garden bloggers! You're invited to register for the annual Garden Bloggers Fling tour and meetup, which will be held in Austin this May 3rd-6th! Click this link for information about registering, and you can see our itinerary here. Space is limited, so don't delay. The 2018 Fling will be the event's 10th anniversary, which started in Austin in 2008.
Join the mailing list for Garden Spark Talks! Inspired by the idea of house concerts, I'm hosting a series of garden talks by inspiring designers and authors out of my home. Talks are limited-attendance events and generally sell out within just a few days, so join the Garden Spark email list for early notifications. Simply click this link and ask to be added.
All material © 2006-2018 by Pam Penick for Digging. Unauthorized reproduction prohibited.