About My Garden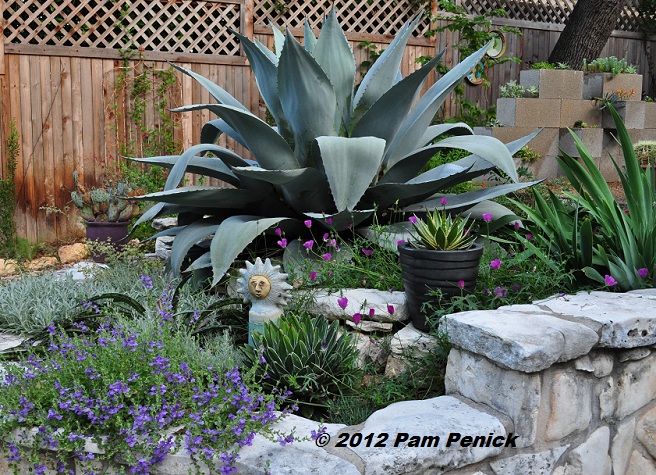 Gardens are a form of autobiography.
–Sydney Eddison
A garden is never so good as it will be next year.
–Thomas Cooper
Welcome to my garden! I've been digging in Austin since 1994. From 2000 to 2008 I cultivated a colorful, sun-loving, Texas-style cottage garden in the black gumbo clay of midtown. Much of this blog chronicles the evolution of that garden. In the fall of 2008, however, I said goodbye to it and moved to the limestone hills of northwest Austin, where I'm starting a new, deer-resistant garden under the dappled shade of live oaks on shallow, rocky soil. New challenges provide renewed excitement and fresh perspectives about gardening.
To keep my water bills as low as possible, provide habitat for wildlife, and give my garden a regionally appropriate look, I enjoy growing plants native to central Texas, supplemented by well-adapted and drought-tolerant non-natives. Mixing it up with hardy roses and prickly pear, agaves and salvias, I'm striving for a garden with four-season interest and cat-like tendencies—meaning it doesn't need my attention every single day. I like to play and relax in the garden, not just work in it.
Creating my former garden from a blank slate—learning from my successes but even more from my mistakes—and helping friends and family with their landscaping gave me the experience and confidence to start my own design business in 2006. I get enormous satisfaction in helping other Austinites, from novices to experienced gardeners, create the landscaping or a garden that says "home" to them.
As I begin making a new garden that says "home" to me, I hope you will take the journey with me. Thank you for visiting.
Pam