October 26th, 2010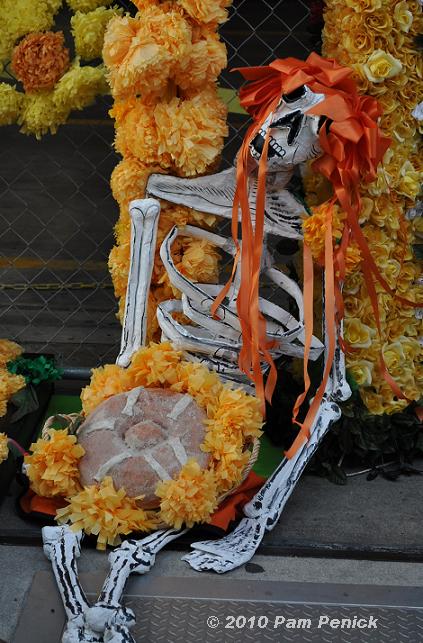 Dia de los Muertos, the Mexican holiday known as Day of the Dead, is embraced in Austin each year with a street festival and parade. Unlike the macabre spectacle of Halloween, Day of the Dead is traditionally about remembering and honoring departed loved ones by creating altars in their memory, holding candlelight vigil at cemeteries, and bringing food (like pan de Muerto, or bread of the dead, pictured above) for the dead to enjoy on their annual night among the living.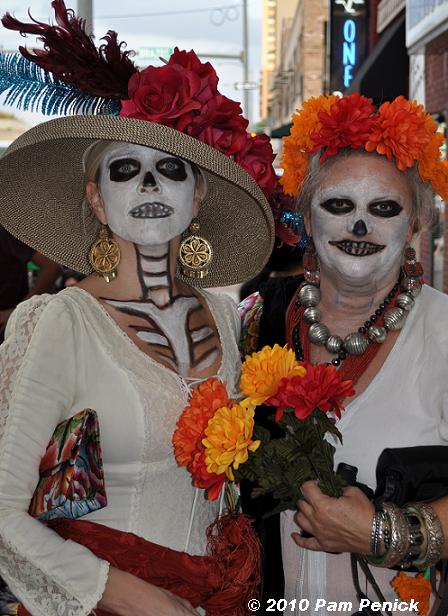 Dia de los Muertos is of pagan origin but was later tied to the Catholic observances of All Saints' Day and All Souls' Day, and occurs on November 2. Austin celebrated early last Saturday with a block party next to the Mexic-Arte Museum, paper-mache skeletons, bright orange marigolds, live music, and throngs of people in old-fashioned finery and skeleton face paint.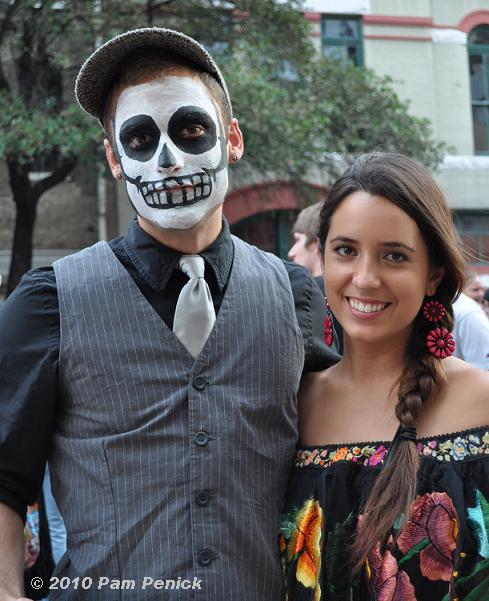 People's faces are oddly compelling in skeleton disguise. You look closely at their eyes, trying to read them.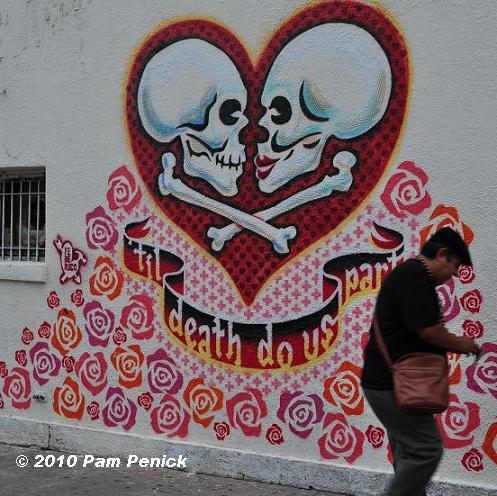 "Til death do us part," the mural reads—but on this night, the dead are not parted from us.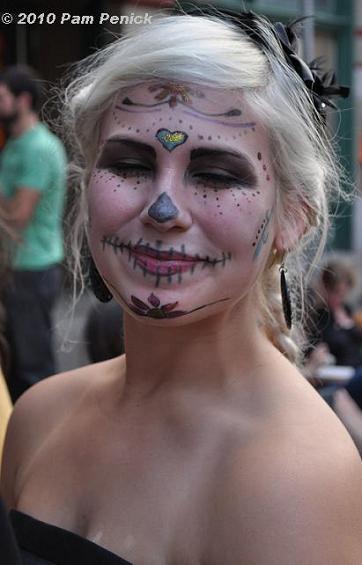 Some people soften their skeletal look with the addition of flowers, dots, and hearts.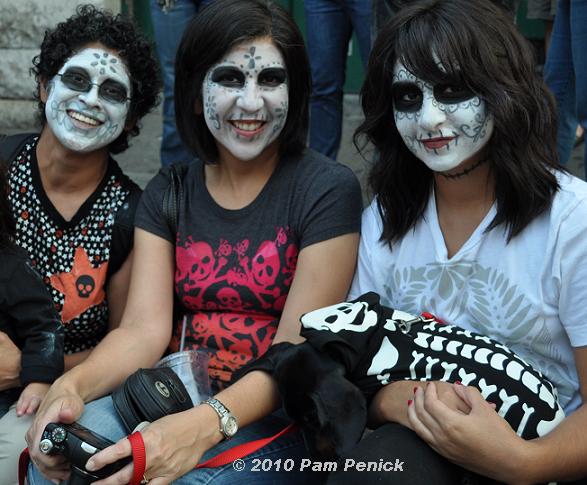 Even the dachshund is dressed for the part.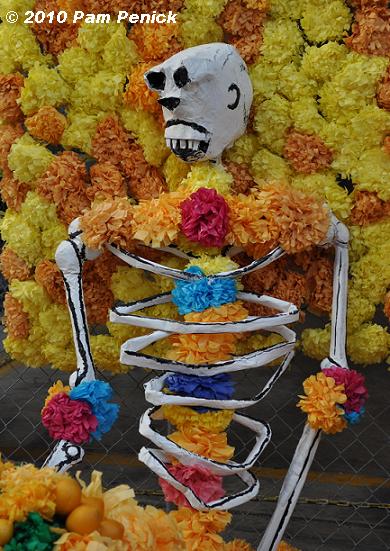 More paper-mache decor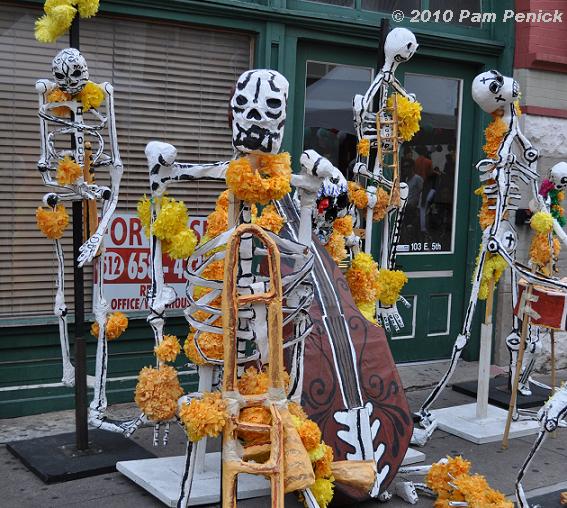 A band of musicians has played their fingers to the bone.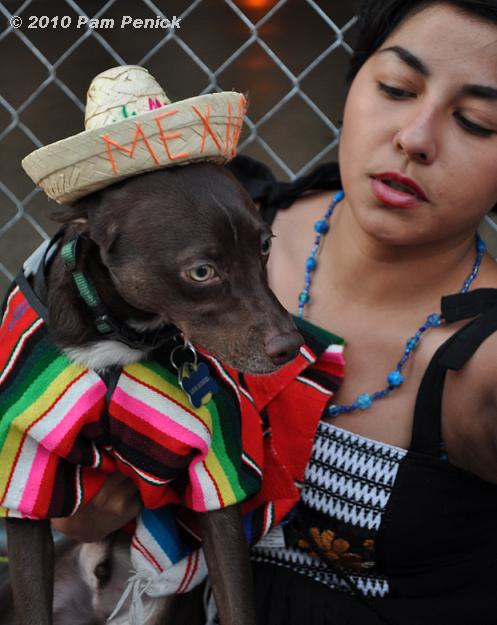 Chihuahua owners bring their pets along in costume. I'm not sure this little guy was all chihuahua, but he had style.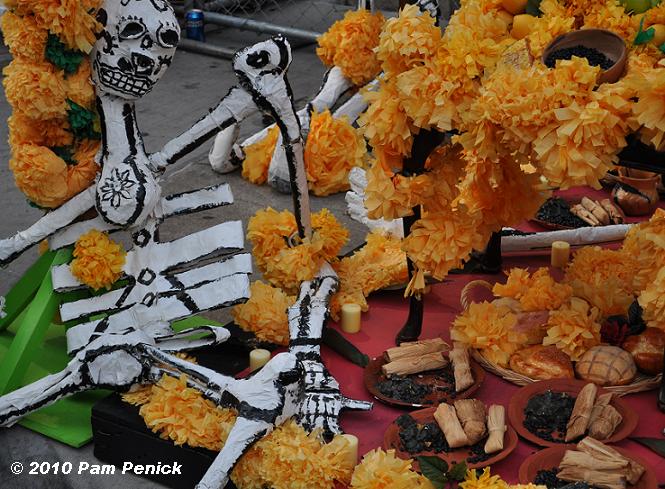 This skinny fellow looks like he's ready to take a siesta after partaking of the tamale and bean feast.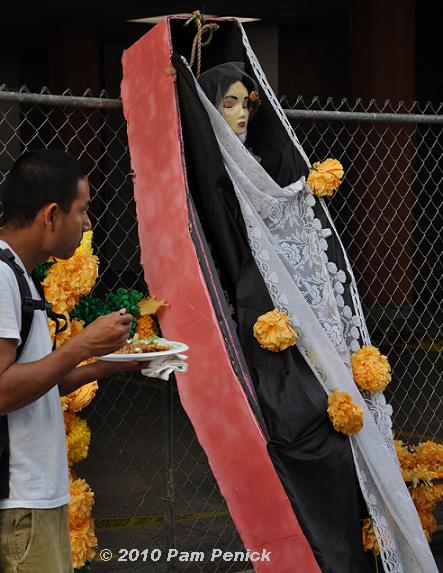 Our Lady was propped up in repose while spectators noshed and watched the band.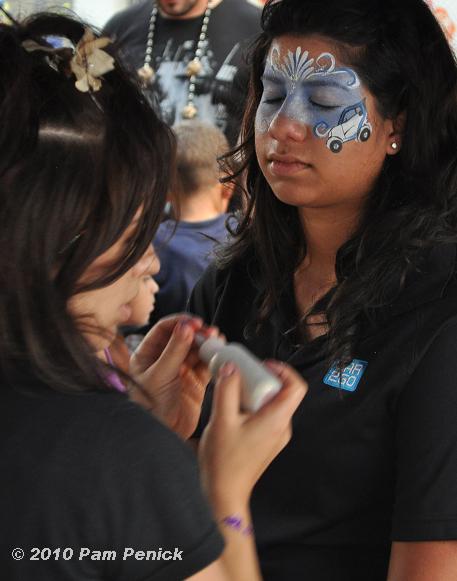 Not all the face painting was skeletal.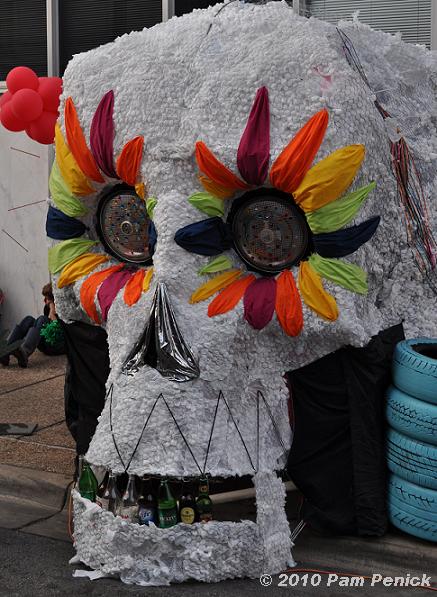 This 8-foot-tall calavera was a giant-sized sugar skull made of recycled material. Check out the beer-bottle teeth! And are those hubcap eyes?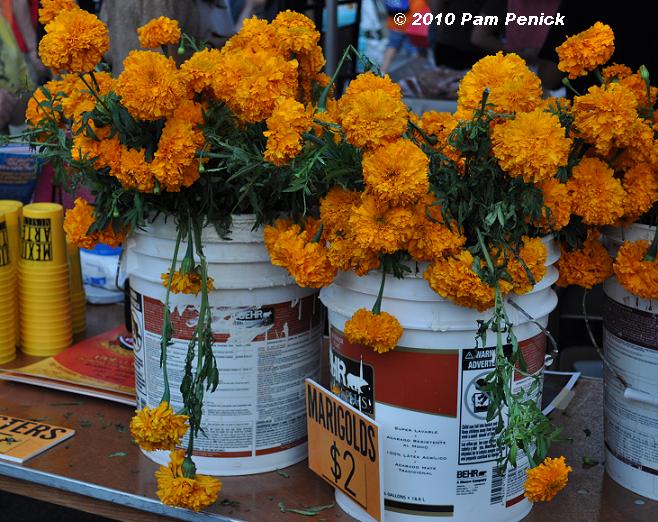 Marigolds for sale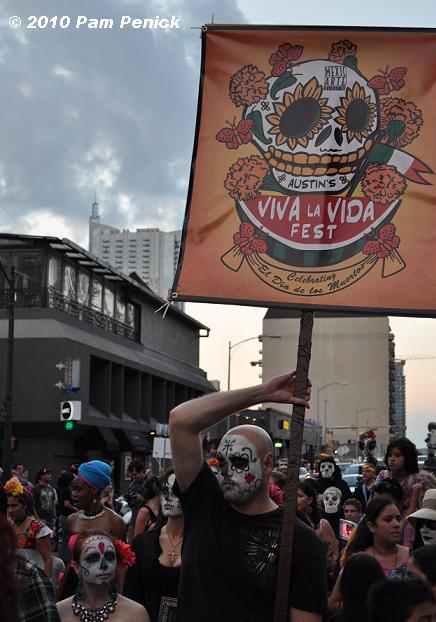 Just before dusk the paraders arrived at Congress Avenue, where we stood to watch the spectacle.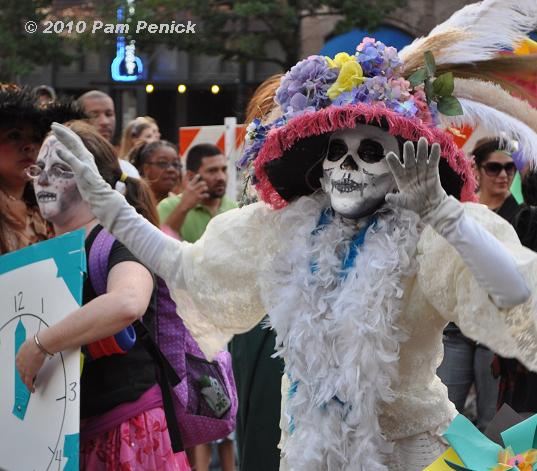 I loved this dancing Catrina, a popular Dia de los Muertos figure meant to illustrate that even the wealthy and self-important must die like everyone else.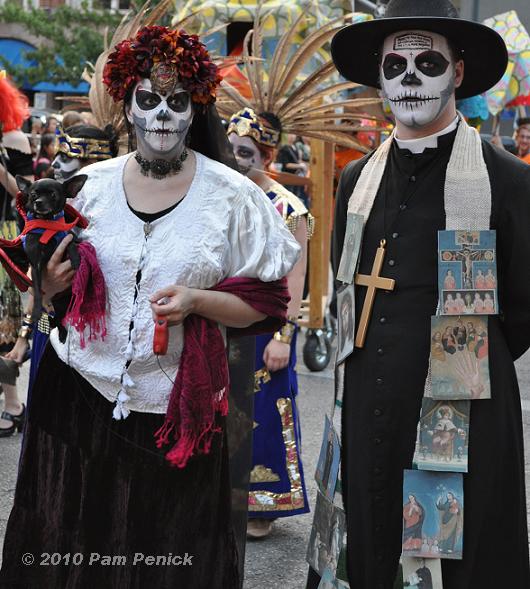 Another chihuahua accompanies this woman. And check out the cool priest skeleton.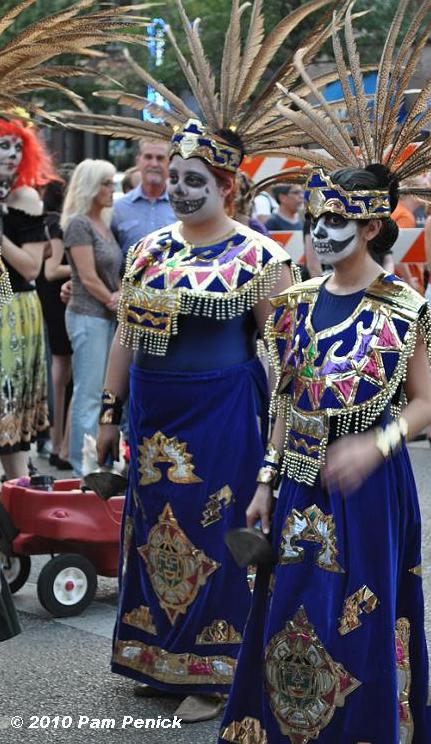 These skeleton women represent Mexico's ancient Aztec culture, whose festivals of the dead evolved into today's Dia de los Muertos.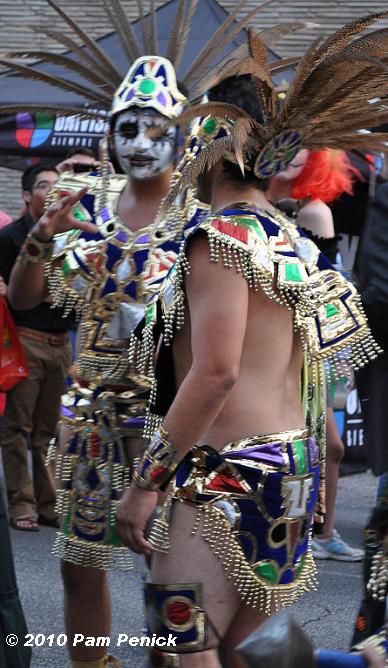 The Aztec-costumed men wear considerably less than the women. That's a switch, eh?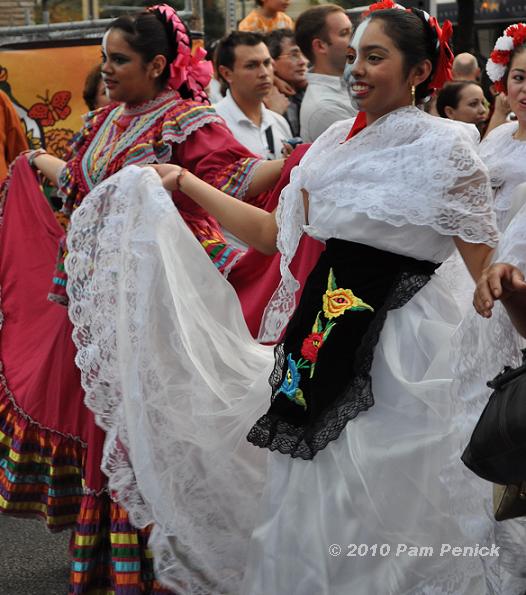 Beautifully costumed dancers were next, half their faces painted like skeletons, the other half "living."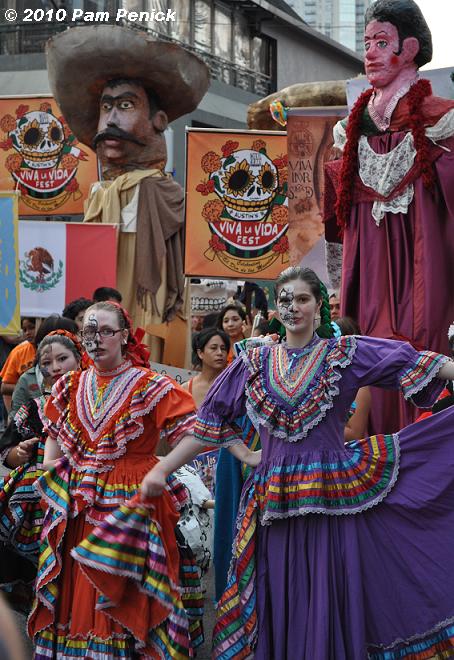 Huge puppets held aloft depict revolutionary heroes from Mexico's struggle for independence.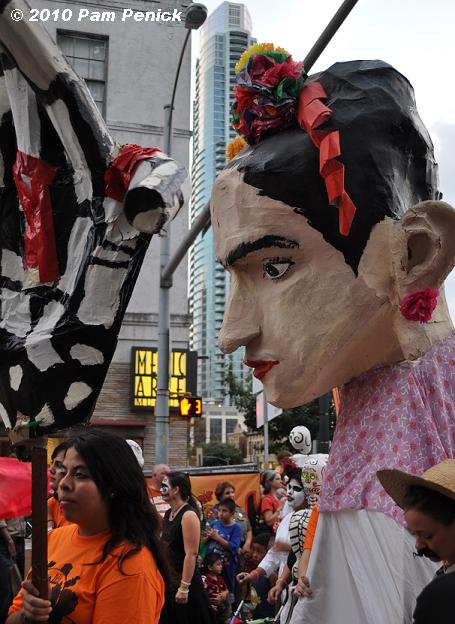 There's always a Frida Kahlo at Day of the Dead.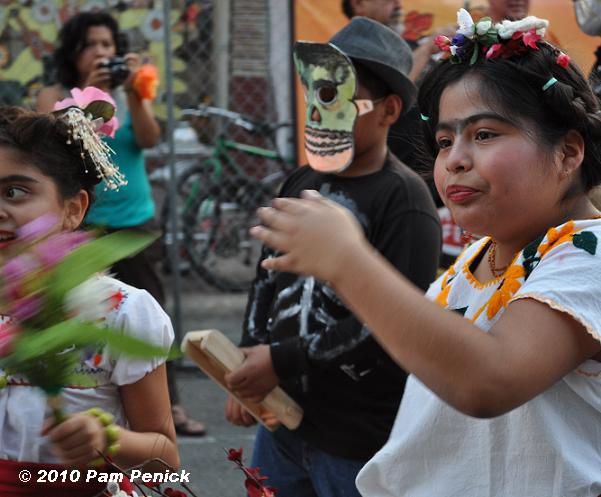 This girl is costumed like Frida. The unibrow is the giveaway.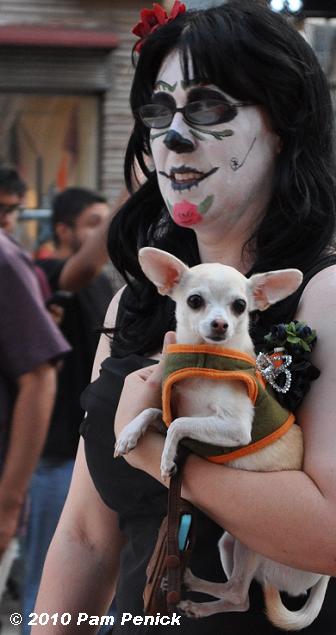 Another skeleton woman with a chihuahua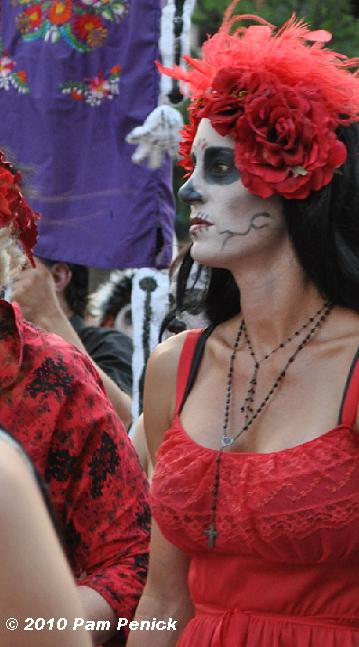 And a lady in red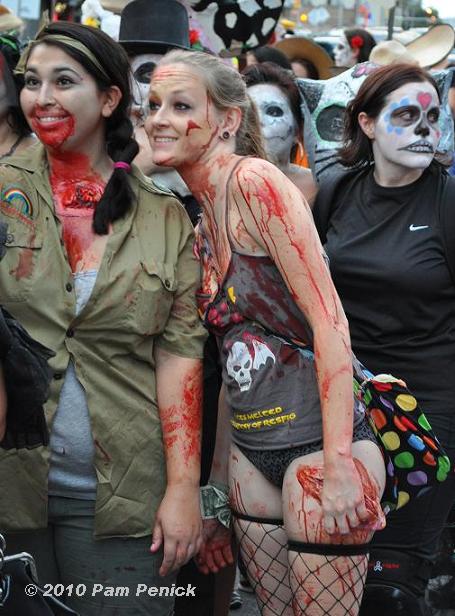 These zombie women in gory costume didn't quite fit in with the Day of the Dead theme. Perhaps they'd participated in the Thriller zombie dance earlier in the day?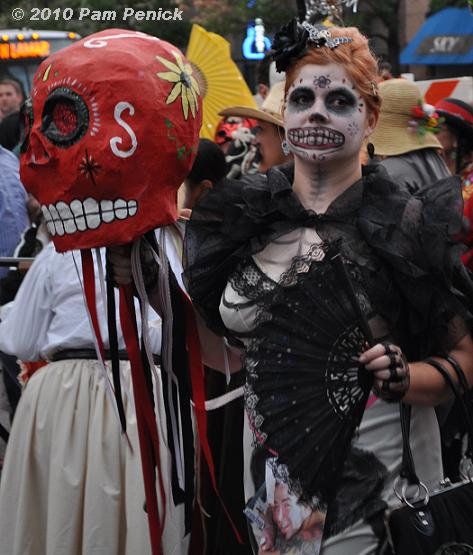 What a smile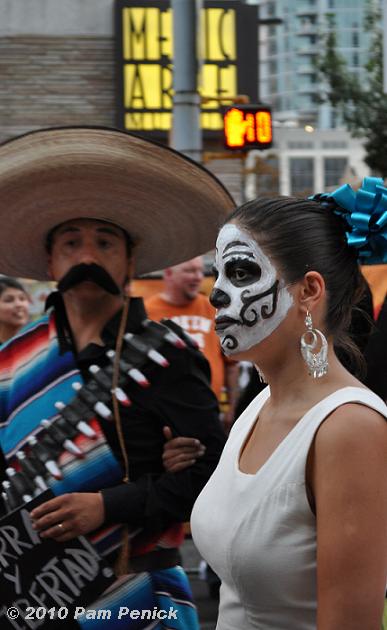 A more pensive skeleton, with one of the revolutionaries to her left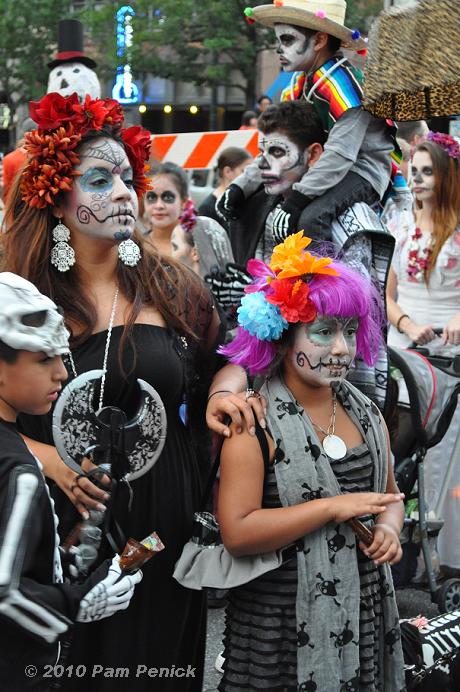 More parade participants—even children get in on the act.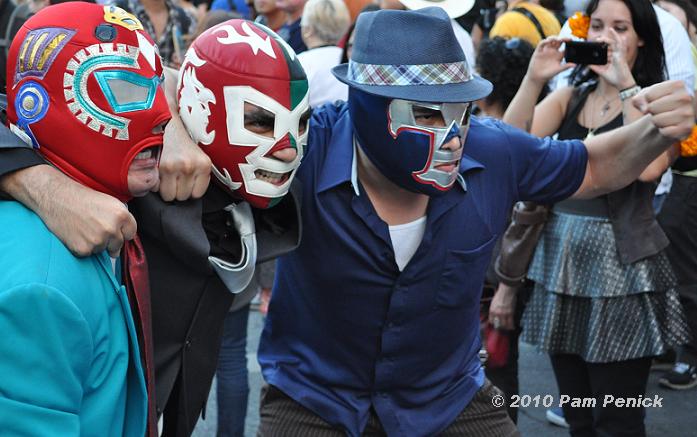 Lucha libre (Mexican wrestling) costumes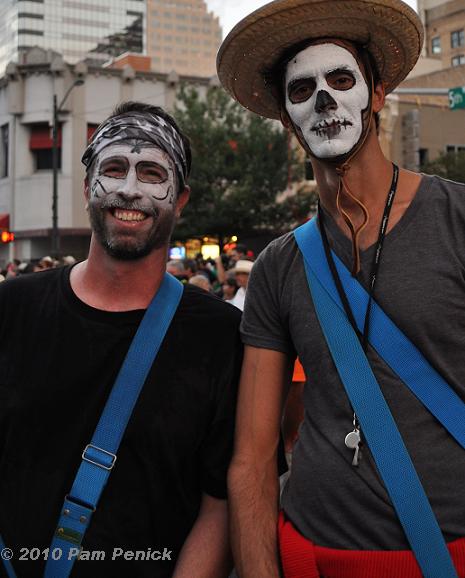 I was surprised and delighted to recognize two people in the parade. The bearded skeleton, Mark, is a teacher at my children's school, and the tall skeleton is none other than blogging friend Lee of The Grackle.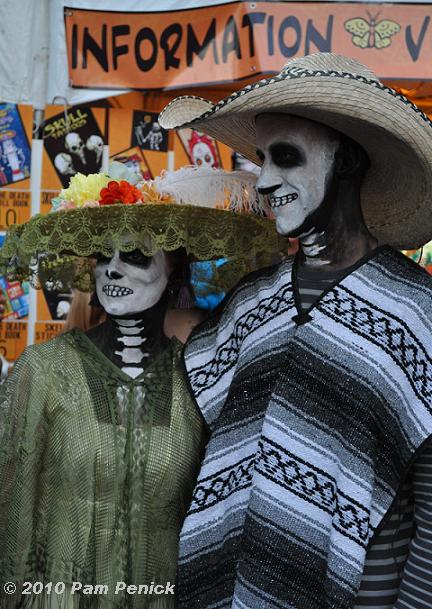 I really enjoy this festival, especially the costumes of the participants and the joyous remembrance that the holiday celebrates.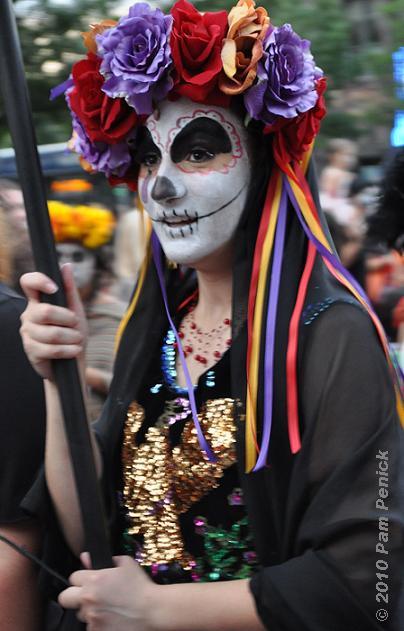 Happy Dia de los Muertos!
For more images and information about this holiday, click on the link to my 2008 Day of the Dead post.
All material © 2006-2010 by Pam Penick for Digging. Unauthorized reproduction prohibited.