October 22nd, 2010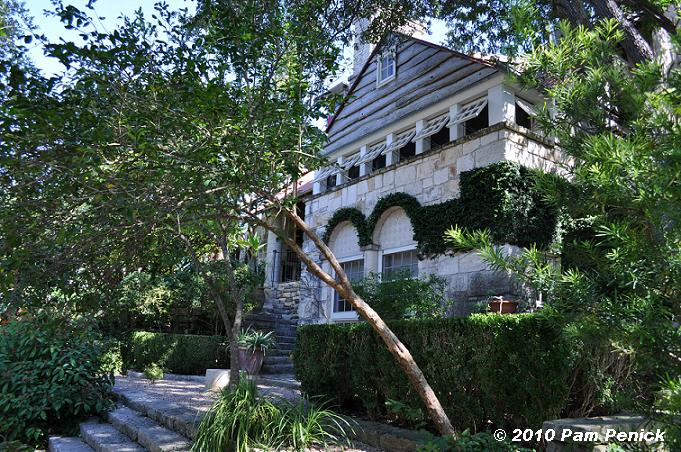 Like a contemporary fairy-tale cottage, the home of James David and Gary Peese is glimpsed through the embrace of the surrounding garden: a fascinating, wow-inducing, richly planted—and richly hardscaped—yet intimate and surprisingly unpretentious garden. This was my final stop on last Saturday's Open Days garden tour.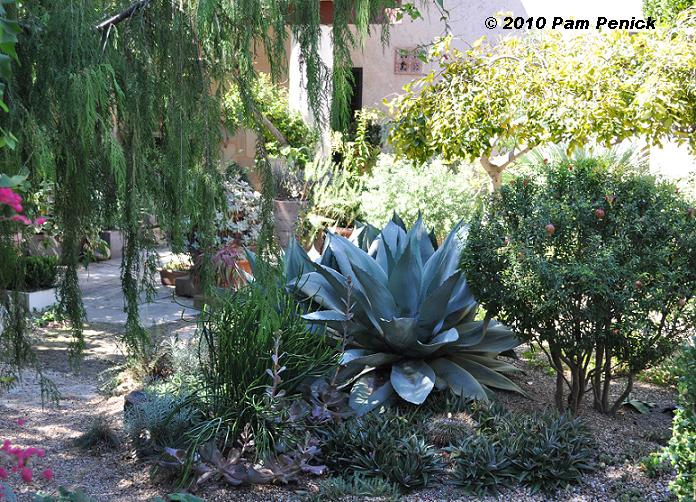 James is a landscape architect and plantsman who founded the now-defunct Gardens and who chairs the Garden Conservancy's Open Days program. His partner Gary is also his partner at David/Peese Design. Both were on hand at mid-afternoon when I toured their garden, asking each guest if he or she was doing OK and answering questions. Pictured above is their sunny entry garden, anchored by a 'Whale's Tongue' agave (A. ovatifolia) and a topiary pomegranate tree.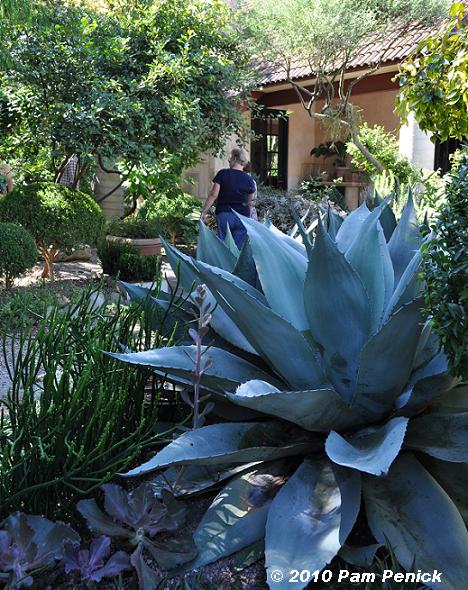 Another look at the 'Whale's Tongue' agave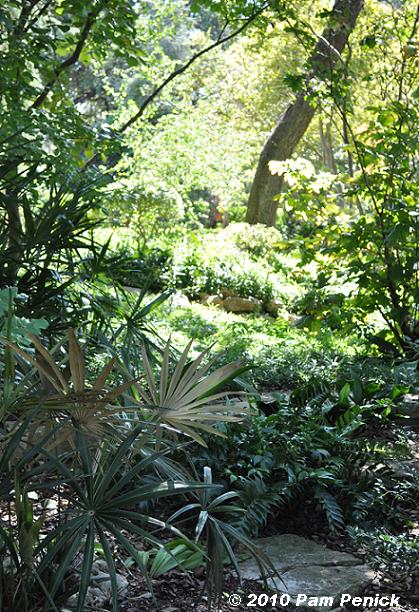 To the left, a woodland garden is planted with an understory of palms (Sabal minor?) and holly fern (Cyrtomium falcatum). Sunlight beams in through an opening in the tree canopy.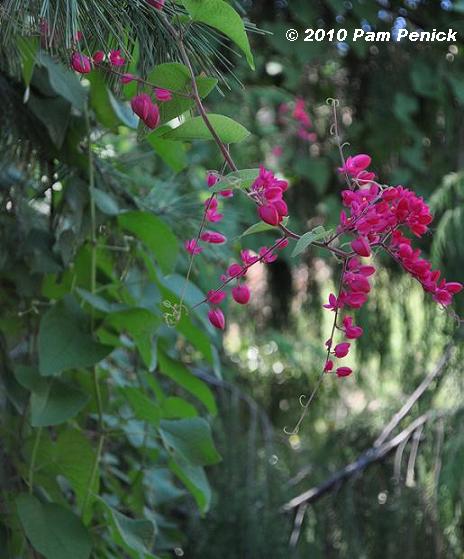 Coral vine (Antigonon leptopus) drapes from the trees, reaching for the light. This vine is so beautiful all over Austin right now.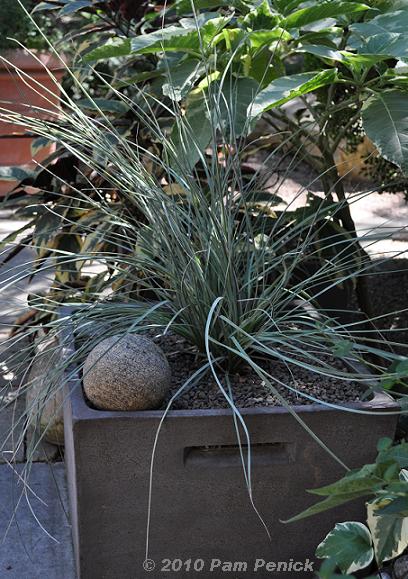 Among an informal yet carefully arranged container display at the front door, this grassy-looking plant caught my eye. Is it a Nolina?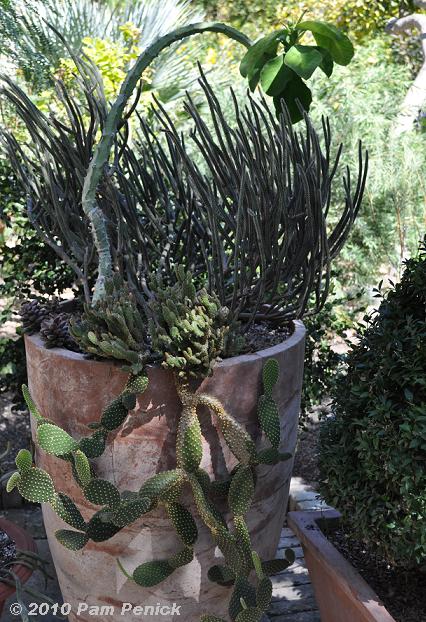 I love the dangling prickly pear (Opuntia) in this one.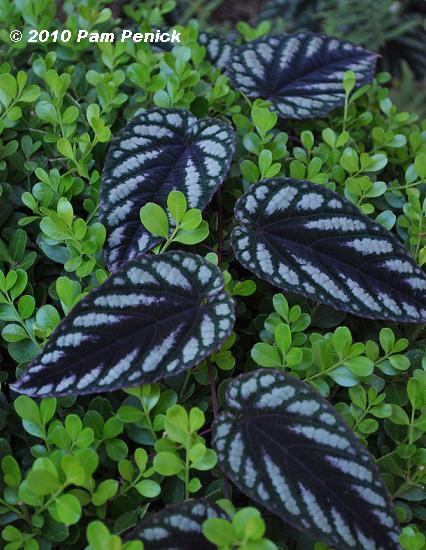 Gorgeous combo! The leaves look like coleus, but they're growing like a vine across the boxwood. Anyone have an ID? Update: Cissus discolor, or Rex Begonia Vine. Thanks for the ID, Joseph!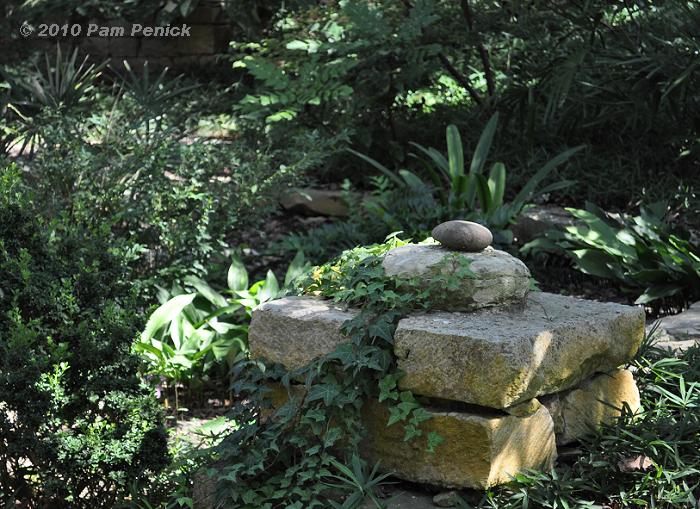 A stone arrangement in the woodland garden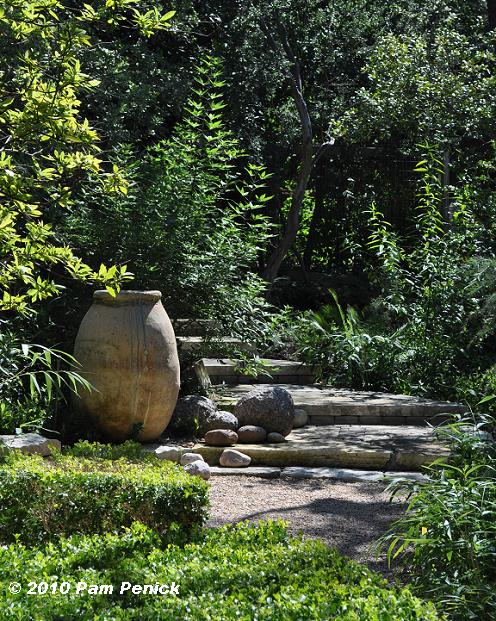 Their garden is built on a steeply sloping lot, so limestone steps figure prominently in the design.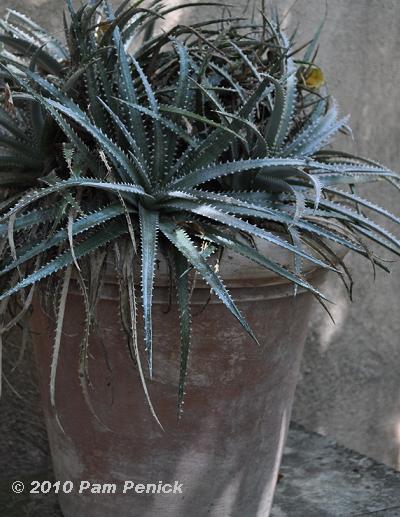 A frosty looking Dyckia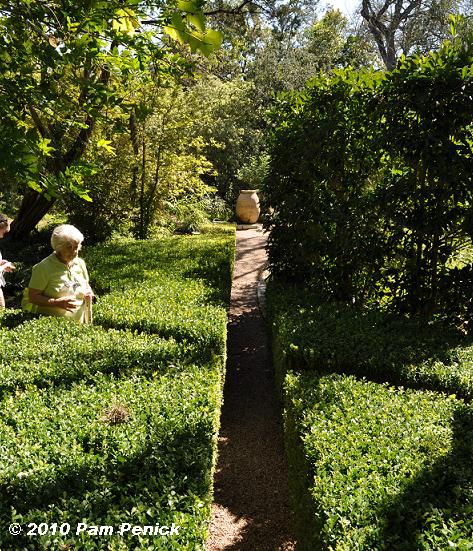 James and Gary favor narrow paths through much of their garden. This area is the narrowest of all: a geometric design of diagonal, straight-line paths through waist-high, clipped boxwood. Most visitors hesitate before walking through, unsure whether these are meant to be used. You feel almost as if you're wading through water, or like Moses parting the Red Sea. Your hips brush the shrubbery on either side, and you hold up your arms to keep them clear. It's fun to walk through. And look how the center line (a little wider) frames that olive jar.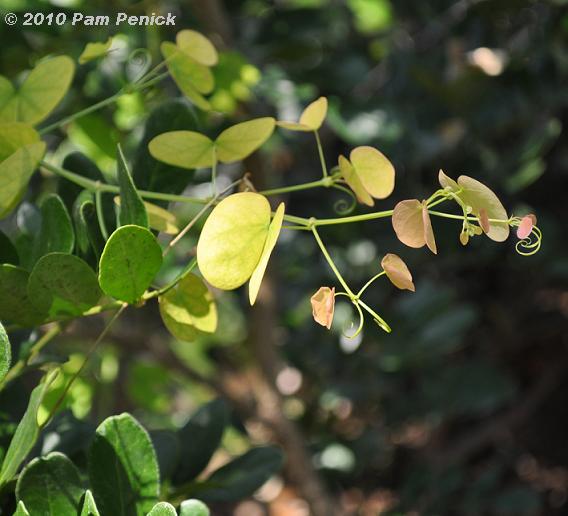 This sweet, delicate vine twined through a Texas mountain laurel.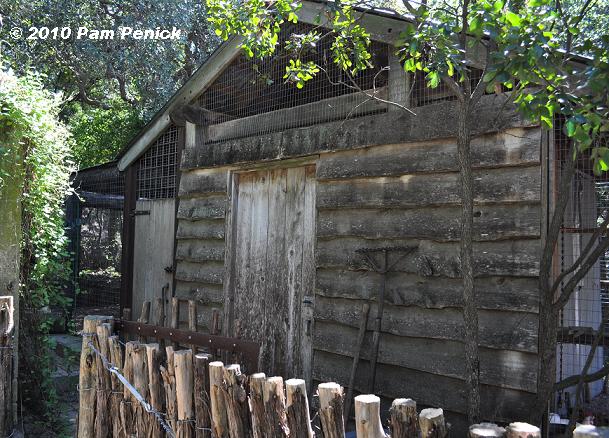 Gary keeps chickens in this charmingly rustic coop. The silkies got the most attention from visitors.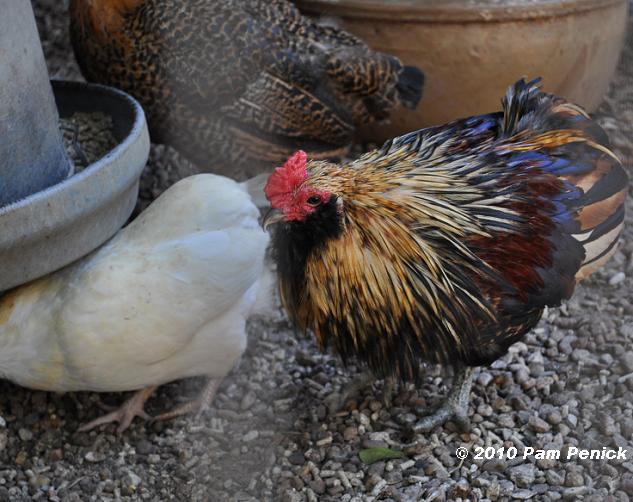 But I only got pictures of these. He's a handsome fellow, isn't he?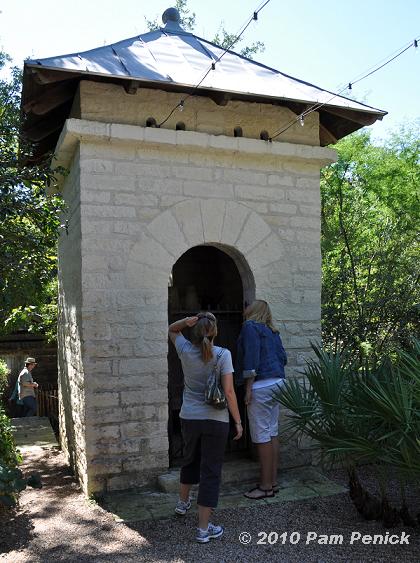 A dovecote anchors one end of a long, narrow dining terrace just below the house. The string lights run the length of the terrace.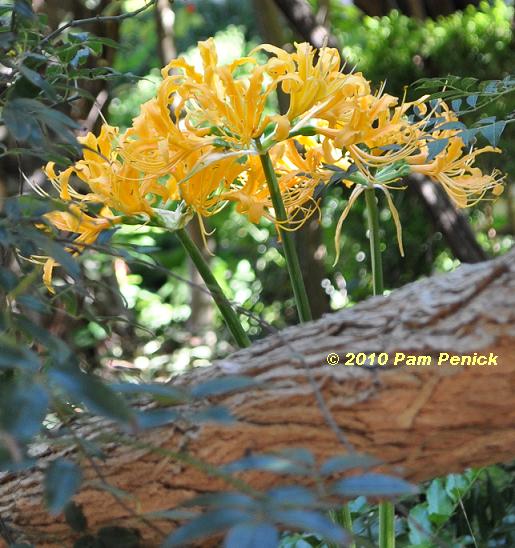 Flowers do not play a starring role in James and Gary's garden. It's all about foliage and texture. But flowers do pop up as accents throughout the garden, including these yellow spider lilies (Lycoris chinensis).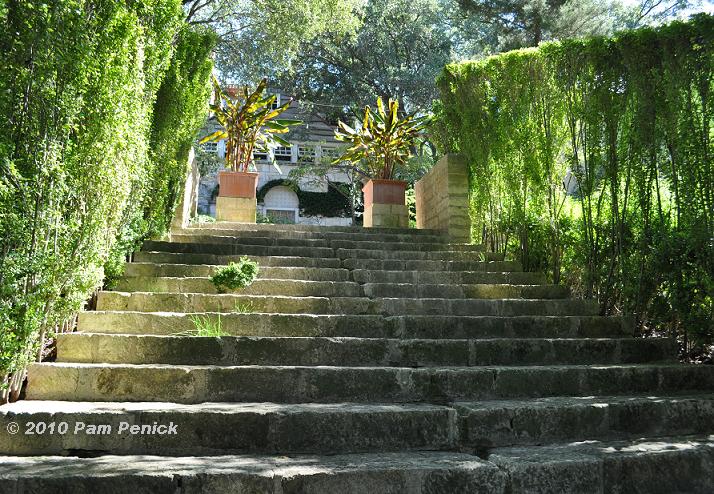 Below the dining terrace appears the defining image of their garden: a long, straight limestone stair bordered by 'Will Fleming' yaupons and bisected by a rill running down to a large pond at the base of the steps.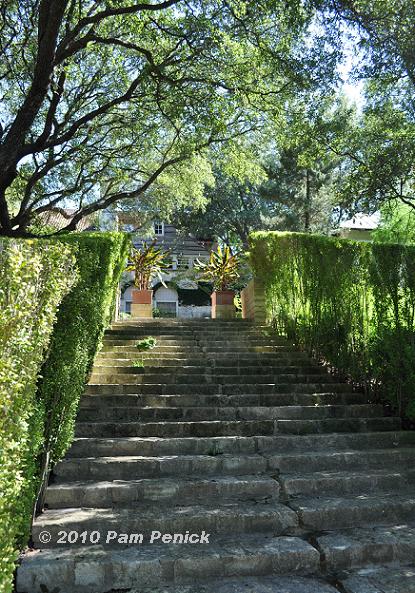 A longer view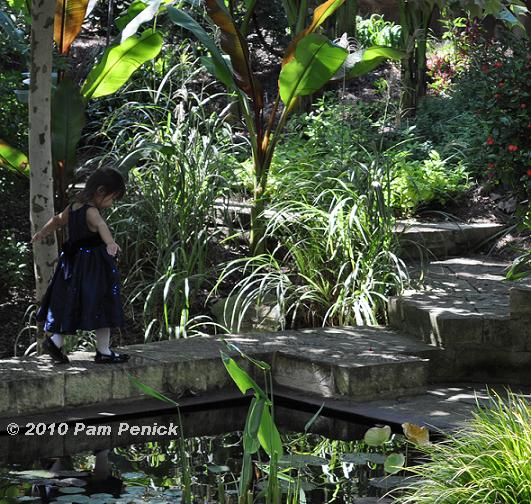 There's that little girl again! She and her family toured the gardens in roughly the same order as I did (I snapped her picture at East Side Patch), and she was always in good spirits. I was impressed by her stamina and her sartorial style.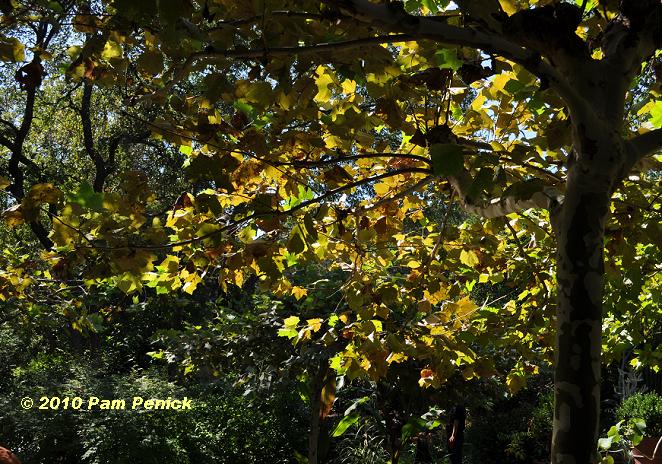 Mexican sycamore canopy at the base of the hill, turning golden yellow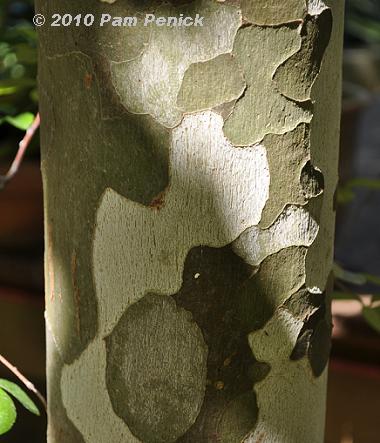 Its bark is fabulously colored too.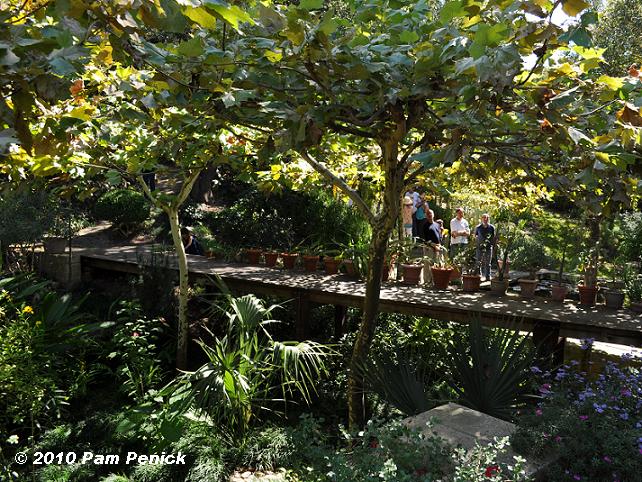 A wider view of the Mexican sycamores. The wooden boardwalk (no handrails make for an adventurous touring experience here and elsewhere throughout the garden) crosses a wet-weather garden; to its right is the pond at the base of the limestone steps with the rill.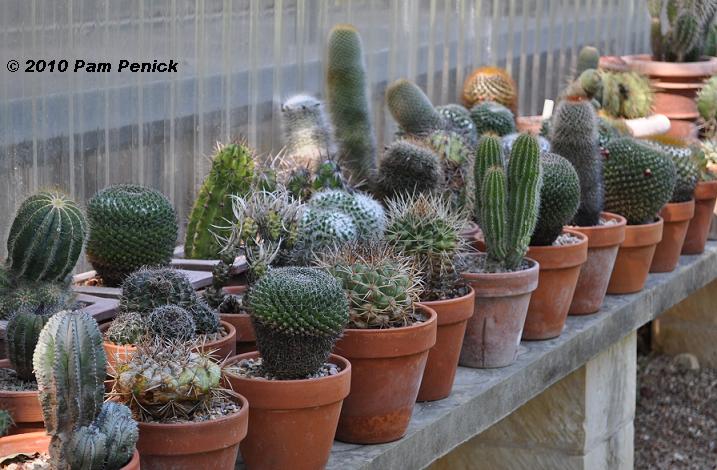 A large greenhouse stood largely empty at this time of year, but a limestone shelf of cactus outside shows what plant collectors these guys are.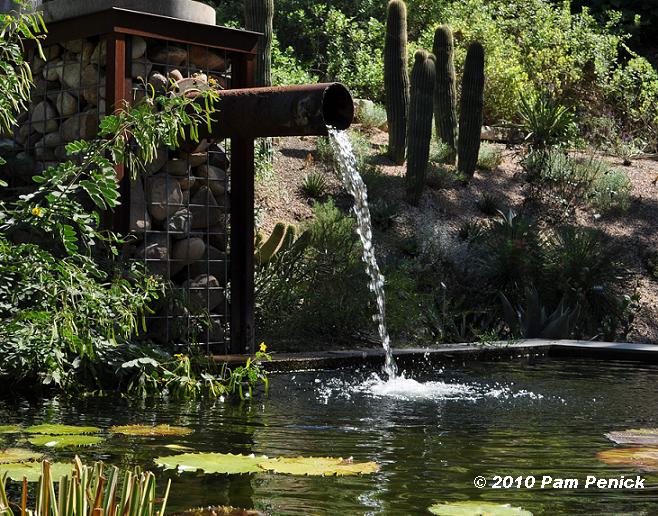 In the newest section of their garden, a rock-filled gabion wall supports a steel pipe that sends water splashing into a rectangular pond.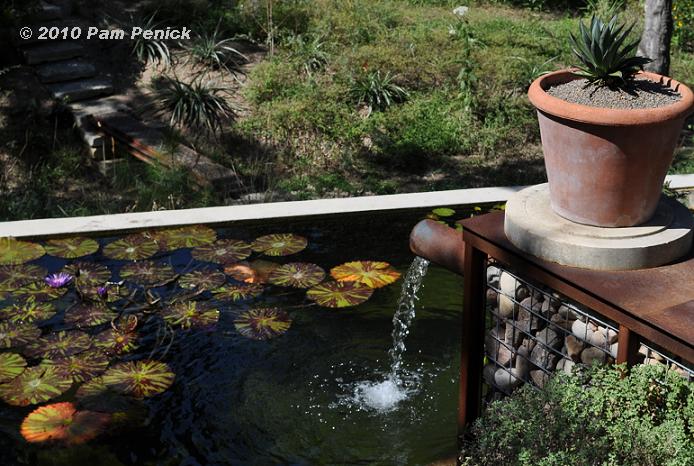 From above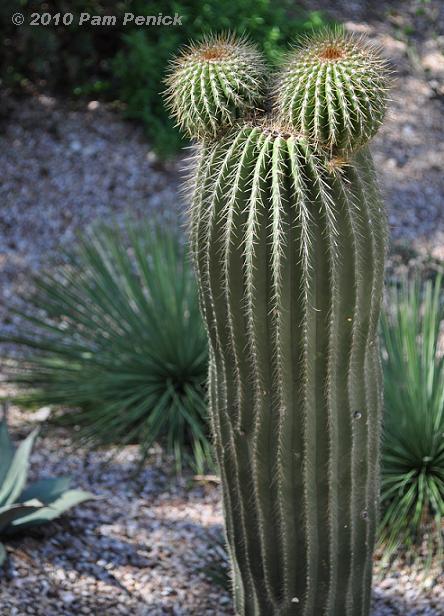 A gravel garden is planted nearby, with columnar cacti, sotols, and agave. Doesn't this one look googly-eyed?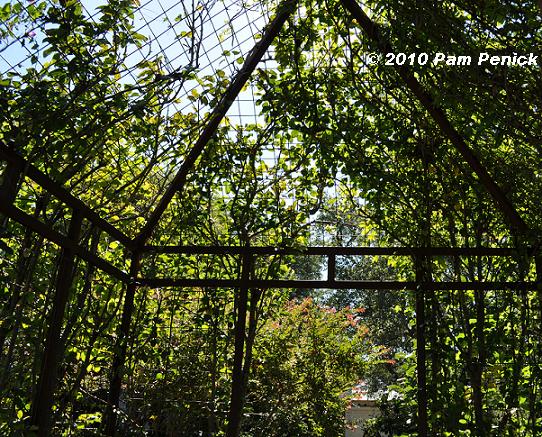 Near the house, a vine-covered arbor is illuminated by the afternoon sun.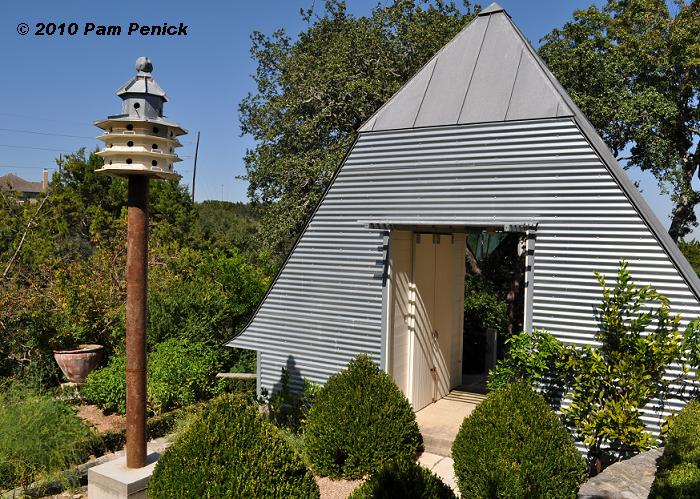 A pyramidal, galvanized-metal shed, with boxwoods clipped to match, adds yet another beautiful structure to the garden.
Long-time readers may remember my earlier posts about this magnificent garden:
October 2006 Open Days tour of the David-Peese garden
October 2008 Open Days tour of the David-Peese garden (scroll down; it's the third garden in that post).
I also visited, but did not take photographs, during the first Garden Bloggers Spring Fling in April 2008, when James and Gary generously gave our group a personal tour. You'll find many attendees' posts about the garden listed there.
For a look back at the other gardens on this year's Open Days tour, click here for a link to the Jones garden. You'll find links to the other gardens I toured at the end of each post.
All material © 2006-2010 by Pam Penick for Digging. Unauthorized reproduction prohibited.
posted in
Agaves
,
Birds
,
Bulbs/Rhizomes
,
Cactus
,
Chickens
,
Containers
,
Fountains
,
Garden tours 2010
,
Palms/Cycads
,
Paths
,
Ponds
,
Rills
,
Sheds
,
Succulents
,
Trees
,
Trellis
,
Vines
,
Water features
,
Xeric plants
,
Yuccas