October 21st, 2010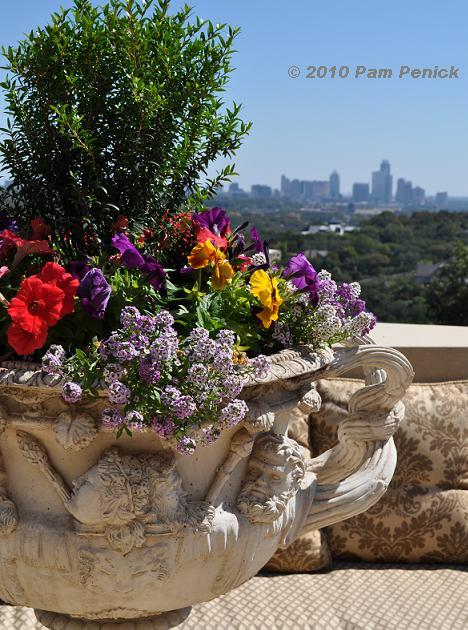 Continuing my westward route across Austin on Saturday's Open Days tour, I headed to the Westlake garden at the Jones residence multimillion-dollar, 11,000 square foot mansion (as per Trulia). This is the view from their elevated front terrace. What? Those buildings? Downtown Austin, of course.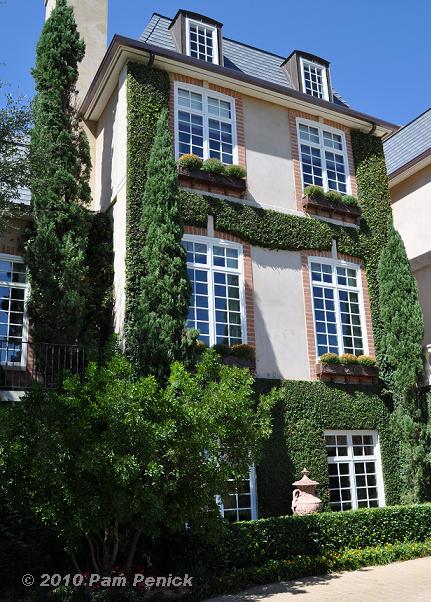 I was welcomed at the gate by designer Scott Thurmon of Yardworks. He maintains this acre-and-a-half showplace. To view Scott's recent appearance on Central Texas Gardener to talk about this garden, click here.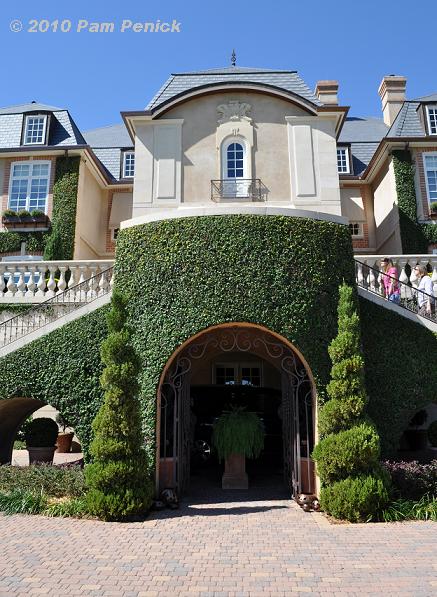 Elegant stairs on either side of the porte-cochère lead to a terrace with a view of downtown (top picture).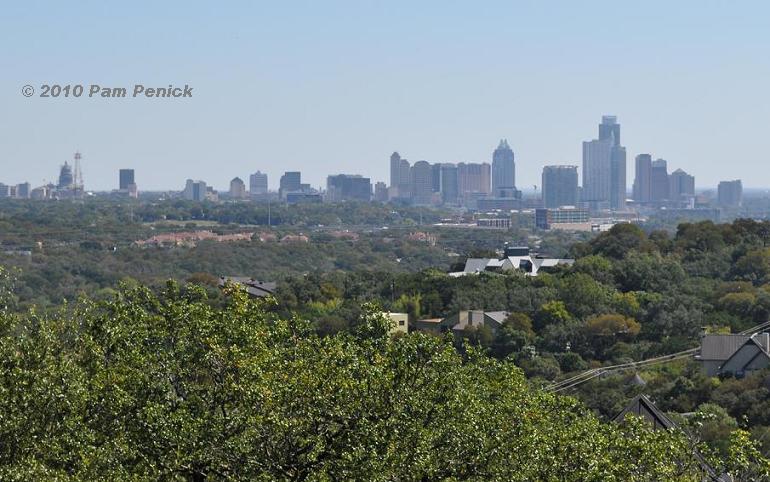 Another look at that million-dollar view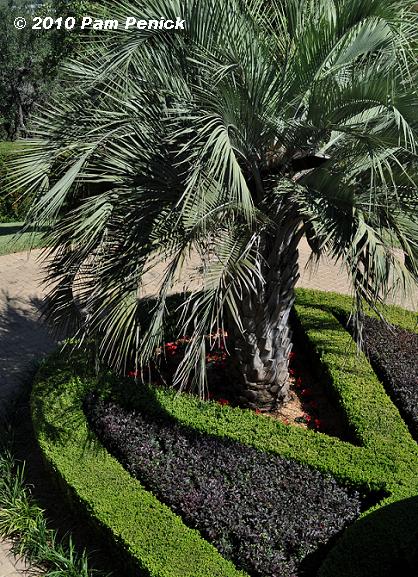 Descending the stairs, you get a good view of a striking boxwood and loropetalum parterre enclosing a palm.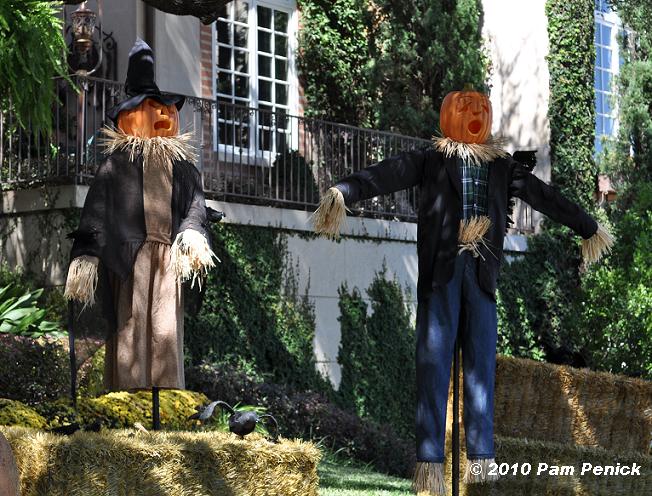 A fun Halloween display was all set to spook trick-or-treaters.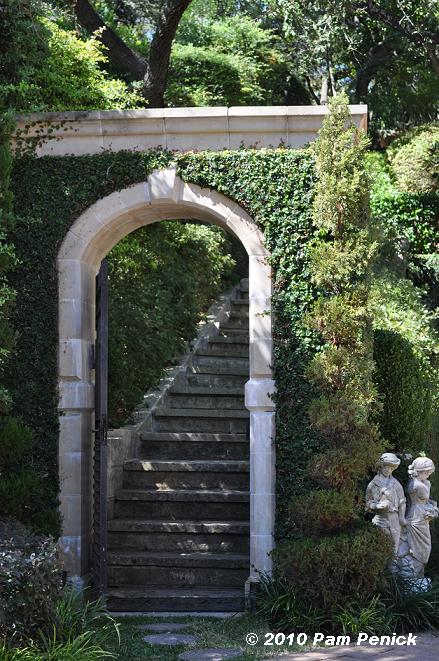 Downtown views are all very nice, but they don't make a memorable garden. Details like this classical hidden-garden staircase do. It calls out to be explored.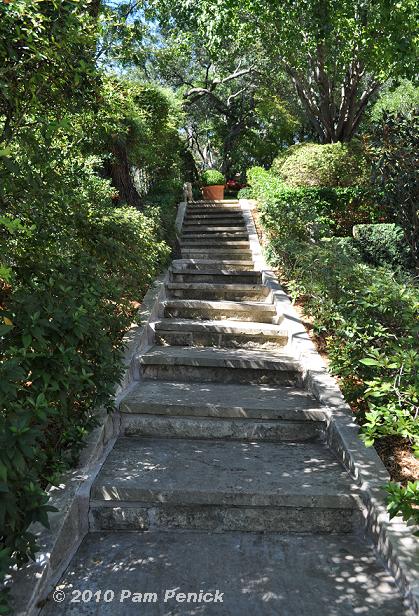 You ascend past evergreen shrubs, which create a restful mood and reduce the need for maintenance.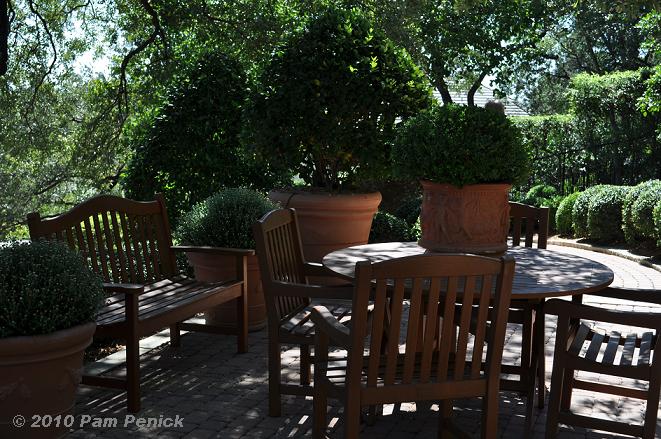 At the top, this shady seating area overlooks the back of the house. I didn't get pictures, but a children's play area is nearby, including a playhouse, swingset, putting green, and fairy garden.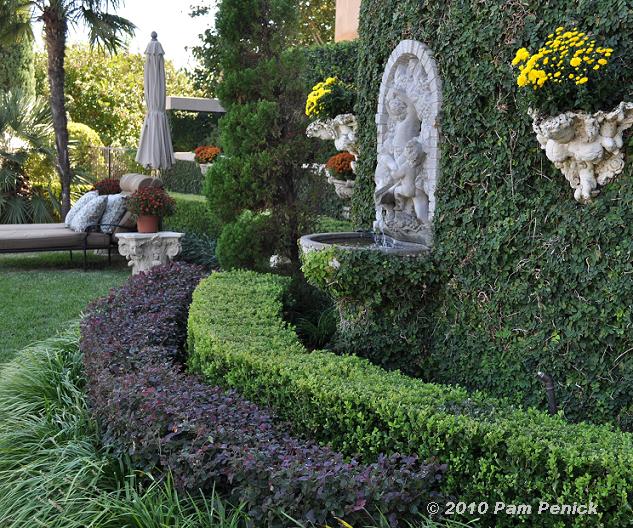 As you traverse the hill behind the house, you are treated to views of Lake Austin. In fact, a swimming pool built along the side of the house looks over Lake Austin on one side and downtown Austin on the other. (See Vert's Open Days post for pictures.) Impressive, but I find I am drawn to enclosures, not open space, so I spent more time admiring the fig-ivy-covered walls and numerous wall fountains.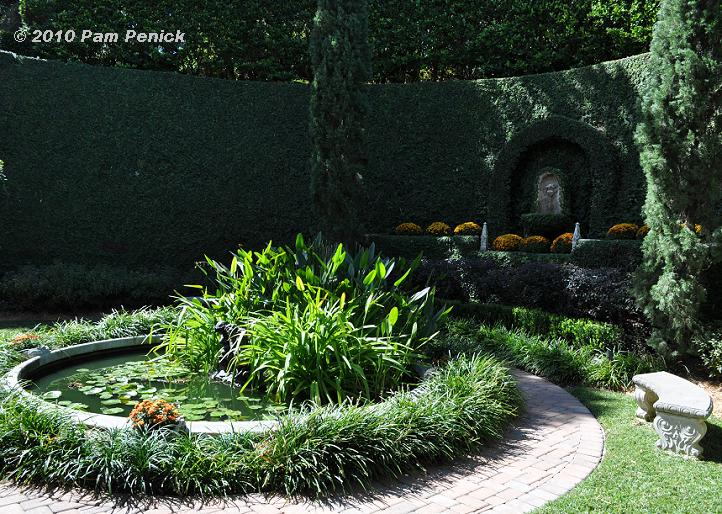 Here's my favorite space in the garden: a curving wall of fig ivy, trained up a structural retaining wall (Scott talks about it in the video I linked to), with an antique French wall fountain and a formal fish pond in the center of the space. What a beautiful, serene space.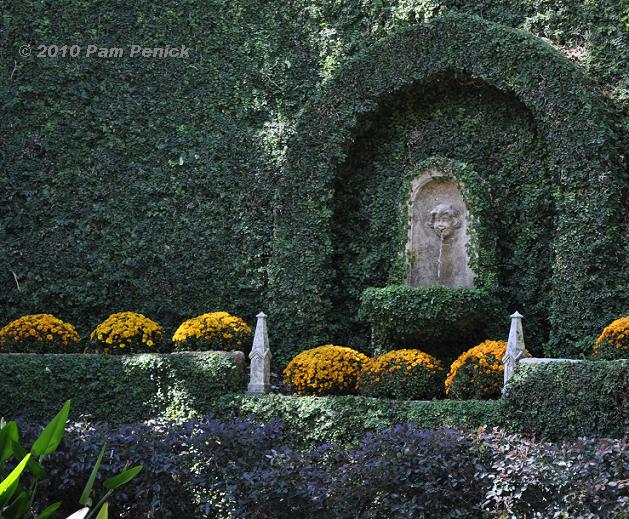 A detail of the wall fountain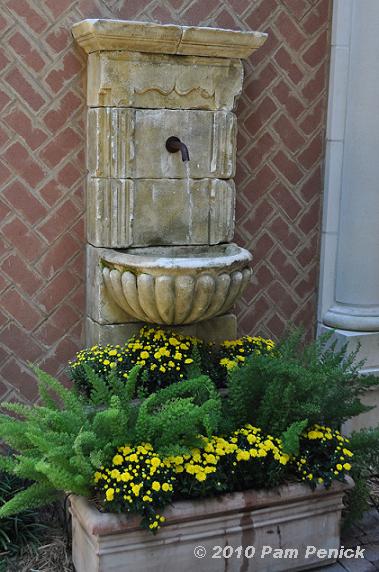 Another antique French fountain anchors a wall near the doors to a conservatory.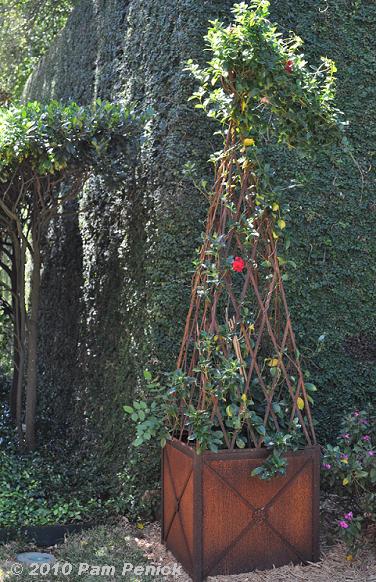 A narrow passage leads from the sheltered fish pond garden, past this tuteur, to the parking court.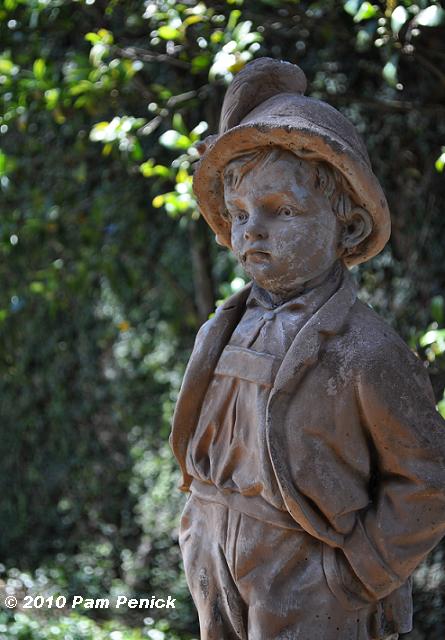 A statue of a dapper little boy watches you pass.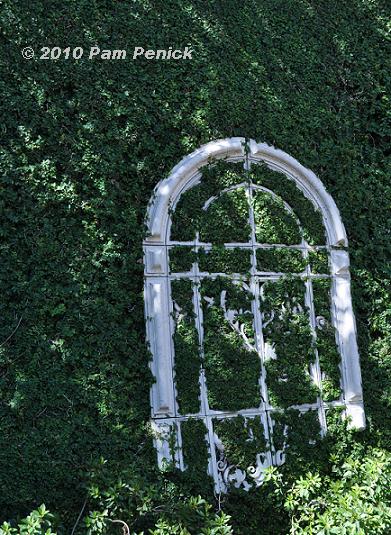 Leaning against an ivy-covered retaining wall by the parking court, the white stone frame of an old door or window peeks through the fig ivy, imparting a feeling of age to the garden.
Tune in tomorrow for the final garden I visited, the splendid David-Peese garden. Click here for a look back at Deborah Hornickel's formal, intimate garden.
All material © 2006-2010 by Pam Penick for Digging. Unauthorized reproduction prohibited.
posted in
Containers
,
Decor
,
Doors
,
Fountains
,
Garden art
,
Garden tours 2010
,
Palms/Cycads
,
Paths
,
Ponds
,
Sculpture
,
Seating
,
Views
,
Vines
,
Walls
,
Water features