September 23rd, 2010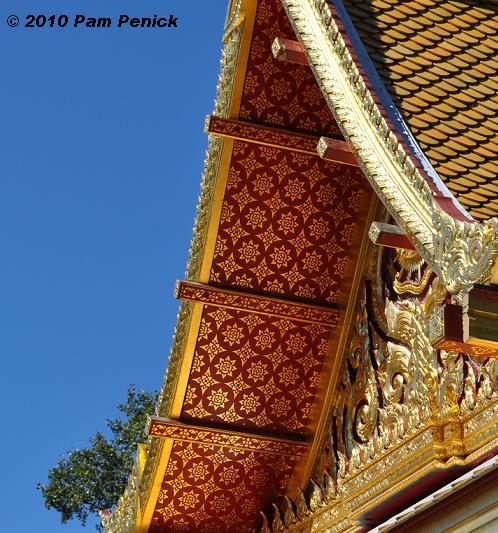 While my husband rested up for his big race in Madison, Wisconsin, two weekends ago, I stole a few hours with my friend and local guide Linda Brazill of Each Little World. Our first stop was Olbrich Botanical Gardens. Knowing I was short on time, she attempted to direct me straight to the rear of the 16-acre garden, past a potager-style herb garden, a xeric perennial garden, sweeps of ornamental grasses surrounding an oval lawn, a pond garden, and more delights at every turn. "I want to show you something you can't see at any other garden," she urged. But my feet dragged and my camera shutter clicked as Linda tried to hurry me through the beautiful gardens.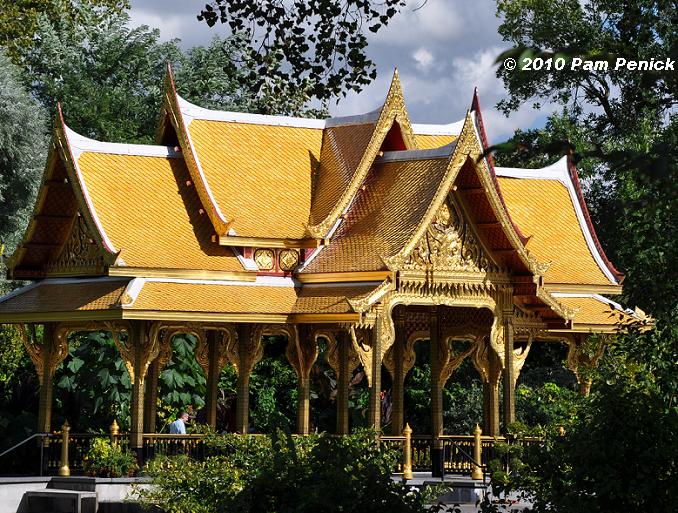 And then the view opened and I understood why. A gleaming, golden Thai pavilion shimmered like a mirage in a sunny garden across Starkweather Creek. Linda explained that the sala was given as a gift to the University of Wisconsin from Thai alumni. "UW-Madison has one of the largest Thai student populations of any U.S. college or university," according to the garden's website. "Olbrich was chosen as the site for the pavilion because of its garden setting and its proximity to water. Water is important to Thailand because of its implications for good health and prosperity." Lucky Olbrich to have such a jewel in its garden.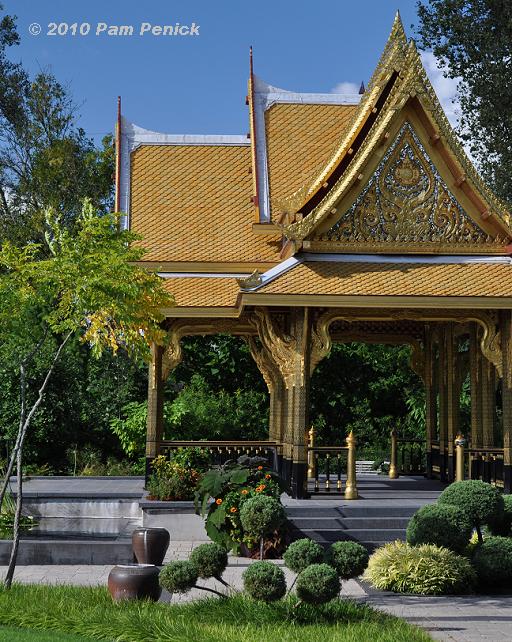 One of only 4 authentic Thai salas located outside of Thailand (you'd have to go to Germany, Norway, or Hawaii to see another), the pavilion beckons along a long approach—across an arched bridge over the creek and through a jungly garden composed largely of hardy plants. Signs explain that the tropical effect is achieved in zone 5 by selecting hardy trees and shrubs with large leaves, planting lots of vines, using hardy bamboos and ornamental grasses, planting brightly colored annuals, and using potted plants that must be stored indoors in winter.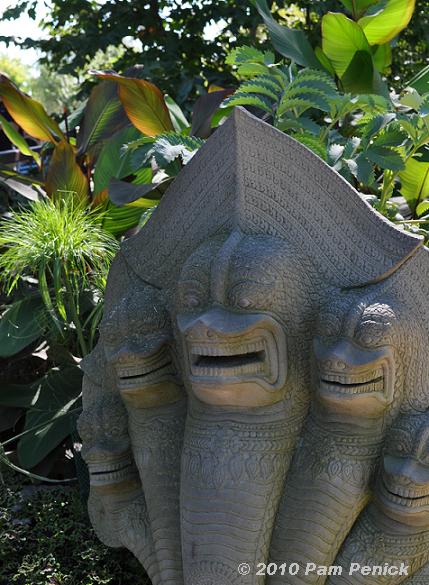 A serpent statue enhances the feeling of being a world away.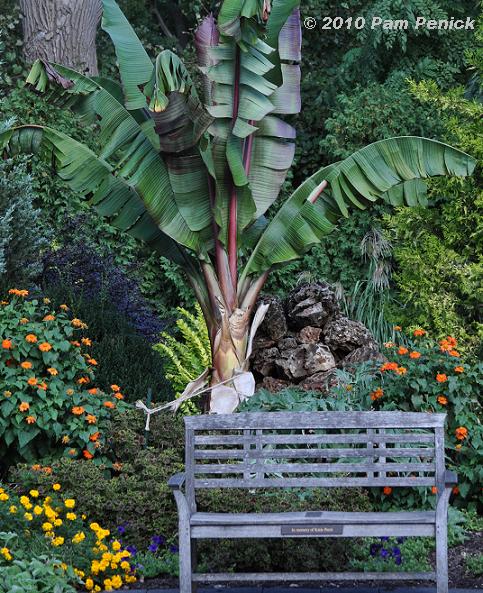 A banana tree and hot-colored blooms enliven a sitting area.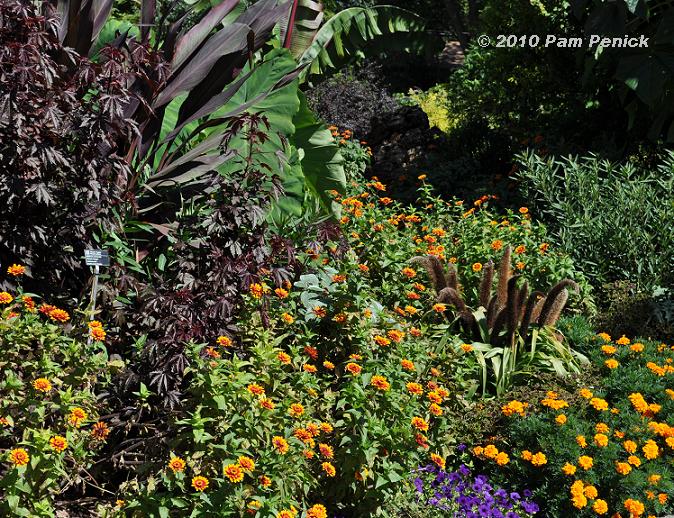 More of the tropical-style garden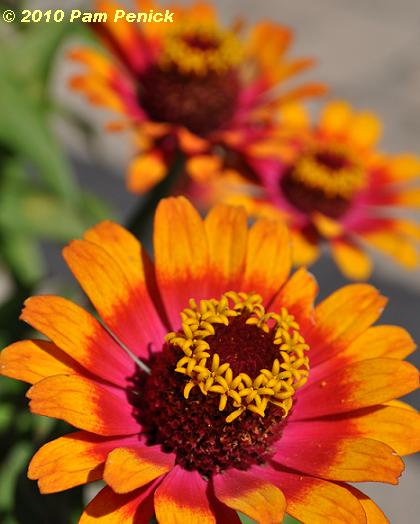 Zinnia elegans, not Gaillardia (Thanks for the correction, Joseph.)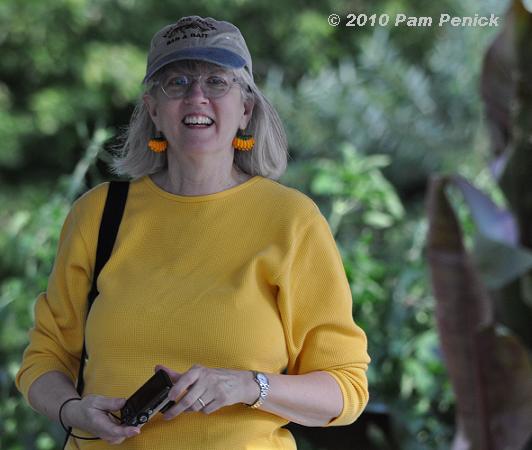 Linda fits right in with her bright-yellow sweater and Carmen Miranda-style earrings.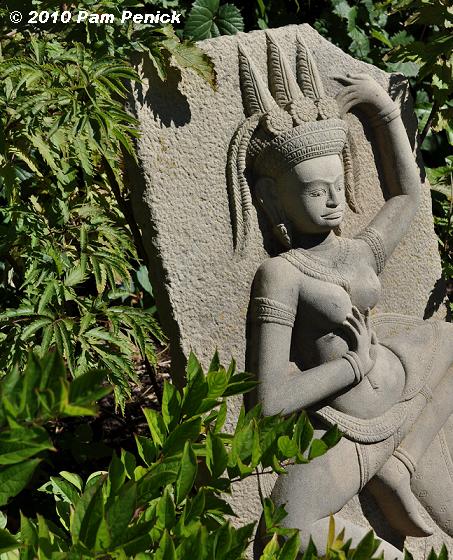 Like part of a ruin overtaken by jungle, this piece lay crookedly amid the foliage.
What a stunning building and complementary garden to discover in the midst of a midwestern botanical garden. Olbrich is full of surprises and creative design.
For more, see yesterday's post about tropicals at Olbrich. On Saturday I'll post some intimate views from Olbrich's various gardens.
All material © 2006-2010 by Pam Penick for Digging. Unauthorized reproduction prohibited.