September 7th, 2010

Sea holly, or eryngo (Eryngium leavenworthii)
I tried watching an instructional DVD about using my new camera on Sunday but fell asleep halfway through. When I awoke I decided a real-life test drive should be the first step, at least to try out the semi-automatic settings. So I headed to my favorite strolling garden in Austin, the Lady Bird Johnson Wildflower Center, to see what the new toy could do. Or rather, what I could do with it. Suffice to say, not much at this point—I mean, not much that I couldn't already do with my old point-and-shoot. I aspire to learn the manual settings eventually. Meanwhile, the semi-automatic settings appear to work quite nicely.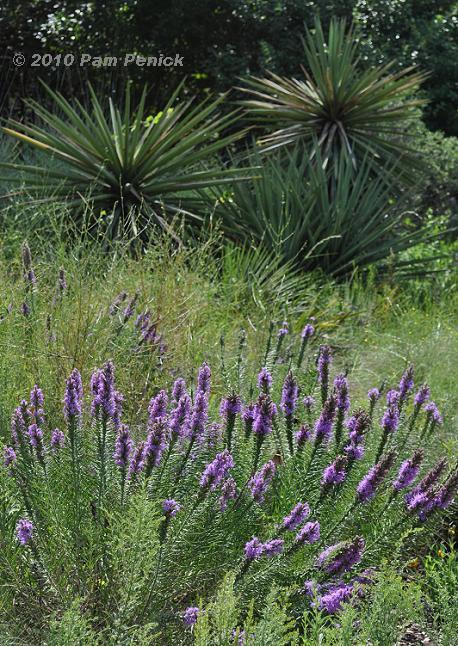 Liatris and yucca
My old point-and-shoot, which I've been quite happy with for 3 years, is a Canon PowerShot S3 IS. But recently I decided to make the leap to an SLR. My new camera is a Nikon D5000, which I chose based on personal recommendations, online reviews, and handy extras like an articulating LCD screen.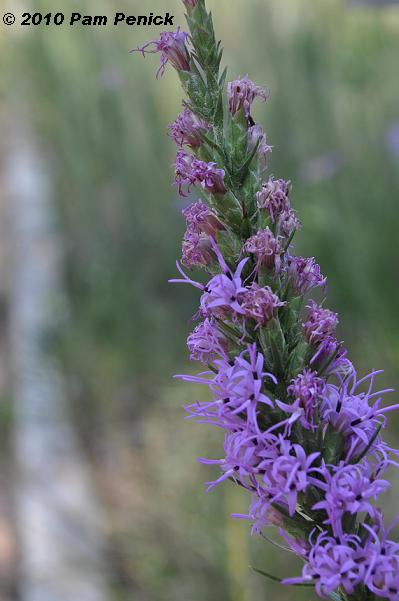 Gayfeather (Liatris mucronata)
First impressions: This camera is significantly heavier than my P&S. I find it a little harder to use for macros because of the weight, but I expect to adjust for that in time. It does a much better job with reds than my old camera, which had difficulty rendering them in sharp detail without oversaturating the image with color. And in an indoor test run, it did a fantastic job with low-light interiors. As for the garden pics, I'm pleased with its performance and know that I can do more as I learn the ins and outs of this camera.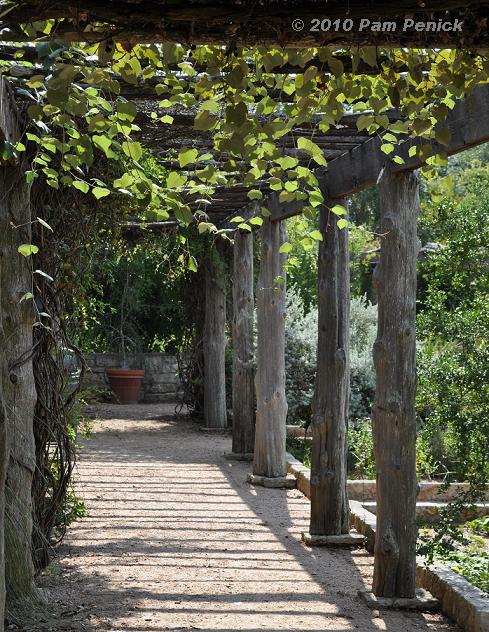 Grape arbor
Now I'll shut up and let you enjoy a warm, late-summer afternoon stroll at the Wildflower Center. What a contrast with today's steady rain and cooler temperatures, which seem much more fall-like. Remember that all the plants at the Wildflower Center are native to Texas (mostly central Texas), and the gardens are a great source of inspiration.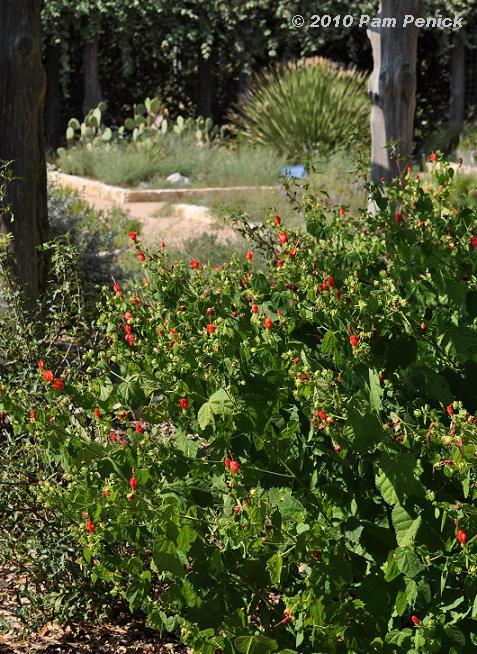 Turk's cap (Malvaviscus arboreus var. drummondii)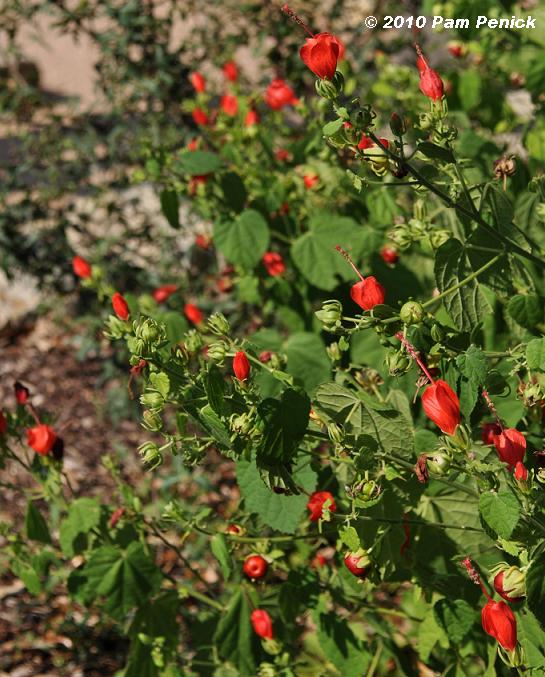 Turk's cap is a magnet for hummingbirds.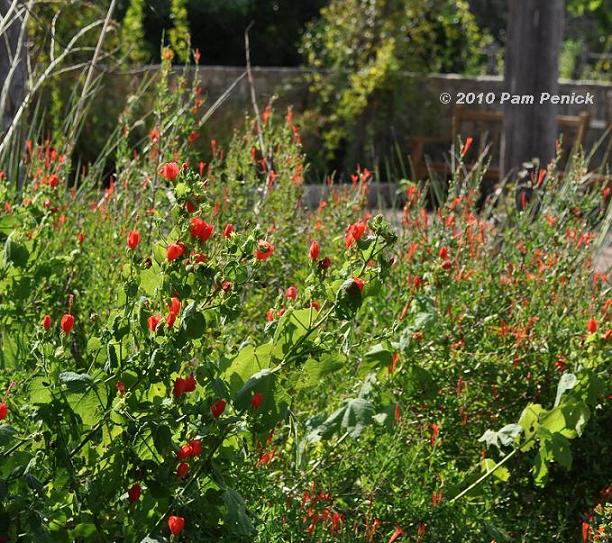 Turk's cap and flame acanthus (Anisacanthus quadrifidus var. wrightii), a hummer's fantasy combo.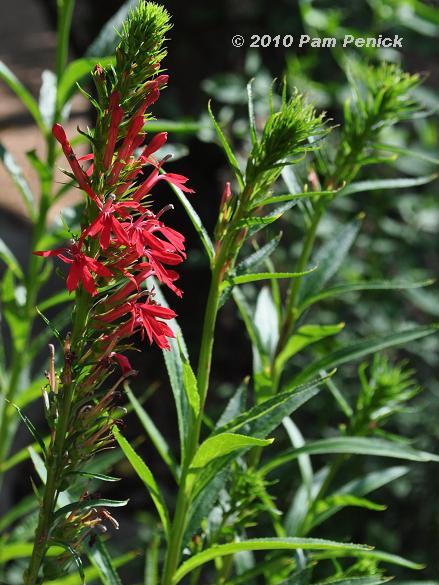 Cardinal flower (Lobelia cardinalis)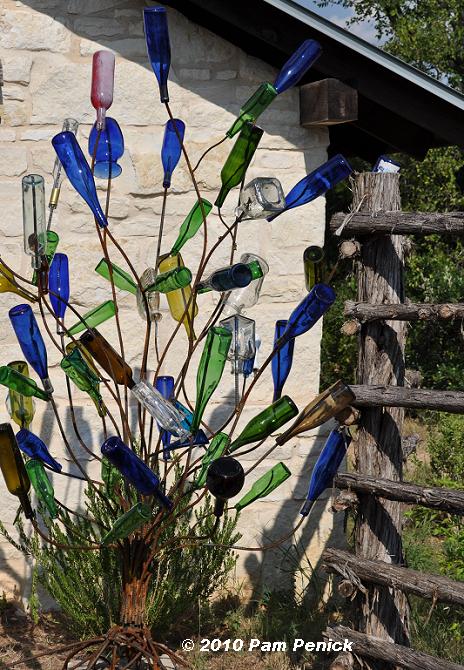 Bottle tree, part of a folk art exhibit at the Wildflower Center now through December 5.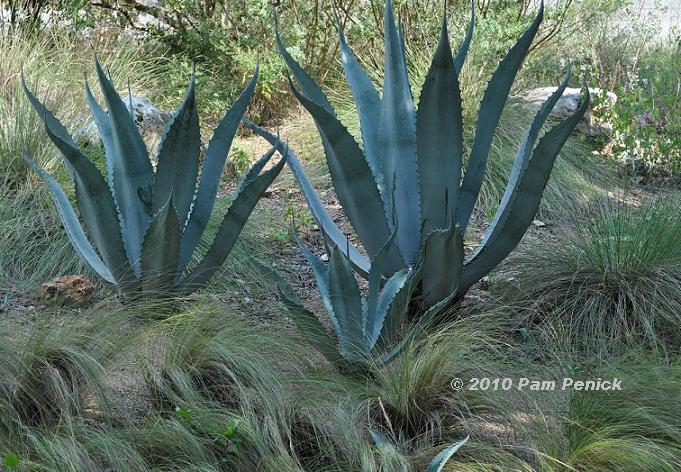 American agaves (A. americana) and Mexican feathergrass (Nassella tenuissima) in front. That's probably Gulf Coast muhly (Muhlenbergia capillaris) in back.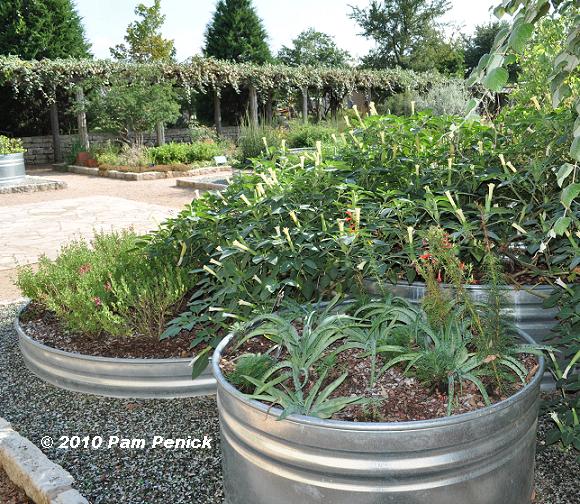 An enormous datura (Datura wrightii) planted in a stock tank had sprawled to about 9 feet, with dozens of creamy white blossoms tightly furled and waiting for dusk to open.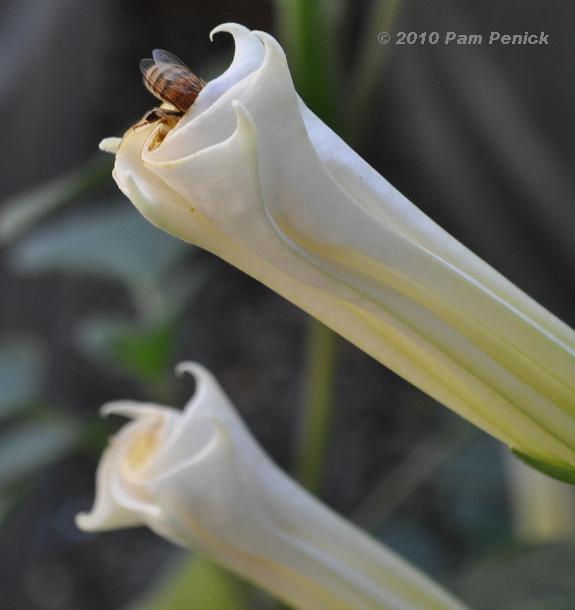 The honeybees, knowing they'd be asleep by then, just couldn't wait. They were frenzied to get inside the blossoms, and pushed and pulled at each other to start spelunking for pollen.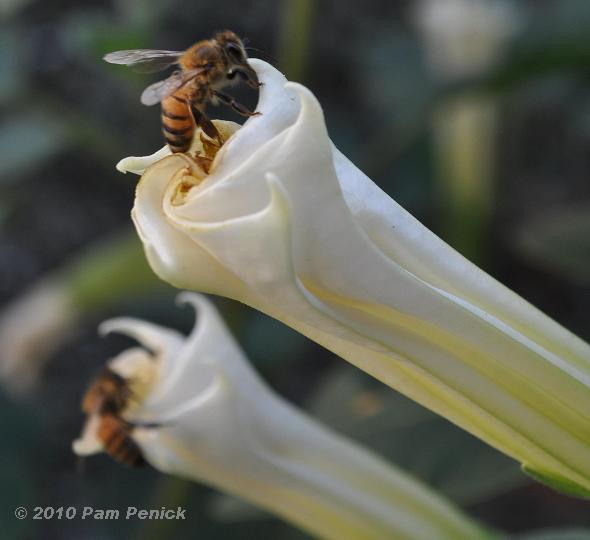 Must be good stuff!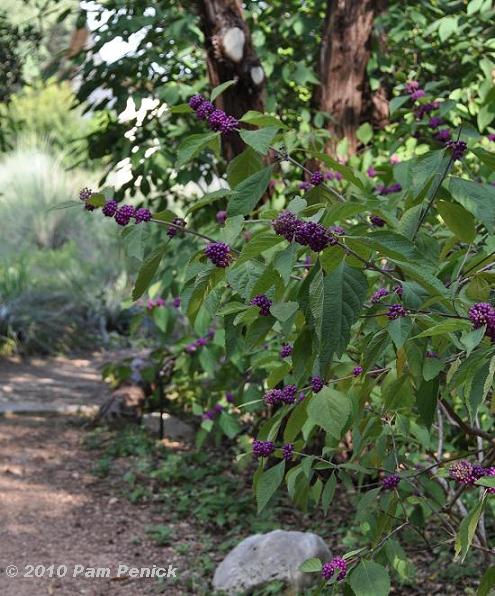 American beautyberry (Callicarpa americana), one of my favorite fall shrubs, was in full berry along every shady path.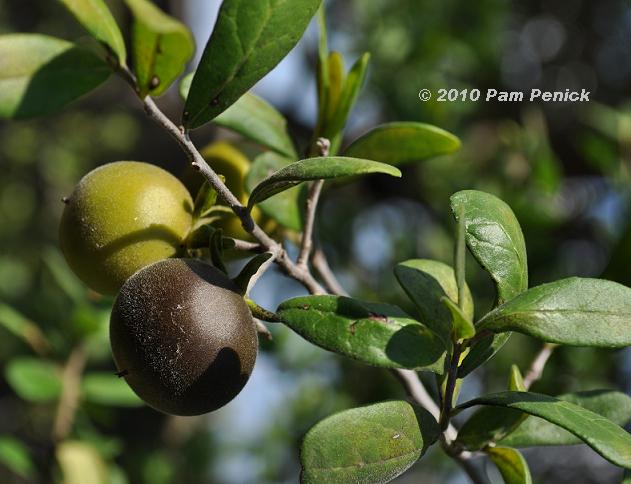 And Texas persimmon (Diospyros texana) was fruiting.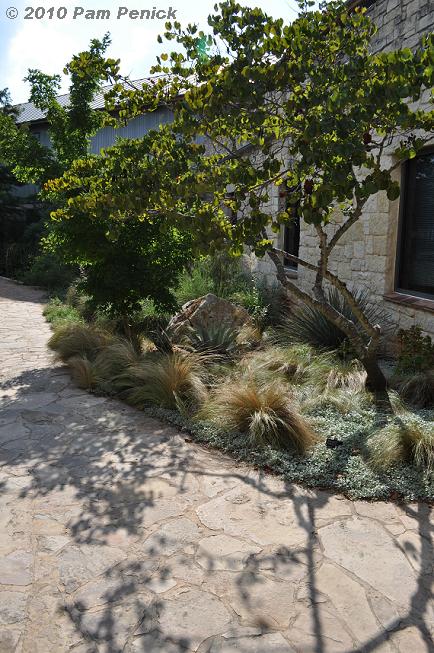 I love the play of sun and shadow here: Texas redbud (Cercis canadensis var. texensis), Mexican feathergrass (Nassella tenuissima), and silver ponyfoot (Dichondra argentea).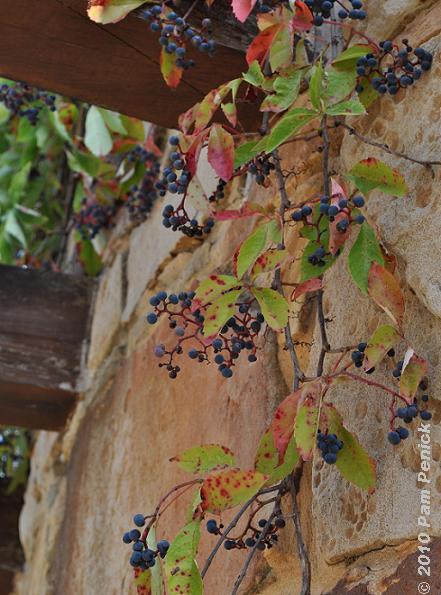 Virginia creeper (Parthenocissus quinquefolia) adorns the wall of the cistern-tower.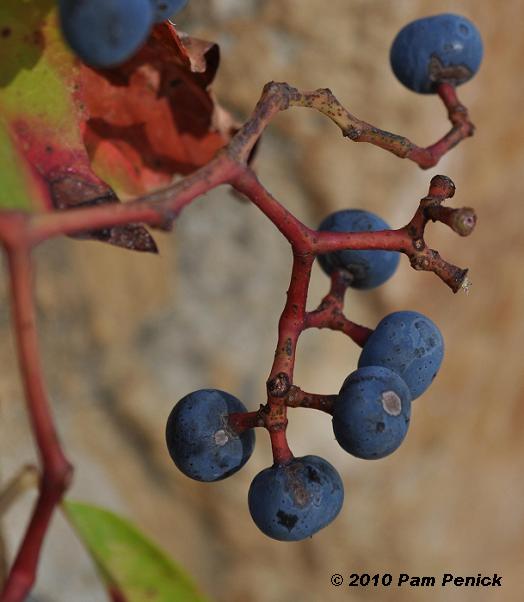 Its blue berries and red stems make a pretty combination.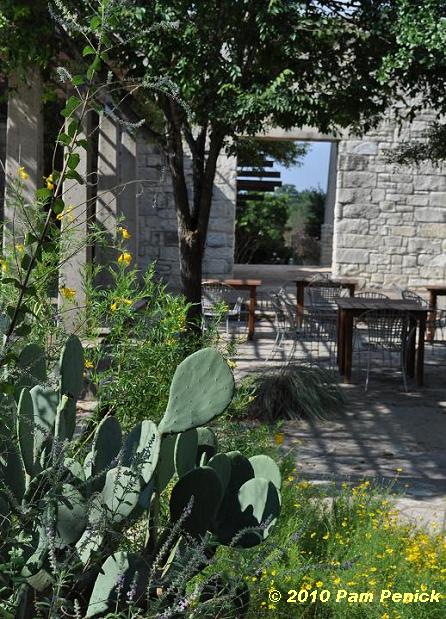 The outdoor dining area in the main courtyard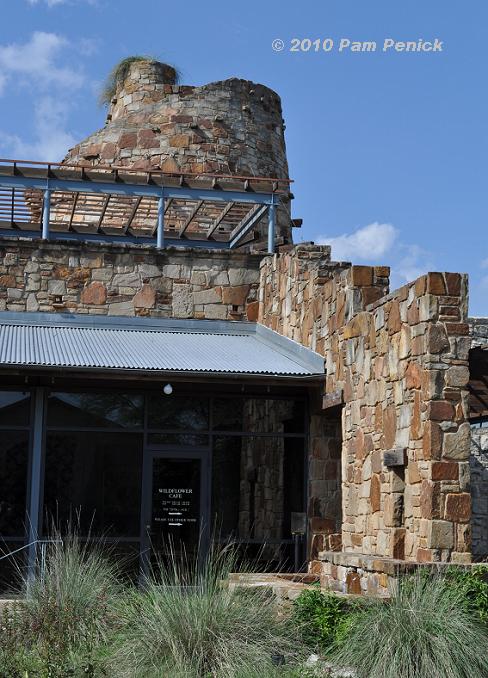 The cistern-tower is the landmark building at the Wildflower Center. A stone tunnel leads you inside to a spiraling stair. Halfway up you can look down through a grate at the water collected inside or up through a grate to the sky. From here a narrow stair continues on the outside of the tower up to an observation platform at top.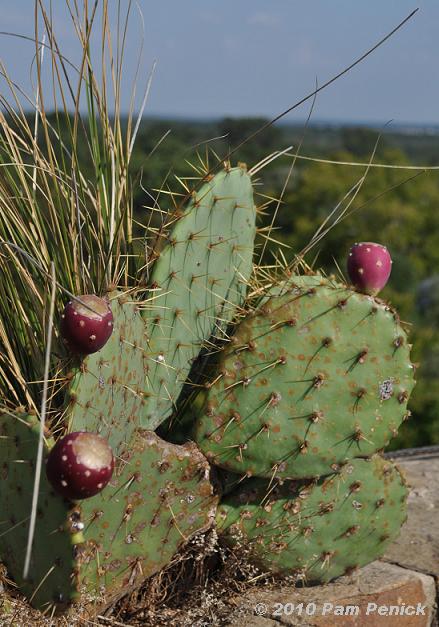 A handful of very xeric plants, like prickly pear (Opuntia), grow in a wall planter at the top of the tower.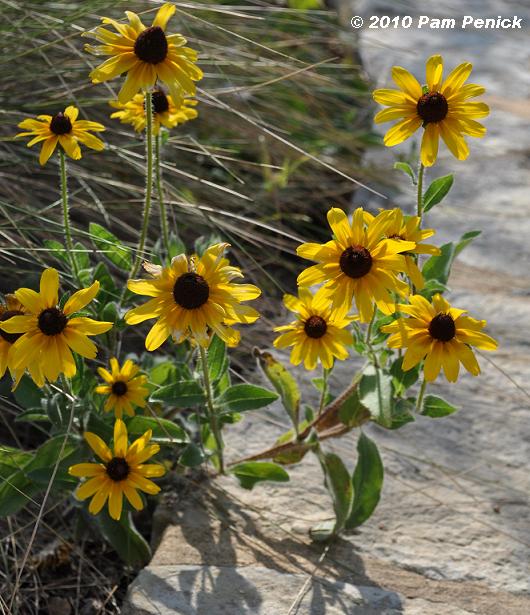 Back down to earth, a perky sunflower (I didn't get an ID) waves goodbye to you and to summer.
All material © 2006-2010 by Pam Penick for Digging. Unauthorized reproduction prohibited.
posted in
Agaves
,
Arbors
,
Bees
,
Berries
,
Botanic/Public Gardens
,
Bottle tree
,
Cactus
,
Containers
,
Garden art
,
Garden tours 2010
,
Photography
,
Stock tanks
,
Texas natives
,
Vines
,
Wildflowers
,
Xeric plants
,
Yuccas