August 15th, 2008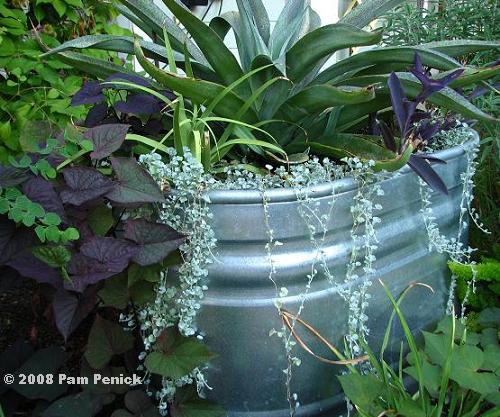 If you're visiting because of my article on the gardening page of the Austin American-Statesman, welcome! Regular readers of Digging know that I'm a huge fan of using stock tanks in the garden, and I can never resist the chance to show a few more pics of the shiny troughs in my own little eden.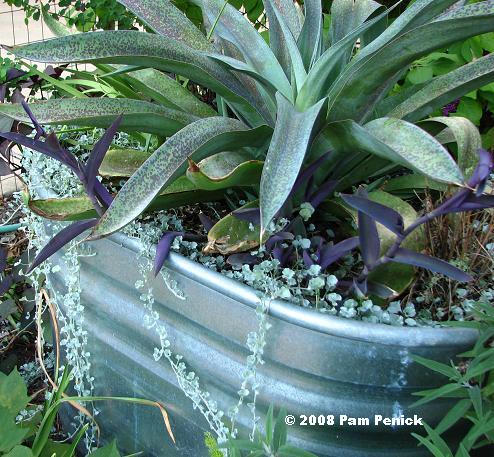 Manfreda 'Macho Mocha' anchors this stock tank planter, accompanied by 'Black Heart' sweet potato vine (Ipomoea batatas 'Black Heart'), squid agave (Agave bracteosa ), silver ponyfoot (Dichondra argentea ), and purple heart (Tradescantia pallida ).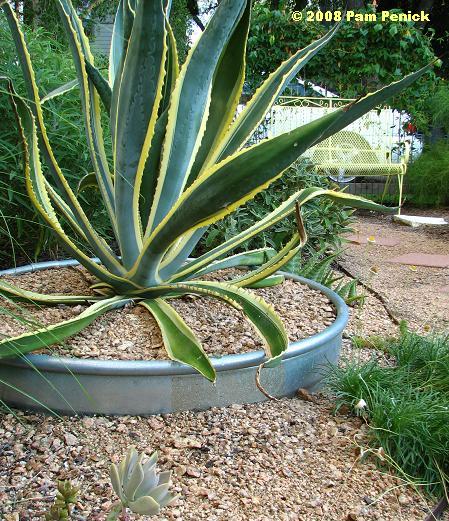 To show off the dramatic, writhing shape of this Agave americana 'Variegata,' I planted it in a partially sunken stock tank. It wasn't as much work as it appears because this particular tank is only about 18 inches deep. Since agaves need excellent drainage, I drilled a lot of holes in the bottom of the tank as well as unscrewing the stopper, spread a layer of gravel in the bottom, and planted it in a fast-draining soil that contains decomposed granite, which is what I mulched with.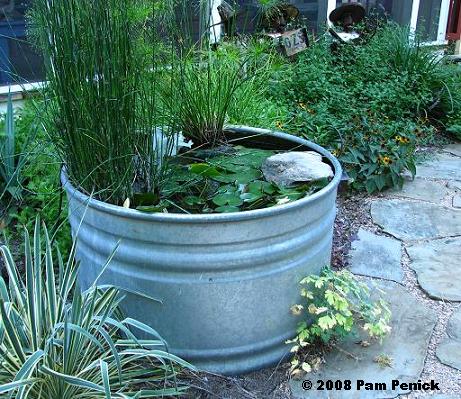 Stock tanks are designed to hold water, so making a container pond is a straightforward matter of filling it up and setting your plants in. A couple of Comet goldfish live in my 100-gallon tank, eating mosquito larvae and adding flashes of orange color. To top it off as it evaporates, I use rainwater collected in a nearby rainbarrel, which contains no fish-harming chlorine.
If you like the look and you live in Austin, you can find stock tanks in a dozen different shapes and depths at Callahan's General Store. Have fun filling up your tank!
All material © 2006-2008 by Pam Penick for Digging. Unauthorized reproduction prohibited.