August 3rd, 2010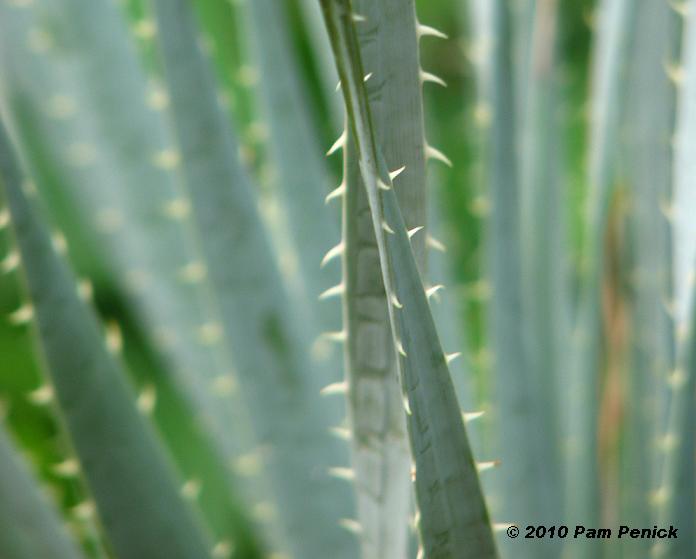 The beautiful, powder-blue leaves of Wheeler's sotol (Dasylirion wheeleri) show that garden color need not be all about flowers, even in summer.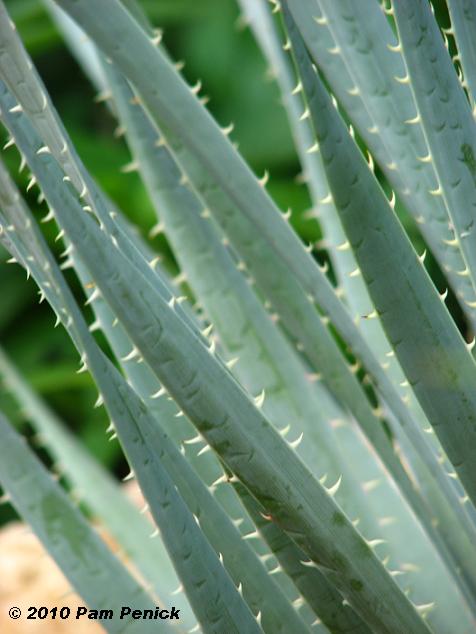 Its soft blue is the visual equivalent of a tall glass of ice water on a hot day.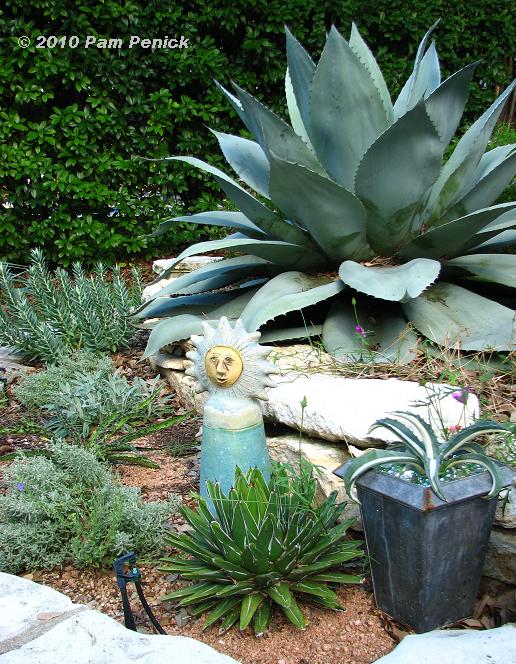 Similarly, the glaucous foliage of these xeric plants adds cool color in a raised bed. The big, blue agave is my beloved 'Whale's Tongue' (Agave ovatifolia). In front, from right to left, are Agave americana mediopicta 'Alba' (in tin pot), Agave victoriae-reginae, purple skullcap (Scutellaria drummondii), silver santolina (Santolina chamaecyparissus), 'Chocolate Chips' manfreda (M. undulata), Gazania, santolina, and gopher plant (Euphorbia rigida). The purple flowers cascading from the right are winecups (Callirhoe involucrata), a few of which are still blooming in summer's heat.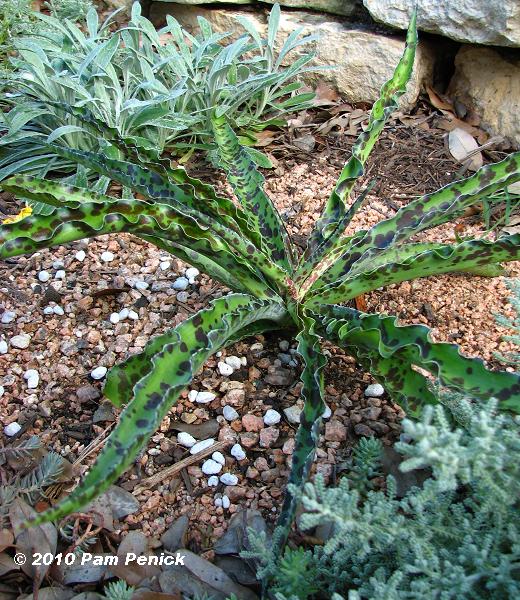 A closer look at the scrumptiously named, wavy-leaved Manfreda undulata 'Chocolate Chips.'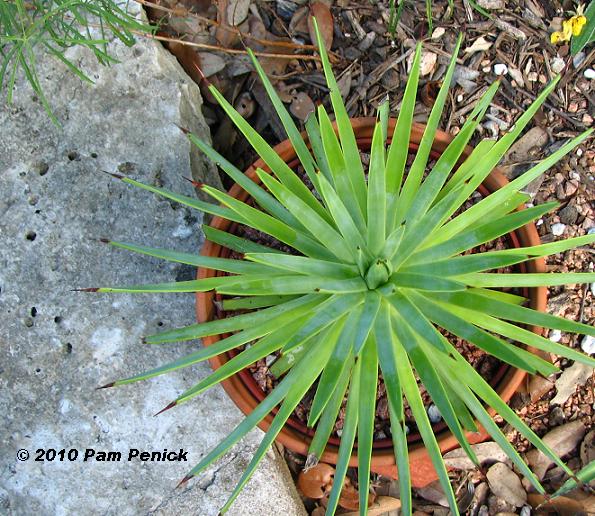 Agave stricta has a nice blue-green/chartreuse color scheme going on.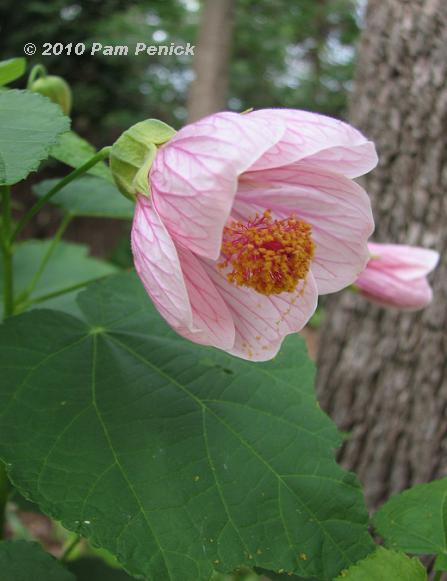 But for those who crave cool summer color that isn't spiky, how about pink abutilon?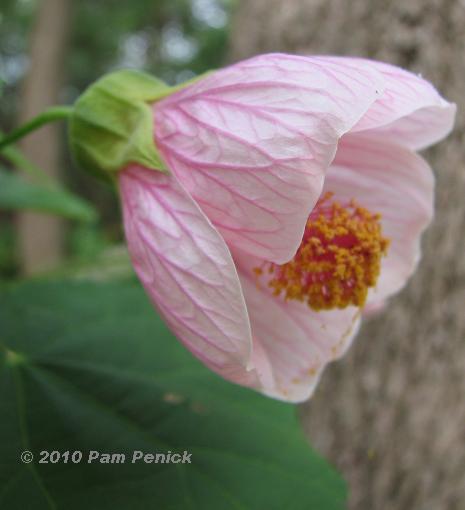 This is its first summer in my garden, planted amid live oaks in dappled shade. It is holding its own in dry shade with a single weekly watering. It also survived last winter's deep freeze—pitifully, mind you, but it did survive.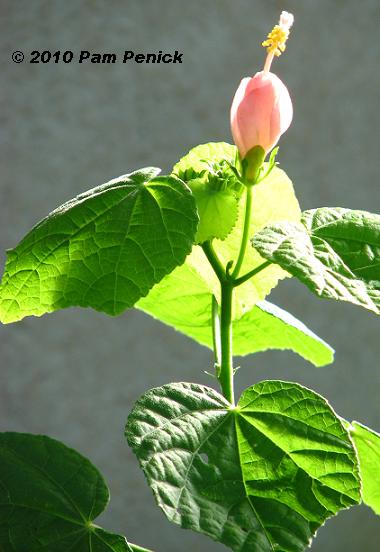 Pam's pink Turk's cap (Malvaviscus 'Pam Puryear') is a soft-hued alternative to our native red Turk's cap. I find it to be not quite as hardy or vigorous as the red variety, but it's still performing well in dry shade with a little morning sun.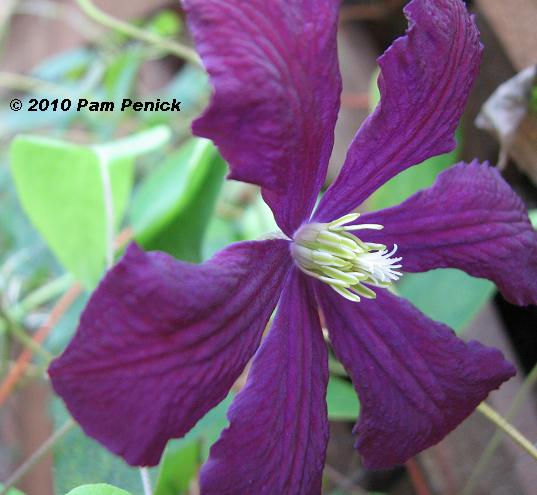 And, surprise! The 'Etoile Violette' clematis has offered up a summer flower. It blooms heavily for a short time in spring, but this is the only flower on it right now. All the more reason to enjoy it.
Stay cool!
All material © 2006-2010 by Pam Penick for Digging. Unauthorized reproduction prohibited.