July 27th, 2010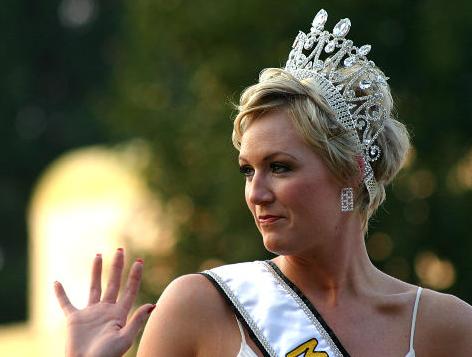 Image courtesy of morgueFile
Do certain gardens remind you of high school, where everyone orbits around the popular girls—Rosa (KnockOut), Stella (D'Oro daylily), and Myrtle (crepe)—simultaneously admiring their peppy beauty and begrudging their general domination? I'm not talking about mean girls. After all, Rosa, Stella, and Myrtle are as nice as can be, undemanding and sunny. But when they are always elected prom queen, cast in every school play, and chosen to lead every club, it can get a little oppressive. Don't let your garden be like high school. Invite some of the less popular kids to join the in-crowd by choosing a few of the following underutilized plants.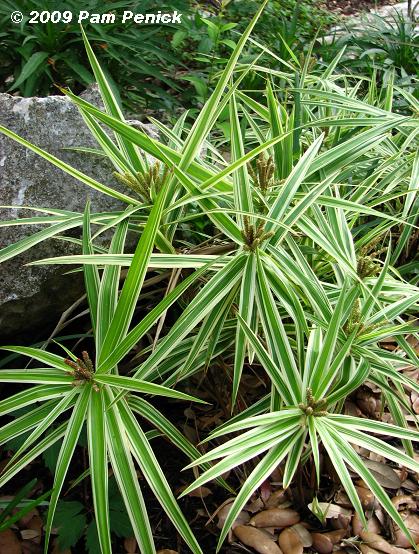 'Sparkler' sedge (Carex phyllocephala 'Sparkler'). Do you have a dark, shady corner? Forget about those prom queen impatiens. Instead brighten up the shade with the cream-and-green evergreen stripes of Sparkler sedge. I find it performs best in bright or dappled shade; it will not be happy with long periods of direct sun, particularly afternoon sun. I expected it to be thirstier when I first planted it, but it has proven fairly drought tolerant once established. More good news: deer ignore it. Last winter's deep freeze turned some of the lower leaves brown, but the plant survived with no protection. The only downside is that it can be difficult to find in nurseries. I've seen it locally at both Barton Springs Nursery and the Great Outdoors but not consistently. Your best bet, Austin gardeners, would be to call one of these nurseries and put in a request now for a spring shipment.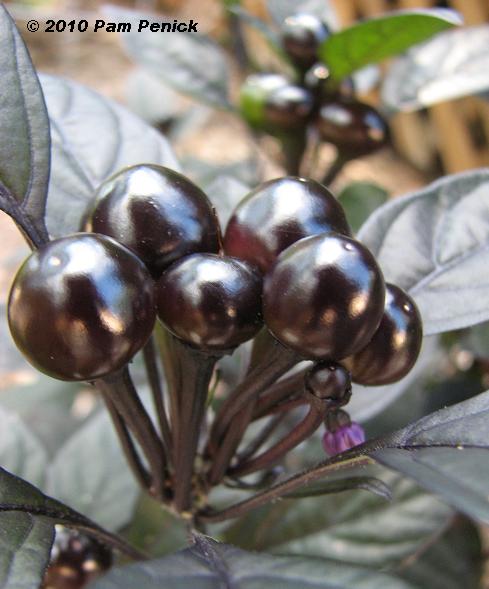 'Black Pearl' ornamental pepper (Capsicum annuum 'Black Pearl'). This goth girl is my new favorite annual. Dressed in dramatic black leaves, she doesn't give a flip about being prom queen. She won't stop traffic with colorful flowers. But she knows how to create drama with dark foliage that contrasts beautifully with the brighter hued leaves and flowers of her garden companions, and she accessorizes with stunning, black, pearl-like peppers that turn red as they ripen.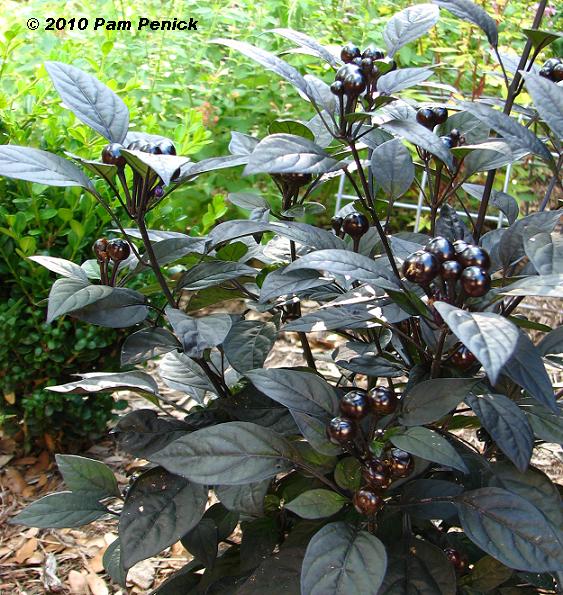 Part sun to full sun increases the blackness of Pearl's leaves; she'll need a little extra water when it's really hot to stave off wilting. You'll find her in early summer at independent nurseries and the big home-improvement stores.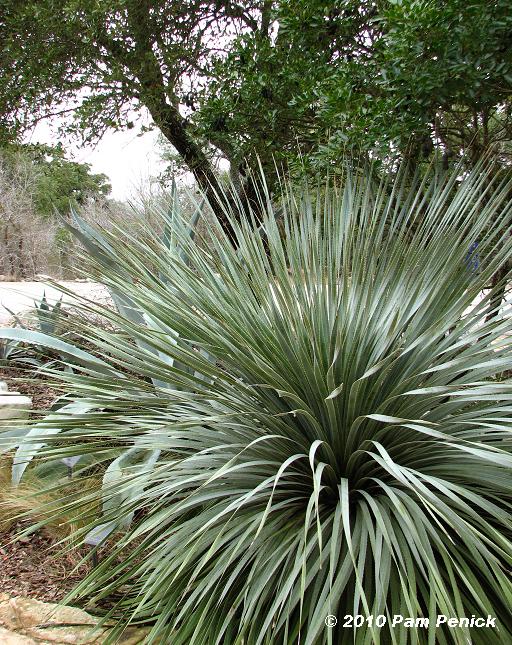 Sotol (Dasylirion). Agaves are deservedly popular here in central Texas, but sotols are the forgotten stepchildren, probably because they are less than impressive in a 1-gallon pot. After a few seasons in the ground, however, sotol grows into a spherical, shimmering focal point, catching the light with hundreds of tiny teeth arrayed on flexible, strappy leaves. Heat, cold, and drought tolerant, it requires only plenty of sunlight and sharp drainage to do its thing. Wheeler's sotol (Dasylirion wheeleri), pictured above, is my favorite because of its blue coloring. Native to west Texas and the desert southwest, it grows well in Austin with good drainage.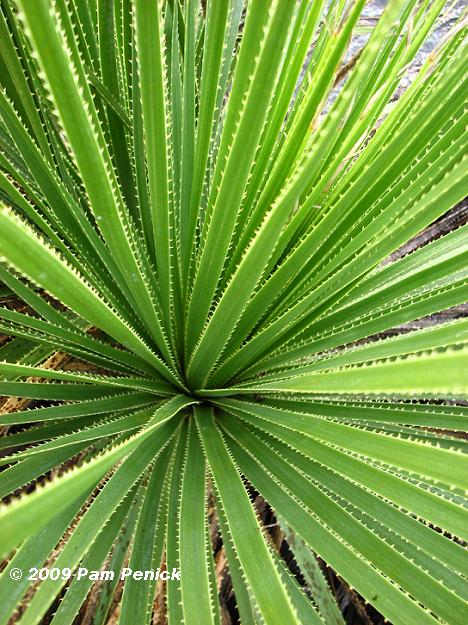 Gorgeous in green, Texas sotol (Dasylirion texanum) is native to central Texas and can be spotted growing wild on rocky escarpments. Both varieties, as well as a few others, are easy to find at independent nurseries like Barton Springs Nursery and the Natural Gardener.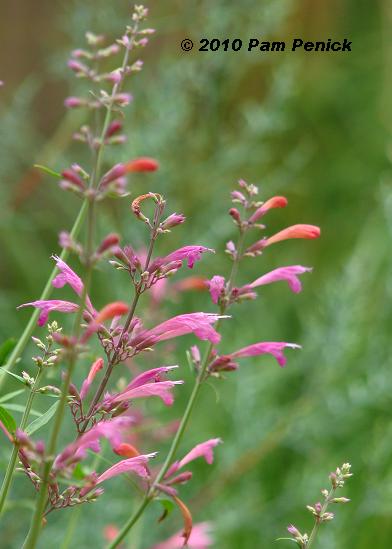 Agastache. I planted a number of agastache in the spring of 2009. Now I wonder how I ever got along without them. These desert-southwest natives need good drainage, lots of sun, and a little elbow room to avoid powdery mildew, but when you find the right spot and give them a couple of seasons to get established, they really put on a show. Agastache has an airy form of tiny leaves on upright stems, just like many of our native xeric plants. It won't look like much in a one-gallon pot. But after a season or two in the ground it takes off and puts on a colorful show from mid-summer through fall with tubular, hummingbird-attracting flowers. Agastache 'Desert Sunrise,' pictured above, is one of the best performers in my garden.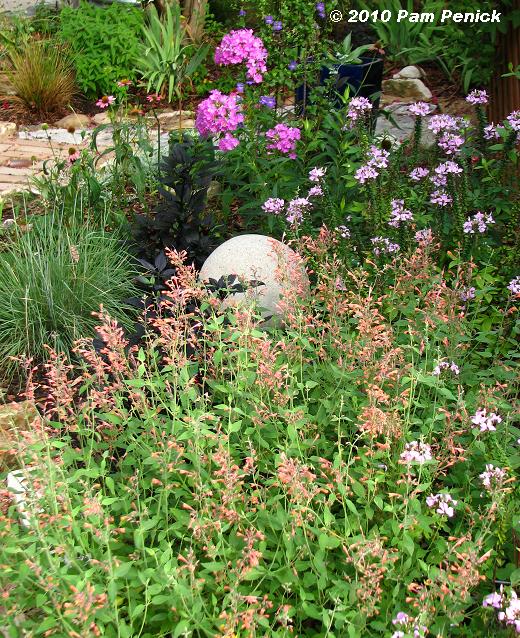 Agastache 'Acapulco Salmon & Pink' is also rocking out in combination with cleome, phlox, and 'Black Pearl' pepper. The common name "licorice mint" gives a clue that agastache's leaves are fragrant, which also means deer don't like it. Check out High Country Gardens online for a good selection. (Full disclosure: Owner David Salman sent me a collection of agastache as the prize for a photo contest back in 2009.)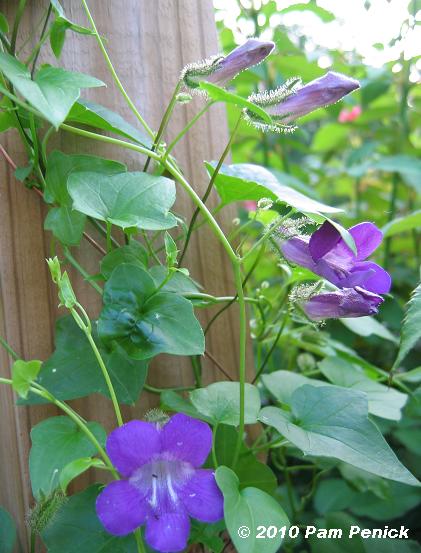 Snapdragon vine (Maurandella antirrhiniflora). If you want a flowering vine that won't overwhelm your arbor, much less your house, that loves heat and sun, try this deciduous, dainty climber with ivy-like leaves and purple, snapdragon-like flowers. It dies back in winter but is hardy to 20 degrees F. I cut mine to the ground after a few hard freezes turn it brown. In spring it quickly clambers back up, to around 8 or 10 feet if given adequate sunlight.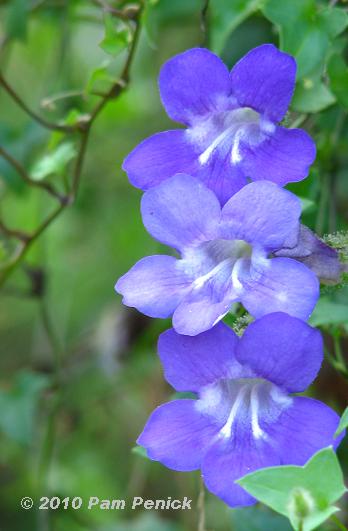 Snapdragon vine climbs by twining, so affix a length of thin wire or jute twine where you want it to go. I've found it for sale at Natural Gardener and Barton Springs Nursery.
So there you have it—five plants that will shake up the high-school pecking order in many an Austin garden. Keep in mind that these plants are suitable for central Texas growing conditions. If you live elsewhere I can't speak to their suitability for your climate, but do check out today's posts from the other participants of Garden Designers Roundtable to see what regional plants they suggest for the topic "Underutilized Plants."
Andrew Keys : Garden Smackdown : Boston, MA
Carolyn Gail Choi : Sweet Home and Garden Chicago : Chicago, IL
Christina Salwitz : Personal Garden Coach : Renton, WA
Debbie Roberts : A Garden of Possibilities : Stamford, CT
Douglas Owens-Pike : Energyscapes : Minneapolis, MN
Genevieve Schmidt : North Coast Gardening : Arcata, CA
Jocelyn Chilvers : The Art Garden : Denver, CO
Lesley Hegarty & Robert Webber : Hegarty Webber Partnership : Bristol, UK
Pam Penick : Digging : Austin, TX
Rebecca Sweet : Gossip In the Garden : Los Altos, CA
Scott Hokunson : Blue Heron Landscapes : Granby, CT
Susan Cohan : Miss Rumphius' Rules : Chatham, NJ
Tara Dillard : Vanishing Threshold : Atlanta, GA
All material © 2006-2010 by Pam Penick for Digging. Unauthorized reproduction prohibited.