July 1st, 2010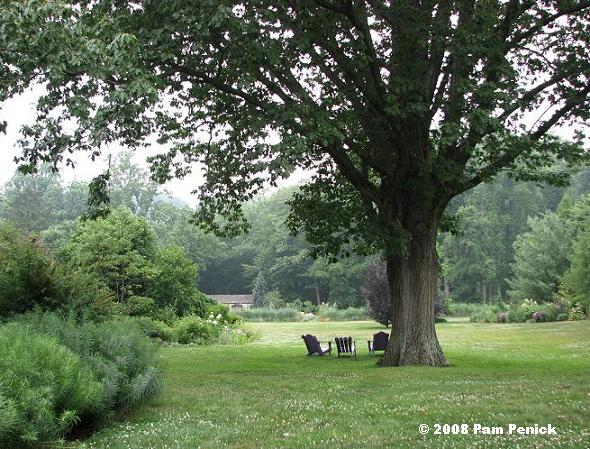 Here's my entry for July's Picture This photo contest sponsored by Gardening Gone Wild. The theme intrigued me: Capturing the Intent of the Gardener. Professional photographer and judge Rich Pomerantz explains that he is looking for images that "interpret what the gardener has created, as opposed to just snapping an image of something, however beautiful it may be, that could exist anywhere."
Exploring Chanticleer Garden on a misty summer afternoon (see the sidebar link for my tour of the gardens), I was arrested by this vignette of three chairs sheltered under a majestic tree and placed to take in the view of sweeping perennial beds and a clover-studded lawn. The gauzy light creates a serene, world-unto-itself feeling. The friendly invitation and intimacy offered by the trio of purple Adirondacks grounds the expansive view.
To me it epitomizes what Chanticleer calls itself: a pleasure garden. It's a garden that wants you to explore, laugh, be inspired, and, yes, simply relax and enjoy the view.
All material © 2006-2010 by Pam Penick for Digging. Unauthorized reproduction prohibited.