June 29th, 2010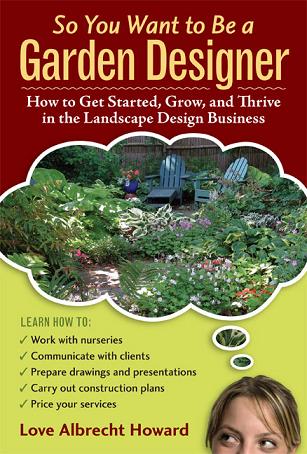 Garden design is often a mid-life-change, follow-your-heart career choice. At least it was for me and for a number of accomplished designers I've come to know. I graduated from college with a degree in English and landed my first job in publishing, as an assistant editor at a start-up rock-and-roll magazine. When that folded, I went back to school to get my master's in English literature and then took an internship at a New Age literary magazine in Chapel Hill, North Carolina, where I eventually worked my way up to assistant editor.
A job transfer for my husband brought us to Austin in 1994, where I found work managing the editorial department of a business-information publisher. My husband and I bought a '70s ranch house, and I experimentally stuck a few new plants in the yard; soon we began a family. My next career choice was stay-at-home mom, and in my spare time I threw myself into gardening, which became a creative outlet for me. A garden, I discovered, requires back-breaking manual labor but simultaneously invites soul-soothing relaxation. It offers an escape from the demands of young children and provides places of delight to explore with them. It engages the body, mind, and heart.
As I became a better gardener, educating myself at every opportunity with books, magazines, design classes, garden visits, and experimentation in my garden, I grew more confident and began to help family, neighbors, my children's schools, and my neighborhood association with garden designs. I began to wonder if anyone would hire me to design for them, and if I could make any money at it. How would I attract clients? Would I know how to make them happy? How much should I charge for my work? Was I really able to make this leap to a new career path?
Around the same time, I started this blog as a way to join the gardening conversations I had followed while reading the earliest local garden blogs (all two of them). Jumping in feet first, I added a link in my sidebar to a rudimentary webpage describing my new design business, and I was astounded when, shortly after, I got my first call from a potential client. Four years and more than 100 clients later, many of them referrals, I marvel at the mid-life career change my love of gardening led me to, and I am grateful to know that it's never too late to try something new and to become good at it.
Having just read So You Want to Be a Garden Designer: How to Get Started, Grow, and Thrive in the Landscape Design Business by Love Albrecht Howard, I wish I'd had this book to help me get started. However, there is plenty of information useful even to those already in the business. Howard, who herself made a mid-life career change from marketing executive to owner of a full-service landscape and garden design business in Massachusetts, knows first-hand the pitfalls and rewards of the work. With humor, no-nonsense straight talk, plenty of personal anecdotes, and clear-eyed encouragement, she identifies the extensive knowledge base you need to succeed as a garden designer—and as an installer, if that's also your desire, although she points out the multitude of niche services a designer can focus on, including seasonal patio and deck sprucing, container plantings, design only, garden coaching, etc.—while stressing that this is a service industry: it's ultimately about working with people. While local plant, horticultural, and basic construction knowledge is essential, when you understand that your business is primarily about interacting with people and you work hard to make them happy, she says, then you'll be successful.
Howard specifies the nitty-gritty of how to do that: the psychology of working with clients; basic good-business skills like frequent, clear communication and thank-you notes; giving good design presentations; selling your ideas as well as yourself; and handling inevitable problems that arise and making things right. In many ways this is a small-business primer rather than a how-to book. She doesn't attempt to teach you the design skills and gardening knowledge she assumes you already have if you've picked up this book. Rather she focuses on showing you how to become a service-oriented businessperson who also gets to work in a creative, get-your-hands-dirty (literally) field.
I found particularly valuable her chapter entitled "When Things Go Wrong." Whether it's a construction error by you or one of your subcontractors, a client who irrationally becomes angry with you, an act of God that destroys a landscape job-in-progress, Howard has been there and offers constructive advice on how to handle the problem swiftly and decisively and make things right. Here and in other chapters she explains how to amicably "divorce" yourself from a long-term client who has proved consistently difficult to work with, how to hire quality subcontractors, and how to be a good boss. She even touches on how, once your own career is established, to mentor a talented new designer trying to get started in the business, and how to sell or gracefully exit your business when you're ready to retire.
Some of her most helpful advice for a start-up designer is about pricing and making your business profitable. She insists that you start by appropriately valuing your own services:
One of the largest mistakes designers make is to dramatically undervalue their services….At first you will be grateful for every job. You might even be grateful for jobs that just break even. Get over this. And if you have jobs on which you are losing money, stop! You need to make a living, and not a paltry one. I am appalled when I see designers virtually give away their work….I know, I know, you love the fact that you're a garden designer so much that the money doesn't really matter, right? Bull. You are good at what you do, and you deserve to make a living.
She also addresses the question most of ask ourselves at some point in any career, particularly one in a creative field: Am I any good at what I do? Once you're over the hurdle of setting up your business and you actually have some finished jobs under your belt, and perhaps you've even received some recognition from peers, you may find yourself suffering from the "imposter syndrome," as Howard puts it: a feeling that you are a poser, pretending to be something you're not, and inadequate compared to your peers in the business:
Will my work be good enough? When will I know that my design and installation work is good? Well, first off, good enough for what? Good enough to make your clients happy? Good enough to get you additional clients? Good enough to make it into a magazine? Good enough for you?…That is another question. When is our work good enough to satisfy us?
Howard offers reassurance that the most talented people feel this way at times, and that steady hard work will get you over this psychological hurdle. Practice, practice, practice, she advises. "[I]t is your commitment to doing the work that will make you successful."
I highly recommend this book to anyone thinking about starting a garden-design business, whether self-taught, as Howard is, or fresh out of school with a design degree. Howard is generous with her knowledge and practical with her advice. Experience, of course, is always the best teacher, but she may help you avoid some of the most common mistakes of running your own design business—or at least teach you how to conduct your business so that you can make things right when things go wrong, which is the most valuable lesson of all.
All material © 2006-2010 by Pam Penick for Digging. Unauthorized reproduction prohibited.