June 22nd, 2010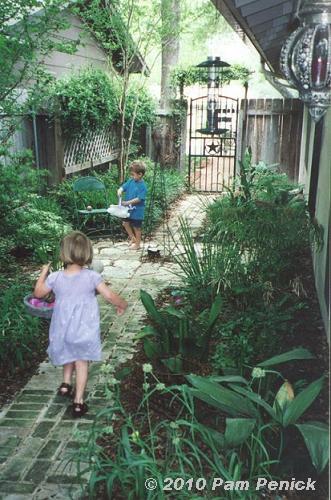 Narrow side yard AFTER: A garden that connects front and back and provides views for dining room windows. A pretty good place for an Easter egg hunt too.
Today my fellow knights and ladies of the Garden Designers Roundtable are exploring the topic of designing for small spaces. While I didn't sign up to blog about this subject, I should have. After all, one of my very first designs, back in 1998, was for a tiny side yard at my first home here in Austin (two houses ago).
Above, a scanned image of the side garden after one season of growth.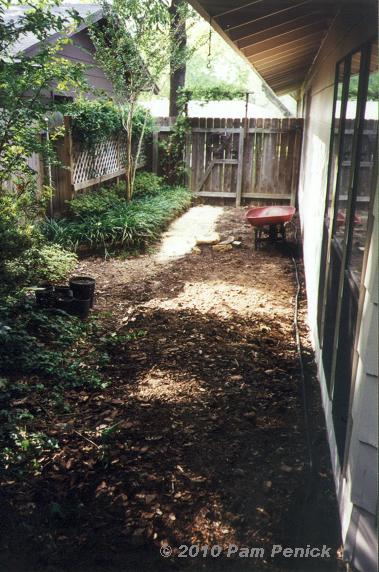 Narrow side yard BEFORE: A muddy nothing
And here is the same space before—or rather, in transition. Before I thought to take a picture, it was a dark, dank, wild tangle of English ivy and overgrown Rose of Sharon, with a boring, blank privacy fence as our view from our dining room windows. I took this picture after I'd ripped out most of the ivy and erected a latticed trellis in front of the privacy fence directly across from our dining room windows, allowing us to go vertical with a pretty Carolina jessamine vine.
The space needed to function as a pass-through from front to back and as a pretty view from inside. So I reused bricks from elsewhere in the garden to pave a straight, narrow path, with a square, limestone insert in the middle for interest and to break up the bowling-alley dimensions. A sundial would have been a classic focal point for the middle of the square, but this was a very shady space and often used in the evening. So instead I placed a metal tuteur in the center and wired a low-voltage uplight to shine through it at night, casting interesting shadows.
Replacing the solid-wood gate for a more attractive, see-through metal gate made a huge difference, opening up the garden to additional light and making the space feel larger. The view from the front yard improved too, offering a tantalizing peek into the shady side garden.
A variety of shade-loving plants, many of them evergreen, made the space interesting in all seasons. Planting vertically with vines also helped to lift the eye and get more out of the narrow space.
Although this was the smallest space on our property, it ended up living large thanks to the new design. Visitors were welcomed by the serene path and garden, and we enjoyed the view even when we were indoors.
Visit the other Roundtablers for more ideas on designing for small spaces:
Carolyn Gail Choi : Sweet Home and Garden Chicago : Chicago
Jenny Petersen: J Petersen Garden Design : Austin
Laura Livengood Schaub : Interleafings : San Jose, CA
Lesley Hegarty & Robert Webber : Hegarty Webber Partnership : Bristol, UK
Shirley Bovshow : Eden Makers : Los Angeles
Susan Morrison : Blue Planet Garden Blog : East Bay, CA
Susan Schlenger : Landscape Design Advice : Hampton, NJ
Tara Dillard : Vanishing Threshold : Atlanta
All material © 2006-2010 by Pam Penick for Digging. Unauthorized reproduction prohibited.