June 15th, 2010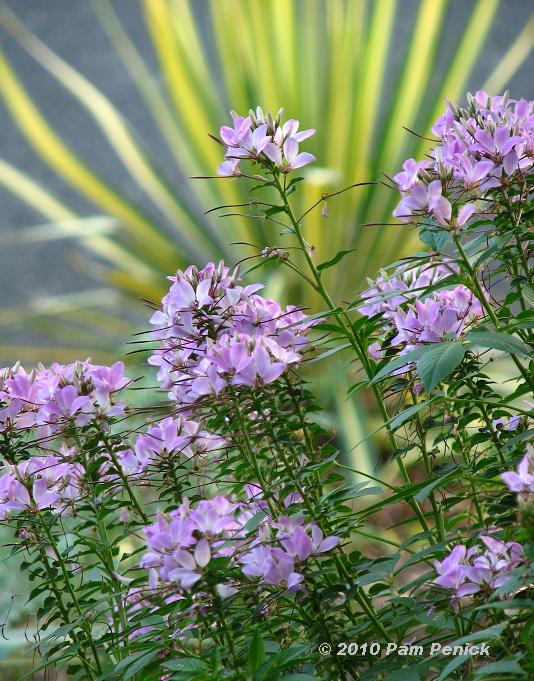 The new island bed out front, where deer make daily foraging rounds, is holding up well thanks to fuzzy and spiky leaves and strong-smelling foliage. While foliage is the backbone of that bed, flowering perennials are going strong too. It seems natural, then, to combine Bloom Day and Foliage Follow-Up in one post about the deer-resistant garden this month.
Pictured above, 'Senorita Rosalita' cleome, looking stunning (and completely unmunched) in front of bright-yellow-and-green Yucca filamentosa 'Color Guard.'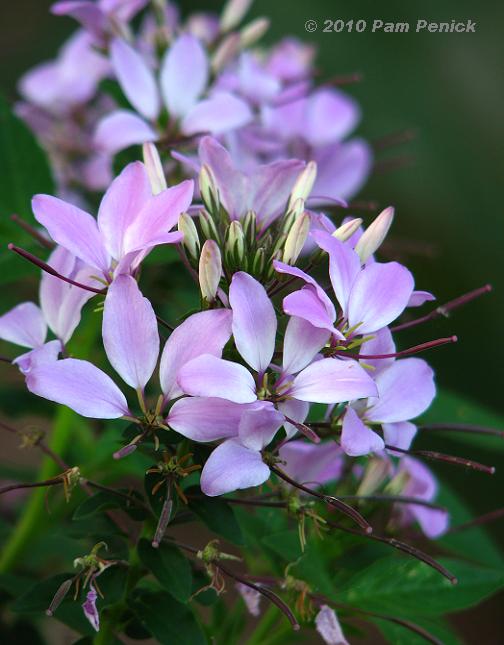 The cleome's pink-lavender flowers often wash out to a tepid pale pink in my photos, but today I got a few images that capture the color pretty well.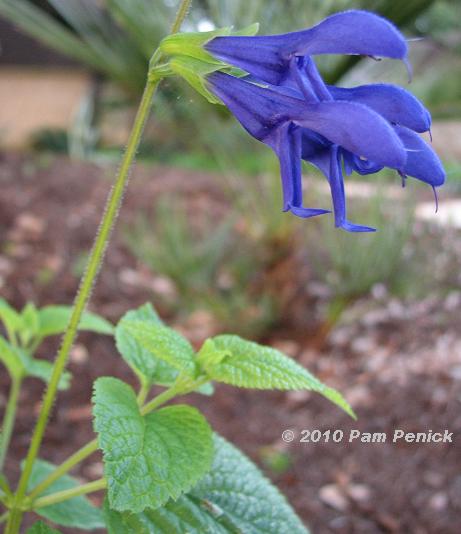 The cobalt flowers and bright-green foliage of majestic sage (Salvia guaranitica) have so far also proven unpalatable to deer.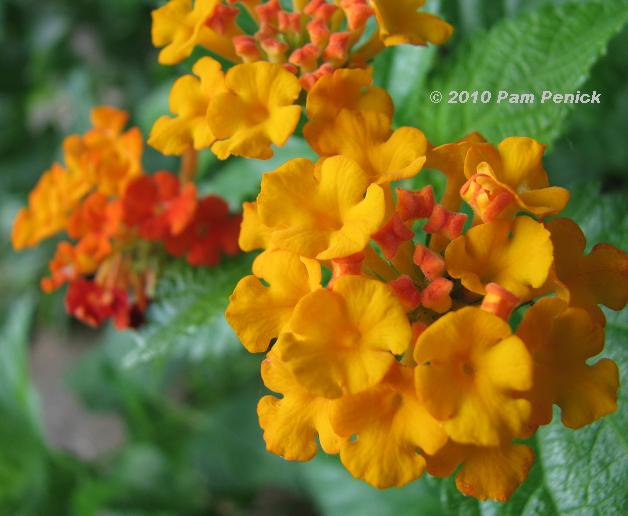 Tried-and-true lantana grows like a weed under the mailbox in part shade, with no supplemental water, and still blooms. Deer hate it. Gotta love it.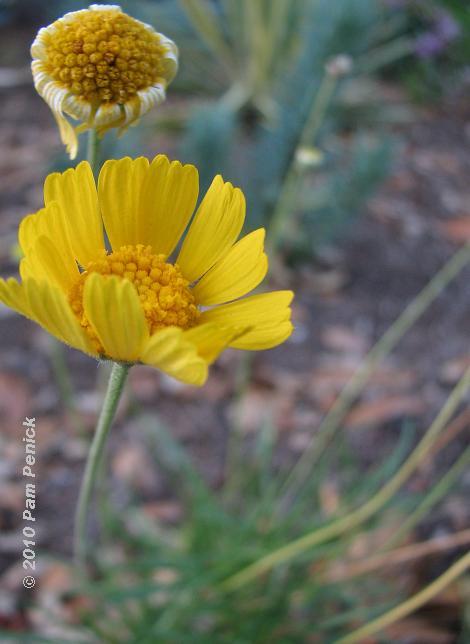 Hymenoxys, or four-nerve daisy (Tetraneuris scaposa ), has been sampled. One plant was chomped down to an inch high. But it survives, and the others are, so far, untouched and in full bloom, adding cheery color to the front of the bed.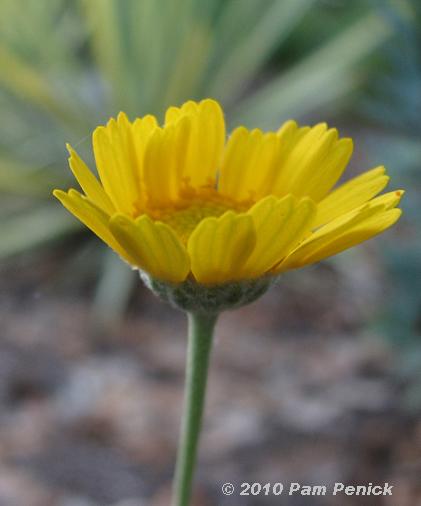 Another four-nerve daisy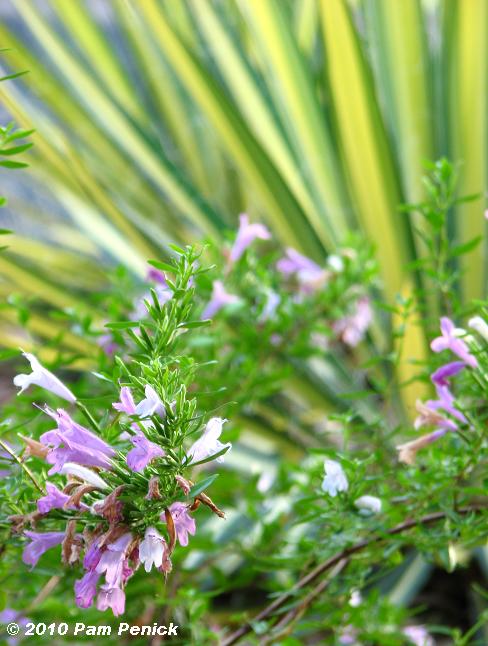 The lavender-and-white flowers of Mexican oregano (Poliomintha longiflora) are spaced along fragrant, leafy branches, and the deer turn up their noses. I love the fragrance and run my hands across it whenever I walk past.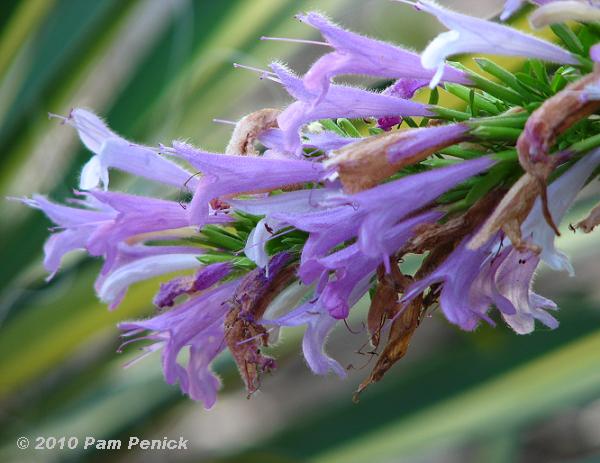 The spent flowers turn brown and hang on the branches, so it's worth cutting Mexican oregano back by one-third after the flowers fade. Doing so keeps the plant looking green and tidy and encourages another flush of flowers.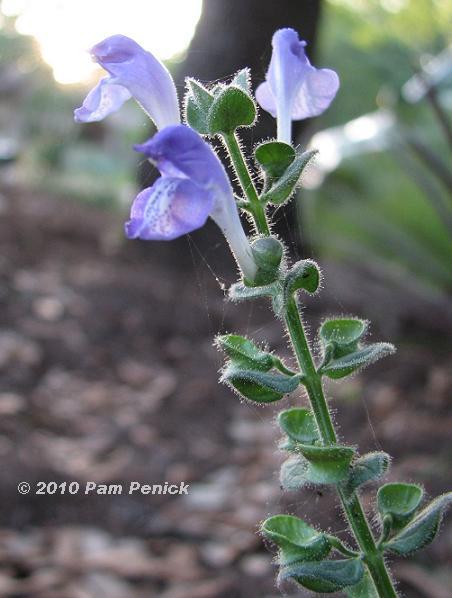 Heartleaf skullcap (Scutellaria ovata) is a native with fuzzy and oily leaves and stems. Its lavender flowers stand up a foot or a foot-and-a-half tall in springtime, and afterward the plant may disappear entirely during the summer. In winter the fuzzy leaves reappear and make a lovely blue-green mat through spring.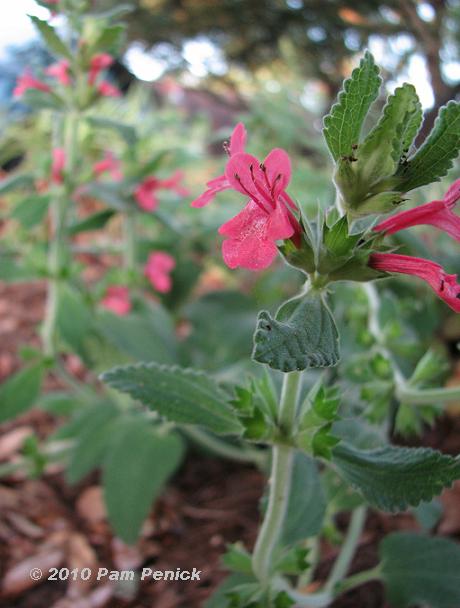 Texas betony (Stachys coccinea) has rough-textured, even irritating, leaves, and the deer have left it entirely alone. Red flowers bloom all summer.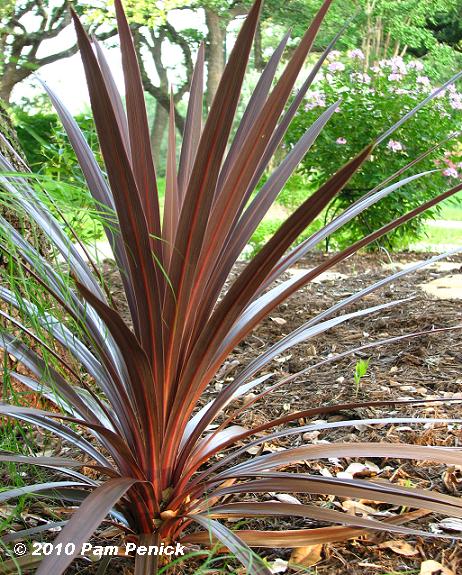 Red cordyline (Cordyline australis 'Red Star') is an annual in all but the mildest winters here in Austin, but it sure is worth replanting every year. Deer don't bother it, and it provides rich color in dry part-shade. The foliage echoes the red of Texas betony flowers.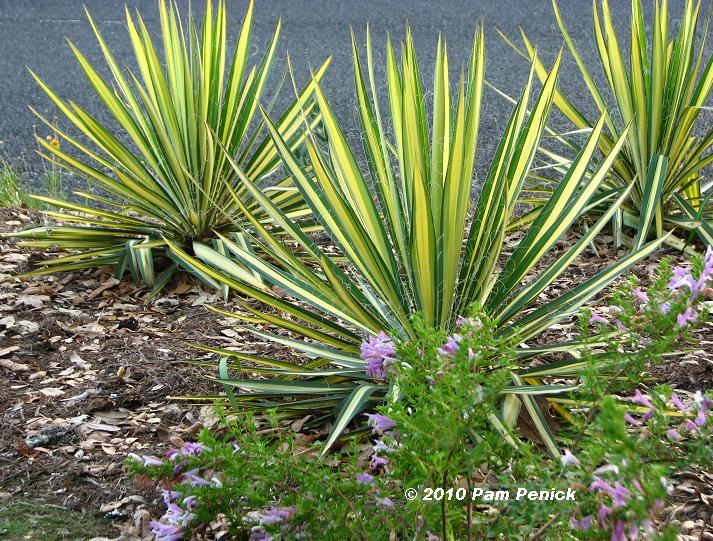 Various greens make up most of the foliage in my deer-resistant bed: lime-green bamboo muhly, deep-green Texas dwarf palmetto, blue-green silver Mediterranean fan palm. But the real stars are a lemon-lime trio of Yucca filamentosa 'Color Guard,' which anchor the hottest, sunniest corner.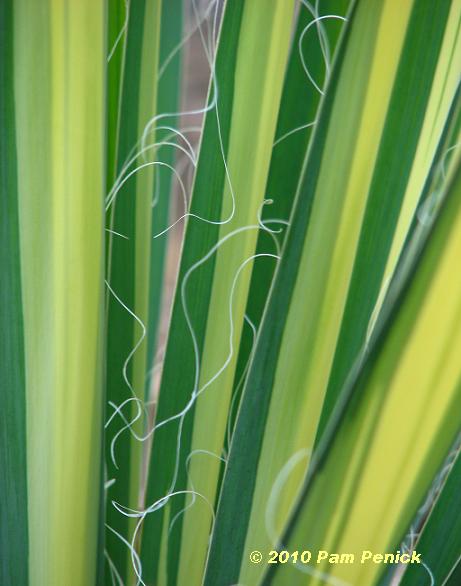 I absolutely love the color and the drama. They make a big statement in this garden.
To see what's blooming in gardens around the world on this date, visit May Dreams Gardens for links to other Bloom Day posts. To participate in Foliage Follow-Up, which occurs on the day after Bloom Day, just leave a link to your post right here in the comment section and link to this post so I can find you. I'd love to see what foliage you're mad about this month.
All material © 2006-2010 by Pam Penick for Digging. Unauthorized reproduction prohibited.