June 9th, 2010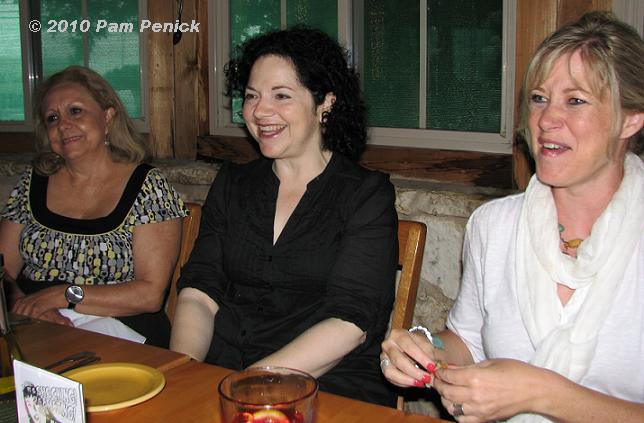 Ivette Soler—L.A. garden designer, fellow agave nut, blogger extraordinaire at The Germinatrix, soon-to-be-published author, and an altogether delightful, adventurous, and generous person—visited Austin today for a meet-up with blogging friends. It was so great to meet her after following her blog for several years, a little like meeting a rock star!
We got to meet her lovely aunt Nora too, pictured above with Ivette in the middle and fellow designer/blogger Jenny Peterson on the right.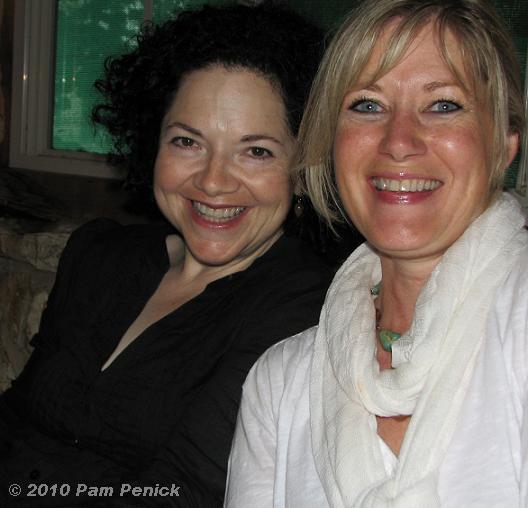 Ivette and Jenny had already met at the San Francisco Flower Show a couple of months ago and quickly reconnected.
Ivette and Nora arrived at my garden in the morning, in the rain, as did Jenny, Philip/ESP, and his wife Leah. Together we are undoubtedly Ivette's biggest fans west of the Mississippi. I gave them a soggy garden tour, and then we popped over to Chez Zee for lunch.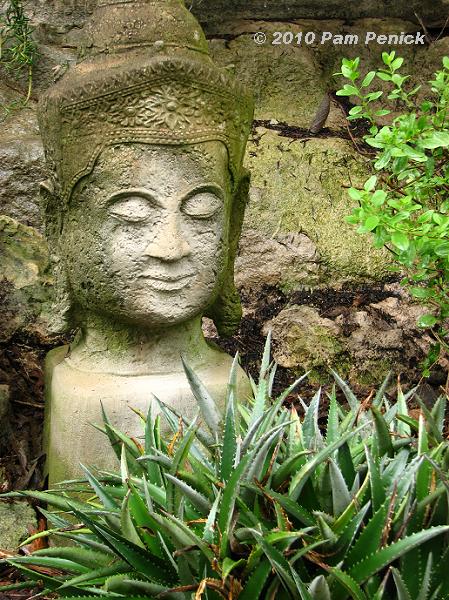 With full bellies and under clearing skies, we caravanned to Jeff Pavlat's succulent and cactus garden in the hills of west Austin.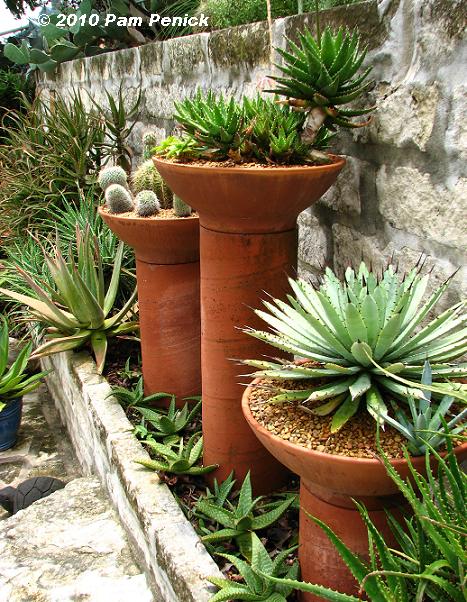 Jeff gave us (agave freaks all) a tour of his incredible garden, which he and his partner built with their own hands and a knack for creating a beautiful design out of a collector's garden.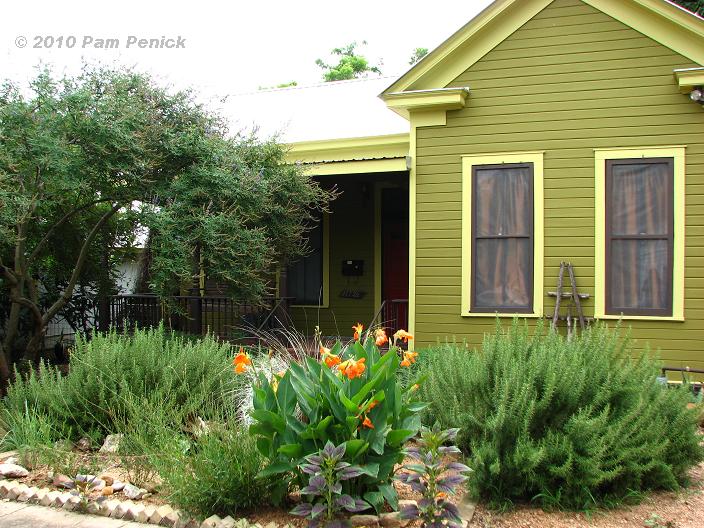 Then we were off to the Patch, the East Side Patch, that is, where Philip and Leah had invited us and a few others for happy hour.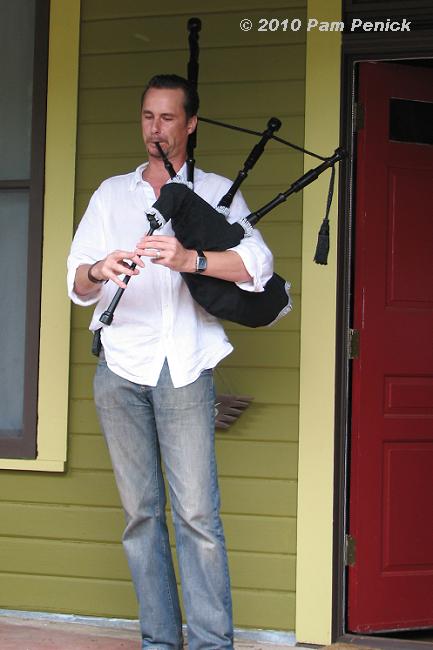 Scotsman that he is, Philip pulled out his bagpipes and played a rousing welcome for Ivette as she stepped out of her car and entered the Patch.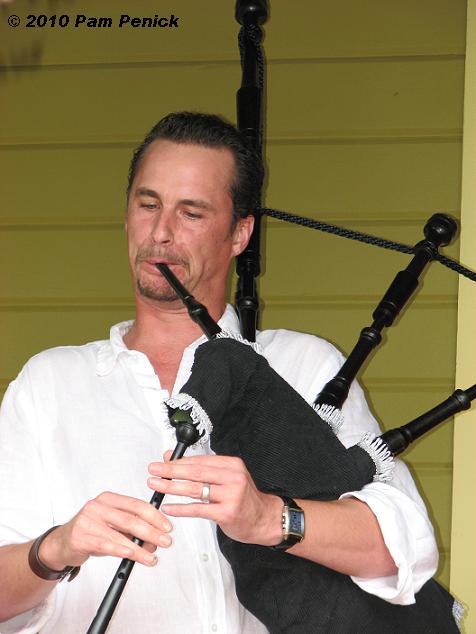 Wow, what a welcome! But where was the kilt, Philip?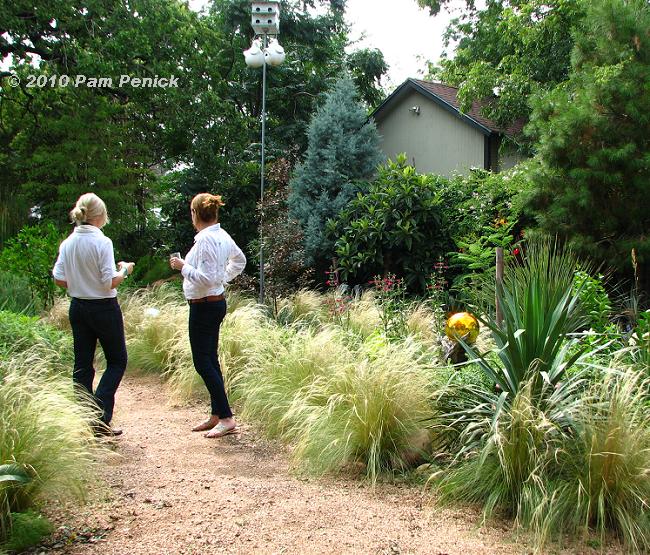 Noshing in the kitchen, strolling the feathergrass paths of the Patch, gabbing with Ivette and the other guests, sipping sangria—what a great finale to a fun day.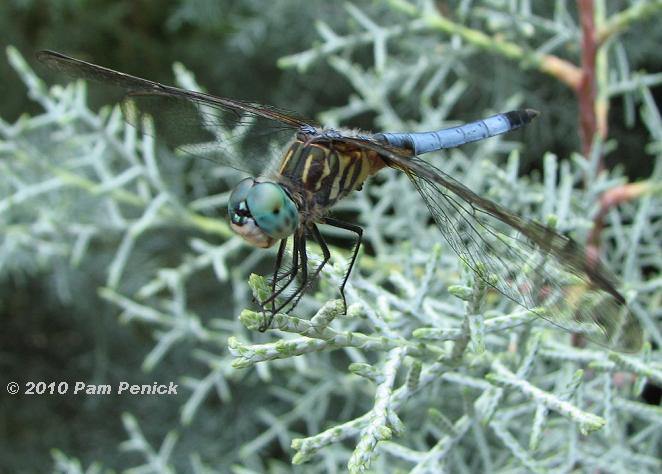 Unsurprisingly, I did spot a few strange creatures in the Patch…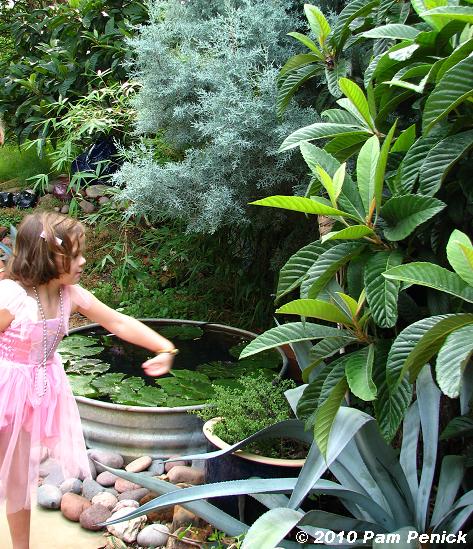 …and a glimpse of an ESP witch casting a spell?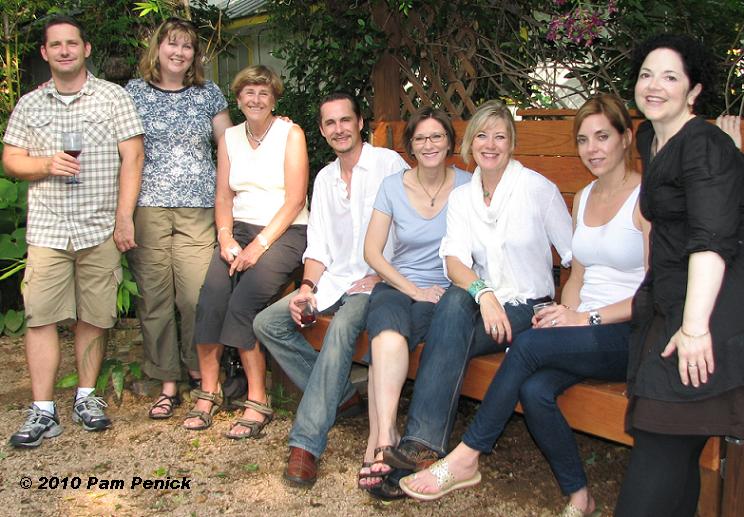 We posed for a group shot on Philip's new oversized bench—perfectly scaled, it turns out, for a group of passionate gardening friends. From left to right: Jeff Pavlat, me, Rock Rose Jenny, Philip/ESP, Daphne Richards, Jenny P., Leah, and Ivette/Germi.
My thanks to Philip and Leah for opening their home, kitchen, and garden to us, to Jeff for an inspiring garden tour, and, not least, to Ivette for taking the time to spend the day with us in Austin. Ivette, I look forward to your next visit!
All material © 2006-2010 by Pam Penick for Digging. Unauthorized reproduction prohibited.