May 16th, 2010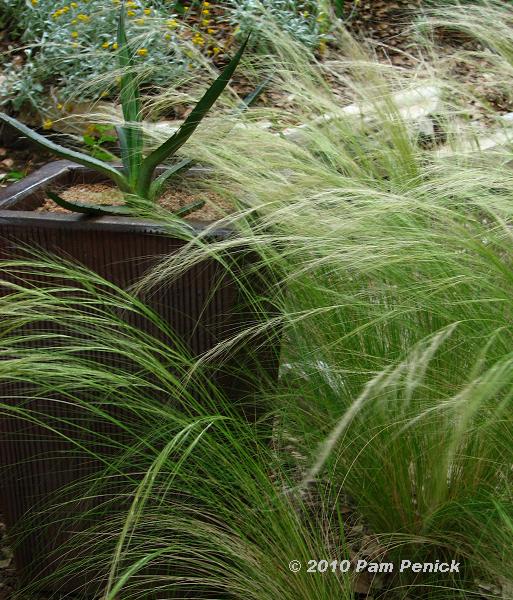 The day after Bloom Day means it's Foliage Follow-Up, when we get to show off our favorite foliage plants for the month. Right now I'm loving the blond-and-chartreuse waves of Mexican feathergrass (Nassella tenuissima). I have an unidentified agave in the pot, a passalong from one of our local blogger get-togethers. The silver leaves of strawflower (Chrysocephalum apiculatum Flambe Yellow), seen in the background and also featured in yesterday's Bloom Day post, add foliar interest as well.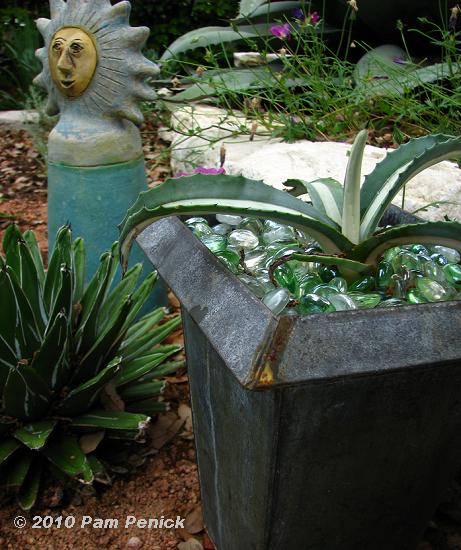 Agaves always make a strong foliage statement in my garden. On the left is Agave victoriae-reginae; on the right, Agave americana var. mediopicta 'Alba.' And at top, the lower leaves of Agave ovatifolia, or 'Whale's Tongue' agave.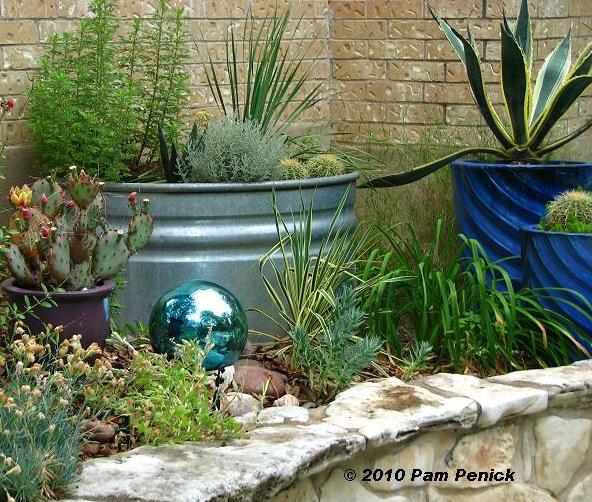 Foliage plants star in my focal-point collection of containers in the raised bed. 'Santa Rita' Opuntia occupies the purple pot. In the stock tank are variegated artemisia, a baby 'Sharkskin' agave, gray santolina, golden barrel cactus, and Yucca rostrata 'Sapphire Skies.' In the blue pots are variegated American agave and more golden barrels. And on the ground, Yucca flaccida 'Bright Edge,' gopher plant (Euphorbia rigida), and daylilies round out the scene.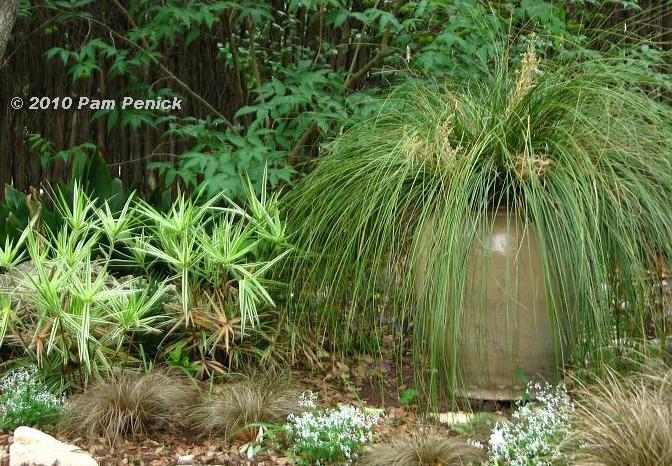 A huge Nolina texana in a pot underplanted with 'Sparkler' sedge, 'Diamond Frost' euphorbia, and 'Toffee Twist' sedge add life to a shady nook.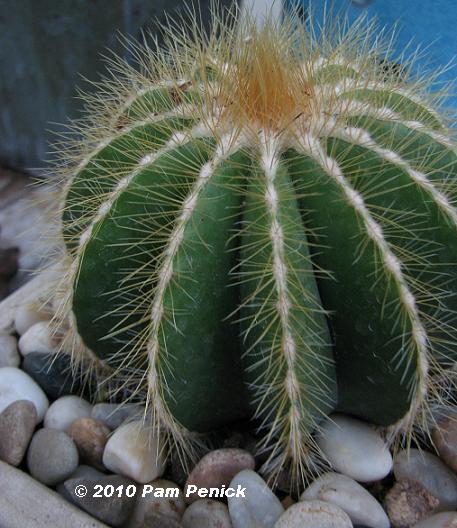 And a cute new cactus from one of the box stores. Can anyone ID it for me? It's a ball cactus, aka Parodia magnifica, and quite cold-hardy. My thanks to Brent for the ID!
So what's capturing your interest, foliage-wise, in your garden this May? Join in and post about your favorites, and then let us know about it by commenting on this post and leaving your link. I look forward to seeing your foliar stars!
All material © 2006-2010 by Pam Penick for Digging. Unauthorized reproduction prohibited.