May 9th, 2010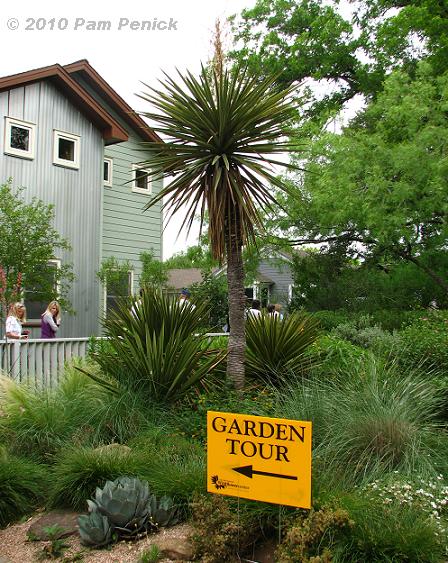 On Saturday I did the Wildflower Center's Gardens on Tour, visiting five private Austin gardens that "show the variety and versatility of wildflowers and native plants." My first stop was the Sinclair Avenue garden in the north-central neighborhood of Rosedale.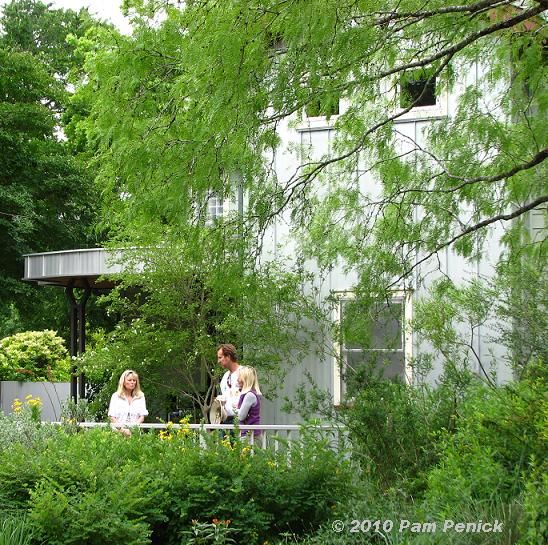 Two design firms put their stamp on this property: San Souci Gardens designed and installed the front and side gardens in spring 2007; Environmental Survey Consulting followed up with the all-native back garden later that year. This is the view from the street, part of a deep screening bed between the curb and the gray-green metal fence.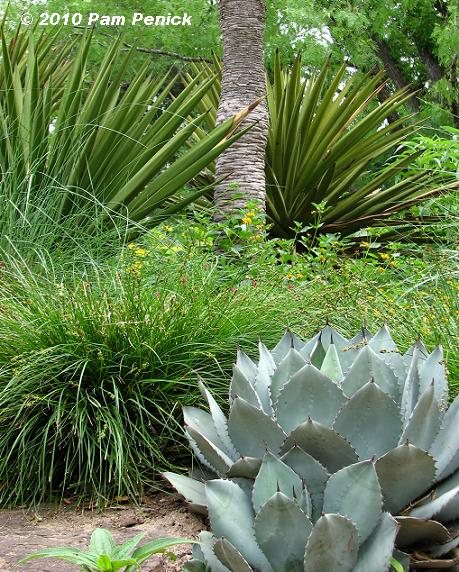 Agave, grasses, lantana, and yucca would be right at home in a deer-visited garden, although this central Austin neighborhood is untroubled by such hungry pests.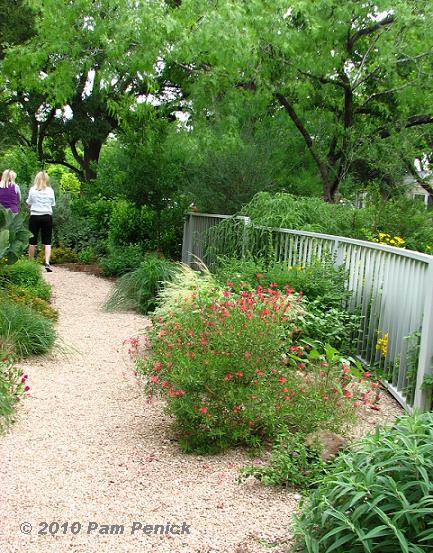 Taking the gravel path that leads around the front of the house, looking to the right…

…and looking to the left, a pleasant scene, with salvias, ornamental grasses, winecup, prickly pear, and Anacacho orchid tree mulched directly in the gravel path rather than separated into mulched beds. The deep beds, mid-size evergreen plants, and neighbor-friendly fence work together to bring a feeling of privacy to the front garden, and a separation from the street.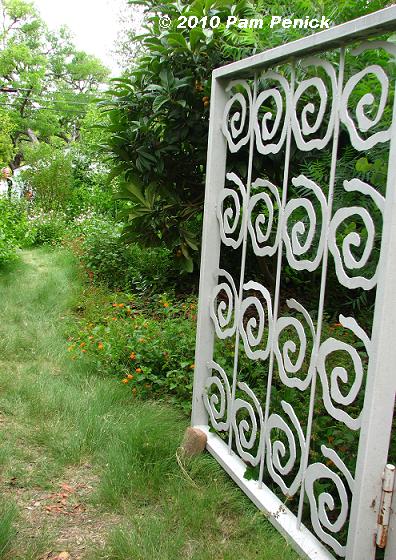 A gate with an interesting spiral design leads into the more wildscaped back garden.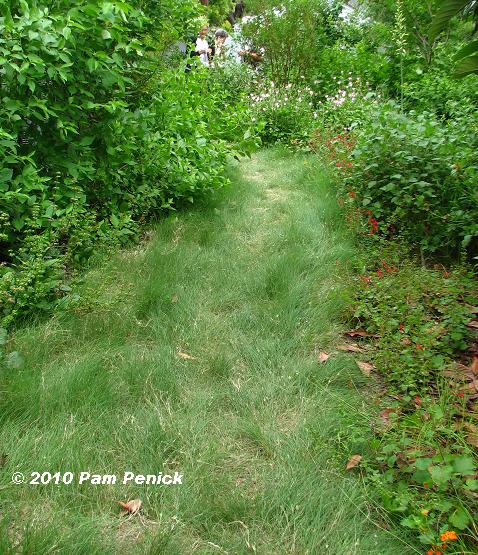 Buffalograss paths bordered by dense shrubbery lead the way. This isn't my favorite look for a path; I prefer a more structured design. But it does set the tone for what's to come…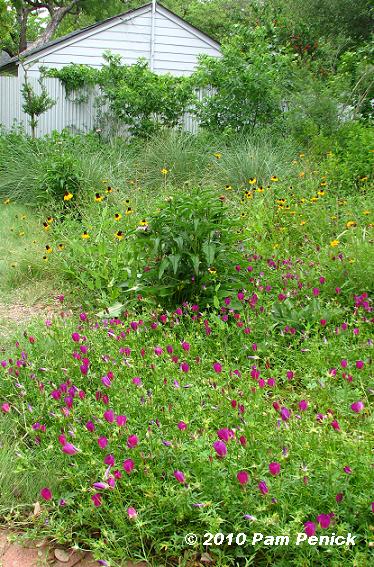 …a naturalistic meadow-scape of wildflowers and ornamental grasses. No typical suburban lawn here.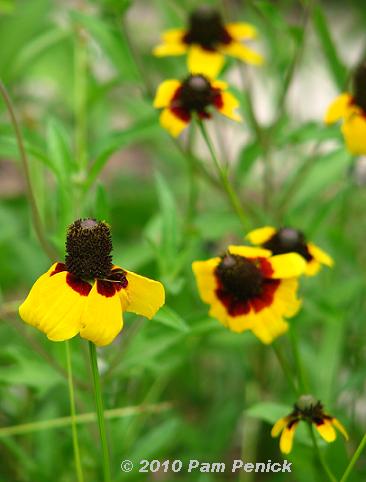 Mexican hat (Ratibida)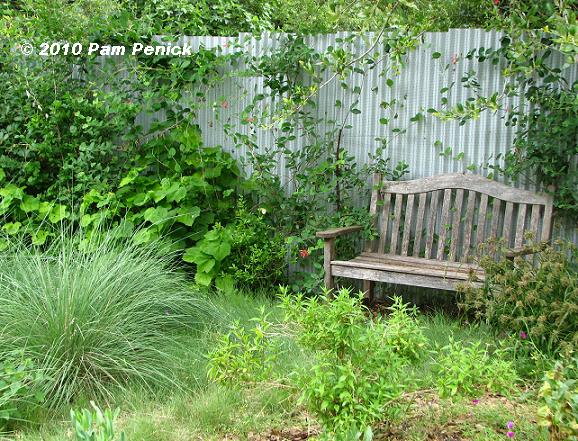 A bench backing up to a corrugated metal fence and overlooking a small pond (not pictured) provides a welcome focal point amid the loosely structured plantings.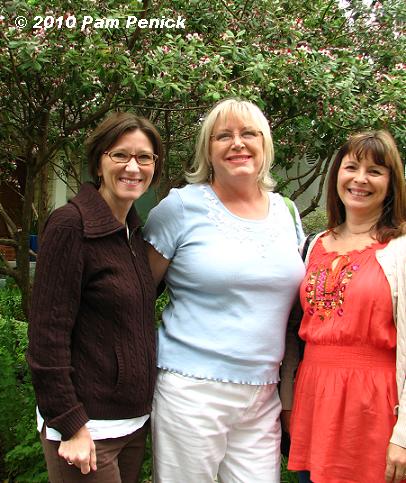 As I was leaving this garden I ran into garden-blogging friends Daphne, Robin, and Diana. We ended up touring most of the other gardens together. What a fun crew to hang out with!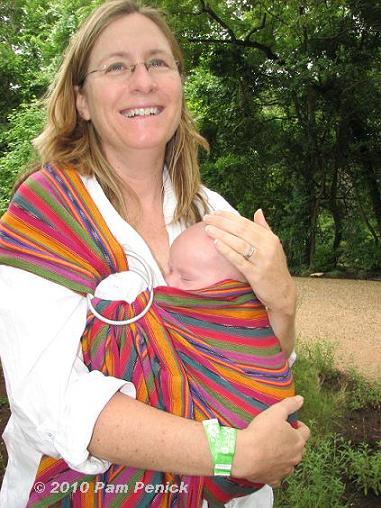 Along the way, I also ran into garden bloggers Vertie (and her sweet little gardening buddy Jack), Tom, MSS, and Jenny, plus a few readers of Digging who introduced themselves. The weather was perfect by my standards, if a bit chilly to others, and it was great fun to see all the gardens and meet the homeowners and designers. Tune in tomorrow for a look at the envy-inspiring Bridle Path garden.
All material © 2006-2010 by Pam Penick for Digging. Unauthorized reproduction prohibited.