May 7th, 2010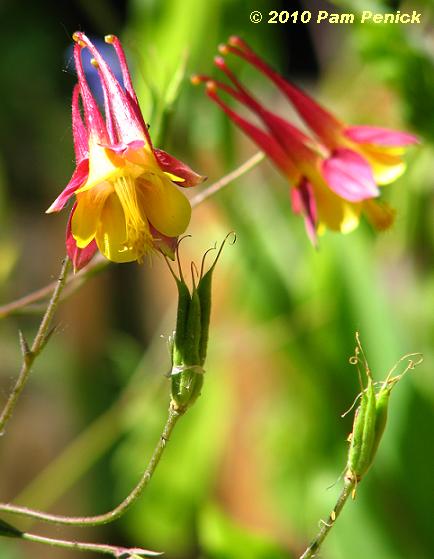 The Wildflower Center played matchmaker when I moved here, giving me the nudge I needed to fall in love with Austin's rugged, sometimes spiky natural beauty. Still smitten, on Monday morning I strolled the grounds to see what was new. As always, I like to point out that the Wildflower Center is about so much more than wildflowers. It's a native-plant garden meant to inspire, to teach, and to show off the beauty of native plants. The center keeps it interesting with well-placed displays of sculpture and garden art, redesigned gardens (like the new stock-tank garden), and wildlife-attracting grounds (see yesterday's Wildflower Center post for pics of the snake, turtle, and other animals I recently spotted there).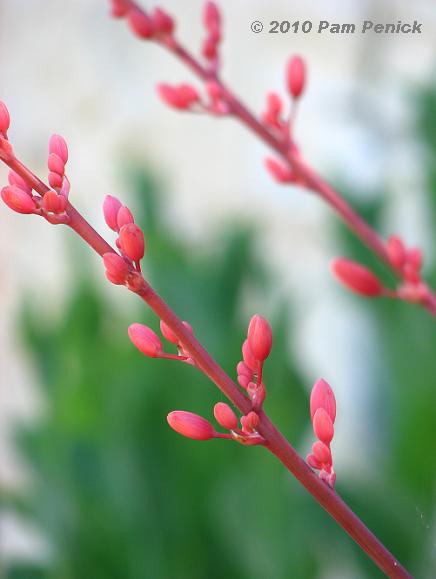 Join me for a garden stroll? Red yucca (Hesperaloe parviflora) is about to bloom.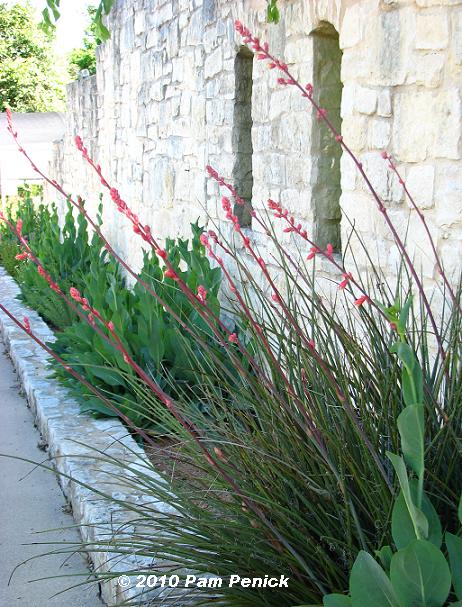 Its long flower stalks are dotted with coral buds.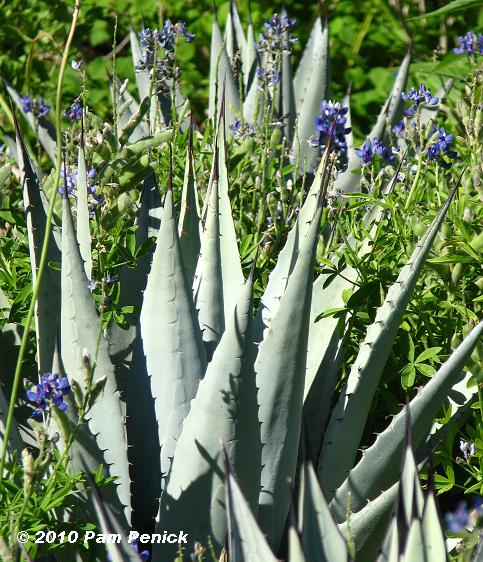 A smattering of Texas bluebonnets (Lupinus texensis), fast going to seed, ornaments a stand of Agave neomexicana.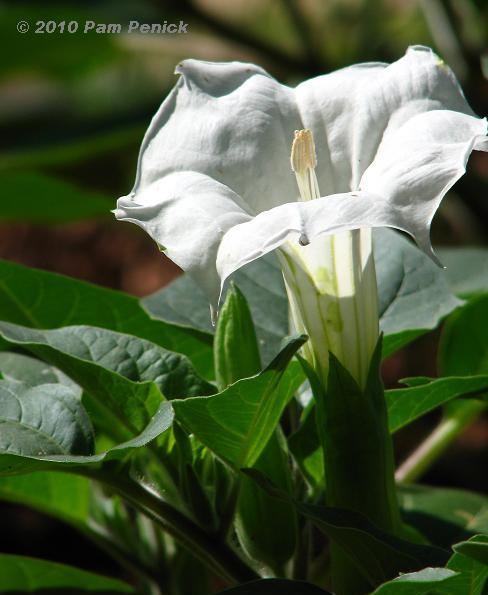 Sacred datura (Datura wrightii), already in bloom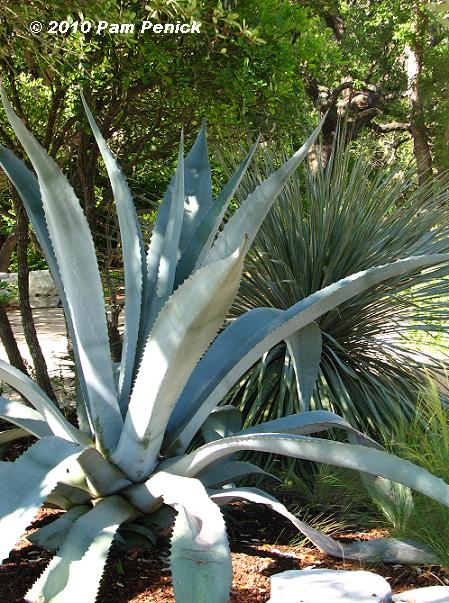 This towering American agave stands sentinel at the entrance. That's an equally large sotol (Dasylirion) behind it.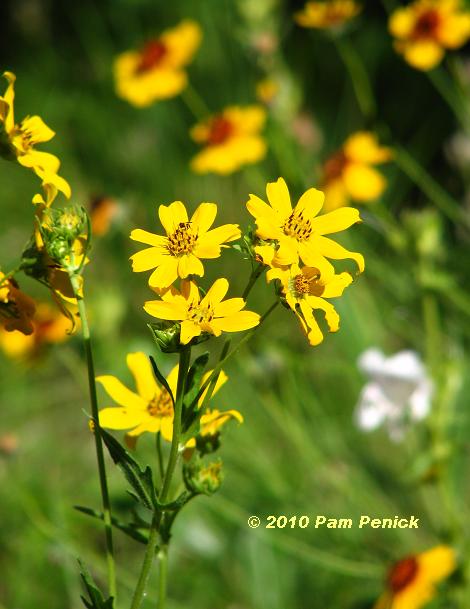 Coreopsis? I'm not sure, but I bet Rock Rose will know.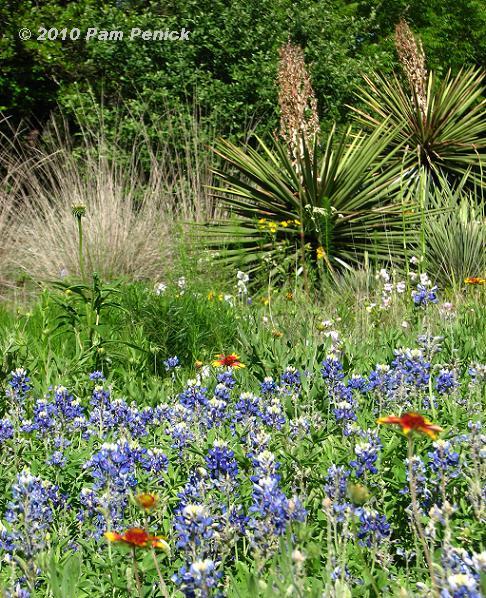 Bluebonnets, blanket flower, and yuccas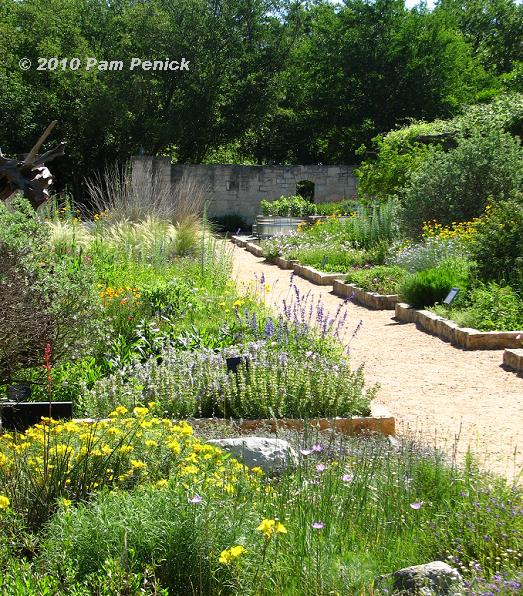 The neatly divided and bordered demonstration garden, with the new stock-tank display at the far end.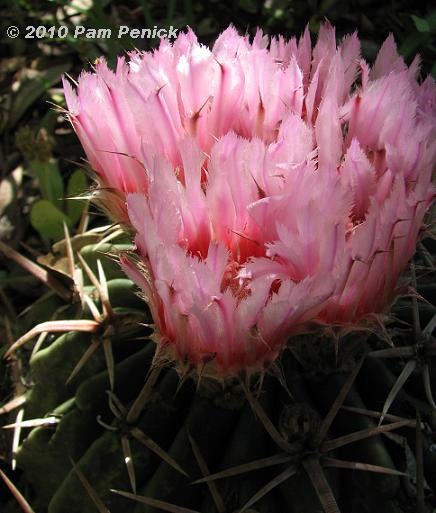 The brilliant flower of a cactus, horse crippler (Echinocactus texensis), I think.

Bonsai of native trees are displayed on wooden tables at one end of the demonstration garden. Cedar elm, Texas persimmon, and bald cypress are beautifully represented. This is very cool.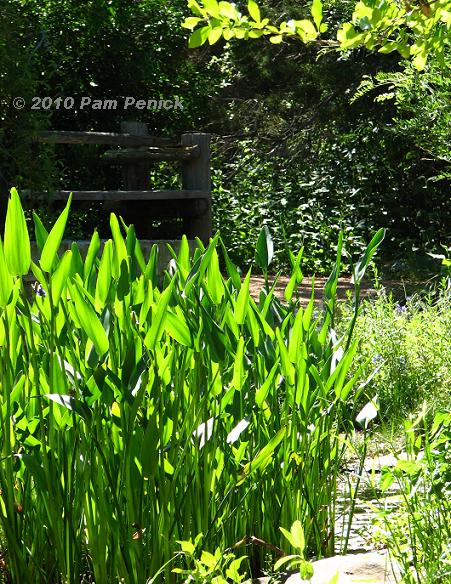 Morning light captured in leaves high and low…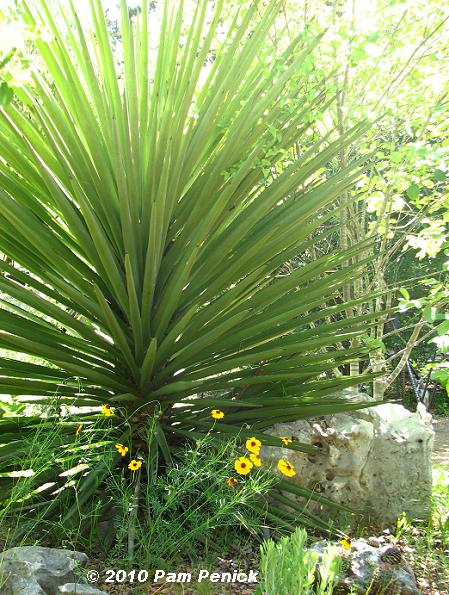 …and by the sword-like leaves of Spanish bayonet (Yucca aloifolia)…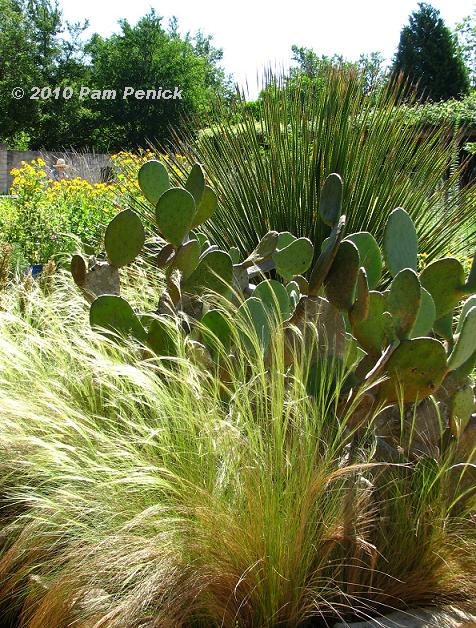 …and by this light-grabbing combo of Mexican feathergrass (Nassella tenuissima), spineless prickly pear (Opuntia), and Texas sotol (Dasylirion texanum).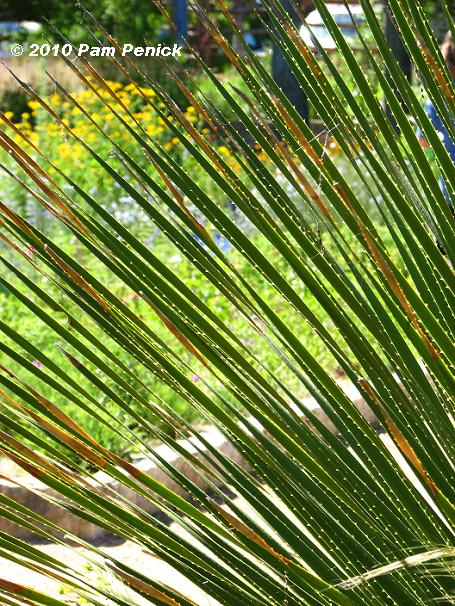 Sotol leaves—so mesmerizing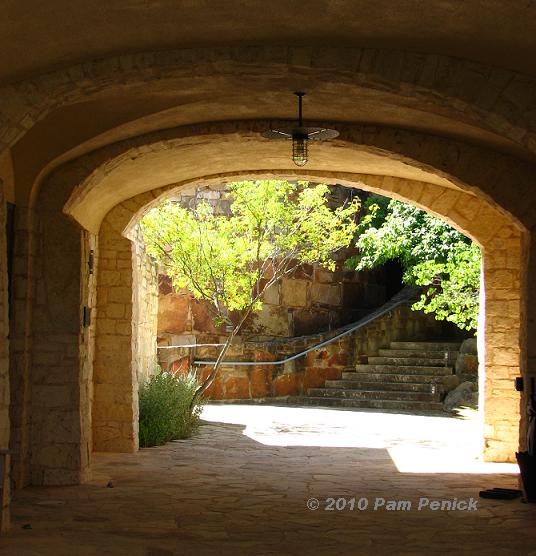 A golden leadball tree (Leucaena retusa) glows in late-morning sunlight, as viewed from an arched passageway.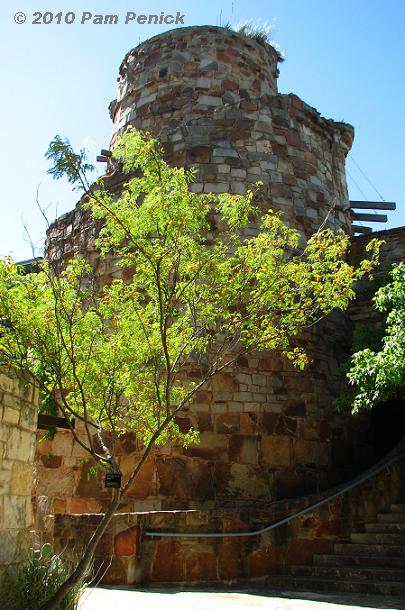 Moving closer, the golden leadball leads the eye up to the Wildflower Center's signature tower, which is also a water cistern.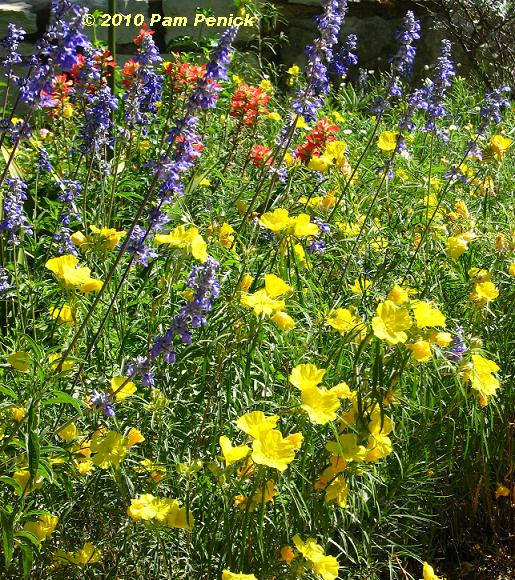 Sundrops, blue mealy sage, and Indian paintbrush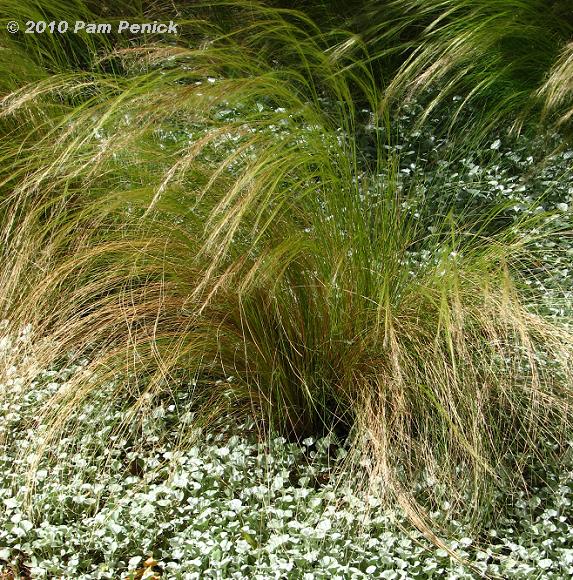 I love this low-growing combo: Mexican feathergrass (Nassella tenuissima) and silver ponyfoot (Dichondra argentea).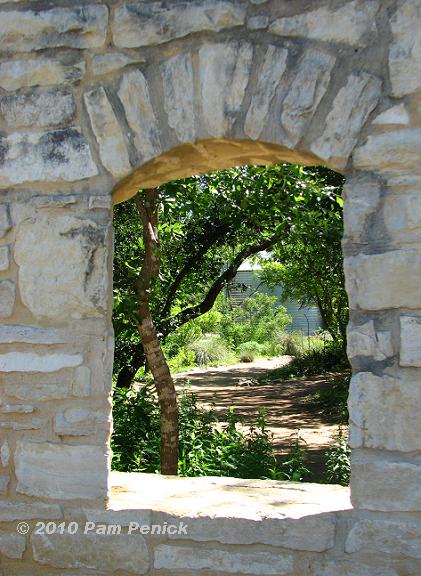 Window view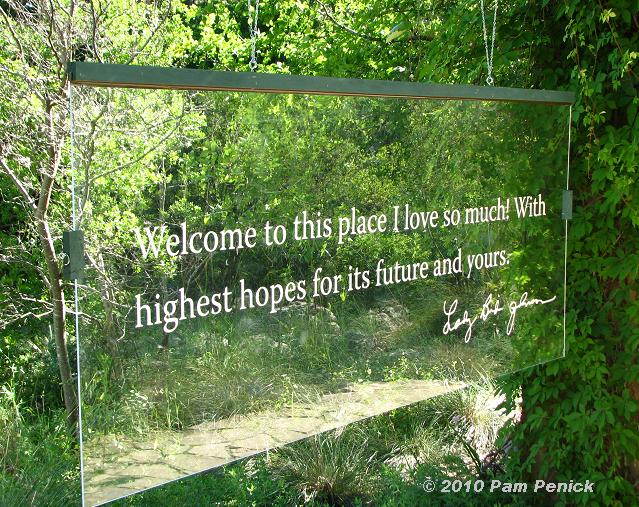 A quote from Lady Bird Johnson, co-founder of the Wildflower Center and native-plant visionary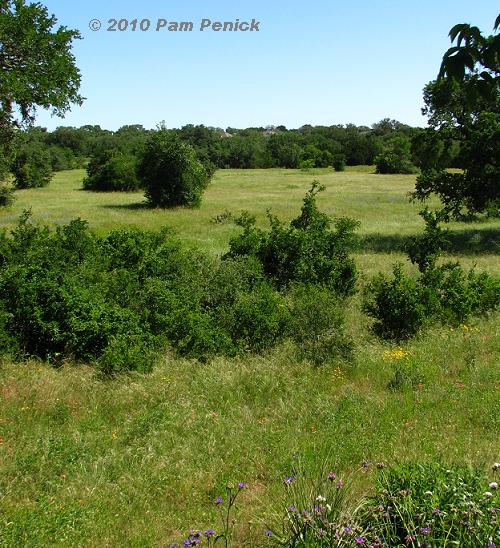 View of a savannah from a terrace at the Wildflower Center—natural beauty.
Don't forget that tomorrow, May 8, is the Wildflower Center's Gardens on Tour 2010, a tour of five private gardens that feature a majority of native plants. See you there!
All material © 2006-2010 by Pam Penick for Digging. Unauthorized reproduction prohibited.