April 28th, 2010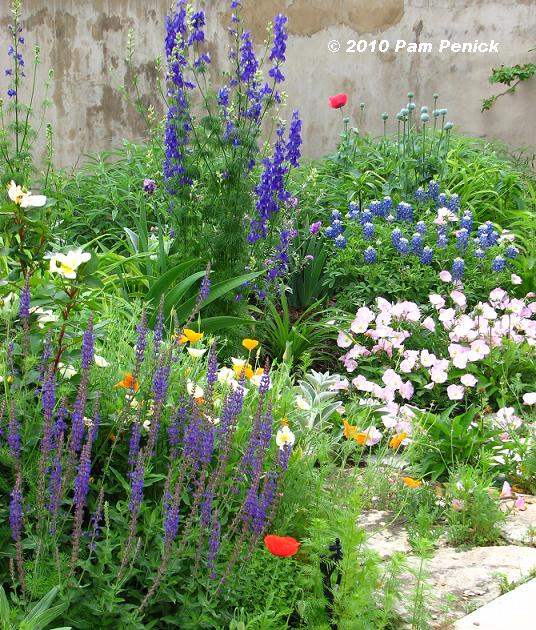 While my dad was in town last week, I invited us over to Jenny Stocker's garden for a visit, knowing that it would be spectacular at this time of year. Jenny, who blogs at Rock Rose, kindly overlooked the pushiness of my request by not only welcoming us for a visit but serving us lunch on her terrace. What bliss!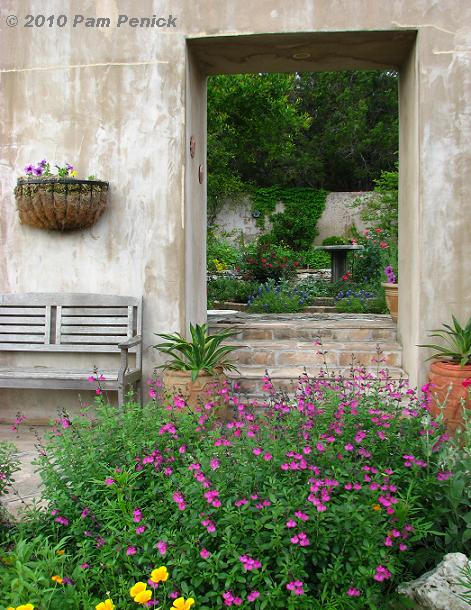 I've photographed and written about Jenny's garden before (links at end of post), so I won't attempt to give you a logical, logistical tour this time. Instead, with minimal comments, I offer an impressionistic stroll through her lovely garden.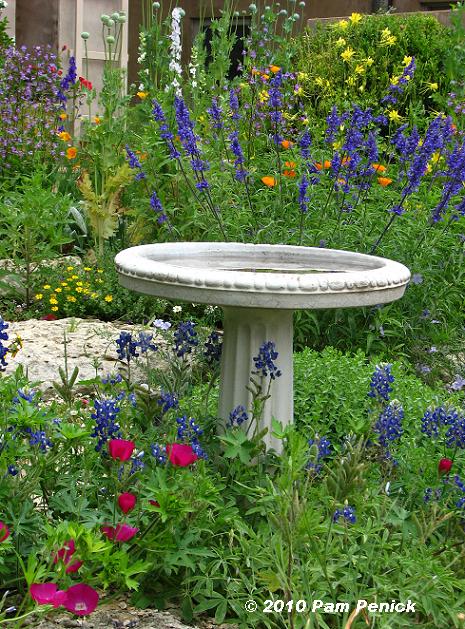 Mealy blue sage stands tall behind a bird bath, with Texas bluebonnets and winecup in front.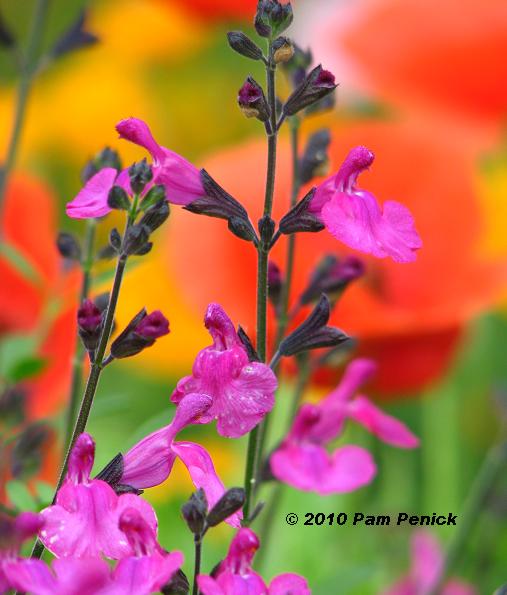 Salvia greggii, with a backdrop of poppies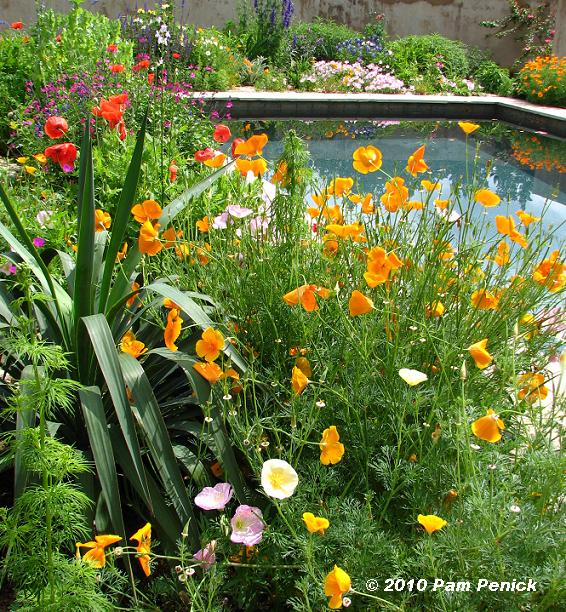 Jenny's swimming pool is framed by flowers, including these orange California poppies.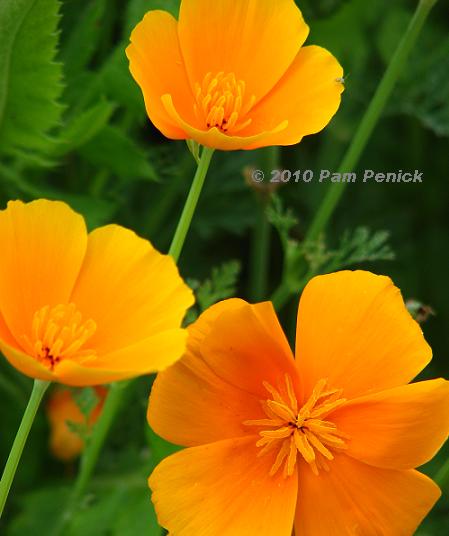 More California poppies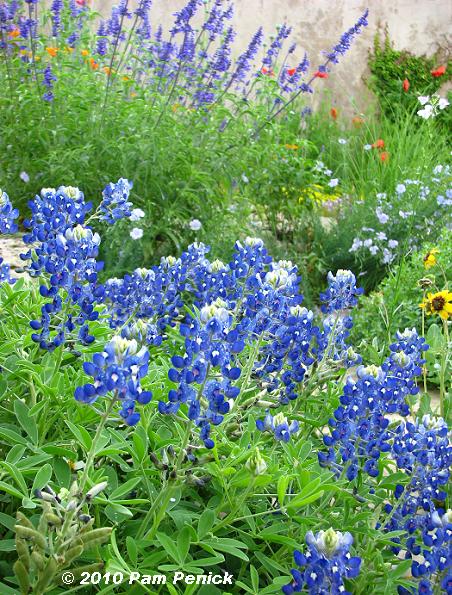 Texas bluebonnets and mealy blue sage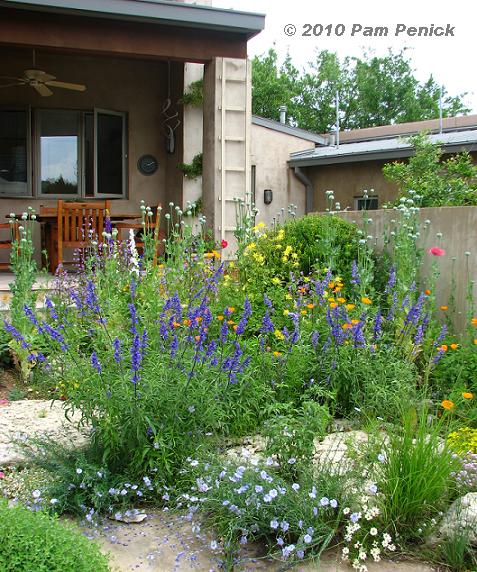 One of Jenny's many seating areas. They all have beautiful views.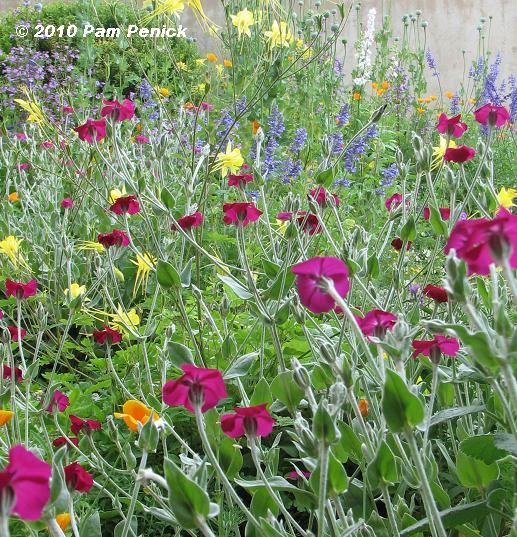 Rose campion, with its silvery green foliage, and columbine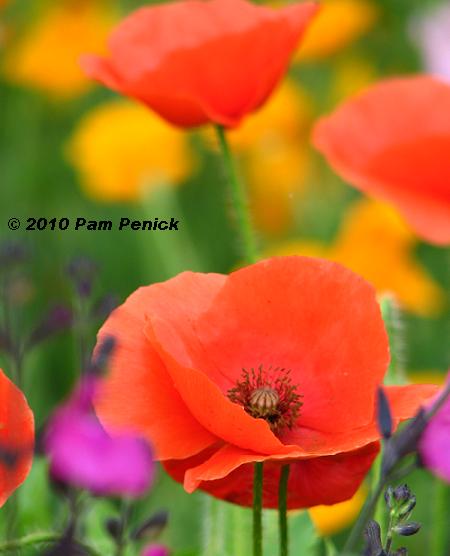 Red corn poppies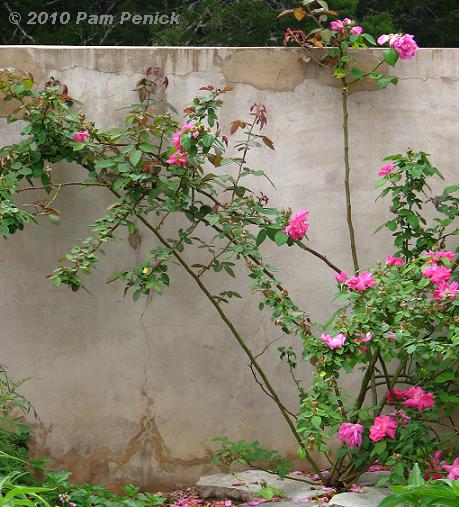 A climbing pink rose stretches across one of the stucco walls that enclose her garden.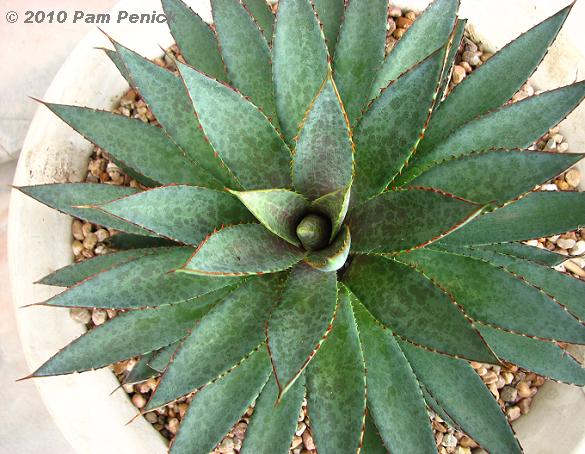 'Bloodspot' mangave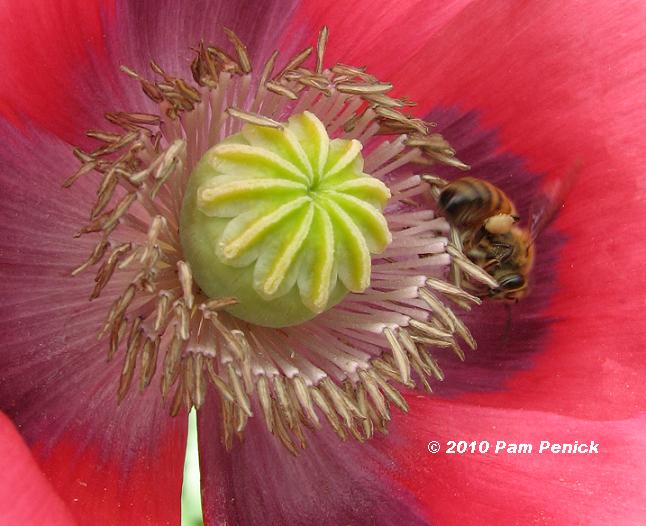 Pink poppy and bee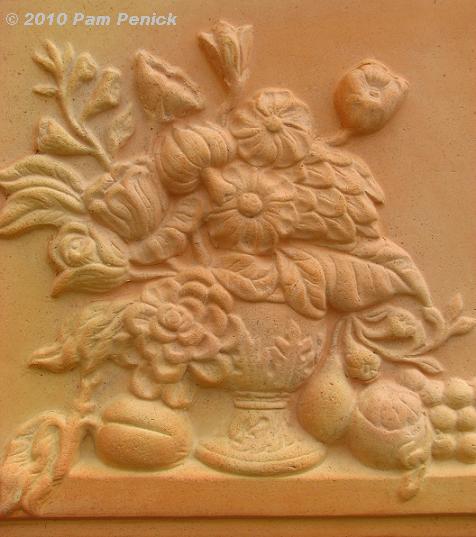 An elegant terracotta plaque hangs on a wall.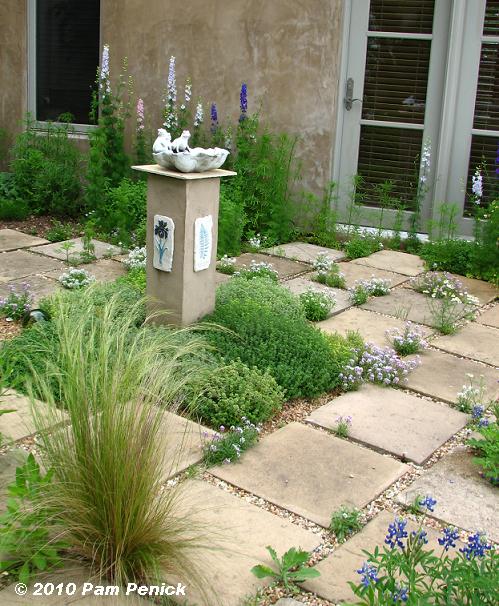 This pillar with a bowl anchors a tiny thyme garden. Larkspur blooms against the far wall.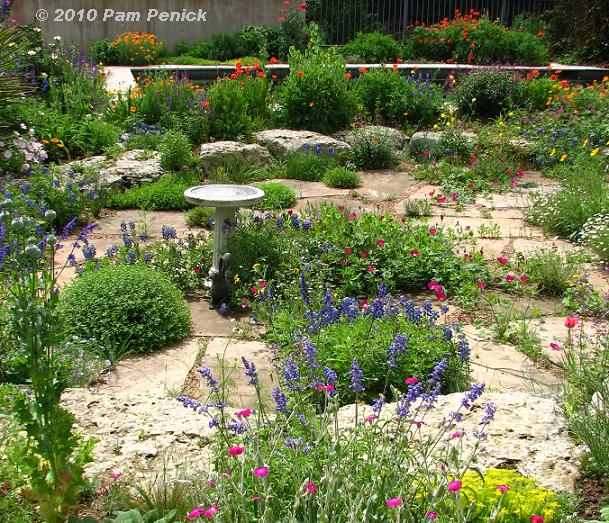 A wide shot of Jenny's sunken courtyard garden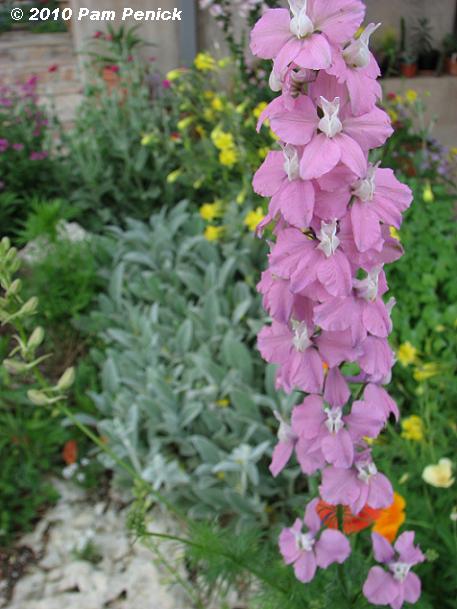 Pink larkspur, with lamb's ear and columbine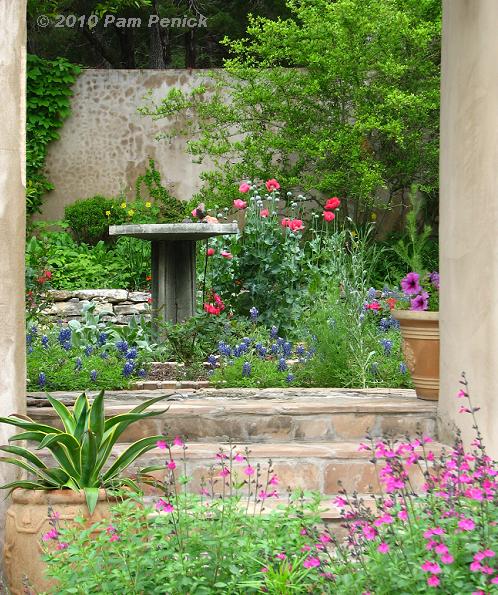 A bird bath in the rose garden creates an eye-catching focal point through the doorway of a thick stucco wall.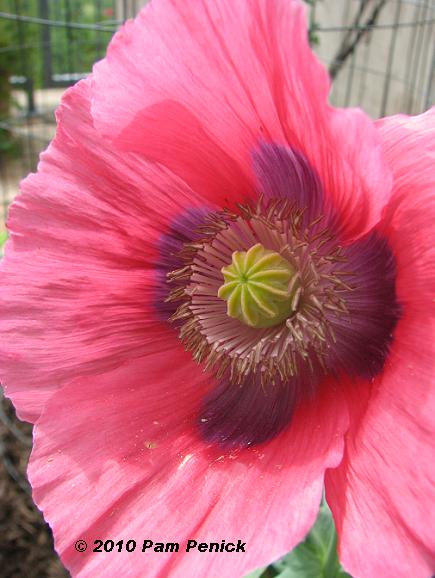 Poppy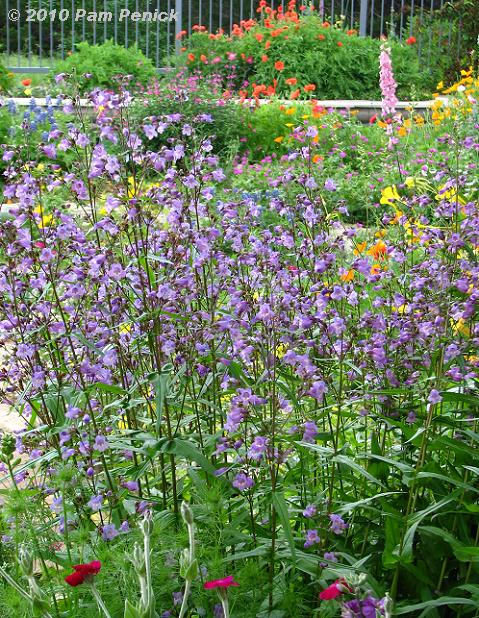 Gulf Coast penstemon, with poppies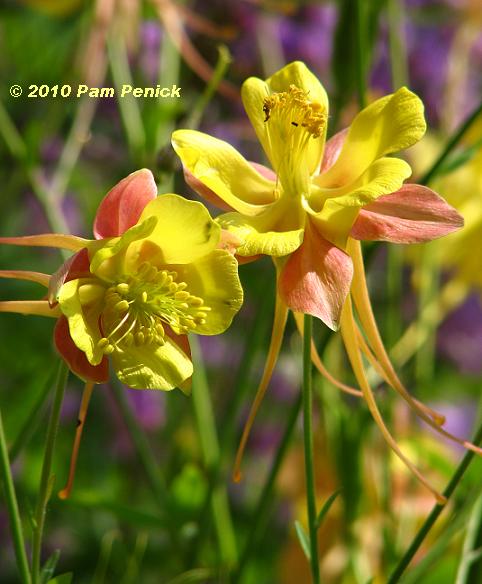 A hybrid columbine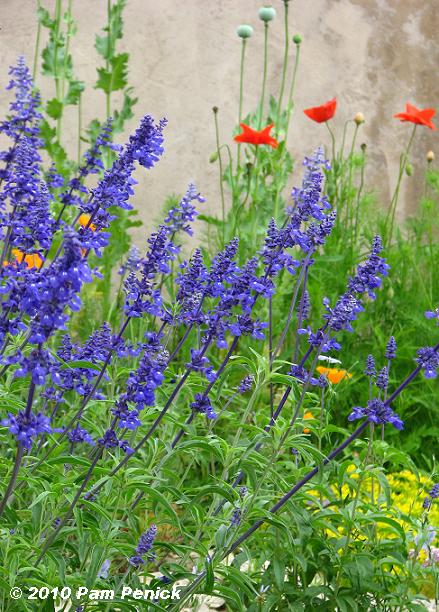 More mealy blue sage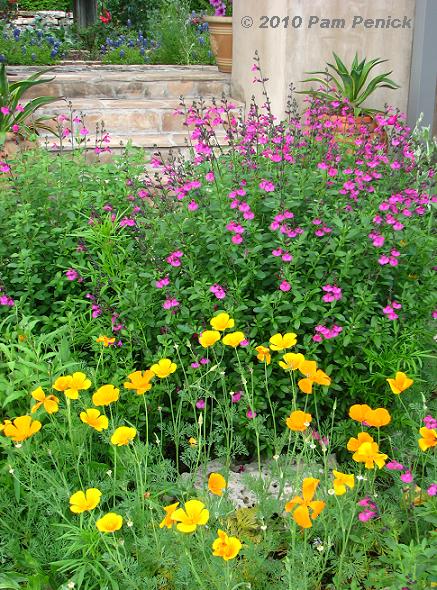 Pink Salvia greggii and orange California poppies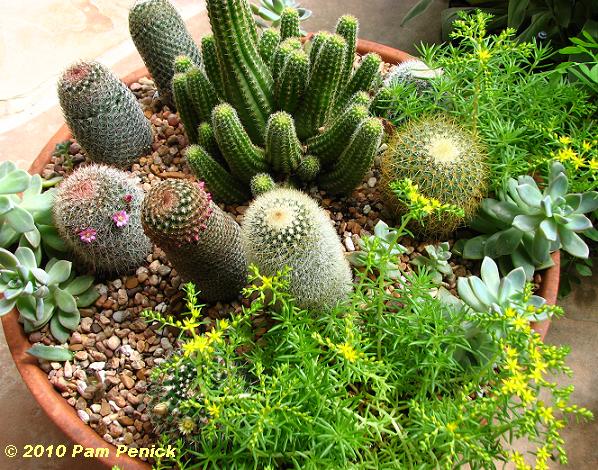 Cacti and succulents in a container planting.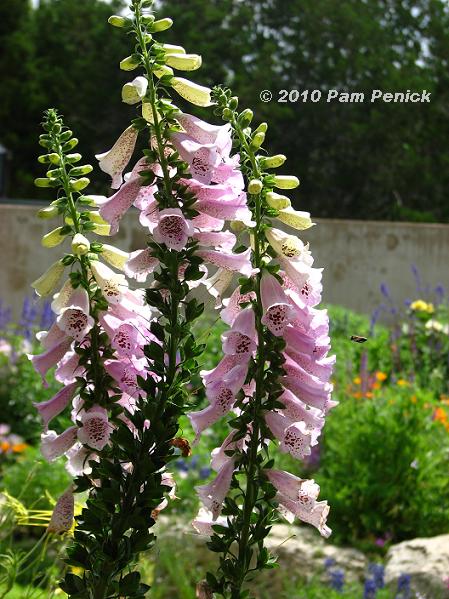 Foxglove, the first I've ever seen in Austin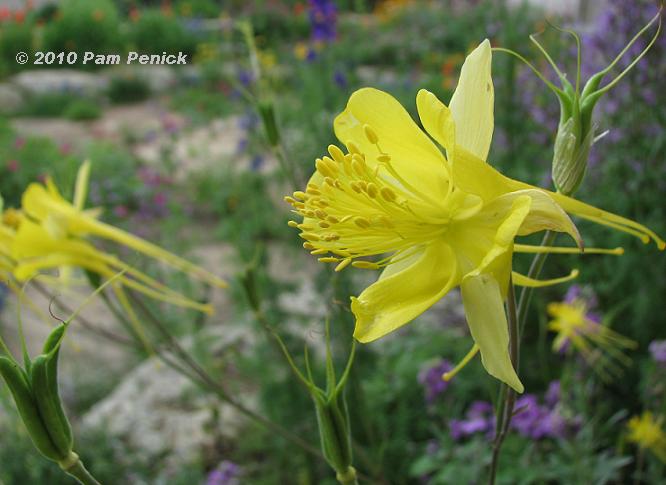 Yellow columbine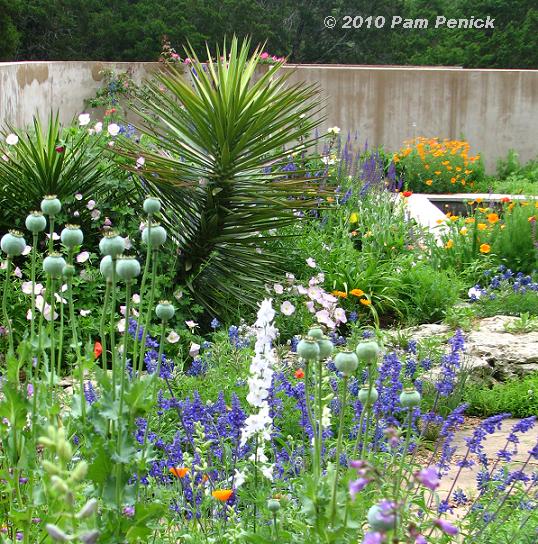 The stiff silhouette of a yucca contrasts nicely with the billowy flowers.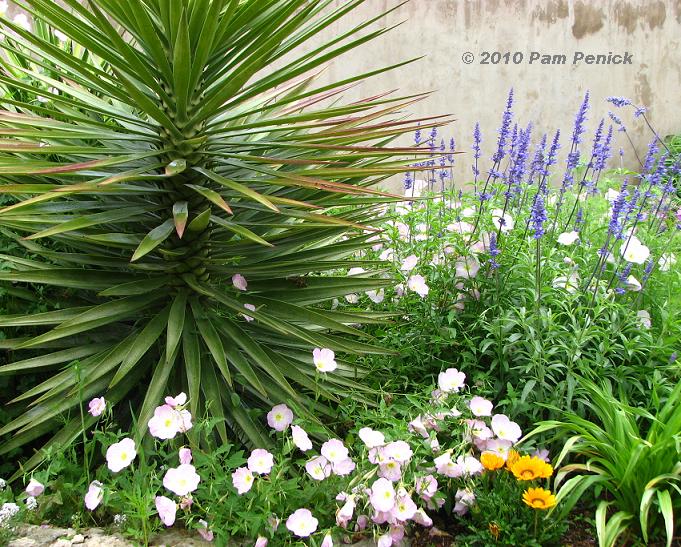 A closer look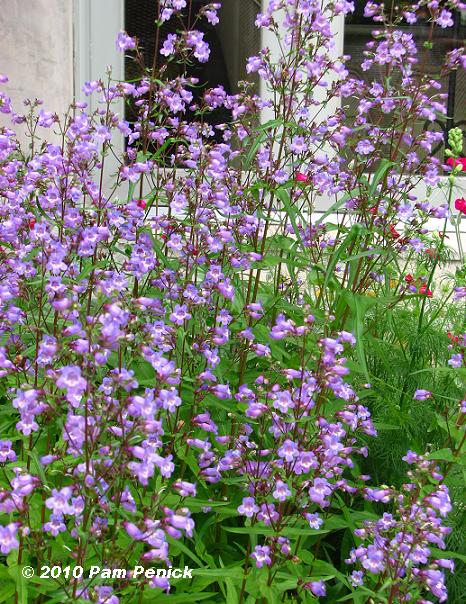 More Gulf Coast penstemon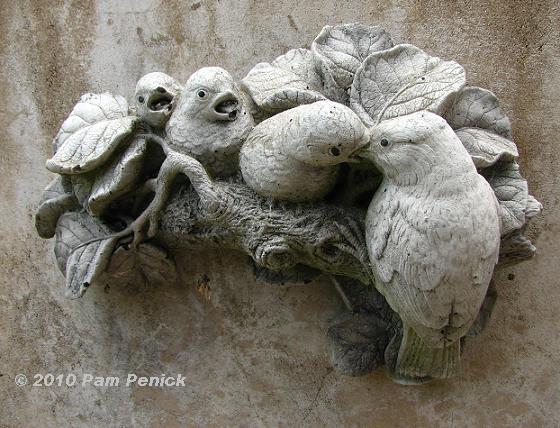 Jenny's garden is wildlife-friendly, as this wall ornament attests.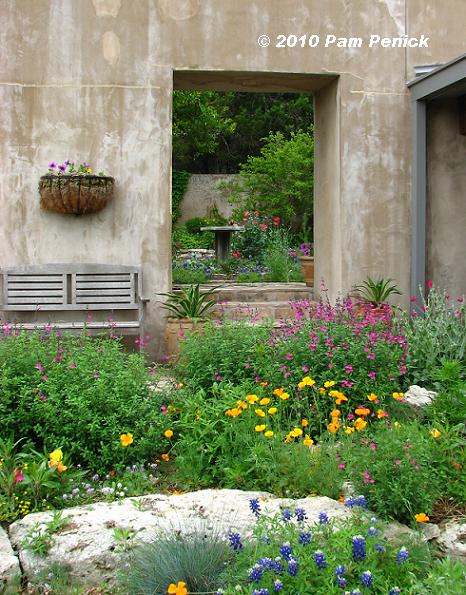 My thanks to Jenny for the visit and a delicious lunch, and my gratitude to her for feeding my soul as well with her beautiful garden.
Past visits to Jenny's garden:
April 2009: Jenny's flower-licious walled garden
April 2008: Meeting Carol & a tour of Jenny Stocker's garden
All material © 2006-2010 by Pam Penick for Digging. Unauthorized reproduction prohibited.
posted in
Agaves
,
Bees
,
Cactus
,
Containers
,
Decor
,
Doors
,
Garden art
,
Garden tours 2010
,
Roses
,
Succulents
,
Texas natives
,
Walls
,
Wildflowers
,
Xeric plants
,
Yuccas