July 27th, 2008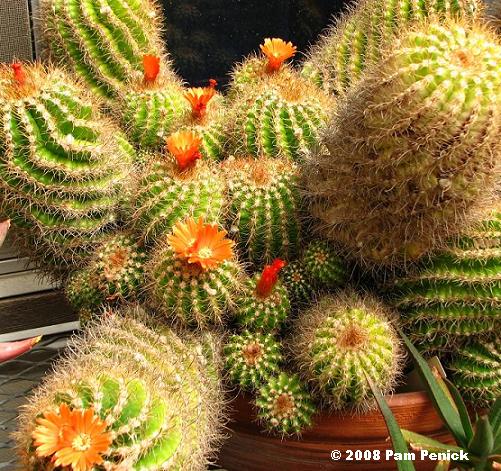 Have the drought and summer's heat got you down? Then check out the incredible collection of cacti and succulents at Oracle Gorge Nursery today, the final day of its mid-summer sale and open house.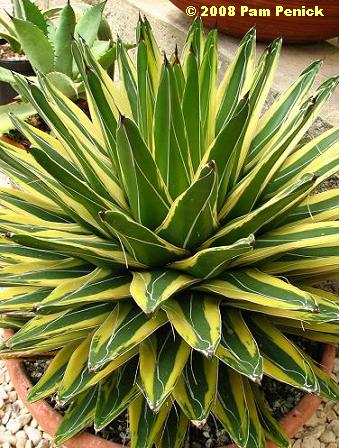 These babies need no babying, except perhaps from the cold—and who among us, here in Austin, still believes in winter at this point? And who cares about the heat when you can grow something like this—a beautiful, full specimen of variegated 'Queen Victoria' agave (A. victoriae-reginae 'Variegata').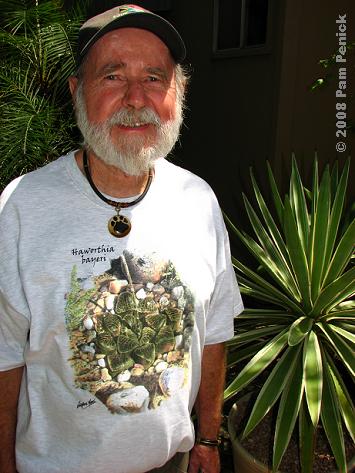 I got wind of a sale this weekend at Oracle Gorge (thanks, Kevin!), an appointment-only nursery at the home of proprietor and cacti collector Dr. Bob Barth, who's been growing spiny and succulent plants for 35 years. His West Lake house, perched on a steep, wooded hillside, is home to four (yes, four) greenhouses, each neatly packed with a Dr. Seussian array of aloes, agaves, and succulents.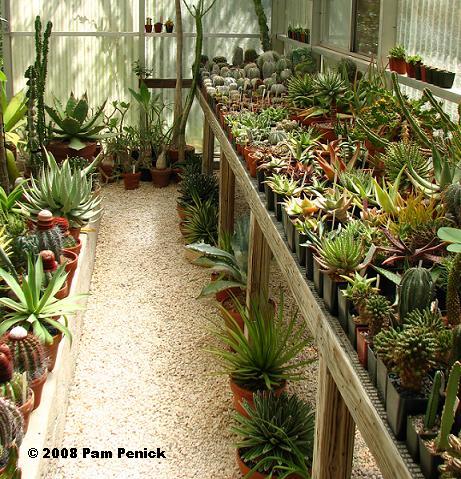 Bob tells me that a few times a year, he opens his nursery to the public and offers small pots of his collection for sale, like the cacti in the image above. Sunday is the final day of his mid-summer open house, and if you appreciate cacti and live in the Austin area, I recommend you visit to see the strange and beautiful plants that he is growing. If you want to buy, I found his prices very reasonable.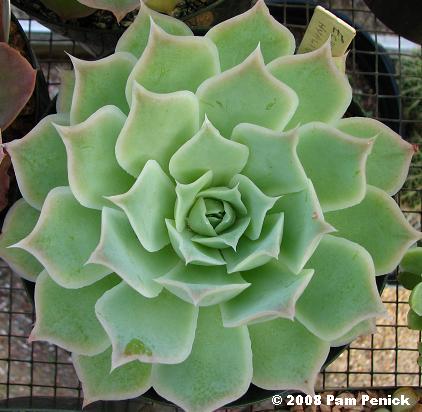 The nursery is located at 602 Terrace Mountain Dr., and the open house/sale runs from 10 am to 5 pm today. Park along the street and enter through the cattle gate enclosing his driveway. Bob can be found in the carport with a couple of assistants, also very knowledgeable about cacti. They're a friendly, helpful group, and I even learned where to buy extra-long tweezers for handling and weeding cacti without getting stuck: Rainbow Gardens Bookshop.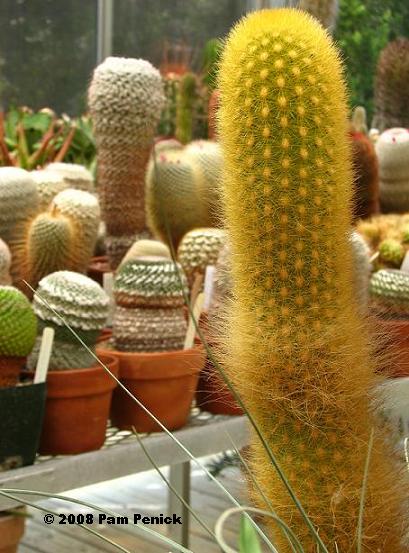 If you can't make it today but you want to be notified of future sales, he can put you on his mailing list. To tide you over, here are a few more images of the spiky, hairy, or succulent beauties in his greenhouses.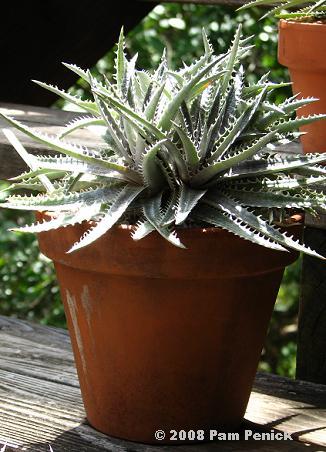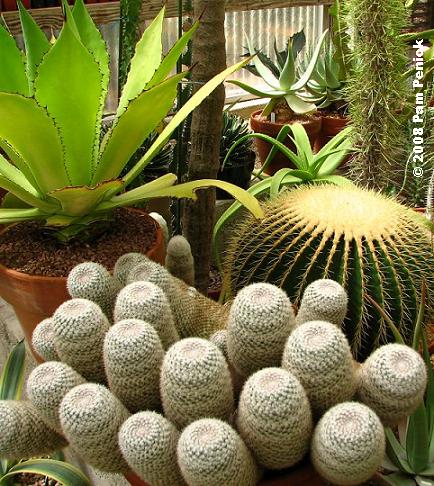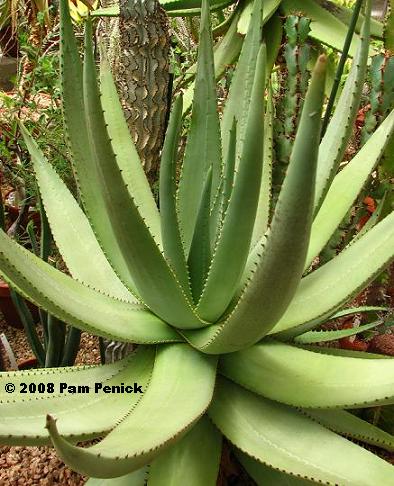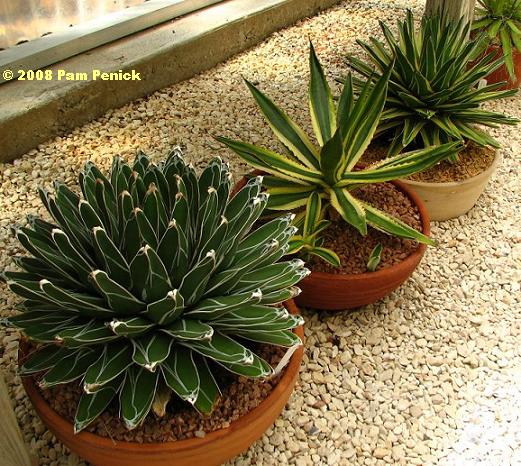 The far-left agave is a mature 'Queen Victoria,' one of the most beautiful agaves, in my opinion. But you must wait a long time for your baby cactus to get to this size. It's an extremely slow grower.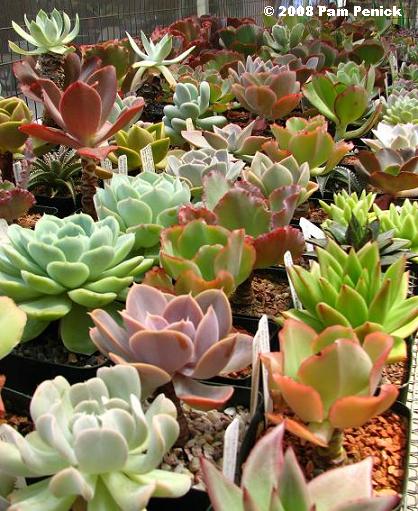 After perusing the succulent table…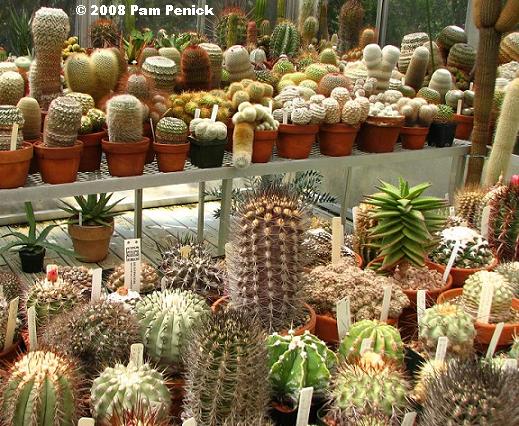 …and the cacti tables,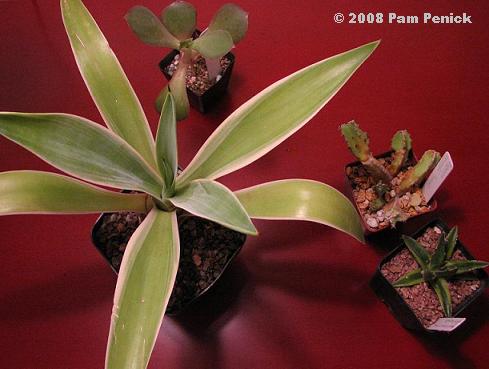 I decided on an Agave desmettiana 'Variegata' (the larger plant), which I've admired over at Rock Rose many a time, and a tiny Agave victoriae-reginae 'Variegata' (on the bottom right). The other two are freebies my kids picked out. Now I just need to find the perfect place for them, and the fun of it is that I can plant these summer lovers now.
All material © 2006-2008 by Pam Penick for Digging. Unauthorized reproduction prohibited.