April 2nd, 2010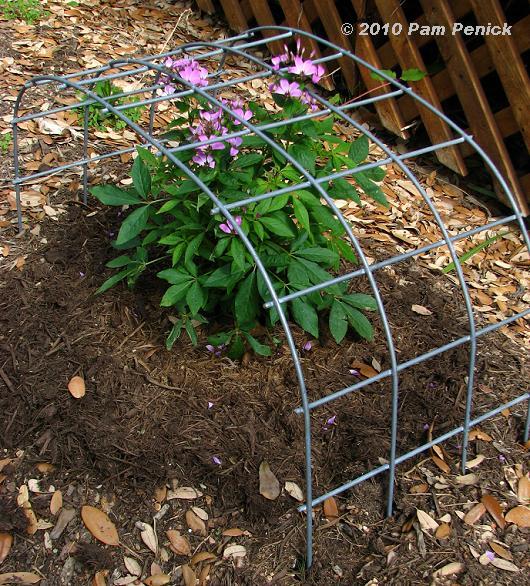 If recent tweets among Austin garden bloggers are any indication, we've snapped up pot after pot of 'Senorita Rosalita' cleome at the Natural Gardener and at Home Depots all over town this spring, and I made sure to grab two for myself in the buying frenzy. Last year I trialed this Proven Winners annual (perennial in zones 8-10, but it didn't survive our hard freezes), and it performed spectacularly through record heat and drought, growing big and bushy in part sun and flowering spring through fall. You couldn't find 'Senorita Rosalita' cleome in area nurseries or garden centers last season, but this year, to my delight, it's available. It's also offered online at White Flower Farm.
It's a great plant. The only problem I've documented with it is splitting after a heavy rain. One of last year's cleomes split right in half, leaving a gaping hole in the mass of foliage. So this time I'm giving the Senoritas some support.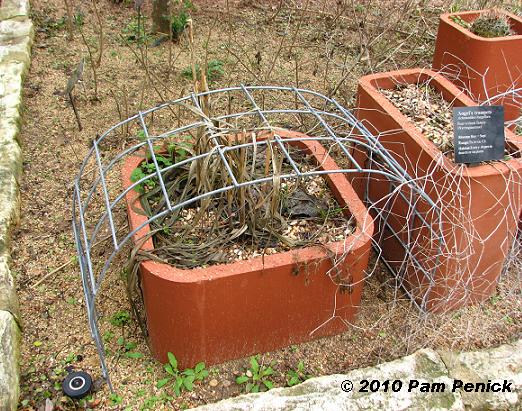 I saw this idea at the Wildflower Center last winter (above) and decided to try it at home. I cut a long section of cattle-panel wire to a width of 3 squares, and on each end I snipped the cross pieces off to a length of 2 squares, creating staking legs. Holding the wire upright and then bowing it away from me, I stood on one end of it and bent the wire into a U-shape. Centering it over the cleome, I pushed the staking legs into the ground.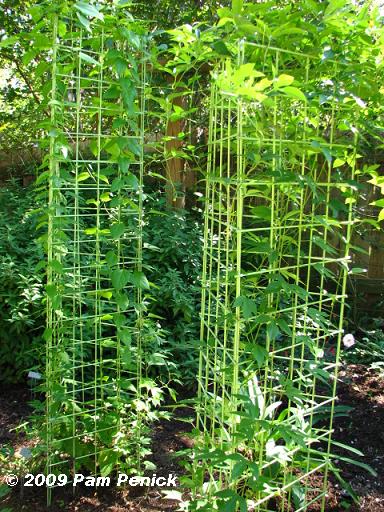 I considered painting the wire a fun color, as Lindy McGinnis did with cattle-panel trellises I saw in her garden on tour. But since I have a galvanized-silver thing going with all my stock tanks, I opted to leave the wire as-is and let it blend into the background.
I made another support for my 'Ava' agastache, which is also prone to splitting, according to High Country Gardens owner David Salman (see his comment on my agastache post, linked above). Cattle panel is a sturdy wire, and as the cleomes and agastache grow up through the holes, their top-heavy stems will be supported.
Cattle panel is a fantastic material for gardening projects like trellises, screens, and fencing. It comes in 20-ft. lengths and can be purchased at Callahan's General Store in Austin, which is also where I buy my stock tanks. They'll cut it in half for you if you ask. You need to use bolt cutters and arm muscle to snip it, and it's a good idea to wear gloves when handling it, as the cut edges are sharp.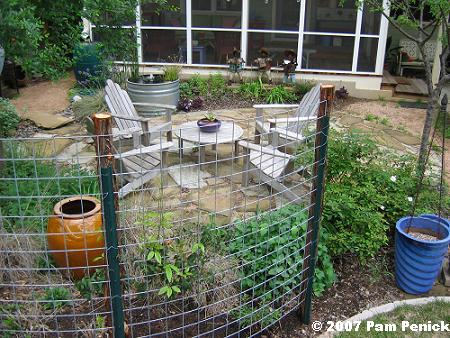 In my former garden I used a full piece of cattle panel to construct a trellis screen to divide my garden. Click for my how-to. When I moved, I disassembled that screen and brought the wire panel with me, which I used to make my plant supports. That's the other great thing about cattle panel: it's easily repurposed for the next project.
All material © 2006-2010 by Pam Penick for Digging. Unauthorized reproduction prohibited.