March 22nd, 2010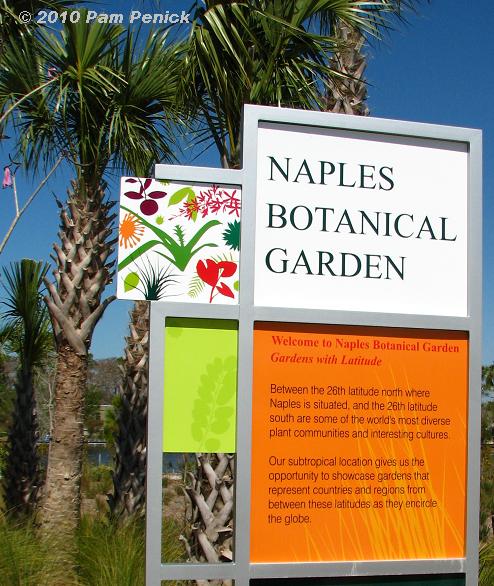 Over spring break we drove 3,200 miles (5,149 km) round-trip to Florida, with stops in Orlando, Miami, Everglades National Park, the Keys (all the way to Key West), and finally Naples to see the brand-new botanical garden there. Planted last August and opened to the public in November, Naples Botanical Garden is in its infancy, but it will grow up fast under the Florida sun.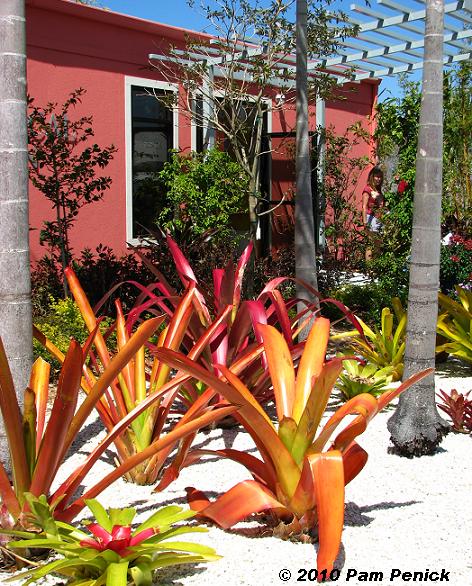 The approach from the parking lot sets the stage with bold color. A lime-green wall with hot-pink bougainvillea contrasts with the salmon-colored entry planted with palms and orange, red, and green rainbow bromeliads.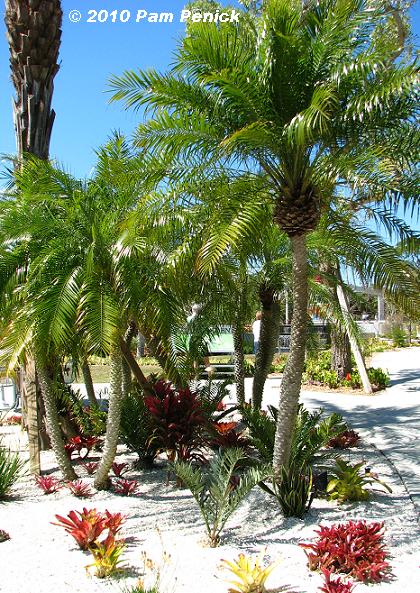 The gardens showcase subtropical plants that grow around the world between the 26th latitude north, where Naples is located, and the 26th latitude south.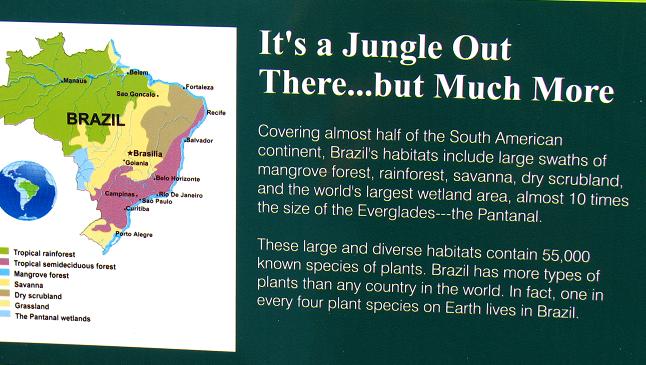 The centerpiece is the Brazilian Garden…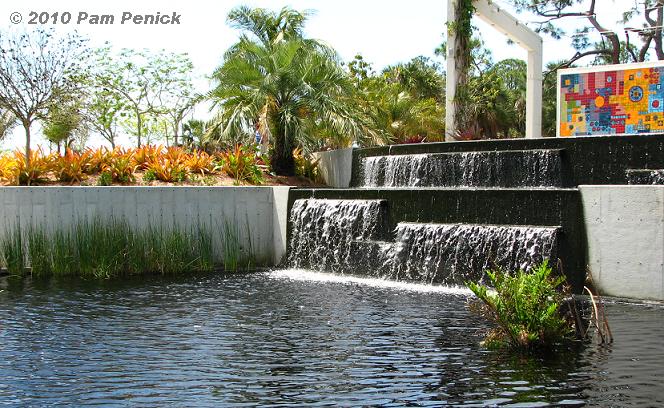 …where a negative-edge waterfall and pond are overlooked by a large mosaic tile mural by renowned Brazilian landscape architect Roberto Burle Marx.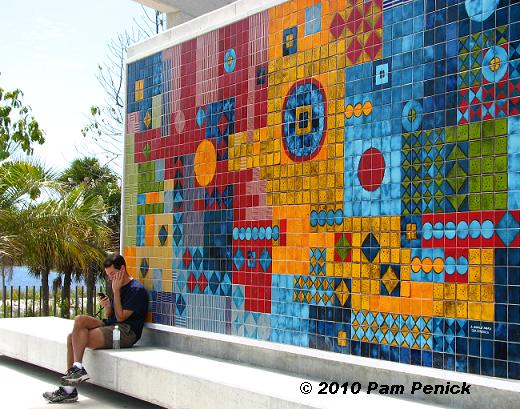 Miami landscape architect Raymond Jungles, who studied under Marx, donated the mural and designed the contemporary Brazilian Garden.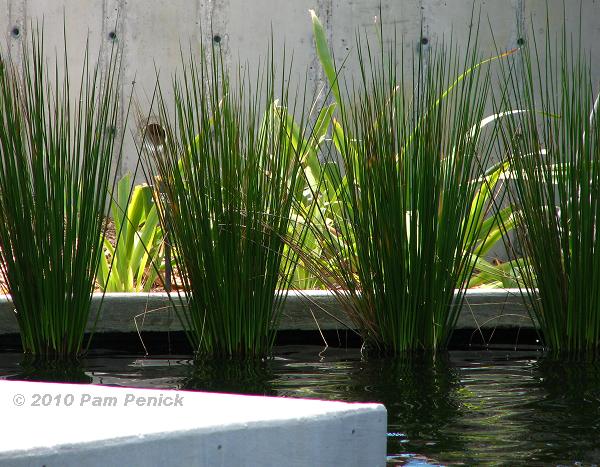 Swaths of one kind of plant…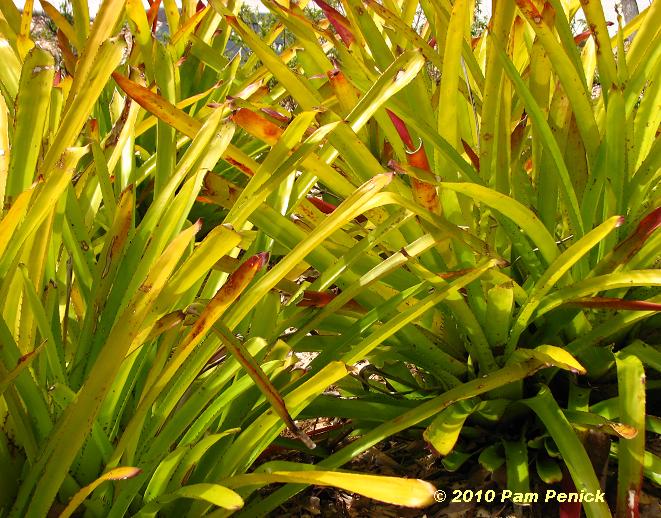 …blocks of color…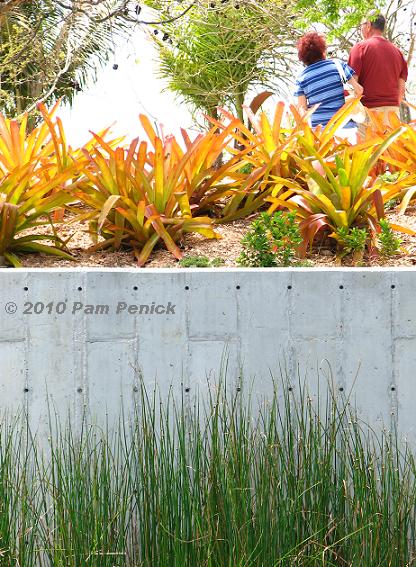 …and contrasts in form: it's a mod, mod world.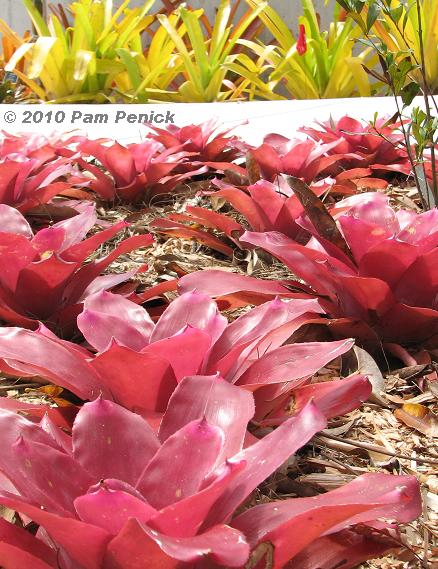 So many of the plants were entirely foreign to me, Seussian in shape, and their deeply colored, broad, glossy leaves were strikingly different from the silvery green, small, and often fuzzy leaves I'm used to seeing on xeric sun-lovers here in Austin. This is Neoregelia petra.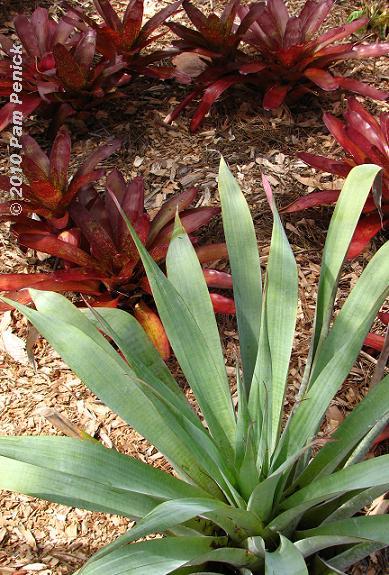 This one, in the foreground, looks more familiar. In fact, I mistook it for a yucca at first, but it's actually a bromeliad called Alcantarea odorata.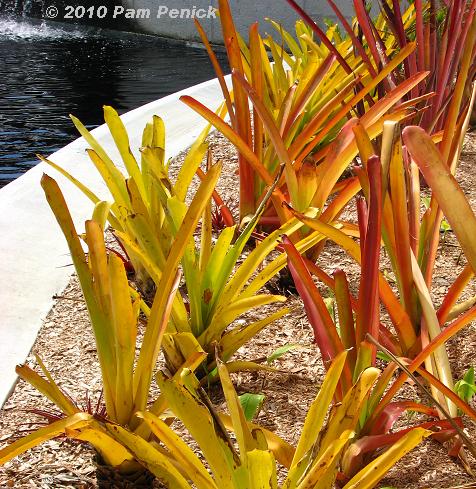 More Portea, I think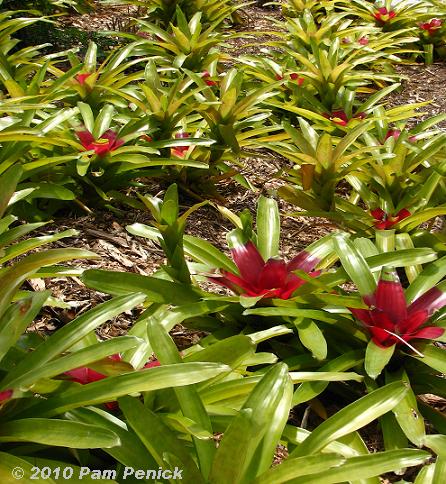 Neoregelia mcwilliamsii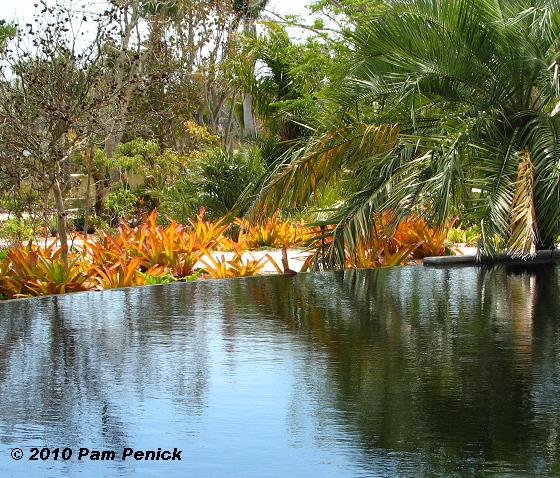 Climbing up to the pavilion behind the waterfall, you look out over the negative edge at a colorful and palm-studded garden. You can see that some of the trees were still bare. According to a horticulturist I spoke with, some of the plants were recovering from transplant shock and the same January cold snap that hit much of the southern U.S. It dipped down to 31 F (-.5 C) in the garden one night and remained cold for several days, killing some of the subtropical plants and setting back others. For all that, I thought the garden looked remarkably healthy and established considering its recent planting.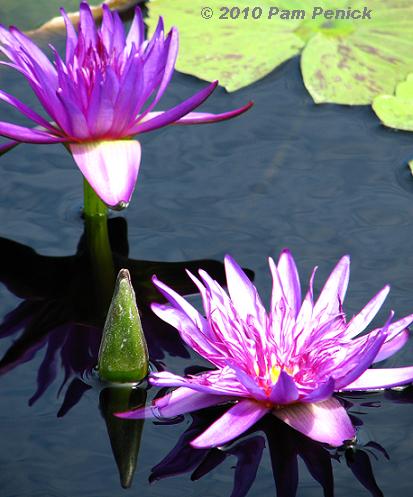 Tropical water lilies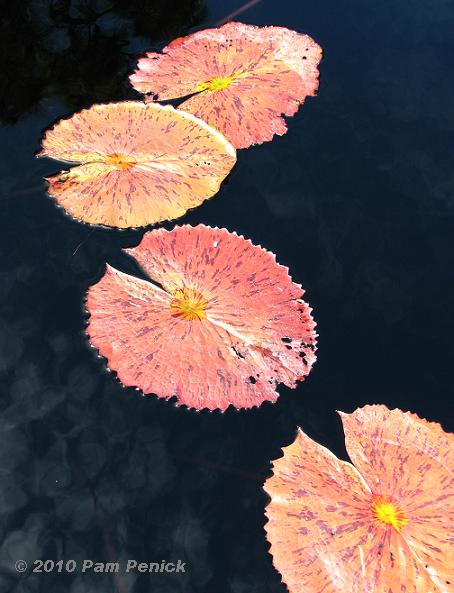 Red water lily leaves look like stepping stones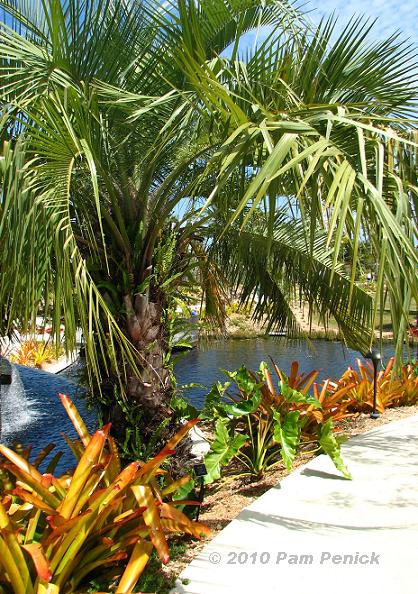 A path on the other side of the pond…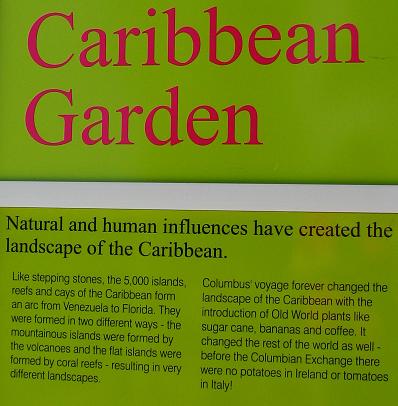 …leads to the Caribbean Garden.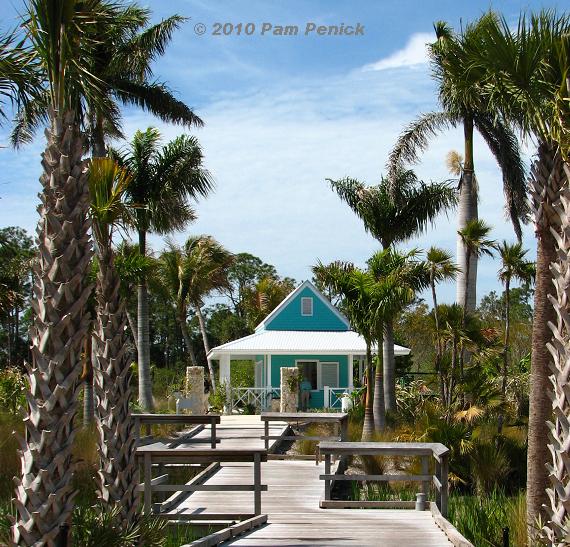 The focal point of the Caribbean Garden is a turquoise cabana-like structure, providing welcome shade and open to cooling breezes.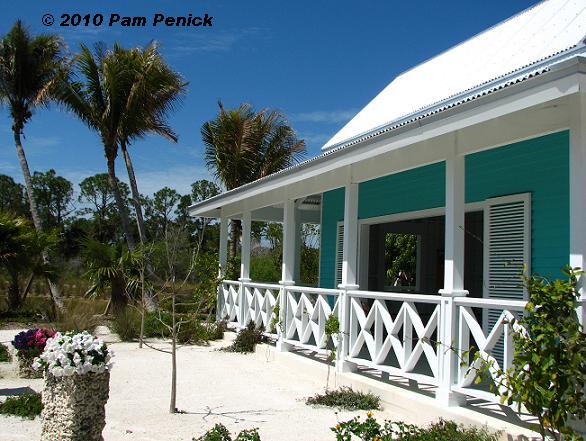 The front yard, with crushed-shell "gravel" that looks almost like beach sand.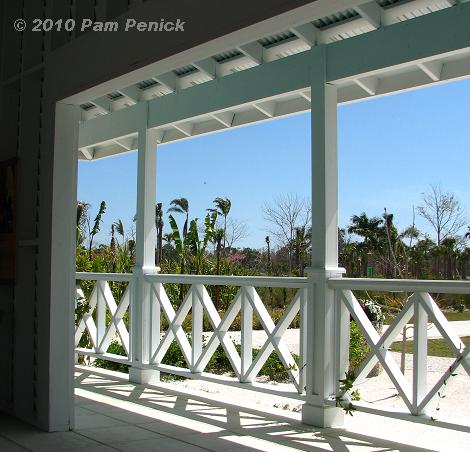 View from a bench inside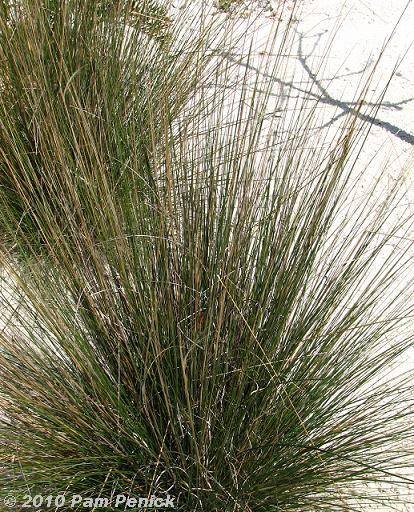 Gulf muhly grass (Muhlenbergia capillaris) grows outside.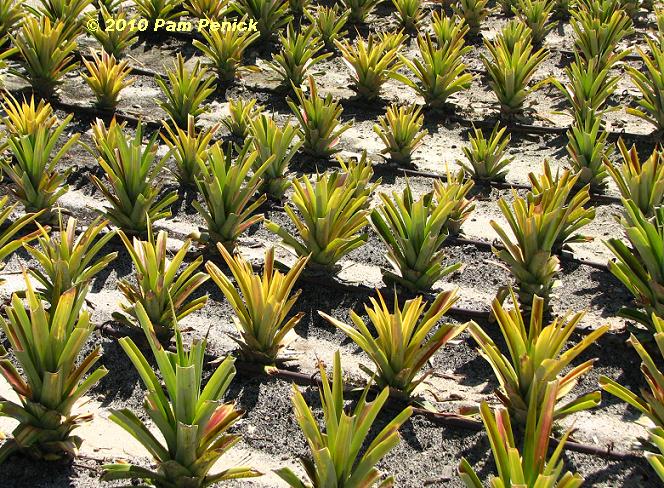 As does a cultivated grove of pineapple.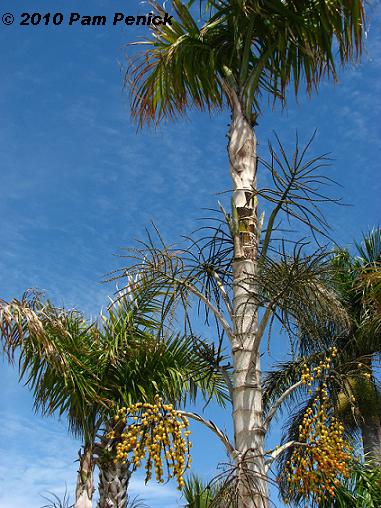 Palms dominate the view, no matter where you are in the botanical garden. I noticed a beautiful yellow fruit on this palm.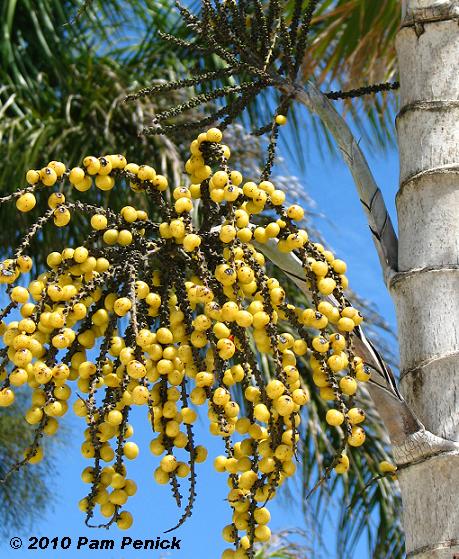 A closer look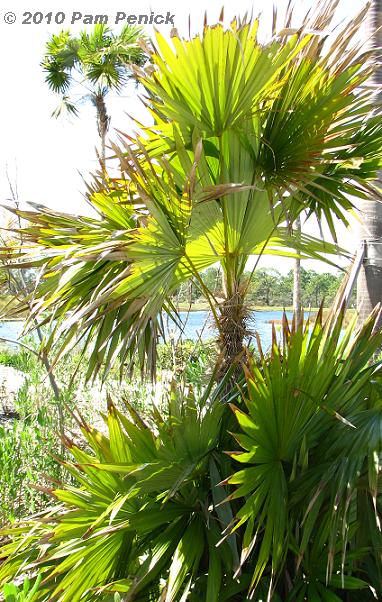 The name of this one intrigued me: zombie palm.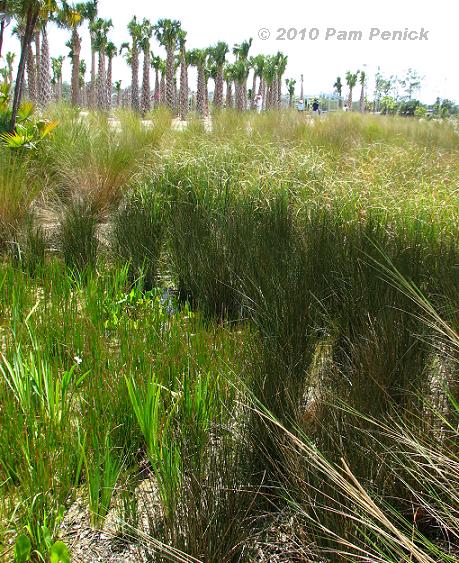 A river of grass represents the Everglades, which begins just south of Naples.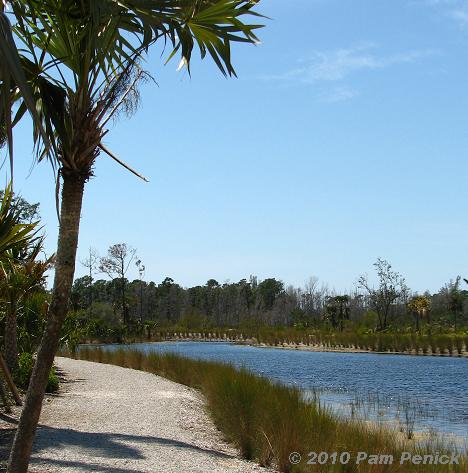 Several lakes, whose excavation during the garden's construction provided soil used to create topographical interest, offer a naturalistic experience and good bird-watching opportunities.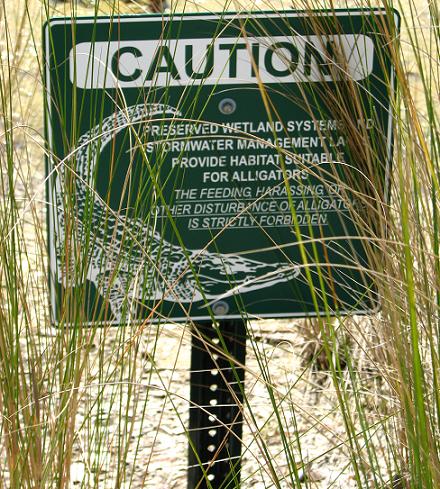 But signs warn you to look out for alligators! The horticulturist I spoke to assured me that alligators do inhabit their lakes. But they haven't eaten anyone yet.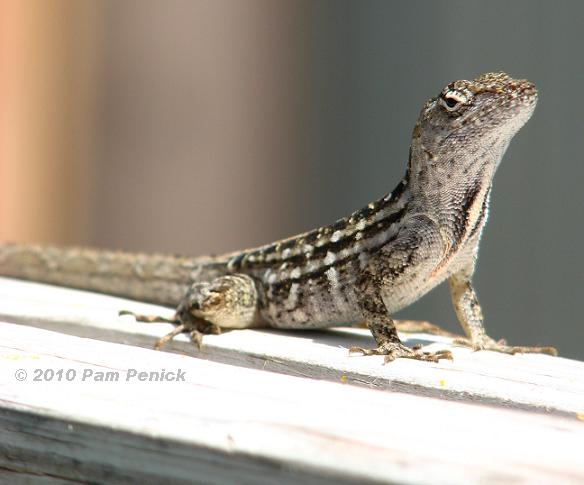 The only reptile we spotted here, however, was rather small: this little lizard on a fence in the Children's Garden.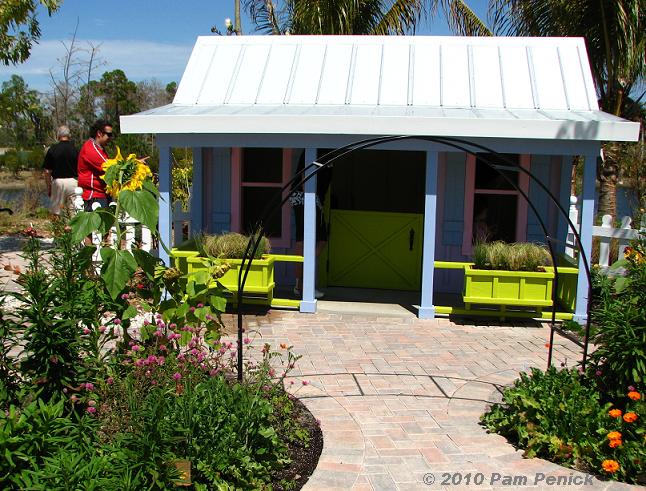 Kids would have a fun time exploring this garden—as did we, even though our children are too old for many of the features, including an interactive fountain for cooling off in and a charming playhouse, where children are invited to use one of numerous watering cans to water the vegetables growing all around.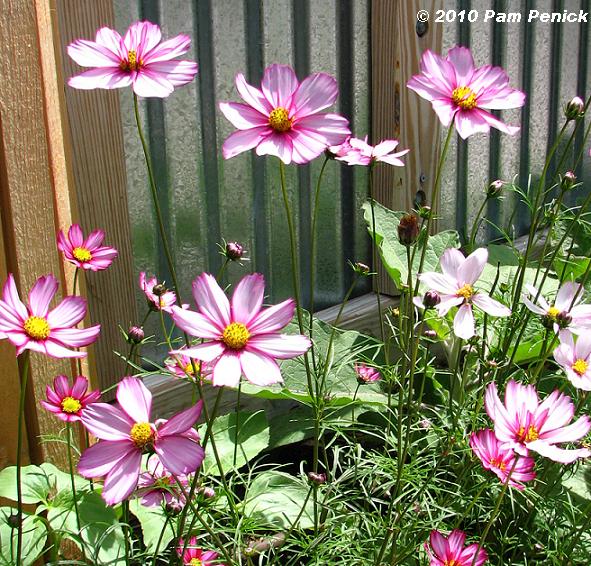 Aside from a treehouse, a tall watchtower, a stream with stepping stones, chalk for drawing on the sidewalk, a sandpit, and a stroll-behind waterfall, the children's garden entices small gardeners with colorful flowers like this pink cosmos…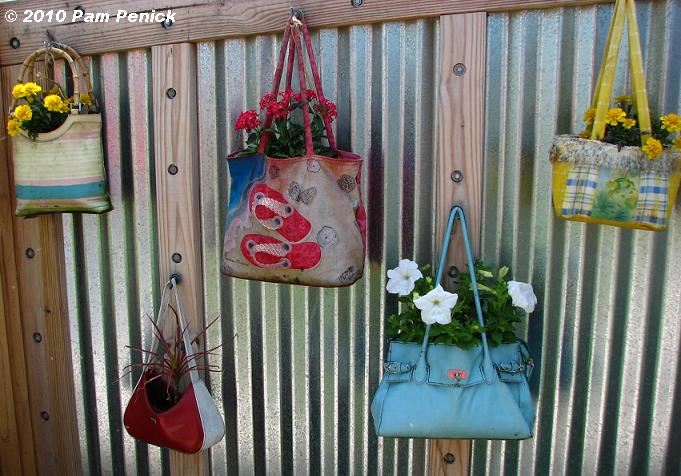 …and fun purse planters that decorate a garden wall. Many other everyday objects were planted up and placed throughout the garden to provide a little surprise.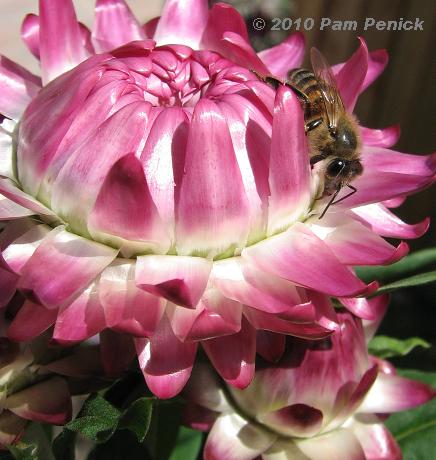 Bees were attracted too.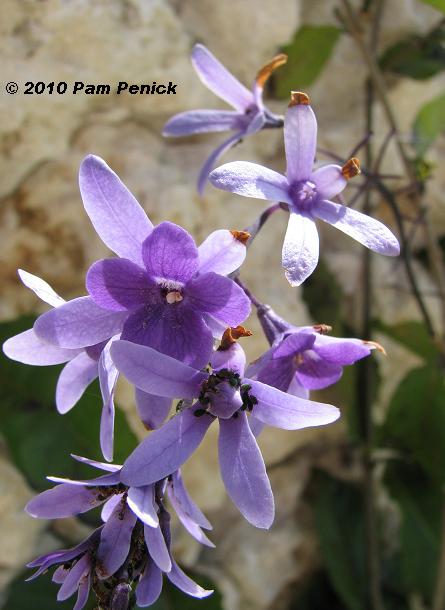 A few softer flowering plants like this beautiful vine…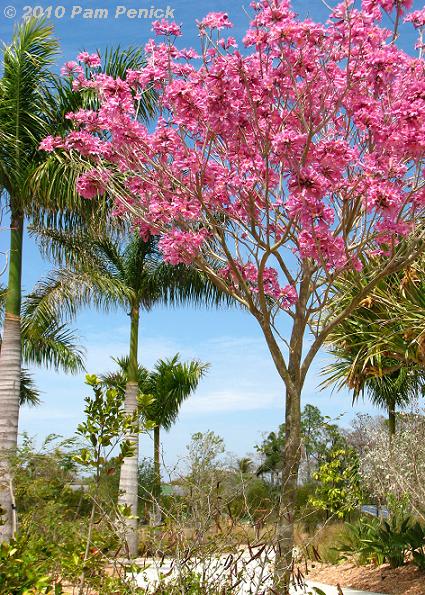 …and this pink trumpet tree stood out amid the sea of colorful, dramatic foliage in the gardens.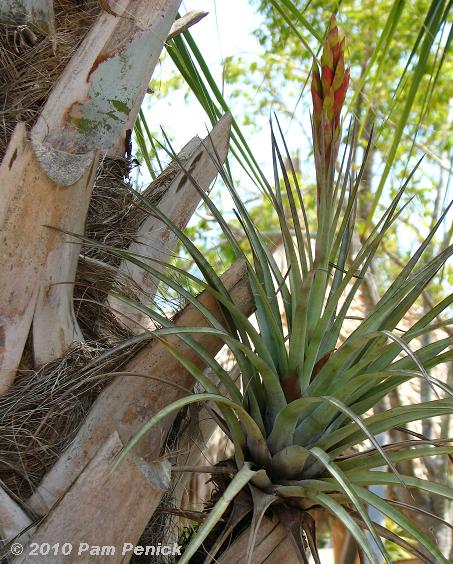 But my main impression was of foliage—palms and bromeliads, especially. I never knew there were so many varieties of each, and such diversity of form and color.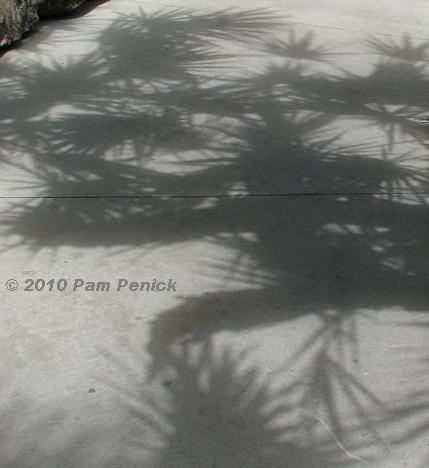 I would love to see Naples Botanical Garden again in a few years, when the palms and other plants have had a chance to spread out and fill in and create even more drama.
My thanks to Shannon Palmer, NBG's communications manager, who tweets about happenings in the garden at @NaplesBotanical, for taking the time to say hello and sharing some of the garden's publications with me.
All material © 2006-2010 by Pam Penick for Digging. Unauthorized reproduction prohibited.
posted in
Annuals
,
Arbors
,
Bees
,
Botanic/Public Gardens
,
Bridges
,
Containers
,
Design
,
Flowers
,
Fountains
,
Garden art
,
Garden structures
,
Garden tours 2010
,
Grasses
,
Lakes
,
Lizards
,
Murals
,
Native plants
,
Palms/Cycads
,
Paths
,
Ponds
,
Porch
,
Seating
,
Signs
,
Travel
,
Trees
,
Tropicals
,
Vines
,
Walls
,
Water features
,
Water gardening
,
Wildlife