July 23rd, 2008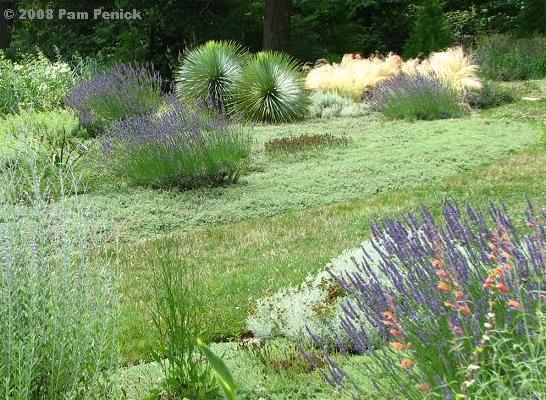 Among all the beautiful, bold, and imaginative gardens at Chanticleer, why do I like the Gravel Garden best? It so resembles the dry gardens of west Austin that I feel a little sheepish to admit that in this lush, Pennsylvania garden I preferred the familiarity of home. But home jazzed up, a strangely lush Hill Country-esque tapestry, with the surprising backdrop of tall eastern hardwoods and conical junipers to remind me I'm actually far from home. Perhaps it was also the novelty of seeing the vernacular of home—yuccas and agaves, wildflowers, stone and gravel, low-growing xeric plants mixed with feathery grasses—in an unlikely place.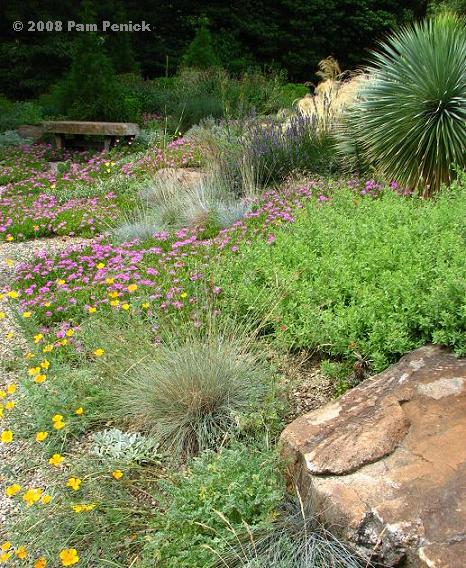 Since Pennsylvania does not share the arid climate of central Texas, this garden of drought-tolerant plants, many of which will not tolerate wet feet, is planted on a slope and mulched with gravel.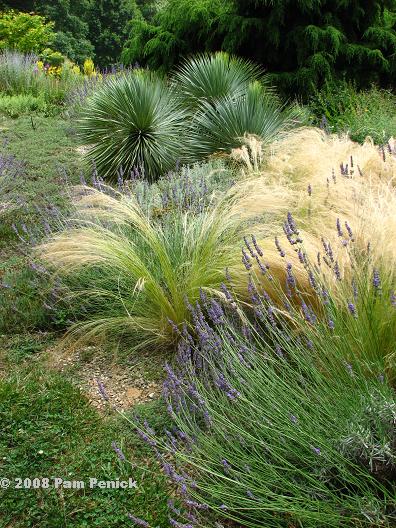 Here's what I haven't managed in my clay-based, flat garden—lavender. They grow it in the Hill Country, however, and this reminded me of the herb farms in Fredericksburg.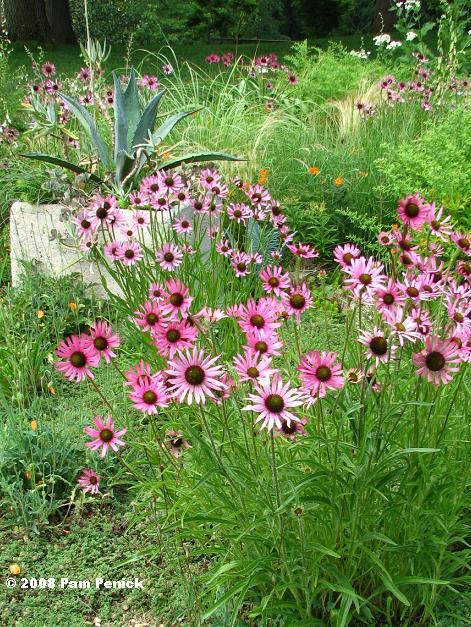 Coneflowers and agaves look great together.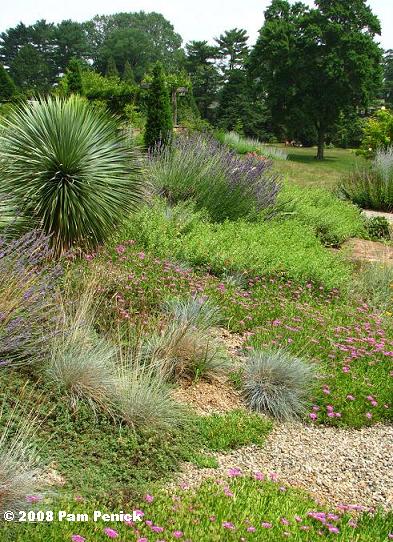 Another view of the raised bed.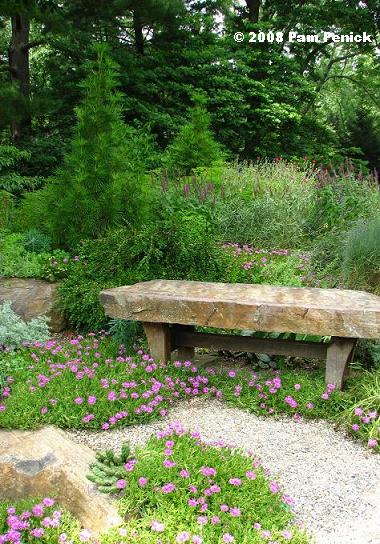 A stone-slab bench is a natural in a gravel garden.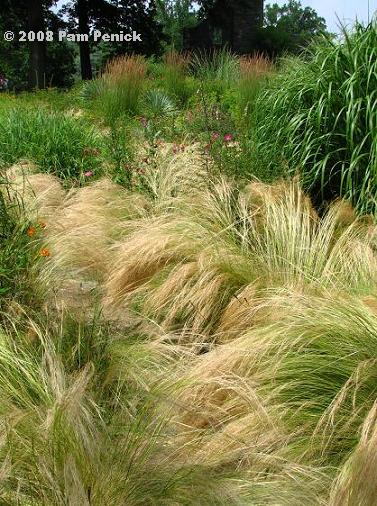 Mexican feathergrass provides texture and movement.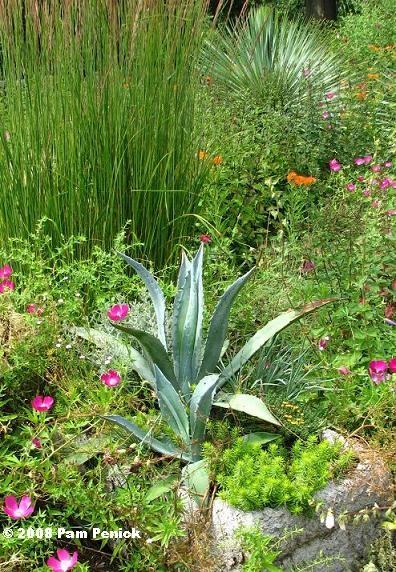 Magenta winecups add jewel-toned color to a pairing of agave and 'Angelina' sedum.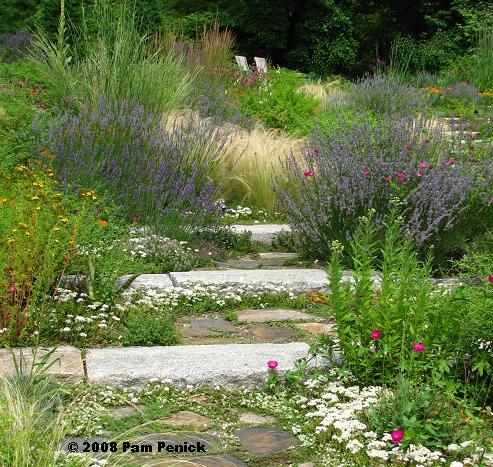 Stone-slab steps lead up the steep slope…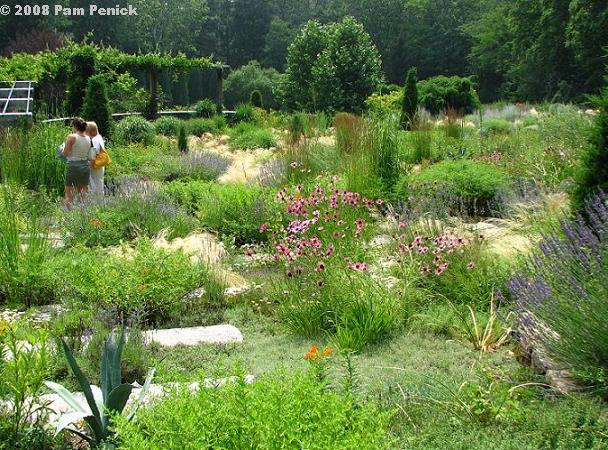 …and through the xeric (drought-tolerant) garden at top.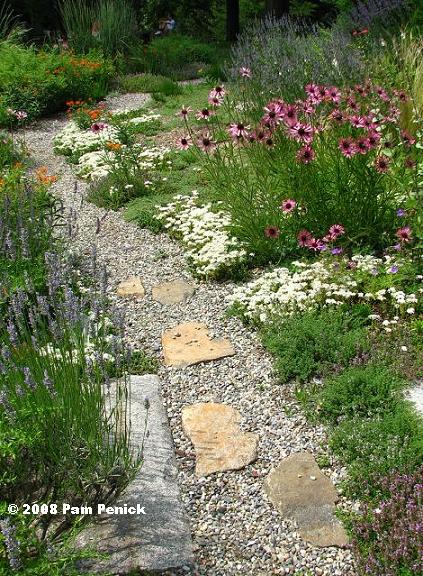 A gravel-and-stone path curves toward a shady seating area.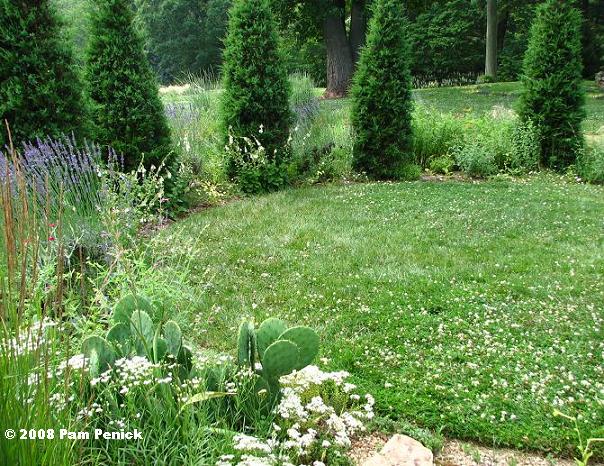 This circular lawn marks the end of the Gravel Garden and offers a place to pause before heading into the Ruin, an 8-year-old structure designed to look like the ruins of an old house at the top of the hill.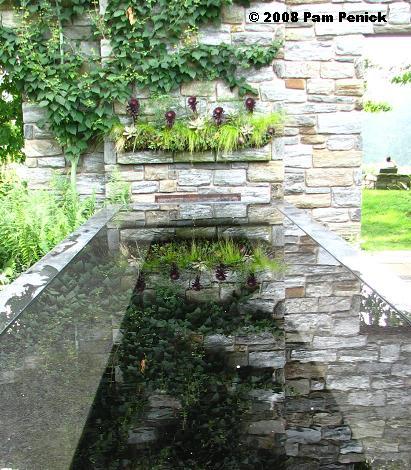 Here is where the extraordinary creativity and fancy of the staff is focused. Although the Ruin has a solemn feel, that solemnity is slyly tweaked around every corner. Stone "books" lay scattered on the "library" floor, the furniture (a great stone sofa and chair) have been moved "out of doors," and this shallow black pool, raised up like a table, stands in for a formal dining table, it seemed to me.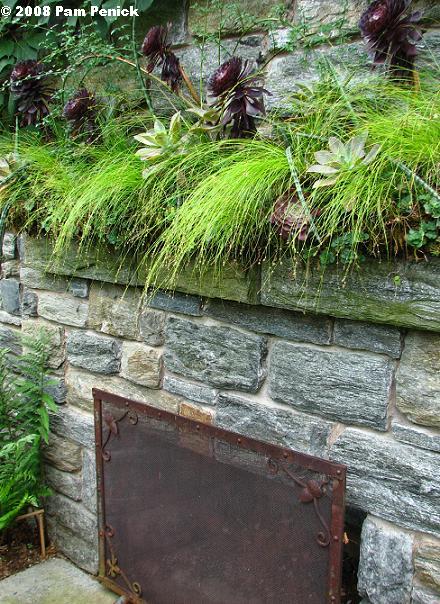 At the far end, a fireplace is topped by a living mantelpiece.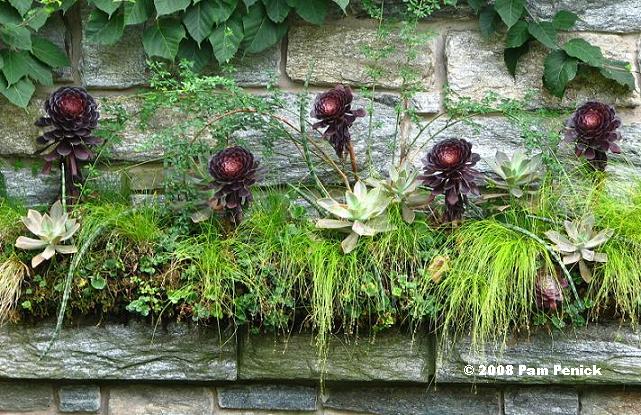 A closer look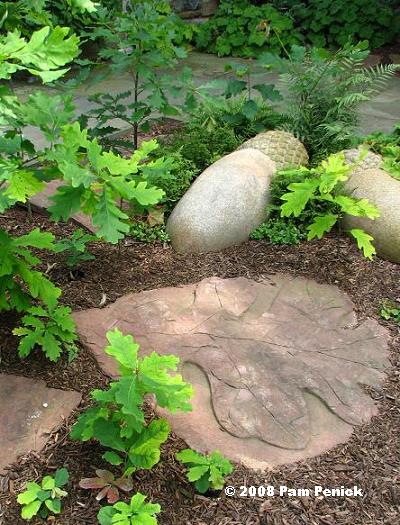 In another "room"—open, like the rest, to the sky—oak seedlings sprout among giant, sculpted acorns and oak leaves.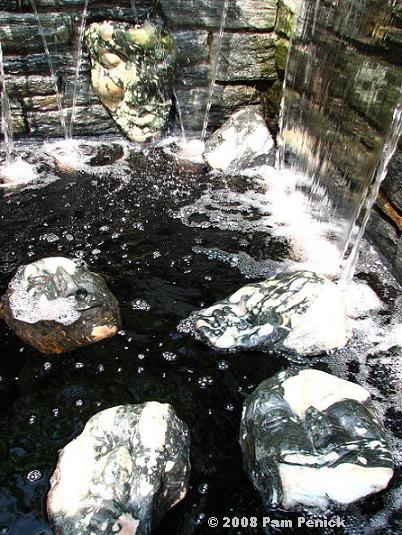 Although they are smiling, I found these marble faces "floating" in another pool fairly creepy.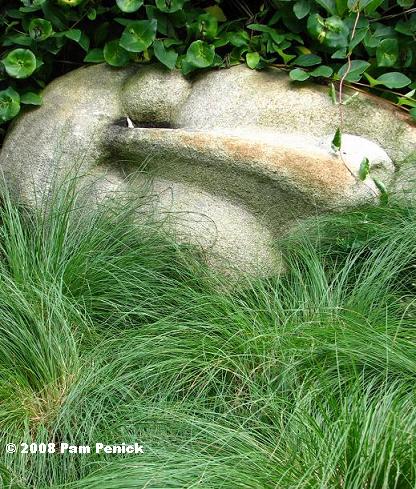 I didn't get a good shot of the Ruin itself, only some of the interior. Ah well. It'll give you yet another reason to see it for yourself. As you head down the hill, you may notice one more face sleeping, like Rip Van Winkle, among sedges and vines.
Come back tomorrow for my final Chanticleer images—the Cut Flower and Vegetable Garden. For pics of the Pond Garden, click here.
All material © 2006-2008 by Pam Penick for Digging. Unauthorized reproduction prohibited.
posted in
1st garden--2008
,
Agaves
,
Botanic/Public Gardens
,
Containers
,
Fireplace
,
Fountains
,
Garden art
,
Garden structures
,
Garden tours 2008
,
Grasses
,
Hillside
,
Lawns
,
Paths
,
Patios & decks
,
Rock
,
Sculpture
,
Seating
,
Succulents
,
Summer color
,
Travel
,
Trees
,
Vines
,
Walls
,
Water features
,
Water-Saving Garden
,
Wildflowers
,
Xeric plants
,
Yuccas