February 23rd, 2010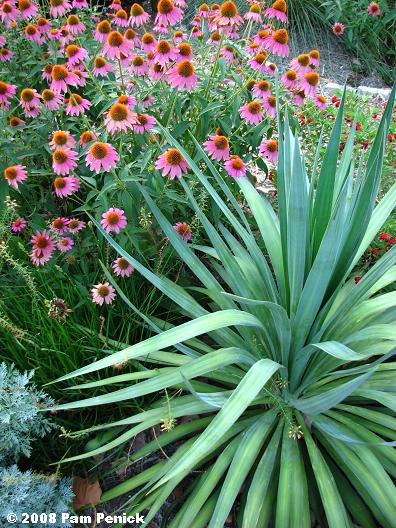 In a couple of weeks, as bulbs begin to bloom, perennials re-leaf, and spring arrives in earnest here in central Texas, the floral displays at the nurseries will sing their siren song, and it'll be all too easy to forget about the structural foliage plants that anchor and sustain the garden all year round. So stop your ears with wax to block that siren song for a moment, and let's examine how big, bold foliage works in our hot-zone gardens not only in winter, when flowering plants are dormant, but in summer, when the garden is a riot of color.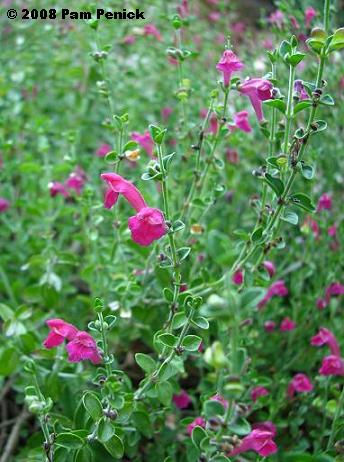 Austin gardeners have long embraced the native-plant and xeriscape movements for ecological and economic reasons. Native and adapted plants thrive despite our variable weather patterns and extremely hot, often dry summers, which sap plants from more temperate regions. Many of our dependable, xeric, sun-lovers—salvia, penstemon, skullcap, zexmenia, Mexican oregano, rosemary, copper canyon daisy, dalea, flame acanthus, cuphea, damianita, to name a few—sport masses of tiny leaves, which nature engineered to help hot-zone plants reduce water loss through transpiration.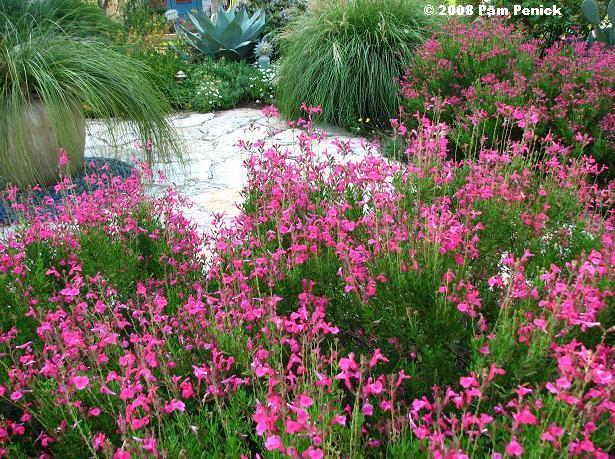 Planting these tough beauties in a sunny bed can give you waves of color through the warm months. But it can also look busy and messy—not to mention flat and bare in winter—leaving you with the feeling that something important is missing. That something is strong foliage structure to contrast with all those fine-textured leaves.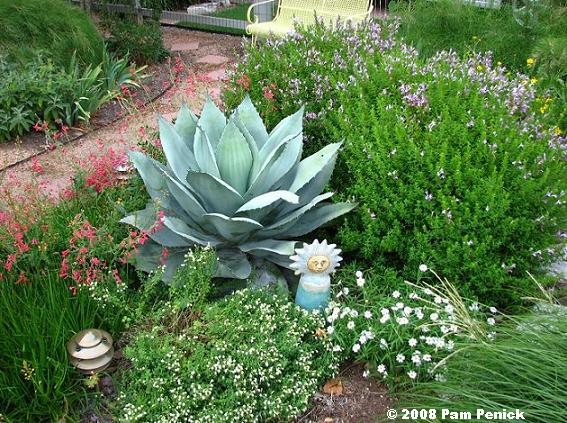 The woody lilies, like agave and yucca, and certain cacti, like prickly pear (Opuntia) are a natural source of wide-leaf, architectural foliage for us here in central Texas. In a climate where broad leaves generally indicate that a plant must have some shade, the wide blades, swords, and paddles of succulent and cacti foliage thrive in full sun and act as focal points amid the fine texture of flowering perennials.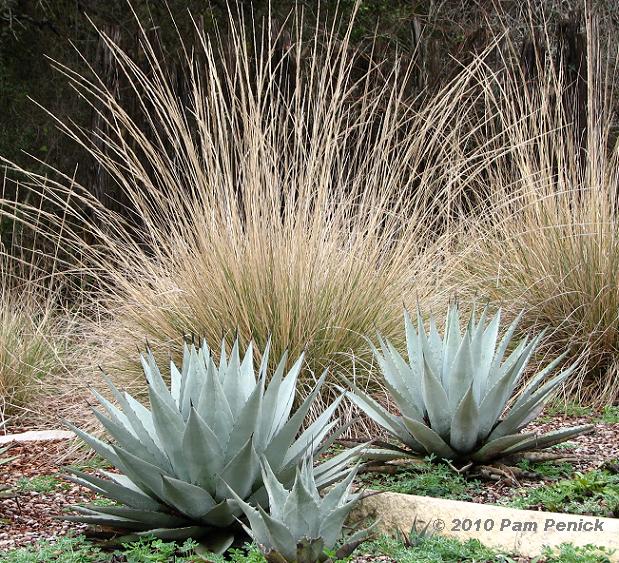 As with our xeric perennials, the foliage of ornamental grasses is fine textured too. Combine thin-leaved grasses with wide-leaved agaves, and magic happens!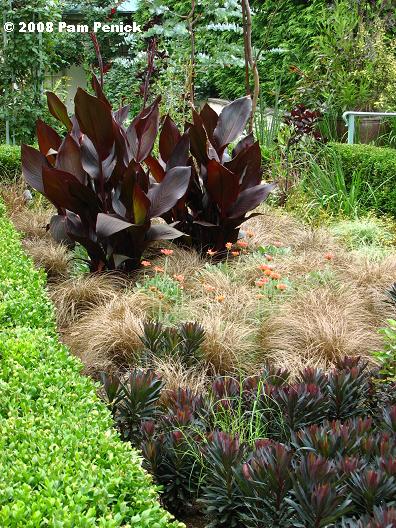 Or perhaps you have a wetter site or a spot near the hose that favors big-leaved tropicals like cannas or variegated shell ginger. Contrast them with the thin leaves of ornamental grasses in the same color family, and ka-pow!—a great foliage combination.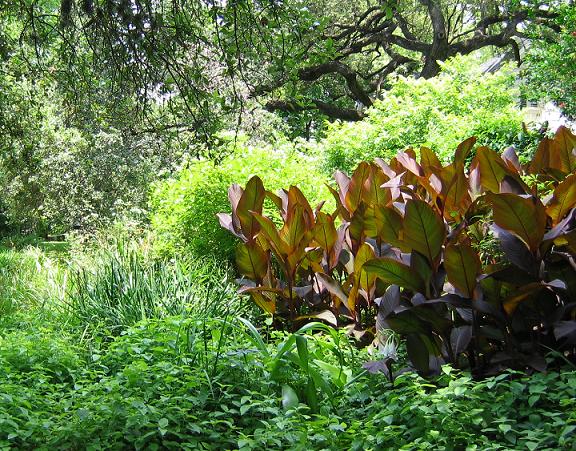 Here bronze cannas edge into a shady bed of small-leaved plants under live oaks.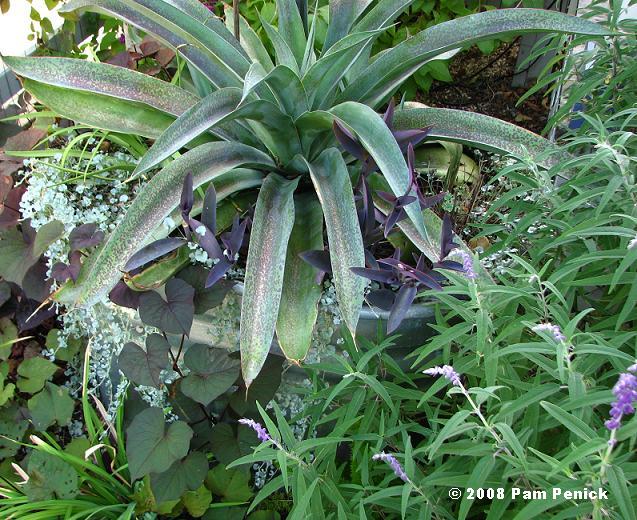 If you have shade, the same principle applies: contrast wide and narrow leaves. Wide leaves for part-shade in central Texas include 'Macho Mocha' mangave (above), sago palm, Texas dwarf palmetto, shell ginger, softleaf yucca (Y. recurvifolia), and even some agaves like 'Whale's Tongue' (Agave ovatifolia). For shade, cast-iron plant (Aspidistra), Japanese aralia, and Acanthus mollis offer big-leaf contrast with thin-leaf monkey grass (Liriope) and sedge and lacy ferns.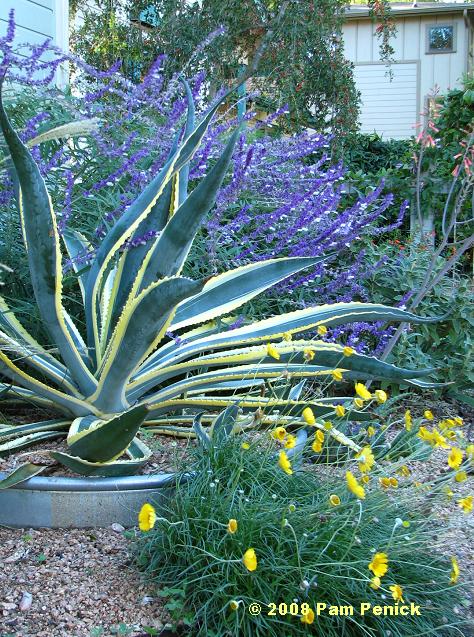 Playing with the contrast of wide and thin leaves yields so many pleasing combinations and is especially important in our hot climate, where tiny leaves tend to predominate. So when you're at the nursery this spring, oohing and ahhing over flowering beauties with nondescript foliage, make room in your wagon for some broad-leaved, structural plants too. Your garden will be all the more beautiful for it.
This is my contribution to the topic of Foliage for Garden Designers Roundtable, a panel of U.S. and British landscape and garden designers who blog in concert on a monthly basis. Please visit the other designers on the Roundtable who are blogging about foliage today too:
Andrew Keys at Garden Smackdown: Boston, MA
Christina Salwitz at Personal Garden Coach: Renton, WA
Debbie Roberts at Garden of Possibilities: Stamford, CT
Ivette Soler at The Germinatrix: Los Angeles, CA
Jocelyn Chilvers at The Art Garden: Denver, CO
Rebecca Sweet at Gossip in the Garden: Los Altos, CA
Shirley Bovshow at Eden Makers: Los Angeles, CA
All material © 2006-2010 by Pam Penick for Digging. Unauthorized reproduction prohibited.