July 22nd, 2008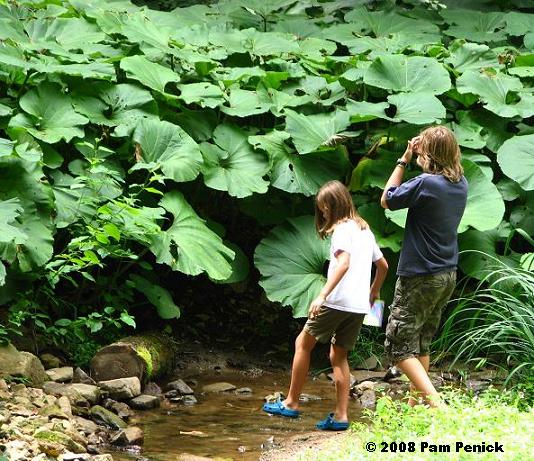 During our tour of Chanticleer in early July, the mistiness of early afternoon gave way to bright sunshine as we dipped into the Asian Woods garden below the main house. Tall trees, their lower trunks wrapped in wire trellises for climbing vines, create a serene wood and lead to a winding stream, its banks sheltered by the umbrella-sized leaves of butterburr (Petasites hybridus). A secret sitting area is hidden around a bend.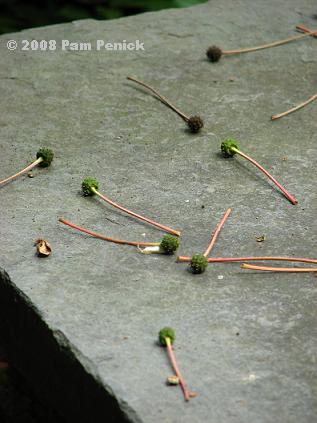 Mystery. Seclusion. Tranquility.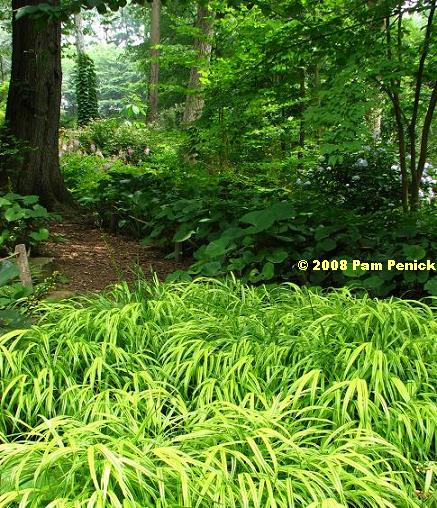 "While most of the plants in this garden are native to Korea, Japan, and China, the design style is of an American woodland garden," explains Chanticleer's website.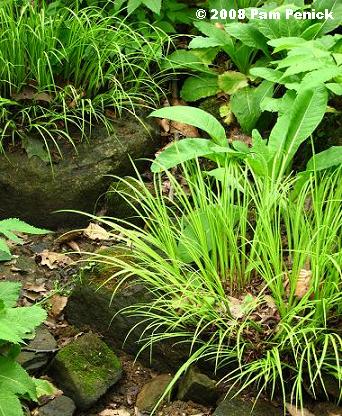 The naturalistic design was a pleasant contrast to the formality of the House Garden we'd just seen.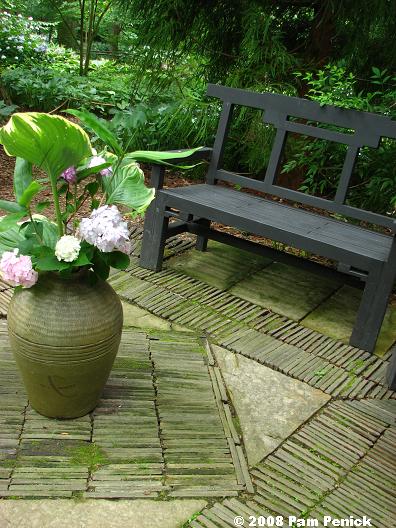 Tucked here and there among the trees, unique seating areas offer plenty of opportunities to just sit and admire the view.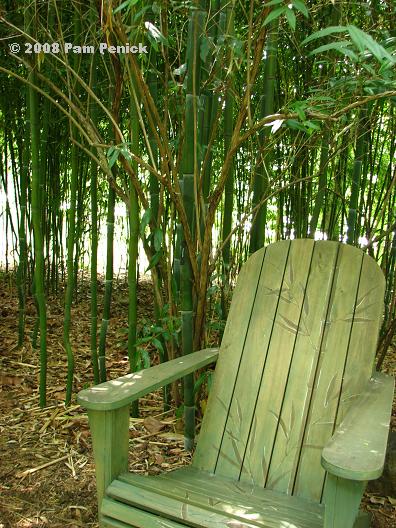 Here's another painted chair, this time with a bamboo design that echoes the bamboo grove behind it.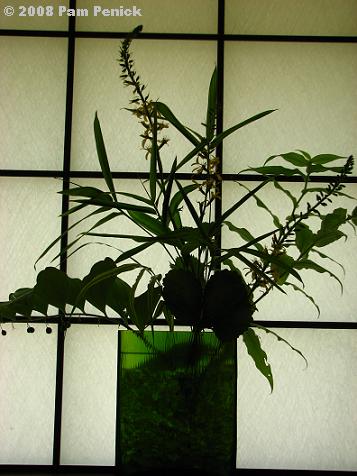 Even the restrooms, built to resemble a Japanese garden house, are lovely.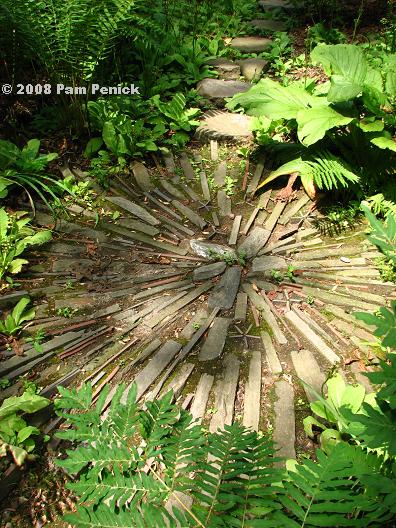 In this garden and the nearby Stream Garden, what really caught my eye were the path designs, like this one—a starburst made of stone that makes you stop to look around in a small glade.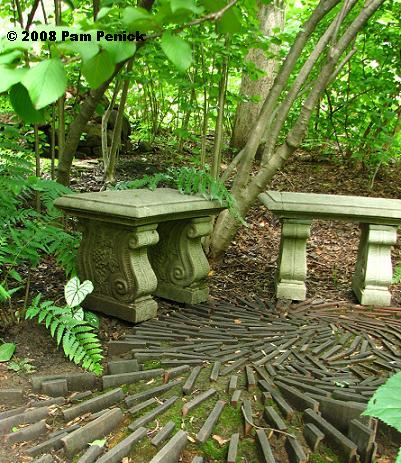 I think this "paved" area is constructed from pieces of wood laid on edge. I love the effect.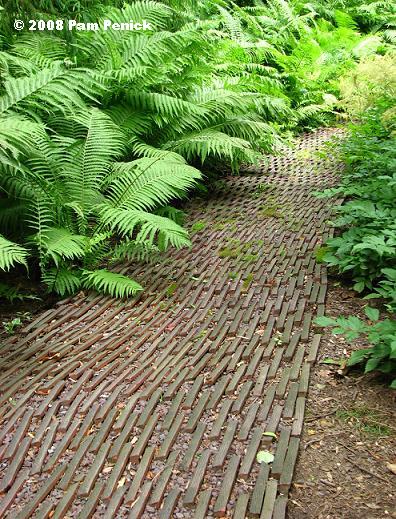 Here's another path that leads you inexorably onward with a railroad effect.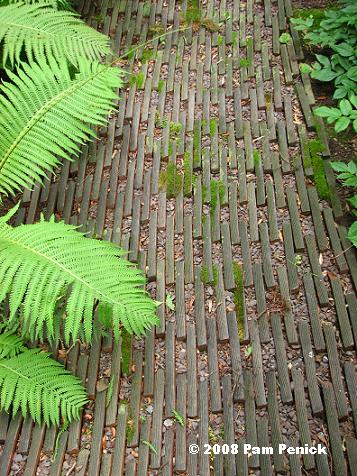 A closer look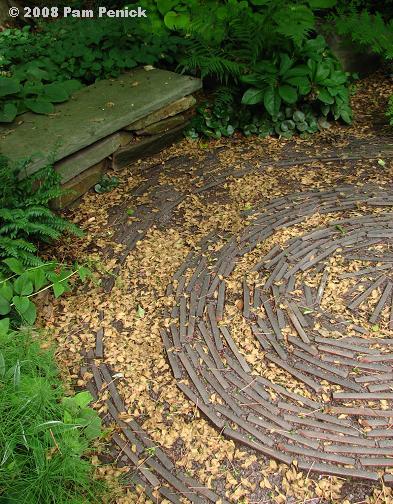 And my favorite—a spiral that expands outward to touch a stone bench tucked among the ferns.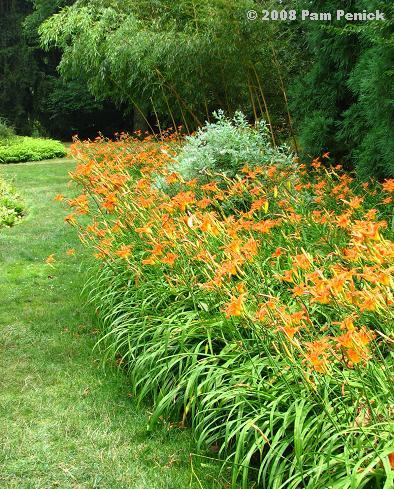 Between the Asian Woods and the Pond Garden, you emerge from the woodland into a sunny space edged with orange daylilies.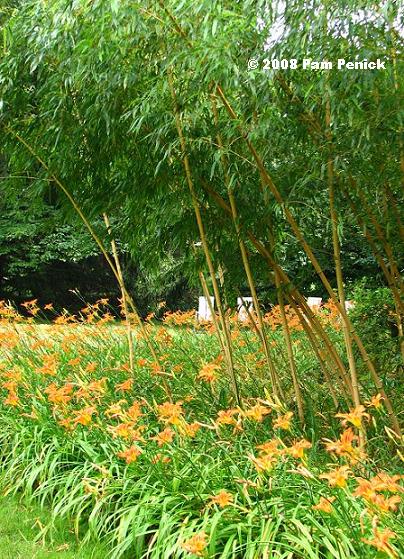 They dance under leggy, sheltering bamboo—a unique combination to my eyes.
Later today—the Pond Garden. Click here for a look at Chanticleer's hydrangeas and the House Garden.
All material © 2006-2008 by Pam Penick for Digging. Unauthorized reproduction prohibited.