February 1st, 2010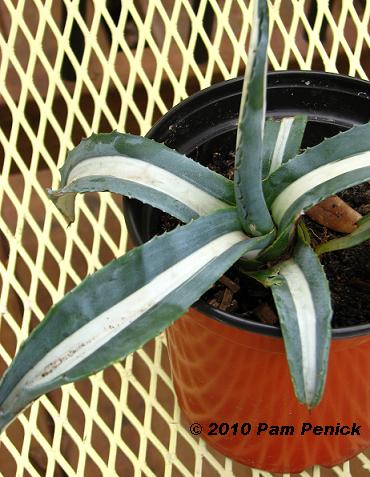 I received a beautiful Agave americana var. mediopicta 'Alba' pup from a generous gardener I don't even know, and I want to give her a shout-out.
While reading Kathleen Scott's Foliage Follow-Up post last month over at Hill Country Mysteries, I admired one of these beautiful, striped agaves. Kathleen told me that she'd obtained it as a pup from her friend and neighbor Lela Dyson. Not long afterward, she mentioned to Lela that I liked it. Before you could say "awesome agave," Lela had potted up a pup for me, and Kathleen made a special trip to bring it to me.
What generous gardeners! My thanks to both of them!
A mature mediopicta 'Alba' is simply stunning; click to see a photo by Debra Lee Baldwin. If you're interested in growing this agave in the Austin area, here is what Lela told me about it:
This is the medio-picta 'Alba' variety of Agave Americana and stays relatively small. Perhaps 3-4 feet tall and 4-5 feet wide after several years. Mine was given to me by one of my staff about nine years ago and was about the size of the one Kathleen took to you. It's now about 2 feet tall and perhaps 2 1/2 feet wide. Some of the pups that I transplanted at the same time, however, have grown much faster in the ground and are now about half the size of the mother.

The first one that I saw for sale was at Gardenville [in San Marcos] in 2007. It was $60 and hadn't sold as of last fall. The staff there were the ones who assured me that this agave would do fine in the ground….I worried a bit when I left them uncovered earlier this month when we had temperatures of 12-15 degrees, but none were damaged. Beautiful and hardy.

Wildseed Farms had three or four in stock last summer, priced at $65 even though they're smaller than the one at Gardenville….I'm so thankful that I had a friend who shared this lovely plant with me and am happy to introduce them to others.

Happy growing!
Lela
Thanks again, Lela! You can be sure I'll share the bounty with other gardeners if it grows well for me and starts producing pups of its own.
All material © 2006-2010 by Pam Penick for Digging. Unauthorized reproduction prohibited.