January 27th, 2010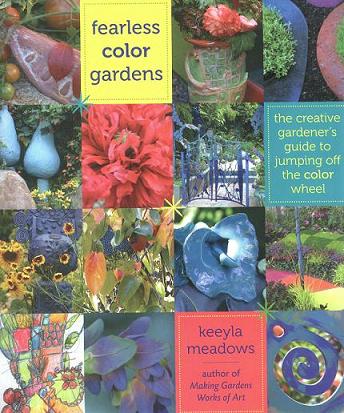 San Francisco Bay-area artist and garden designer Keeyla Meadows offers playful, step-by-step guidelines to making colorful gardens in her new book Fearless Color Gardens: The Creative Gardener's Guide to Jumping Off the Color Wheel. Illustrating her ideas with dozens of images from her own vibrant garden, Meadows eschews the color wheel for her "color triangle," which puts the three primary colors at each point and adds harmonizing colors along the lines.
Meadows's color triangle is much simpler to grasp than the color wheel, and her garden images (all the photos but one are her own) nicely illustrate her techniques for finding harmony and contrast. But I was often confused and distracted by her improvisational, make-believe writing style. Here's an example:
Now that we've traveled down and up the color triangle…reenter my muse, Emerald, to lead the way. Now she's dressed as a ringmaster. "Wait a minute, Emerald. Watch that whip!" It's time to take our color characters and put them up on a stage. Let's put those color stars to work.

Pappy now steps into the ring, holding up his camera in a victory salute. The camera will be our starting tool on the second part of our color journey. For the moment, lay down your shovels, gardeners, and take up your cameras. Pappy is going to show us that a frame is a frame is a frame is a frame. Okay, Pappy, do your tricks.
Meadows is a popular lecturer, and perhaps this jazzy, scattershot tone is her speaking style. For me it became a distraction from her ideas while reading her book.
Another quibble is that too many of her photos, particularly in the first half of the book, are close-ups of, say, a single flower against a harmonizing wall color, rather than wide shots, which are always more helpful in illustrating design concepts. You get a good sense of intimate vignettes in her garden, but it's hard to see how all that color works together as a whole. Yet I'm sure that it does work because I've seen pictures of Meadows's garden on the blog Shed Style. Check them out and see if you don't want a tour of Meadows's fantastically colored and creative garden too. It just looks fun.
In part two of her book, Meadows shows how to use color in making a garden, and she has some fine observations. She proposes using a camera to frame the "working area" and adding a focal point to organize the space. She observes that her gardens photograph well because "they are set up as a series of pictures. Each space is organized with strong focal points that bring the eye to a stop. Once the eye stops at a particular spot, everything is ordered around that spot. While this is a basic principle in painting composition, it works well for gardens too."
For Meadows, sculpture is the most desirable focal point in a garden, although she acknowledges that garden structures, potted arrangements, benches, and even particularly striking plants make good focal points too. Ever the artist though, she admonishes the reader, "No excuses. Your garden needs sculpture."
Although the images of her floriferous garden would have you believe her color sense is mainly confined to flowers, she is global in her color theory: not only flower and foliage but also house and hardscape become essential elements in a garden's color scheme. She paints concrete paths, walls, trellises, pots, and her home's siding so as to harmonize or contrast with her plant choices. The result is a garden saturated with color. Meadows frequently compares a garden to a stage production, with color as the star of the show. However, the role of hardscaping mustn't be overlooked. It is, she says, "the theatrical stage setting where your plants are going to show their stuff."
The colorful photos make this a good book to curl up with on a cold winter's day, and it will prime you for spring planting. If you're inhibited about using color in your garden, Meadows's exuberance and step-by-step instructions might help you feel comfortable introducing color to your plantings or, more boldly, your hardscaping. However, a trip to the nursery or the paint store might do just as well, and I suspect even Meadows might agree with me.
All material © 2006-2010 by Pam Penick for Digging. Unauthorized reproduction prohibited.