January 26th, 2010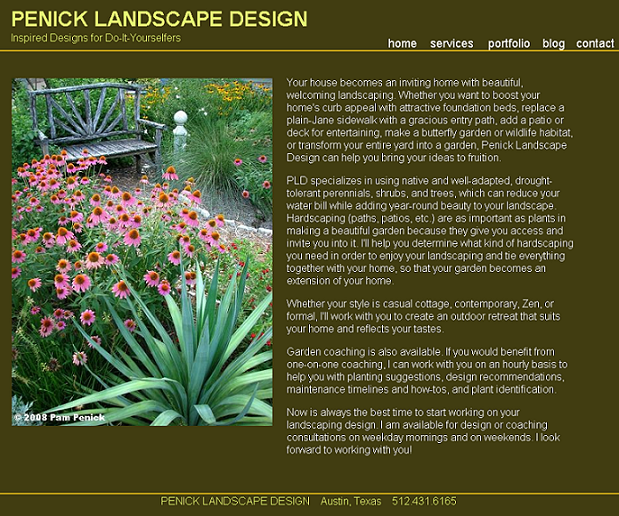 Over the holidays, the website for Penick Landscape Design, my garden design and garden coaching business here in Austin, got a much-needed facelift and redesign, thanks to hours of collaboration with my computer guru (aka tech-savvy spouse). Yippee! I'm still working on the portfolio page and will have before-and-after pics up soon, but I'm really happy with the new look and additional information I was able to include.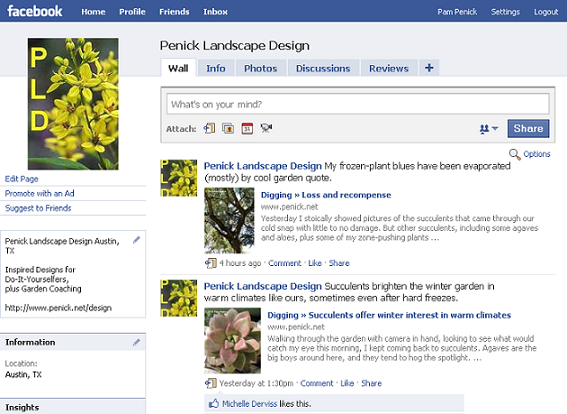 Setting up a Facebook page seemed like the next logical step to help promote my business. So now you can find Penick Landscape Design on Facebook, which I keep updated with new blog posts about gardening from Digging. If you'd like to become a Fan, I'd be ever so grateful!
You can also follow me at Twitter under the username PamDigging.
I can't help wondering: Whether or not you blog, have you paddled into the social-media tidal wave too?
All material © 2006-2010 by Pam Penick for Digging. Unauthorized reproduction prohibited.