July 20th, 2008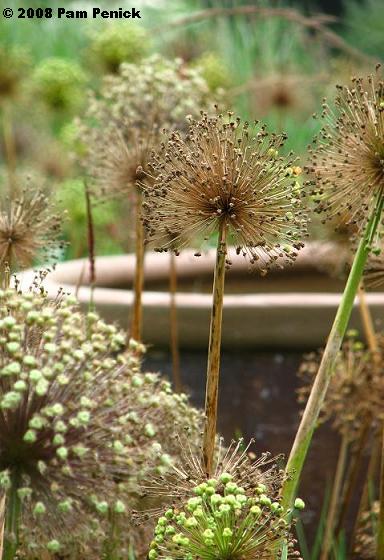 If you haven't been to Chanticleer, you must go. Hop on a plane or jump in the car and go. Now. Dubbed "a pleasure garden" in its brochure, it lives up to the billing. From the moment we arrived, just after lunchtime on a quiet Sunday in early July, to the time we left, regretfully, in late afternoon, we were enraptured, delighted, surprised, and awed. My husband and I wandered through one garden space after another, transfixed for long moments by a tree-framed vista or a whimsical display, led on by the winding paths that invited exploration, stopping to appreciate the views in beautiful seating areas throughout the garden.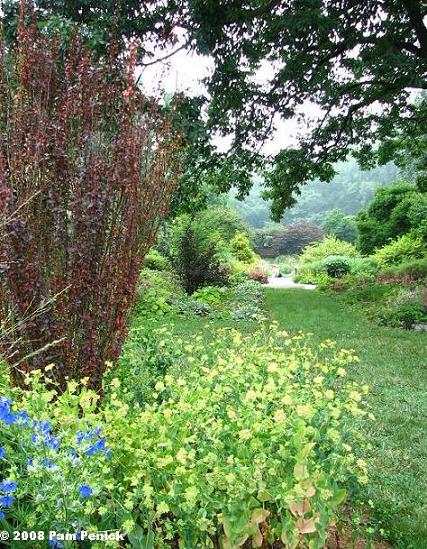 My kids, breaking the rules on staying with parents, I'm afraid, threw themselves into the garden with abandon, making a map of the place in their heads and giving the gardens and paths inventive yet descriptive names, checking in with us from time to time to breathlessly tell us about some wonder that lay ahead, and disappearing again with gleeful exuberance. Chanticleer turned out to be one of their favorite destinations on our three-week road trip—and mine.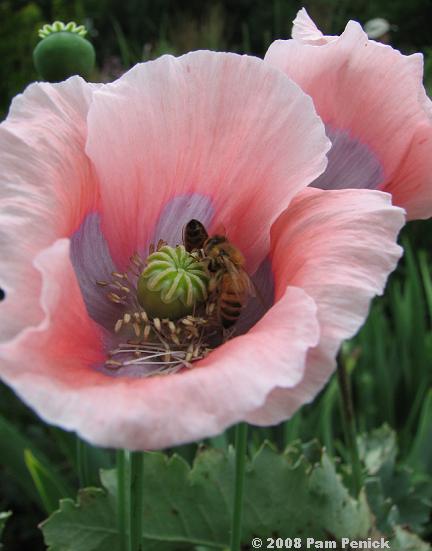 Join me for a tour of this 35-acre Philadelphia-area garden—described as "one of the most interesting and edgy public gardens in America" by the Washington Post—starting with this post and continuing with several more.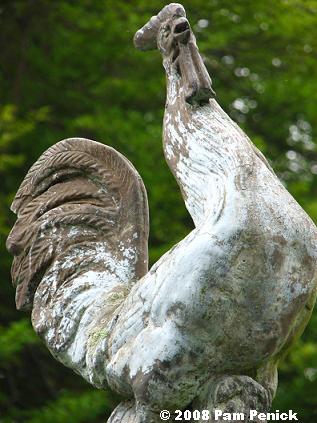 "Chanticleer" means "rooster," of course, and the crower's likeness appears throughout the garden. According to the brochure, Chanticleer the estate belonged to Adolph and Christine Rosengarten, who built their summer home here in 1913. In the 1930s they built two more homes nearby for their children as wedding gifts. Yes, they were quite well-to-do. In 1990 their heir, Adolph, Jr., died and left the estate to be maintained for the public by the Chanticleer Foundation. Since then, the lawn- and tree-dominated property has been transformed by the staff into the dynamic garden it is today.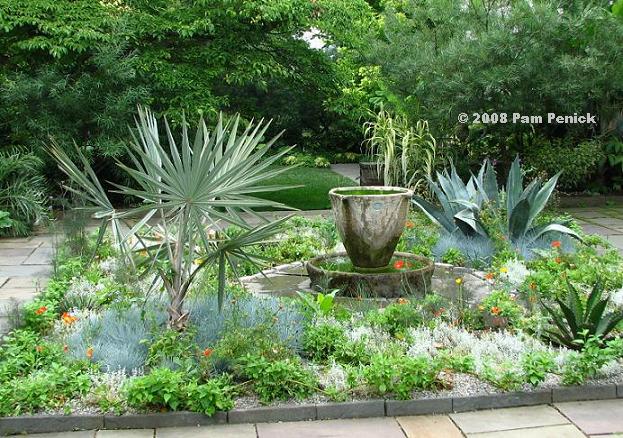 You enter through a courtyard garden called the Teacup Garden, where tropicals and subtropicals hold sway. Surrounding the teacup-like fountain, silvery palms and agaves reminded me of Austin. If you look carefully at the edging, you'll notice low, arching, willowy branches outlining this bed—and this edging is actually alive, and sprouting new, green growth.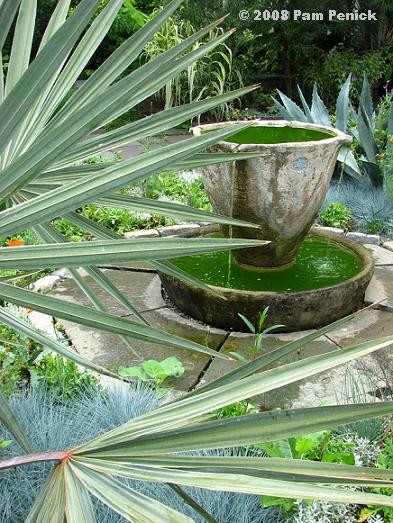 They're doing some sharp gardening here too.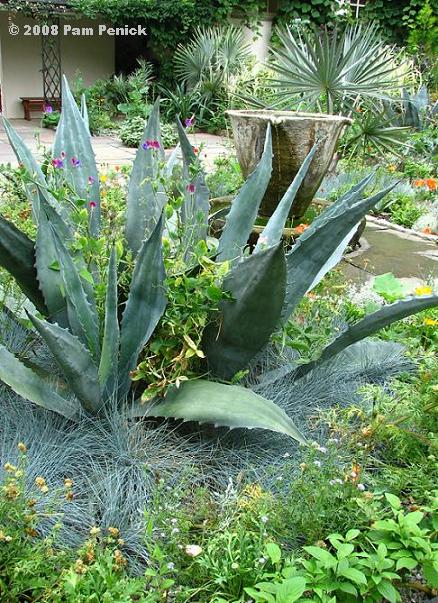 I like this color echo between the huge agave and the tiny tufts of blue fescue (and the palm in the background).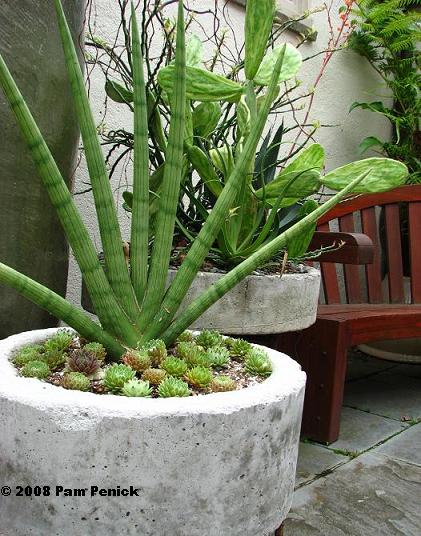 Cactus and succulent containers always interest me because they're the only plants I'll use in pots in Austin. Anything else just requires too much water in the summer. And check out that neat variegated Opuntia by the bench.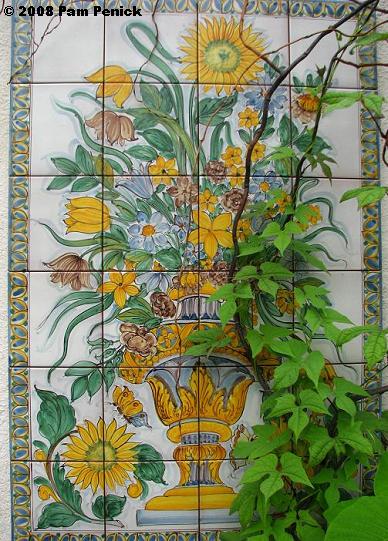 This tile mosaic offers flowers year-round, but masses of annual flowers are not what Chanticleer is all about. As their brochure explains, "the garden is a study of textures and forms, where foliage trumps flowers, the gardeners lead the design, and even the drinking fountains are sculptural." Yes, yes, and yes—I love it.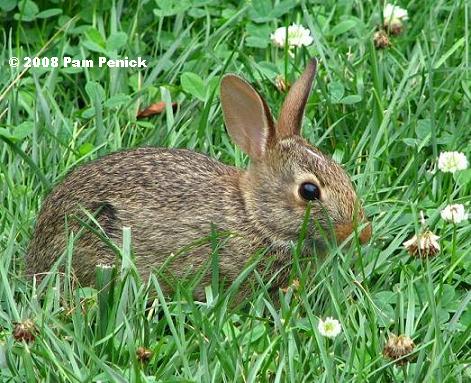 We spotted this rabbit in a clover-studded lawn, enjoying a nibble.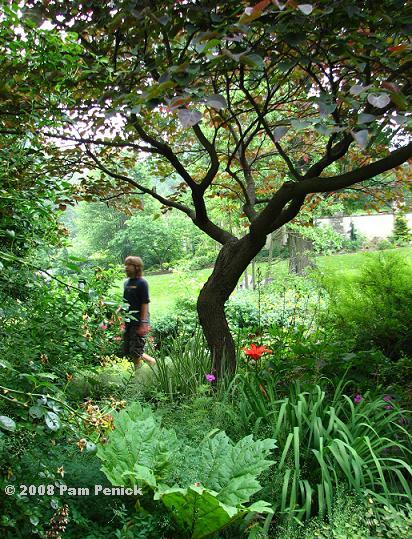 The estate's tennis court has been transformed into the Tennis Court Garden, a formally structured but informally planted garden filled with burgundy foliage, red and yellow flowers, and chartreuse perennials.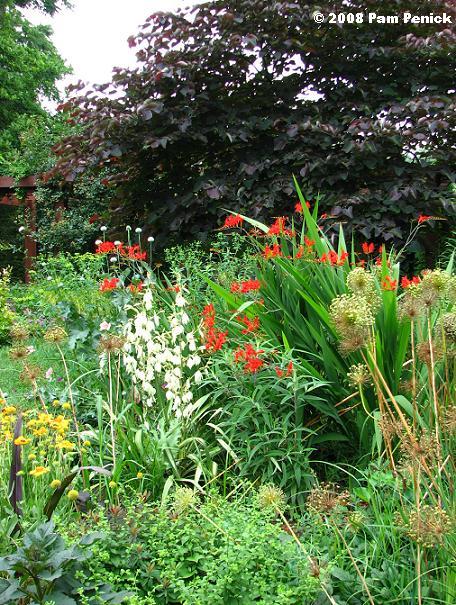 Exciting combinations, yes?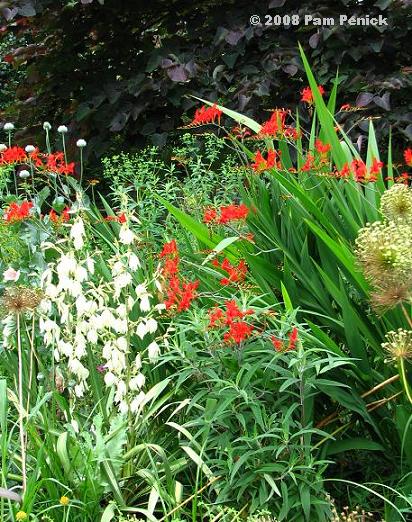 And a closer look.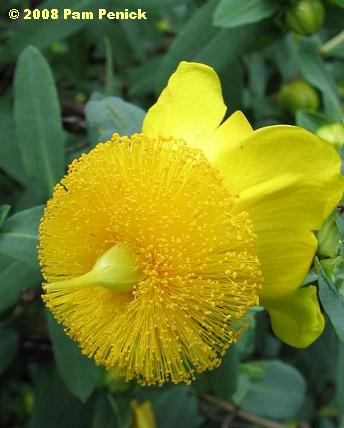 These yellow beauties were buzzing with bees. Update: This is Hypericum frondosum 'Sunburst' (thanks for the ID, Frances).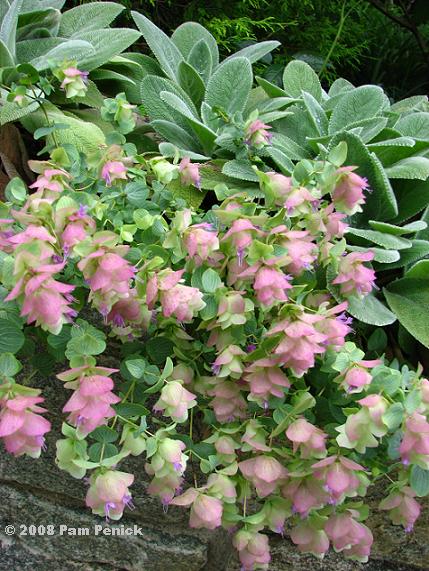 I loved these nodding, pink flowers, backed by silvery lamb's ears, cascading down a raised bed along the stairs.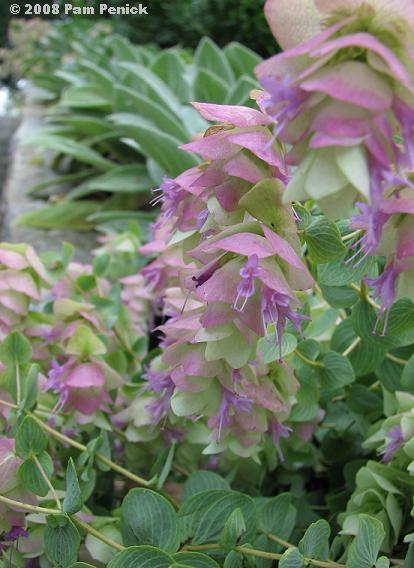 Aren't they lovely? Can anyone ID these for me? Update: This is 'Kent Beauty' oregano. (Thanks, Kim, Ewa, Chris, and Les.)

Red clematis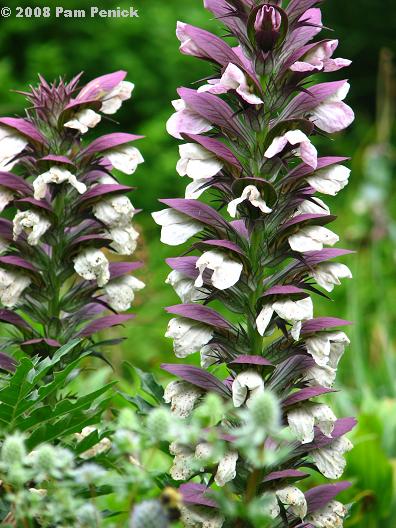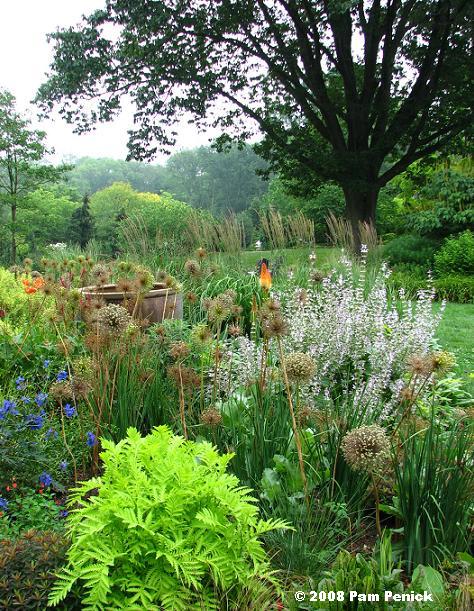 I couldn't get enough of the allium seedheads, like brown fireworks exploding in the garden.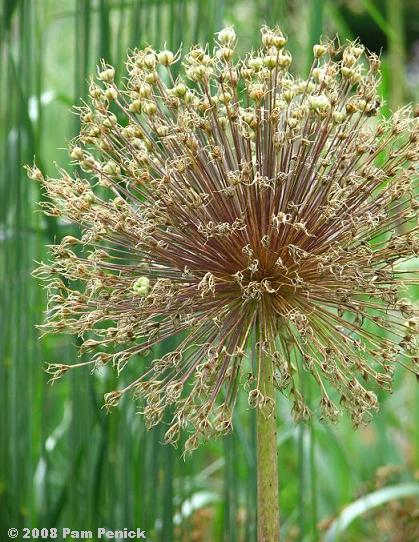 A closeup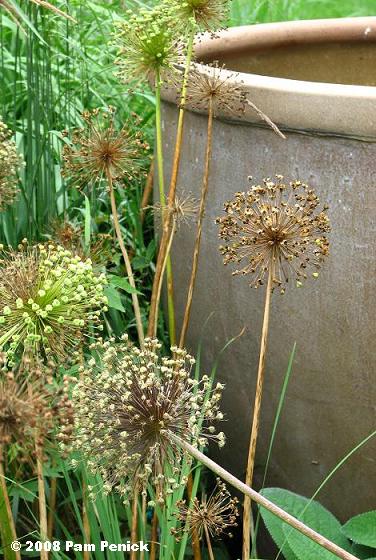 Here their color is echoed by the brown container.
To continue this tour of Chanticleer, click here for a paradise of hydrangea blossoms and the Chanticleer House Garden.
All material © 2006-2008 by Pam Penick for Digging. Unauthorized reproduction prohibited.