June 25th, 2008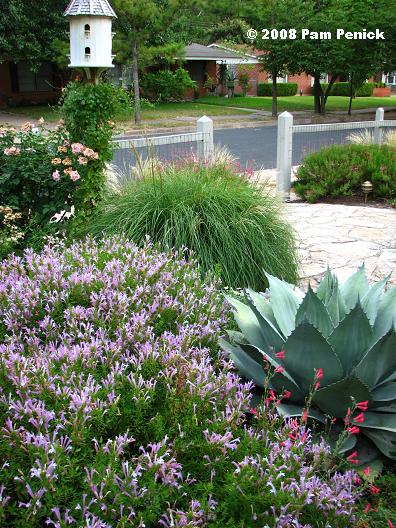 Mexican oregano (Poliomintha longiflora ) is one of my favorite summer-blooming perennials. It loves sunny days and hot weather, and it laughs in the face of drought, although, like most xeric plants, it appreciates a good drink every 10 to 14 days when it's dry.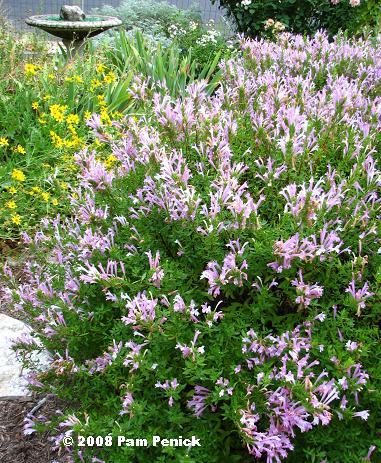 Its tubular lavender flowers appear in late spring and last throughout the summer with occasional light trimming to encourage rebloom. Hummingbirds love them, as do sphinx moths. The tiny, evergreen leaves are fragrant, edible, and deer resistant.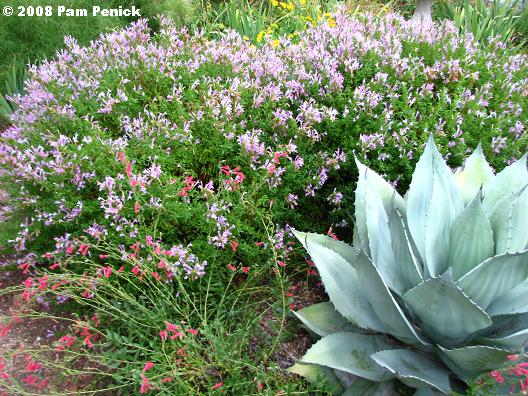 I use two plants to frame my 'Whale's Tongue' agave, and I like to keep them trimmed into a low, rounded hedge. Although Mexican oregano will bloom beautifully if left untrimmed, with tall stems like liatris, I like the neater form of the hedge in my small front garden. So when the new growth starts in early spring, I cut it back hard (to 12 inches) in March or April. It looks a little twiggy for about a week, and then it recovers with a flush of new growth. Pruning it back so hard in the spring does delay the bloom until June, but that's OK with me. When the flowers start to wither, I cut the plant back again by about a third, encouraging it to rebloom later in the summer.
If you garden in Zone 8 or higher, try Mexican oregano in a sunny spot and enjoy.
Note: My Plant This posts are written primarily for gardeners in central Texas. The plants I recommend are ones I've grown myself and have direct experience with. I wish I could provide more information about how these plants might perform in other parts of the country, but gardening knowledge is local. Consider checking your local online gardening forums to see if a particular plant might work in your region.
All material © 2006-2008 by Pam Penick for Digging. Unauthorized reproduction prohibited.