June 22nd, 2008
With Austin on track for our hottest summer on record, I've sworn off any real gardening for the pleasures of garden book reading—inside, preferably under a ceiling fan with a cold Diet Dr. Pepper in my hand. Recent trips to Barnes & Noble and Half Price Books have netted me about 10 lbs. of eye-candy-filled garden books. Want to know what I'm reading?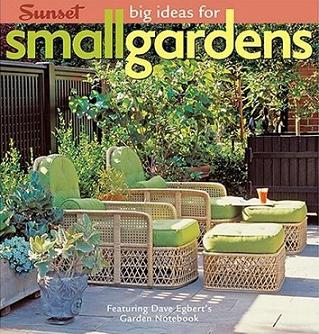 I've already devoured Sunset's Big Ideas for Small Gardens by Emily Young and Dave Egbert (2007). This book is chock-full of inspiring ideas for those, like me, gardening on small lots. City gardeners with tight urban spaces and even the large-space gardener who wants to create a feeling of intimacy with defined garden rooms will find much to pore over. This being a Sunset book, the plants and designs seem best suited to gardens of the southwest, California, and the Pacific northwest—a refreshing change from the northeastern focus of so many garden books and magazines.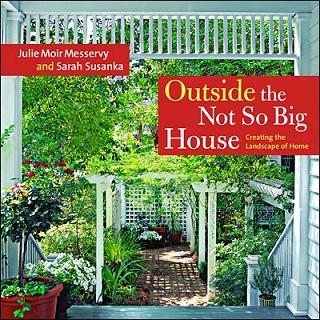 Outside the Not So Big House: Creating the Landscape of Home by Julie Moir Messervy and Sarah Susanka, photographs by Grey Crawford (2006). I've already finished this one too. I enjoyed architect Susanka's Not So Big House series, so when I saw that she'd co-authored a book with nationally known landscape designer Messervy, I had to read it. Not exactly a garden book, it's about integrating home and landscape to make them live as one—even from inside the home with the use of view corridors leading the gaze through hallways, doorways, and windows out to a focal point in the garden. This is a book to savor. Rather than the pithy text of a typical garden book, Outside offers a long exploration of each house/garden and the elements used to connect the two. As the Not So Big title implies, the concept of house-garden connection is particularly important for small spaces, to make each live larger.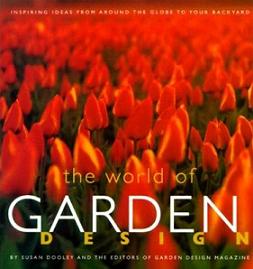 The World of Garden Design: Inspiring Ideas from Around the Globe to Your Backyard by Susan Dooley and the editors of Garden Design magazine (2000). I'm about halfway through this big hardback, which describes the history and characteristics of gardening styles around the world, from Italian to Japanese, French to Tropical (inexplicably linked with desert gardening), and of course the beloved English garden. Nothing too in-depth, but lovely photographs illustrate each section, and because it's written for American gardeners, it also shows how elements of each particular style can be adapted to average-sized gardens on this side of the pond.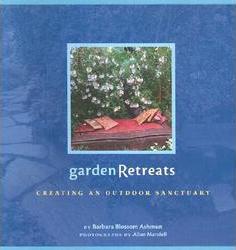 Garden Retreats: Creating an Outdoor Sanctuary by Barbara Blossom Ashmun, photographs by Allan Mandell (2000). I haven't read this one yet, but from the looks of the lush, rain-wet, Asian-style gardens inside, full of chartreuse and bronze foliage, the images were shot in the lovely Pacific northwest, where both author and photographer hail from. Perusing these images should be the perfect antidote to a brutal Austin summer.

Sharp Gardening by British designer Christopher Holliday, with photographs by Jerry Harpur (2005), takes its inspiration from an entirely different region and palette of plants. As the title indicates, this book celebrates the dramatic, spiky plants of the American southwest, Mexico, Australia, Mediterranean regions, and the tropics (there's that desert-tropical connection again; dramatic foliage is the connection). It's about gardens designed around foliage, not flowers, and using plants suited to the conditions, particularly in arid climates. With my current fascination with agaves, I expect to find much to inspire me here.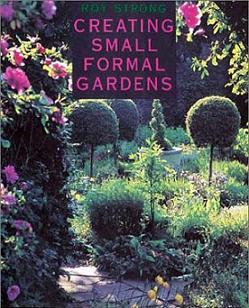 Creating Small Formal Gardens by Roy Strong (1989). Strong is a "Sir" and, according to the book jacket, "one of Britain's leading garden historians and designers." While there's something off-putting about the lordly title "Sir" to this American's ears, I bought his book to learn more about classic style for small spaces.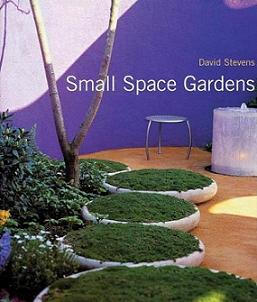 Small Space Gardens by David Stevens (2003). Continuing with the theme of small gardens and British authors/designers, this book showcases the theatrical minimalism of contemporary design. I see a lot of sharp gardening going on in the accompanying photographs.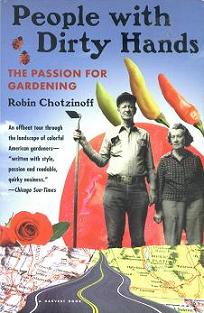 People with Dirty Hands by Robin Chotzinoff (1996). Carol at May Dreams Gardens has selected Robin's collection of portraits for the June-July Garden Bloggers Book Club. Since Robin is a fellow Austin gardener and blogger, and a very nice person whom I had the pleasure of meeting at the Spring Fling hour hour in April, I'm eagerly reading her book and look forward to seeing what others have to say about it.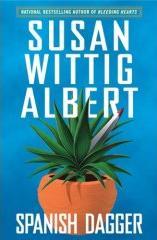 Spanish Dagger by Susan Wittig Albert (2007). Susan is another central Texas blogger I met at the Spring Fling (what a lot of great connections were made there), and she autographed this herbal-theme mystery for me that day. I've yet to delve into her China Bayles mystery series, but after hearing other Spring Flingers rave about them I'm saving this one for my summer vacation.
Do you have a summer reading list of garden books too, and if so, what's on it?
All material © 2006-2008 by Pam Penick for Digging. Unauthorized reproduction prohibited.