June 15th, 2008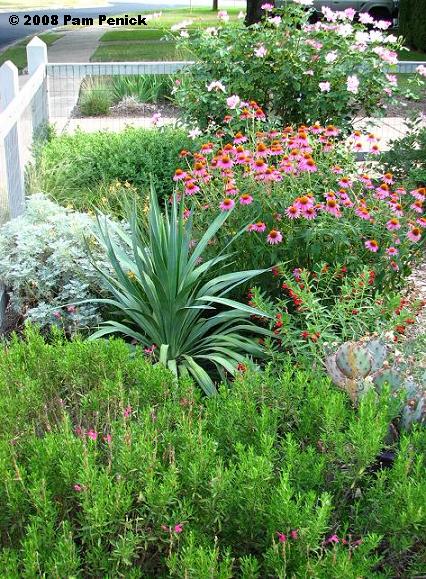 Autumn sage (Salvia greggii ), bat-faced cuphea (Cuphea llavea ), purple coneflower (Echinacea purpurea ), and 'Carefree Beauty' rose.
Garden Bloggers' Bloom Day snuck up on me this month. Rather than spend several hours today shooting each flower in my garden, cropping, resizing, and posting, I'm taking the lazy way out by using a few images of the sunny front garden that I took a couple of days ago. Most of my June blooms are under our blazing summer sun anyway, rather than in the shady back garden. Go on, tough guys. Thumb your noses at those 100-degree days weeks we've been enduring.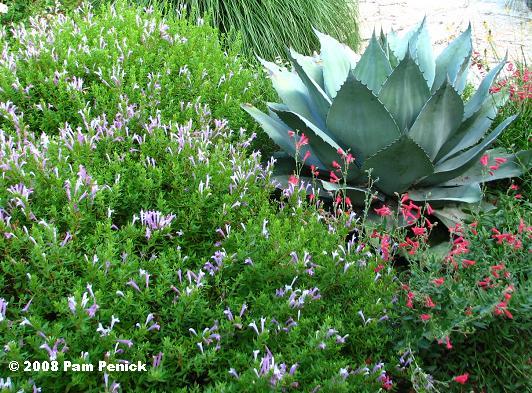 Plus, Kim at A Study in Contrasts gave me permission to post more photos of my favorite agave, so I hope the rest of you will forgive me for including this blue "rose" in my Bloom Day post. Pictured above are Mexican oregano (Poliomintha longiflora ), rock penstemon (P. baccharifolius ), and 'Whale's Tongue' agave (A. ovatifolia ).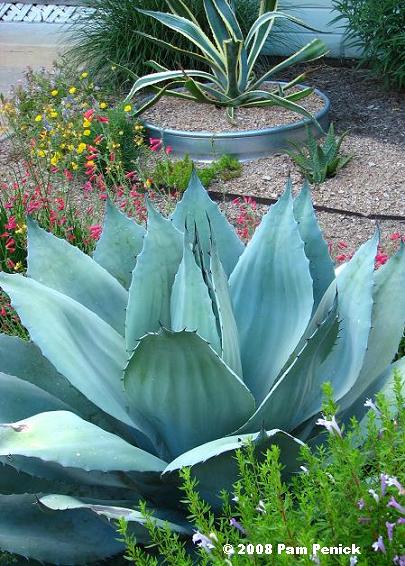 Oops, here it is again. There's rock penstemon behind it, and across the path are hymenoxys (Tetraneuris scaposa ) and Agave americana 'Variegata.'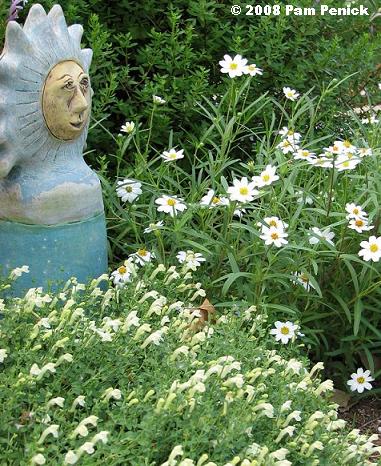 Some cooling whites: White skullcap (Scutellaria ) and blackfoot daisy (Melampodium leucanthum ).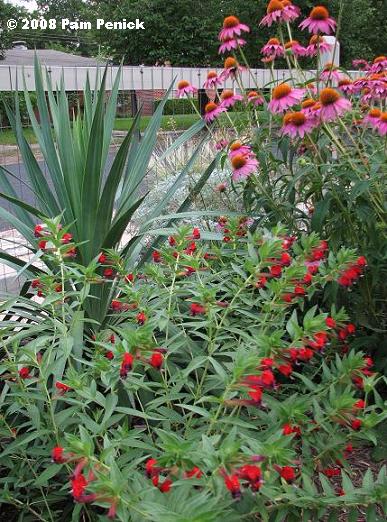 Bat-faced cuphea, softleaf yucca (Y. recurvifolia ), and purple coneflower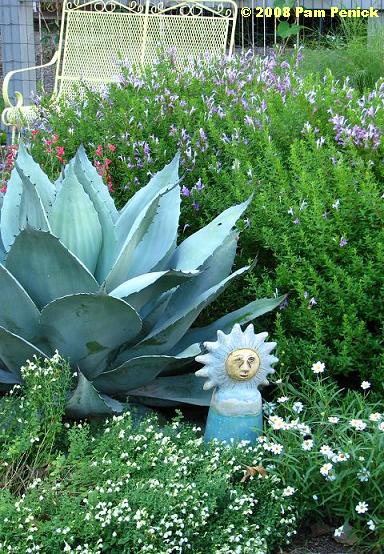 What a ham! There's that agave again, embraced by white skullcap, blackfoot daisy, Mexican oregano, and rock penstemon.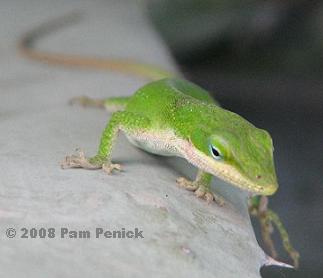 I saw this anole lizard hunting among the agave leaves.
Happy Bloom Day, everyone. To see what's blooming today in gardens all over the world, visit Carol at May Dreams Gardens.
All material © 2006-2008 by Pam Penick for Digging. Unauthorized reproduction prohibited.