June 10th, 2008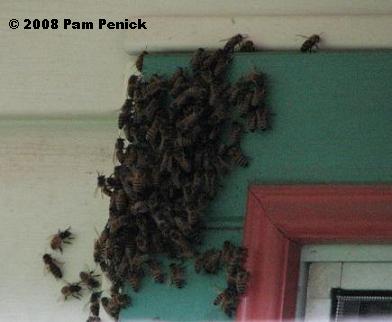 My next-door neighbor fired up her gas grill yesterday and in the process disturbed a swarm of bees. Suddenly bees were buzzing all through our back yard and hers and clustering on her house. She didn't get stung, thankfully, and called to let us know so that we wouldn't stumble into the swarm. We watched from our screened porch for a while, and the bees hung on her house for 24 hours until she called an exterminator out, more out of concern for our kids' safety, I think, than anything else. To our regret, he killed the bees, saying he could not move them without a hive. I'm glad that they won't be nesting in our garden, but I'm sorry they were killed.
Coincidentally, the same day that my neighbor's swarm occurred, my husband drove through another swarm on his way home from work. As he was driving across MoPac on the Hancock bridge, he saw a black cloud silhouetted against the sky and, still puzzling over what it was, heard a few thuds as bees hit his windshield. He wasn't going very fast, and when he got home a few blocks later and parked his car, a couple of survivors flew up out of his car's grill.
Strange, huh?
Added later: Cheryl left the following comment, which is so useful I'm including it in my post about the bee swarm:
Here's an alternative to exterminating bees! If you find any other bees, please contact beekeeper Walter Schumacher. For a small fee, Schumacher and his business partners will remove live bees that are causing problems for Austin area homeowners and businesses. For more information about Central Texas Bee Rescue and Preservation, call 914-0123.
Thanks for the information, Cheryl! Saving honeybees is worth the effort. —Pam
All material © 2006-2008 by Pam Penick for Digging. Unauthorized reproduction prohibited.