November 28th, 2009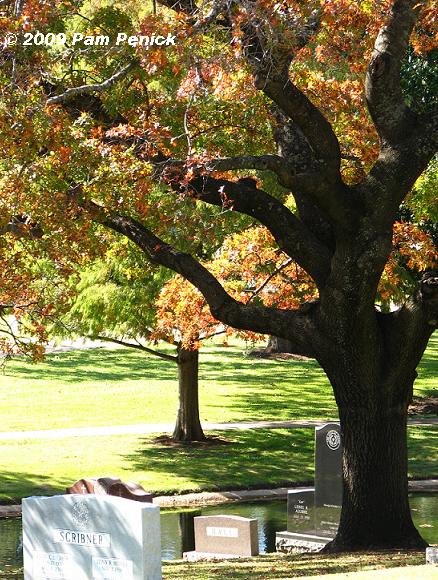 Morbid curiosity has nothing to do with my love for old cemeteries. I find them beautiful and interesting in a personal and historical sense, and on travels to older cities like Boston, Charleston, S.C., and New Orleans I'll make time for a cemetery stroll. In Austin the Texas State Cemetery is my favorite (although I admit I haven't seen historic Oakwood Cemetery yet). Here the state's founders, leaders, and statesmen are buried, along with notable artists, athletes, writers, and military leaders, and the lovely, park-like grounds invite exploration, which is what my son and I did last Tuesday.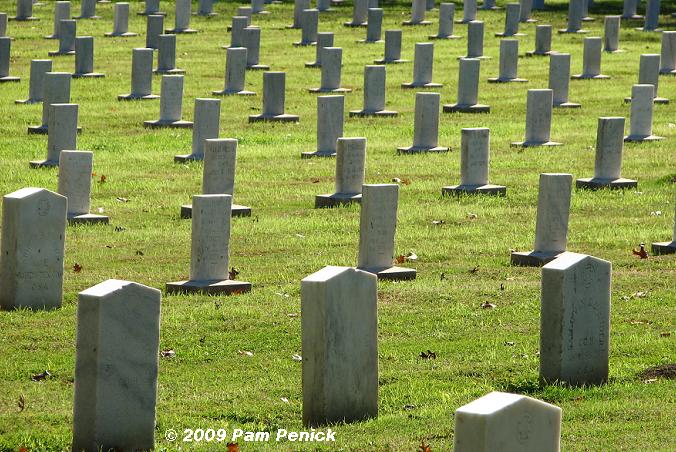 A field of regimented tombstones for fallen Confederate soldiers and veterans anchors one end of the cemetery.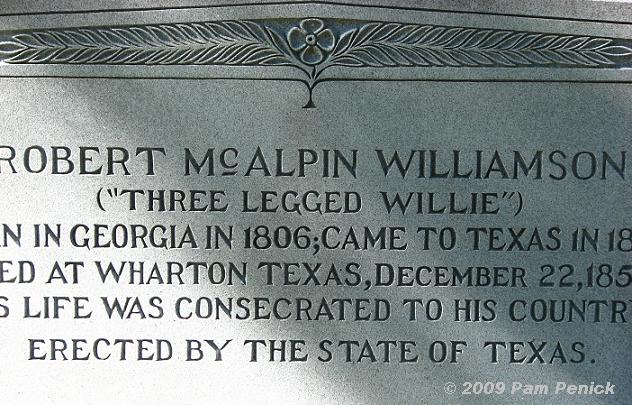 Seeing the tombstones of people who had a hand in shaping Texas makes them seem, ironically, more alive. Yes, that person really lived, you realize, and here he or she remains. And then there are the tombstones themselves, their towering size revealing the wealth or ambition of the deceased's family, or modest stones indicating a pleasing or surprising reticence to acknowledge greatness. The words carved there may make you pensive or cause you to smile. I got a chuckle out of Robert McAlpin Williamson's nickname permanently remembered on his gravestone, above.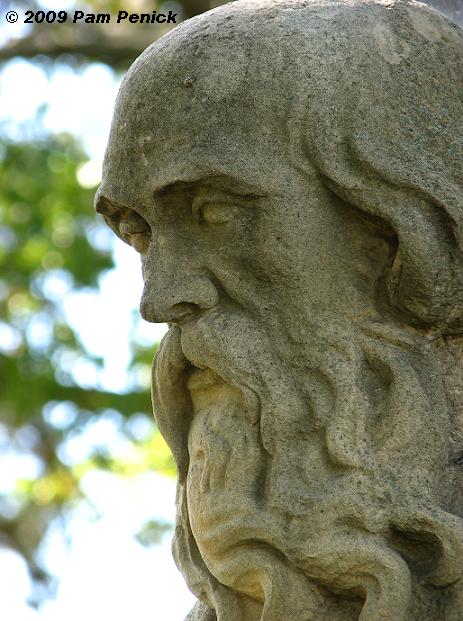 Beautiful statues and carvings adorn some of the graves, including several carved by well-known local sculptors Charles Umlauf and Elisabet Ney.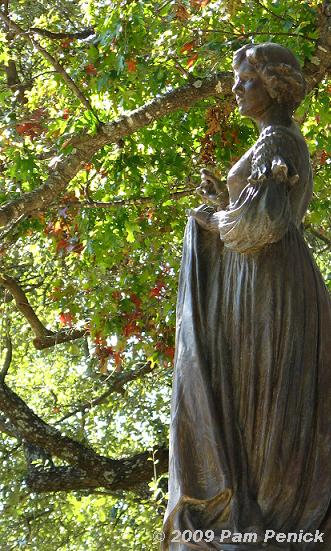 This one represents Joanna Troutman, who sewed the first Texas flag during the battle for independence from Mexico.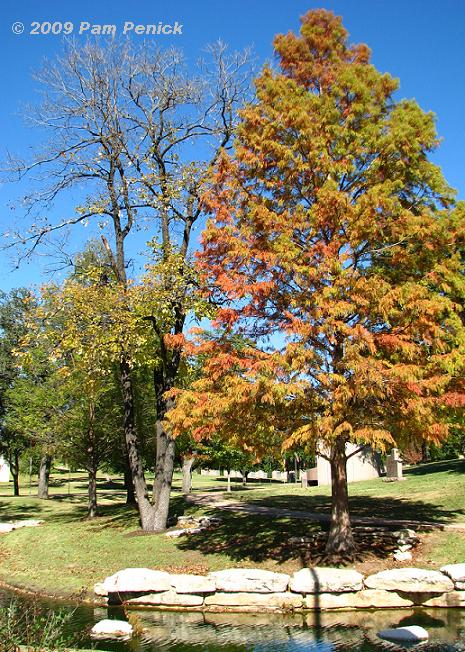 Aside from the cemetery's history, there's plenty of natural beauty. Cemeteries of a certain age often have majestic trees, and so does this one, as well as a stream with a waterfall and pond.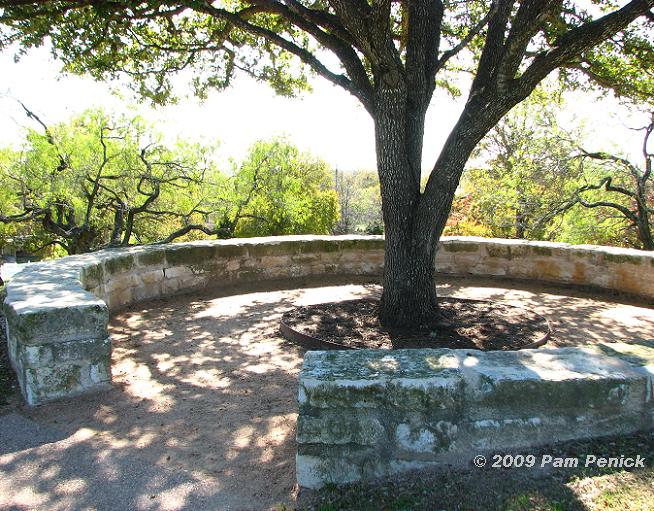 A hilly prominence topped with a live oak, reached via a spiraling ramp, invites you to climb to the highest point in the cemetery. At the top you can sit on this limestone council ring in the shade of the tree and look over the whole place.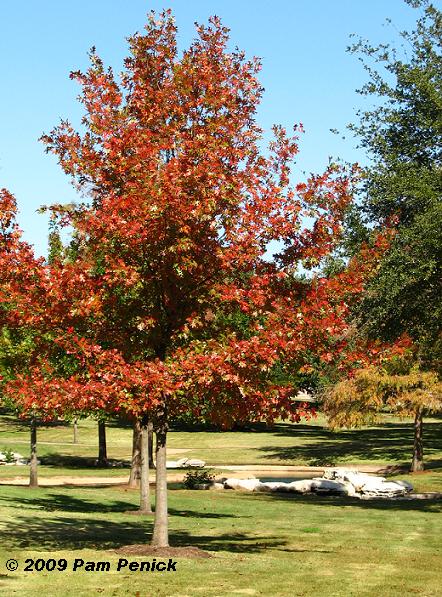 I didn't get a photo, but there's also a memorial to the Texas victims of 9/11, with two twisted metal beams from the World Trade Center standing vertically to represent the two towers.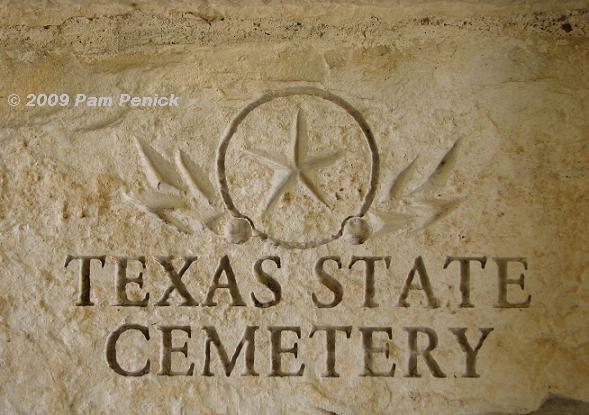 The Texas State Cemetery was renovated and restored in 1994 by the powerful and Texas-proud Lieutenant Governor Bob Bullock, who said, "Kids can come out here and in one day learn more about Texas history than a whole semester in class." Hyperbole, perhaps, but you can certainly learn a lot of history in a cemetery. And at Texas State Cemetery you can pay your respects to Mr. Bullock, who, fittingly, is buried here.
The Texas State Cemetery is located just east of downtown at 909 Navasota Street. It's free and open to the public every day from 8 am to 5 pm. The excellent visitor's center is only open on weekdays, from 8 am to 5 pm.
All material © 2006-2009 by Pam Penick for Digging. Unauthorized reproduction prohibited.