May 27th, 2008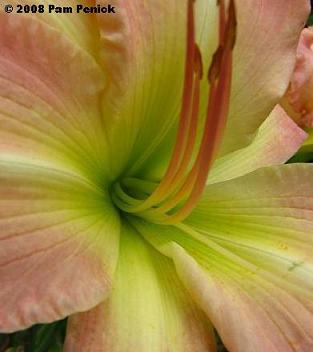 'Best of Friends' daylily
A summertime BBQ with extended family is the perfect excuse for whipping up a batch of spicy, Texas-style deviled eggs. I made them yesterday for our Memorial Day family dinner, where they were promptly devoured, so I thought I'd share them with you. For 10 people, I double the recipe.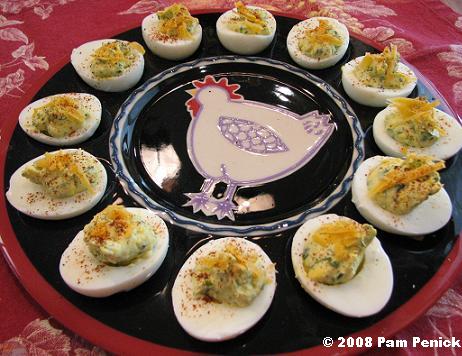 Tex-Mex Deviled Eggs
6 hard-boiled eggs, peeled
1 tablespoon diced green onions
1 tablespoon chopped fresh cilantro
1 small serrano or jalapeno pepper, seeded & finely chopped
1/4 cup mayonnaise
1 teaspoon Dijon mustard
1/2 teaspoon salt
1/4 cup (1 ounce) shredded Cheddar cheese
Chili powder
Cut eggs in half crosswise; carefully remove yolks. Mash yolks, and stir in green onions and next 5 ingredients. *Spoon into egg whites; sprinkle with cheese and chili powder. Cover and chill.
Yield: 1 dozen.
*Rather than spooning the mixture into each egg, which is messy and time-consuming, I spoon it all into a zip-loc baggie, seal it, and cut off one small corner of the bag. Squeezing the baggie, I pipe the filling into each egg. It's fast and neat, and when I'm done, I just throw the baggie away.
Happy summer!
All material © 2006-2008 by Pam Penick for Digging. Unauthorized reproduction prohibited.