May 25th, 2008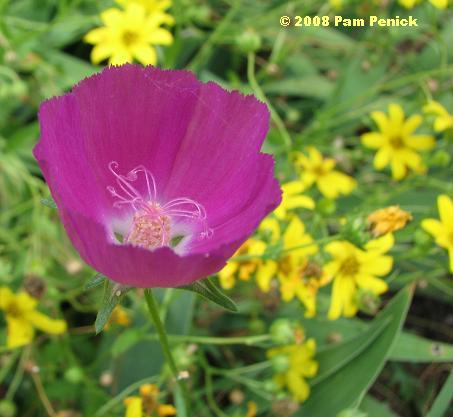 I can't drink my fill of winecup (Callirhoe involucrata) right now. This Texas native, which sprawls along non-rooting stems, carpets the ground with glowing magenta cups.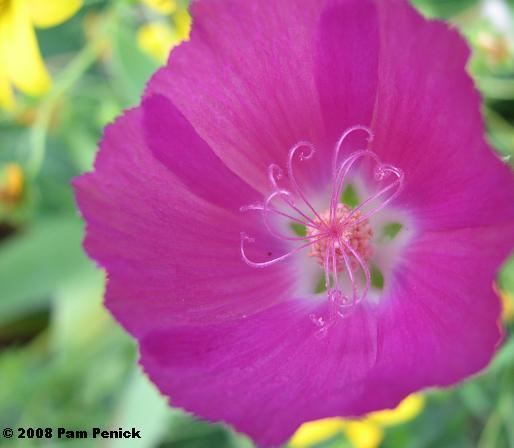 Growing just 6 to 12 inches tall but several feet wide, winecup is the perfect groundcover for spring through early summer. In the heat of mid-summer, however, particularly if rainfall is scarce, winecup goes dormant until fall, when it reappears as rosettes of lacy leaves.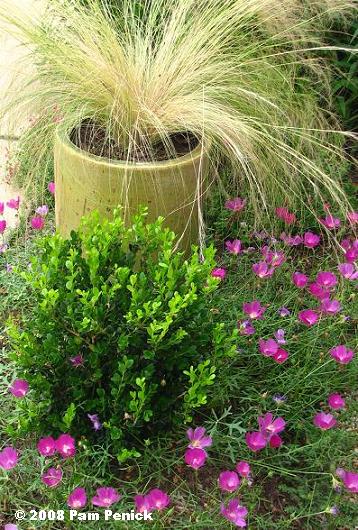 Why did I practice temperance with regard to winecup for so many years? I admired it on a garden tour last year and planted two four-inch pots of it that winter. The leafy rosettes just sat there and sat there—until April, when they took off and began to blossom.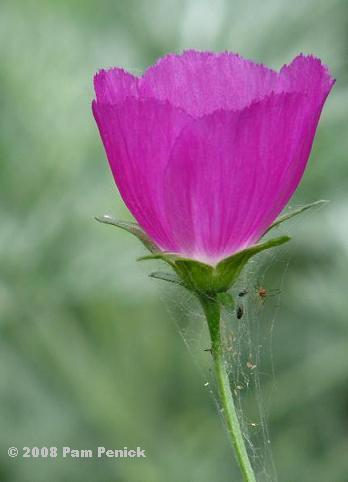 Winecup's intoxicating color looks pretty with yellow, pink, orange, and green. And of course with silver artemisia 'Powis Castle'.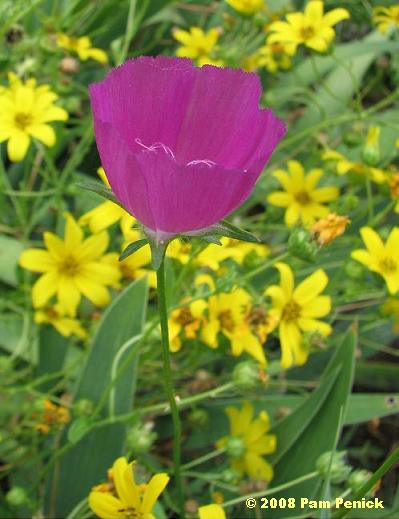 Winecup "looks magnificent cascading over a wall or down a rocky slope," advise Sally and Andy Wasowski in their indispensable book for Texas gardeners, Native Texas Plants. "Think of it as an especially long-blooming bulb," they write. "Plant it under Texas lantana, butterfly-weed, gayfeather, black-eyed Susans, or some other flower that does not get dense or bloom until summer for you."
I've planted mine among the yellow Engelmann's daisies (Engelmannia pinnatifida) that MSS passed along to me, and at the feet of the yellow-green pot that now holds a Mexican feathergrass (Stipa tenuissima).
I plan to drink my fill of winecup's beauty while it lasts. And then…I'll just have to see how bare a space it leaves behind.
Note: My Plant This posts are written primarily for gardeners in central Texas. The plants I recommend are ones I've grown myself and have direct experience with. I wish I could provide more information about how these plants might perform in other parts of the country, but gardening knowledge is local. Consider checking your local online gardening forums to see if a particular plant might work in your region.
All material © 2006-2008 by Pam Penick for Digging. Unauthorized reproduction prohibited.