November 19th, 2009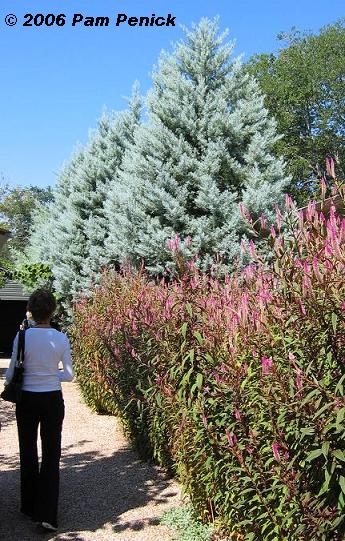 Arizona cypress (Cupressus arizonica) is not native to the Austin area, but it grows well here provided it has proper drainage and full sun. If you've driven by Central Market at the corner of N. Lamar and 35th St., you've seen a stand of these majestic, pyramidal conifers growing more beautiful with every year. The ones pictured above line the side yard of Deborah Hornickel's central Austin garden.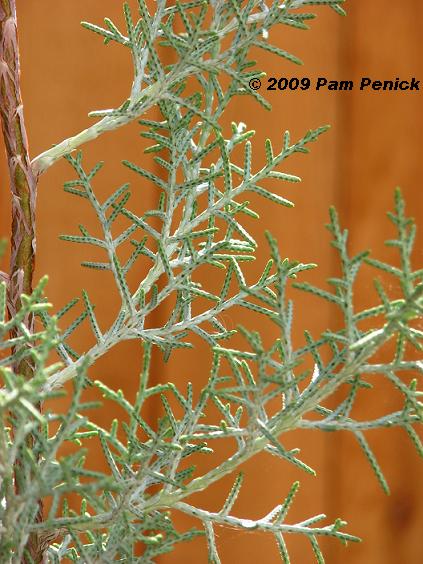 Ever since seeing them in her garden, I've wanted this tree. So when I moved into my new house, I bought two 'Blue Ice' Arizona cypresses and plopped them into a rare sunny spot in my new garden, before it even was a garden. Isn't the foliage stunning, especially against the orange wall? Ah, if only it were a fabulous orange wall. It's only the cedar boards of my new side-yard fence in the morning light, soon to fade to a soft gray.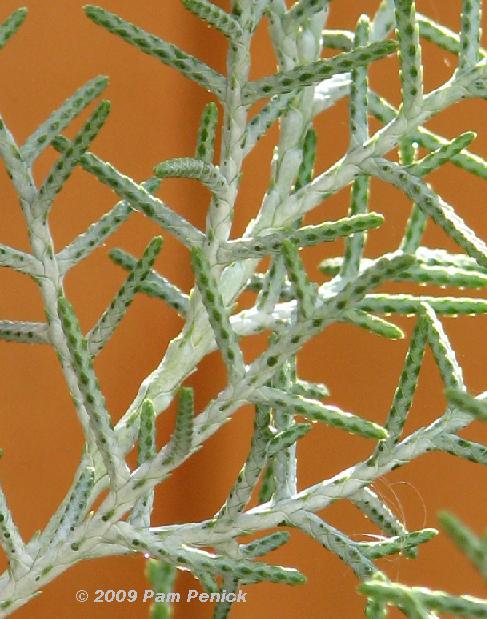 The foliage is a beautiful icy blue AND it smells like a Christmas tree. Ahhh.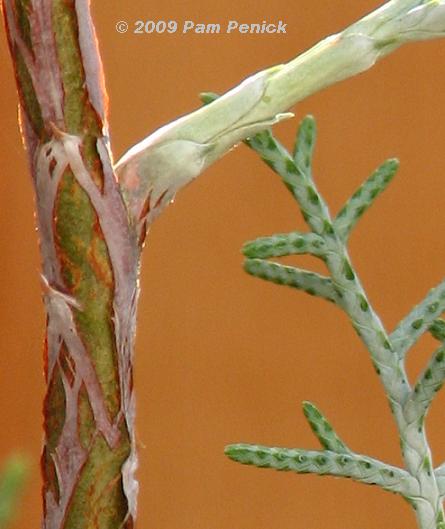 Even the bark of the young trunk is lovely.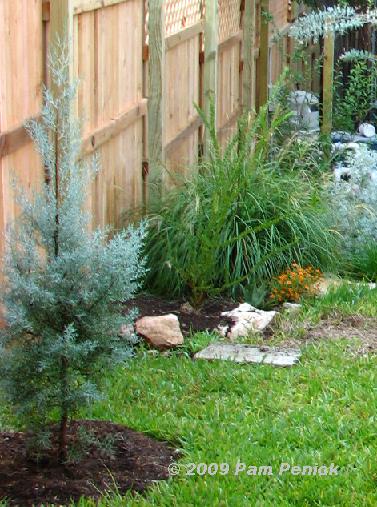 Confession time: I squeezed these cypresses into a narrow side yard in my desperation to give them sun, and now that my new fence is up, they do not have adequate room to grow to their mature size: about 30 feet tall and 8-10 feet in diameter. It's the classic mistake of a plant lover.
And you know what? I don't care. I'm leaving them there so that I can enjoy them for however many years until they outgrow their space and have to be removed. I bet I get 10 years out of them, which will be 10 happy years.
Update 3/12: I moved one of the trees to a new spot a couple of years ago, and the other is growing straight and tall and, so far, not too wide. I love it!
Note: My Plant This posts are written primarily for gardeners in central Texas. The plants I recommend are ones I've grown myself and have direct experience with. I wish I could provide more information about how these plants might perform in other parts of the country, but gardening knowledge is local. Consider checking your local online gardening forums to see if a particular plant might work in your region.
All material © 2006-2009 by Pam Penick for Digging. Unauthorized reproduction prohibited.