May 5th, 2008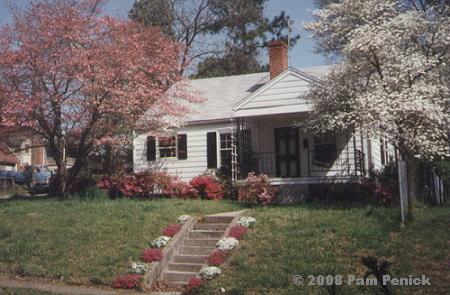 Our first house, in Raleigh, North Carolina, was a 900-square-foot post-war cottage, and along with the charming hardwood flooring and cramped closets we inherited a neglected old garden of azaleas, dogwoods, roses, phlox, camellias, forsythia, and an ancient and beautiful Japanese maple. The garden, or what was left of it, was overgrown and thickety when we became its owners—fresh-faced 24-year-olds busy with new jobs, innocent of yard tools and their purposes, and more interested in making the interior feel like home than fussing with the exterior.
We bought a lawn mower and an electric trimmer. We spent one Saturday pulling weeds out of the lawn by hand until we gave up and decided just to mow them all down. I bought loppers and went after a rambling rose that had turned into a bramble patch along the side fence, emerging hours later with torn hands and leaving a butchered mess behind. Mostly we just let everything be, not sure what else to do.
Despite our neglect, or maybe thanks to it, the garden astonished us with a candy-cane colored display in the spring. Azaleas in pink, red, and white lined the foundation. The dogwoods scattered white and pink petals across the weedy lawn. The phlox—in parallel lines of alternating pink and white—invited passersby up the front steps. It was an amateur's garden in the Latin sense of the word: loved , a garden someone had cherished for many years before it was relinquished—reluctantly, perhaps—to new ownership.
The married couple with young children who sold us the house passed along to us, with the closing documents, a map of the garden that the previous owner had given them. A rough sketch with circles, Xs, and hand-written notes indicating the various plants, it was our only clue in those pre-Internet days about what we were entrusted with. There were a lot of plants, and it was a detailed map. It spoke as clearly as a personal letter about the love someone felt for this garden. We still didn't know how to take care of the plants, but the map connected us to the original gardener and instilled in us a sense of responsibility for her creation, which she'd left to the kindness of strangers.
We never removed anything and we hardly ever pruned, though the garden desperately needed it. After a year and a half I decided to plant something to fill a bare spot : a gardenia. I still recall my nervousness in digging the hole (was it deep enough?) and settling the shrub into it (did I fill it in correctly?). I stood back afterward, brushing off my knees, and looked at the little, green bush I'd planted. I felt surprised that it was, after all, quite easy to plant something, and I looked forward to watching it grow.
As it turned out, my husband got a job offer in Austin a few months later, and we sold the house after just two years of stewardship. The garden map conveyed to the new owner, a single woman with plans to repaint and add a covered patio. The neighborhood was on the upswing, and I wonder if the little house and its garden would even be recognizable now.
I was reminded of all this yesterday when I met a young, newly married couple for a garden-coaching session. A year ago, they bought a ranch house in north Austin with an extensive native-plant garden that, in its prime, had been featured on a garden tour. It was still quite lovely, even after several years of neglect by the previous owners who had admitted to the young couple that they hadn't been interested in the garden. Still, they passed along a garden map from the original owner, two maps actually—one for the front garden and one for the back. The young couple unrolled them for me to see, and I admired them for a few minutes before we went out to look at the garden.
Hand sketched on oversized sheets, the maps indicated a wonderful variety of native plants, many of which must have been hard to find years ago before the native-plant movement caught hold. Each detail spoke of the love the gardener felt for her garden. Essentially, the map was a plea for future owners to care for it as she had.
The young couple hired me to help them ID their plants, to put names from the map to the faces of plants which had reseeded and moved around over the years, and to show them how to prune and care for their garden. The couple reminded me of myself and my husband at that age, wanting to know more about the garden they'd inherited, not quite sure how to begin but eager to be good stewards. I know they'll take care of this garden and maybe even become gardeners themselves because of how they referred to the map bequeathed to them. They called it a treasure map.
With a garden—with nature in general—if you're looking for treasure and you keep your eyes open, you're sure to find it.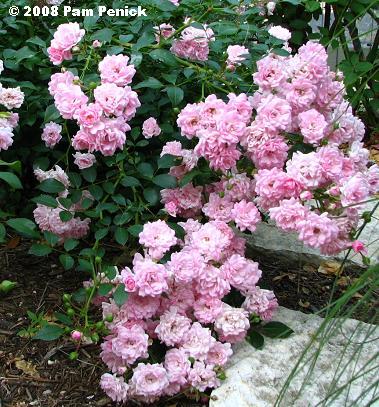 All material © 2006-2008 by Pam Penick for Digging. Unauthorized reproduction prohibited.