November 9th, 2009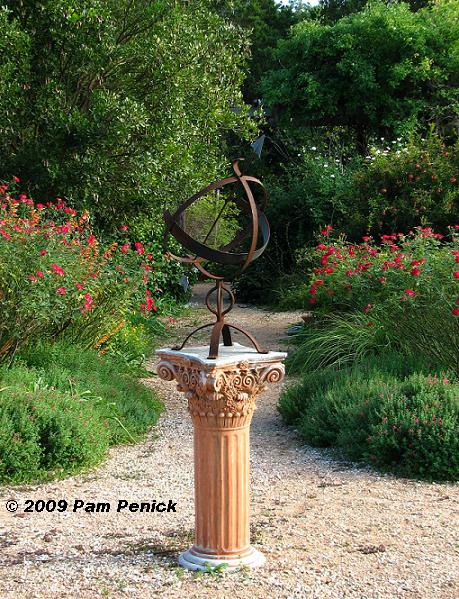 Garden path at the Antique Rose Emporium
Rose Garden: two words that induce irrepressible yawns. I've never enjoyed traditional rose gardens, where different varieties of roses are spaced out across a sunny square and unaccompanied by any other plants. It makes for a hodgepodge of color and same-size blobs in summer and a twiggy, gray mess in winter. Rose gardens can turn anyone off of roses.
The Antique Rose Emporium (ARE), on the other hand, knows how to do roses right. Extensive display gardens at both the San Antonio and Brenham locations showcase roses growing amid native and adapted perennials and grasses, with small trees and groundcovers rounding out the mix. The roses fit into such gardens naturally, providing focal points of color and scent when in bloom but blending into the background during the off-season.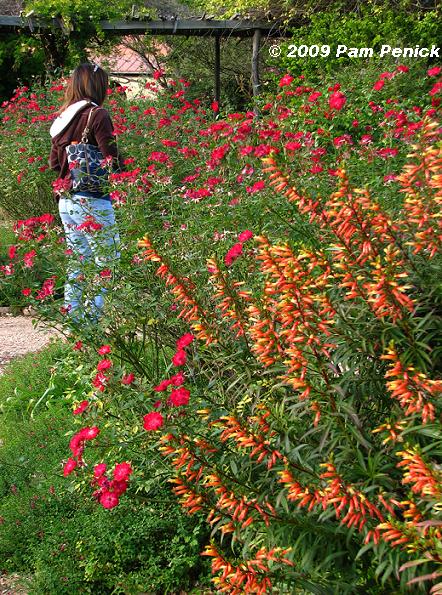 The Austin garden bloggers visited ARE in San Antonio last Saturday, following a visit to the San Antonio Botanical Garden. I've been to both locations numerous times (and have ordered roses from their website as well), and I'm always wowed by the gardens, charmed by the old-timey Texas farmhouse structures that serve as stores and garden backdrops, and seduced by their gift-shop offerings.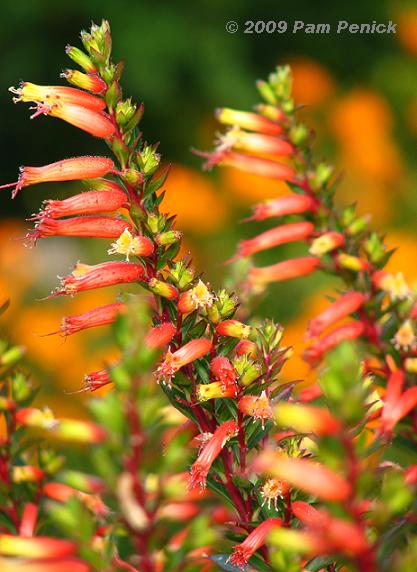 I'd spent my plant budget at Madrone Nursery, an earlier stop that day, so I just enjoyed the gardens while the others shopped. I was tempted, however, by this cuphea, which stood about 4 feet tall.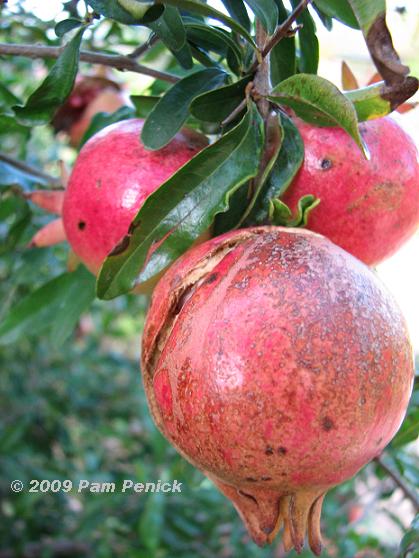 Pomegranate trees were loaded with rosy fruit…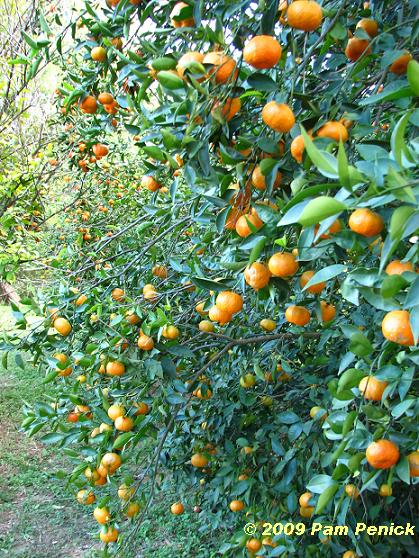 …as were citrus trees.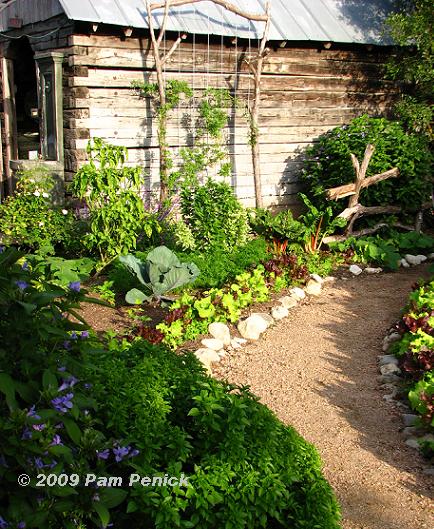 How many rose nurseries can boast of a working vegetable garden?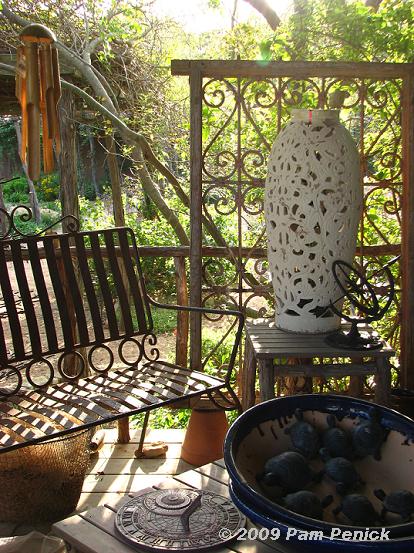 Garden furniture, decor, and books are scattered throughout a few buildings and on their porches.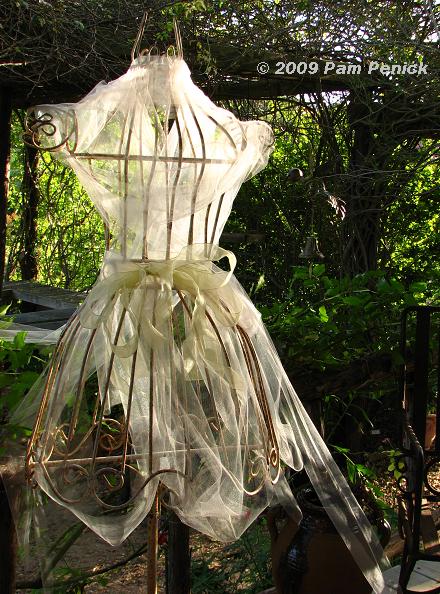 This dress form draped with filmy fabric would make a unique porch ornament.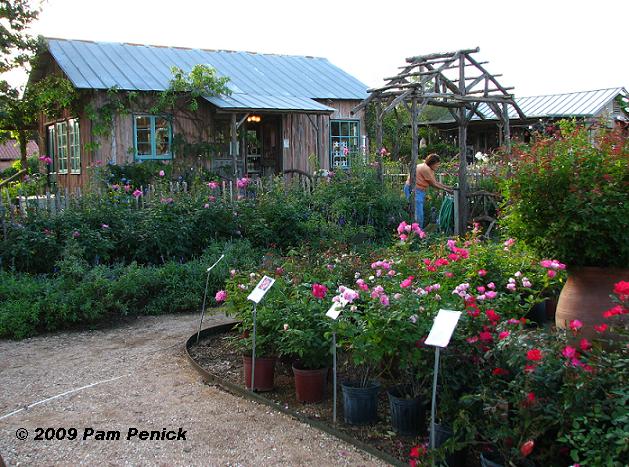 The roses for sale are neatly labeled and displayed. There are so many to choose from, and all were in bloom.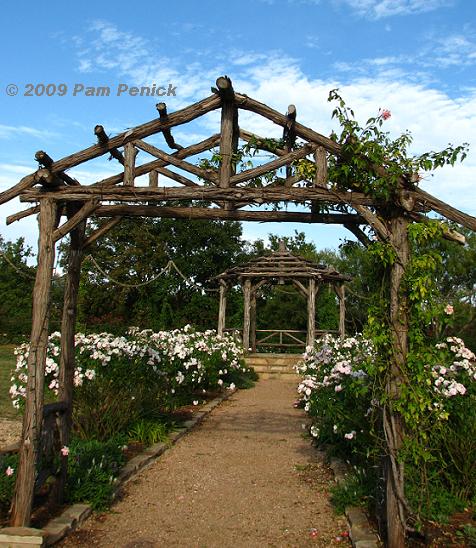 While we were here, a bride was having her wedding photos made, and we were told that a wedding had occurred on the grounds earlier that day, probably in this pavilion.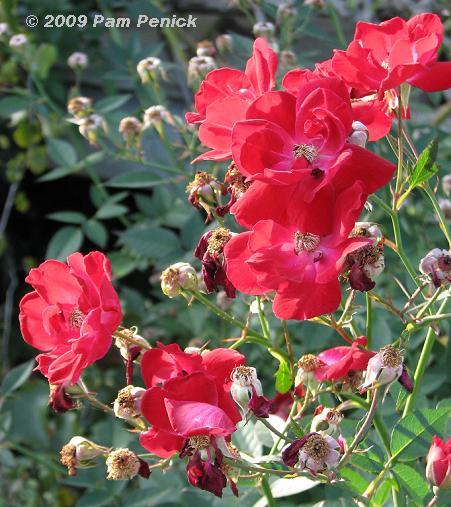 It would be a lovely place for a wedding in the spring or fall.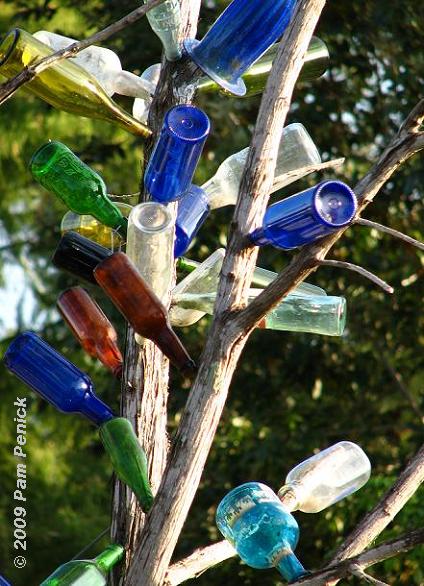 Plenty of color can be found even when the roses aren't blooming.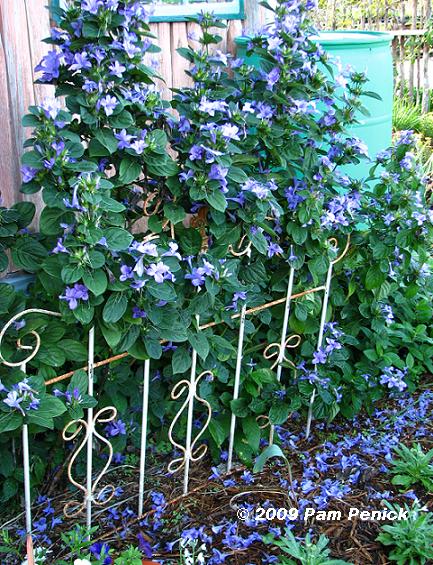 Philippine violet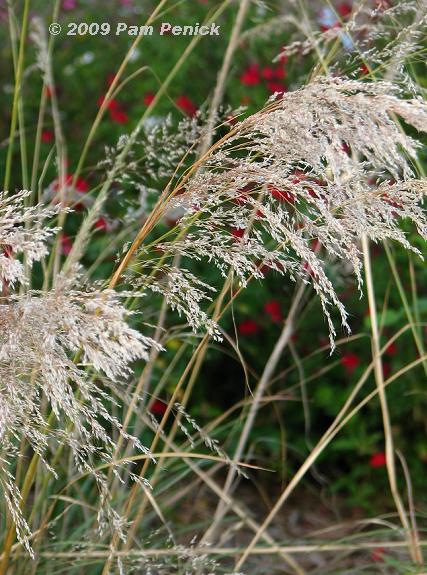 Grasses were in bloom amid the roses.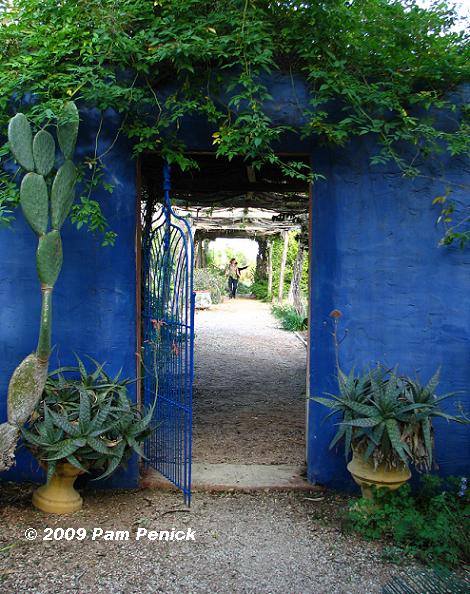 I'm in love with this blue courtyard garden at the end of the display garden.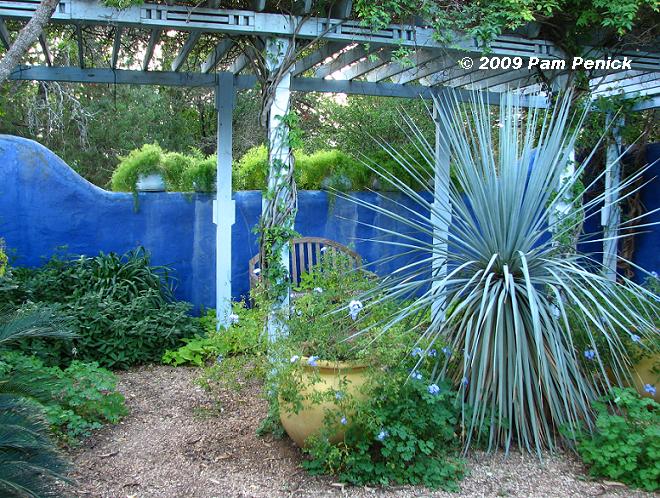 I've shown you pictures of ARE's blue courtyard before but can't resist a revisit.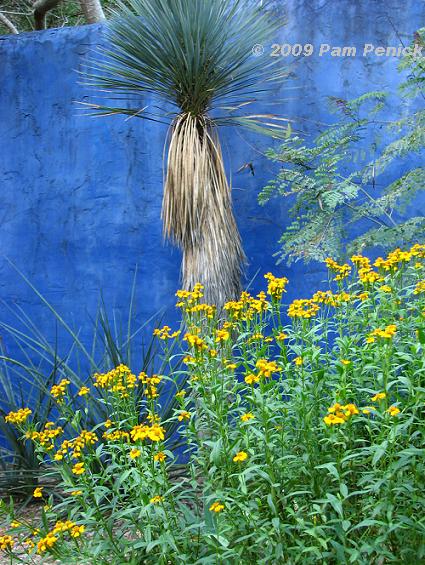 This time Mexican mint marigold offered a pop of contrasting color to the blue-greens of tall yuccas.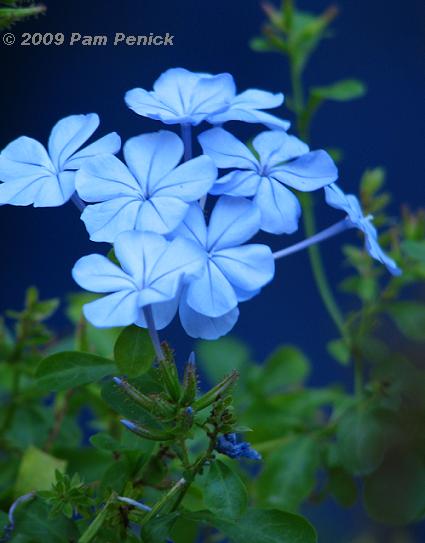 Plumbago played up the blues.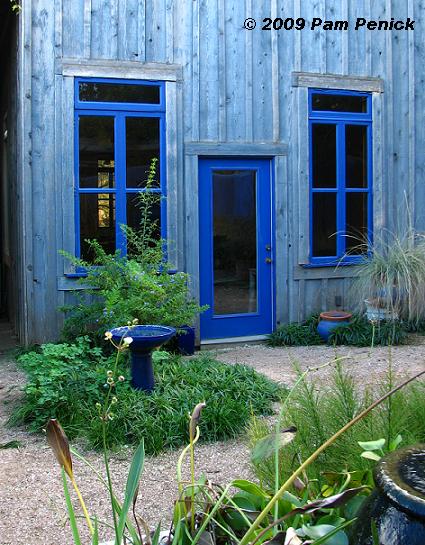 More blue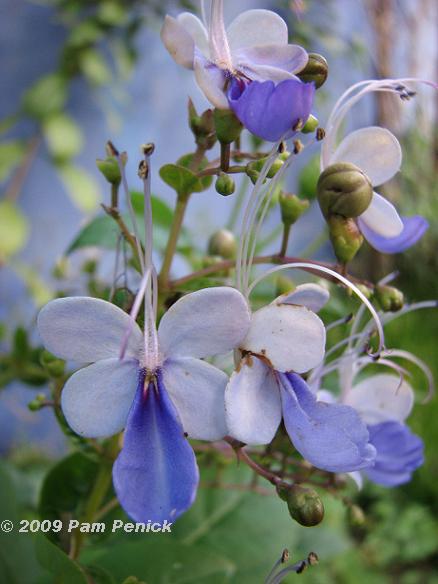 I'd seen this butterfly flower (Rotheca myricoides 'Ugandense') at the botanical garden, and it was perfect for ARE's blue courtyard.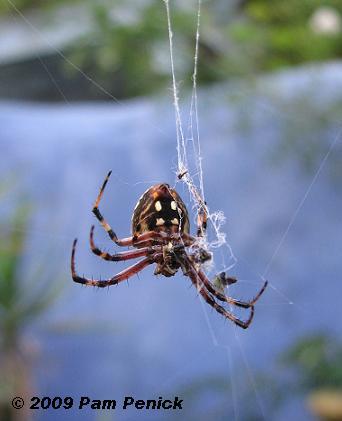 The spider was enjoying her lunch near a trio of fountains…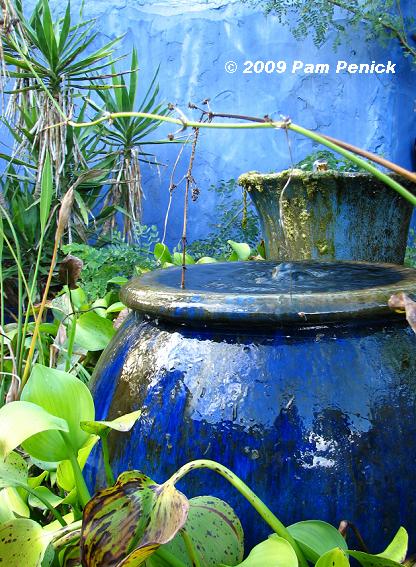 …which added their burbling music to the scene.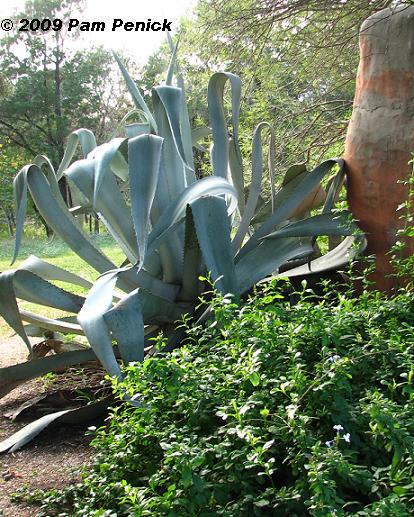 Outside the courtyard's adobe walls, this magnificent Agave americana stood about 7-8 feet tall.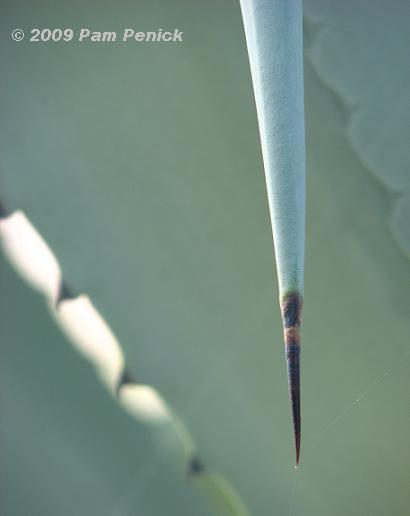 Its sharp spines were beautiful to behold but not to touch.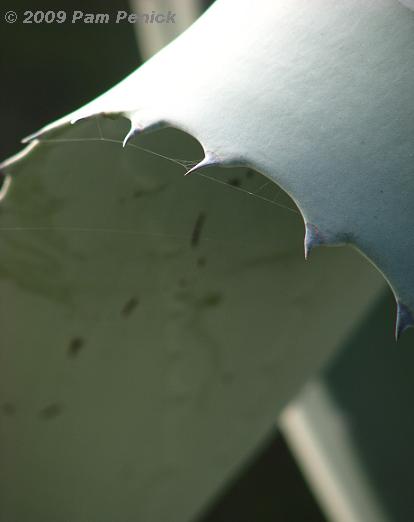 Toothy leaves curled and writhed. The agave's smooth "skin" begs to be touched, but watch out for those teeth.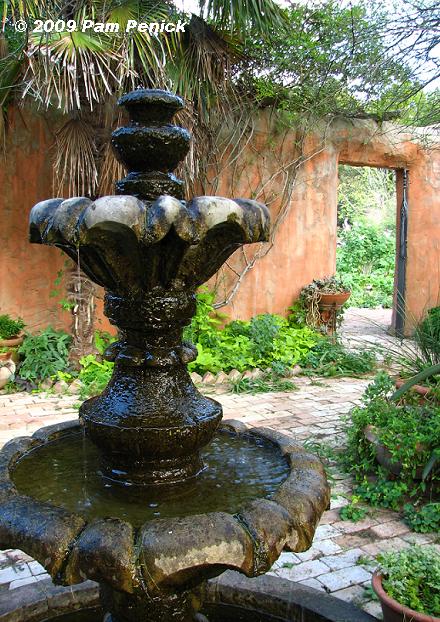 A second courtyard is painted a sun-warmed terracotta and anchored by a Mexican-style tiered stone fountain.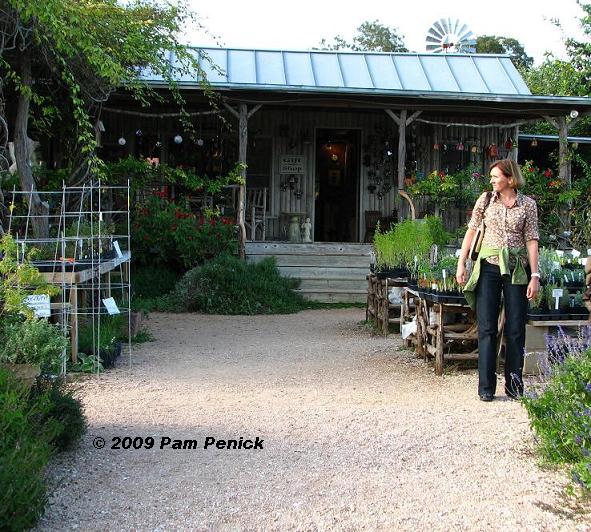 The tempting gift shop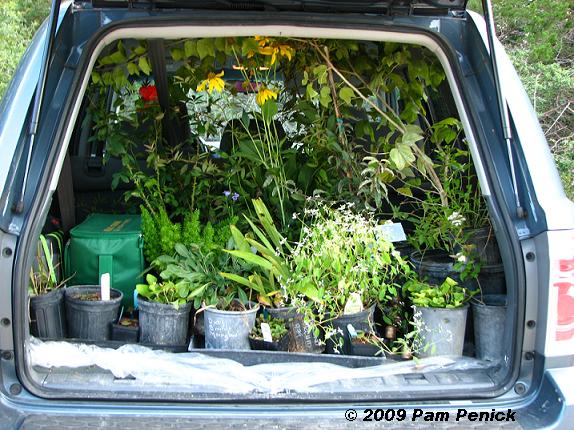 At last it was time to head back to Austin. Just look at how many plants we were toting home from the Rose Emporium and Madrone Nursery. I should point out that ARE carries a variety of interesting plants, not just roses.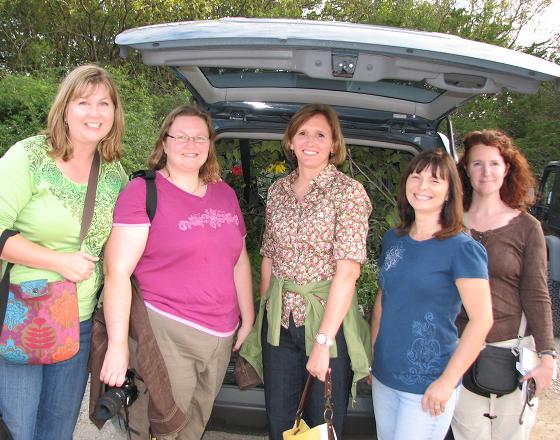 My delightful carpooling companions, from left to right: Me, Rachel of In Bloom, Amy of Go Away, I'm Gardening!, Diana of Sharing Nature's Garden, and Meredith of Great Stems.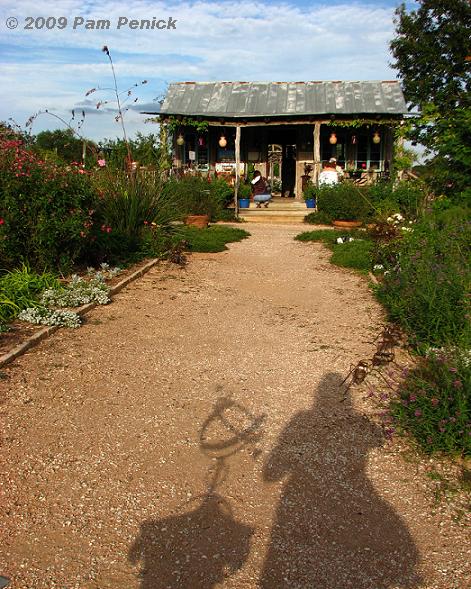 My thanks to the folks at the Antique Rose Emporium for being so welcoming to our group. Check out employee Cindy's blog, A Daily View, for more pics and info. Also, the main website for ARE has a wealth of information on the roses they carry, plus directions, hours, and event info.
For my post on the Brenham Antique Rose Emporium, click here. For a previous post on the San Antonio Antique Rose Emporium, click here.
UPDATE: The San Antonio location of Antique Rose Emporium has gone out of business. The Brenham location remains open.
All material © 2006-2009 by Pam Penick for Digging. Unauthorized reproduction prohibited.
posted in
Arbors
,
Bottle tree
,
Bugs
,
Butterflies/Moths
,
Edibles
,
Fountains
,
Garden blogging
,
Gates
,
Grasses
,
Nurseries & Shops
,
Roses
,
Walls