April 18th, 2008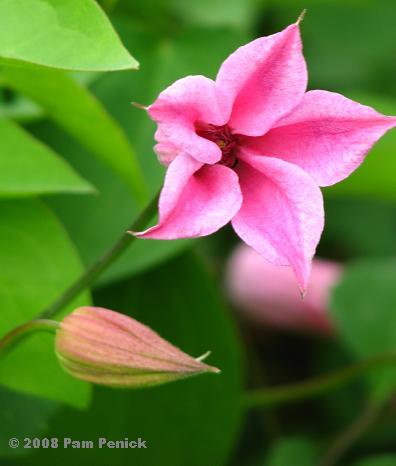 I know gardeners who are successful with traditional clematis in Austin (Annie for one). But many of us can only yearn for those big, beautiful clematis featured in all the garden magazines but which tend to croak in our summer heat.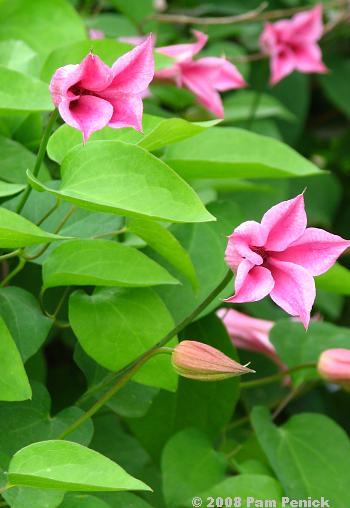 Happily, the Natural Gardener nursery recommended 'Duchess of Albany' clematis to me as a native vine a few years ago. 'Duchess of Albany' is actually a hybrid of the native Clematis texensis, which can be hard to find, and 'Star of India' clematis, and it's tough enough for Texas summers.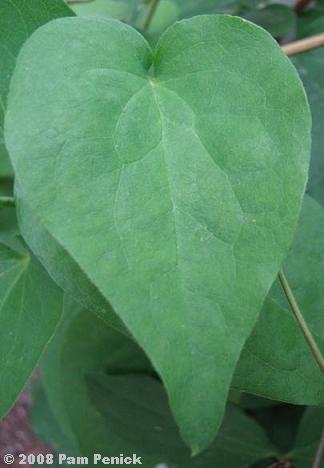 Mine grows in the filtered shade of the airy Anacacho orchid tree (Bauhinia congesta ), rambling along the low, front-garden fence. It blooms beautifully in spring and has successive flushes of bloom in the summer and fall. It tends to fade out in the hottest part of the summer, its heart-shaped leaves crisping up a bit, but by then the nearby American beautyberry (Callicarpa americana ) has filled out and begun to set its berries for fall. By the time those purple berries ripen, the 'Duchess of Albany' is back, its dark-pink blossoms pairing exquisitely with the beautyberries. And the whorling, feathery seedheads that succeed the flowers are a delight to see and touch.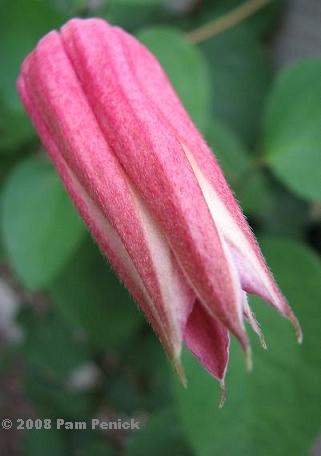 If you'd like to see photos of the Duchess in other seasons in my garden, just go the white Search box located in my sidebar and type "Duchess of Albany." Scrolling through the posts that pop up should give you an idea of its year-round beauty.
By the way, Linda Lehmusvirta, producer of KLRU's "Central Texas Gardener," has joined the Austin garden-blogging scene. Check it out and say hi to a talented, funny, and eloquent Texas gardener. (Austin bloggers, go to the Resources page under "B" to find local blog listings, and drop Linda a comment if you'd like to be listed too.)
Note: My Plant This posts are written primarily for gardeners in central Texas. The plants I recommend are ones I've grown myself and have direct experience with. I wish I could provide more information about how these plants might perform in other parts of the country, but gardening knowledge is local. Consider checking your local online gardening forums to see if a particular plant might work in your region.
All material © 2006-2008 by Pam Penick for Digging. Unauthorized reproduction prohibited.