October 29th, 2009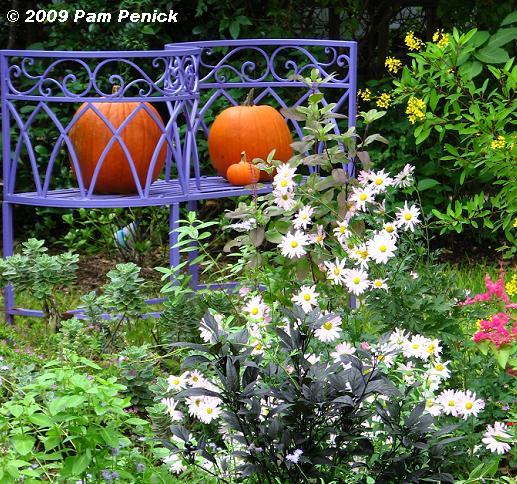 Ooh la la, Lucinda! Local author and designer Lucinda Hutson, she of the purple cottage in central Austin's Rosedale neighborhood, welcomes you into her garden with open arms, offers of cuttings, and an exuberance for giving a tour. "Y'all, look at this!" she calls as she leads you through gateways and into hidden gardens. And, "Ta-da! Look what I did here!" She's totally charming, her enthusiasm contagious.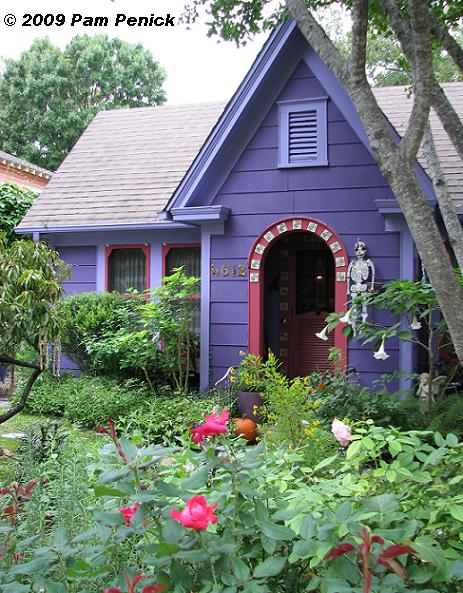 By chance, I ran into Lucinda in Cheryl's garden last weekend, and she invited me over for a fall tour. I was delighted to accept and brought along Jenny of Rock Rose, who was visiting my garden yesterday.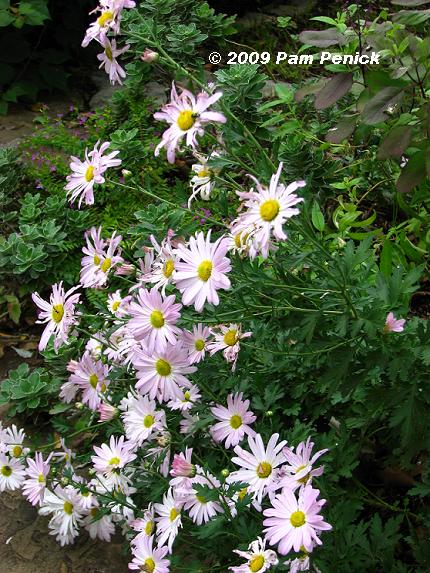 I'd last seen Lucinda's garden in April 2008, when the plants were small with new spring growth. How different to see her beautiful garden in the blowsy glory of fall.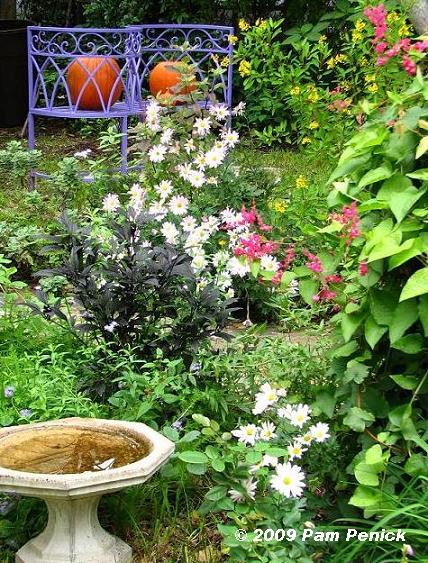 She'd been too busy all summer and too discouraged by the heat and drought to do much gardening, she told us. "God took care of the garden this year." Well, no wonder it looks so great.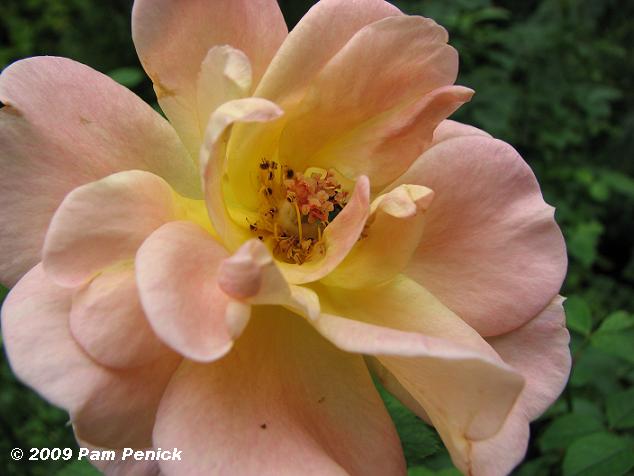 An unknown rose with a lovely fragrance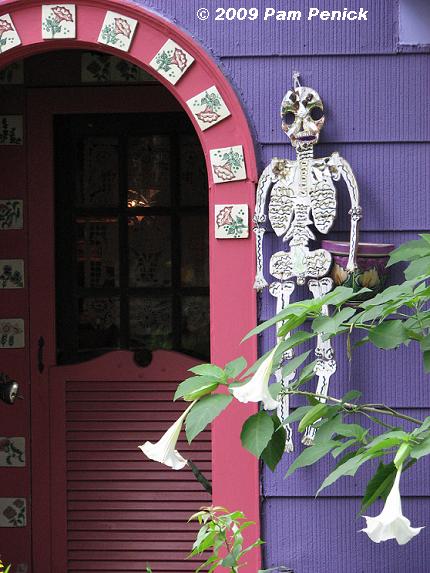 Lucinda is known for her extravagantly decorated yet intimate Day of the Dead parties.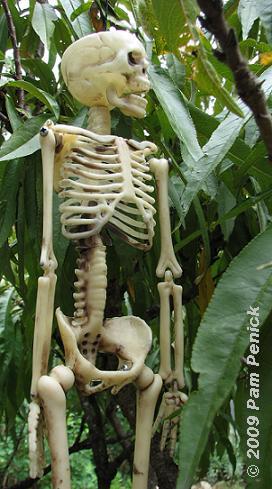 So I expected to see her home and garden decked out for the post-Halloween, celebratory Mexican holiday. But she didn't have the energy for it this year, she told us. Still, her garden displays quite a few skeletons and pumpkins.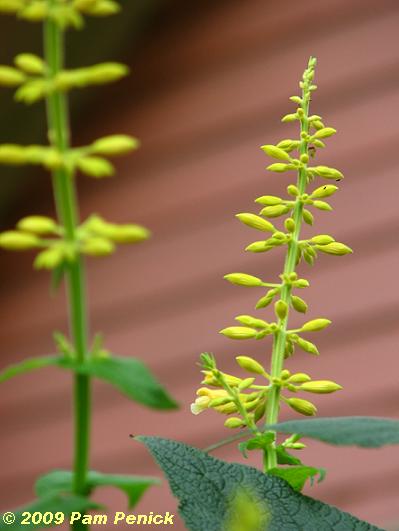 The yellow spikes of Salvia madrensis attracted our attention.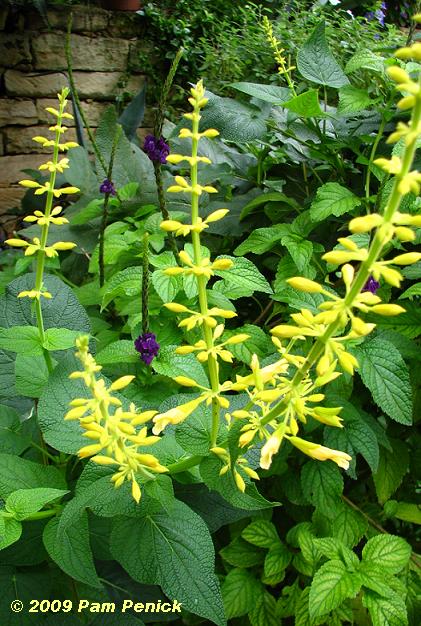 It's lovely, don't you think?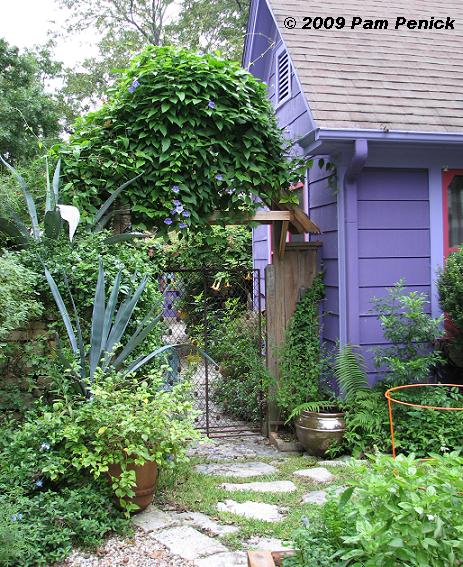 Lucinda converted her long driveway to garden long ago (she's been gardening here for more than 30 years), and she built a wall across it to create privacy and division of space. A tall arbor draped with blue sky vine and a beautiful metal gate make an enticing entry.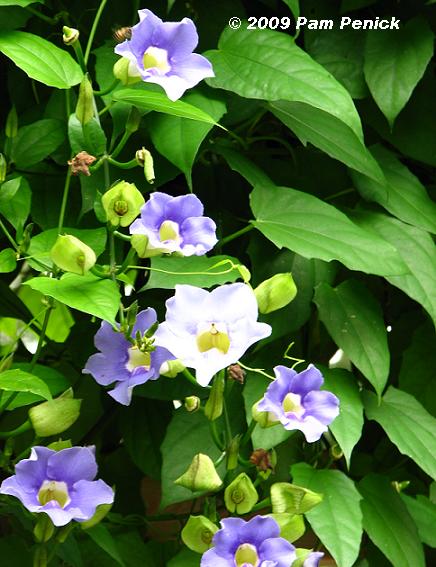 Blue sky vine (Thunbergia grandiflora) blooms in the fall and dies back in the winter. Lucinda told us there's a 'Don Juan' rose under here that comes back to life after the sky vine dies back, producing red roses around Valentine's Day.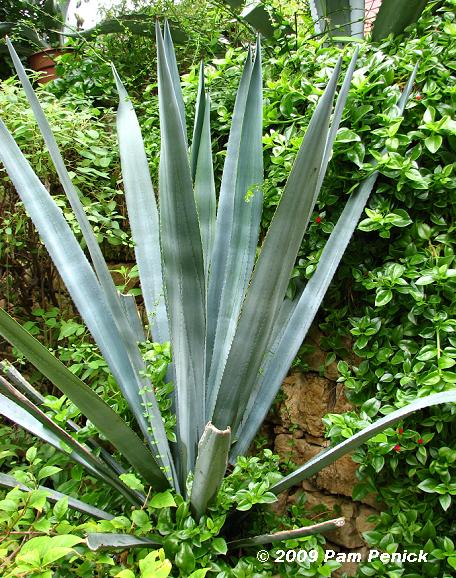 A tequila, or blue, agave (A. tequilana) grows by the arbor.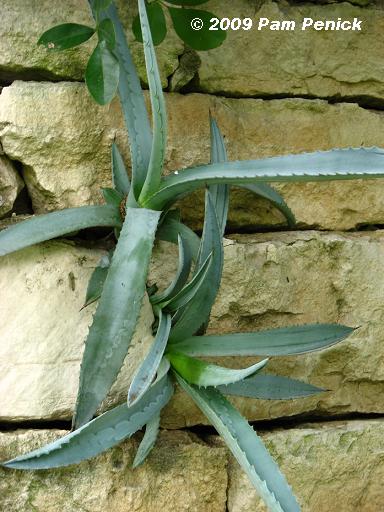 On top of the wall (not pictured) an American agave grows in a planting pocket, and two pups have pushed their way out between the stones.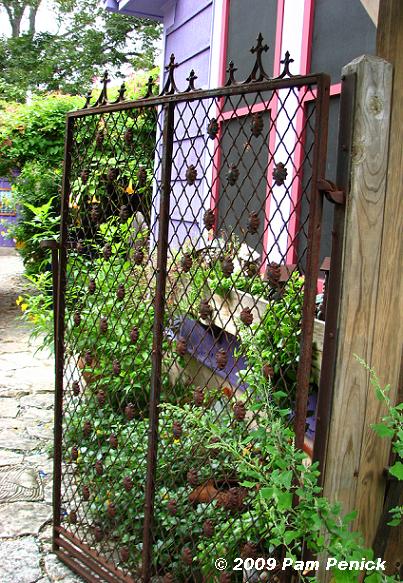 Entering the back garden…

…you look down a long flagstone path to a glimpse of purple shed (formerly a detached garage).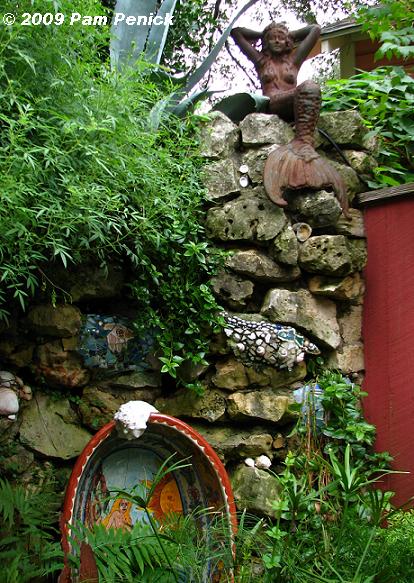 Immediately on the left is a small sitting area by a mermaid grotto built into the wall.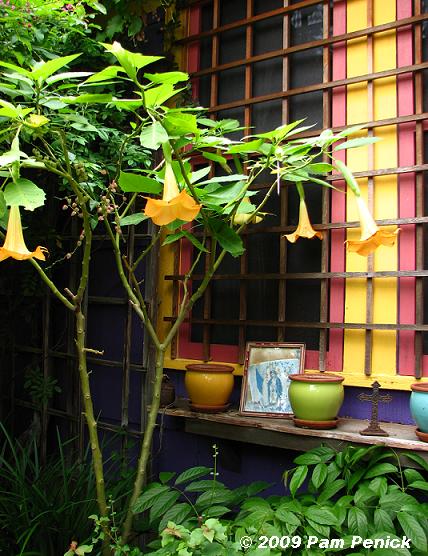 Along the path, an orange brugmansia echoes the warm colors of the house.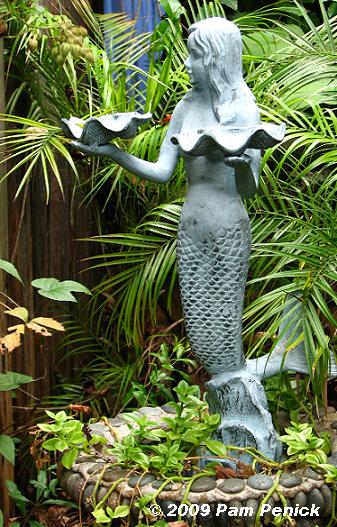 Mermaids and fish are a recurring theme in Lucinda's "Texican" garden, as she calls it.

A fish pot and another mermaid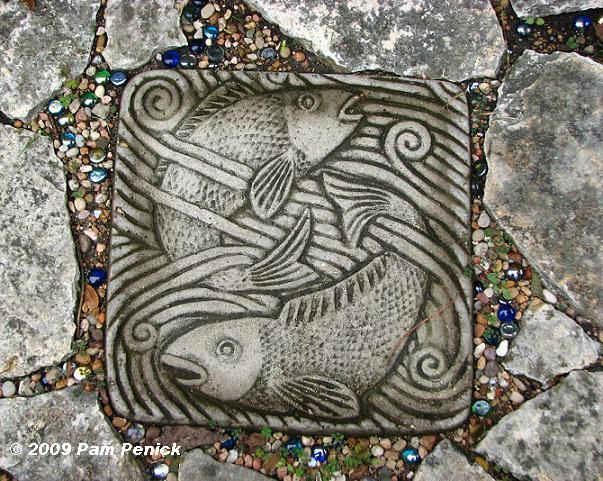 This beautiful stepping stone is set amid colored glass in the flagstone path.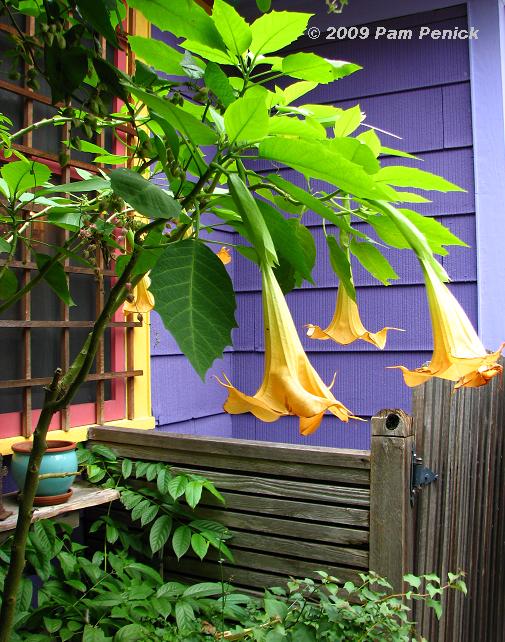 Another look at the brugmansia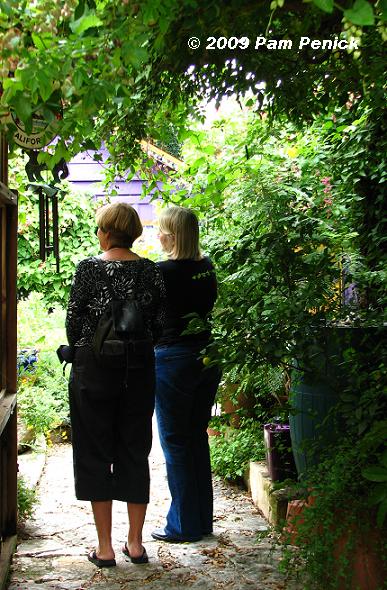 A Queen's wreath vine, AKA coral vine (Antigonon leptopus), engulfs another arbor between a greenhouse on the left and the house on the right, creating a tunnel that leads to a vegetable garden. Jenny and Lucinda take in the view.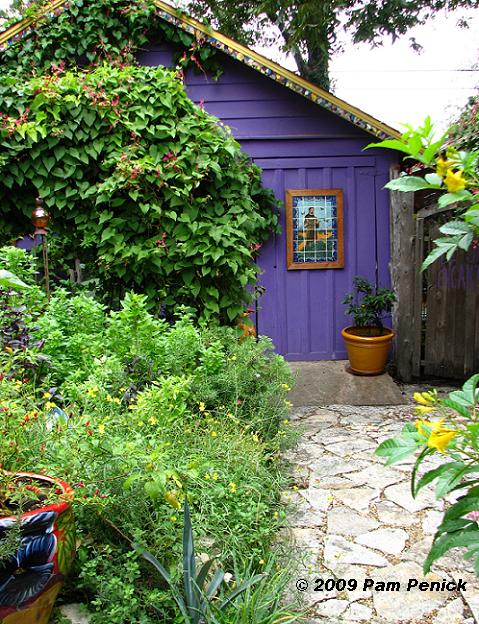 The purple garden shed has a mosaic-tile eave. Lucinda's garden is full of creative detail like this. On the left, the vegetable garden has gone to seed at the end of the summer.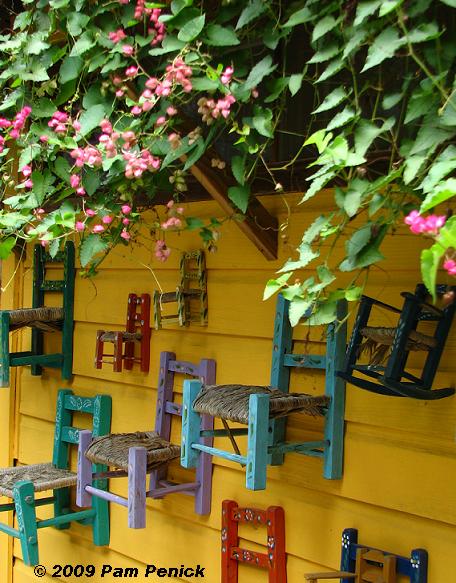 A colorful collection of children's chairs from Mexico hang on the wall of the house, which is painted golden yellow back here. Lucinda is fearless with paint, and her home and garden structures pulse with festive color.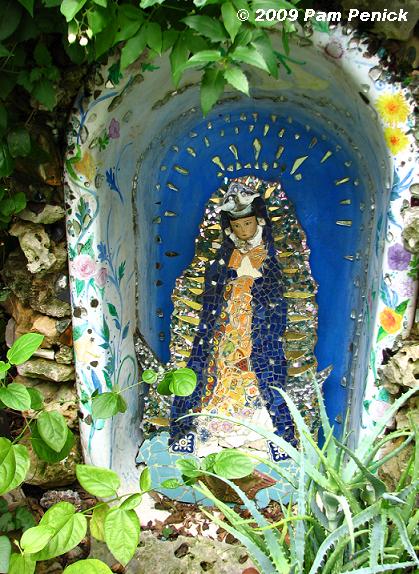 A playful bathtub shrine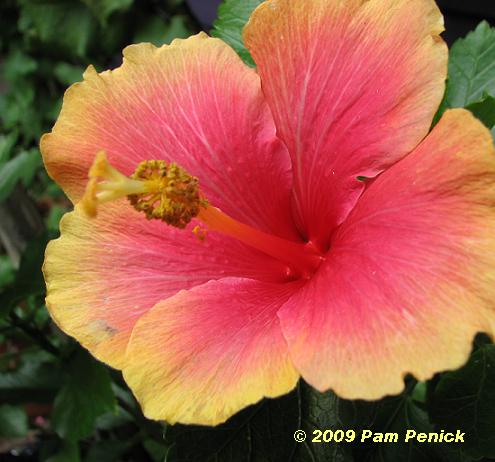 Despite our recent cooler weather, many tropicals were still blooming, like this hibiscus.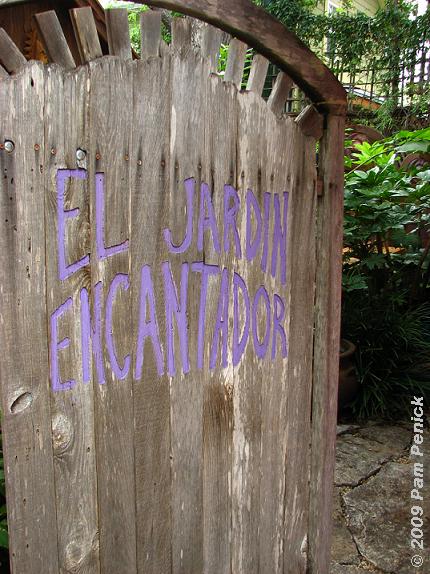 The trick to making a small garden feel larger is to divide it into "rooms," as Lucinda has done. This garden gate reading El Jardin Encantador (The Enchanting Garden) leads to a deck at the rear of the house, a detached home office, a "tequila cantina," and an outdoor shower. The garden just keeps going.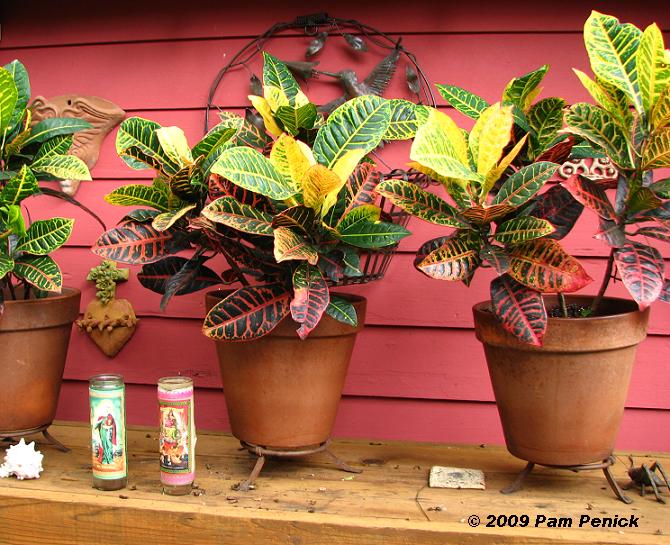 Colorful potted crotons line a pink wall.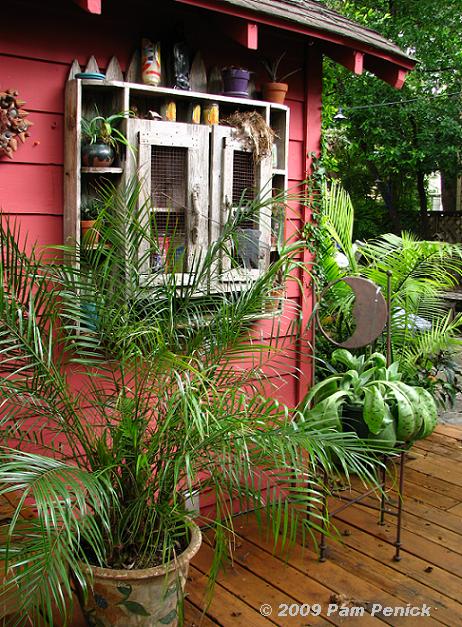 This is the side wall of the purple shed shown earlier. I love how Lucinda uses all sides of her house and shed for walls in her various garden rooms, even painting them different colors.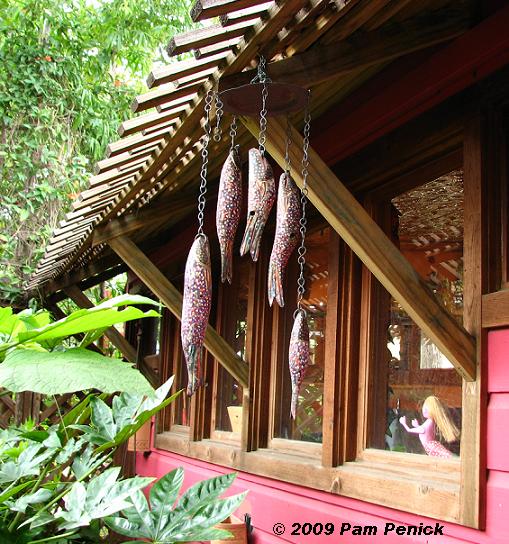 Detail of the cantina-like roofing along the back eave of the house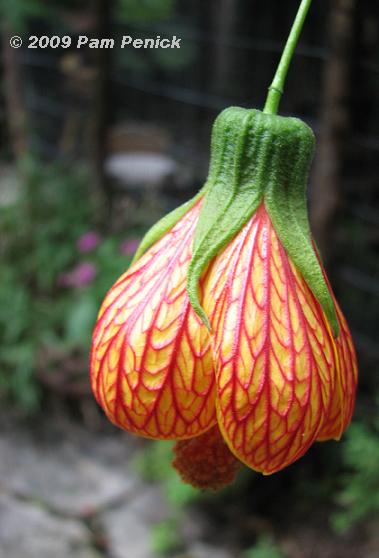 Patrick's abutilon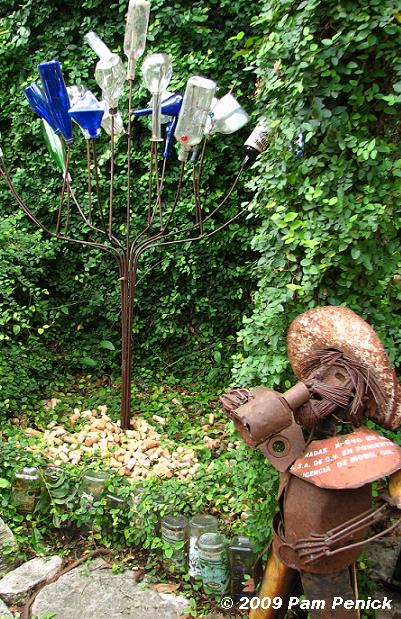 At the very end of the garden, a tequila bottle tree is mulched with corks and edged with more bottles. A metal señor enjoys a swig of tequila too.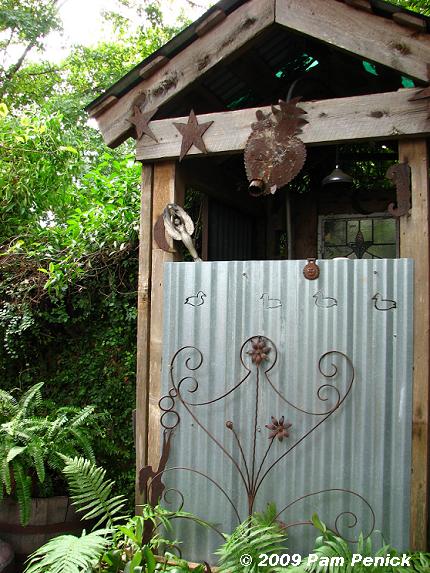 An outdoor shower provides a place to clean up after working in the garden.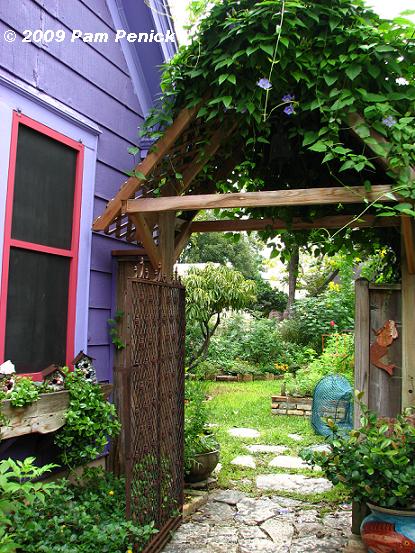 After an hour or so, it was time to go. Back through the garden to the sky vine arbor…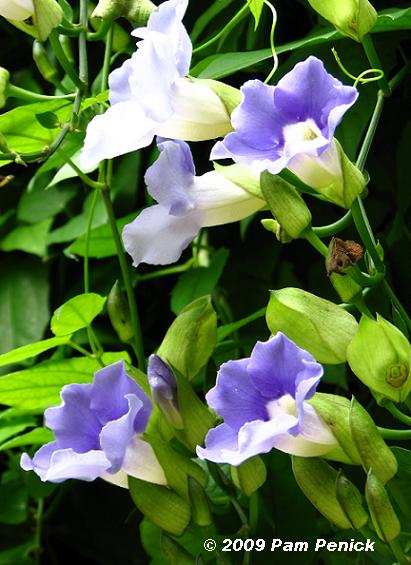 …and another look at the vine's beautiful blue flowers, and then we said goodbye.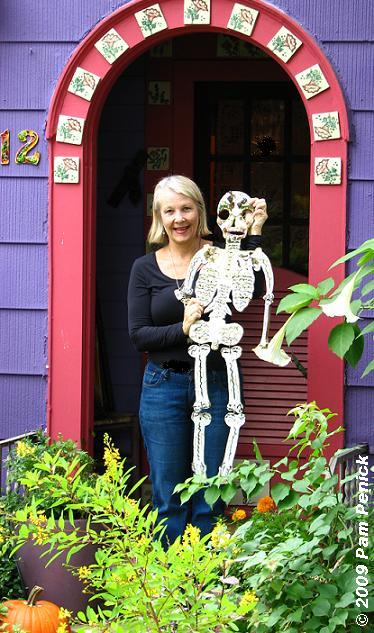 Thank you so much, Lucinda, for the tour, the plants, and your warm hospitality!
All material © 2006-2009 by Pam Penick for Digging. Unauthorized reproduction prohibited.